October is prime time for fall foliage and seeing iconic travel spots in all their autumn glory. Many of the best places to travel in October in the USA are reaching their peak fall colors.
The best places to visit in October in Europe have Autumn festivals, fall foliage, less tourism, and crisp fall weather that is so much more comfortable than visiting in summer.
Finally, beyond the USA and Europe, the best places to travel in October in the world are bucket list destinations that have cooled off and offer once-in-a-lifetime experiences.
Check out our favorite travel accessories when packing for your October trip. Autumn is a great time to visit October Destinations with a rental from Outdoorsy for a fall foliage trip in a sprinter van or RV.
This post contains affiliate links. If you buy something through one of these links, we may earn a commission. You can read our full disclosure here.
Best Places to Travel in October in the US
Yosemite, California in October
Yosemite is one of the prettiest places in California for fall foliage. The trees turn golden yellow and orange in October, making it one of the most beautiful times to explore the park's forests and meadows.
You can expect the full spectrum of color with fewer crowds and perfect hiking weather to enjoy 800 miles of trails.
Yosemite's hiking trails range from easy to challenging, showcasing stunning views of the park's iconic landmarks. From Half Dome and El Capitan to Bridalveil Falls and Mariposa Grove, there is no shortage of amazing things to see.
Even if you don't plan to hike, you can see the beauty of Yosemite by driving up to the viewpoints at Tunnel View or Glacier Point.
Known for its dark skies, Yosemite is an ideal destination for stargazing. October offers clear skies and cooler temperatures, making it a great time to see the stars.
Stay overnight at Yosemite Autocamp in an airstream trailer with a firepit where you can roast marshmallows at night.
Other fall getaways in California for families in the Eastern Sierras include Mammoth, June Lake, and Alabama Hills.
In Southern California, the Fall Colors in Lake Arrowhead and Big Bear also make a great trip.
RELATED POST: 2 DAYS IN YOSEMITE ITINERARY
Oregon in October
Oregon is undoubtedly one of the best places to travel in the US in October, starting with the annual Portland Marathon. The scenic route includes views of the city's landmarks and bridges.
Families should head to Sauvie Island for the coolest 7-acre corn maze or Tualatin for the West Coast Giant Pumpkin Regatta, where participants race hollowed-out giant pumpkins transformed into boats across a lake.
The Hood River Valley hosts some of the best fall festivals, including Harvest Fest and the Hood River Hops Fest, which celebrates the region's craft beer scene.
The best-kept secret for USA fall foliage is Oregon. Trees bursting with vibrant colors are best found along Oregon's Scenic Byways, including the waterfalls around Colombia River Gorge.
Silver Falls State Park is another beautiful spot in autumn along with the Mackenzie River, where you will find the Tamolitch Blue Pool. It's an easy hike with the most brilliant blue water framed by fall colors.
Art and music lovers should check out the Oregon Coast Jazz Party in Newport with world-class jazz musicians and the BendFilm festival that showcases independent films.
There are so many fun things to do in Bend. Stay in one of the cool Bend boutique hotels for every type of traveler.
Need more fall inspo? Check out our videos of Bend, Oregon, or camping at Crater Lake to round out your Oregon Fall vacation.
Hotel: The Hoxton, Portland (8.3)
RELATED POST: 17 EPIC THINGS TO DO IN BEND, OREGON
Bar Harbor, Maine in October
Everyone knows about New England fall foliage. The first half of October is a fantastic time to visit Bar Harbor, where the colors are on high.
Immerse yourself in fall foliage by exploring Acadia National Park. Start with a hike to Cadillac Mountain's summit for breathtaking sunrise views.
Bike the scenic Park Loop Road, passing pristine lakes and charming carriage roads. Other great places for leaf peeping include kayaking along Somes Sound, rock climbing the iconic Otter Cliffs, or enjoying delicious popovers at Jordan Pond.
Stay in Bar Harbor to enjoy the historic charm of the village, with its boutique shops and galleries.
Stroll along the picturesque Shore Path. Savor local flavors at cozy eateries and seafood spots, like Side Street Cafe, for a lobster roll.
There are fun seasonal events in October, like the Acadia Oktoberfest Beer, Food, Music & Crafts Festival, and a Bar Harbor Ghost Walk Tour.
The serenity of a quieter Bar Harbor in October makes an unforgettable fall getaway, where crisp air and autumn-hued landscapes create an idyllic backdrop.
On your drive to Bar Harbor, make sure to stop in Portland. Take a cruise on Casco Bay and follow it up with a visit to the Portland Museum of Art, one of the best museums in New England.
Hotel: Bar Harbor Inn & Spa (9.1)
RELATED POST: THE MOST BEAUTIFUL STATES TO VISIT IN THE USA
Pennsylvania in October
There are so many things to do in Pennsylvania and places to see fall foliage, including Big Pocono State Park, the Great Allegheny Passage, and the National Longhouse Scenic Byway.
In Philadelphia, visitors can stroll through Fairmount Park, visit the Morris Arboretum, or take a bike ride on the Schuylkill River Trail.
October is a fun time to visit, especially during Philly Music Fest, which showcases the best Philidelphia music talent. The proceeds support Philadelhia's music scene and music education for kids.
For those who love Halloween, Philadelphia has plenty of spooky events to check out, including the Eastern State Penitentiary's Terror Behind the Walls, the Ghost Tour of Philadelphia, and the Halloween Haunt at Sesame Place.
Food lovers will enjoy Philadelphia's many food festivals in October, including the Midtown Village Fall Festival, the Chestnut Hill Fall for the Arts Festival, and the Philly Cheesesteak and Food Fest.
Check out Philadelphia's Historic District with all its cobblestone streets and old buildings. The city is home to Independence Hall, the Liberty Bell, and the National Constitution Center, all of which offer a glimpse into America's past.
Hotel: ROOST East Market (9)
RELATED POST: 60 BUCKET LIST USA TRIPS
Aspen, Colorado in October
Aspen is a great town year-round but late September and October offer some of the most striking fall foliage in the USA. The aspen trees that cover much of Colorado turn a beautiful yellow. It's truly a sight to be seen.
The Maroon Lake and Maroon Bells area is a must-see destination, with stunning views of the mountains and vibrant colors sometimes highlighted with October snow.
There are also many beautiful hiking trails to enjoy before you head back to your hotel to sit by the fire and enjoy the crisp mountain air.
Visitors can also enjoy hiking or mountain biking on the Hunter Creek Trail, which offers beautiful views of the surrounding mountains and valleys.
Another great activity in October is to explore the historic ghost town of Ashcroft and the scenic Castle Creek Road. Take a guided tour of the ghost town or enjoy a scenic drive.
Hotel: The Little Nell (9.7)
RELATED POST: BEST PLACES TO TRAVEL IN SEPTEMBER
Santa Fe, New Mexico in October
October has always been a big month in New Mexico because of the Albuquerque International Balloon Fiesta. It hosts the launch of 550 hot air balloons over 9 days, painting the sky with a kaleidoscope of color.
Meander through the adobe-lined streets of Downtown Sante Fe. You'll discover a plethora of galleries, studios, and boutiques showcasing a diverse array of artistic expressions.
For those seeking outdoor adventure, Santa Fe's surrounding landscapes are breathtaking. The scenic hikes in Sante Fe immerse you in the golden hues of autumn foliage, with options like the Aspen Vista Trail and the Atalaya Mountain Trail.
Beyond Santa Fe, Carlsbad Caverns National Park entices with its otherworldly underground formations, while the White Sands National Monument unveils a surreal expanse of gleaming white sands.
For a panoramic view, the Sandia Peak Tramway in Albuquerque offers a breathtaking ride to a mountaintop vista.
And don't miss the whimsical delights of McCall's Pumpkin Patch and massive corn maze, a seasonal favorite that promises fun for all ages.
In October, Santa Fe becomes an idyllic blend of culture, adventure, and natural wonder, making it an unforgettable destination for travelers seeking a truly enriching experience.
Hotel: Four Seasons Resort Rancho Encantado Santa Fe (9.0)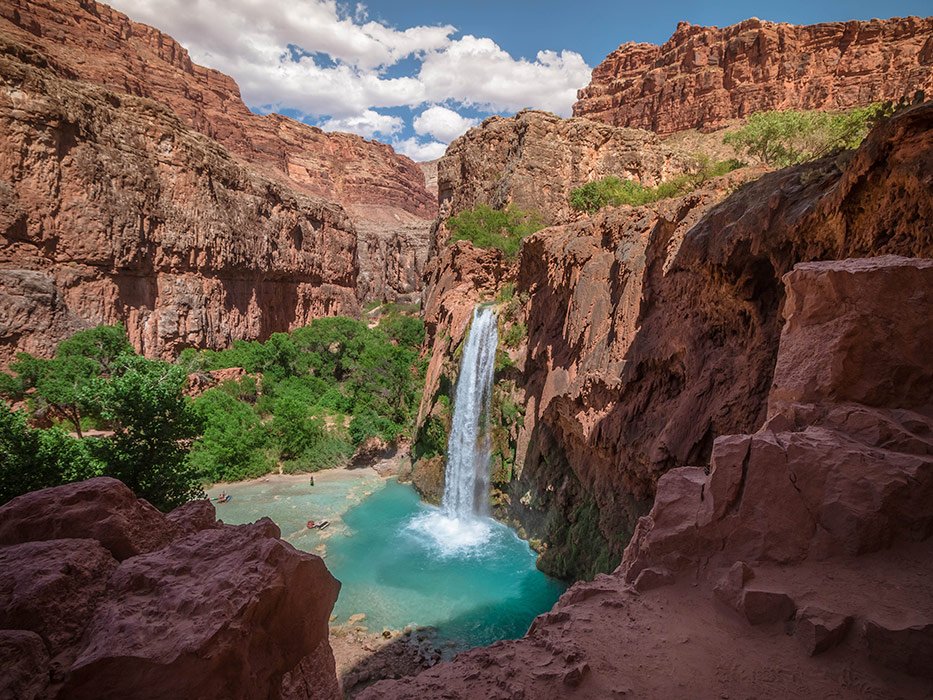 Grand Canyon, Arizona in October
The Grand Canyon is one of the best places to visit in Arizona with jaw dropping views. The best South Rim viewpoints include Mather Point, Yavapai Point and Hopi Point. On the North Rim, Bright Angel Point and Point Imperial are amazing.
You can hike down a trail or go for a serious challenge and do a rim to rim hike. The North Rim is open until mid October but the South Rim is open all month.
Havasu Falls shown above is a backpacking trip on Native American land (Havasupai) in the Grand Canyon. If you can score a 3 day trip permit, you'll have a chance to explore the area with incredible waterfalls.
During your 3 day stay, you can take day hikes to other beautiful waterfalls in the area including Mooney Falls and Beaver Falls. Some people hike all the way to to Colordao River.
Glamping: Under Canvas Grand Canyon (8.8)
RELATED POST: FALL GLAMPING IN CALIFORNIA & THE USA
---
Best Places to Visit in October in Europe
Tuscany, Italy in October
As the hot Tuscan summer fades into vineyards with gorgeous fall colors, truffles and chestnuts take their place at the table. Tuscany is known for having some of the best food to eat in Italy.
October hosts a captivating mosaic of cultural, gastronomic, and adventurous experiences, making it a remarkable time to immerse oneself in Tuscan charm.
From the Santa Reparata Parade in Florence to the Marradi Chestnut Festival with sumptuous chestnut-based dishes to L'Eroica in Gaiole, a vintage cycling event through the Tuscan countryside, October is filled with exciting things to do.
The most thrilling celebration may be the Halloween Festival at Borgo a Mozzano, which transforms a medieval town into a realm of spooky enchantment with eerie decorations, costume parades, and a House of Terror.
Stay at one of the best wine hotels in Tuscany to enjoy wine tasting, leisurely bike rides through charming towns, and la dolce vita in the Italian countryside.
Enjoy the Chianti region, the medieval village of Siena, and spend time in gorgeous Florence without the hordes of summer tourists on an idyllic Tuscany Road trip itinerary.
Fall is the perfect time for an Italian weekend getaway around the villages of Tuscany.
Hotel: Gallery Hotel Art (8.9)
RELATED POST: 25 EPIC ADVENTURES TO ADD TO YOUR EUROPE BUCKET LIST
Loire Valley, France in October
October is the perfect time to visit the Loire Valley. The weather is cool and crisp, making it ideal for exploring the many castles in the area, such as Chenonceau and Valençay.
You can actually stay overnight at one of the best chateau hotels in the Loire Valley. Wander the beautiful manicured gardens and enjoy the autumnal foliage..
Wine lovers and foodies have plenty of options for wine tasting. The area is home to many renowned vineyards, so you'll be spoiled for choice.
And if you're a fan of goat cheese, be sure to try some of the Valençay variety – it's delicious!
Start or end your trip in Paris. Get a hotel with an Eiffel Tower view and visit the gardens of Paris filled with fall colors. Don't miss Nuit Blanche on October 1, 2022, an open-air multimedia art exhibition that is lit only by moonlight.
Hotel: Château Louise de La Vallière (9.5) or Cheval Blanc Paris & Dior Spa Cheval Blanc Paris (9.5)
RELATED POST: ADD THESE BEAUTIFUL CITIES IN FRANCE TO YOUR PARISIAN TRIP
Prague, Czech Republic in October
Prague is a city that comes alive in the fall when the prices and temperatures drop. It's definitely one of the best October destinations in Europe.
One of the highlights in October is the fall foliage in Prague's parks and gardens, such as the Royal Garden and Petrin Hill Park, which offer beautiful views of the changing leaves.
A boat tour on the Vltava River will also provide a perfect perspective of the city's stunning architecture and bridges, especially during the autumn season.
Visit the historic Old Town Square, home to many landmarks, including the famous Astronomical Clock. It is a great spot to enjoy a cup of hot chocolate and people-watch.
Prague is also home to some of the best October art and music festivals in Europe. Check out the Signal Festival, which transforms the city with stunning light installations, projections, and interactive displays.
Designblok, the Prague international design and fashion festival, is held in multiple venues including the Royal Garden of Prague Castle, one of the best places to visit in the city, and the Museum of Decorative Arts.
Finally, October is the perfect time to sample traditional Czech cuisine at a Prague Medieval Dinner. Or for a unique experience, try a Prague beer spa, a completely different way to indulge in Prague's favorite drink.
Hotel: Andaz Prague (9.5)
Poland in October
Poland may not be the place you first think of for fall foliage but come mid-October, you'll find autumn colors everywhere.
Step back into history into old ornate towns in Gdansk and Warsaw, beautiful central squares filled with brightly colored buildings, and fascinating castles.
Explore beautiful public spaces in Warsaw with fall foliage like Lazienki Garden and Wilanów Palace Garden, or make the most of the outdoors in Kampinos Forest, where you will find trails for hiking and biking.
Some other pretty places to see fall foliage in Poland include the Bieszczady Mountains, the Tuchola Forest, where you can also forage for mushrooms, or the Baltic coast.
The fall has temperate weather, the Warsaw International Film Festival, and a few eclectic music festivals in Krakow like the 7XGospel Festiva and the Unsound Festival.
In Krakow, visit Old Town, Wawel Castle, and go deep underground to explore the Wieliczka Salt Mine (shown above). It definitely deserves a spot on your Europe Bucket List.
If you can't make it in October, go toward the end of November to see charming Christmas markets.
Hotel: H15 Boutique Hotel (9.1)
Romania in October
Romania is a terrific October destination with plenty of exciting and unique activities. One of the most popular attractions during this time of year is Halloween at Bran Castle, which is said to have inspired the legend of Dracula.
Visitors can take a guided tour of the castle and learn about the history and folklore surrounding the infamous vampire. On October 31st, there are additional activities.
If you are staying in Bucharest, you can visit the area on an organized day trip to Dracula's Castle, Peleș Castle & Brașov Day Trip.
Another must-see destination is Sighisoara, the birthplace of Dracula himself. This colorful medieval city is full of history and culture, and visitors can explore the old town, Sighisoara Citadel, and learn about the life of Vlad the Impaler.
For those who love nature, a hike in the Carpathian Mountains offers stunning fall foliage and breathtaking scenery.
The Transfăgărășan Road is a particularly scenic drive, with winding roads and panoramic views of the mountains that you should see before it closes for the winter around mid to late October.
Food lovers will adore the Moșna cabbage festival, which features traditional Romanian cabbage dishes and other local specialties.
Overall, Romania in October offers a unique and unforgettable travel experience, with something for everyone to enjoy.
Hotel: SCHUSTER Boarding House (9.7) offers stylish rooms in Brasov.
Vilnius, Lithuania in October
Vilnius, Lithuania, is a terrific October destination as the city offers exciting cultural and outdoor experiences. It's also one of the best places to see fall colors in Europe.
From city parks to Aukstaicija National Park, bright yellows and burnt oranges paint the scenery in fiery hues.
For one of the best autumn experiences, take a hot air balloon flight over Vilnius and surrounding landscapes to see the fall foliage and warm colors from above.
The Vilnius Jazz Festival is the big draw this month. Set against the picturesque backdrop of the Old Town, the festival fills the air with contemporary melodies over 3-4 days of performances, as well as workshops and jam sessions.
Stroll through the cobblestone streets of the Old Town to appreciate its charming architecture, cozy cafes, and historic landmarks. In the evening the town comes alive, especially on the weekends.
A short trip from Vilnius leads to the iconic Trakai Island Castle, a captivating medieval fortress near serene lakes. Journey back through time while exploring its towers, drawbridges, and courtyards to glimpse Lithuania's rich history.
In October, Vilnius is a harmonious symphony of jazz, history, and natural beauty, making it an unforgettable destination for travelers seeking a blend of culture and adventure.
Hotel: Hotel Pacai (9.5) is one of the most beautiful hotels in a historic Baroque palace, conveintly located in Old Town.
---
Best Places to Travel in October in the World
Morocco in October
If you're looking for the best places to travel in October, you can't go wrong with Morocco. This North African country is home to a variety of must-see destinations..
Start your journey in Marrakech, where the bustling medina comes alive with its vibrant souks, intricate architecture, and the iconic Djemaa el-Fna square.
Venture into the Sahara Desert for an awe-inspiring desert expedition. With milder temperatures, camel treks, dramatic 200-foot dunes, and a night at a Sahara desert luxury camp under the star-studded sky are unforgettable.
Add on a trip to the charming coastal town of Essaouira or Chefchaouen, the striking blue-and-white mountain town that's become increasingly popular in recent years.
October also marks the harvest season in Morocco's famed Atlas Mountains. Hike through picturesque villages and savor the warm hospitality of the Berber people.
Cultural enthusiasts will delight in the Ouarzazate region, known as the "Hollywood of Africa," with its stunning kasbahs and Morocco filming locations.
Whether you're drawn to the vibrant cities, the tranquil desert, or the stunning landscapes, Morocco in October promises a captivating journey.
Hotel: La Sultana Marrakech or one of the Best Riads in Marrakech
Jordan in October
Spend a week in Jordan in October when the weather is perfect! A Jordan road trip is the best way to see all of the interesting sights.
We highly recommend starting with a few days at the Kempinski Hotel Ishtar Dead Sea to float in the Dead Sea, go hiking at Wadi Al Mujib, and indulge in luxurious spa treatments.
In Petra, one of the 7 Wonders of the Modern World and famous Jordan landmarks, walk through the towering walls of Al-Siq to the iconic Treasury, carved into the rose-red rock.
Explore the fascinatingly large Petra complex and hike up to the Monastery. Plan your visit on a Monday, Wednesday, or Thursday to see the candlelit Petra at Night.
Another highlight is luxury camping under a star-filled sky in the Wadi Rum desert at a Bubble Hotel. During the day, take a jeep tour to see natural arches, dunes, and ancient petroglyphs.
Scuba lovers should visit Aqaba to explore the vibrant underwater world of the Red Sea by snorkeling or diving. There are also beautiful beaches for relaxing.
Lastly, explore the Amman Citadel with stunning city views, see a performance at the Roman Theater, and have a delicious falafel dinner at the legendary Hashem Restaurant in Downtown Amman.
Hotel: Wadi Rum Bubble Luxotel (8.7)
RELATED POST: WHAT TO PACK FOR A TRIP TO JORDAN
Seychelles in October
October is a great time to visit the Seychelles. The weather is perfectly beachy with a few drops of overnight rain. It also happens to be the best time for scuba diving with crystal clear water. You can't do any better than Beau Vallon.
The lush surroundings of the island provide for incredible hiking scenery. Mahe island's Copolia Trail is known to have the most stunning, postcard worthy views.
Take an island hopping catamaran cruise to Praslin and La Digue. You'll explore the forest of Vallée de Mai where they have the gigantic coco seeds and visit the famous Anse Source d'Argent Beach, shown above.
Exploring the Victoria Bazaar with all of its fresh food and handmade jewelry is a great thing to experience as well. If local food is of interest to you, enlighten your tastebuds with bat curry or shark chutney, yum!
Hotel: Constance Lemuria (9.4) or Mango House Seychelles, LXR Hotels & Resorts (10)
---
Travel in October often involves incredible Autumn colors or fall festivals. The best bucket list Autumn destinations are at their optimal weather. It can be a dreamy time for a simple weekend getaway or a bucket list trip across the world.
If you are looking for more fun trip ideas, try the best places to visit in September or November too.
---
Other Posts You Might Like:
Save the Best Places to Visit in October USA & Europe to read later? Pin it!