Looking for the best places to visit in May in the USA? Or perhaps you might be interested in one of the best May European destinations or a bucket list trip across the world.
Whether you plan to get away for Memorial Day weekend or set off oversees, May is a terrific time to take a trip. Take advantage of the beautiful weather, flowers in bloom and spring festivals.
Some of the best destinations are in their shoulder season before the busy summer season.
If you are looking for one of the best places to travel in May in the USA or Europe, check out our top 15 picks. Some may surprise you and others are probably on your bucket list.
For even more inspiration, check out the best places to visit in April in the USA or the Best places to travel in Europe in April.
This post contains affiliate links. If you buy something through one of these links, we may earn a commission. You can read our full disclosure here.
The Best Places to Visit in May in the USA
1. Louisville, Kentucky in May
Louisville, Kentucky is one of the best places to visit in May if you are a fan of horse racing or amazing hats! The infamous the Kentucky Derby is held at Churchill Downs on May 6th. There is a buzz in the air even if you don't make it to the track.
There are plenty of great places to visit, both inside and outside the city. Start with the Louisville Slugger Museum, which tells the story of the city's famous baseball bat manufacturer.
For history buffs, the Muhammad Ali Center is worthwhile. The center tells the story of Ali's life, both as a world-famous boxer and as a social activist.
Or, if you're interested in learning about the city's rich bourbon heritage, you can take a tour of the Evan Williams Bourbon Experience.
Louisville is home to several great parks, including Cherokee Park and Waterfront Park. For those who want to experience Louisville's natural beauty, Iroquois Park provides 725 acres of hiking trails, picnic areas, and top-notch views of the city.
2. San Diego, California in May
Visiting San Diego is always a great trip and it's also one of the best places to visit in May. The weather is warm but not too hot, and there are plenty of things to do around the city.
Start with a day at the beach! San Diego has some of the prettiest beaches in Southern California and one of the best places to kayak in La Jolla.
With Cinco de Mayo celebrations, a stroll through the historic district of Old Town San Diego is extra fun packed with quaint cafés serving authentic Mexican cuisine to shops.
Of course, Old Town is also home to a rich variety of museums and historical landmarks that are sure to delight history buffs.
San Diego is all about enjoying the outdoors. Walk or hike through one of the many scenic parks in the area, such as Balboa Park or Mission Trails Regional Park. Visit the world-famous San Diego Zoo, Safari Park, Legoland or take a harbor cruise.
Downtown, explore the historic Gaslamp Quarter, where you can find a variety of shops, restaurants, and bars. May is also a great time to see the Padres play at Petco Park. Whatever you decide to do, you'll have a great time in San Diego in May!
3. Finger Lakes, New York in May
When you see the State Parks around the Finger Lakes region, you'll understand why New York is one of the most beautiful states to visit in the USA. Filled with amazing hikes and flowing waterfalls, May is an ideal time to visit.
In Watkins Glen State Park you can hike to the top of waterfalls and admire the crystal-clear pools below.
Taughannock Falls State Park is a great place to explore nature, go for a swim, or just relax by the falls. Buttermilk Falls State Park is perfect for a picnic or a hike through the woods.
Another great thing to do is enjoy a day of wine tasting at one of the many local wineries. The Seneca Glen wine trail is a great way to sample some of the best wines in the region.
The take a boat tour of beautiful Seneca Lake, which is also known for great fishing. The National Lake Trout Derby is a crowd favorite over Memorial Day Weekend.
Whether you're looking for adventure or relaxation, the Finger Lakes has something for everyone.
4. Holland, Michigan in May
Want to see brightly colored Tulip fields and enjoy a taste of Dutch culture without a big plane flight? Then Holland, Michigan is the place to go in May for the Tulip Time Festival and tons of outdoor fun!
Windmill Island Gardens is a crowd-pleaser, with its authentic Dutch windmill, 36 acres of gardens with more than 100,000 tulips in spring, and charming European touches throughout. Veldheer Tulip Garden is another lovely spot to see tulips in bloom.
Do a little shopping in Downtown Holland and don't miss the ever popular restaurant, The Windmill, where you can get breakfast all day. You can also find traditional Dutch architecture and delicious Dutch food in Nelis' Dutch Village.
The Big Red Lighthouse stands proudly at the entrance of the Holland channel that connects Lake Michigan to Holland's home on Lake Macatawa.. Holland State Park welcomes visitors to explore it's hiking trails and sandy beaches.
Rent pontoon boats and kayaks to get out on the lake. Better yet, bring your own inflatable kayak or canoe and water shoes and head to Pigeon Lake, a popular spot for paddlers.
Art lovers will appreciate a trip to nearby Saugatuck/Douglas for galleries, exhibitions and art installations. Saugatuck Dunes State Park and Oval Beach is also worth a visit.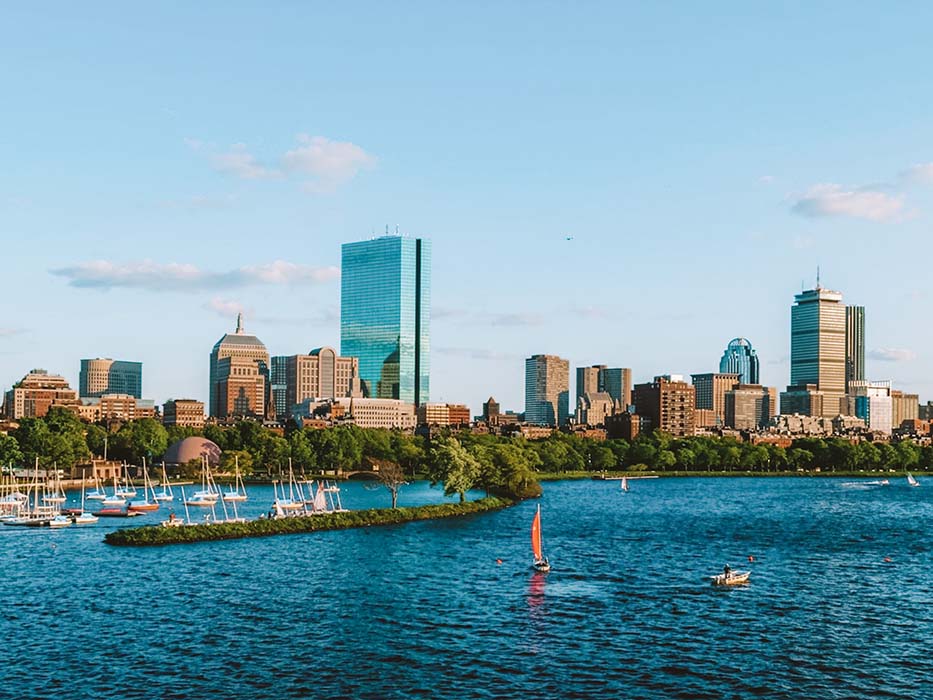 5. Boston, Massachusettes in May
If you're looking for the best places to visit in May in the USA, you can't go wrong with Boston. The weather is perfect for sightseeing, with warm days and mild evenings. And there are lots of fun spring events.
Strolling through America's oldest city park, Boston Common, is always a great thing to do and in May you can see the Memorial Day Garden of Flags. Boston Common is also the starting point of a walk on the Freedom Trail.
The 2.5 mile (4 km) journey takes about 2 hours and you'll see 16 historical sites from the American Revolution. Some of the top stops include Paul Revere's House and Faneuil Hall, where you can grab a bite to eat and do some shopping.
If you're looking for a little more excitement, spring is the perfect time to catch a Red Sox game at Fenway Park or the Boston Calling Music Festival over Memorial Day weekend. or the in the Public Garden.
And if you want to get out on the water, take a sunset kayaking tour on the Charles River or an amphibious Duck Boat that tours the city and ends with a cruise. For the cutest kid event, don't miss the Duckling Day Parade on Mother's Day.
Even with only one day in Boston as part of a larger trip, there are so many great things to do in May!
---
The Best Places to Visit in May in Europe
6. London, England in May
London is one of the most iconic cities in the world, brimming with countless things to do and May is an exciting month to visit. Flowers are everywhere, especially on display at the RHS Chelsea Flower Show and Chelsea in Bloom.
May is also the month of the FA Cup Final – so whether you're supporting the men's or women's team, make sure to catch all the action!
For the more traditional activities, see the cityscape from above with a ride on the London Eye ferris wheel or below on a River Thames Cruise. There are also lots of fun free things to do in London.
Westminster Abbey and Big Ben are two architectural masterpieces that have stood as symbols of Britain's rich history for centuries.
If you're looking to dive into all things royal, be sure to visit the Tower of London to see the Crown Jewels. Then head over to Buckingham Palace to witness the Changing of the Guards ceremony.
Some other "musts" in London include afternoon tea at The Ritz London or Claridge's, a theater performance in the West End or dinner at the latest eateries, and a night out on the town.
There are quite a few day trips that you can enjoy from London. Take a tour of Windsor Castle, Stonehenge, and Oxford. Happy Potter Fans will welcome the chance to tour Warner Brothers Studio.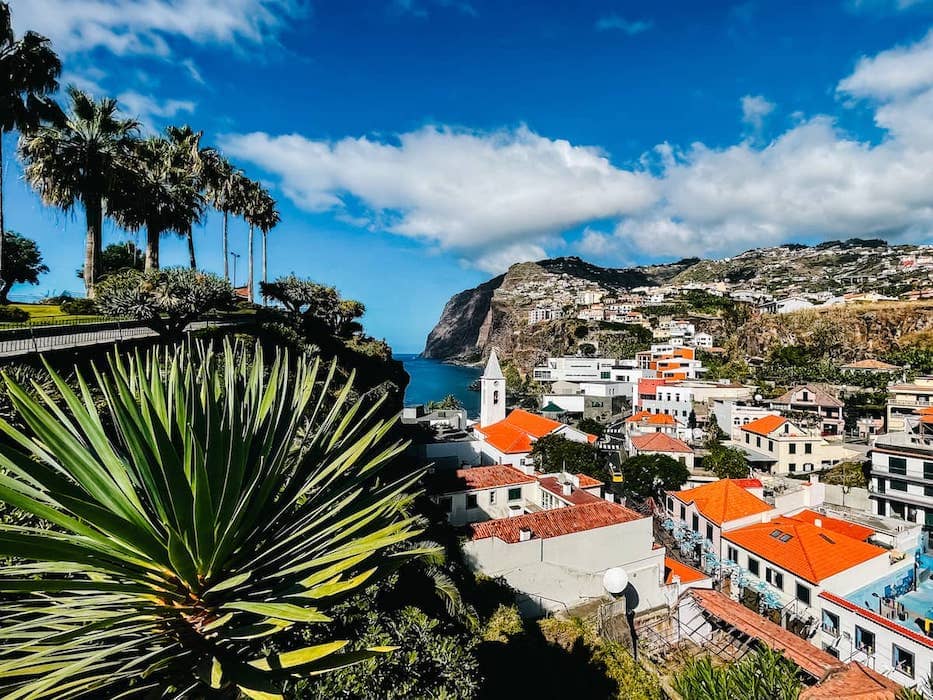 7. Madeira, Portugal in May
Madeira is a Portuguese island off the coast of Africa, that is a 90 minute flight from Lisbon. The island has a subtropical climate, so it is generally warm and sunny all year round.
In May things are warming up just in time for the Madeira Flower Festival, one of the best things to do in Funchal.
In Madeira, you can go hiking or biking in the mountains, go surfing or windsurfing at one of the many beaches, or head to Ponta de São Lourenço, a beautiful peninsula that boasts unspoiled Madeira beaches and splendid views of the Atlantic Ocean.
Levada Walks are one of the coolest features of Madeira. There are trails all over the island that follow irrigation channels, guiding you through verdant valleys and hills filled with unique flora and fauna. You'll also see waterfalls and incredible views.
And for fun in the city, there is always Funchal Cable Car, which takes you up to Monte Palace Tropical Garden where you can marvel at delicate orchids and lush greenery amidst an oasis of sunshine.
View lovers will also appreciate the Cabo Girão sky walk, You'll find a little bit of everything in this beguiling archipelago.
8. Cordoba, Spain in May
May in Cordoba is a magical month, with lots of festivals and traditional activities that take place. Every year there's the Cruces de Mayo at the beginning of May, when there is a competition for the best decorated crosses.
Then comes the renowned Los Patios Festival where private patios are opened up to the public for nearly two weeks, bursting with beautiful blooms and buzzing activity.
It's especially busy on the weekends and visitors from afar flock to Cordoba to experience this unique spectacle so go during the week if possible.
And at the end of May comes La Feria, Cordoba's biggest event of the year! There are tents set up all over the city called casetas. Inside, they serve delicious food and drinks, live music and of course, dancing all night!
In addition to all the fun festivals in May, there are so many great things to do in Cordoba.
It's an underrated city that people visit for the day on a Spain road trip but you should stay at one of the best Cordoba hotels and spend a few days.
Start off at the Mezquita-Cathedral for a dose of awe-inspiring Moorish architecture. We recommend getting there right when they open because it's a huge attraction and so worth visiting.
Explore the Alcazar de los Reyes Cristianos with beautiful gardens. At night there is a light show that is really beautiful with dancing fountains and the coolest light projections, all set to music.
Wander through the little streets in La Juderia (the Jewish Quarter) or take a sunset stroll across the Roman Bridge. Finally, indulge in some delicious local cuisine and lively nightlife.
9. Cannes, France in May
Cannes is a city that needs no introduction. Known as one of the best weekend getaways in France with its sparkling coastline, glamorous film festival and extravagant yachts, Cannes is the ultimate destination for endless luxury. However, there is more to this city than meets the eye.
First on your list should be a stroll down the iconic La Croisette. This boardwalk, lined with palm trees and high-end shops, is the perfect place to people watch and soak up the Mediterranean atmosphere.
The beaches along the French Riviera are see and be seen, but those looking for a more active outing on the Côte d'Azur, can take a half-day boat trip to the Calanques of the Esterel or a ferry to explore the beautiful Île Sainte-Marguerite.
The Cannes International Film Festival, one of the most prestigious events in the film industry is the reason Cannes is one of the best places to visit in May. Even if you're not an industry insider, the city is abuzz with events and celebrities.
Don't leave this dazzling city without indulging in some French cuisine. From Michelin-starred restaurants to casual bistros, this city has it all. So whether you're looking for luxury or adventure, Cannes has something for everyone.
10. Camargue, France in May
If you're looking for endless beauty and adventure, look no further than the gorgeous region of Camargue in France.
This unique corner of Provence is known for its iconic wild white horses, flocks of stunning flamingos, black bulls and vast salt pans that produce Camargue Fleur de Sel.
The UNESCO biosphere reserve, can be toured on horseback or a 4×4 safari. Skilled photographers come from all over the world to capture the beauty in this lesser known region of Provence and some offer photo tours. You can also tour a bull farm.
The beaches in the area are another sight to see. Plage de Piémanson has tons of kitesurfers on a windy day. Plage de l'Espiguette is a more desolate, white sand gem that is definitely worth visiting.
The capital of Camargue is a small village called Saintes-Maries-de-la-Mer. Wander through the quaint town filled with shops and restaurants.
The historic city of Arles, best known for its association with the post-Impressionist painter Vincent Van Gogh, is a must-see. Another picturesque town to explore nearby is Aigues-Mortes.
Whether you are seeing wildlife, spending a day relaxing on the beach or exploring historic landmarks, Camargue has something for everyone.
11. Florence, Italy in May
If you love wisteria, you have to see the captivating city of Florence in May. The fragrant blooms can be found around the city and the real showstopper is the wisteria tunnel at Bardini Gardens.
Flower lovers will also enjoy a stroll through the Boboli Gardens, one of the most popular tourist attractions in Florence.
The city filled with some of the world's best art has mind-blowing queues to match. Don't get stuck. Plan ahead with timed entry tickets for the Florence favorites – the Uffizi Gallery, the Statue of David and the Florence Cathedral.
Spending time in Florence will make you eager to explore the rest of Tuscany. You can visit some of the region's most famous vineyards and enjoy a wine tasting or two. Or, if you're feeling adventurous, you can climb the Leaning Tower of Pisa.
For a more traditional Tuscan experience, visit the medieval city of Siena, home to one of the most iconic squares in Italy, as well as San Gimignano, the quintessential Tuscany village full of stunning architecture and sweeping views.
There are so many great things to do in Tuscany in May, that it deserves a top spot on your European Bucket List.
12. Lake Como, Italy in May
Lake Como is one of the best getaways in Italy and a lovely place to visit in May.
This picturesque region offers endless opportunities for exploration and discovery, from walking along the shoreline and picnicking by the water to taking scenic boat tours and hiking through rolling hillsides.
One of the top things to see in Lake Como is the charming village of Bellagio. Located on a small peninsula jutting out into the lake,
Bellagio is home to quaint streets lined with colorful buildings and buzzing cafes that offer some of the best views in town. You can take a tour to visit Bellagio and the beautiful town of Lugano, Switzerland in one day.
Another must-visit spot is Villa del Balbianello, a breathtaking 16th-century estate with lovely formal gardens overlooking the glistening lake. It's been the backdrop to many extravagant weddings and seen in films like Casino Royale.
The weather in May is ideal for hiking and outdoor fun. The Wayfarer's Path is a great hike, winding its way along steep cliff faces and offering stunning views of the surrounding landscapes.
Another idyllic outing is the cycling route around Lake Como past serene lakeside villages. There are so many great things to do at Lake Como year round, but spring is particularly lovely.
13. Puglia, Italy in May
May is the perfect time to explore Puglia! From vibrant cultural celebrations, architectural marvels and awe-inspiring natural vistas, this region has it all! Plus, May weather is mild and and it's the shoulder season so prices are reasonable.
In the beginning of May, the religious celebration of La Festa di San Nicola has 3 days of festivities in Bari with floats, parades and 11th century costumes.
Wine lovers will enjoy Cantine Aperte (open cellars) with cellar tours, tastings and events that take place all over Puglia mid May. It's the perfect time to stay in a luxurious Masserie in Puglia and enjoy the Italian countryside.
Since this area has so much to explore, consider renting a car in Puglia for an Italian road trip.
Some of the amazing things you'll be able to see include the White City of Ostuni and Lecce, often called the "Florence of the South" for its abundance of art and architecture.
Take a tour and stay overnight in Alberobello's famous Trulli houses, which look like they're straight out of a fairytale.
Sassi di Matera with ancient and stunning cave hotels is another must visit. Both areas are UNESCO Heritage sites.
Make sure to head to the beautiful beaches in Polignano a Mare, where you can relax in the sun, take a boat tour or dine in a cave to enjoy fresh seafood in an unforgettable setting.
14. Copenhagen, Denmark in May
May is the best time to visit Copenhagen for so many reasons! Its mild weather and smaller crowds allow you to experience a truly authentic Danish getaway.
Visit Gavnø Castle for their famous tulip festival or cheer on runners in the Copenhagen Marathon in mid May.
The end of May is when the buzz really starts with the festivities of the Copenhagen Carnival which carries on for three days. with parades, colorful costumes and lots of samba music!
If marine voyages are more up your alley, why not adventure out to Aarhus where The Ocean Race sails through this year – as sailors circumnavigate the globe, they make a stop for 11 days of fun.
Of course, no visit to Copenhagen is complete without checking out some of its renowned attractions such as Jægersborggade (the coolest street), a canal cruise in Nyhavn, Rosenborg Castle, and Christianborg Palace,
Other great places to visit include Tivoli Gardens, Designmuseum Denmark, NY Carlsberg Glyptotek or the Underground Cold War Museum for an enthralling historical journey!
Want to see another country? Add a day trip to Lund & Malmö or rent a car in Copenhagen to explore on your own.
Best places to visit in May in Europe? Copenhagen is definitely a strong contender.
---
Other Amazing May Destinations
15. Mexico City, Mexico in May
May is one of the best times to visit Mexico City for great weather and plenty of things to do. Visit the Museum of Fine Arts, which is home to one of the largest collections of Latin American art in the world.
Another must-see is the Frida Kahlo Museum, which houses a collection of artifacts from her life in a building that recreates her Casa Azul.
The city's famous Zocalo district and the Juarez neighborhood are great places for shops, restaurants, and bars. Foodies will love the robust food scene, including mouthwatering churros at the highly popular El Moro Churrería.
And, of course, no trip to Mexico City would be complete without a visit to the pyramids at Teotihuacan and the Floating Gardens of Xochimilco, some of the best things to do in Mexico City.
With so much to see and do, you're sure to have a May to remember in Mexico City.
16. Vancouver, Canada in May
Vancouver is a beautiful city in Spring with plenty to do and see, making it the perfect destination for a May getaway.
Stanley Park is a must-visit, with its forest trails, scenic views of the Vancouver skyline and iconic landmarks like the Vancouver Aquarium and the Lion's Gate Bridge.
For those who want to get outdoors and explore, the Quarry Rock hike in Deep Cove is a great option. The moderate 3.8 km trail rewards hikers with stunning views of the water and mountains.
Capilano Suspension Bridge is another popular attraction, providing visitors with breathtaking views of the Capilano River.
In May, you'll have less rain but still be able to catch the end of the spring bloom. Take a Victoria and Butchart Gardens day trip to one of the prettiest gardens in the world.
The Chilliwack tulips also last into the beginning of May. If you want to see Cherry blossoms, you'll have to brave the weather and go in March and April.
And finally, don't miss the Sea to Sky Gondola on your trip to Vancouver. The gondola takes riders to an observation deck where they can enjoy panoramic views of Howe Sound and the surrounding mountains.
With so much to see and do, Vancouver is the perfect place to spend a May vacation.
17. Peru is an Amazing Place to Visit in May
May is the beginning of the dry season, the ideal time to visit the legendary ruins of Machu Picchu before the high tourist season from June to August.
It's also a great time for trekking the Inca Trail, an added travel challenge adventure. So don't forget those hiking shoes on your Peru packing list.
Start your Peruvian trip in the vibrant city of Cusco. Full of rich culture and mesmerizing traditions, explore local markets and wander through the cobblestone streets.
It's the perfect jumping off point for exciting day trips in the area, each one offering its own unique blend of natural beauty, ancient history, and cultural intrigue.
One of the most popular trips is a visit to Rainbow Mountain, where visitors can marvel at the colorful rugged landscape. Ollantaytambo, with its majestic ruins and quaint town center gives you a taste of Incan history,
Thrill seekers can stay overnight, suspended above town in a glass capsule at the Skylodge Adventure Suites.
Maras salt pools is a picturesque spot where salt has been mined for generations. Humantay Lake is crystal clear blue waters and peaceful isolation.
Of course, no visit to Peru would be complete without sampling some of its exquisite cuisine. From Lomo Saltado, to spicy ceviche to sumptuous desserts, there are endless delicacies waiting for you to dig in and savor.
Save The Best Places to Visit in May for Later? Pin It!