What are the most beautiful states in the USA? There are tons of gorgeous places to visit across our great country.
From the deep, dark forests of Washington to the towering mountains of Colorado; from the endless beaches and palm trees of Florida to New York's colorful autumn leaves; there is no shortage of beauty here in America!
Whether you're looking for a fun family vacation or an escape with your friends, this list will help you find the best states to visit for natural beauty and adventure in America.
We have personally been to all 50 states but this is a big country so we've teamed up with our favorite travel blogging friends to share their hidden gems and best places to see in the most beautiful US states.
At the end, we'll share our absolute favorites and our pick for the most beautiful state in the USA.
Those that are planning a trip will also find 60 Bucket List USA Trip Ideas very helpful. It includes USA road trips, the best national parks and more to plan your next vacation.
Additionally our YouTube channel has the inside scoop on epic destinations in some of the prettiest states in the USA.
The Most Beautiful States in the USA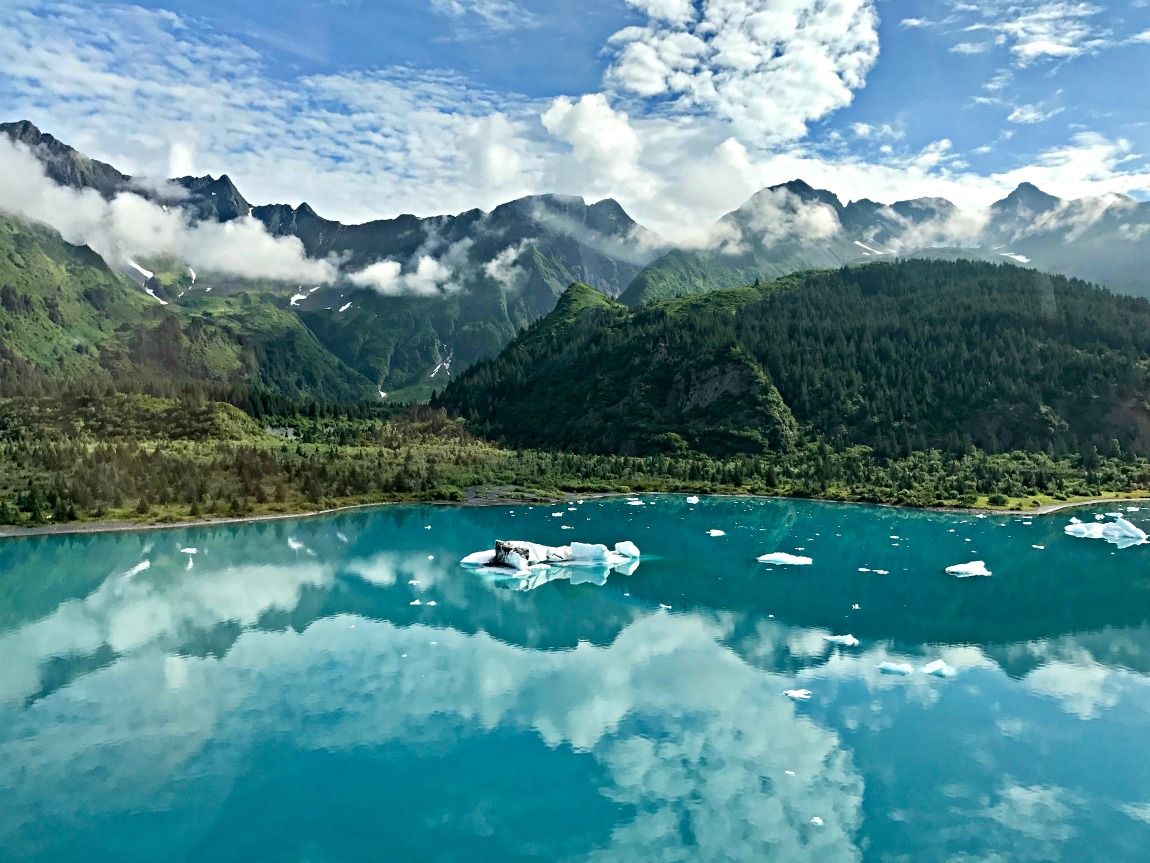 Alaska
Recommended by Jenifer of The Evolista
Alaska is one of the most naturally beautiful states in the US. It contains a large portion of America's national parks, like Denali National Park set on 6 million acres.
Visitors to the park can see grizzly bears, moose, and more in their natural habitat. Another exciting option is to take a flight seeing tour of Denali (also called Mount McKinley) complete with a glacier landing.
Denali is one of the most beautiful mountains in the US and the tallest peak at 20,310 above sea level.
Kenai Fjords National Park highlights calving glaciers, breathtaking waterways and marine life that even includes puffins. There are so many fun things to do in Seward, one of the main towns on the Kenai peninsula.
Kayak around icebergs in Bear Glacier lagoon, take a whale watching cruise, climb glaciers, go fishing and check out the cute towns in the area. You can even take a day trip to Katmai to see bears catching salmon swimming upstream.
Many people take an Alaskan cruise to see Glacier Bay National Park and the panhandle in the southern portion of the state. You can plan a 7 to 10 day Alaska itinerary that will allow you to see so much more than a cruise will allow.
Juneau is filled with activities like exploring an ice cave under Mendenhall Glacier, extraordinary waterfalls, zip lining through the rain forest, dog sledding and seeing the Alaskan capitol.
If you are lucky enough to visit from November through April, the northern lights are spectacular in Alaska. They are definitely worth a trip. This whole state is incredibly beautiful and a bucket list adventure we highly recommend.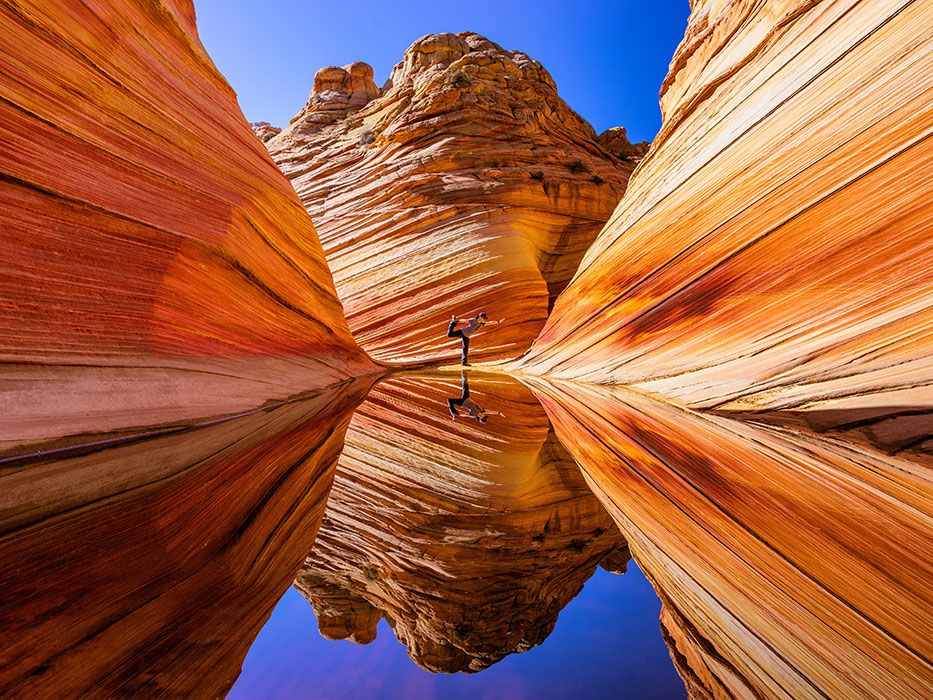 Arizona
Recommended by Milijana Gabrić of World Travel Connector
Undoubtedly, Arizona is one of the most beautiful states in the US. Start your trip in the red rock wonderland of Sedona, a popular US vacation spot for outdoor lovers, artsy souls, and spiritual seekers.
Famous for the Sedona vortex (an energy center beneficial for healing), you'll find sensational hiking, mountain biking, horseback riding, spiritual retreats, golf courses and spas.
The Grand Canyon is a highlight of a trip to Arizona. Spend the day seeing various viewpoints of this jaw dropping wonder.
Those that want a massive physical challenge do the rim to rim hike to experience the full beauty of the Grand Canyon.
A permit to visit Havasupai, tribal land in the Grand Canyon, will allow you to get up close to the turquoise jewel, Havasu Falls.
On the border of Utah and Arizona, the town of Page, Arizona is home to Horseshoe Bend, Antelope Canyon, and Glen Canyon Dam. It makes for a terrific,
Instagram worthy day trip or rent a houseboat to explore the nooks and crannies of Lake Powell. Nearby, Paria Canyon-Vermilion Cliffs Wilderness area also straddles the Utah/Arizona border.
Visit White Pocket's bizarre brain-like rock formations or get a permit to hike the Wave for gorgeous carved sandstone.
Arizona is best visited in Spring and Fall. Winter is chilly but a beautiful layer of snow makes it all prettier. Summer can get very hot with monsoonal rains.
RELATED POST: 20 Amazing Places to Visit in Arizona for Your AZ Bucket List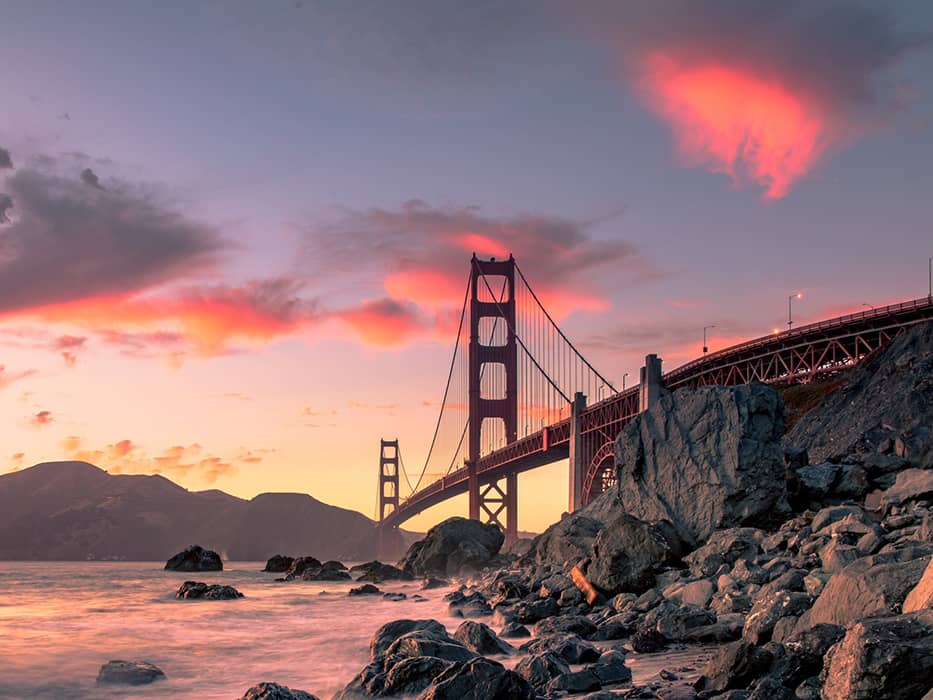 California
Recommended by Jenifer of The Evolista
California is the most populated states in America because, let's face it, who wouldn't want to live where it's always sunny and there's more than 1,100 miles of the prettiest beaches and charming coastal towns.
Pacific Coast Highway is the ultimate California scenic drive from San Diego to San Francisco's Golden Gate Bridge. You'll pass Laguna Beach, Malibu, Santa Barbara, Big Sur, Carmel and more.
But there's so much more to the Golden state beyond it's beautiful coastline.
California is one of the most beautiful states to visit with a whopping total of 9 national parks.
Yosemite National Park with supreme rock climbing, hiking, waterfalls and 4 seasons of beauty that have been documented by Ansel Adams and every serious nature photographer.
Sequoia National Park has huge redwoods that you can actually drive a car through. Joshua Tree and Death Valley showcase stunning desert landscapes.
People in California take advantage of the fact that you can go to the beach and snow ski in the same day. Ski resorts from Mammoth Mountain to Lake Tahoe, get visitors from all over the world.
There are also smaller ski resorts in Southern California like Big Bear and mountain lake communities like Lake Arrowhead that are fun to visit year round.
Another beautiful and highly productive part of California are the plethora of wine regions like Napa Valley, Sonoma, Carmel Valley, Paso Robles, Los Olivos, Temecula and more.
Rows of vines hugging hilly terrain and wine tasting are what dreamy weekend getaways are all about.
From the bottom to the top, California is just the prettiest state and one of the best states to visit in the USA. It's also one of the most beautiful states to live in!
Colorado
Recommended by Claudia Tavani, My Adventures Across The World
There is no doubt that when it comes to natural beauty, Colorado is one of the best states in the US. The array of natural attractions is incredible.
The state is known for the Rocky Mountains, which are the perfect place for hiking, adventure, wildlife spotting but even to simply relax in a natural setting.
Among the best places to visit in Colorado is Rocky Mountain National Park. Drive Trail Ridge Road for stunning vistas and the chance to spot elk and big horn sheep.
Serious hikers go for Long's peak, one of the Colorado fourteeners (mountains above 14,000 feet). Colorado actually has 58 mountain peaks that qualify and another you should not miss is Mount Evans,
Other places you will definitely enjoy are Maroon Bells and Crater Lake – two lakes in the Aspen area, which will provide some fantastic photo opportunities.
Finally, consider going to the Black Canyon of the Gunnison National Park – one of the narrowest canyons in the country.
Colorado is a perfect destination for a road trip in and of itself, but if time is of concern, consider driving the Mount Evans Scenic Byway.
It's about 60 miles and 2 hours by car from Denver, but keep in mind that it's not accessible in the winter months.
Another beautiful stretch of road is the Million Dollar Highway between Durango and Silverton.
Denver is a good place to base yourself when in Colorado. There are so many fun things to do in Denver and it's central location allows you to do a ton of sightseeing within a few hour radius.
Florida
Recommended by Lori from Naples Florida Travel Guide
For most, a visit to Florida means the theme parks around Orlando or a stay in glitzy Miami. But for nature lovers, there are an astounding number of places to visit in the Sunshine State.
A great time to visit is in March or April when the temperatures are warm and wonderful.
Due to its unique geology Florida has nearly 700 natural warm springs that bubble up from below. An ideal way to see these natural wonders is to visit places like Wakulla Springs south of Tallahassee and Crystal River in central Florida.
The springs have fish, water plants, otters, and manatees — sometimes even alligators.
For those preferring the wonders of the oceans, both coastlines feature pristine beaches and parks to observe the myriad of seabirds and often dolphins swimming close to shore.
A visit to Rookery Bay in southwest Florida is a must.
Within the bay is the largest mangrove estuary in North America which is home to thousands of seasonal birds that nest there including egrets, roseate spoonbills, sea birds, and brown pelicans.
They also have the largest nesting colony of bald eagles outside of Alaska. Rookery Bay is best experienced via a guided boat tour.
Visit the best small beach towns in Florida on the way to the southern tip, where the Florida Everglades are perfect for kayaking, hiking, and guided airboat tours.
From the marshy grasslands in the east near Miami to the swampy stands of bald cypress in the west around Naples and Marco Island, there is no other place on earth like the Everglades.
RELATED POST: 10 Best Inflatable Kayaks and Canoes
Georgia
Recommended by Bret Love & Mary Gabbett of Blue Ridge Mountains Travel Guide
When most people think of Georgia, the first thing that comes to mind is probably the shimmering skyline of Downtown Atlanta. The metropolitan capital city was made famous when it hosted the 1996 Centennial Olympic Games.
A much lesser-known fact is that Georgia boasts an exceptional amount of green space. You'll find mountains, lakes and waterfalls in the North Georgia mountains; ocean and islands to the east; canyons and caves to the west; and alligator-packed swamps to the south.
Of Georgia's "7 Natural Wonders," three of the best are in the northern part of the state. The 729-foot Amicalola Falls is the tallest waterfall in Georgia.
Breathtaking Tallulah Gorge measures 2 miles long and nearly 1,000 feet deep. The monolithic Stone Mountain is home to an increasingly controversial bas-relief sculpture depicting three Confederate leaders.
If you want to see the most beautiful region the state has to offer in terms of nature, take a road trip through the mountains of North Georgia. In early November the autumn colors really begin to pop.
The back roads and scenic byways that connect Blue Ridge Mountain towns such Clayton, Helen, Hiawassee, Blairsville, and Blue Ridge GA are breathtakingly beautiful at this time of year. There are also loads of hiking trails and overlooks from which to see them.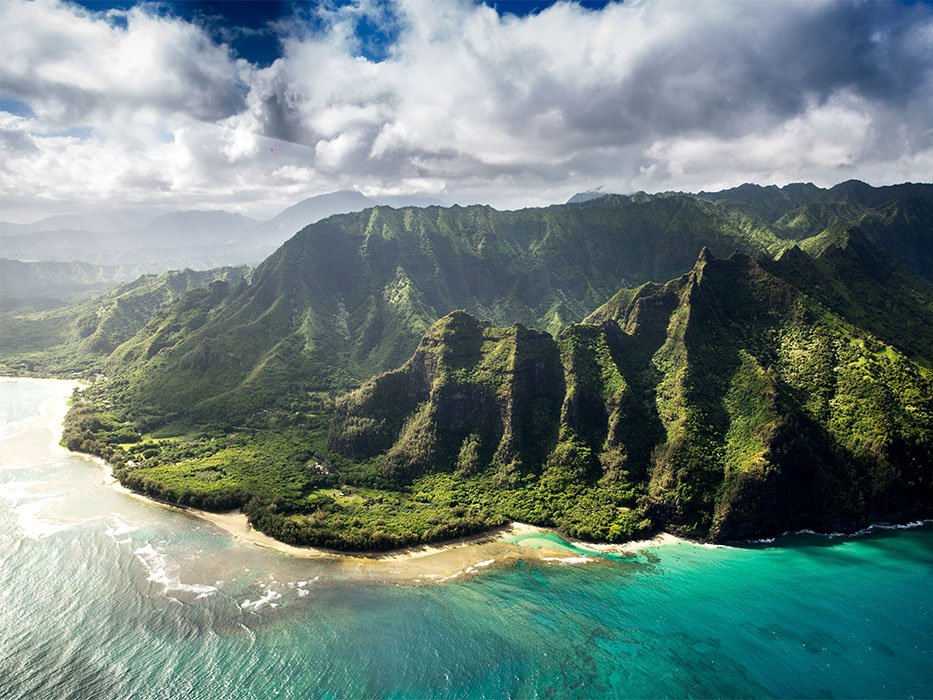 Hawaii
Recommended by Noel from This Hawaii Life
There are so many gorgeous places of natural beauty around Hawaii from the lush landscape and waterfalls on the east side of Hilo to the sunny beach areas of the Big Island.
Visiting amazing national and state parks like Hawaii Volcanoes National Park, Wapio Valley and the Place of Refuge along with a chance to see active super volcanoes are some of the best things to do on the Big Island.
Maui has incredible views from Haleakala and the road to Hana. The cool upcountry area is also worth a visit.
The most beautiful places in Oahu Hawaii have stunning mountains with botanical gardens, waterfalls and amazing hikes.
A drive around the gorgeous north coast area showcases amazing beaches, natural vistas and landscapes to hike or drive through.
Kauai, nicknamed the garden island, is just that with stunning jagged peaks, Waimea State Canyon and the outstanding beauty of the Na Pali Coastline.
The area is filled with so many hiking areas and beautiful waterfalls to enjoy and be outdoors.
If you are an adventure buff, swimming, surfing, sailing, hiking or biking along with every type of recreation and adventure sport is available on each island to explore and have a unique experience on each island.
Hawaii really stands out in its natural beauty and wonderful outdoor venues to discover and experience no matter which islands you choose to visit.
Idaho
Recommended by Mary from BR by Mary
Partly in the Rocky Mountains and partly in the Pacific Northwest. Idaho's beauty is very similar to the landscapes in British Columbia which is no surprise as both areas share a border!
If you are looking to be surrounded by breathtaking views, natural beauty and wildlife, a road trip across Idaho could be just what you need!
Starting in the South, your travel itinerary should include a stop to the Shoshone ice caves. Located about 2 hours from Boise, they are also called "frozen rivers" and offer an underground one hour tour of ice formations.
Nearby, Shoshone Falls also deserve a peek.
Two hours north, you will find cold Redfish lake which offers a flawless view on the cliffs of the Sawtooth Mountains. About an hour from Boise, Bruneau Dunes State Park is home to the tallest sand dune in North America and will offer desert like views.
The Northern part of Idaho is a good mix between the peaceful countryside, the immensity of the mountains and the clear water lakes.
Key places to visit in Northern Idaho include Coeur D'Alene Lake, Schweitzer Mountain and Lake Pend Oreille. All offer hiking trails, breathtaking views on the mountains and valleys, and water activities.
A drive on the 82-mile White Pine Scenic Byway is also a must, especially during fall and will take you through Idaho's lush forests, lakes and other beautiful sceneries.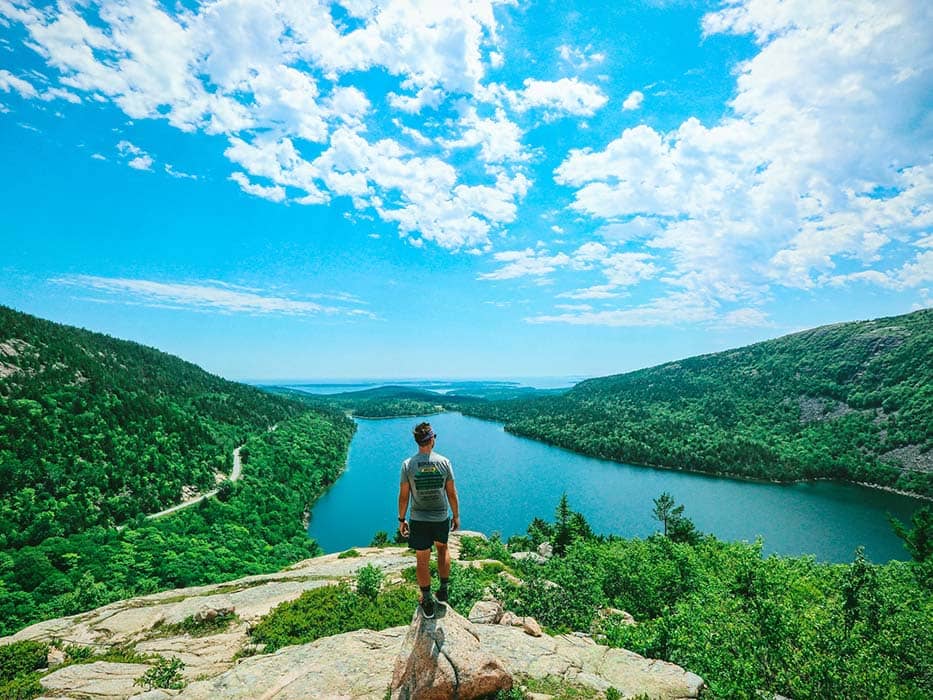 Maine
Recommended by Brittany from Travel by Brit
Maine is filled to the brim with natural beauty. From rocky coastlines and sandy beaches to stunning fall foliage and lush greenery, there are many unique sites that are worth traveling to see!
Start your trip with the best things to do in Portland, including the rocky coastline views at Fort Williams Park, the home of the Portland Head Light.
The Portland Head Light is the oldest and most photographed lighthouse in the United States, and it's surrounded by natural beauty.
While you're in Portland, you can also walk along the Eastern Promenade, a park with beautiful views of Casco Bay and Portland Harbor.
After spending some time in Portland, drive up the coast of Maine to Acadia National Park. On the way, stop in the beautiful seaport town of Camden.
Camden Hills State Park has hiking trails up to Mt. Battie with sweeping vistas of Penobscot Bay. You can also take a harbor cruise from views from the water.
Bar Harbor, is a great base for visiting Acadia National Park. Drive up Cadillac Mountain, the highest point along the North Atlantic seaboard, for spectacular views that are even prettier with autumn foliage.
Cadillac Mountain is also the first place to view the sunrise in the United States during the fall and winter months—and the sunrise is spectacular here, too!
For another one of the most picturesque views in Maine, hike up to Bubble Rock in Acadia National Park. This hike offers stunning views of Jordan Pond, a glacial pond, as well as the greenery in the surrounding area.
Massachusetts
Recommended by Jenifer of The Evolista
Massachusetts is home to some of the most beautiful places in the USA. From summers on Cape Cod to the Berkshires incredible fall colors, there's something for everyone.
If you're a fan of the outdoors, Cape Cod National Seashore is a must-visit. With miles of beaches and hiking trails, it's one of the best things to do on Cape Cod with kids.
Marthas Vineyard and Nantucket are also great places to soak up some sun.
Boston has plenty of green spaces to explore like Boston Common, the oldest and one of the prettiest city parks in the US.
The Charles River meanders 80 miles through 23 towns ultimately leading to Boston. Take a walk on the Charles Esplanade, a 17 mile river bank path, where you can see collegiate crews rowing and the Boston Skyline.
And if you're looking for a truly unique experience, don't miss The Berkshires. This popular vacation destination in Western Massachusetts is famous for its stunning fall foliage.
You will also find beautiful hiking trails, a top-notch farm-to-table food scene and open-air concerts at Tanglewood Music Festival.
Last but not least, Bash Bish Falls State Park is a must-see for nature lovers. Located in the Taconic Mountains of southwestern Massachusetts, it features the highest waterfall in the state.
The falls are made up of a series of cascades, nearly 200 feet in total – definitely a sight to behold!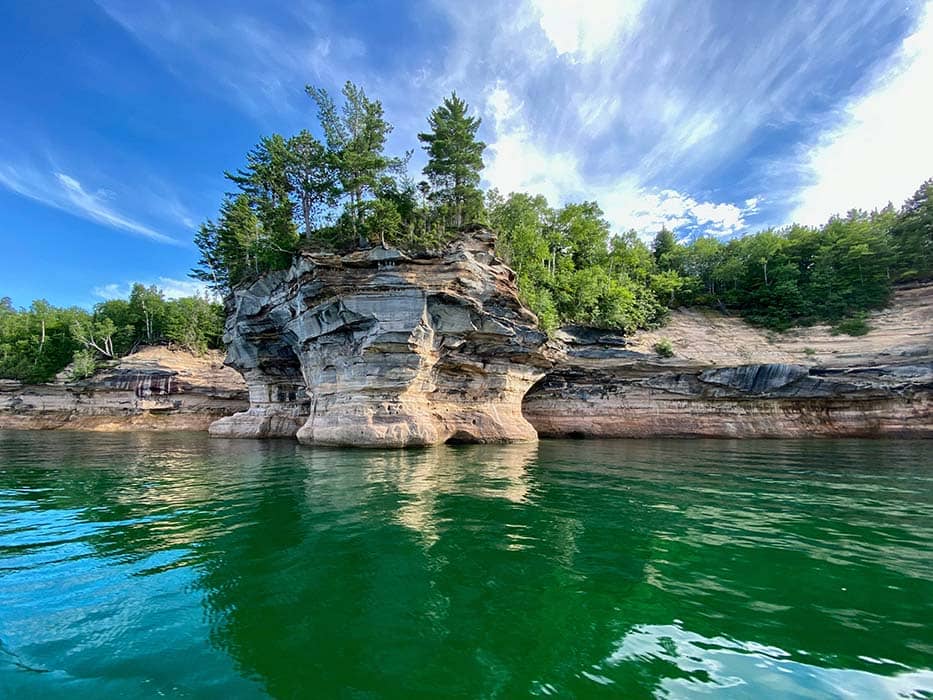 Michigan
Recommended by Samantha Meabon of PAonPause.com
Although somewhat unknown, Michigan has so many spaces worth visiting that make it one of the most beautiful states in the US.
Home to a National Park, two National Lakeshores, National Forests, in addition to plenty of other state areas, there is plenty of space to explore and some of the best Midwest camping spots.
Mackinac Island, on Lake Huron, is known for its Grand Hotel and horse-drawn carriage rides. One of the best and most scenic road trips begins at the Mackinac Bridge, the gateway to the Upper Peninsula.
Fall is the best time to make this drive, circling through beautiful forested lands.
Take in the views of Lake Michigan as you head west to the Porcupine Mountains Wilderness area for great hiking.
Along the northern border, stunning Lake Superior, offers at Pictured Rocks National Lakeshore. The waterfalls and rocky cliffs really are picturesque. It's one of top kayaking trip in the USA.
There are nearly unlimited numbers of waterfalls to discover in the region. On your way back towards the lower peninsula, be sure to stop at some of the biggest and best at Tahquamenon Falls State Park.
Continue heading down the western side of the mitten to see Sleeping Bear Dunes National Lakeshore. Almost the opposite of Pictured Rocks, the rolling sandy dunes are also great for stunning views.
The sunsets here are some of the best in Michigan. How can you go wrong with this beautiful state when you are surrounded on 3 sides by the beautiful Great Lakes?
Montana
Recommended by Jen Ambrose and Ryan Victor from Montana Discovered
Most anyone who's been to Montana would easily name it among the most beautiful states in America. From the jagged mountains in the West to the big sky that expands over the plains, Montana is nothing if not naturally stunning.
Choosing the most outstanding areas in such a big state is a difficult task, but visiting Glacier National Park is easily one of the top things to do in Montana.
It may be the most crowded and touristy part of the state, but it's hard to deny its jaw-dropping beauty, not to mention the plethora of hikes and other outdoor activities available.
Not too far away, Flathead Lake is another of Montana's most gorgeous spots.
The massive lake is ringed with state parks and charming towns, and it's a premier spot for kayaking, sailing, boating, and pretty much any other water activity.
On the opposite side of the state and with scenery unlike anywhere else is Makoshika State Park – Montana's badlands.
The chance to hike amongst otherworldly landscapes is the main draw, but it's also known for the extensive dinosaur fossils that have been found there.
The best way to experience the beauty of Montana is on a road trip.
The drive from Glacier National Park to Makoshika State Park will allow you to make stops at Flathead Lake and in Whitefish, Missoula, and Bozeman, three of Montana's hippest towns.
This trip is best done in early fall, when the crowds have dissipated and temperatures have cooled, but most attractions will still be open.
New Mexico
Recommended by Melissa from Parenthood and Passports
New Mexico is known as the Land of Enchantment, and with so much natural beauty and cultural history it is easy to see why.
The state is home to two of the most unique national parks in the United States.
Carlsbad Caverns is one of the longest cave systems in North America, and is one of two caves in the US designated as a UNESCO World Heritage site.
One of the country's newest national parks, White Sands, is also a New Mexico landmark. The picturesque rolling sand dunes are composed of natural gypsum crystals.
It is the world's largest field of gypsum sand dunes on earth. If visiting New Mexico with kids, they will have a blast sledding and even rolling down the massive dunes of pristine white sand.
Northern New Mexico also holds plenty of natural beauty. Just outside of Albuquerque take the longest tramway in the US by Sandia Peak.
The 2.7 mile long tram takes you up more than 10,000 feet for stunning views of the Sandia Mountain Range.
Plan to spend at least a week in New Mexico, with a portion of your trip in southern New Mexico near the national parks and the other part of your trip spent in northern New Mexico near the cities of Albuquerque and Santa Fe.
New York
Recommended by Melissa from New York Discovered
From the Adirondack high peaks to the roaring 167' Niagara Falls, to the lush hillsides and wineries lining the Finger Lakes, it is easy to argue that New York State is one of the most beautiful states in the country.
New York's beauty is spread out statewide, making a road trip the best way to experience it.
Beginning in the southernmost part of the state, take in views of the Manhattan Skyline from both above, with a trip up one of New York City's tallest buildings, on a harbor cruise or even a retro view of the airport at the TWA Hotel.
From the city continue up to the Catskills. Here you will be met with towering mountain tops, plentiful wildlife, and Hudson River views.
One of the best ways to experience the Catskills is on one of the many picturesque hikes, such as Hunter or Overlook Mountain.
The Adirondacks await you next. Here you will behold the Adirondack High Peaks with more hiking opportunities, but also some of the most scenic drives you will find in the state.
The Prospect Mountain Highway in Lake George or the Whiteface Mountain Veterans' Memorial Highway in Lake Placid will take you up a winding mountain to views stretching as far as Canada.
From the Adirondacks, head to the Finger Lakes region, where you can go wine tasting or explore the over 150 scenic waterfalls found in nearby Ithaca.
Your trip will conclude with a visit to Niagara Falls. Here you will be treated to stunning views of the American and Horseshoe falls from both above and below on a Maid of the Mist boat ride.
North Carolina
Contributed by Victoria Yore from Southern Trippers
If you are looking for the most beautiful states in the US, consider heading to North Carolina! It is truly one of the best places to visit, especially if you are in the south.
One of the prettiest waterfalls in North Carolina is Linville Falls which is a giant waterfall rushing into a gorge.
Along the coast, the Outer Banks is a chain of barrier islands that stretch into the ocean for about 100 miles. The beaches are known for their beautiful sand dunes and large waves.
Nags Head is one of the most popular areas to stay but a drive out to the wild Corolla horses is a sight to see. The Cape Hatteras National Seashore offers a variety of hikes and great fishing.
Next up, you have the rolling hills of Blue Ridge Mountains and one of the best places to see them which is Grandfather Mountain! Rough Ridge is an easy hike and is one of the best Blue Ridge Parkway Overlooks so you must stop!
And finally, head to Pisgah National Forest for some of the best hiking and sites around. Of course, there is no better road trip to take than the Blue Ridge Parkway which spans multiple states, with the best bits being in North Carolina.
Asheville is along the Blue Ridge Parkway so you can do this city stop along your road trip! The Biltmore is an epic castle-style manor that you can tour and there is even a winery!
Oregon
Recommended by Debbie Fettback from WorldAdventurists.com
Oregon is an outdoor wonderland and a breathtaking slice of Pacific Northwest beauty with its diverse and dramatic landscape. You will find old-growth forests, wide-open farmland, a rugged coast, high desert, alpine mountains, and deep river canyons. There are endless places to discover.
Oregon is the ninth largest state in the USA, so you could literally spend months exploring and still not see it all. If you do not have that much time, two weeks will give you a good taste of Oregon.
The best way to explore Oregon is by hitting the Oregon Scenic Byways that will take you to the prettiest places in the state.
The coast from Tillamook Bay in the north to Brookings in the south, has picturesque destinations will make your mouth drop open with awe.
Some favorite stops are Cannon Beach (home to Haystack Rock), Netarts Bay with Caribbean blue water, and Cape Lookout State Park with lush hiking trails and a beach.
Columbia River Gorge is only an hour away from Portland with the tallest waterfall in the state, Multnomah Falls.
Other must sees are the Oneonta Gorge and the Eagle Creek to Punchbowl falls trail for an incredible hike. From Columbia River Gorge, head towards Bend, Oregon with the famous rock climbing destination of Smith Rock State Park.
One of the biggest treasures in Oregon is Crater Lake National Park. The Rim Road around the lake has several different viewpoints of the mesmerizing bold blues of the deepest lake in the US.
There are multiple hiking trails with terrific vantage points as well. This is a great place to visit year round.
RELATED POST: 13 Best Boutique Hotels in Bend Oregon
South Carolina
Recommended by By Casandra from Karpiak Caravan
South Carolina is home to some of the most beautiful places in the United States. The state has three regions, each with its own unique landscape and features; the Lowcountry, the Sandhills and the Mountains.
Regardless of where you are in South Carolina, there's always something that can be enjoyed by everyone.
The wide rivers that intersect the coastal plain are what make the Lowcountry so scenic. Canoeing and kayaking through these rivers, especially the Edisto River, is a great way to see this part of South Carolina.
The Sandhills in this section of the state are unique in that they have been worn down from all of the erosion taking place over time.
The lush valleys in South Carolina's mountains make a great hiking destination for anyone looking to explore a new trail hidden away in the trees. The views from the top offer a great panoramic view of all that can be seen from this section of the state.
The road from Cleveland to Charleston is the most beautiful drive in South Carolina. While you may travel this stretch of the state in five hours, go slowly from the mountains to the coast.
Start in Cleveland and explore Caesars Head State Park, one of the Blue Ridge Mountains' best attractions.
Finish your journey in Charleston, one of America's most beautiful cities that offers great shopping, historic attractions and fresh seafood.
Tennessee
Recommended by Deanne from Scenic and Savvy
The natural beauty in Tennessee's mountains, valleys, forests, and rivers create an inviting scenic wonderland.
Towering mountains stretch higher than 6,000 feet, while more than 1,500 species of flowering plants bloom throughout the year.
Big South Fork National River and Recreation Area, located in north-central Tennessee, is 90-miles of unspoiled rugged terrain following the Cumberland River through stunning gorges.
You'll see cliffs, arches, and valleys as you hike, kayak, canoe, camp, fish, and horseback ride.
Burgess Falls State Park, located on the Falling Water River, is another dramatic display of natural beauty. Here you'll witness water cascading down four waterfalls from more than 250 feet high.
Spend the day exploring and pack yourself a picnic to enjoy as you take in this scenic masterpiece.
While Tennessee has many beautiful areas throughout the state, the one that can't be missed is Great Smoky Mountains National Park. This national park is the most visited national park in the country and it's easy to see why.
The Smokies cover more than 522,000 acres and this Great Smoky Mountains itinerary will help you plan your trip. Summer is the most popular time to visit the park, while fall is a great time to see the colorful foliage on a scenic drive.
Whenever you visit, be sure to include stops at Clingman's Dome, the 3rd highest peak in the United States and the highest place along the Appalachian Trail standing at 6,643 feet high.
Grotto Falls is a cascading waterfall you can walk behind and Cades Cove is a large, lush valley perfect for viewing wildlife
The nearby communities of Gatlinburg, Pigeon Forge, and Sevierville provide convenient access to the park with lodging right amidst the beauty.
Texas
Recommended by Victoria Yore from Texas Travel 365
If you are looking for the most beautiful states in the USA, you may not think Texas, and that would be wrong! Texas is one of the prettiest states in the USA and is a true hidden gem.
You may think Texas is just all plains and tumbleweeds, and while a lot of it is, there is so much more than that!!
First, there are both hot springs and natural cooler springs in Texas! You can relax in the hot springs and swim around and cool off in the colder springs. They are located all around the state!
Of course, there is also Big Bend National Park. Here you will see stunning gorges, amazing hiking, and some of the best views that Texas has to offer.
Yes, there are hot springs here too! And of course, miles and miles of endless beaches, Texas beach towns and islands that are perfect to escape to!
If you are looking to take a road trip in Texas, consider driving through Texas Hill Country! Start in San Antonio and head out into this stunning area of the state.
If you visit in spring, you can even see bluebonnets which are gorgeous blue flowers and Texas Hill Country is the best place to see them!
If you are looking to take a break from nature, head to the San Antonio Riverwalk and eat at one of the many restaurants in San Antonio that are along it! San Antonio is a true hidden gem in Texas!
Utah
Recommended by Leigh Wilson from Campfires and Concierges
Utah exemplifies natural beauty with an abundance of outdoor recreation from Bonneville Salt Flats to high alpine environments.
Utah has five National Parks, dozens of scenic byways, 15 ski resorts, and two dozen alpine peaks over 13,000 feet. This diversity of natural beauty means you can visit Utah and find plenty of fun outdoor activities.
Salt Lake City sits at the foot of the Wasatch Mountains, where visitors can hike, ski, fish, raft, or paddle, depending on the time of year. I
n the summer, the high elevation is where you want to go to escape the heat. In winter, Park City is perfect for alpine adventures. Even if you don't ski, there are tons of fun winter activities in Park City.
Utah's national parks are very different from each other. Zion National Park's spectacular beauty makes it a popular destination for hikers and climbers. The Narrows and Angel's Landing deserve a top spot on your Utah bucket list.
Bryce Canyon National Park offers visitors beautiful canyon trails surrounded by colorful hoodoos that can't be missed on a National Park grand circle road trip.
Arches National Park features thousands of naturally formed arches that can be seen from the park's scenic drives. The hike up to Delicate Arch at sunset is highly recommended as is nearby Mesa Arch for sunrise.
Canyonlands' abundance of buttes and mesas are a perfect place for an adventure. And Capitol Reef provides visitors with stunning views of domes and cliffs.
Kanab, Utah is an awesome home base for exploring Southwest Utah. It's where the Wave lottery is held. Other great hikes in the area are Buckskin Gulch, the Toadstool Hoodoos and Red Canyon.
RELATED POST: 20 Insanely Beautiful Places to Add to Your Utah Bucket List
Washington State
Recommended by Karee from Our Woven Journey
It's easy to see why Washington is considered by many to be one of the most beautiful US states to visit. The natural landscape is so varied across the state, there's something for everyone to enjoy.
From mountain scenery to sandy beaches, wine vineyards to tulip fields, visitors will find a wide variety of beauty to explore there.
Seattle is a fabulous place to start a trip and spend a long weekend exploring. Just outside the city, Snoqualmie Falls is a stunning 268-foot waterfall.
Mt. Rainier National Park and Mt. St. Helens are great options for those who want to spend some time in the mountains.
Washington also has the Hoh rainforest in Olympic National Park, which receives close to half a million visitors each year.
There are miles and miles of beautiful beaches in Washington, both along the Pacific Ocean and Puget Sound.
The San Juan Islands, situated off the coast of Washington state, offer a range of landscapes, from rugged to sandy beaches. It's definitely worth a visit to hike through old-growth forests or take a kayak out on the water.
One of the most popular drives to make is the Cascade Loop Highway, especially in the fall when the leaves are changing colors. This 440-mile scenic drive gives visitors a taste of some of the most beautiful scenery in the state.
Whether you start near Seattle and make the entire loop or drive halfway and turn around, the Cascade Loop is a great way to get out of the city and explore more of Washington.
West Virginia
Recommended by Kathryn from Adventures of A Plus K
With more mountain land per square mile than any other state, rushing rivers, a variety of adventurous activities, historic small towns, and beautiful country roads,
West Virginia is an underrated gem in the United States. Unlike many states, which have become mega tourist destinations and feel overcrowded,
West Virginia has remained remote, untouched, and wild, making it the perfect place to explore if you want more solitude.
There are many areas of West Virginia to visit, some of which are hours apart, so the best way to visit is a 7 day West Virginia road trip, focusing on Fayetteville and Davis as your home bases.
Fayetteville is home to New River Gorge National Park, which has great hiking trails and is home to the longest steel span bridge in the western hemisphere and one of the oldest rivers in North America.
It's also close to Babcock State Park, which has a picturesque old mill along a river.
While near Davis, some of the best places to visit are Blackwater Falls State Park, which has impressive waterfalls and scenic views, as well as the Dolly Sods Wilderness.
Davis is also close to Seneca Rocks, which has unique rock formations, a via ferrata to climb, and is where you can visit Spruce Knob, the highest point in the state.
While on your road trip, make sure to drive the Midland Trail National Scenic Byway, which is close to New River Gorge National Park and has amazing mountain and river views.
This drive would be great in the summer, as well as in the fall for foliage.
Wisconsin
Recommended by Lindsey Puls from Have Clothes, Will Travel
Wisconsin has no shortage of natural beauty, no matter which season you choose to visit. It features waterfalls and lakes as well as ice caves and stunning state parks.
One of the many naturally beautiful places in Wisconsin is Devil's Lake State Park. Located in the southern portion of the state, it is one of the most-visited state parks in Wisconsin.
Devil's Lake is a 360-acre spring-fed lake that features breathtaking 500-foot bluffs towering over it and 30 miles of trails. Visiting Devil's Lake State Park is one of the best things to do in Wisconsin Dells in the winter.
Next up is Door County, which is dubbed as the "Cape Cod of the Midwest" and is one of the most picturesque areas in the state.
Here you'll find thousands of acres of beautiful forests, a variety of beaches, limestone bluffs, and the highest sand dunes in Wisconsin. Door County is especially beautiful to visit in fall.
One of the most scenic drives in Wisconsin is during driving Highway 42 north from Kewaunee to Gills Rock (the very tip of Door County) during fall, then driving Highway 57 back along the Lake Michigan side of Door County.
The Apostle Islands National Lakeshore is perhaps the most stunning natural beauty in all of Wisconsin, though.
This National Park is home to 21 islands, in addition to curious sea caves carved by thousands of years of rhythmic waves.
When the conditions are just right in winter, these sea caves transform into stunning Ice Caves. They feature ice formations that are straight out of a fairytale.
Wyoming
Recommended by Haley from Gathering Waves
Wyoming is easily one of the most scenic states in the US. It has beautiful rolling plains and is surrounded by striking mountain ranges.
It is also home to the famous Yellowstone National Park with Old Faithful Geyser and the Grand Prismatic Spring and Grand Teton National Park with Mormon Row and Jenny Lake.
One of the best cities to stay while visiting Wyoming is Jackson. It is a quaint, cute city with Old Western inspired buildings and surrounded by impressive mountains.
It is home to three of the most famous ski areas in the United States including Jackson Hole Mountain Resort. It's also perfectly located for visiting the national parks.
When planning a trip to Wyoming, it is best to plan for a road trip. The most popular natural sites in Wyoming are all only within a few hours of each other.
The best way to travel is to start south and explore Jackson Hole and the Grand Tetons, and then drive north to Yellowstone from there. Once further north, you can drive the most scenic road in Wyoming, the Beartooth Highway.
The Beartooth Highway, Wyoming 212, snakes for 68 miles through the northwest corner of Wyoming. This drive offers spectacular views of the Rocky Mountains, glacial lakes, and gorgeous meadows.
The best time to drive the Beartooth Highway is in the late spring, so you can see the wildflowers bloom! The road is closed May through October due to heavy snowfall and unsafe driving conditions.
Our Top 10 Most Beautiful States Ranking
California – Diverse beauty from wide sandy beaches to windswept coastline, to stunning lakes and mountains to jaw dropping deserts. 9 National parks, great weather and an endless supply of places to explore.
Hawaii – a tropical paradise with places that will leave you in awe. Hawaii is one of the most unique states in the US.
Alaska – The rainforest of the panhandle, massive glaciers, the tallest peak in the US, the ruggedness of Alaskan forest, the Fjords, wildlife, northern lights and more make this a top contender for the most beautiful state in the US.
Oregon – Oregon is one of the most underrated states in the US. The interior of Oregon is filled with dense forests, spectacular waterfalls, canyons, and lakes. The Pacific Northwest is absolutely one of the most beautiful parts of the U.S.
Washington – With the Rainforest of Olympic National Park, the San Juan Islands, some of the prettiest mountain ranges and hikes, Washington is definitely a top 10 state in the US.
Utah – With 5 National parks, slot canyons, waterfalls, natural arches and hoodoos, you'll want to explore every inch!
Colorado – One of the prettiest mountain states with top notch year-round, outdoor fun and gorgeous fall foliage.
Arizona – The red rock landscape of Sedona, Grand Canyon and places along the Northern border are drop dead gorgeous.
Michigan and Wisconsin – It's too hard to pick between our favorite midwest states. We've visited both multiple times and want to explore more. Definitely time for another midwest road trip. If you've never been, seriously book a trip.
New York – The Catskills, Adirondacks, Finger Lakes and windswept beaches prove there's so much to see beyond Manhattan.
It's Always a Good Time to Plan a USA Trip
It's not easy to narrow down the best states in America, but these are some of our favorites. If you want more help deciding where to go on your next vacation or weekend getaway, check out these 25 Bucket List USA Trip Ideas! Let us know in the comments your vote for the most beautiful states in the U.S.
Save the Most Beautiful States in the USA to read later? Pin it!
Other Posts You Might Like: