Dreaming of a wine country getaway? There are so many fun things to do in Healdsburg and Sonoma County, California.
Whether you're a couple on a romantic getaway, traveling with besties for some much needed girl time, or planning a family vacay and wondering what to do in Healdsburg, we've got you covered!
If you love the bliss of sunshine mixed with plenty of outdoor activities, and all things foodie and wine-y then Healdsburg & Sonoma County are the places to let your wild side out, so let's get started.
This post contains affiliate links. If you book or buy something through one of these links, we may earn a commission at no extra cost to you. You can read our full disclosure here.
Planning your trip to Healdsburg last minute? Here are the tours and hotels we recommend. We also have a post on the Best Hotels in Healdsburg California that will help in your planning.
Best Time of Year to Visit Healdsburg and Sonoma
Sonoma County is a beautiful place to visit year-round, but there are certain times that are more ideal than others. The springtime months of April and May offer the best weather, with mild temperatures and plenty of wildflowers in bloom.
June through October offers great weather as well, although it can get a bit hotter later in the summer. Summer is a great time for summer activities on the Russian River and to visit the Sonoma coast.
The fall harvest season is possibly the most popular time to visit. It's an exciting time of year as the grapes are picked and delicious local produce is available in abundance.
And finally, winter is a great time to visit for the best deals on lodging and less crowds. You can also do some great holiday shopping in Healdsburg Plaza. Of course, Sonoma county is lovely all year round, so don't let these recommendations stop you from visiting at any other time!
---
How to Get to Healdsburg and Sonoma CA
The closest airport is Santa Rosa, in Sonoma County, which has non-stop flights to many cities in the western United States like Seattle, Phoenix, Portland, and San Diego. The drive from Santa Rosa Airport to Healdsburg is less than 10 mile.
You can also fly in to one of the bigger airports like San Francisco, Oakland or Sacramento. From there, you'll need to plan on a 1.5 to 2.5 hour drive.
You can find great flight deals to all of the above airports on Skyscanner.
If you just want to spend a weekend in Healdsburg, it's easy to get around by walking, riding a bike or taking a tour.
However, we recommend this as part of a Northern California road trip. There is so much to see and most things are driving distance once you get outside of downtown Healdsburg.
We have been using Discover Cars for years because we find that their rates that are often much lower than what we find on our own.
This is also a great place to rent a Sprinter Van or RV. We used Outdoorsy for a van rental and had such a great experience that we converted a Sprinter van of our own. You will find plenty of campgrounds with RV hookups like Wildhaven Sonoma.
---
Best Things to do in Healdsburg California
Let's get started with the best things to do in Healdsburg and move on to the rest of Sonoma County from there.
Healdsburg is the perfect place to start if you are looking for the best things to do in Sonoma County. There is a little taste of everything you'll find on a trip from wine tasting to incredible food to hiking and the Russian River.
While Healdsburg is known for its wine country, with many vineyards and wineries located in and around the city, it's not only about wine in this quaint Northern California town. Get ready to fall in love with this part of California.
1. Wine Tasting is One of the Best Things to do in Healdsburg
Sonoma County is home to three different wine regions. The Russian River Valley is home to 15,000 acres of vineyards, many of which grow world class Pinot Noir grapes. The Alexander Valley specializes in delectable Cabernet Sauvignons, while Dry Creek Valley is best known for its Zinfandels.
Healdsburg lies smack dab in the middle of these regions making it the perfect place to enjoy all types of wine. With over 80 vineyards in the area, there are a plethora of tasting rooms for you to enjoy. It's very hard to choose the best wineries to visit but here are a few recommendations with great wine and lovely properties for a perfect Sonoma County wine country visit.
2. Do a Healdsburg Wine Country Bike Tour or Rent a Bike and Go on Your Own
To experience the best of what Healdsburg has to offer, nothing beats joining a cycling tour of the best wineries in Sonoma County.
The Guided Healdsburg Wine Country Bike and Wine Tasting Tour is the best way to explore wine country on two wheels, with plenty of stops along the way.
The full-day adventure will take you through Dry Creek Valley at a nice and relaxed pace, covering 10-16 miles on hybrid bikes that are suitable for all levels of cyclists.
Along the way you'll get to visit three different vineyards and sample their best wines while admiring scenic views of the surrounding area.
This wonderful tour even includes a picnic lunch so that you can refuel and continue your adventure with gusto! All safety gear is provided so all you need to do is just show up!
If a leisurely afternoon biking among gorgeous vineyards and sampling some delicious wines sounds appealing, then don't miss out on this one-of-a-kind experience!
3. Book a Spa Day Among the Vines at the Montage Healdsburg
The Montage Healdsburg is an incredible resort set amongst the vineyards and the ideal place to stay for your Sonoma wine country visit.
Whether or not you choose this as your home away from home for the weekend, a visit to their spa will be a highlight of your trip
Spa Montage is a wellness retreat that offers everything from a fitness studio to classes in their vineyard yoga garden to couples massages and the latest anti-aging beauty treatments.
Decompress and let the wine country serenity infuse your body with renewed energy and overall sense of well being.
Location: 100 Montage Way, Healdsburg, CA 95448 • Pet Friendly: Yes, dogs and cats under 45 lbs, $125 fee
4. Dine, Shop & Relax in Healdsburg Plaza
For a charming place to spend an afternoon in Healdsburg, look no further than Healdsburg Plaza. This leafy public square is home to a variety of restaurants and boutiques, as well as several beautiful fountains and monuments.
It's the perfect place to people watch, have a family picnic and enjoy a sunny afternoon. So take a break from your wine tasting and explore all that the plaza has to offer!
An open-air farmer's market is held here Tuesdays and Saturdays from mid-April to mid-December. Vendors showcase their locally grown produce, flowers, breads and meats.
There are also delicious dishes or you can head into Costeaux French Bakery and infamous Dry Creek Kitchen. We recommend staying at one of the best hotels in Healdsburg downtown to be walking distance to everything.
5. Go Hiking, Boating or Camping at Lake Sonoma Recreation Area
Lake Sonoma is a man-made lake, that you'll find nestled in the hills past the Healdsburg wineries on Dry Creek Road. It's a beautiful, uncrowded spot that was the result of building the Warm Springs Dam.
The reservoir covers 2,700 acres and has 50 miles of shoreline. Many activities are available including boating, fishing and hiking.
Most visitors love hiking here or enjoying a picnic. I mean look at those views! You can also rent a boat at the marina or take advantage of one of the many campsites for an overnight.
6. Glamping in Wine Country in Healdsburg or the Russian River Valley
There are two great places in Sonoma Wine Country for glamping. The first is Wildhaven Sonoma in Healdsburg with safari tents and shared bathrooms. The tents come in one and two bed options that are really comfortable.
You'll have nightstands with lamps, and space heaters. Make s'mores by the fire, lounge on the covered patio and get a full camping experience without roughing it. It's one of the cutest places for Glamping in California.
Location: 2411 Alexander Valley Rd, Healdsburg, CA 95448 • Pet Friendly: Yes, $25 per pet per night, maximum 2 dogs, 70 lbs
For the more upscale version of Sonoma glamping in Guerneville, try AutoCamp Russian River.
Choose the classic Airstream experience, which includes a queen bedroom, luxury linens and towels, television with cable, a kitchenette with fridge and microwave.
In addition to the bedroom, there is a pull out sofa for the kids, a private bathroom with rain shower and air conditioning and heat. You'll also have your own fire pit, patio and outdoor dining area.
Other accommodations include Safari Tents, cute little Happy Campers or Accessible Suites. On weekends take a yoga class, guided meditation or one of the many excursions available.
Location: 14120 Old Cazadero Rd, Guerneville, CA 95446 • Dog Friendly: Yes, $75 fee, 2 dog maximum up to 80 lbs each
7. A Day on the Russian River is one of the Best Things to do in Sonoma County
Johnson's Beach is a great place to set up for the day where you can rent inner tubes, kayaks, canoes, pedal boats, umbrellas and beach chairs. You need to make a reservation for the beach.
There are also rustic cabins and you can pack your pop-up tent for an overnight at one of the camping spots available.
If you are not planning to glamp or camp, Guerneville is also a great place to rent an Airbnb right on the river. Many of the homes include kayaks or other equipment to get out and enjoy some river fun.
Location: 16215 First St, Guerneville, CA 95446 • Cost: $7 parking, boat rentals and overnight accommodations available • Dog Friendly: No • Restrictions: Reservations required
8. Armstrong Redwoods State Nature Reserve is a Sonoma County Hidden Gem
Armstrong Redwoods State Nature Reserve is one of the best places to see redwoods near the Russian River.
It's a smaller grove than the state parks further north but is still a strong contender with old growth redwoods on an 800 acre parcel and a lot less people. The Colonel Armstrong Tree is the oldest tree, a mind-blowing 1,400 years old.
You can wander around and just commune with nature. The 1.3 mile Colonel Armstrong Loop is The Discovery Trail is beautiful, ADA accessible and perfect for all ages.
Location: 17000 Armstrong Woods Road, Guerneville, CA 95446 • Hours: 8AM to one hour after sunset. • Cost: $10 parking • Dog Friendly: Yes on leash • Restrictions: No drones
9. Take a Scenic Drive on the Bohemian Highway
The first thing you'll notice on the 10 mile beautiful stretch of road called the Bohemian Highway is the stunning scenery. The road winds through rolling hills and past vineyards, cypress trees, and oak forests.
We went in fall and were treated to some Northern California fall foliage.
Make sure to visit some of the small town of Occidental along the way for a short walk to peruse the cute two block downtown area. For some thrills, stop by Sonoma Canopy Tours for a zipline tree top tour through the forest.
The Bohemian Highway is also a great place to go hiking and biking. There are plenty of trails to choose from, and you can even find a few wineries along the way to stop at.
10. See the Junk Art in Sebastopol
If you like places that are quirky and cool, you will love this little town. One of the best things that happened on our latest Sonoma trip was taking a drive down Florence Avenue to see the junk art.
We met the family that creates all the fun sculptures on the street and all around town. Check out our Sonoma Video on YouTube to see a fun interview.
Location: Florence Avenue, Sebastopol • Restrictions: Be respectful of residents, this is their home.
11. Shopping, Eating and Visiting a Brewery at The Barlow in Sebastopol
There are also quite a few breweries in Sonoma County and if you are a beer lover, then this is definitely something you will want to check out.
Some of the better known ones include Bear Republic Brewing Company, Lagunitas Brewing Company, Russian River Brewing Company and more.
We recommend Crooked Goat Brewing located The Barlow, a converted 12 acre warehouse district filled with restaurants, breweries, wine bars, cute shops and more.
We went early before noon, which was nice but most places weren't open yet. I recommend visiting Sebastopol in the later part of the day and enjoying the lively atmosphere of The Barlow.
---
Best Things to do in Sonoma County Coastal Villages
One of the things that makes Sonoma County so beautiful is its coastline. The villages here are charming and have a lot of character.
Your biggest problem will be knowing where to start. The coastline villages of Bodega Bay and Jenner offer stunning views of the Pacific Ocean, and plenty of active pursuits.
The Russian River is a great place to spend a day wine tasting or enjoying the river. Sebastopol's art galleries showcase its creative spirit while Healdsburg is home to some of the best wine and food.
Here are the best things to do in Sonoma County.
12. Have Breakfast or Lunch on the Russian River at Cafe Aquatica
If it's a nice sunny day, there's nothing better sitting on Adirondack chairs overlooking the Russian River while you enjoy a good cup of Joe and eat a delicious meal.
Cafe Aquatica in Jenner should be a must visit spot on your way to the Sonoma Coast. You'll definitely feel like you're getting good food from good people and taking in the relaxed happy, neighborhood vibe.
On weekends, the have live music and pop up markets. You can also rent kayaks right next door.
Location: 10439 CA-1, Jenner • Hours: Open daily for breakfast and lunch • Dog Friendly: Yes on the patio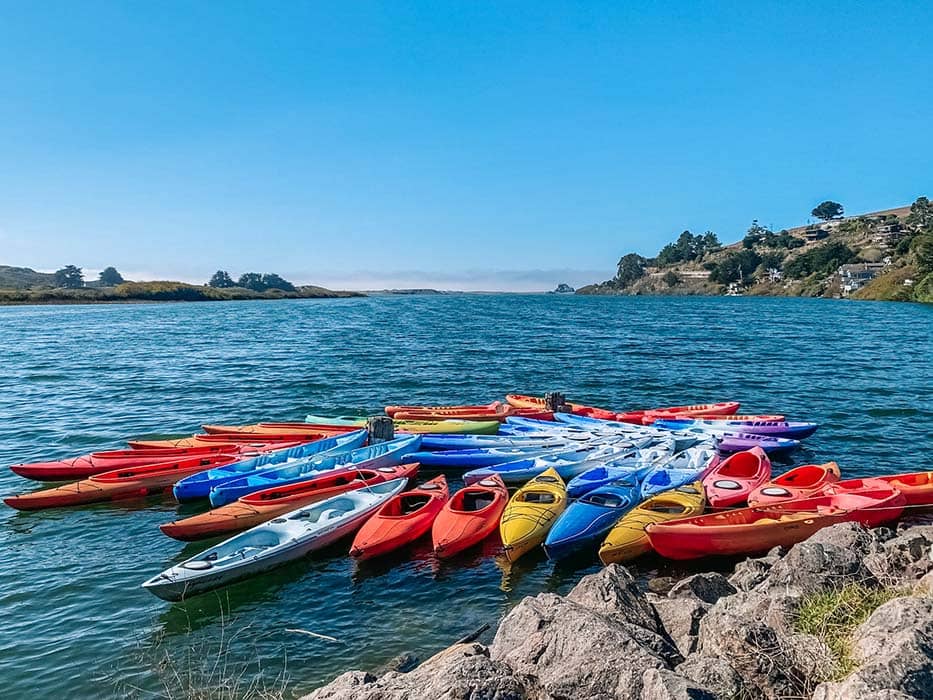 13. Go Kayaking in Jenner at the End of the Russian River
This is one of the prettiest places to leisurely explore by kayak. The mouth of the Russian River has an estuary that is home to plenty of wildlife from harbor seals to otters and migrating birds.
Take a Russian River kayak tour at the Sonoma Coast. You will start in Jenner in the protected area before the Russian River hots the Pacific Ocean.
Enjoy a few hours of paddling as you experience gorgeous scenery and breathe in that fresh sea air. Your guide will show you the best spots to view wildlife.
We travel with an inflatable kayak and this is a perfect place to use it. You can also rent a kayak across the street from Cafe Aquatica..
Make sure to pack a windbreaker and water shoes for this trip to keep warm and protected as you explore the coast.
14. Spend the Day at Goat Rock Beach and Hike in Sonoma Coast State Park
Goat Rock Beach is part of Sonoma Coast State Park. It's a beautiful spot on the Sonoma Coast where you can enjoy views of rugged sea stacks, a wide expanse of beach, have a picnic, watch the sunset, or check out the colony of harbor seals.
Be careful at Goat Rock beach. Even though it doesn't look like it, the shoreline drops off very quickly, which sometimes causes big, unexpected waves.
One of the prettiest hikes from Goat Beach to Wright's Beach is the The Kortum Trail. It's 4 miles round trip with coastal views and lots of fresh ocean air.
Location: Highway 1 and Goat Rock Road, Jenner CA, 95450 • Hours: 8AM to one hour after sunset. • Cost: $10 parking • Dog Friendly: No • Restrictions: No drones
15. A Sunset Dinner in Bodega Bay
There are amazing sunsets along the Sonoma Coast. One of the best spots to take it all in and have a delicious meal at the same time is Lucas Wharf Restaurant in Bodega Bay.
They have excellent seafood, especially the clam chowder. It can get pretty crowded, so another great option is the Boat House nearby.
Location: 595 Highway 1, Bodega Bay • Hours: Open daily for lunch and dinner, breakfast on weekends • Dog Friendly: Yes on the patio
---
Where to Stay in Sonoma County
Best Places to Stay in Healdsburg & Sonoma County
We have a full post with the best hotels in Healdsburg from luxury 5 star resorts to glamping to chic Healdsburg Boutique hotels. It'll give you more in depth information or just choose from our favorites below.
---
Final Thoughts About the Best Things to do in Healdsburg & Sonoma County
If you're looking for a wine country escape that will tantalize all of your senses, look no further than Healdsburg and Sonoma County.
With world-class wineries, restaurants, and coastal villages, you can fill up your days (and nights) with plenty of activities to keep you entertained. So what are you waiting for? Start planning your trip today!
Planning a trip to California? Check out our latest posts:
Save the Best Things to do in Healdsburg and Sonoma County for later? Pin it!