Hi! I'm Jenifer, the voice behind The Evolista. I'm a native Californian that moved to Portugal with my husband.
From a very early age, I was pretty adventurous. So when my mom saw a tiny ad in the back of Los Angeles magazine about an ice skating camp, I took my first solo plane trip across the country at 11 years old.
It was so much fun that I talked my parents into extending my trip and spent the whole summer in Cape Cod.
At 17, I took my first group trip to Europe with no one that I knew. You guessed it, my mom found another ad and and gave me the trip as a graduation present. 😂
Travel Can Lead to Marriage
As a college senior, in a bar in Mexico, with people dancing on the tables – oh wait that was me – I met my husband.
He actually told me he was going to marry me on the first day we met. 6 weeks later we secretly eloped in Las Vegas. I was 22 and he was 25.
My parents would have killed me if they found out, so we left the US to do a 6 month trip to Europe as soon as I graduated.
There were hostels, Eurail passes, and new friends from around the world. I was up to 16 countries by the time I turned 23.
We moved back to the US and lived in San Francisco, still secretly married, until we finally had a big wedding in our 3rd year together.
Our first son was born 3 years after that. When he was 9 months old, it was back to Los Angeles to be closer to family.
A Life Changing Event
At Thanksgiving dinner when I was 29, my mom said she was thankful that everyone was healthy. I had a bad headache for a few days before Thanksgiving that resumed much worse the following day.
We went to the emergency room and they did a CAT scan. It's amazing how fast you can get bad news. I was there less than 30 minutes before the doctor said, "you have a bleed in your brain."
My reward for the terrible diagnosis was to be moved from a private room to the hallway for a spinal tap. Next up an angiogram with dye being injected into my brain, then an MRI and some other tests, but they couldn't find the cause.
The consensus was that I would have to take steroids to reduce the swelling in my brain and come back in 6 months for more tests when they would be able to see what was behind the bleed.
During the few next months, I felt like it was happening again and had a few more CAT scans. The neurologist seemed annoyed with my "chicken little sky is falling" fear and told me to go home and live my life.
Someone Was Trying to Tell Me Something
So I got in really good shape, and tried to take the best care of myself but the weirdest thing kept happening.
Person after person (I think 7 in total) told me to go see a neurosurgeon called Dr. Keith Black. None of these people knew each other and the last two were total strangers.
One was a woman next to the only available seat in a movie theater. The movie, City of Angels, played for about 20 minutes and suddenly stopped when Meg Ryan lost her patient during heart surgery.
I could hear the woman next to me crying. The bright theater lights came on. It was so awkward. She had apparently lost her husband suddenly. I told her about my brain thing and she told me to see Dr. Keith Black. Weird!
My next random instance happened a week later at the only available treadmill in the gym. The man on the treadmill next to me started telling me he recently lost his wife.
After his story, I told him mine and he said I should see Dr. Keith Black, How crazy is that! Obviously the universe was telling me something so I made an appointment just in case.
Within a few minutes of reviewing all my prior scans, I was told that I probably had a cavernous angioma and needed brain surgery.
Since I didn't expect anything monumental to happen at the appointment, I went alone. Ugh! Again, bad news so fast!
Facing Your Mortality
My cavernous angioma was IN MY BRAIN, not on the surface. They had to remove part of my skull at the front and use computers to guide them to the spot where they removed the raspberry like growth.
It was more than 20 years ago and the technology was brand new. They wouldn't have been able to operate a year earlier.
I came out of surgery looking like I could score a part on Star Trek. My partially shaved head was dotted with a 8 inch line of staples like a snake slithering across it.
I'm not sharing the photo here because it's one of those things you can't unsee.
Lot's of people want to know if I set off the alarm at airport security with my titanium infused head. Thankfully no!
Life is Short
When you have no choice but to face something terrifying, it changes you. At the time, I just kept thinking "why me?" But now, I realize it was such a gift.
We all live smaller lives out of fear and I'm no exception, but I maybe let fear or embarrassment stop me a little less than some other people.
Most people can't fathom doing what we did when we moved to Portugal and they certainly can't understand why we left and started living as complete digital nomads.
The other huge difference between me and most people I know is that I like getting older. There was a time when I might not have made it past 30 so I'm thrilled to be 55! Wrinkles, shminkles.
The Sweet Life
Hands down, the best part of my life is wrapped up in two amazing human beings. Having a chance to be a mom and crazy love these two boys is everything. I was happy to immerse myself in parenthood and stick close to home.
We still took great trips to Hawaii, Mexico and more adventurous expeditions like going to the Hiking the Wave in Arizona. But I missed the adventure of oversees travel.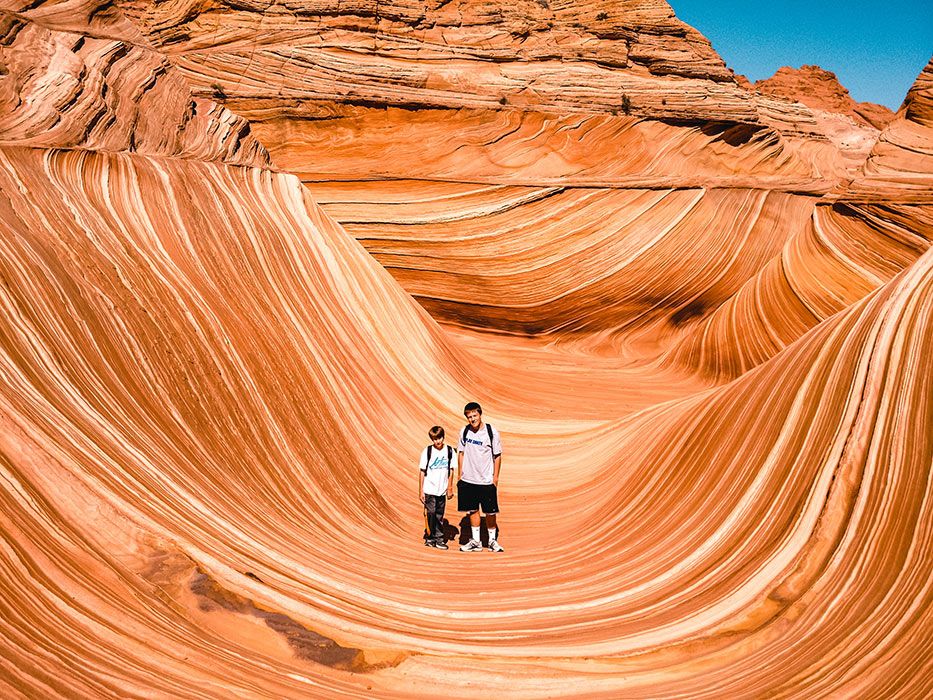 The 2nd biggest turning point in my life happened in 2010…
My oldest son started high school and I decided to take a break from work to be a full time mom. Without a second income, I needed to find a way to stretch our dollars.
I came across a new website called The Points Guy and learned how to use credit card sign up bonuses to get free flights and hotels nights.
We took free business class flights to Japan, Peru, Morocco, and years of free travel on Southwest Airlines. I started helping friends and family get credit cards for free travel.
I also had a serious knack for creating active travel itineraries that had people asking me to plan their trips.
I even wrote some posts about it on a website called Wander Wisdom, which turned out to be the precursor to my life in blogging.
When I tried to resume my advertising career, I found out that 4 years off might as well have been 20 and I was basically unemployable.
I could take a job that was 1/4 of my former income or start my own business. I eventually opted for the latter and chose a blog since it could be location independent. Best decision ever!
A Blog Named The Evolista
The name is a combination of the word "evolve" and the suffix "ista" meaning an enthusiast.
Since women (and men) evolve many times – from school to career, after marriage and divorce, after parenthood and empty nesting or one of the other many transitions – there always seems to be the need for reinvention.
The Evolista is about enthusiastically evolving.
In the beginning I covered a lot of topics – travel, fashion, health, and more, but eventually it morphed into mostly travel.
There was another evolution when the pandemic changed our world. After doing a 6 month US road trip, we Converted a Sprinter Van to the coolest home on wheels. Then we sold it and moved to Portugal.
Now, living as flash packers, we day dream about what life would be like with our sprinter van so maybe there will be a version 2.0 in the future.
For now, we are 30 countries deep in our latest world travel challenge and we share our travel tips and itineraries here on this blog.
Jen's Craziest Travel Experience
It's a toss up between getting bitten by a panda in China and a tornado in Cuba. In both instances, I was definitely in the wrong place at the wrong time.
The panda bite makes everyone laugh because what dummy gets bitten by a panda! I swear, it wasn't my fault!
The tornado was followed by power outages, food poisoning and me vowing to never travel alone again, which I conveniently forget when I really want to go somewhere.
I wrote a packing list for Cuba which has power banks and sickness medication among other things, so other travelers will be better prepared than I was.
I don't care how many delays, problems and issues there are – every trip is 100% worth it! Travel challenges us in the best way. It gives us beautiful and crazy experiences that last for a lifetime.
The Other Half of The Evolista
My husband, Guy is the often unseen, other half of The Evolista. He started his blogging/YouTube career as an Instahubby.
While all the other guys were giving their wives a hard time about Instagram photos, he mastered photography and piloting a drone.
Guy has even more travel experience than I do. He grew up traveling the world with his family since his dad was an offshore engineer.
That means his dad was living on an oil rig while he and his siblings lived in foreign countries with their mom waiting for their dad's time off.
By the age of 10 he had already lived in Brazil, Canada, Singapore and United States.
He also used to travel to Mexico to go surfing every chance he got. If it were up to Guy, this would be a surf blog, and we would travel the world in search of the perfect wave.
Probably not surprising that we lived in Portugal for 6 months in the surf capital of Europe, Ericeira.
Guy's Craziest Travel Experience
When they were growing up in Singapore, Guy and his siblings brought home a Komodo dragon they found and wanted to keep as a pet.
His mother called the Singapore Zoo who took their dangerous acquisition to a safer spot. Imagine being the parent to those wild kids!
Adventure Travel
Our kind of travel is to see those mind-blowing sights that you've seen in pictures mixed with active pursuits. We also love meeting locals, exploring new places, learning new things and doing crazy adventures.
We love places like Paris as much as the everyone else but the things that get us excited include:
We're not the all inclusive resort type, nor are we budget travelers. We love boutique hotels in adventurous places like Bend, Istanbul, Dubrovnik, and Lisbon.
Also, if there's a unique experience like camping in a Wadi Rum Bubble Hotel, staying in a Cappadocia Cave Hotel or a Masserie in Puglia Italy, Glamping in Big Sur under the redwood trees or sleeping in the Sahara Desert, we're all over it!
Please subscribe and join our community of adventurous travelers!