Los Angeles native here, born and bred, and I love my hometown. Unfortunately there is a tidal wave of bad advice about visiting Los Angeles on the internet. This post is an effort to set the record straight because I want you to love LA too.
This eclectic, fun city is a huge metropolis with distinctly different neighborhoods. If you run around trying to fill up your Instagram feed, you'll sit in traffic and miss what's great about Los Angeles. You'll also end up disillusioned.
As I clear up some of the misconceptions below, you'll also find tips on how to do it right. Another great post if you are visiting LA is our 9 favorite scenic drives in Los Angeles.
Summer is Not Necessarily the Best Time to Visit Los Angeles
Los Angeles gets a heavy marine layer on the coast from May through July. The fog typically burns off in the afternoon but sometimes it's cold and grey for days. Don't forget to pack a sweater and pants.
From August through October highs are in the 80s by the beach, 90s inland and regularly over 100 degrees in the Valley. Skip theme parks like Disneyland and Universal Studios on those crazy hot days.
In addition to weather issues, summer is insanely crowded with high hotel prices to match.
☀️ Best time to visit Los Angeles for good weather – You can get a perfect week any time of year but the best months for 70 degrees and sunny are March, April, November and December.
The Worst Beaches in LA are Venice and Santa Monica Pier
The worst advice people get about Los Angeles is that Santa Monica Pier and Venice are the best beaches. These are honestly beaches to avoid in Los Angeles. Visitors end up missing the prettiest Southern California Beaches.
Venice Beach – Filled with street performers, junky souvenir shops, homeless people and marijuana vendors wearing green scrubs, this is not the real LA. It's a grimy side show. Venice Beach can be great for interesting photography or a shot under the Venice sign, the best parts of Venice are a few blocks inland on Main Street and Abbott Kinney.
Santa Monica Pier – At the pier entrance, there are lots of homeless people and others who prey on tourists. If you really want to see the pier, go early on a weekday. The beach on both sides of the pier is dirty, with sketchy characters.
⚠️ Be Careful – Pay attention to your surroundings at both of these spots. It's not necessarily dangerous but it's also not 100% safe. Some of the people you encounter may have mental illness and/or drug issues.
There are Tons of Beautiful Beaches to Visit in Los Angeles
Santa Monica Beach is huge. The entire beach north of the pier for a few miles is an excellent and convenient choice. Beyond that, Malibu is filled with ideal surfing beaches like Topanga and Surfrider or fun in the sun beaches like Malibu Lagoon, Paradise Cove and Zuma.
Pro Tip: Many blogs suggest going to El Matador beach as an alternative to Santa Monica beaches. El Matador is beautiful but you'll be passing at least 10 great beaches on your 24 mile drive to get there.
In the South Bay, Manhattan Beach makes a perfect day trip. Dockweiler Beach in El Segundo may seem like a weird choice but if you're an airplane geek like me, you'll love watching jumbo jets fly right overhead. South Bay beaches are also ideal for playing or watching world class beach volleyball.
Don't Underestimate Los Angeles Traffic
Los Angeles rush hour times are pretty much all day long. While the worst LA traffic times are from 7-10am and 2-7pm, you can even find traffic at midnight. You don't need to be afraid to drive on LA freeways because the trip is more like a parking lot that barely moves. Some simple tips will make your trip so much better.
Pick a hotel where you plan to spend the most time. A friend of mine stayed in Marina Del Rey thinking it was close to where she wanted to be in Santa Monica (4 miles away). It took more than 30 minutes to drive each way every time she had to go back to her hotel.
Plan sightseeing strategically. Spend the day in a specific area like Santa Monica or Downtown. Don't attempt go to the beach in Malibu, shopping on Rodeo Drive and Hollywood in the same day unless you want to spend the whole time in the car.
Disneyland is not in LA. You can't stay at a hotel in Los Angeles and go to Disneyland for the day without spending a minimum of 3 hours in traffic.
Renting a Car Will Make Visiting Los Angeles Easier
As much as the powers that be try to improve our public transit system, it's nowhere near the caliber of other cities. Busses go everywhere but it will take double the amount of time. The metro rail is only convenient getting to and from Downtown.
Renting a car will be your best option to get around L.A. Google maps has gotten really good at predicting how long it will take to get everywhere and will give you the easiest directions.
Familiarize yourself with the directions before you start driving. You don't want to be the person getting confused and making everyone honk. Angelenos are typically very friendly but no one likes people who block traffic.
Don't want to rent a car? You can easily use Uber, Lyft, rental bicycles and scooters to get everywhere.
🚕 Dealing with transportation (including Uber and taxis) to and from LAX has been evolving as they try to upgrade the airport. Here is information for every type of transportation at LAX.
LAX is Typically the Best Airport Choice
The worst advice I read on the internet was to skip LAX and go to one of the other airports. LAX is a huge airport and it's a pain but it's the most centrally located. Burbank Airport and Long Beach Airport are smaller but don't fly to those airports if you aren't going somewhere near them, unless you're just dying to experience the full wrath of LA traffic.
LAX is best for Santa Monica, Beverly Hills, West LA, and beach cities north of Manhattan Beach. It's also the top airport choice for Los Angeles in general.
Burbank Airport is good for San Fernando Valley, Hollywood or Downtown Los Angeles.
Long Beach Airport is good for areas by Long Beach, or south like Disneyland. If you are going to Disneyland, you should check John Wayne Airport too.
✈️ The best advice for Los Angeles airports is to arrive and depart at lowest car traffic times. Weekdays, the best flight times are before 7am, 11am-1pm or after 7pm. Try not to arrive/depart on Friday afternoon. On weekends, before noon is easiest.
Don't Miss In-N-Out Burger
In-n-Out is a favorite of Angelenos. There are always long lines and it's delish. One blogger actually said to skip it (yikes!) and is robbing their readers of a true Los Angeles experience. There's no reason you can't go to other great burger places like Father's Office and Fatburger too.
Kill two birds with one stone by going to the In-n-Out next to LAX. If you get to the airport early and like watching planes take off and land, it's entertainment and good food.
Los Angeles Has Amazing Restaurants
It would be a full time job to keep up with the LA restaurant scene. I could recommend my favorite restaurants but the truth is that there is always somewhere new that everyone is dying to try. If you truly want a foodie experience, you should google "best restaurants Los Angeles Fall 2021" or whatever month you are visiting Los Angeles.
LA Eater puts out new lists regularly and they're a trustworthy source. Time Out and a couple of other websites put out good lists too. There are also lists for great coffee shops, brunches, fast food, healthy food, and vegan food.
I constantly see restaurants with crowded parking lots that no locals go to anymore. They are probably recommended by a guide book that is outdated. You will thank me for telling you to use LA Eater for the latest restaurants.
Don't Skip the Awesome Museums in Los Angeles
You're probably all about the beach and being outdoors but LA museums are terrific. You could spend your entire trip just visiting museums. There are so many that are well worth your time. Grouped by interest, here are a few recommendations:
Modern Art – The Broad, MOCA, Geffen Contemporary, Hauser & Wirth, Institute of Contemporary Art, LACO
Prettiest Grounds/Views – The Getty Center, Los Angeles County Museum of Art (LACMA), Getty Villa, The Huntington, Norton Simon Museum, Descanso Gardens, The Arboretum
Best for kids – La Brea Tar Pits, Petersen Automotive Museum, LACMA, California Science Center, Natural History Museum, Museum of Tolerance, Skirball Cultural Center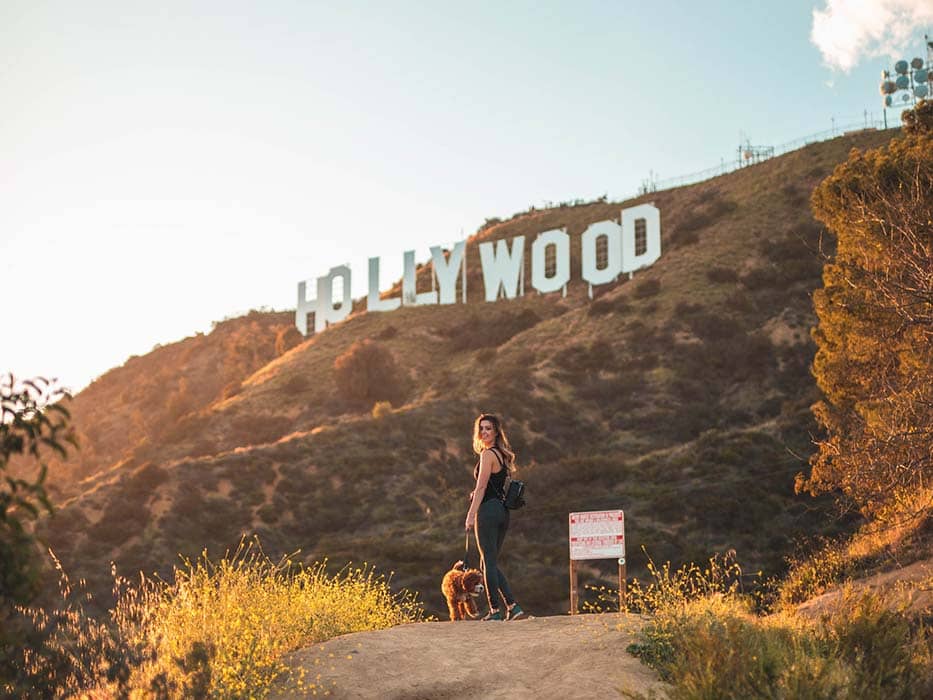 Bring Your Workout Clothes
Los Angeles is an exercise obsessed friendly city. The Santa Monica Mountains supply an endless supply of hiking options. Some of the best trails are Runyon Canyon in Hollywood, Temescal Canyon in Pacific Palisades, and Sullivan Canyon in Malibu.
You can also stroll the beach boardwalks, rent bikes, go surfing, take workout classes, and even go skiing in winter. Take advantage of the active culture in Los Angeles and have fun with it. No need to put on vacation pounds in LA.
LA Style is Casual Chic
I read somewhere that people will know you're a tourist if you are seen in flip flops away from the beach. That's absolutely false. The truth is being too dressy, especially in a conservative way, will make you look like a tourist.
LA style is trendy casual. Lots of exercise clothes during the day and denim all the time. If you're not sure what to pack, don't worry too much because you'll find tons of boutiques that reflect that relaxed chic that Los Angeles is famous for.
The best places to shop for that LA look is Abbott Kinney in Venice, Montana Avenue in Santa Monica, San Vicente in Brentwood, Malibu Country Mart, the shopping area of Beverly Hills, Melrose Avenue and Melrose Place in West Hollywood, and Santee Alley Downtown.
There are also malls like The Grove and Santa Monica Place with big chain stores and other great shops.
Hollywood Has Great Places to Visit
Most visitors head to Hollywood Boulevard to see the stars on the Hollywood Walk of Fame and the footprints at the Chinese Theater. A quick quick pit stop is enough, then head off to do something much more interesting in Hollywood.
Film buffs should try one of the LA Conservancy's self guided film location driving tours or a meal at the legendary Musso & Frank Grill. Go shopping for vinyl records at Amoeba Music. Get up close to the Hollywood sign on a hike.
The Hollywood Bowl is one of the best places to visit in Los Angeles. Don't miss the chance to dine al fresco while you enjoy music under the stars. They have everything from current musical acts to classical music to a Fourth of July extravaganza.
Smoking is Prohibited in Many Parts of Los Angeles
Californians don't embrace cigarette smoke. Strangers will stop you in the street to tell you that you're not allowed to smoke. If you are more than an occasional smoker, do some research before your trip so you know what to expect.
Los Angeles is pretty proactive about protecting citizens from second hand smoke. There is a ban on smoking indoors everywhere but in cities like Santa Monica, it's banned outdoors too.
Celebrities Are Not at Tourist Locations
Some people come to Los Angeles hoping to spot celebrities. While there are plenty of famous people living in LA, you will not find them at tourist attractions. They are in grocery stores, at the gym, at restaurants and places where locals live their lives.
There is not a guaranteed place to find celebrities other than getting tickets for a taping of your favorite sitcom. You can go for a hike in Runyon Canyon, catch a Laker game, get drinks at Chateau Marmont, or eat dinner at the latest restaurants, but there is no guarantee.
The best thing to do, is go where locals go. If you get lucky, great. If you don't, at least you had an authentic LA experience instead of a super touristy one.
Hope these tips help you to be more prepared for your Los Angeles trip. Feel free to ask questions in the comments below.