Many of us envision hectic Thanksgiving travel in November and don't even consider taking a trip. But the best places to visit in November in the USA and Europe still have fall foliage and festivals.
If you're looking for where to go in November for warm weather, choose from one of the island destinations below or head to the Southern Hemisphere for beautiful Spring travel.
There are some killer bucket list destinations that are truly the best places to travel in November. For more Fall travel inspiration, also check out the Best Places to Travel in October.
This post contains affiliate links. If you book or buy something through one of these links, we may earn a commission at no extra cost to you. You can read our full disclosure here.
Best Places to Visit in November in the USA
Joshua Tree, California in November
Average temperatures and rain: High 69F (20C) / Low 43F (6C); 1 rainy day
Joshua Tree is the 11th most visited US National Park. The temperature is where to go in November for hiking, rock climbing, and the most spectacular star gazing.
The cooler temperatures are perfect for hiking the park's numerous trails. Don't miss the iconic hikes to Barker Dam, Hidden Valley, or the challenging Ryan Mountain for breathtaking vistas.
Get off the beaten path and wander through interesting cactus like the Cholla Cactus Garden, beautiful lakes and unique landscapes.
The park is a mecca for rock climbers, with cooler weather making it safer and more enjoyable for climbers of all levels.
Expand your experience by glamping in a boho styled airstream or relaxing by the pool in your remote, stylish vacation home rental.
Joshua Tree is renowned for its dark skies and star gazing. Bring your telescope or join a ranger-led astronomy program for an unforgettable celestial experience.
Over the course of a weekend, you will have an experience that is so relaxing and different than the rest of California.
HOTEL: AutoCamp Joshua Tree (9)
RELATED POST: How to Plan the Perfect Joshua Tree Weekend
Palm Springs, California in November
Average temperatures and rain: High 79F (26C) / Low 52F (11C); 0 rainy days
Another California favorite, Palm Springs adds a completely different spin to your desert getaway with bright midcentury decor and tons of things to do. November is still warm enough to enjoy California weather by the pool.
If you're a golf fanatic, Palm Springs is a golfer's paradise with many world-class golf courses. Have fun playing a round or two in some of the best desert landscapes.
Relax and rejuvenate at one of the city's renowned spas or wellness resorts. Soak in natural hot springs or indulge in a therapeutic massage.
For a fun half-day trip, take the 10 minute trip to the top of the San Jacinto mountains on the Palm Springs Aerial Tramway where you will find expansive Coachella Valley views along with tons of hiking trails.
One of the most popular tours is a San Andreas Fault Jeep Tour to see the geology of California earthquakes.
You can also take an architecture tour, stroll down Palm Canyon Drive for galleries and shopping, and indulge in one delicious restaurant after the next.
HOTEL: The Paloma Resort (9.3) or one of the Best Boutique Hotels in Palm Springs
RELATED POST: 12 Best Places to Visit in California in December
Sonoma Valley, California in November
Average temperatures and rain: High 66F (19C) / Low 41F (5C); 6 rainy days
One of the best times of year to visit Sonoma Valley is harvest time in the fall. While the dates of grape harvest changes every season, there are seasonal activities like special tastings, fall dining menus, and music festivals.
There are so many fun things to do in Healdsburg, one of the absolutely coolest places to visit in Sonoma County. While wine is a top priority in this part of California, it's also a great places for active pursuits.
Book a stay in one of the best hotels in Healdsburg to be close to great restaurants and activities. Downtown Healdsburg has some of the most notable eateries in Northern California.
Take a Healdsburg Small-Group Food and Wine Walking Tour through town to try a variety of food pairing and meet some local chefs and wine makers.
Visit the wild and beautiful Sonoma coast, go horseback riding, hike beautiful trails through the redwoods and hang out in charming California coastal towns. You will fall in love with the low key version of California Wine country.
HOTEL: Montage Healdsburg (9.2)
READ NEXT: 15 Best Things to do in Healdsburg and Sonoma County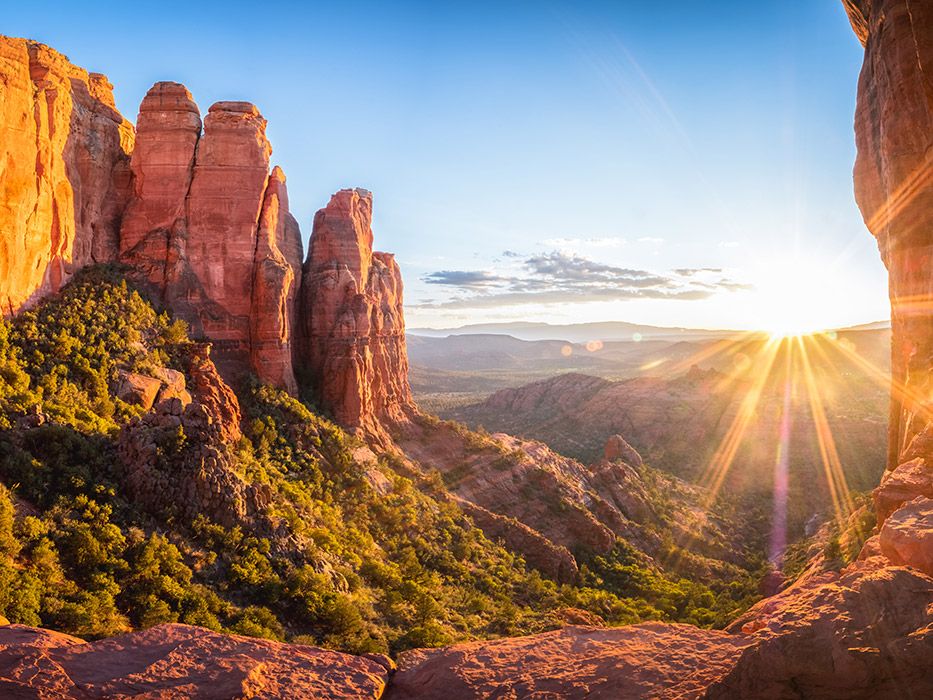 Sedona, Arizona in November
Average temperatures and rain: High 68F (20C) / Low 41F (5C); 2 rainy days
Sedona, Arizona is absolutely one of the best places to visit in November in the US. This picture perfect city is home to some of the best hiking in the country.
Sedona is known for its spiritual healing. Connect with your mind, body, and spirit at a Chakra Yoga class or experience the unique energy on one of the best Sedona vortex hikes.
Another can't miss hike in Sedona is the Devil's Bridge Trail, which is a moderate hike to a natural rock bridge, that offers stunning views of the surrounding red rock formations.
If you're looking for an adrenaline rush, Sedona has more than 250 miles of single track with breathtaking views and challenging terrain, for mountain bikers of all levels,
An Outback Jeep Adventure Tour is a more laid back way to explore the area's beautiful landscapes and learn about its history.
And with sunny weather in the mid 60s, it's the perfect place to escape the cold this Thanksgiving. L'Auberge de Sedona even offers a special Thanksgiving dinner for those looking to enjoy a traditional holiday meal.
Be sure to sign up for the annual 5K Turkey Trot to work off those calories, take a ride on the Verde Canyon Railroad, and go for a scenic drive through Sedona. If it's not already, Sedona should absolutely be on your Arizona Bucket List.
HOTEL: Enchantment Resort (8.8)
New York, New York in November
Average temperatures and rain: High 55F (12C) / Low 42F (5C); 7 rainy days
New York City is one of the best places to visit in November in the USA. Catch the exhilarating New York City Marathon, typically held on the first Sunday in November. Join the cheering crowds as runners tackle the city's five boroughs.
Autumn is a perfect time for a leisurely stroll or a horse-drawn carriage ride through Central Park to witness the breathtaking fall foliage. The park's vibrant hues provide an Instagram-worthy backdrop for nature lovers.
As November progresses, embrace the chilly weather by lacing up your skates at Rockefeller Center or Central Park's Wollman Rink. Get a birds-eye-view of the city at the SUMMIT One Vanderbilt Experience.
On November 11th, you can pay your respects to those who have served in the U.S. military at the Veterans Day Parade. Then celebrate the holiday season at the Macy's Thanksgiving Day Parade with larger-than-life balloons making their way through Manhattan's streets.
The Big Apple's holiday markets at Bryant Park's Winter Village and Union Square are great places to pick up unique gifts and sample artisanal foods.
Part of the allure of visiting New York City any time of year is to see a Broadway show and indulge in the city's diverse culinary scene.
We also love New York in September for the amazing fall buzz and December for all the traditional holiday activities like seeing the Radio City Rockettes Christmas Spectacular.
HOTEL: Nine Orchard (9.4) or the TWA Hotel for a retro travel experience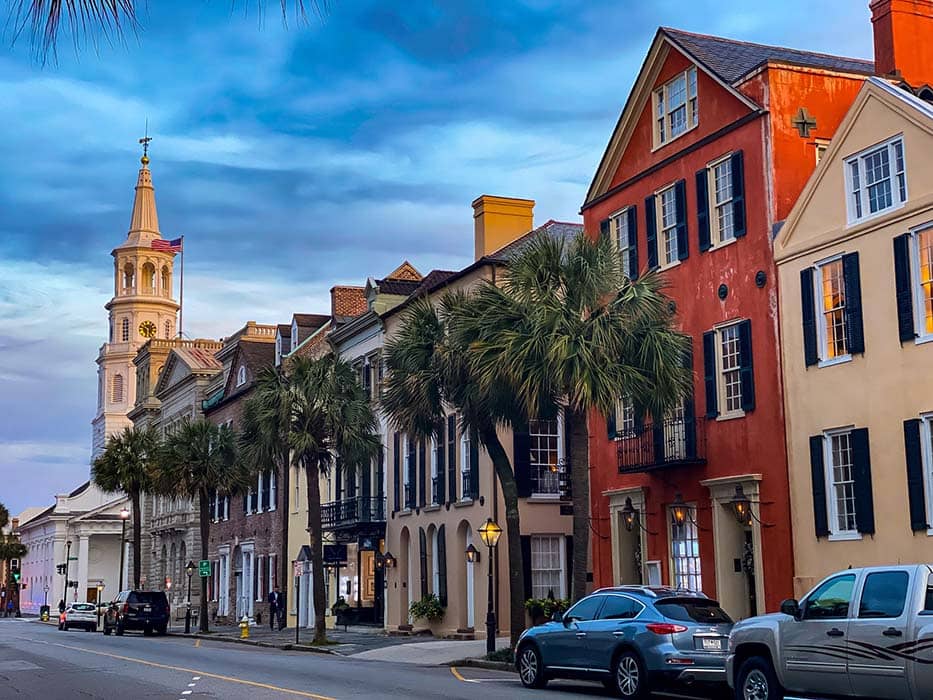 Charleston, South Carolina in November
Average temperatures and rain: High 67F (19C) / Low 53F (11C); 4 rainy days
Autumn is peak season in Charleston. The weather is temperate, it's one of the lowest rain months and late fall foliage adds to the beauty.
While not as dramatic as northern destinations, Charleston's trees begin to display vibrant autumn colors in November, making it a picturesque time for walks in parks like Hampton Park and Waterfront Park.
Johns Island County Park is another colorful spot during the Harvest Festival complete with Bluegrass bands and Carolina barbecue.
On a 3 day Charleston itinerary visit Magnolia Plantation for a step back in time and a great place to see fall color.
Charleston's cobblestone streets and historic homes are easily explored on foot. Another fun way to see the city is a Historical Downtown Tour by Horse Drawn Carriage.
Get a jump on your holiday shopping at the long established Charleston City Market and dine at all of the delicious restaurants.
If weather permits, a nice way to end the day is on a Charleston Harbor Sunset Cruise. See the city from a different vantage point on a romantic cruise of the South Carolina shoreline.
BEST HOTELS: The Pinch Charleston (9.7), or The Spectator Hotel (9.4)
RELATED POST: Most Beautiful States in the USA to Visit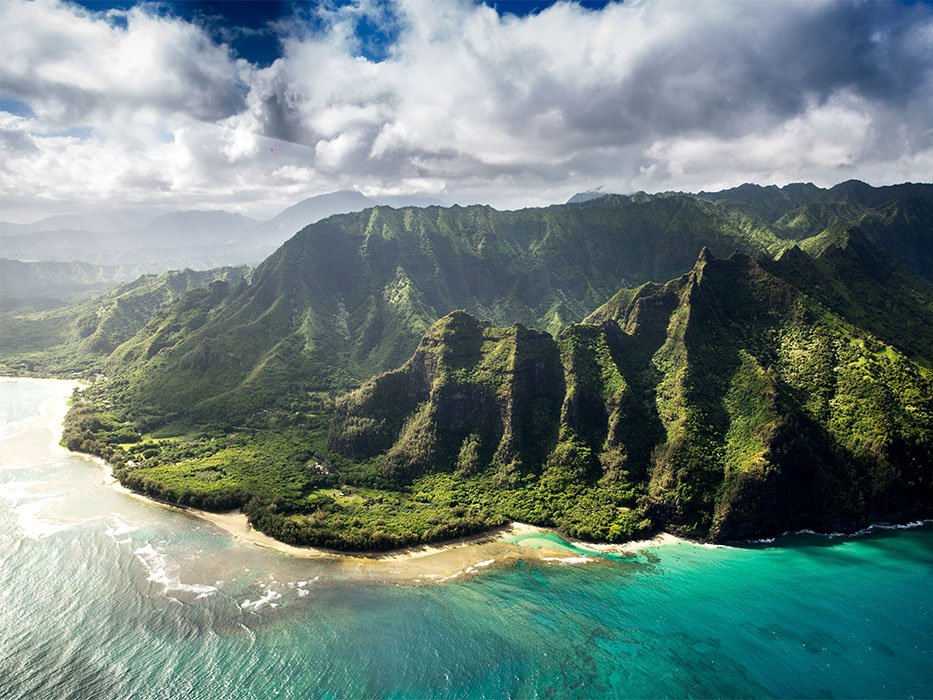 Hawaii in November
Average temperatures and rain: High 83F (28C) / Low 79F (26C); rainy days vary in location
Hawaii is the best place to travel in November for warm weather. It's warm and sunny, but not too hot, and there are fewer crowds than in the peak summer months. It's also a great place to do a big family reunion for Thanksgiving.
For nature lovers, Hawaii Volcanoes National Park is a must-see. The park is home to two active volcanoes, and you can hike through lava fields and see steam vents.
Sail the Nā Pali Coast and drive the Road to Hana to see lush rainforests, waterfalls, and stunning coastal views. Or hike Waimea Canyon, also known as the Grand Canyon of the Pacific.
If you're looking for a relaxing beach vacation, Poipu beach on Kauai is a great choice. The water is calm and clear, making it perfect for swimming, stand-up paddleboarding, and snorkeling.
But surfing reigns supreme in this island paradise whether you learn to surf at Honolulu's Waikiki Beach or watch the big wave Pros, one of the best things to do on North Shore Oahu.
HOTEL:: ESPACIO THE JEWEL OF WAIKIKI (9.8)
RELATED POST: 60 Bucket List USA Trip Ideas for Any Time of Year
---
Where to Travel in November in Europe
Croatia in November
Average temperatures and rain: High 63F (17C) / Low 53F (11C); 10 rainy days
November is a great time to travel to Europe – the weather is mild, the crowds are gone and the prices are lower. And, of course, there's the added bonus of seeing some stunning fall foliage.
Plitvice Lakes National Park in Croatia is one of the most beautiful places in the world at any time of year, but it's especially stunning in November when the leaves are changing color, framing the cascading waterfalls.
Dubrovnik Old Town is one of the most well-preserved medieval towns in Europe and it's simply stunning when surrounded by autumn leaves. Do a Game of Thrones tour and walk the historic city walls on your Dubrovnik itinerary.
Croatia island hopping is typically a summer activity, but getting out on the water for a day trip is a great way to explore islands like Hvar and Brac, while witnessing the spectacular beauty of the Dalmatian coast.
The Istrian Peninsula is another great option for fall travel – it's known for its truffles and Malvasia wine, and you can also celebrate the Croatian holiday of St. Martin's Day (called Martinje) on November 11th.
Experience the early festivities of Advent in Zagreb, with charming Christmas markets, ice skating rinks, and seasonal decorations throughout the city.
Croatia is a delightful November destination in Europe filled with cultural experiences, natural beauty, and culinary treats, offering a quieter but equally enticing adventure.
HOTEL: Hotel Bellevue Dubrovnik (9.4) or one of the Best Boutique Hotels in Dubrovnik.
Iceland in November
Average temperatures and rain: High 39F (4C) / Low 31F (0C); 12 rainy days
The Nordic country of Iceland is an ideal November destination for outdoor enthusiasts, with its glaciers, geysers, and waterfalls.
In November, the average temperature is 40°F, which makes it cold enough for ice caves to be safe but warm enough that you won't be completely freezing.
There's plenty to do on a 7 Day Iceland Ring Road Itinerary starting in the capital city of Reykjavik. Explore museums, cozy cafes, and vibrant street art. Don't miss the chance to indulge in Icelandic cuisine like lamb stew or skyr.
Visit the famous Golden Circle attractions, including the Geysir geothermal area, Gullfoss waterfall, and Thingvellir National Park, which are less crowded in November.
Soak in the geothermal waters of the Blue Lagoon while surrounded by a winter wonderland. The contrast between the warm waters and chilly air is truly rejuvenating. from exploring the world-famous Blue Lagoon to sampling the local cuisine.
Don't miss the Icelandic music scene at the Iceland Airwaves Festival at the beginning of the month.
And with its long days and short nights, Iceland is the perfect place to experience the Northern Lights. Plan your visit around a new moon for best views of the aurora and stay for 3-4 days to maximize your chance of seeing them.
HOTEL: The Reykjavik EDITION (8.8) or one of the Best Boutique Hotels in Reykjavik
Prague, Czech Republic in November
Average temperatures and rain: High 47F (8C) / Low 38F (3C); 6 rainy days
November in Prague offers a unique blend of cultural delights and festive experiences. Start your visit with a Walking Tour of Prague Old Town to soak in the city's rich history and stunning architecture.
The crisp autumn air makes it the perfect time for exploring iconic landmarks like Prague Castle, Charles Bridge, and Old Town Square without the summer crowds.
Music enthusiasts will be thrilled to attend the Prague Sounds Festival, featuring world-class classical, jazz, hip hop and electronica performances.
For food and wine connoisseurs, St. Martin's Wine and Food Festival is a must, showcasing Czech wines and delicious cuisine. Whisky aficionados can savor their passion at the Whisky Life Prague Festival, a delightful exploration of fine spirits.
As November progresses, the city transforms into a winter wonderland with the onset of Prague Christmas markets, where you can shop for unique gifts and savor traditional treats.
For seasonal favorites, don't miss the Nutcracker and Swan Lake ballet performances at the Prague State Opera or Broadway Theater.
As one of the best places to travel in November, Prague promises a blend of culture, culinary delights, and entertainment, making it an enchanting time to visit this beautiful European gem.
HOTEL: The Grand Mark Prague (9.4)
Tallinn, Estonia in November
Average temperatures and rain: High 39F (4C) / Low 30F (-1C); 16 rainy days
Tallinn, the charming capital of Estonia, is one of the best places to travel in November in Europe.
The first place to wander around is Tallinn's UNESCO-listed Old Town, a picturesque labyrinth of cobblestone streets and medieval architecture.
Kadriorg Palace hosts art exhibitions and cultural events, providing a glimpse into Estonia's artistic heritage. Don't miss other historic sites like Alexander Nevsky Cathedral on Toompea Hill.
One of the best things to do is cozy up in one of Tallinn's many charming cafes or do an Estonian Food Tour. Try warming drinks like glögi (mulled wine) and indulge in Estonian pastries, like kringel (cinnamon bread).
Or, embrace the Estonian tradition of saunas. Many local spas and wellness centers offer soothing sauna experiences to beat the November chill.
The highlight of the month is a visit to the fairytale Tallinn Christmas Market, ranked as one of the top in Europe, located in the Town Hall Square adorned with fairy lights and a towering Christmas tree.
It typically opens in late November offering Estonian holiday treats, handcrafted gifts from local artisans, and a pop-up ice rink for skating.
Whether you're strolling through historic streets, savoring seasonal treats, or immersing yourself in the holiday spirit at the Christmas market, this Estonian gem provides a delightful European getaway during the fall-to-winter transition.
HOTEL: Nunne Boutique Hotel (9.8)
Canary Islands, Spain in November
Average temperatures and rain: High 75F (24C) / Low 64F (18C); 4 rainy days
With average highs of 75F, the Canary Islands are a great place to escape the chilly weather of Northern Europe.
November is actually one of the best months to visit, as it's still warm enough for sunbathing and watersports, but not too hot.
It's the best month for surfing or sand boarding the dunes in Gran Canaria. Check into an all-inclusive Gran Canaria Hotel and just focus on having a blast.
The Fuerteventura Kite Festival is also held in November, making it the perfect time to visit if you're looking for some fun in the sun. Golfers will also find plenty to keep them busy, as there are several world-class golf courses on the islands.
And if you're looking for some adventurous hiking or a thrilling cable car ride, Teide National Park on Tenerife is well worth a visit. While visiting also check out the Rambla de Castro coastal walk in Puerto de la Cruz.
So whether you're looking to escape the cold or just enjoy some sunny weather, the Canary Islands are definitely worth considering. It's one of the best weekend breaks in Spain.
HOTEL: Royal Hideaway Corales Suites (9.4)
---
Best Places to Travel in November Abroad
Bora Bora, Tahiti in November
Average temperatures and rain: High 81F (27C) / Low 71F (21C); 9 rainy days
Of all the places to go in November, the stunning paradise of Bora Bora may be the most romantic. Bora Bora is renowned for its luxurious overwater bungalows, and November offers a perfect blend of pleasant weather and lower rates.
Awake to crystal-clear waters beneath your villa, and relish the ultimate tropical escape. Spend your days relaxing or taking advantage of numerous fun activities like paddleboarding, kiteboarding, or jet-skiing in the calm, warm waters.
Explore the vibrant underwater world of coral reefs teeming with tropical fish and even the occasional manta ray.
Or embark on an unforgettable adventure by snorkeling with sharks in the Bora Bora Lagoon. Experienced guides ensure safety while you get up close and personal with these majestic creatures.
On land, visit the famous Matira Beach, known for its soft white sands and serene turquoise waters, or discover Bora Bora's lush landscapes by taking a 4×4 safari tour or hiking to the island's viewpoints.
In the evening, bask in beachfront dinners at local restaurants or private dining experiences under the stars.
Bora Bora in November is a tranquil haven where you can bask in the beauty of nature without the peak-season crowds. Whether you're seeking relaxation, fun, or romance, this tropical paradise has something to offer every traveler.
HOTEL: Conrad Bora Bora Nui (9.3)
Bahamas in November
Average temperatures and rain: High 81F (27C) / Low 74F (23C); 6 rainy days
November is the Bahamas sweet spot and one of the best places to travel in November. It's after hurricane season and before the holiday rush.
The weather is warm and the water is calm, making it ideal for swimming, snorkeling, or simply find your zen on the beach.
With over 700 islands and cays, the Bahamas are a paradise for island hopping. Explore the unique cultures and landscapes of different islands, from bustling Nassau to the tranquil Out Islands.
The Bahamas are renowned for their stunning beaches. Relax on the powdery white sands of Cable Beach, Pink Sand Beach in Harbour Island, or the pristine beaches of the Exumas.
There are plenty of epic things to do in Exuma. You can go swimming with pigs or sharks, snorkel at Thunderball Grotto, relax on a perfect white sand beach or kick back and grab a drink with locals.
Savor delicious Bahamian dishes like conch fritters, cracked conch, and Bahamian stewfish at local eateries and beachside shacks.
The crystal-clear waters are also perfect for exploring vibrant coral reefs and underwater caves. There are great dive sites in the Bahamas and Caribbean including Andros Island's Blue Holes and the Exuma Cays Land and Sea Park.
You can't pick a better place to go in November if you want a beachy vacation.
HOTEL: Grand Isle Resort & Spa
Egypt in November
Average temperatures and rain: High 77F (25C) / Low 59F (15C); 3 rainy days
Step back in time to the land of Pharaohs and pyramids like you've read in books about Egypt. Visiting Egypt is a trip of a lifetime and it is absolutely one of the best places to travel in November.
The weather is cool and dry, making it the perfect time to explore the Pyramids of Giza and the Valley of the Kings.
Take a Nile cruise nile cruise on the Oberoi, the ultimate in luxury, to Aswan and visit the colorful Nubian villages.
Resort areas like Sharm El Sheikh or Hurghada have world-class diving and snorkeling in the crystal-clear waters of the Red Sea. November offers excellent visibility and warm water temperatures.
If you're feeling adventurous, explore the stunning desert landscapes of Egypt with a safari to the White Desert, Black Desert, or the Sinai Peninsula, where you can hike, camp, or take a camel trek.
No matter what you do on your Egypt itinerary, you're sure to have an unforgettable experience when you visit Egypt in November.
HOTEL:: The St Regis Cairo (8.9)
RELATED POST: What to Wear in Egypt & 15 Egypt Travel Tips You Need to Know
Oman in November
Average temperatures and rain: High 86F (30C) / Low 69F (21C); 0 rainy days
If you are wondering where to go in November to explore the diverse and captivating landscapes, look no further than Oman.
Start your journey in the capital city, Muscat, where you can visit the Sultan Qaboos Grand Mosque, the Royal Opera House, and the bustling Mutrah Souq.
Discover Oman's rich heritage by visiting historical forts like Nizwa and Bahla. Or take a day trip to the famous Bimmah Sinkhole or Wadi Shab gorge, where you can swim in crystal clear turquoise water.
With pleasant weather, there are a variety of other active pursuits available. Head to the Wahiba Sands or the Empty Quarter for thrilling dune bashing, camel rides, and stargazing in the tranquil desert.
November's mild temperatures make it an excellent time to hike in the stunning Al Hajar Mountains, specifically the Jebel Akhdar region, known for its terraced farms and picturesque villages.
If you don't mind the heat, explore the lush Dhofar region during the Khareef season, from June through September, bringing cooler temperatures and transforming the desert into a green oasis.
Either time of year, relax on Oman's pristine beaches, such as Salalah's coastline in the south, and enjoy water sports or unwind by the sea.
Oman offers a perfect blend of cultural experiences, outdoor adventures, and natural beauty, that makes it a great new destination to add to your list.
HOTEL: Six Senses Zighy Bay (9.2)
New Zealand in November
Average temperatures and rain: High 63F (17C) / Low 55F (13C); 6-10 rainy days
While New Zealand is an incredible destination year round, Spring and specifically November is the absolute best time to visit.
November is the peak of New Zealand's spring, and you can witness breathtaking displays of blossoms. Don't miss the iconic Taranaki Rhododendron & Garden Festival or the Pukeiti Rhododendron Trust.
There are so many things to do that Campervanning New Zealand is the ideal way to explore. Visit the Kaikoura Peninsula for whale watching or the Otago Peninsula for a chance to see rare yellow-eyed penguins.
Another fun thing to do is explore New Zealand's wine regions, like Marlborough and Central Otago, and savor their renowned wines.
From the small town of Paihia at the top of the North Island to Stewart Island off the Southernmost tip, there is adventure and beauty everywhere.
Don't miss Milford Sound, Mount Cook, Glacier County, Rotorua, Queenstown, Auckland and of course the beaches and cute towns.
HOTEL: Azur Lodge (9.8)
RELATED POST: The Best Places to Travel in December
Sydney, Australia in November
Average temperatures and rain: High 74F (23C) / Low 60F (16C); 3 rainy days
November is an ideal time to explore Sydney, Australia, as the city embraces the spring season with pleasant weather and outdoor activities.
Surf's up at Bondi Beach. With its turquoise waters and white sand, it's easy to see why it's one of the most popular beaches in Australia and one of the best places to go in November for perfect weather.
Take the breathtaking Bondi to Coogee Coastal Walk, which offers stunning views, rock pools, and plenty of photo opportunities.
If you're in the mood for some culture, visit the Art Gallery of New South Wales, with over 10,000 works of art on display or catch a world-class performance at the Sydney Opera House, a UNESCO World Heritage site.
Embark on a Day Trip to the Blue Mountains for a guided experience at Scenic World, an opportunity to see the famous Three sisters rock formation, encounter native Australian animals, eat a delectable lunch, and a ferry ride back to Sydney Harbor.
When spending 3 days in Sydney in November, you can even catch the beginning of a summer Christmas season Down Under.
HOTEL: Ovolo 1888 Darling Harbour (8.8)
Chiang Mai, Thailand in November
Average temperatures and rain: High 86F (30C) / Low 65F (18C); 4 rainy days
Yi Peng, the biggest Lantern Festival in the world and one of the events Thailand is famous for, will be celebrated at the beginning of November in Chiang Mai, Thailand.
Thousands of lanterns light up the night sky, and people release beautiful flower-filled rafts onto the Ping River.
Chiang Mai is known for its stunning temples. Visit Wat Phra Singh, Wat Phra That Doi Suthep, and Wat Chedi Luang to admire their intricate architecture and serene ambiance.
On your trip to Chiang Mai, make sure to see Tha Phae Gate built in the 13th century. It's one of the most visited Thailand landmarks in Chiang Mai and they have live music on Saturday nights.
Venture into the lush mountains surrounding Chiang Mai for trekking adventures. Explore hill tribe villages, enjoy jungle hikes, and witness breathtaking waterfalls. You can also go zip-lining or do a Ping River Night Kayaking Trip.
Sample delicious northern Thai cuisine at local markets and restaurants. Don't miss khao soi, a famous regional dish. Foodies can learn how to make delectable dishes at a Thai cooking class too.
Chiang Mai is just one wonderful location on a Thailand itinerary.
HOTEL: Four Seasons Resort Chiang Mai (9.3)
RELATED POST: 2 Perfect Days in Phuket, Thailand
Buenos Aires, Argentina in November
Average temperatures and rain: High 76F (24C) / Low 62F (17C); 8 rainy days
Buenos Aires is all about experiencing the joys in life. Enjoy the cafe culture and take in the beautiful architecture.
Spend some time at Museo de Arte Latinoamericano de Buenos Aires. It's a must-see for any art lover, and the Cantera Eva Peron is a great place to learn about Argentine history.
Enjoy the pleasant spring weather by strolling through Buenos Aires' beautiful parks and gardens, such as the Bosques de Palermo and the Jardín Botánico.
For something truly unique, head to La Boca, where you can see brightly-colored houses and street art.
Festivities include Dia de los Muertos at the beginning of the month and Feria de Mataderos, the traditional gaucho fair showcasing Argentine culture, with folk music, dance, crafts, and delicious street food, every Sunday.
As the birthplace of tango, immersing yourself in this passionate dance form by taking classes or watching a mesmerizing performance at La Ventana.
Savor Argentina's world-famous beef in local steakhouses known as parrillas. November is also a great time to enjoy traditional Argentine barbecue at outdoor asados.
There are also great things to do with kids in Mar del Plata, the coastal area with beaches, for sunning, surfing, paddle boarding and kite surfing.
HOTEL:: Four Seasons Hotel Buenos Aires (9.2)
---
Other Posts You Might Like:
Save The Best Places to Travel in November – Pin it!