Many of us travel in November for Thanksgiving but everyone is usually heading home. Since our whole family lives in Los Angeles, we always know we will be staying put for Thanksgiving. Come Friday though, we are eager to take advantage of a 3 day weekend, which is why you'll find a some of our favorite California destinations that are perfect for a short trip. If you love to travel, and you have the time, there are some killer bucket list destinations that are truly the places to be in November. For more Fall travel inspiration, also check out the Best Places to Travel in October.
Best places to travel in November
Joshua Tree
Joshua Tree is the 11th most visited US National Park. The temperature is perfect in November for hiking, rock climbing, and the most spectacular star gazing. This is the place to get off the beaten path and wander through interesting cactus, beautiful lakes and unique landscapes. Expand your experience by glamping in a boho styled airstream or relaxing by the pool in your remote, stylish vacation home rental. Over the course of a weekend, you will have an experience that is so relaxing and different than the rest of California. Stay: Joshua Tree Tiny Home
Palm Springs
Another California favorite, Palm Springs adds a completely different spin to your desert getaway with bright midcentury decor and tons of things to do. November is still warm enough to enjoy California weather by the pool. Take the 10 minute trip to the top of the San Jacinto mountains on the Palm Springs Aerial Tramway where you will find expansive Coachella Valley views along with tons of hiking trails. You can also take an architecture tour, stroll down Palm Canyon Drive for galleries and shopping, and indulge in one delicious restaurant after the next. Stay: Parker Palm Springs
Sonoma Valley
One of the best times of year to visit Sonoma Valley is harvest time in the fall. While the actual picking of grapes changes every season, there are seasonal activities like special tastings, fall dining menus, and music festivals. One of the best reasons to visit Sonoma is that there are so many things to do and wine is just one of them. Visit the wild and beautiful Sonoma coast, go horseback riding, hike beautiful trails through the redwoods and hang out in charming little towns. You will fall in love with the low key version of California Wine country. Stay: H2hotel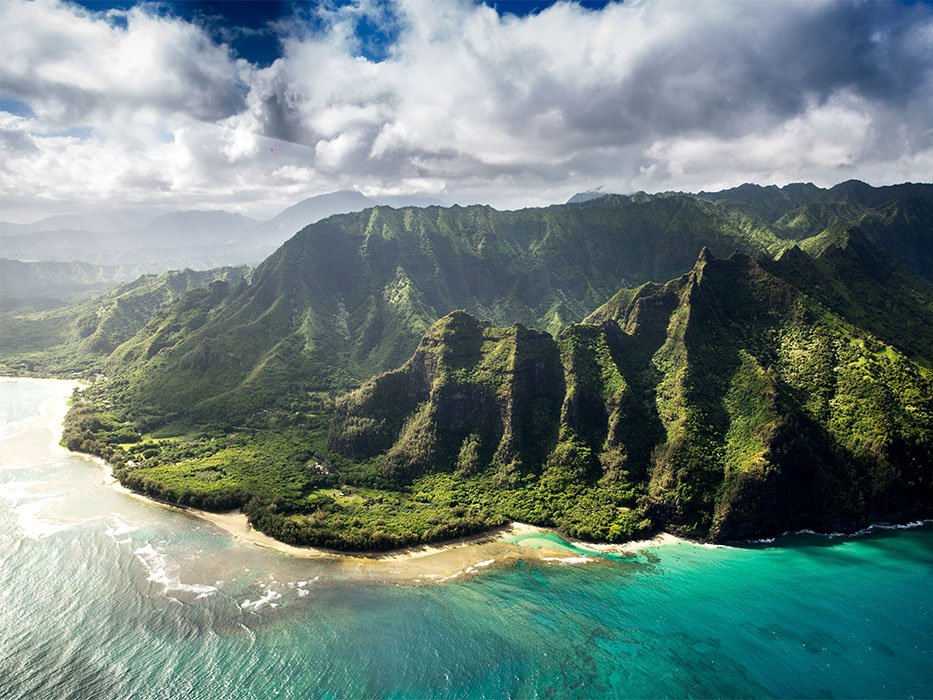 Hawaii
Hawaii is always a good idea and the weather is pretty similar year round. November is considered to be the rainiest, cheapest, and least crowded month but we went to Maui one year to celebrate Thanksgiving with our whole family and never saw one drop of rain. Kauai is another family favorite with the incredible Waimea Canyon and beautiful Poipu beaches. November is also the beginning of Big Wave surfing season at north shore Oahu. Catch of of the Pro surfing events at the end of the month. Stay: Turtle Bay Resort
Bahamas
November is the Bahamas sweet spot. It's after hurricane season and before the holiday rush. For anyone living on the east coast, it's a quick jump over to paradise. If you head to the Exuma Islands, you can go swimming with pigs or sharks, snorkel at Thunderball Grotto, relax on a perfect white sand beach or kick back and grab a drink with locals. There are also great dive sites in the Bahamas and Caribbean overall. Stay: Grand Isle Resort & Spa or Sandals All Inclusive Resort
Iceland
November is the perfect time to see the Northern Lights, the beginning of ice cave season and catch the Icelandic music scene at the Iceland Airwaves Festival November 13-14, 2020 (happening online this year). In November the average temperature is 40°, which makes it cold enough for ice caves to be safe but warm enough that you won't be completely freezing. Plan your visit around a new moon for best views of the aurora and stay for 3-4 days to maximize your chance of seeing them. Stay: Canopy by Hilton Reykjavik City Centre
Egypt
Step back in time to the land of Pharaohs and pyramids. We were lucky enough to do this trip of a lifetime in October and would definitely recommend Egypt as one of the best places to travel in November when the weather cools a little. Egypt is filled with more incredible monuments than anywhere we've ever been. Make sure you get to Cairo, Luxor, and Aswan. One of the best ways to enjoy the sights from Luxor to Aswan is a nile cruise on the Oberoi, the ultimate in luxury. Stay: Four Seasons Hotel Cairo at Nile Plaza
New Zealand
While New Zealand is an incredible destination year round, Spring and specifically November is the absolute best time to visit. There are so many things to do that a Campervanning New Zealand is the ideal way to explore. From the small town of Paihia at the top of the North Island to Stewart Island off the Southernmost tip, there is adventure and beauty everywhere. Don't miss Milford Sound, Glacier County, Rotorua, Queenstown, Auckland and of course the beaches and cute towns. Stay: Eichardt's Private Hotel
Sydney
Flying into Sydney takes your breath away. That first glimpse of the world's prettiest harbor is only a preview of the wonderful city below. In November, spending 3 days in Sydney at the end of Spring, you can hit the world famous beaches, enjoy festivals like Return to Rio, climb the famous Sydney Harbor Bridge and attend an event at the Opera House. You can even catch the beginning of a summer Christmas season down under. Stay: Ovolo 1888 Darling Harbour
Chiang Mai
Yi Peng, the biggest Lantern Festival in the world, will be celebrated October 31 & November 1, 2020 in Chiang Mai, Thailand. The photos of lanterns being released into the sky by thousand of people at once are stunning have had this on my bucket list for a long time. While visiting Chiang Mai, you should definitely visit the Elephant Jungle Sanctuary. You can play and swim with these amazing elephants that have been rescued from the tourism industry. Adventure seekers can go ziplining and foodies can learn how to make delectable dishes at a Thai cooking class. Chiang Mai is just one wonderful location a 10 day Thailand itinerary. Stay: Four Seasons Resort Chiang Mai
Buenos Aires
Buenos Aires is all about experiencing the joys in life. The Argentine polo season is underway in November. This is the birthplace of Nacho Figueras after all. Ladies, if you don't know who he is, google NOW! Enjoy the cafe culture, take in the beautiful architecture, spend some time at the museum or theater. Better yet, venture out for a delicious Argentinean steak dinner after your sultry Tango lesson. Spring has sprung in Argentina. There are also great things to do with kids. Enjoy! Stay: Palacio Duhau – Park Hyatt
---
Our Favorite Travel Items

---
Other Posts You Might Like:
Save The Best Places to Travel in November – Pin it!