Many of us envision hectic Thanksgiving travel in November and don't even consider taking a trip. But the best places to visit in November in the USA and Europe still have fall foliage and festivals.
While November destinations in the Southern Hemisphere can actually mean warm, beautiful Spring travel.
If you love to travel, and you have the time, there are some killer bucket list destinations that are truly the best places to travel in November. For more Fall travel inspiration, also check out the Best Places to Travel in October.
This post contains affiliate links. If you book or buy something through one of these links, we may earn a commission at no extra cost to you. You can read our full disclosure here.
Best Places to Visit in November in the USA
Joshua Tree, California
Joshua Tree is the 11th most visited US National Park. The temperature is perfect in November for hiking, rock climbing, and the most spectacular star gazing. This is the place to get off the beaten path and wander through interesting cactus, beautiful lakes and unique landscapes.
Expand your experience by glamping in a boho styled airstream or relaxing by the pool in your remote, stylish vacation home rental. Over the course of a weekend, you will have an experience that is so relaxing and different than the rest of California.
HOTEL: AutoCamp Joshua Tree (9)
RELATED POST: How to Plan the Perfect Joshua Tree Weekend
Palm Springs, California
Another California favorite, Palm Springs adds a completely different spin to your desert getaway with bright midcentury decor and tons of things to do. November is still warm enough to enjoy California weather by the pool.
Take the 10 minute trip to the top of the San Jacinto mountains on the Palm Springs Aerial Tramway where you will find expansive Coachella Valley views along with tons of hiking trails. Or a San Andreas Fault Jeep Tour to see the geology of California earthquakes.
You can also take an architecture tour, stroll down Palm Canyon Drive for galleries and shopping, and indulge in one delicious restaurant after the next.
HOTEL: The Paloma Resort (9.3)
RELATED POST: 12 Best Places to Visit in California in December
Sonoma Valley, California
One of the best times of year to visit Sonoma Valley is harvest time in the fall. While the dates of grape harvest changes every season, there are seasonal activities like special tastings, fall dining menus, and music festivals.
There are so many fun things to do in Healdsburg, one of the absolutely coolest places to visit in Sonoma County. While wine is a top priority in this part of California, it's also a great places for active pursuits.
Book a stay in one of the best hotels in Healdsburg to be close to great restaurants and activities. Downtown Healdsburg has some of the most notable eateries in Northern California.
Visit the wild and beautiful Sonoma coast, go horseback riding, hike beautiful trails through the redwoods and hang out in charming California coastal towns. You will fall in love with the low key version of California Wine country.
HOTEL: Montage Healdsburg (9.2)
READ NEXT: 15 Best Things to do in Healdsburg and Sonoma County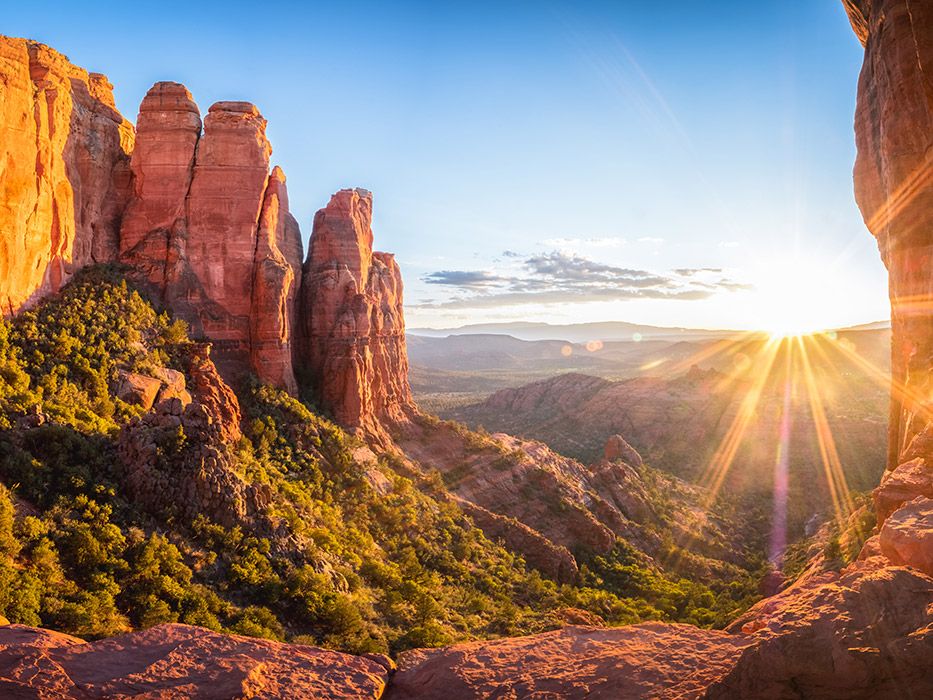 Sedona, Arizona
Sedona, Arizona is absolutely one of the best places to visit in November in the US. This picture perfect city is home to some of the best hiking in the country.
In addition to the incredible red rock scenery, you will find Sedona Vortex hikes that have special restorative energy. Mountain biking is another popular activity in the area with more than 250 miles of single track.
And with sunny weather in the mid 60s, it's the perfect place to escape the cold this Thanksgiving. L'Auberge de Sedona even offers a special Thanksgiving dinner for those looking to enjoy a traditional holiday meal.
There's also an annual 5K Turkey Trot and a scenic drive through Sedona is always fun. If it's not already, Sedona should absolutely be on your Arizona Bucket List.
HOTEL: Enchantment Resort (8.8)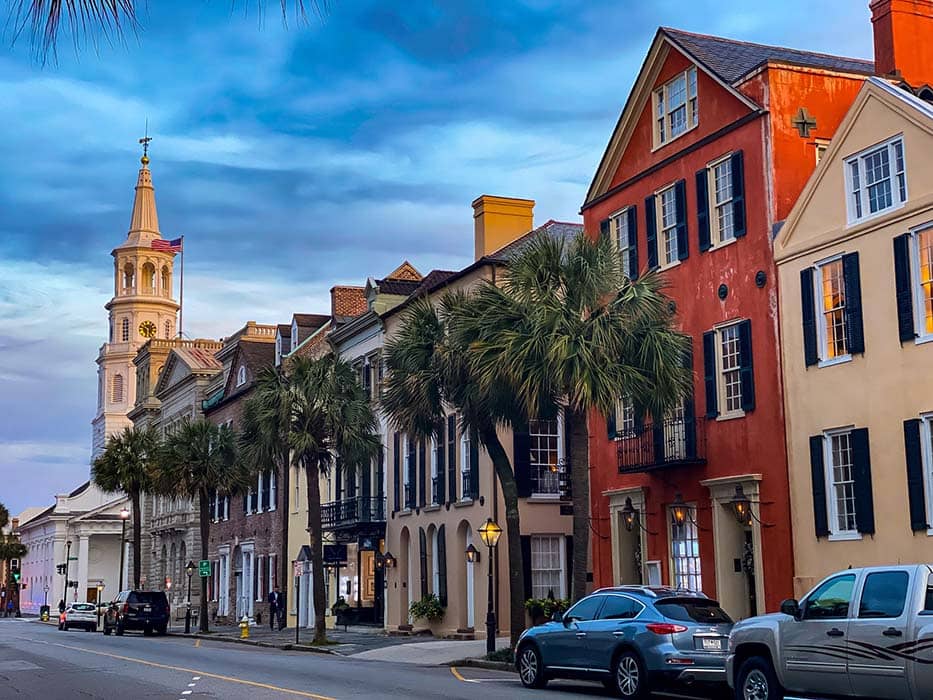 Charleston, North Carolina
Autumn is peak season in Charleston. The weather is temperate, it's one of the lowest rain months and late fall foliage adds to the beauty.
On a 3 day Charleston itinerary visit Magnolia Plantation for a step back in time and a great place to see fall color. Johns Island County Park is another colorful spot during the Harvest festival complete with Bluegrass bands and Carolina barbecue.
Charleston's cobblestone streets and historic homes are easily explored on foot. Another fun way to see the city is a Historical Downtown Tour by Horse Drawn Carriage. Get a jump on your holiday shopping at the long established Charleston City Market and dine at all of the delicious restaurants.
BEST HOTELS: The Pinch Charleston (9.7), or The Spectator Hotel (9.4)
RELATED POST: Most Beautiful States in the USA to Visit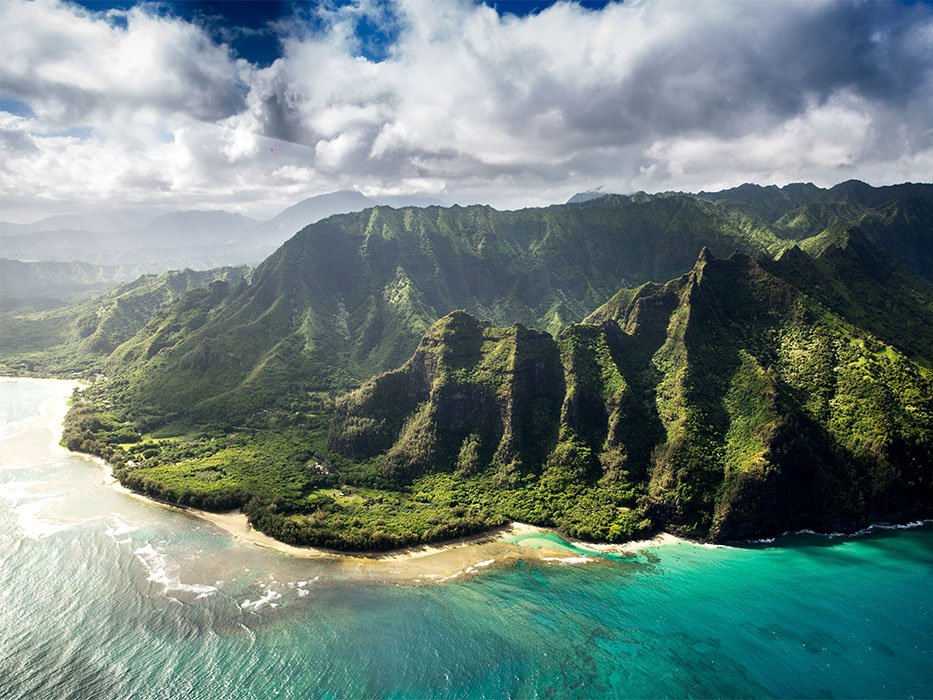 Hawaii
Hawaii is one of the best states to visit in November. The weather is warm and sunny, but not too hot, and there are fewer crowds than in the peak summer months. It's also one of the best places to do a big family reunion to celebrate Thanksgiving.
For nature lovers, Hawaii Volcanoes National Park is a must-see. The park is home to two active volcanoes, and you can hike through lava fields and see steam vents. Sail the Nā Pali Coast or drive the Road to Hana to see lush rainforests, waterfalls, and stunning coastal views. Or hike Waimea Canyon, also known as the Grand Canyon of the Pacific.
If you're looking for a relaxing beach vacation, Poipu beach on Kauai is a great choice. The water is calm and clear, making it perfect for swimming, stand-up paddleboarding, and snorkeling. But surfing reigns supreme in this island paradise whether you learn to surf at Honolulu's Waikiki Beach or watch the big wave Pros on North Shore Oahu.
HOTEL:: ESPACIO THE JEWEL OF WAIKIKI (9.8)
RELATED POST: 60 Bucket List USA Trip Ideas for Any Time of Year
Best Places to Visit in Europe in November
Croatia
November is a great time to travel to Europe – the weather is mild, the crowds are gone and the prices are lower. And, of course, there's the added bonus of seeing some stunning fall foliage.
Plitvice Lakes National Park in Croatia is one of the most beautiful places in the world at any time of year, but it's especially stunning in November when the leaves are changing color.
Dubrovnik Old Town is a must-see – it's one of the most well-preserved medieval towns in Europe and it's simply stunning when surrounded by autumn leaves. Walk the city walls, hop over to a Croatian island and do a Game of Thrones tour on your Dubrovnik itinerary.
The Istrian Peninsula is another great option for fall travel – it's known for its truffles and Malvasia wine, and you can also celebrate the Croatian holiday of St. Martin's Day (called Martinje) on November 11th.
HOTEL: Hotel Bellevue Dubrovnik (9.4) or one of the Best Boutique Hotels in Dubrovnik.
Iceland
The Nordic country of Iceland is an ideal November destination for outdoor enthusiasts, with its glaciers, geysers, and waterfalls. The average temperature is 40°F, which makes it cold enough for ice caves to be safe but warm enough that you won't be completely freezing.
There's plenty to do on a 7 Day Iceland Ring Road Itinerary starting in the capital city of Reykjavik, from exploring the world-famous Blue Lagoon to sampling the local cuisine. Don't miss the Icelandic music scene at the Iceland Airwaves Festival at the beginning of the month..
And with its long days and short nights, Iceland is the perfect place to experience the Northern Lights. Plan your visit around a new moon for best views of the aurora and stay for 3-4 days to maximize your chance of seeing them.
HOTEL: The Reykjavik EDITION (8.8) or one of the Best Boutique Hotels in Reykjavik
Canary Islands, Spain
With average highs of 75F, the Canary Islands are a great place to escape the chilly weather of Northern Europe. November is actually one of the best months to visit, as it's still warm enough for sunbathing and watersports, but not too hot. It's the best month for surfing or sand boarding the dunes in Gran Canaria.
The Fuerteventura Kite Festival is also held in November, making it the perfect time to visit if you're looking for some fun in the sun. Golfers will also find plenty to keep them busy, as there are several world-class golf courses on the islands.
And if you're looking for some adventurous hiking or a thrilling cable car ride, Teide National Park on Tenerife is well worth a visit. So whether you're looking to escape the cold or just enjoy some sunny weather, the Canary Islands are definitely worth considering. It's one of the best weekend breaks in Spain.
HOTEL: Royal Hideaway Corales Suites (9.4)
---
Best Places to Travel in November Abroad
Bahamas
November is the Bahamas sweet spot and one of the best places to travel in November. It's after hurricane season and before the holiday rush. The weather is warm and the water is calm, making it ideal for swimming, snorkeling, or simply find your zen on the beach.
If you've already visited Nassau, check out the epic things to do in Exuma. You can go swimming with pigs or sharks, snorkel at Thunderball Grotto, relax on a perfect white sand beach or kick back and grab a drink with locals. There are also great dive sites in the Bahamas and Caribbean overall.
HOTEL: Grand Isle Resort & Spa
Egypt
Step back in time to the land of Pharaohs and pyramids like you've read in books about Egypt. Visiting Egypt is a trip of a lifetime and it is absolutely one of the best places to travel in November.
The weather is cool and dry, making it the perfect time to explore the Pyramids of Giza and the Valley of the Kings.
Take a Nile cruise nile cruise on the Oberoi, the ultimate in luxury, to Aswan and visit the colorful Nubian villages. If you're feeling adventurous, you can even go diving in the Red Sea at Marsa Alam.
No matter what you do on your Egypt itinerary, you're sure to have an unforgettable experience when you visit Egypt in November.
HOTEL:: The St Regis Cairo (8.9)
RELATED POST: What to Wear in Egypt & 15 Egypt Travel Tips You Need to Know
New Zealand
While New Zealand is an incredible destination year round, Spring and specifically November is the absolute best time to visit. There are so many things to do that Campervanning New Zealand is the ideal way to explore.
From the small town of Paihia at the top of the North Island to Stewart Island off the Southernmost tip, there is adventure and beauty everywhere. Don't miss Milford Sound, Mount Cook, Glacier County, Rotorua, Queenstown, Auckland and of course the beaches and cute towns.
HOTEL: Azur Lodge (9.8)
RELATED POST: The Best Places to Travel in December
Sydney, Australia
If you're looking for the best things to do in Sydney in November, look no further! From stunning beaches to world-class museums, there's something for everyone in this vibrant city.
For nature lovers, Bondi Beach is a must-see. With its turquoise waters and white sand, it's easy to see why it's one of the most popular beaches in Australia. If you're in the mood for some culture, pay a visit to the Art Gallery of New South Wales. With over 10,000 works of art on display, it's one of the largest galleries in the country.
Spending 3 days in Sydney at the end of Spring, you can also enjoy festivals like Return to Rio, climb the famous Sydney Harbor Bridge and attend an event at the Opera House. You can even catch the beginning of a summer Christmas season down under.
HOTEL: Ovolo 1888 Darling Harbour (8.8)
Chiang Mai, Thailand
Yi Peng, the biggest Lantern Festival in the world and one of the events Thailand is famous for, will be celebrated at the beginning of November in Chiang Mai, Thailand. The lanterns being released into the sky by thousands of people at once are breathtaking.
On your trip to Chiang Mai, definitely visit Tha Phae Gate built in the 13th century. It's one of the most visited Thailand landmarks in Chiang Mai and they have live music on Saturday nights. Adventure seekers can go ziplining and foodies can learn how to make delectable dishes at a Thai cooking class. Chiang Mai is just one wonderful location on a Thailand itinerary.
HOTEL: Four Seasons Resort Chiang Mai (9.3)
RELATED POST: 2 Perfect Days in Phuket, Thailand
Buenos Aires, Argentina
Buenos Aires is all about experiencing the joys in life. Enjoy the cafe culture and take in the beautiful architecture. Spend some time at Museo de Arte Latinoamericano de Buenos Aires is a must-see for any art lover, and the Cantera Eva Peron is a great place to learn about Argentine history.
For something truly unique, head to La Boca, where you can see brightly-colored houses and street art. If you're looking for a festive experience, make sure to attend the Dia de los Muertos celebrations. Then venture out for a delicious Argentinean steak dinner or a sultry Tango lesson.
There are also great things to do with kids. The Argentine polo season is underway in November. This is the birthplace of Nacho Figueras after all. Ladies, if you don't know who he is, google NOW!
HOTEL:: Four Seasons Hotel Buenos Aires (9.2)
---
Other Posts You Might Like:
Save The Best Places to Travel in November – Pin it!