We just had the most amazing bucket list trip to Egypt and wanted to share some travel tips. These are the things we wish we had knew ahead of time that would have made our lives easier. Visiting Egypt is so much easier than we expected. We tried to look up information online and a lot of it left us feeling confused. These Egypt travel tips should be a great travel resource in planning your trip.
If you haven't already read it, definitely check out our 7 Day Egypt Itinerary for comprehensive Egypt trip information. You might also want to read What to Wear in Egypt that includes an Egypt Packing List.
Is Egypt Safe?
Since this is the main question we get asked about Egypt, it's at the top of our travel tips.. There was not one minute on our trip where we felt unsafe. We went through airports, train stations, walked though cities with no one around and through crowds that were jam packed. The airports and hotels had extensive safety precautions and procedures. We appreciated that they were so vigilant.
Egypt took a huge hit in their tourism numbers after the revolution but things have definitely gotten better. You do need to be cautious about your safety, which is true everywhere in the world. In tourist areas, you will definitely be approached often by people trying to sell you things and we hear that some of them are pick pockets although we never experienced that.
Everyone has to make their own safety choices. Use reliable sources of information to make your decisions instead of TV or your friends that have never been there. The US Government has a travel advisory website. Other countries have the same service for their citizens. We stayed away from the Sinai desert and did not rent a car based on the advisory.
As things can change, it's always a good idea to purchase travel insurance in case you need to change your trip due to some unfortunate change. World Nomads is a great travel insurance plan that will cover you for trip cancellation or emergency medical expenses and they have 24 hour assistance when you need help.
Getting an Egyptian Visa & Money
Egypt offers Visa on arrival to many countries. That means, you can show up at Cairo airport and purchase your visa to enter the country. If you decide to do that, bring 25 USD. with you to pay at the window, BEFORE you get in the customs line. You need to have exact change. We had a $50 bill for the 2 of us and it was super easy. We did arrive early in the morning so it might get more crowded later in the day. You can get your Egypt Visa in advance here. If you are taking a tour, they will probably coordinate your Visa for you.
The currency is Egyptian pounds. You will need cash and there are ATMs all over the place. The only problem we had was the limit on how much you could withdraw so we went to the ATM 3 times in 7 days.
It's So Easy to Get Around on Trains and Planes
When we were reading info about how to get around, it all sounded confusing but it was sooo easy! There are one hour flights almost everywhere. We highly recommend flying from Luxor to Cairo instead of the overnight train. The flight was cheaper $50 USD and so much faster.
For the places that are 3-4 hours away, you can take the train in the first class compartment called AC1. The prices for those trains are really cheap. We went from Aswan to Luxor, a 3 hour trip in a comfy compartment for 90 EGP ($5.50). Foreigners can buy train tickets online in advance (you can't get same day tickets online). Foreigners cannot buy tickets at the station so ask your hotel get them for you. We were charged a 50 EGP ($3) service fee to have someone get the tickets for us.
Driving in Cairo is Crazy – Use Uber
We grabbed a taxi right outside the airport when we landed in Cairo. He was a hot headed driver and we were just thrilled to make it to our destination in one piece. The road has no lanes so it's a driving free for all and to spice things up a bit, many stop lights don't work. The highway is more like a street with people walking on it! If you happen to be in the market for old used tires, you can buy them from people selling them on the shoulder. When we were crossing the Nile and made a comment, our driver offered to pull over and show us the view – on the highway! 😂 It was kinda crazy!
Long story short, we found that the easiest way to navigate Cairo was with Uber. The drivers were so nice and normal (regular people who needed to make more money outside of their job). The cost is 1/3 of the taxi cost. It really made getting around Cairo more pleasant. Taxis are the other option but you have to negotiate the price with them and you end up paying too much.
Visit Egypt at the Right Time of Year
I'm a baby about hot weather but Egypt is way beyond that. Don't be the person that went during the summer when you couldn't even go outside. It gets very hot in Cairo but add 10 degrees for Luxor and some extra degrees beyond that for Aswan. It is a desert so it's better than being somewhere humid but it's HOT!
High Season is December – February and has the best weather. Daytime temperatures are in the 70-80s but nights can get chilly 50-60s. You can expect more crowds and higher prices overall.
Shoulder Season is October – November and March – April. The weather is warm but manageable. We went the first week of October. Cairo was in the high 80s and Luxor was in the high 90s. It was really hot but the morning and late afternoon/evening was fine. This is a good time to visit for less crowds and a climate that's decent. Easter vacation has higher crowds. March and April see some sandstorms but they aren't supposed to be that bad. You might want to plan an extra day so you don't miss anything.
Low Season is the end of May – September. It is extremely hot and the weather exacerbates the pollution in Cairo. This is not a good time to visit.
Choose the Areas You Want To Visit
When you see all the photos of Egypt, you'll want to see everything this bucket list destination offers. Egypt is a large country and some of the cities are far apart. From Cairo to Luxor is a 1 hour flight, 10 hour bus ride or 9 hour train ride. From there, Aswan is a 3 hour train or taxi ride. Abu Simbel is an additional 4 hours from Aswan. Both of those cities and Sharm el Sheikh are a 1 hour by plane from Cairo.
We decided to visit Cairo, Luxor and Aswan which is doable in one week. To see more, you need more time. Egypt was part of a Middle East trip so we flew from Amman, Jordan to Aswan, Egypt connecting through Cairo. We took the train from Aswan to Luxor and flew from Luxor to Cairo.
Some of the Main Egypt Attractions by City
Cairo – Pyramids of Giza, Sphinx, Egyptian Museum, Khan el Kahlili Market, Mosques
Luxor – Karnak Temple, Luxor Temple, Valley of the Kings, Temple of Hatshepsut
Aswan – Philea Temple, Aswan Dam, Nubian Village
Abu Simbel – Abu Simbel Temples
Sharm el Sheikh – Red Sea Diving, Beach resorts
Alexandria – Citadel of Qaitbay, Corniche, Bibliotheca Alexandrina
Sightseeing Early or Late is One of Top Egypt Travel Tips
I don't know if I've ever been anywhere where it felt like there were so many important things to see. The history and significance of the plethora of monuments will keep your sightseeing card full. The good news is that most monuments are in the middle of town and very convenient to visit.
Since it gets pretty hot during the day you will want to get out as early as possible to go see the places you want to see. Most monuments are open from 6 AM – 5:30 PM. Another great time to sightsee is at the end of the day. At 10 AM, the Valley of the Kings had more than 20 huge tour busses and what felt like a zillion people. We decided to go back at 3 PM and almost everyone was gone. Relax by the pool at midday.
Going Inside the Tombs
The Pyramids of Giza are pretty easy to see even if it's packed with tourists because the area is so large. You will easily be able to take photos and check everything out. We opted not to go inside of the pyramids because they are extremely hot. Most people say the heat is unbearable and the inside is very claustrophobic.
One of our best Egypt travel tips is to go inside the tombs at the Valley of the Kings instead (also very hot inside). I'm not sure of the exact temperature but it was 90 degrees outside and walking out felt cool. You get to enter 3 tombs with your admission and they were all so interesting and different.
Take a Tour for the Pyramids
The Pyramids ARE AMAZING! Seriously one of the coolest things I have seen in my life. Our first glimpse driving through the city was "Wow!" The entrance at the gate was a completely different Wow moment. Finally we got up close and it was absolutely mind-blowing. Not only are the pyramids huge, each block is so massive. All you can think about is how beautiful it is and how impossible it would be to build.
You can easily tour the pyramids on your own but you will be hassled constantly. It will make your life so much more comfortable to have an Egyptian tour guide with you and it's also nice to have someone who can tell you everything you ever wanted to know about the history.
Tips to Deal With Touts When You Travel in Egypt
I never knew what a "tout" was until our trip to Egypt. They are the people who are bugging you to take a camel ride, constantly trying to sell you junk, etc… It's a huge, annoying problem in certain cities and Egypt has some of the worst. There are 2 major issues with touts:
They won't leave you alone and persistently follow you.
They are trying to get as much money out of you as possible and that typically involves tricking you.
Don't let touts ruin your experience. Here's how to handle it:
Joke with them. My sister-in-law is a master at keeping it lighthearted and they leave her alone.
Tell them no thank you in their language. Showing them you are saying no respectfully works better than telling them off. In Arabic no thank you is "la shukran" (pron. la shook-ran).
Ignore them. Often what I do is just tune them out. I try to remember that these people try to get money from you in order to survive so I do what my mom tells me to do and "give them the gift." What gift, you might ask – the gift of letting them do their thing without my judgement.
Have a local with you. That's like tout kryptonite or a cloak of invisibility. If you're not up for the 3 things above, just take a tour and call it a day. It's a lot easier and more peaceful. If you're not a tour person, get a private tour guide.
It's Better to Take a Tour Than Going Solo
We are very independent travelers, taking subways, going to local spots, and are pretty fearless in other countries even when we don't speak the language. We like to see tourist things but we also like to immerse ourselves in our environment. That said, one our best tips for visiting Egypt is to take a tour. If we were doing it all over again, here is why we would take a tour:
If you take a tour, you will have peace from the touts. They are completely uninterested in anyone that doesn't make them money.
You can choose a tour that does early sightseeing or later entry. This option exists because of the midday heat. We saw tour groups entering Karnak Temple at 6:30am.
You will be able to be more efficient with your time because they work everything out for you. If you want to see multiple cities, they can make it so easy for you.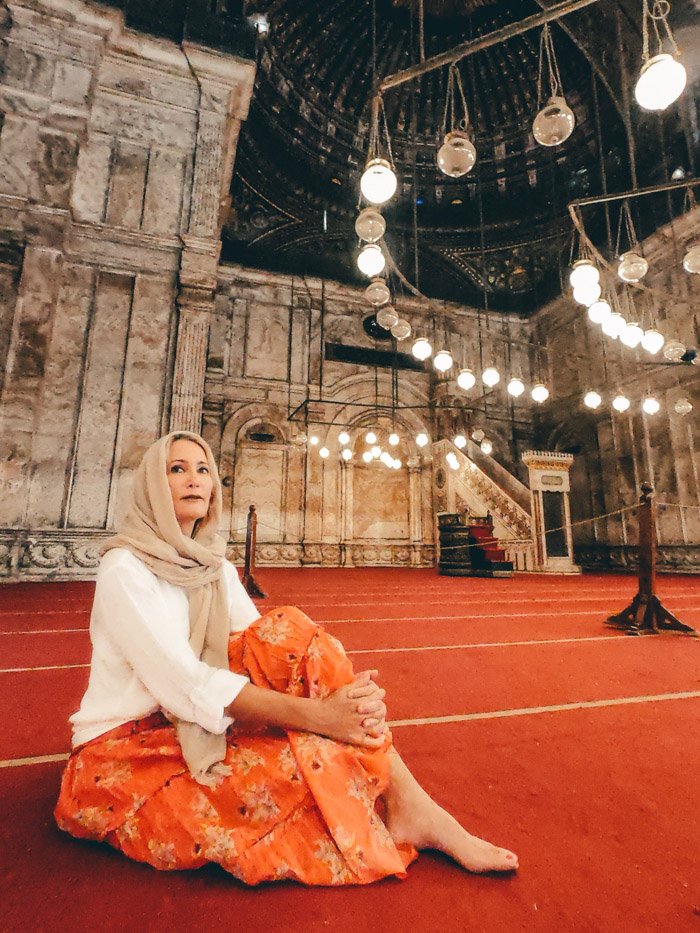 Women and Men Should Dress Conservatively
I was expecting that women needed to dress conservatively but truthfully everyone dresses conservatively. In a country where temperatures are so hot, it's amazing that everyone is completely covered up. No one bares their legs except tourists. I did see tourists in tour groups with shorts but if you aren't in a big group of tourists, you might want to blend in a little better. We wore shorts to take the train and I felt so uncomfortable that I changed to leggings immediately.
Pack lightweight pants, leggings, long skirts, long sleeve shirts and a lightweight scarf with you to put over your head or shoulders when necessary. In mosques, women need to cover up. You will be asked to wear their clothing if you don't have your own. The one time that happened to me (photo on the right), it was really smelly so it never happened again.
Top Notch Hotels Are So Affordable
Prices for everything in Egypt is low compared to Western countries. The best part was that you can stay at elite hotels for really reasonable rates. This is your chance to experience 5 star luxury at a fraction of the cost elsewhere.
We stayed at the Sofitel Legend Old Cataract in Aswan. The rooms were beautiful and spacious with a huge outdoor room overlooking the Nile. We loved the pool where they brought us ice cold towels and waters. In Luxor, we stayed at the historic Sofitel Winter Palace Luxor which has welcomed many famous guests including Agatha Christie while she wrote Death on the Nile. Our room was an incredible old world luxurious suite with a large sitting room and patio overlooking the Nile.
In Luxor, many people are getting on a Nile Cruise. We opted not to do the 3-7 cruise because the cruise we wanted was fully booked. If you are looking for the nicest cruise, check out the Oberoi. Cruises are more expensive than hotels.
Our favorite stay was at the Four Seasons Nile Plaza in Cairo. It's an oasis of beauty and comfort in a heavily populated city. The Four Seasons, like every property they have in the world is the epitome of perfection. Our room was a gorgeous suite with an incredible patio overlooking the Nile where we had the most delicious morning feast with Egyptian and American breakfasts. The Nile view in Cairo is so impressive. Each sunset was a breathtaking view with felucca boats peacefully navigating the river.
Camera Equipment
You will be stopped and asked extensively about camera equipment at the airport. I also hear the same happens if you cross a border into Egypt. We have a gimble that easily added a few hours onto our time because they were uncomfortable about the battery. One of our biggest Egypt tips is to travel with a picture from the manual or something that proves the pieces are all part of the equipment. Thankfully we did but they had a committee meeting of security agents at each check point through the airport. Also, you cannot fly drones at any of the monuments so just leave it at home.
What to Pack
These are the basic items you'll need but you'll find a comprehensive packing list in our What to Wear in Egypt post
Sunscreen
Hat and/or Sun umbrella – You need to provide yourself some shade.
Scarf for women
Lightweight Pants and Long Sleeve Shirt
Bathing suit if you are staying somewhere with a pool
Closed toe shoes
Your own toilet paper can come in handy. These are not your public toilets from North America..
Hand Sanitizer – you will be so thankful you have it!
A water bottle or buy bottled water to carry with you. You need to stay hydrated.
---
That's a Wrap on Our Egypt Travel Tips Except…
These travel tips cover most of our experience in Egypt with the exception of Wifi. Unfortunately we never truly figured it out. We tried using every hotel's internet and it was really spotty. Our portable hotspot and phones were no better. You might try getting a SIM card at the airport. If you find something that works, let us know and we'll add it. If you have any questions about Egypt, leave them in the comments.
---
Our Favorite Travel Items

---
Other Posts You Might Like:
Save These Egypt Travel Tips. Pin It!