We've all seen those impossibly perfect blue and white photos that make you want to hop on a plane to Santorini Greece right now! We spent 3 days in Santorini on our way to the Middle East but honestly wished our trip had been a little longer.
We created this Santorini itinerary to be flexible and included the best things to do in Santorini so you can pick and choose how to spend your time. You also find details on where to stay, when to go and how to get around.
I highly doubt you need convincing but Santorini should definitely be on your European Bucket List.
I was concerned it was overcrowded – but once you get outside of the biggest towns, it's relaxing and lovely. You can definitely get a mix of quiet and excitement of this lovely island.
This post contains affiliate links. If you book or buy something through one of these links, we may earn a commission at no extra cost to you. You can read our full disclosure here.
Planning your trip to Santorini last minute? Here are the tours and hotels we recommend. Also check out the best hotels in Santorini with private pools when booking your dream vacation.
TOP EXPERIENCES & TOURS IN SANTORINI
BEST HOTELS IN SANTORINI
PRACTICAL INFORMATION FOR SANTORINI
How Many Days in Santorini?
I have yet to hear someone say they spent too long in Santorini and many people feel like they didn't get enough. At a minimum, plan three days in Santorini.
Santorini is a unique place to visit in Greece with instagrammable views and there are so many fun things you can do. You could absolutely spend a week if you have time.
Many people visit Santorini on an Island Hopping tour but we actually stopped in Santorini for 3 days on our way to Jordan.
There are direct flights from Santorini airport (JTR) to so many interesting destinations like London, Barcelona, and Rome. This is a great addition to any trip if the flights work out for you.
For people planning a tour of the Greek Islands, it's important to figure out how much time to spend in each place. While your time might be more limited when visiting a handful of islands, plan a minimum of 2 days in Santorini.
Last but not least, some people ask about visiting Santorini as a day trip. Honestly, you are making a mistake. Yes, you'll see those world famous vistas but you will be completely rushed and you'll miss the vibe of this world class island.
There are so many wonderful destinations in Greece for first timers, plan a longer trip and spend at least a few days in each area.
Related Post: Best Places to Travel in September
---
Best Time to go to Santorini
High season in Santorini is June through mid-September. I highly recommend visiting Santorini during the shoulder season of April, May, September or October for these reasons:
The weather is better during the shoulder season. You will still get that beautiful summer weather and avoid the crazy heat.
You'll be able to get a hotel reservation. The prices are not typically much cheaper during the shoulder season but you will definitely find more availability. If you want lower prices, there are over 200 Santorini hotels that stay open from November to May when many others shut down. Santorini has become a year round destination.
Santorini suffers from over tourism. You will notice almost immediately that this island is really special. Contributing to something that hurts it, doesn't feel good and it's unpleasant to be there when there are so many people.
---
The Perfect 3 Days in Santorini Itinerary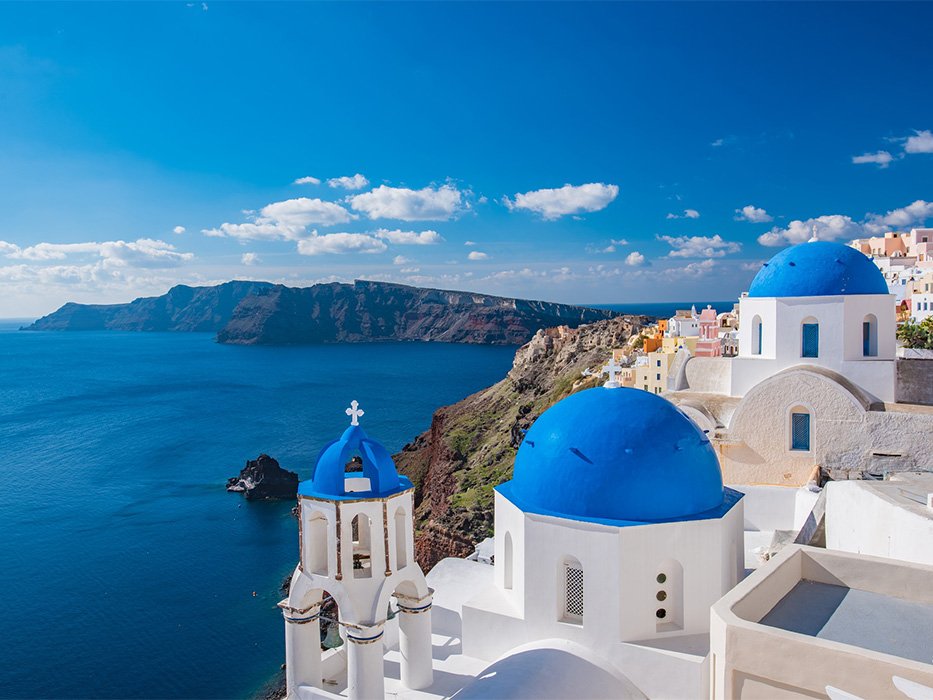 Santorini Itinerary Day 1
Get settled in your hotel. If you haven't done so ahead of time, make plans to do a few tours and a Caldera boat cruise sometime during your stay. See below for the recommended tours. It's nice to do a boat cruise on your first day to get the lay of the land (or water)
Now go enjoy enjoy your amazing Santorini pool/hotel or walk around the cute streets and alleyways to acquaint yourself with your new neighborhood. If you're hungry stop at Melitini for some yummy Greek tapas. Stay for sunset views on the rooftop deck.
If you are not doing the sunset cruise on your first night, head to Oia and join the fun crowd of sunset watchers. Stick around for at least 30 minutes after the sun drops below the horizon for the prettiest sky and a more peaceful, romantic moment to enjoy the beauty of this incredible part of the earth.
For dinner, walk 3 minutes from the sunset point to Fino for delicious food, a fun atmosphere and creative cocktails. A great place to finish your first day of vacation!
Santorini Itinerary Day 2
Get up and do the Fira to Oia hike. It's a top activity in Santorini. If you are there during high season, you'll want to do the walk before 11 am to avoid the hottest part of the day. You need 2-4 hours depending on how often you want to stop and snap pics of the insanely amazing views! Your hotel can show you where to go and don't worry too much about getting lost. There are plenty of people who can point you in the right direction.
Join a wine tour. The benefit to joining a tour for wine tasting is the obvious fact that you don't want to be drinking and driving. Go visit 3 wineries and sample the popular Greek wines. You can do this during the day or at sunset.
Tonight is a good night for dinner in Fira town. Try Argo with delectable food and even better views.
Santorini Itinerary Day 3
If you have a rental car, today is a great day to use it. Head over to the other side of the island to check out a black sand beach. Kamari is a great choice. Make sure you bring sandals or something to walk on the sand because it can get hot.
Red beach
As a last stop, go see Akrotiri. It's the site of an ancient civilization and we were completely blown away. When you see it, it looks like an archeologic dig but you'll be able to get a sense of the incredibly advanced 4,000 year old culture.
Enjoy an authentic Greek dinner at Metaxi Mas, which many agree is the best restaurant on the island. You have to reserve ahead and make sure you go hungry because the portions are large.
---
The Top 10 Things to Do in Santorini for Your Itinerary
Whether you are planning to stay in Santorini for 3 days or more, here's a list of the best things to add to your itinerary. I wanted to include this list so you can pick and choose what to do in Santorini.
1. Soak up some rays!
Let's be honest, you're probably going to Santorini to soak up some rays, the killer views and the atmosphere. There's nothing better than relaxing by the pool of your amazing hotel to enjoy your vacation.
We highly recommend splurging on one of the best hotels in Santorini with a private pool. Unlike a lot of trips where you are out all day, Santorini is a spot where you will really make the most of a luxurious hotel room and pool.
2. Do the popular walk from Oia to Fira
It will take anywhere between 2-4 hours depending on how often you stop. It's 6.5 miles with quite a bit of elevation.
If you are looking for something shorter that will give you killer caldera views and takes about an hour, hike to the top of Skaros Rock in Imerovigli. There's also a beautiful, remote church on the backside that's fun to see.
3. Watch the Sunset All 3 Days in Santorini
There are so many great vantage points to catch the sunset. From Oia with a crowd, to peaceful Imerovigli shown below, to a sunset wine tasting tour, you can enjoy a different sunset every night of your trip. The sunsets in Santorini are magnificent!
4. Go out to breakfast, lunch or dinner or all 3 and enjoy the view.
We enjoyed so many delicious meals during our trip and highly recommend these restaurants:
Agro in Fira for dinner with a view
Lucky's Souvlaki in Fira for gyros
Metaxi Mas for the most authentic Greek food on Santorini
Grace Hotel for the 5 course breakfast.
There are additional recommendations in the 3 days in Santorini itinerary section above.
5. One of the Best Things to do in Oia or Fira is Wander Through Town
It's so much fun to walk about the little streets of Oia or Fira Town. There are things to discover around every corner.
Check out a blue domed church or windmill, catch some cool views, grab a coffee, enjoy a delicious ice cream, or shop for souvenirs. You'll probably walk through town multiple times over the course of 3 days in Santorini.
The top souvenirs to buy in Santorini are handmade leather sandals, goats milk soap, olive oil, wine, ouzo and volcanic products from pumice stones to face masks. Bring extra euros, the money in Greece, for shopping and tips.
6. Caldera Boat Cruise
Plan ahead and book a caldera cruise ahead of time so you aren't like us scrambling to do it at the last minute. It's one of the top activities to add to your Santorini itinerary that let's you get out on the water and get a different vantage point.
Boats depart at 10 am for the full day cruises and 3 pm for the sunset cruises. Choose between a daytime, cruise with a volcano hike and sunbathing onboard or a sunset dinner cruise with drinks included.
For honeymooners or a group up to 6, you can book a private catamaran cruise.
7. Wine Tasting in Santorini
The way they grow wine on Santorini is totally different than anywhere I've seen because they have to account for the wind. Instead of vines that stand up along trellises in pretty rows, they are bushes on the ground.
The mix of sea mist and volcanic soil are what make these grapes and ultimately wines, special.
Definitely make time one one of your 3 days to go wine tasting in Santorini. The best winery in Santorini is up for debate but Santo Wines or Estate Argyros have beautiful views and are good place to spend sunset.
You can take a Sunset Wine Tour Santorini so that someone else is doing the driving and you can just enjoy the experience.
8. Go Santorini Beach Hopping at Least Once During Your 3 Days
Santorini is known for it's famous black beaches (Kamari and Perissa are best known) that are so worth a spot on your itinerary. They are very easy to get to within a 15 minute drive.
There's also Red beach that you should consider checking out if you plan to go to Akrotiri.
Kamari beach is the more upscale beach town with a fun vibe. It's family friendly and there are some great hotels are much less expensive than the caldera side of the island. If you are bringing kids to Greece, this is the place to stay.
The photos taken below were at Perissa Beach. We just did a quick visit with a walk along the beach and lunch, when this pretty church caught our eye.
It's called Holy Cross and one of the prettiest we saw in Santorini.
We ate at Gyros Place, a hole-in-the-wall but I would recommend eating or grabbing a drink at Tranquillo Beach Bar instead. Right in front are lounge chairs where you can sunbathe.
Perissa beach is a good nightlife spot for backpackers. At noon, when we were there, everyone was probably sleeping it off because it was so quiet.
9. Akrotiri Archaeological Site is a Santorini Must See
Whether you're a history buff or just a person who loves amazing things, you have to see Akrotiri.
Many people miss the chance to see this amazing Pompeii-like, Minoan settlement that was mindblowingly advanced 4,000 years ago with 3 story buildings that had indoor plumbing and beautiful art frescos.
10. Ammoudi Bay (also spelled Amoudi)
Head to this little fishing village below Oia, where you can have a delicious fresh seafood lunch at Fish Tavern Katina and then go watch people cliff jumping. It's a little more than 200 steps down the cliff.
You will definitely work off your lunch on the way back up. For those that don't want to walk, you can also get there by car but the parking is limited.
This is probably not on most people's itinerary but it will give you a completely different Santorini experience.
Where to Stay in Santorini for 3 Days
Picking the right Santorini hotel is a key element for your trip. We've put together a post on the best Santorini hotels with private pools that will help you choose.
The factors that you need to take into account are what side of the island you'd like to be situated, how much privacy you want, what you plan to do in Santorini, whether or not you will have a car, etc…
While Santorini is a small island, it still takes time and effort to get from village to village. Make sure you pick a hotel in the area best suited to you.
Imerovigli – in our opinion this is the dreamiest place to stay. You are in the center of the caldera for amazing views. It's the quiet, more upscale place to stay and you are still walking distance from Fira town. We stayed at the Grace Hotel, which was the most amazing hotel.
Oia (pronounced eeeah) is a popular and incredibly charming town that you've seen in all those photos of Santorini. It's a great place to stay if you want to be in the middle of all the action but you may be short on privacy. We preferred staying outside of Oia because there were just too many cruise ship passengers flooding the town. There are some great places to stay on the outskirts of Oia though. Hotel: Charisma Suites
Fira – the other main town on Santorini felt a little less swarmed by tour groups and has lots of restaurants and shops. There is a range of price points for hotels. If you do want nightlife, stay here. Hotel: Asteras Villas
Kamari or Parissa Beach – on the opposite side of the island without the caldera views. What you get in exchange is much lower prices, pretty beaches and beautiful sunrises. Hotel: Makris Beach Hotel
3 Days at Grace Hotel Santorini is Absolute Paradise
If you've tried searching for hotels in Santorini, you probably know that there are a ton and it's difficult to make a choice from the internet. People are often really disappointed when they pick the wrong hotel because of privacy issues or a poor location.
So we carefully researched our options and decided on the area of Imerovigli. It looks like a traditional Greek whitewashed village but it's more upscale and quieter.
Cruise ship passengers never get to this area, but it's still easy walking distance to Fira.
Once we nailed down a location, we decided on Grace Hotel. First it's the best location right at the center of the caldera. It has the most jaw dropping views and the largest infinity pool on Santorini.
Most of the rooms have private plunge pools too. Whether you stay at the Grace Hotel Santorini or not, take time during your 3 days to see the views in Imerovigli.
We stayed in the Honeymoon suite, which had a bedroom and living room shown below (both with Aegean Sea views). It also had a private plunge pool and outdoor eating area.
It was super private and luxurious. Every night the hotel left us a little gift with turn down service like special lotion and lavender sachets. The staff at the hotel was incredible.
Our room also included a mouthwatering 5 course breakfast each morning with a new menu each time. Talk about a culinary surprise. The best part is that we enjoyed breakfast with that fabulous view.
We also ate dinner at the hotel and were delighted to be there on a special night with a firework show that was accompanied by the most amazing violinist. I'll never forget that beautiful evening or our magical stay. We're already dying to go back!
The Best Santorini Tours
Traveling to Santorini
You can arrive by sea or by air. If you are island hopping, the easiest way to get around is by ferry. Check the ferry timetables here but know that they make changes the schedule especially when it's not peak season.
Ferry: If you come in by ferry, you will arrive at the Athinios port. There are busses and taxis waiting for every ferry arrival, even in the middle of the night. There are often a lot of passengers so move quickly, especially if you want a taxi. The ferry port is 15 minutes from Fira town.
Flight: The second option, by air, is the best way to get there. Most flights will connect through Athens but there are also direct flights to Santorini from many European cities. The airport is way too small for the amount of passengers they transport so be prepared for crowds and don't get to the airport more than 1 hour before your flight for your departure.
You may also notice that there are a lot of odd flight times into Santorini, like 3am. As someone who selected that option, the upside is that getting through the airport is easy peasy. It's totally empty and contrary to what you read on the internet you can find a taxi or get a rental car at that time. I just recommend you make sure your hotel accepts "middle of the night" check-ins. That said, arriving at 3am is not something I intend to do again.
How to Get Around Santorini
You might be wondering how you will get around in Santorini. There are various modes of transportation that include rental cars, scooters, busses, taxis, and on foot. I highly recommend renting a car in Santorini because it will allow you to do so much more. You can get it right at the airport even if you land in the middle of the night.
If you are only staying for a day or are just planning to stay in one town, then you can probably get around on foot or by taxi.
---
Top Mistakes to Avoid on Your 3 Day Santorini Itinerary
Thinking you can use a taxi to get everywhere. If you can, add a rental car to your itinerary because taxis are very limited in Santorini and you'll spend a lot of your 3 days waiting. You can also use a bus or a tour for transportation.
Staying in a hotel with no privacy. Read the reviews. People will tell you if they had a privacy problem.
Staying in an area that doesn't match your preferences. Read the neighborhood section to choose your best spot.
Coming to Santorini for a party. This is a romantic, sleepy island. You can find some nightlife in Fira town but it's not the party island that Mykonos is.
Knowing that Santorini is windy. It really doesn't pose a problem but plan around the windy days and make your boat tour on a calmer day. We had one very windy evening and were thankful for the puffer jacket in our suitcase.
Taking the ferry from Athens. It's probably cheaper to fly and it definitely takes less time. The ferry is best for transportation between islands.
If you're reading this all the way to the bottom, you are probably planning a trip. We've tried to include all of the details of the 3 days we spent in Santorini so you can plan an itinerary that includes everything for your dream vacation.
The best advice we can share is that you might want to plan one more day than you were initially thinking of doing. Please feel free to reach out if you have questions.
Save This 3 Days in Santorini Itinerary for later? Pin it!
Other Posts You Might Like: