Imagine seeing the Pyramids of Giza or the Sphinx in person on an incredible 7 day Egypt itinerary. It was something I had wanted to do for as long as I could remember but Egypt seemed like another world away.
Once we finally decided to plan our bucket list trip for 7 days in Egypt, we needed to make our itinerary. Every travel guide we found seemed geared toward backpackers or people want guided Egypt Tours.
As first time visitors, we had tons of unanswered questions. This Egypt itinerary is intended to help everyone else plan their trips and avoid some of the mistakes we made.
An Egypt itinerary for 7 days in Cairo, Luxor and Aswan is a lot of ground to cover but definitely doable. You can make adjustments to travel for 5, 8 or even 10 days.
Planning Your Trip to Egypt Last Minute?
If you are trying to pull together your Egypt itinerary quickly, here is a quick reference guide to our tour and hotel recommendations. You will also necessary Egypt travel information.
You can get more detailed information on What to Wear in Egypt for Women and Men and 15 Egypt Travel Tips You Need Before Your Trip.
This site uses affiliate links, meaning if you make a purchase through our links, we may earn a commission. You can read our full disclosure policy here.
TOP EXPERIENCES & TOURS IN EGYPT
BEST HOTELS IN EGYPT
PRACTICAL INFORMATION FOR EGYPT
How Long Do You Need For a Trip to Egypt?
Depending on the amount of time you have, you can choose your cities and attractions. We originally were planning a 5 day trip until we realized that we would have to choose between Aswan and Luxor and we really wanted to visit both.
If you are planning to see Egypt in 5 days, we recommend choosing Luxor over Aswan because Luxor has so many important ancient Egyptian monuments. But it's so much better to plan at least a one week Egypt itinerary.
3 days – Just go to Cairo with a possible day trip to Alexandria.
5 days – You can and should add Luxor. The amount of temples and attractions they have is unparalleled.
7 or 8 days – Add Aswan or a 3 day Nile River cruise that includes Luxor and Aswan to your Egypt itinerary. With a guided tour or cruise, you will have an easier time visiting the sites in between like Edfu and Kom Ombo Temple.
10 days – Add a resort in Hurghada, Sharm El Sheikh or Dahab to enjoy Egypt beaches and Red Sea diving.
Best Time to Visit Egypt for One Week
Egypt can be very hot or temperate. Make sure you plan your Egypt Itinerary for a time that is comfortable for you.
High Season is December – February and has the best weather. Daytime temperatures are in the 70-80s but nights can get chilly 50-60s. You can expect more crowds and higher prices overall.
Shoulder Season is October – November and March – April. The weather is warm to hot. Cairo is typically in the high 80s and Luxor in the high 90s. At this time of year, you will sightsee in the morning and late afternoon, taking a break midday. March and April see some sandstorms but they aren't supposed to be that bad.
Low Season is the end of May – September. It is extremely hot and the weather exacerbates the pollution in Cairo. This is not a good time to visit.
Is Egypt Safe?
This was the number one question we got. We felt 100% safe on our entire trip. Being adventurous travelers, we love experiencing places that are different from anywhere we've ever been.
We just don't take popular opinion to make our travel choices. We looked up the current Egypt Travel Advisory and talked to other people who had been in Egypt recently.
From that research, we felt pretty good about the choice to go and made our plans. Everything worked out even better than we had hoped and we were so glad we went to Egypt when we did.
That said, we live in a crazy world and things are always changing. You have to plan for things to go wrong and have some travel protection. There are 2 ways we protect ourselves.
We book our tickets with our Chase Sapphire Preferred that has built in travel protection and we use SafetyWing travel insurance. If we had needed to cancel our trip, we were totally covered.
One last note on safety – wherever you go, be alert. That applies to New York, Paris, and any other place you travel in the world.
Don't be a super tourist with your camera around your neck, looking lost, following directions on your phone and not seeing the world around you.
There are people all over the world looking to take advantage of people like that. Use good common sense. You can always ask your hotel for safety tips in the area.
Related Post: Why Chase Sapphire Preferred is our Favorite Travel Card
---
The Ultimate Egypt Itinerary for 7 Days
7 Day Egypt Itinerary Days 1-2: Aswan
How to Get There: 1 hour flight from Cairo to Aswan, 3 hour train from Luxor, or a guided tour
Hotel: Sofitel Legend Old Cataract
Amount of days: We spent 2 days and 1 night. If you want to go to Abu Simbel, add an extra day.
Aswan was the first stop on our Egypt itinerary for 7 days. Egypt comes with a little bit of culture shock. Since Aswan is less populated, it gives you time to acclimate.
You will find that people will follow you around in Luxor trying to sell you things. It can be disconcerting at first until you get used to it. We never had that happen in Aswan.
Depending on the time of year that you visit, it can be very hot. You might not be doing a lot of touring in the middle of the day.
It's nice to book a hotel where you can get some relaxing pool time or somewhere comfortable to get away from the midday heat. Forced relaxation in the middle of your touring turned out to be so nice!
The Sofitel Legend Old Cataract was a perfect set up and had easy access to catching a boat on the Nile for the Nubian village.
See a Nubian Village Make Time on Your 7 Days in Egypt Itinerary to
The Nubian Villages are colorful, fun, friendly and touristy. To get there, you take a short, enjoyable Nile cruise. You can either go with a group or on your own.
We took a boat from the dock at our our hotel, the Sofitel Legend Old Cataract, on our own and it was surprisingly inexpensive. It took about 20 minutes.
Time it so your return cruise happens at sunset. Then you'll miss the crowds and can enjoy the town without so many people in addition to sunset on the Nile. You can also stay overnight at the cute Kato Dool Nubian Resort shown below.
Philae Temple Should be on Your Egypt Bucket List
I was really excited to see the Philae Temple because our son did a project on it for his architecture class in school.
Back in my days of helicopter parenting (unfortunate oldest child problem), I learned a ton about this amazing structure in my supervisory role 😂
The Philae Temple is an ancient Egyptian temple complex located on an island in the Nile River in Aswan, Egypt. It was built during the Ptolemaic dynasty and dedicated to the goddess Isis.
The temple complex includes several buildings and structures, such as the Temple of Isis, the Temple of Hathor, and the Kiosk of Trajan.
In the 20th century, the Philae Temple was threatened by the construction of the Aswan High Dam, which would have submerged the temple complex underwater.
In order to save the temple, it was dismantled and relocated, block by block, to a nearby island. The relocation project took 3 years and involved the careful dismantling and reconstruction of the temple complex.
Today, the Philae Temple is a popular tourist destination and a testament to the incredible engineering and preservation efforts of the ancient Egyptians.
Abu Simbel
Even though we didn't go, I had to include information about Abu Simbel because we are still disappointed we didn't go see it. It was hard to fit in a 7 days in Egypt. We honestly would have been better off with an Egypt 10 day itinerary.
To get there you can either fly direct from Aswan ($200+, 45 minutes each way), take a round trip Abu Simbel day tour ($30+ per person, 10 hours) or a private car ($200+ for 2-3 people, 3.5 hours each way).
The tours typically leave at 4am to get there for sunrise and include a guide. The flight is the fastest way to get there. Most people feel that this UNESCO World Heritage site is completely worth the effort to get there.
The Abu Simbel temples were built by Pharaoh Ramesses II in the 13th century BC to commemorate his victory at the Battle of Kadesh.
The temples were carved into a sandstone cliff overlooking the Nile River, featuring four massive statues, each standing at over 20 meters tall.
The temples were abandoned in the 6th century AD and rediscovered by European explorers in the early 19th century.
Like the Philae Temple Complex, the Abu Simbel Templex was moved block by block to a new location after it was flooded by the building of the Aswan High Dam.
The temple was constructed to have the sun shine through the entrance to illuminate the statue of King Ramses II only on February 22 and October 22, to mark his coronation and birthday. The visitor count and entrance fee are higher on those days.
---
7 Day Egypt Itinerary Days 3-4: Luxor
How to Get There: 1 hour flight from Cairo to Aswan, 3 hour train from Luxor, or a guided tour
Hotel: Sofitel Winter Palace Luxor
Amount of days: We spent 2 days and 2 nights.
Luxor, the ancient city of Thebes was the capitol of Egypt from the 16th-11th centuries BC.
Often referred to as the worlds largest open air museum, this city is filled to the brim with important sightseeing.
The thing that struck me most was the massive size of everything. These temples were built by various rulers to honor the gods.
Karnak Temple is a 7 Days in Egypt Itinerary "Must See"
My favorite part at Karnak Temple was the Great Hypostyle Hall with 134 columns. They range from 40-70 feet tall and are heavily inscribed.
This hall is the largest religious building in the world. The 54,000 square feet covers the same amount of area as Notre Dame Cathedral is just one small part of Karnak.
Karnak Temple is one of the busiest attractions and people get there really early. It's open everyday from 6am-5:30pm.
We showed up at 6:30am and tour busses were already arriving. Get there right when it opens or an hour or two before it closes if you don't want to see it with big crowds.
Plan a Morning Visit to Luxor Temple
Luxor Temple is smaller and less crowded than Karnak. We visited on our 2nd morning showing up at opening and were the only people there for an hour.
Walking around in this historical spot alone was magical. Many people like to save their visit for the light show at night.
It was built around 1400 BCE and features two seated statues at the entry of Ramses II. As you can see from the photo above, the scale of the statues and building is massive.
You Have to See the Impressive Tombs at Valley of the Kings
Some of the things in Egypt are hard to wrap your mind around and Valley of the Kings is certainly one of them.
It is an unimpressive looking, mountainous area filled with 63 tombs from kings and royals during the 16th to 11th centuries BC, a veritable who's who of the most important Egyptian men.
The tombs, formerly filled with valuable antiquities, are decorated extensively with beautiful inscriptions and art. Some tombs are more intricate and beautiful than others.
With your entry fee of 200 EGP, you are able to choose 3 tombs of 8 to explore. They are not all open all the time so you can ask for a recommendation of the best when you are there.
There are 3 additional tombs that you might consider visiting but require an additional entry fee. We recommend at least adding on KV9 – Ramesses V and VI (100 EGP) shown above.
We did not go inside the other that require an extra ticket, KV17 – Seti I (1,000 EGP) or KV62 – Tutankhamun (300 EGP).
You are allowed to take photos with your cell phone inside but you have to pay extra to bring a DSLR. The photo pass for 3 tombs is 300 EGP. No tripods or selfie sticks are allowed.
It's highly recommended to visit first thing in the morning before tour busses arrive at 10am or after 3pm, when most are gone. Hours vary by season. Opens at 6AM and closes at 5PM or 7PM.
Hatshepsut Temple is One of the Most Impressive Sights in Luxor
The temple built for Queen Hatshepsut, one of the first female Egyptian pharaohs, looks vastly different from everything else in Luxor.
If you plan to visit, read about Queen Hatshepsut's story beforehand because it will make it more interesting for you.
She went to great lengths to be remembered and her mortuary temple is bigger than all of the other tombs in the Valley of the Kings.
She had a successful reign and was responsible for building many important structures in Luxor.
I read that this spot is one of the hottest in Egypt and it sure felt like it. It's right near the tombs at Valley of the Kings so time your visit to be early for both or after 3pm. Open 6AM-5PM.
Colossi of Memnon
The Colossi of Memnon are 2 huge stone statues are easily seen from the road on the way to Valley of the Kings.
They seem completely out of place and random where they are but they used to be set at the entrance of entrance of the Mortuary Temple of Amenhotep III, which has since been ruined.
Tourists swarm them in the morning. If you want to get up close, do it at the end of your West Bank sightseeing and it will be empty. Or just see them from the road if you prefer.
Luxor Hot Air Balloon Ride
Whether you are planning to do a hot air balloon ride in Luxor or just watch, they take off from the West Bank at dawn. This will give you a completely different view of the Nile and an experience that will be a lifetime memory.
We did a hot air balloon trip in Cappadocia Turkey right before visiting Egypt, so we were happy to watch the beautiful balloons from the balcony of our hotel room.
Add a Nile River Cruise from Luxor to Aswan to Your Egypt 7 Day Itinerary
For people taking a Nile Cruise, this is often the starting point. We opted not to do a cruise mainly because the boats we were interested in didn't work with our schedule.
If you want to do this bucket list adventure in Egypt, plan ahead and book your cruise before you plane ticket so you can make it all work in your timeframe.
I'm always on the fence about cruises so it didn't matter that much to us but if you are a cruise lover, this is an iconic cruise opportunity. It's also perfect transportation to other sites in Egypt.
Related Post: What to Wear in Egypt – 10 Things You Need to Pack
---
7 Day Egypt Itinerary Days 5-7: Cairo & Giza
How to Get There: 1 hour flight from Aswan, Luxor or Amman, 3 hour train from Luxor, or a guided tour
Amount of days: We spent 2 days and 3 nights. Add an extra day for an Alexandria Day Trip.
Cairo is the 2nd biggest city in Africa with 20.4 million people.
We started in Aswan and worked our way to Cairo, which was the best decision and seems to be the opposite of what everyone else does. It gives you time to understand Egypt before you're thrown into a big city.
Four Seasons Hotel Cairo at Nile Plaza
Egypt is the place to enjoy amazing hotels which might normally be out of your budget. The Four Seasons Cairo at Nile Plaza was such a treat.
It's an oasis of calm, beauty and luxury in a city filled with traffic and craziness. We stayed here at the end of our 7 days in Egypt and it was our favorite hotel on our Itinerary.
We wanted the best location and the Four Season has it in spades. In fact the Nile view is so jaw-dropping, we were either on the balcony or staring out the window constantly.
Of course we had to do the insanely delicious room service breakfast overlooking the Nile!
Then we were right back there at sunset enjoying cocktails and appetizers while we watched the beautiful feluccas doing sunset cruises.
The other nice thing about the Four Seasons is the pool area in case you want a mid day break from the heat.
Related Post: 15 Travel Tips You Need to Know Before Going to Egypt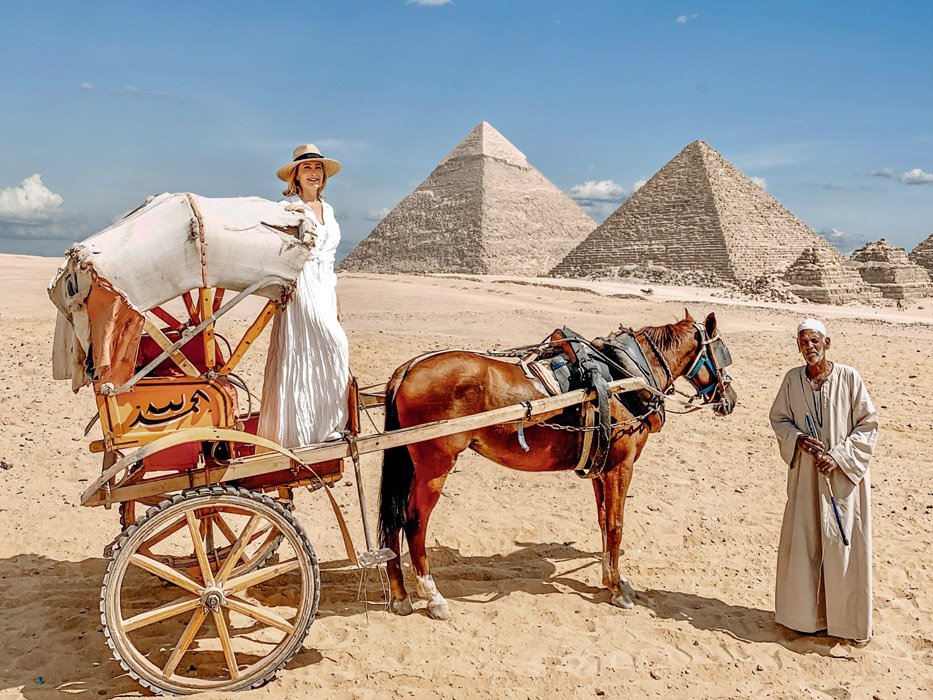 Pyramids of Giza are the Highlight of Your 7 Days in Egypt Itinerary
This is probably the biggest draw for everyone to Egypt and it doesn't disappoint. The Pyramids of Giza are spectacular. They are so big that you can see them from multiple points around the city.
Up close, it is mind blowing that they exist. The largest of the 3 pyramids, Khufu is made up of more than 2.5 million blocks of granite and limestone, each weighing approximately 5,000 pounds.
It's hard to imagine that the blocks were transported to Giza and then were stacked up to 455 feet tall.
We opted to NOT go inside the pyramids. Though it's an additional cost beyond the entry ticket, the reason we didn't go inside is because many people say it's claustrophobic and overwhelmingly hot.
If you are visiting Luxor too, the tombs in the Valley of the Kings are a better choice.
The Great Sphinx
The Great Sphinx is also located on the Giza Plateau, in the Great Pyramids of Giza complex, and is one of the most iconic landmarks in Egypt.
Believed to have been built during the reign of Pharaoh Khafre, around 2500 BC. it is approximately 66 feet (20 meters) high and 240 feet (73 meters) long, making it one of the largest statues in the world.
There is a line to go on the viewing platform up close to the Sphinx or you can easily see it a little further back without waiting.
Photo Tip: Taking photos at the Pyramids of Giza is easier than you would think because the area is so large that you can easily get photos without other people in them.
The trick is getting to the hill that overlooks the Pyramids because it is pretty far to walk in the heat. If you are taking a tour, they will drive you there or they may send you in a buggy.
There are some important things you need to know before visiting the Pyramids of Giza.
Touts and Tours – These are people that will aggressively try to get you to buy whatever they are selling. It's an annoying part of visiting Egypt but you also have to understand that these people are desperate to provide for their families. As westerners, it's vry stressful. The best way to be free of touts is to book a Pyramids of Giza/Sphinx tour in advance. The minute they see you with an Egyptian, they will completely leave you alone. It's like having a cloak of invisibility!
Animals at the Pyramids – The treatment of camels and horses at the pyramids is appauling and upsetting. We felt stuck between a rock and a hard place because they push you to interact with the animals but you can see that the animals are suffering. I refused to take a camel ride, much to their dismay but we did go with the horse and buggy above because it seemed like he really cared about his horse and it was his livelihood. The best help I can give you is to know the problem exists so you can attempt to deal with it ahead of time.
Staying Near the Pyramids – There are two entrances into the pyramids. We stayed at a hotel near the Sphinx entrance and had to take a 45 minute cab ride to the main entrance. Ugh! If you want to stay near the Pyramids, we suggest the Marriott Mena, perfecty located by the real entrance.
Khan el-Khalili Bazaar For Egypt Souvenir Shopping
If you love shopping, you will have the best time at the Khan el-Khalili Bazaar, It is crazy crowded and practically a show with store owners calling out one liners to tourist to get them in their shops.
This is a great place to load up on souvenirs. Make sure to haggle for the best price. There are also plenty of restaurants to grab a bite to eat.
Pro tip: Get your camera ready to take a video before you head down the small alleys if you want to capture a hysterical video of everyone propositioning you.
Right across the street, you will find Al-Azhar Mosque. Cairo's first mosque was recently renovated and is so pretty inside with super shiny white floors.
It's definitely worth a few minutes to pop inside. You can walk upstairs to get a great view of the area. Ladies, make sure you bring a head scarf or they will make you borrow an abaya.
The one they gave me was smelly so we took a pic and left quickly. This mosque wasn't on any Cairo lists of things to do and it was such a treat.
We have a whole post about what to wear in Egypt and the most important items for your Egypt packing list. It is a treasure trove of information for your Egypt trip.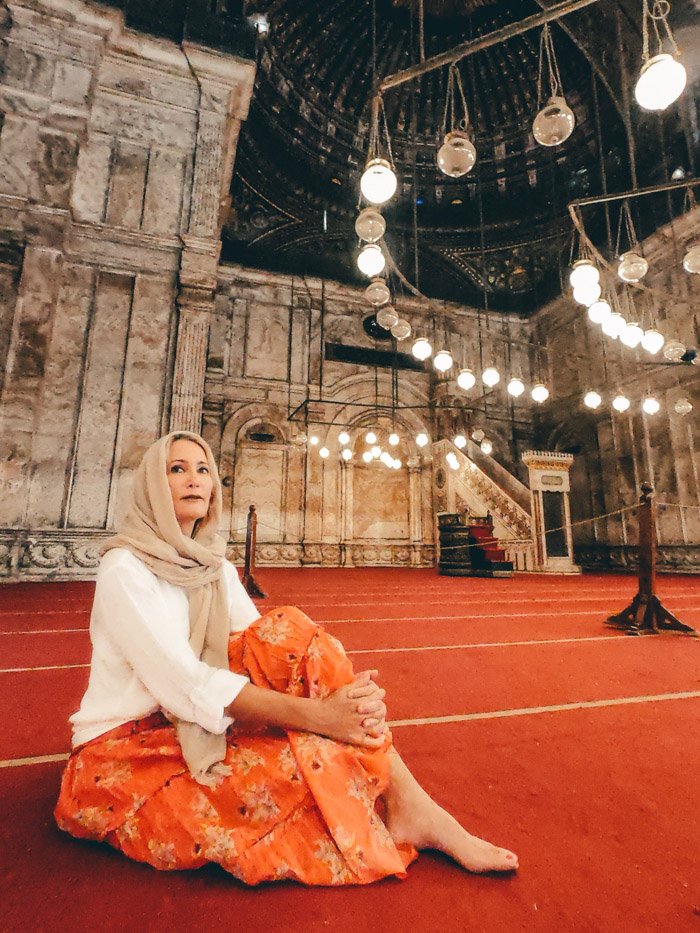 Muhammad Ali Mosque
If you go to one mosque during your time in Cairo, Muhammad Ali Mosque is a great choice.
It is at the top of the Cairo Citadel above the city so you will see great views of Cairo. It's very welcoming for visitors and a beautiful building.
As with any mosque, you must have appropriate attire to visit. Women and men should wear long sleeves and pants. Long skirts are also acceptable for ladies and you will need a head scarf to go inside. Shoes are not allowed inside.
The Egyptian Museum of Cairo
If you have time and you're a history lover, definitely check out the Egyptian Museum of Cairo, also known as the Museum of Egyptian Antiquities.
Founded in 1835, it houses a vast collection of ancient Egyptian artifacts, with over 170,000 items on display. The museum's collection includes items from prehistoric times to the Greco-Roman period, with a focus on the pharaonic era.
Some of the most famous items on display are from the tomb of Tutankhamun. It's been more than 100 years since his tomb was opened and items like the golden mask have fascinated the public.
Other very popular points of interest include the Narmer Palette, a carved stone artifact depicting the unification of Upper and Lower Egypt, and the statue of Khafre, a large, seated statue of the pharaoh.
The museum also features mummies, sarcophagi, hieroglyphic inscriptions, and a collection of royal jewelry, including the jewels of Queen Ahhotep and Queen Meritamun.
Overall, the Museum of Egyptian Antiquities is a must-see for anyone interested in ancient Egyptian history and culture.
---
How to Get An Egyptian Visa
Egypt offers Visa on arrival to many countries. That means, you can show up at Cairo airport and purchase your visa to enter the country. If you decide to do that, bring 25 USD. with you to pay at the window, BEFORE you get in the customs line.
You need to have exact change. We had a $50 bill for the 2 of us and it was super easy. We did arrive at 6am so it might get more crowded later in the day.
You can get your Egypt Visa in advance here. If you are taking a tour, they will probably coordinate your Visa for you.
The currency is Egyptian pounds. You will need cash. ATMs are easily accessible but there is a limit on how much you can withdraw so we ended up at the ATM 3 times in 7 days.
---
Electronics in Egypt
Turkey uses a 220V voltage supply that uses a Type F converter. Here is a quick list of what you will need for your electronics in Turkey.
Wondering what to wear in Egypt? We put together a comprehensive Egypt Packing List with everything you need to bring including outfit ideas, the dress code for women and men and things you might be forgetting.
Transportation in Egypt
Almost every person entering Egypt will fly into or through Cairo. If you are continuing to another destination, you will go through customs in Cairo first.
If you are doing a combined trip with Egypt/Jordan or Egypt/Israel, the fastest way to get to Egypt is flying from Amman or Tel Aviv. We were in Wadi Rum and had to drive all the way back to Amman.
Some people take a ferry and a bus from Dahab. If you opt to do that, just know that while it may be cheaper, it will take longer.
Your other option if coming from Jordan or Israel is to take a multi country tour and let the tour operator coordinate it for you.
Related Post: How To Get Great Flight Deals
---
How to Get Around for a 7 Days Egypt Itinerary
Air Travel – There are one hour flights almost everywhere. We highly recommend flying from Luxor to Cairo instead of the overnight train. The flight was cheaper $50 USD and so much faster. If you are planning an Egypt trip for 7 days, you need to use the time in your itinerary wisely.
Train Travel – For the places that are 3-4 hours away, you can take the train in the first class compartment called AC1. The prices for those trains are really cheap. We went from Aswan to Luxor, a 3 hour trip in a comfy compartment for 90 EGP ($5.50). Foreigners can buy train tickets online in advance but not same day tickets online. Foreigners also cannot buy tickets at the station. Your hotel will help get them for you. We were charged a 50 EGP ($3) service fee to have someone get the tickets for us.
Taxis and Uber – You can get taxis easily outside of train stations and airports. In Cairo, we preferred using Uber. It was 1/3 of the taxi cost and the drivers seemed much more responsible.
Egypt Tour – There is an amazing all inclusive trip to Egypt for 9 Days that includes everything in this itinerary plus a Nile Cruise and it is very affordable. if you want someone to plan everything for you, they are currently booking through 2025.
---
How Long is Needed for an Itinerary for Egypt?
You are probably reading this post because you were looking for a 7 day Egypt itinerary. If 1 week in Egypt is the amount of time that you have, this itinerary is perfect for you.
That said, you might consider adding extra time to explore Egypt at a more relaxing pace. If we were doing it all over again, we would do a 10 day Egypt itinerary.
Wondering what we would have changed? With 10 Days in Egypt, we could have added a Nile Cruise to Abu Simbel and had a day to visit Alexandria.
---
Final Thoughts About An Itinerary For Egypt
If you're like us, you've wanted to go to Egypt for awhile but you aren't sure how to make it all happen. This 7 Days Egypt Itinerary will take you to all the important spots for the bucket list trip.
If we haven't answered all your questions here and in our Egypt Travel Tips post, feel free to post them in the comments. A big question we get asked is what to wear in Egypt so we put together an Egypt Packing List.
Other Posts You Might Like:
Save This Egypt Itinerary 7 Days for later? Pin It!