The best places to visit in Arizona offer some of the most spectacular scenery in America so we created an Arizona bucket list to help you decide where to go.
The most beautiful places in Arizona have something to offer everyone with its beautiful mountains, deep canyons, vast deserts and amazing sunsets.
With three Arizona national parks and multiple national monuments, national forests, and state parks, Arizona is filled with undeniable natural beauty. We highly recommend an Arizona road trip especially to see Northern Arizona, which is chock full of incredible landscapes and things to do.
If you are planning a trip to Arizona, check out our latest posts:
Arizona Bucket List Map
This interactive map includes all of the places we feature below on our Arizona Bucket List. It will help you organize a trip and get a sense of where everything is located in the state. Most people fly into Phoenix International Airport and rent a car to get around.
20 Best Places to Visit in Arizona for Your AZ Bucket List
1. The Wave Deserves a Top Spot on Your Arizona Bucket List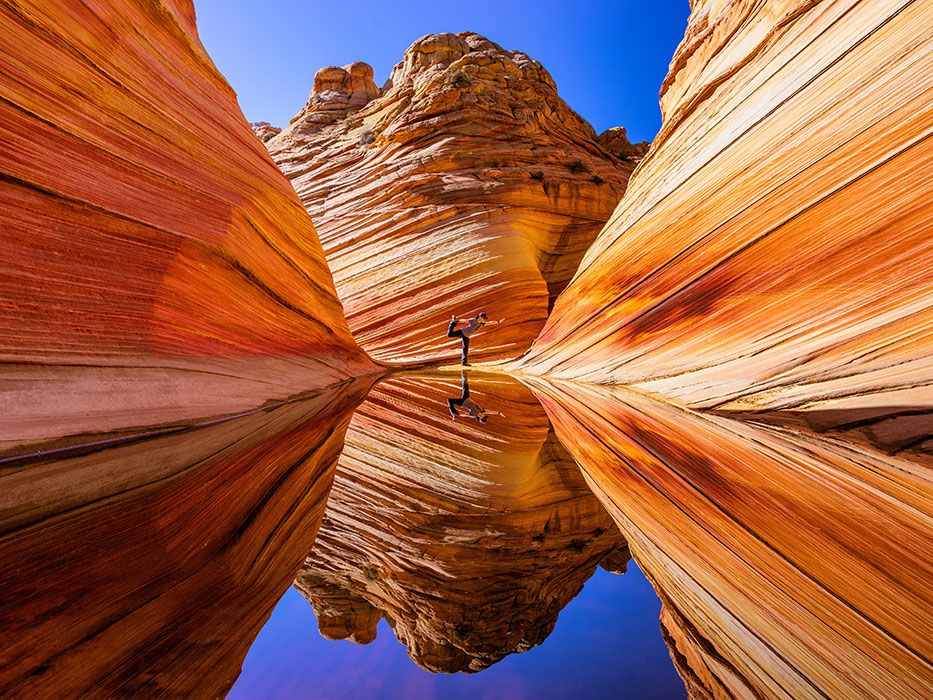 In the heart of the Arizona desert lies a geological wonder known as The Wave. Hikers who make the trek to this unique formation are rewarded with awe-inspiring views of striated sandstone curves that seem to have been sculpted by waves. The hike is a little over 6 miles round trip and the best time to go is during spring or fall when the weather is most temperate.
You need to get a permit for hiking the Wave, which is challenging to acquire but so worth it for this once in a lifetime experience. While waiting for a permit, many people take advantage of all the exciting things to do in Kanab, Utah.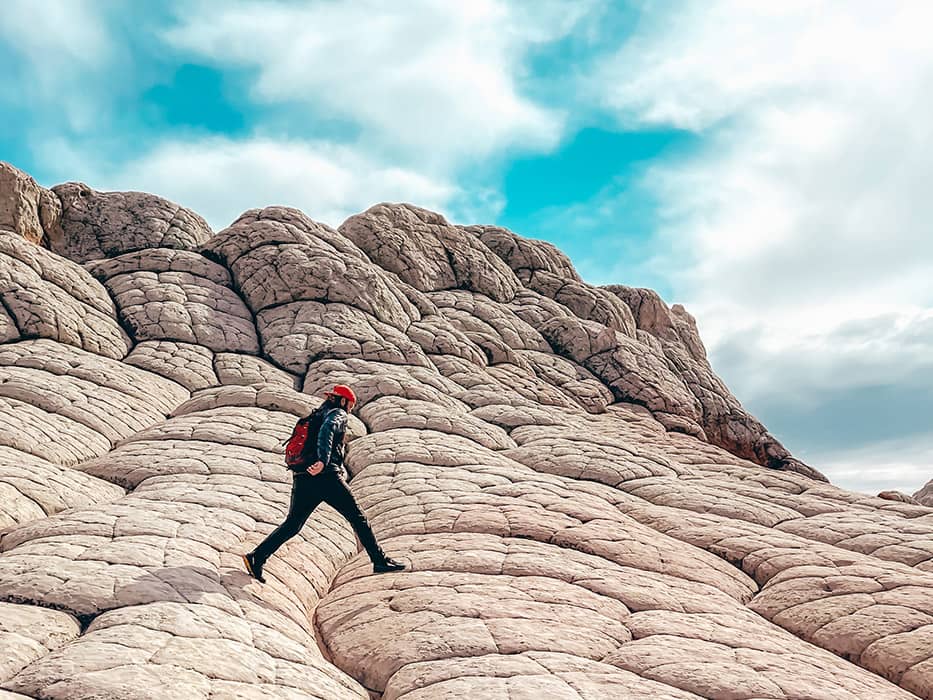 One of the most unique places to visit in Arizona is White Pocket. This stunning spot is located in the Vermilion Cliffs National Monument and is well worth the trek for anyone looking for an off-the-beaten-path adventure.
With its brilliantly white sandstone formations and otherworldly landscape, White pocket is a photographer's dream come true. So if you're looking to explore some of Arizona's most beautiful natural wonders, add White Pocket to your list!
There is no cost to go to White Pocket but the drive requires a 4WD vehicle. Be sure to pack plenty of water and sunscreen, as it can get pretty hot out there!
3. Horseshoe Bend Has Stunning Views That Are Totally Worth The Visit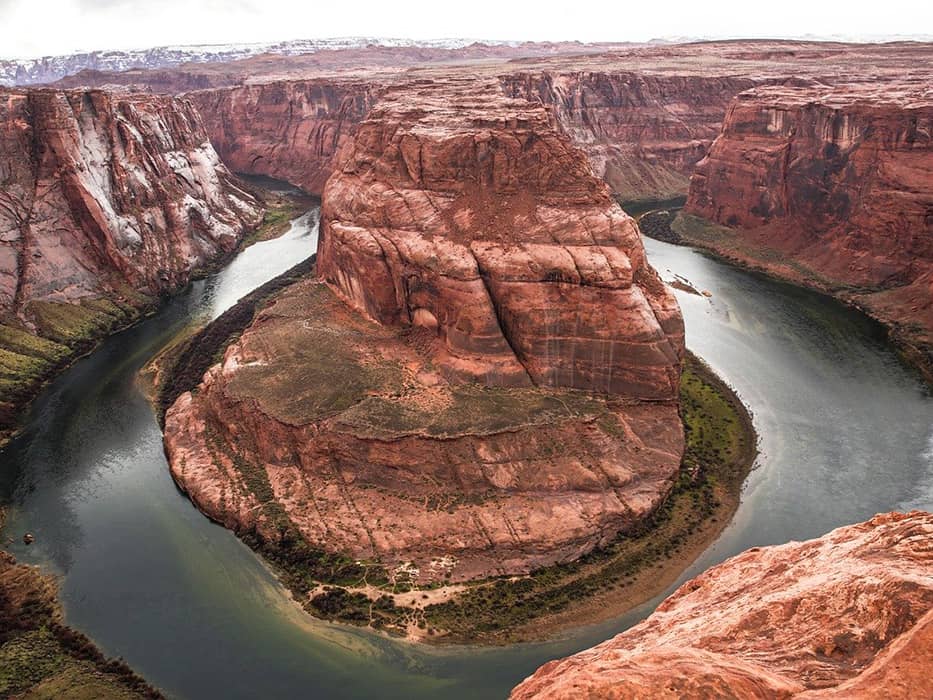 An Arizona Bucket List wouldn't be complete without a visit to Horseshoe Bend. The Horseshoe Bend hike is an easy 15 minute walk to the canyon's edge where you'll see the horseshoe shaped meander of the Colorado River with 1,000 foot canyon walls surrounding.
If you want a more thrilling experience take either rafting or kayaking tour down river to see this iconic landmark up close at water level! Parking at the Horseshoe Bend Viewpoint is $10.
4. Antelope Canyon is One of the Most Popular Places to Visit in Arizona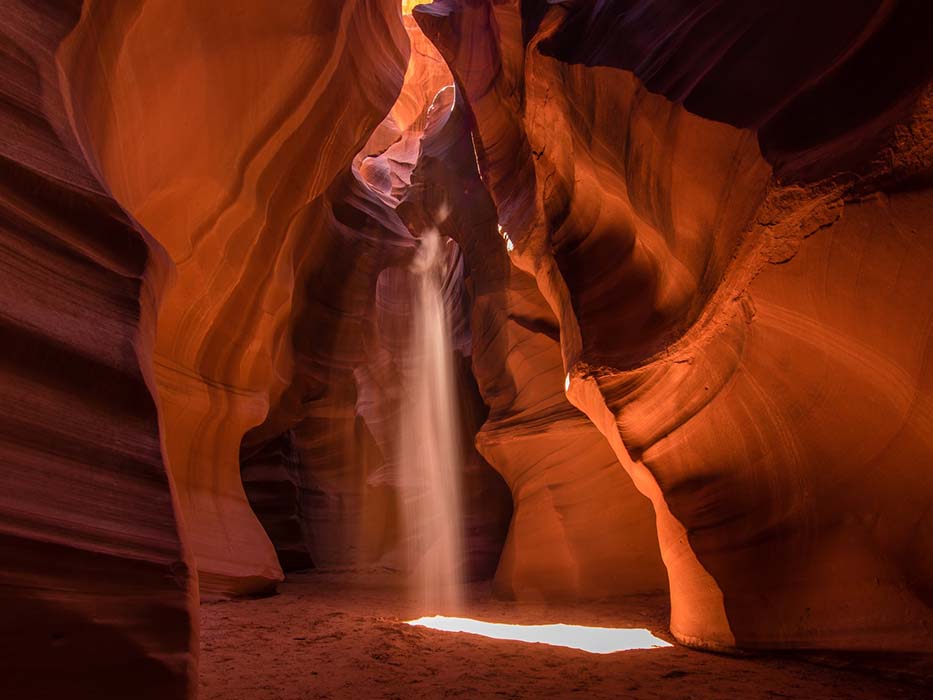 Antelope Canyon, known for its stunning natural beauty, is one of the most popular tourist destinations in Arizona. This slot canyon is located on Navajo land near Page, Arizona, one of the best Arizona small towns.
The sandstone walls of the canyon are constantly changing color as the light shifts throughout the day, making it a photographers dream come true.
Because it's on Navajo land, you must take a tour. Your choice for the tour is to visit Upper Antelope Canyon (the most popular and the one shown above) or Lower Antelope Canyon (more narrow, somewhat claustrophobic and less crowded).
If you plan to visit Page Arizona, book your tour well in advance as it sells out. If you can reserve a spot between 11am-1pm you'll be able to catch some of the light beams streaming through the crevices at the top.
5. Lake Powell & Glen Canyon Dam Are Top Recreation Spots in Northern Arizona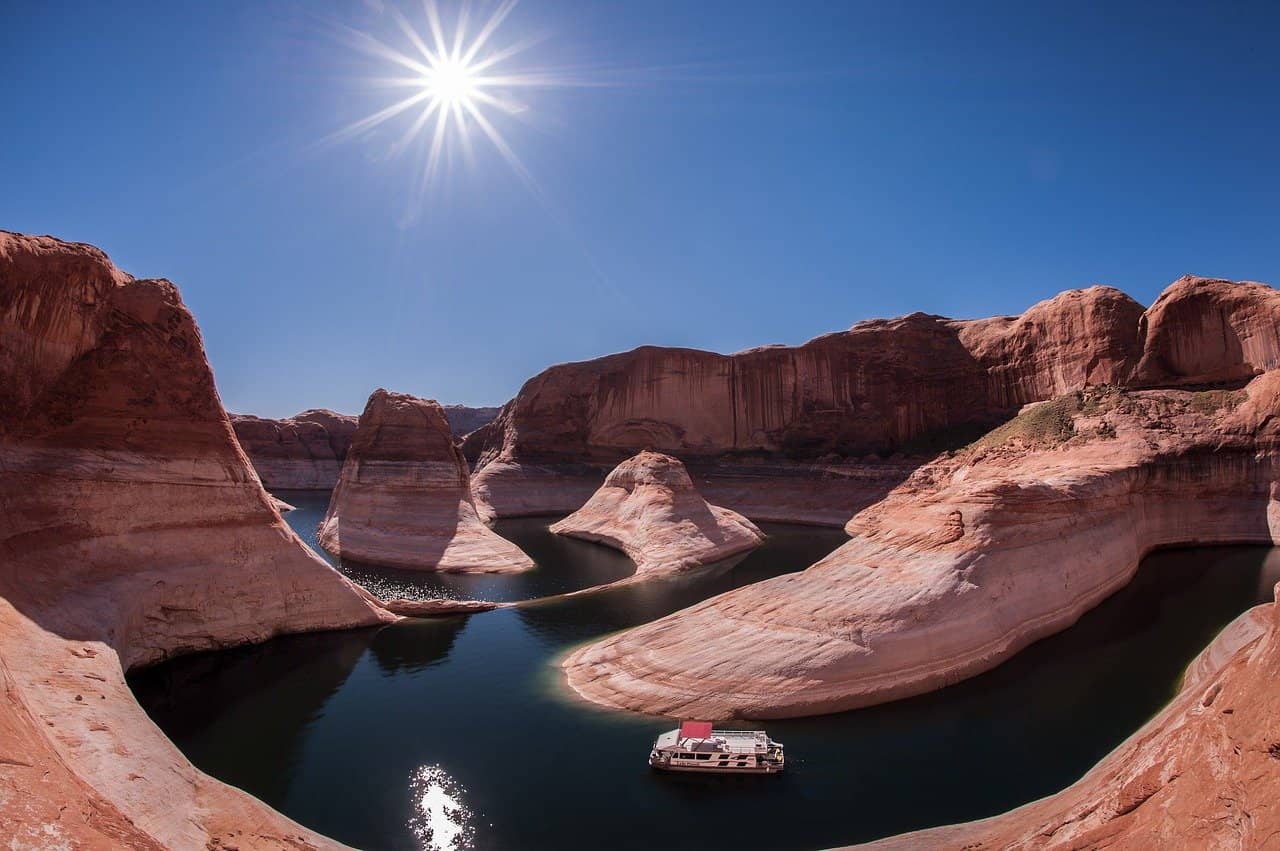 In 1972, the construction of the Glen Canyon Dam, flooded Glen Canyon, which created the now popular Lake Powell reservoir. It is one of the most unique lakes because of all the . The man-made Lake Powell reservoir should definitely be on your Arizona bucket list.
Visitors may try an array of different activities, including boating, fishing, waterskiing, jet skiing, and hiking. In terms of sheer adventure, nothing beats Lake Powell and its endless opportunities to have fun.
6. Monument Valley is One of the Most Unique Places in Arizona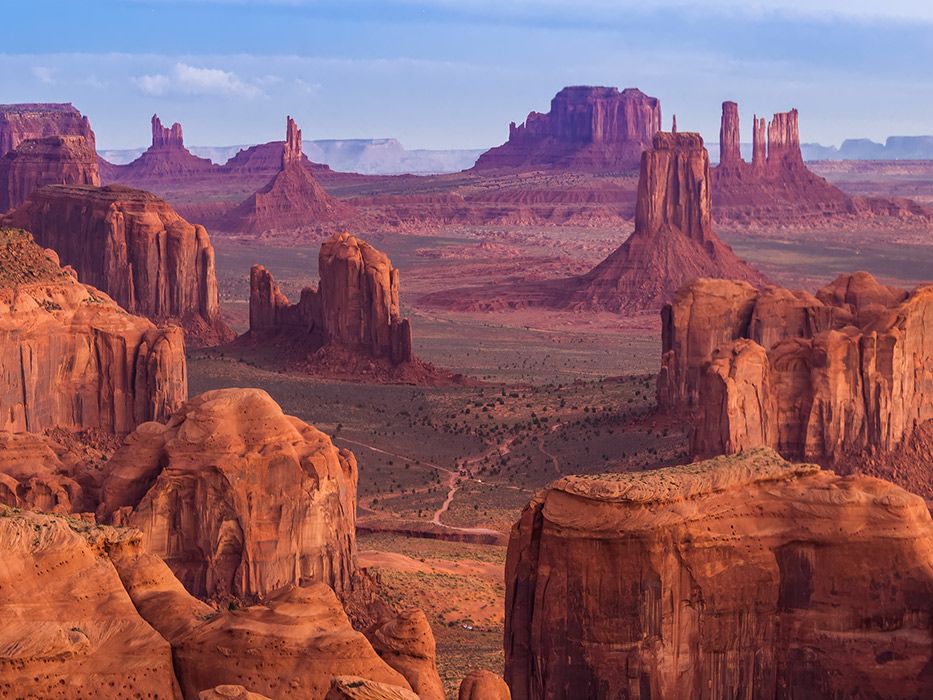 With panoramic vistas, impressive sandstone buttes, and other unique features, Monument Valley comes high on the Arizona bucket list. Nestled on the Utah-Arizona border, the valley includes a 17-mile loop, which is also known as the Valley Drive.
Beginning at the visitor center and swinging through the park, the drive offers jaw-dropping views of all things nature. Keep in mind this is the only part of Monument Valley that can be visited without booking a tour. To explore it further, you must schedule a day with one of the many companies offering the services.
Also, look out for weather – when it rains, the road can become impassable.
While discovering Monument Valley, stop by Hunt's Mesa – a hidden gem of the South West. The rock formation is undoubtedly the most impressive viewpoint of the Valley. To get up, you will have to do a 2.5-hour trek.
7. Canyon de Chelly National Monument Has Incredible Overlooks and Hikes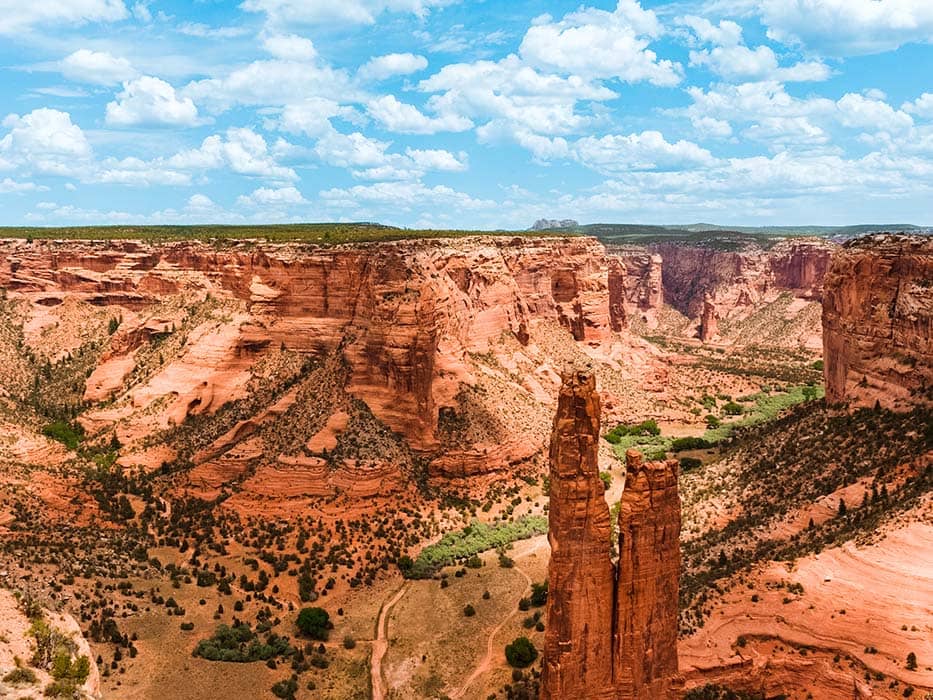 To learn more about the Navajo people and immerse yourself in the wild Arizona landscape, paying a visit to Canyon de Chelly National Monument is a must. The Canyon is home to several periods of Indian culture and features impressive 26-mile sheer cliffs. Some are even more than 1000 feet high.
The lesser-visited gem of Arizona includes four impressive overlooks. Stop by the visitor's center to learn whether any exciting events are taking place. There is no entrance fee for the park.
8. Havasu Falls is an Arizona Bucket List Backpacking Trip With Stunning Waterfalls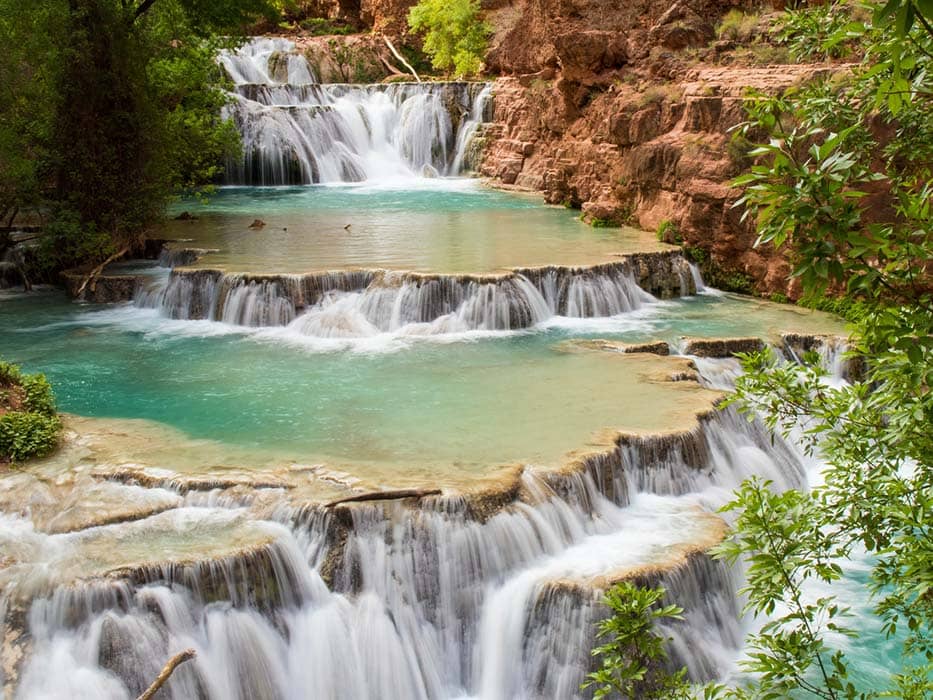 If you're looking for a truly unique travel experience, consider visiting Havasupai, Arizona. This small, remote village located in the heart of the Grand Canyon is well worth the trek – and thanks to its stunning waterfalls and tranquil surroundings, it's easy to understand why this is one of the best places to visit in Arizona.
This is perhaps one of the most challenging places to visit in Arizona, but it is also one of the most incredible. Getting to the bright blue Havasu Falls requires a difficult to get permit because the falls are nestled in the corner of the Grand Canyon on the Havasupai Indian Reservation.
The trip is a backpacking adventure – no day hiking is allowed. Prepare for a workout since you will be carrying backpacking gear 10 miles each way. But this trip is 100% worth a spot on your Arizona bucket list.
9. Grand Canyon National Park is a Must See in Arizona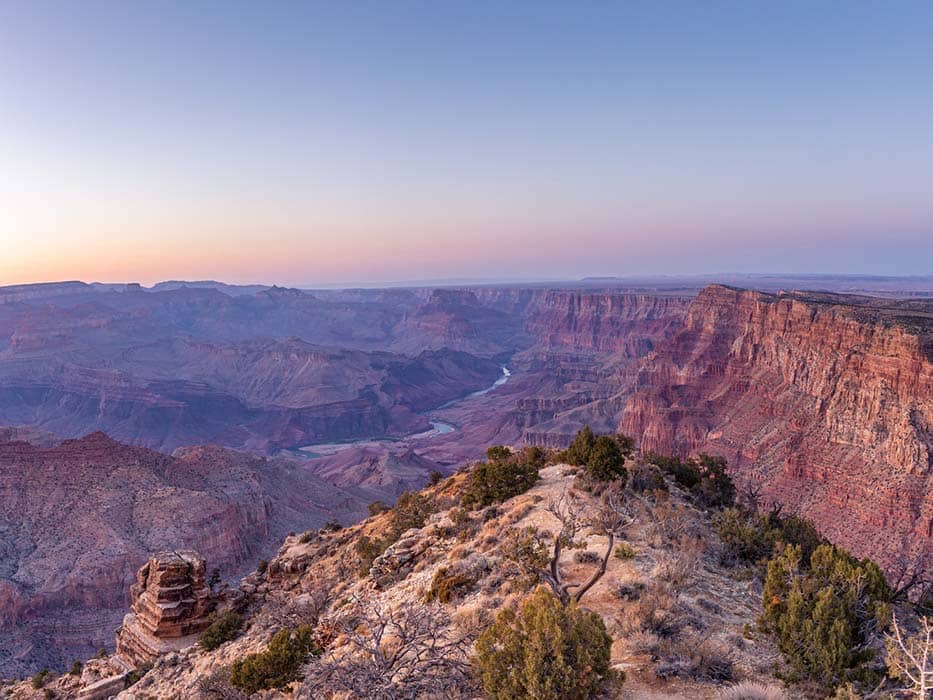 There is no doubt the Grand Canyon should be on every adventurer's Arizona bucket list. The awe-inspiring sights will make you fall in love the minute you arrive.
The South Rim is where you will find the most popular Grand Canyon activities, including many hiking trails like South Kaibab Trail (6.5 miles, difficult), South Rim Trail (13 miles, fairly easy), and Bright Angel Trail (15.3 miles, difficult).
The North Rim is better accessed from the Utah side and is one of the best things to do near Kanab, Utah.
A 7 day pass to the Grand Canyon is $35 per vehicle or $20 per individual. Entrance is free with the America the Beautiful National Park Pass.
Take the scenic train ride on the Grand Canyon Railway for a fun "old west" family activity. The vintage train travels from Williams, Arizona to Grand Canyon Village with entertainment including train robbers. You'll have 3 hours to tour the canyon before the return trip.
10. Cathedral Rock is One of the Best Places to Visit in Sedona, Arizona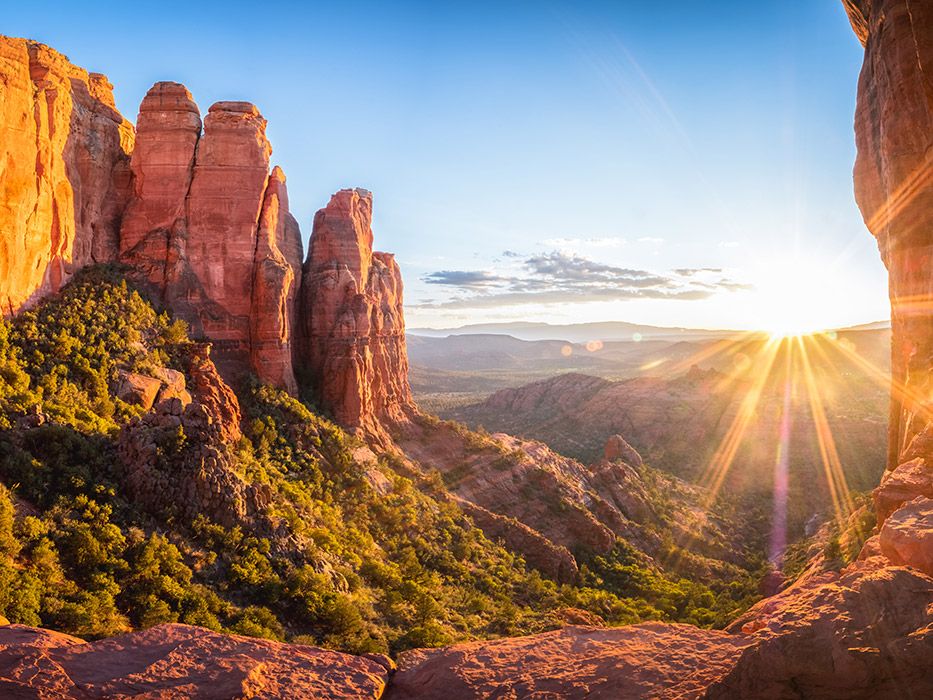 Cathedral Rock is one of the most iconic mountains in Sedona and best Sedona vortex hikes. The impressive sandstone monument is perhaps the most photographed sight south of the Grand Canyon.
The trip to the top of Cathedral Rock will require a challenging hike. Although the round trip is only 1.5 miles, it has a 740 feet elevation gain and expansive views to match. In some parts, vertical climbing is required. To take the hike, you will need a Red Rock Pass or America the Beautiful Pass.
11. Devil's Bridge Trail is the Most Photographic Arizona Bucket List Hike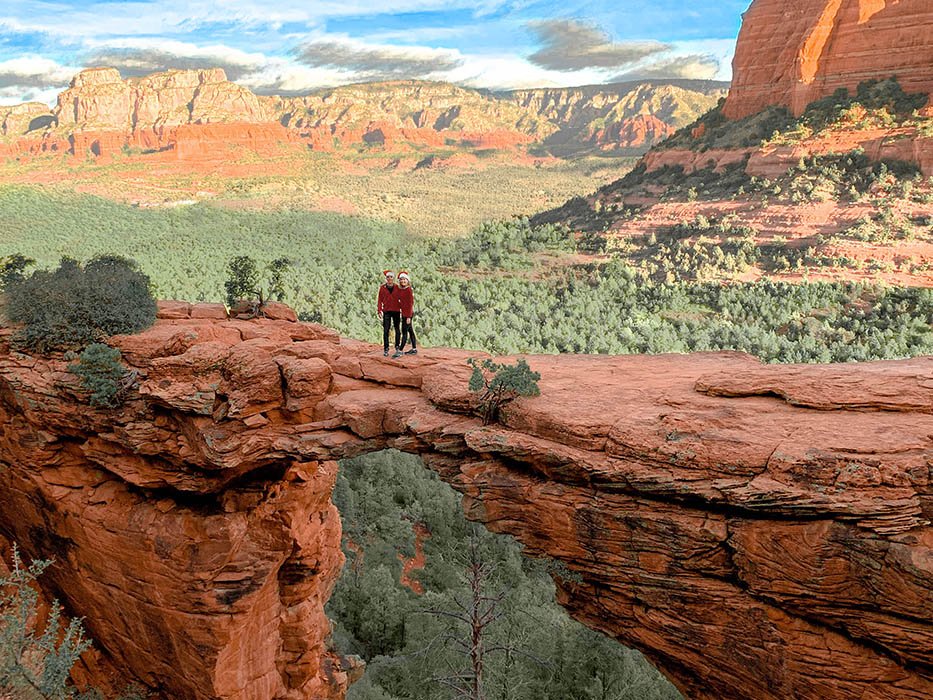 The Devils Bridge Trail is a 3.9 mile, out and back trail for those looking to get some exercise and see one of the coolest natural bridges Arizona has to offer. Located in Sedona's Red Rock State Park, the trail starts out with gentle incline that gradually becomes more challenging.
Sooner than you expect, you'll see an impressive sandstone arch that makes a great photo op. The bridge is wider than it looks so you'll feel safe getting your favorite shot of the year. Go early because it's very popular and gets crowded and watch out for jeeps at the beginning of the trail on an Outback Trail Jeep Adventure.
12. West Fork Trail Leads to Some of the Best Hikes in Sedona
If you are looking for the best hiking trails in Arizona, you won't be disappointed by the West Fork Trail in Sedona. The walk goes through some of the best parts of Sedona. Expect towering red rocks, vivid colors, and incredible creeks. West Fork is a fantastic place to see in AZ throughout the year.
The trail itself is considered to be pretty easy, but keep in mind you will have to cross the stream in a number of places. A round trip is around 6 miles, and note that in a few areas, short uphill stepping stones are used. To head on the hike, you will need Red Rock Pass, which is required for the Sedona Trails system. The fee is $5 for the day.
13. Watson Lake in Prescott, Arizona is a Kayaker's Dream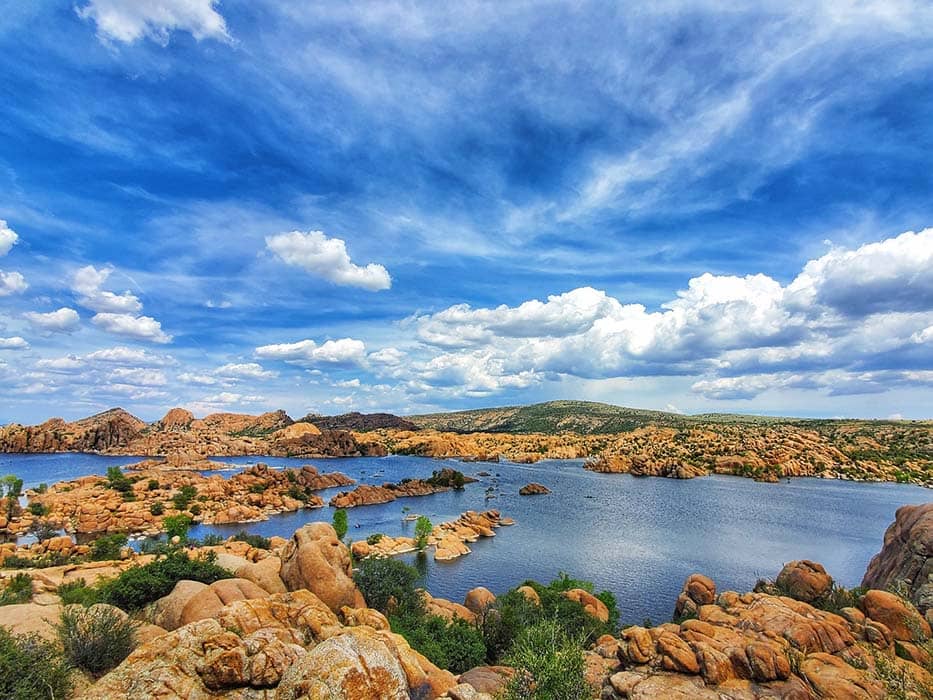 The stunning lake set just four miles from downtown Prescott has something to offer for everyone. Although it is not possible to swim in Watson Lake due to pollution, there are many recreational opportunities available, including kayaking, boating, fishing, canoeing, and camping. It's the perfect lake to explore with an inflatable kayak.
The area also has direct access to Watson Woods and the Granite Dells. There is a $3 per vehicle admission fee to enter the park. Another fun outing in the area is an eBike ride at the Peavine National Recreation Trail.
14. Tonto National Forest is Filled With Arizona's Top Sights and Adventures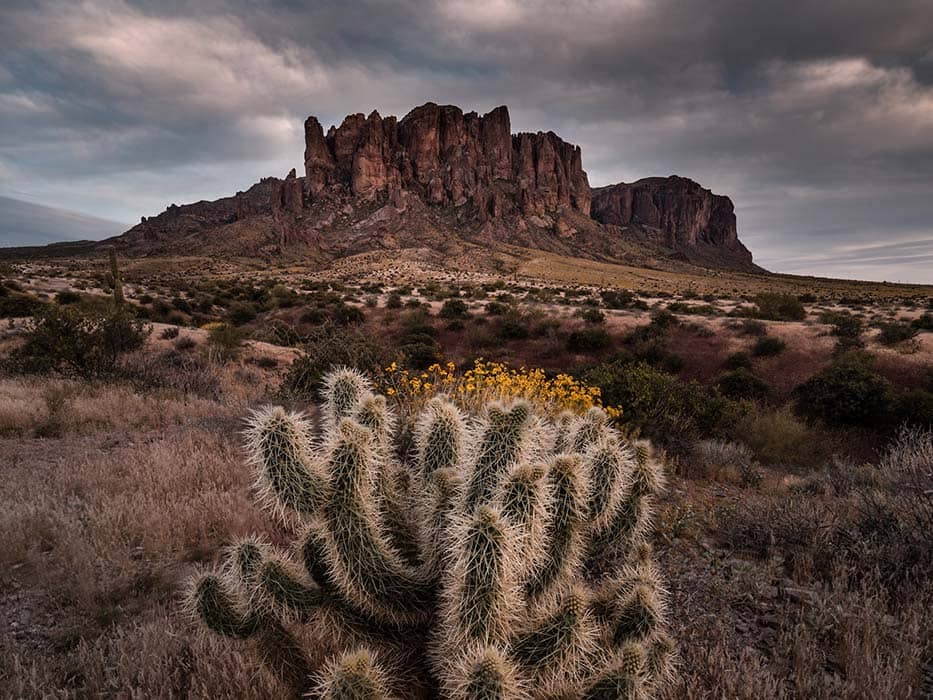 Tonto National Forest is spread out over 3.2 million acres, making it the largest national forest in the state. Some of the top places to visit are Lost Dutchman State Park for hiking and camping and Tonto Natural Bridge State Park.
Saguaro Lake is another must visit. The lake is a popular spot for fishing, kayaking and boating. It offers beautiful views of the surrounding mountains. Families should also include a visit to Goldfield Ghost Town for a Wild West experience complete with shootouts.
A Salt River Kayaking Trip runs right through Tonto National forest. You'll see beautiful scenery and the Salt River Wild Horses along with other wildlife.
15. Sabino Canyon Recreation Area is a Top Spot for Southern Arizona Residents
Soaring mountains, unusual plants, and deep canyons – the Sabino Cayon Recreation Area is one of the best places to visit in Arizona. Set at the base of the Santa Catalina Mountains, the area includes numerous swimming spots and plenty of hiking trails for all difficulties.
Sabino Lake Loop is just 2,3 miles one way and pretty easy. Therefore, it is great for families. The path is quite wide, so practicing social distancing will be a piece of cake. Blackett's Ridge Trail is longer (5,7 miles) and more difficult but offers spectacular views of the Canyon.
For a small fee, it is possible to take a tram up into the canyon and get off at one of the 9 stops to take the hike you wish.
16. Saguaro National Park is a Beautiful Places to Visit in Arizona for Landscape Views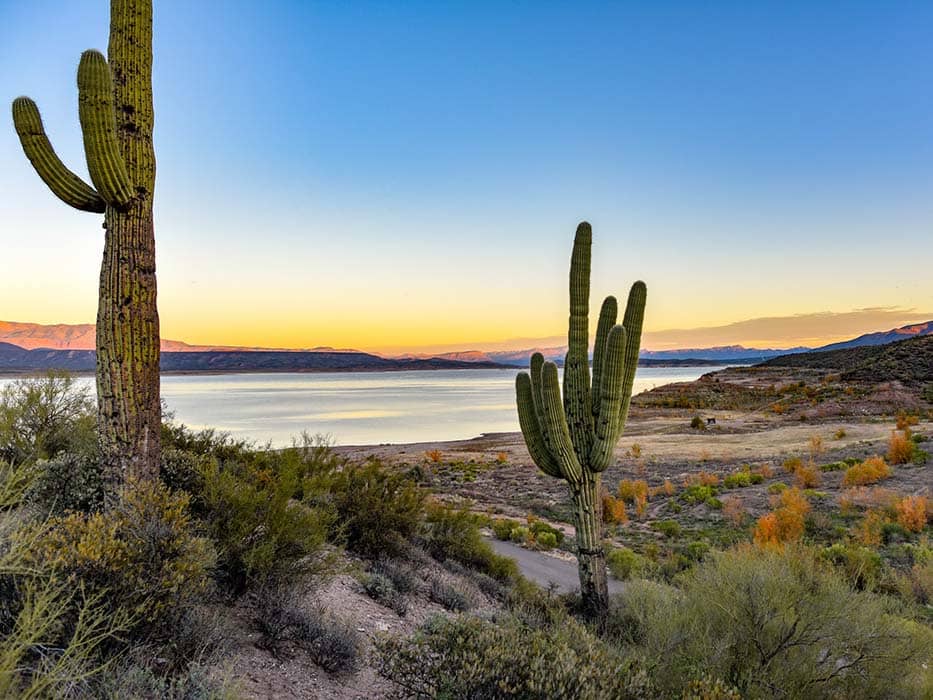 The giant saguaro can only be found in a few places around the states. The well-known symbol of the American West is a rare and protected plant. The Saguaro National Park was created to preserve them. Visiting the area is definitely one of the coolest things to do in Tucson, Arizona since it really is a photographer's dream. 
Plan your trip in February or March, when saguaro and other plants are in bloom. Within the territory, there is an easy hike available for families. A more challenging hike, for those with experience, is the 16.6 miles round trip Douglas Spring Trail. Loma Verde Loop – a 3.8-mile trail – is excellent for wildlife viewing.
17. Organ Pipe Cactus National Monument is Well Loved by Visitors
This incredible park in Arizona is known for having many distinctive cactus species, including the organ pipe cacti. The park's unique habitat has been designated as a UNESCO Biosphere Reserve.
Walk amidst the giants of the Sonoran Desert, go on beautiful hikes such as the Nature Trail (fairly easy) and Baker-Milton trail (difficult), or drive the scenic Ajo Mountain Route. However, avoid visiting the park in summer, when temperatures can sometimes be really high.
The entrance fee for vehicles is $25 and is valid for 7 days or free with an America the Beautiful National Park Pass.
18. Montezuma Castle National Monument is a Top Historical Place to Visit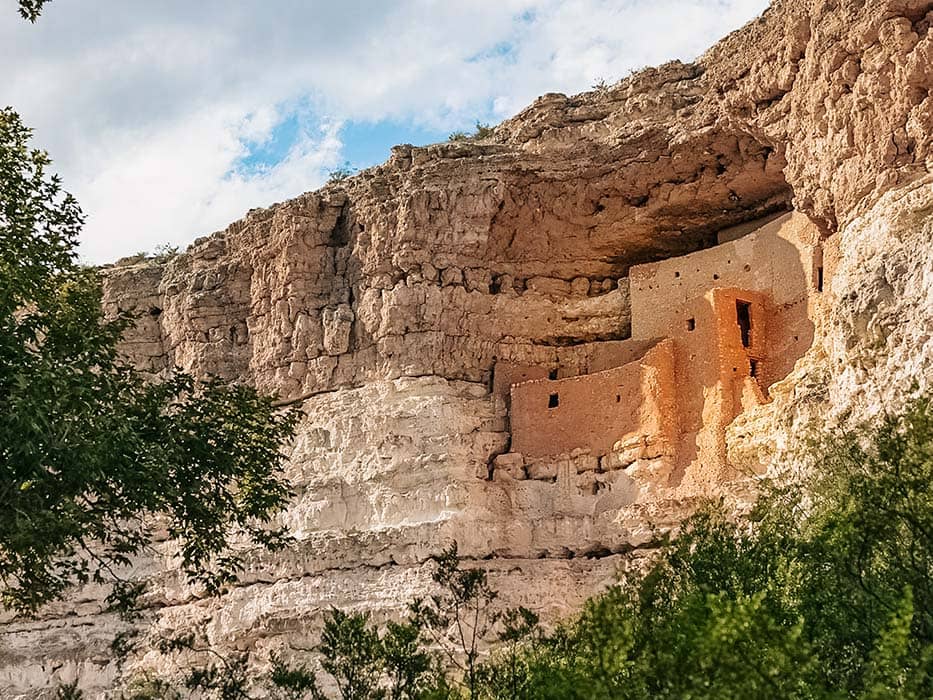 Arizona is home to a variety of stunning landscapes, but a visit to Montezuma Castle National Monument reminds us all of the ingenuity of Native Americans that existed and prospered in this harsh desert landscape. Established as a National Monument in 1906, this five-story cliff dwelling structure was built by the Sinagua people over 700 years ago.
This interesting and historical day trip, is located in Camp Verde, Arizona. It's open daily and there is a short tour available where you will learn about the castle (you can't go in but you will see dioramas of the interior) and learn about the every day life of the Sinagua people. Entry is $10 for age 16 and over or free with an America the Beautiful National Park Pass.
19. Petrified Forest National Park is a Must See on the Way to New Mexico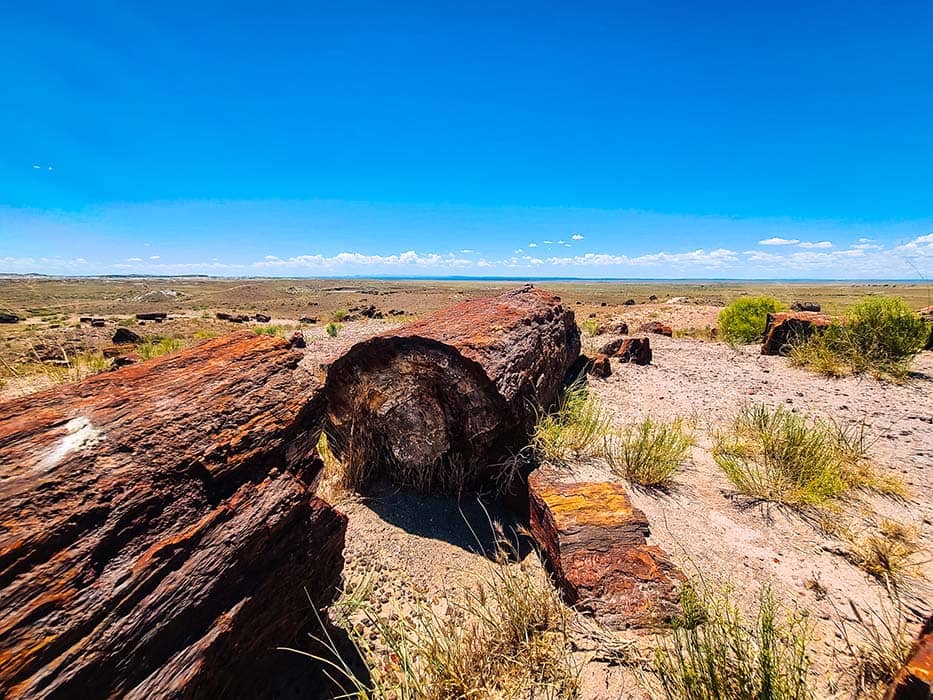 If you're looking for a place to experience the power of nature and things you've never seen before, then look no further than Petrified Forest National Park. In this off the beaten track national park, you'll find fossilized wood that dates back 200 million years! A 600 year old Pueblo village and animal fossils will also be of interest to archeology fans.
In addition, there are miles of trails that take you through multicolored tall rock formations, badlands and mesas. A few short hikes to experience the park are the one-mile Blue Mesa Loop trail and one-mile out and back Painted Desert Rim Trail to see views of rainbow colored desert mountains. Bird watchers will also enjoy the area. The painted Desert is pictured below.
Entry to the park is $25 per vehicle or free with an American the Beautiful National Park Pass.
20. The Painted Desert is Off the Beaten Track and Offers Striking Views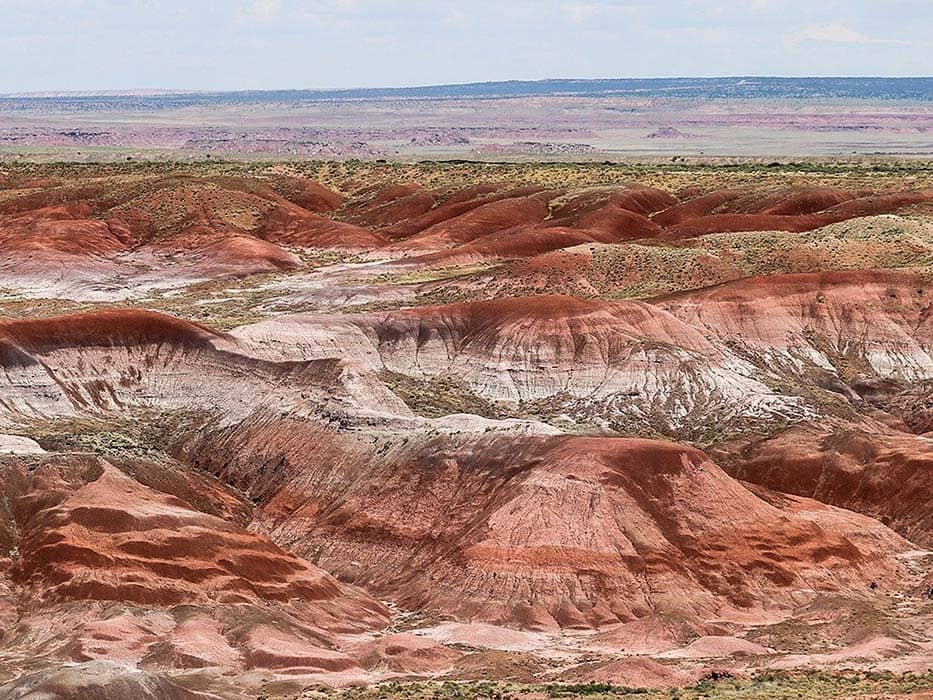 ---
Arizona is a state that offers something for everyone. Whether you like the desert, mountains, or lakes; if you enjoy hiking and camping in pristine wildernesses; if you love art museums and galleries; or want to explore everything from Native American ruins to top-notch golf courses – there's an unforgettable adventure awaiting your discovery in this southwestern gem of America.
It may be hard to choose what best experience awaits when it comes to traversing all the natural wonders but this Arizona Bucket List will help you find some of the best places to visit in Arizona.
Other USA Posts You Might Like:
Save These Best Places to Visit in Arizona for Your Bucket List? Pin It!