This Utah Bucket List is filled with adventurous things to do and mind-blowing beauty.
The Utah Mighty Five National Parks are a huge draw to the state but the epic Utah hidden gems are also what make it one of the most beautiful states in the USA The destinations on this list are undeniably the best places to visit in Utah.
A road trip is our favorite way to explore Utah. Use the Utah attractions map at the bottom to plot your course. That way you can plan your route without missing any of the best sights to see in Utah.
We've road tripped Utah in our car several times and tried out van life with an Outdoorsy rental. If you are looking to do a sprinter van rental, the code Jen50 will get you $50 off your first Outdoorsy rental.
This post contains affiliate links. If you book or buy something through one of these links, we may earn a commission at no extra cost to you. You can read our full disclosure here.
Planning a trip to the American Southwest? Check out these latest posts.
25 Best Places to Visit in Utah For Your Utah Bucket List
These 25 places to put on your Utah bucket list came from spending a few months exploring the state and some of our favorite travel bloggers recommendations.
You'll also find tips and the best places to stay to make your trip planning easy. Where we can, we've listed the best things to see along with hotels and campgrounds.
This interactive Utah attractions map will allow you to see where everything is located.
Utah Attractions Map
Best Things to Do in Northern Utah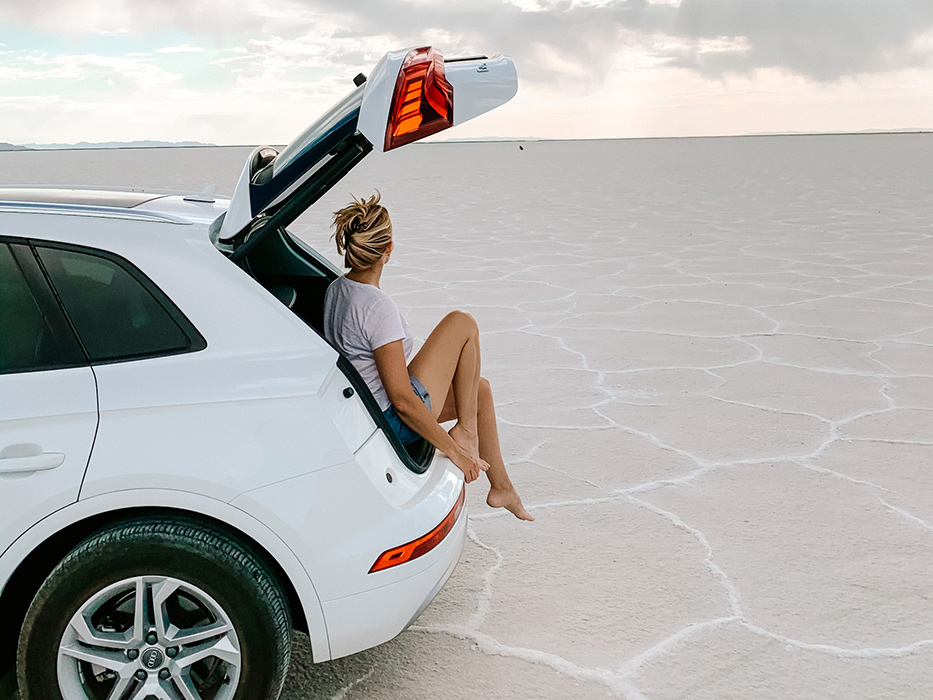 Bonneville Salt Flats Tops the List of Cool Things to do in Utah
About 1.5 hours west of Salt Lake City at the Nevada border are the Bonneville Salt Flats. This picturesque area has a hard salt crust that covers more than 25,000 square acres of land.
The high speed cars that race on the salt at Bonneville Speedway is one of the reasons this remote area is well known. We were lucky enough to catch all the action including a new world record set at 470 MPH.
Visiting Bonneville Salt Flats in Utah is such a unique, bucket list experience.
Bonneville is also the site for other annual events like the Salt Flats Endurance Runs. These races vary in length from a 5K to a 100 mile ultra marathon. The Utah Rocket Club hosts a rocket launch event called LDRS (Large Dangerous Rocket Ships).
To visit Bonneville, pull off Interstate 80 at the rest stop and drive your own car right onto the salt. We highly recommend catching sunrise or sunset there.
Regardless of the time you visit, bring a camera and have fun taking photos especially when it turns into a big mirror after it rains. If it's wet though, you can't drive your car on it because you can get stuck.
Since the area is run by the Bureau of Land Management, you can camp for free in one of the designated areas. Check the weather first, it's really hot in summer. The Best Western Plus Wendover Inn is also nearby.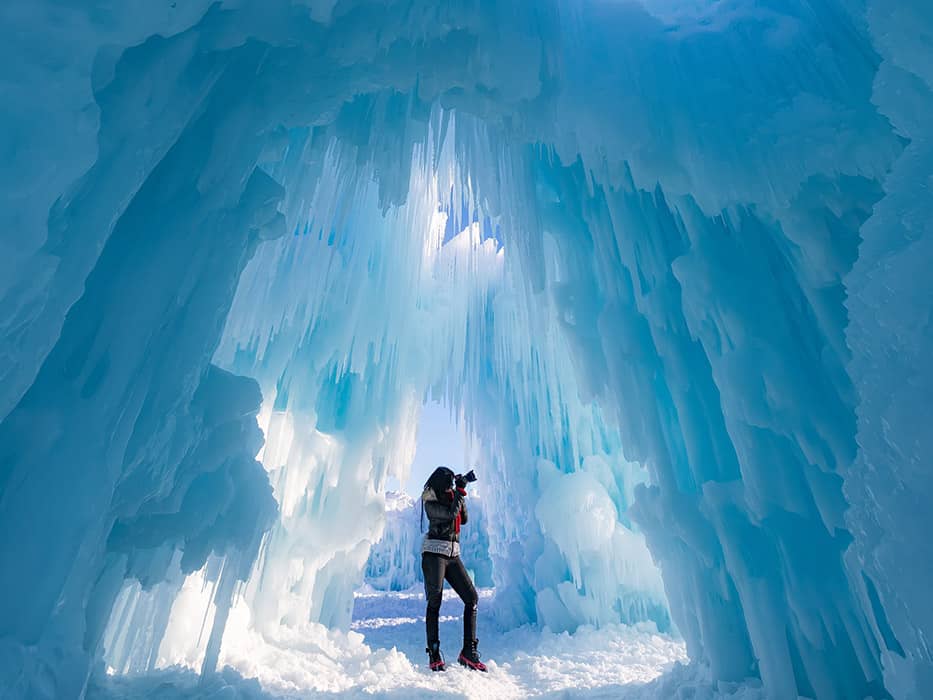 Ice Castles in Midway is One of the Best Winter Places to Visit in Utah
Recommended by Melissa from Parenthood and Passports
Located in the cute mountain town of Midway, Utah, Ice Castles is a winter attraction built entirely from ice.
The experience, which is typically only open in January and February, features 25 million pounds of icicles, all hand-placed to create the acre-size walk-through display. The ice glows and lights up at night with color-changing LEDs.
But this unique Utah attraction is more than just a beautiful, artistic place to visit. It also features ice slides, crawl spaces, a maze of tunnels and caverns, and narrow squeeze spaces designed to look like the famous slot canyons in Utah.
It is great for a romantic date night or a family outing, as kids love exploring the icy playground. Dress warmly, in insulated pants and coats, and plan to spend about an hour to truly appreciate this man-made wonder.
You'll want to book tickets in advance on their website, as the popular attraction sells out quickly since it's only open two months of the year.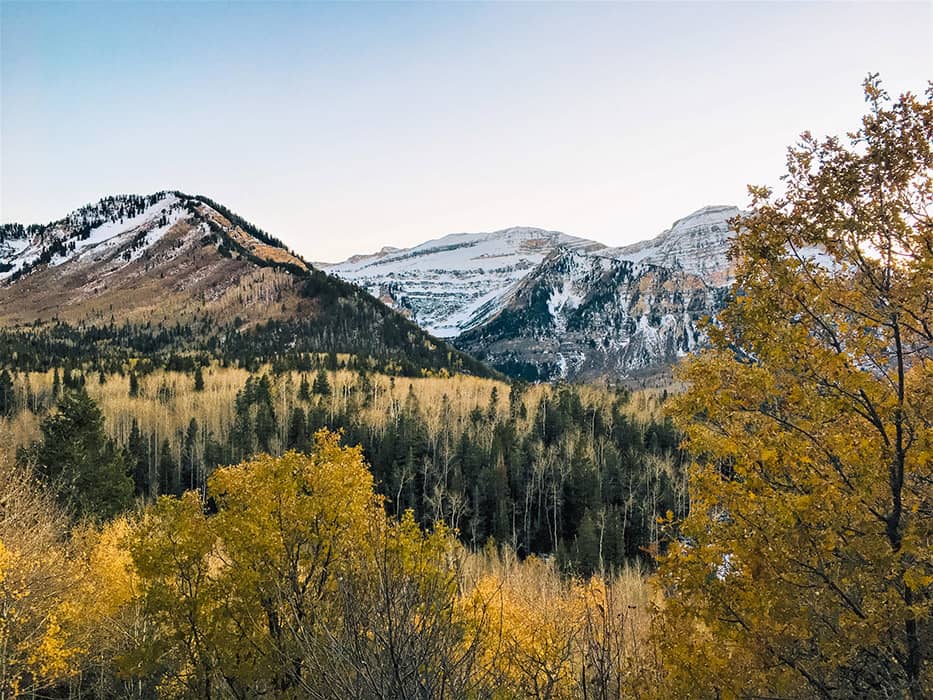 Hiking Mount Timpanogos Alpine Loop is a Fun Thing to Do Near Salt Lake City
Recommended by McKenna Hurd of One More Step Travels
When hiking near Salt Lake City Utah, the Alpine Loop is a must visit! This scenic byway is one of the most beautiful places in the Wasatch Mountains. It's home to Utah's most famous mountain: Mount Timpanogos, measuring 11,752 feet tall.
Reaching the summit is a rite of passage for Utah hikers and definitely bucket list worthy!
There are two ways to hike Mount Timpanogos—the gradual way through wildflower-filled meadows or the steeper way past waterfalls and lakes. Both ways are stunning and get you to the top after about 8 miles of hiking.
16 miles in one day can be a daunting task, so if you aren't ready to conquer Mount Timpanogos, take a drive along the entire Alpine Loop. There are enough activities on the loop to last a day or even a long weekend.
You can explore Timpanogos Cave National Monument, kayak or stand up paddleboard in Tibble Fork, and stroll along Cascade Falls or one of the many other hikes in the area.
Before you leave, stop by or stay overnight at Sundance Mountain Resort! It's a beautiful resort with lodging for all group sizes. The activities at Sundance are endless, from skiing in the winter to zipping over the mountains anytime of year.
Entrance to the alpine loop is $6, or free with a National Parks Pass. The road past Sundance is closed during the winter, so visit before then to enjoy the beauty of nature, away from the bustling cities on the other side of Mount Timpanogos.
Rafting the Green River in Utah is a Great Family Bucket List Adventure
Recommended by Ladona Stork of Walking the Parks
Rafting the Green River is an adventure not to be missed that starts at Brown's Park National Wildlife Refuge in the SW corner of Colorado. It continues for 3 to 4 days through the Dinosaur National Monument, and ends near Vernal, Utah.
Floating through the aptly named Gates of Lodore, rafts pass through a narrow canyon that is carved out by the Green River. The canyon walls, 800 feet tall, cast an ominous shadow over your raft as you travel downstream.
As a protected area, rafters experience exhilarating class II, III and IV rapids just as naturalist and explorer John Powell's team did in 1869.
Well, except in a modern raft designed for the rushing water instead of his small wooden boat that smashed against the rocks.
Group camping sites are spread along the river bank where the dark sky makes for amazing star watching.
This multi-day rafting trip is best experienced with a professional guide, although you can enter an annual lottery for your permit if you have heavy duty gear. OARS rafting trips on the Green River are available from May – September.
May brings high water and strong river currents so children must be at least 11. However, summer trips are calmer and kids as young as 7 are welcome. Best of all, the guides provide all your gear.
The guides secret spots along the river like their favorite swimming hole, hot springs and waterfalls.
The Green River also offers fishing opportunities as the river is stocked with trout. Both a Colorado and Utah fishing license is required as the river flows through both states.
---
Visiting Utah's Mighty 5 National Parks
Arches National Park is One of the Must Sees in Utah
With over 2,000 natural stone arches – the largest concentration of arches in the world, Arches National Park has something amazing for everyone.
There are quite a few easy trails that are really close to the parking areas and great for families like Sand Dune Arch, Double Arch, and the North and South Window.
Photographers and hikers head up the slick rock Delicate Arch for spectacular sunsets.
The area of Moab itself is one of the best Utah places to visit for adventurers. Bike enthusiasts come from all over for the Slickrock Moab Bike Trails.
It's a strenuous 12 mile ride though incredible terrain. If it sounds fun but maybe too hard, just know that E-bikes are allowed.
A few great tours that will add lots of fun to your trip are the half day Colorado River rafting trip and driving a 4×4 on the Hells Revenge Guided Tour. You can even take the kids and get a serious adrenaline rush.
A great time to visit Arches is Spring and Fall when the weather is nice, tons of activities are available but the crowds are definitely the biggest. Summer is extremely hot.
The winter is peaceful and cold but you get a chance to see massive arches at times all by yourself.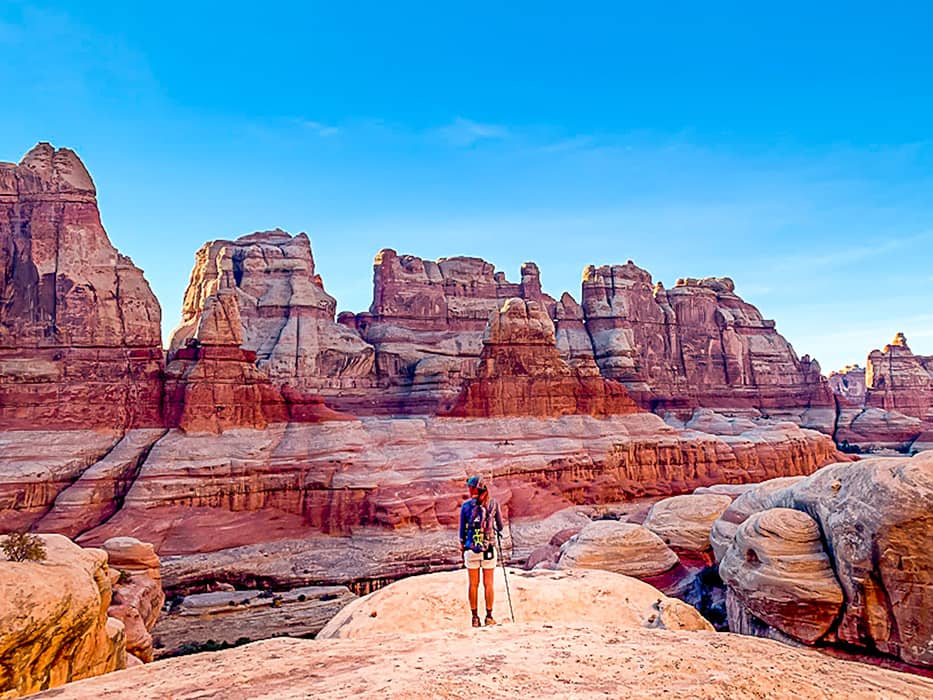 The Needles in Canyonlands National Park for a Backcountry Adventure
Recommended by Meg of Fox in the Forest
Backpacking The Needles District in Canyonlands National Park should be on everyone's bucket list, especially if you'd like to experience the raw desert magic of eastern Utah.
Think wacky sandstone spires piercing the sky, hoodoos twisting their way into canyons, and landscapes that look like they came straight out of Mars. That's what visiting this secluded district in Canyonlands is like!
There are countless routes for the intrepid backpacker, many of which are considered the best hikes in Moab for those who don't mind roughing it.
By far, the Elephant Canyon area is the best part to backpack in Canyonlands. It offers super secluded spots to catch the most magical views. You'll get to choose from plenty of spur trails and have lots of backcountry campsites to spend the night.
Tip: Make sure to check out Druid Arch at sunset, you're almost guaranteed the entire place to yourself!
Spring and fall are the best seasons for backpacking the Needles, particularly mid-March through April, and October through mid-November. Avoid summers are temperatures are extreme.
You can backpack the Needles in two days. Spending a night at one of its backcountry campsites is essential to fully get to experience the desert.
The Needles is a very remote place and you'll need to carry enough water for the time you'll be there. Moreover, you need a permit to backpack the Needles.
They tend to book out months in advance, so make sure you snag one as soon as you confirm your trip.
Backpacking the Needles is not recommended for dogs or children due to the extreme conditions. For an even longer adventure, look into bikepacking the famous White Rim Loop.
RELATED POST: 60 Bucket List USA Road Trips
Glamping in Moab to Visit Arches and Canyonlands National Parks
Recommended by Allison Green of Eternal Arrival
One of the most bucket list worthy places to visit in Utah is Moab, and you can up the ante by glamping at the beautiful Under Canvas Moab glampsite — a must on any Moab itinerary.
Located just a short drive from two national parks, Arches National Park and Canyonlands National Park, glamping in Moab is the perfect way to continue the outdoor adventure, even while you sleep!
While glamping at Moab, there are tons of different activities you can do during the day before returning to your glampsite.
Check out Delicate Arch for a sunrise hike, admire the sunset at Dead Horse Point State Park, or take a scenic drive through Canyonlands. Then return to Under Canvas Moab for s'mores, stargazing, and an amazing sunrise the next morning.
Visit Under Canvas Moab in fall and spring for the best weather. Summers are boiling hot and the tents only have small battery-powered fans.
Winter is cold and can snow in Moab! However, there are wood-fired stoves you can use to heat the glamping tent on chilly nights, and plenty of warm blankets if you need it.
Under Canvas Moab is both kid- and pet-friendly! Kids will have a great time staying in the tents, and some of the tents come with a small tipi-style structure for kids to sleep in away from the parents.
Bring a portable battery pack for any electronics, and be prepared to unplug — there is no WiFi (though I was able to get phone service).
Book it in advance because it sells out quickly, especially the nicer tents with private bathrooms! The tents without private bathrooms share the bathrooms on-site are very clean and well tended.
RELATED POST: 7 Amazing Glamping Destinations in the USA
Capitol Reef National Park Petroglyphs
Recommended by Ale Leon of Sea Salt & Fog
Capitol Reef is the hidden gem of Utah's National Parks. Located in the south-central area of the state, the park is relatively unknown (a good thing!).
Capitol Reef is stunning, and has many epic, bucket-list worthy adventures for everyone. The best part? No crowds! One of the best things to do in Capitol Reef National Park is to explore its history.
The park is home to beautifully preserved petroglyphs carved by the Native American people that inhabited the land hundreds of years ago, and they don't require a ton of effort to see.
The most accessible area to see the petroglyphs is right off the main road (Hwy 24). There are signs pointing the way, a parking lot, and a boardwalk with signs that will tell you where to look.
Bring binoculars to see the petroglyphs better, they're high off the ground in the red rock face.
Another spot to see petroglyphs is on the Capitol Gorge trail. This super easy hike will first take you to see petroglyphs so close you can touch them, then to see the Pioneer Register where settlers carved their names into the rock in the 1800s.
The Capitol Reef Resort in nearby Torrey has beautiful cottages, luxurious Teepees and even covered wagons to add the adventure. In the park, the Fruita campground is a good choice.
The weather tends to be beautiful and cooler than the rest of Utah, but winter brings snow that can close down the park. Aim for early fall or late spring for your visit!
Hiking in Bryce Canyon National Park
Recommended by Kate Storm of Our Escape Clause
Dramatic, striking, and easy to find, hiking through Wall Street slot canyon is not only one of the best things to do in Bryce Canyon National Park, it's one of the best Utah bucket list destinations!
So many visitors just see Bryce Canyon from up above at the various view points but hiking down among the hoodoos gives you a better appreciation for how amazing they are.
Wall Street, one of the most popular hikes is a perfect quick addition that allows you to experience the beauty first hand.
It can be accessed either from the Navajo Loop trailhead or the Queen's Garden trailhead. The views from Navajo Loop are a bit better, as you descend into the slot canyon rather than climb out of it.
If you combine both trails (two of the most popular in the park!) with a hike through Wall Street, the total distance is about 3 miles. Wall Street closes during the winter but there are plenty of things to still do in Bryce Canyon in winter.
If you are looking for a longer distance, more challenging hike try the 7.8 mile Fairyland Loop Trail.
For the best views, consider hiking in the middle of the day when the light reaches the bottom of the canyon. It's a great place to capture an amazing family photo.
To stay in the Bryce Canyon area overnight, the Best Western Plus Bryce Canyon Grand Hotel features beautiful views, great rooms, and a fantastic breakfast.
Zion National Park Has Some of the Top Sights to See in Utah
Zion National Park is one of the best places to visit in Utah and many people end up staying for at least a few days. There are multiple Utah bucket list hikes and it's great to do one per day.
Stay in the area for a multi day Zion trip at South or Watchman campgrounds or Red Rock Inn Cottages is also a great option.
The Narrows is a Top Tourist Attraction in Utah for Good Reason
Recommended by Mark and Kristen Morgan from Where Are Those Morgans
The Narrows river slot canyon hike deserves not only to be on every Utah bucket list, but also every US hiking bucket list. It is that good.
Walking through ankle, shin, knee and even waist deep water up the North Fork of the Virgin River, with towering red cliffs just meters apart on each side is endlessly exhilarating.
You can choose two ways to do this hike; either from the top down (permit required) or the bottom up.
The Narrows top down can be done either as a 16 mile one-day hike or an overnight backpacking trip. It begins at Chamberlain's Ranch and ends at the Temple of Sinawava.
Permits must be obtained in advance or with a walk-in permit.
Hiking The Narrows bottom up is the more popular way to experience this extraordinary canyon. Visitors can begin at the Temple of Sinawava and simply turn around whenever ready.
To reach the "end" of the day hike version, you must wade through water, traverse boulders, scale banks and have a good level of stamina. It will take around 8 hours total to reach 'Big Springs' and return back to the trailhead.
Fall is the best time to hike The Narrows. The water level is lower and there are fewer people.
Summer is crowded but the water is warmer. In Spring the trail closes regularly due to high water levels. The Narrows hike is not good for pets or younger kids.
Renting a walking pole is vital and renting neoprene boots, socks and pants is highly recommended.
The Angels Landing Hike is One of the Coolest Sights to See in Utah
Recommended by Karen of Outdoor Adventure Sampler
Angels Landing is an immense rock formation in Zion National Park that is often touted as the one of the most breathtaking and dangerous hikes in the world. The knife edge ridge trail with drop-offs on each side draws experienced hikers from all over.
The 5-mile roundtrip route usually takes 4-5 hours to hike and involves steep slick rock and holding on to chains to protect you from falling off. Leave kids and pets at home for Angels Landing. Off-season is the time to go to avoid summer queues.
The route begins at the Grotto Trailhead with easy hiking along the canyon bottom into the shady Refrigerator Canyon. Next Walter's Wiggles begin. The 21 switchbacks bring you up the slope to Scout Lookout.
Views of Zion Canyon and the behemoth formation of Angels Landing are abundant. Scout Lookout is a perfect rest stop before tackling the challenging steepness to come.
From here the excitement begins with a climb of 500 feet with steep drop-offs on either side. This final half mile up a razor thin ridge gripping chains to keep you from falling is the essence of a Utah bucket list adventure.
The view from the top of Angels Landing across the expanse of Zion Canyon makes it all worthwhile.
The Subway Hike is One of the Best Hikes in Utah
Recommended by Agnes of The Van Escape
The Subway Hike in Zion is an amazing adventure for everyone who likes hiking and fabulous rock formations. What makes the Subway special is it's tube-like tunnel.
After the challenging trek getting there, it seems like you enter a different world, the Subway, to a different galaxy. Mother nature made this oval tube perfectly. Step by step, you move forward on the slippery rock, wondering what is at the end of the tunnel.
This unusual slot canyon is located within the Zion Wilderness in Zion National Park in Utah and you need a Zion wilderness permit to do this hike.
It's a long, 8 miles round trip in rough terrain, so start your hike early in the morning. The all-day adventure includes walking in the cold stream and crossing it from one riverbank to another with plenty of slippery stones.
The best season to do this hike is fall, when the level of water in the stream is the lowest.
Check the weather forecast before hitting the trail if you want to do it in spring or summer. For your safety, check the water level and the speed of its current.
Pack your items, especially the camera, in a waterproof bag to prevent them from getting wet. Also, wear waterproof shoes with good grip and neoprene socks for this hike. Trekking poles will also be helpful.
---
Sights to See in Utah Near Escalante
Lower Calf Creek Falls is a Great Place to Visit in Utah with Kids
The area around Escalante, Utah is off the beaten track for most people. Hands down it has some of the most magnificent landscapes in the state.
It's definitely worth a trip on Utah Scenic Byway 12 through Grand Staircase-Escalante National Monument.
Right off the highway, you'll find the trailhead for Lower Calf Creek Falls. The hike is 6.7-miles out-and-back with very little elevation gain. It's easy enough for kids but it does take 3-4 hours to complete the trek.
Since there's very little shade, make sure you head out early. Along the hike, you'll enjoy beautiful views of Calf Creek Canyon, as well as some prehistoric petroglyphs.
The enormous sandstone canyon walls are reminiscent of Zion National Park without the crowds of people.
And at the end of the trail, you'll be rewarded with a dip in the pool at the base of a stunning 130-foot waterfall. It's a great spot for picnic too.
So if you're looking for a memorable outdoor adventure, be sure to add Lower Calf Creek Falls to your list. Yonder Escalante Luxury Glamping is a great place to stay in the area with the coolest cabins, a pool and outdoor theater.
Coyote Gulch Tops the List of Utah Outdoor Adventures
Recommended by Jenny Kotlyar of Limitless Hiker
Coyote Gulch is a must do backpacking trip in Grand Staircase – Escalante National Monument in Utah.
This is one of the most stunning backpacking trips and Utah bucket list adventure. It takes you from the top of the canyon down to the bottom where you will spend a majority of the time hiking through the river.
You'll see alcoves carved by water, natural arches, and pictographs. Spend time exploring some of the local waterfalls, enjoying the arches, or scrambling to see ancient archeological sites.
This is an 11 to 25 mile backpacking trip depending on which trailhead you start at and if you do any side hikes while you're there. There are several trailheads, but the most popular one starts at Hurricane Wash.
Although it's a backpacking trip, it's a beginner-friendly one because there is minimal elevation gain/loss. Click here to read tips on how to get started with backpacking.
The Utah desert can get very hot so this hike is best done in April, May, October, or early November when temperatures are warm but still mild.
Backcountry permits are required, but they can be acquired at the trailhead. Pets are not permitted on this trail and make sure to properly dispose of human waste by carrying it out in WAG bags.
Cosmic Ashtray is Definitely a Utah Bucket List Hike
If you're looking for a challenging hike that's sure to test your endurance, look no further than the Cosmic Ashtray near Escalante, Utah.
This rugged hike is 8-11 miles long, depending on the trail you take, and features some of the most breathtaking views in the state.
The Cosmic Ashtray was created by erosion over hundreds of thousands of years and is now a massive weathering pit that's almost 200 feet wide.
The oval pit is filled with a red hued sand dune and features a large 33′ tall rock inside, garnering the nickname, the Navel.
While it may not be the most comfortable hike on the list, it's definitely one of the most unique and definitely worth checking off your Utah bucket list.
Just be sure to bring plenty of water and a GPS to avoid getting lost – this is one hike you don't want to take lightly.
---
Utah Tourist Attractions in Southern Utah
Kanarra Falls is a Must Do Utah Hike
Kanarra Creek Falls is a Utah hidden gem. This slot canyon is unique for its two interior waterfalls, and it's a popular destination for hikers because it's so beautiful and it's a canyoneering adventure. This is like a mini-Narrows.
Depending on the time of year, when you first enter the canyon you may be walking through water. It might be cold too!
As you approach the first waterfall, you'll find an aluminum ladder attached to a tree. Then there is a boulder you need to climb over that is more difficult to get to the 2nd waterfall.
Make sure you wear waterproof hiking boots when it's cold and water shoes for hiking (flip flops won't work) in the summer. You need a good grip for climbing and it can be slippery.
A permit is required for this popular hike. You can purchase a $12 permit online or at the trailhead kiosk. Only 150 hikers are allowed per day, so if you're planning a visit to Kanarra Creek Canyon Trail, plan ahead!
Check the weather before you go. Like all slot canyons, Kanarra Creek is subject to flash floods.
It's only a 1 hour drive from Zion National Park, making it the perfect day trip for visitors to Utah.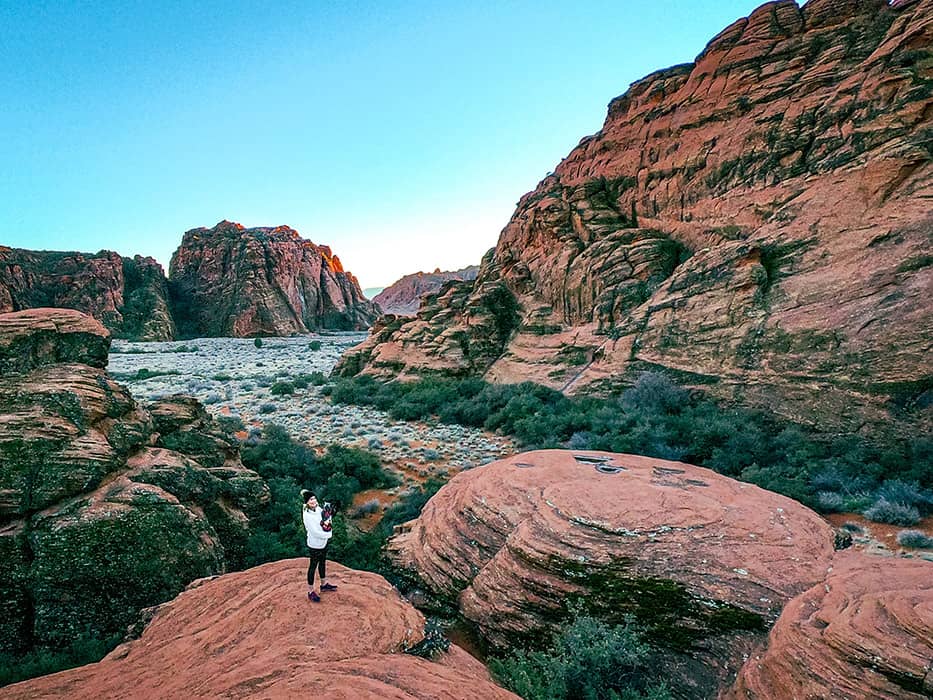 Visit Utah State Parks – Snow Canyon State Park is One of the Best Things to do in St George Utah
Snow Canyon State Park is a 4,700 acre hidden gem at the bottom southwest corner of Utah that's perfect for your bucket list. It's only and hour from Zion National Park and filled with gorgeous red rock hikes that most people don't know about.
Families love Jenny's Canyon, a short hike with a cool slot canyon. The lava tube caves are one of the most unique sights to see in Utah. Take the 2.5 mile round trip Lava Flow Overlook Trail and bring a flashlight so you can see in the dark caves.
Dogs are not allowed on the trails in Snow Canyon State Park but the rest of the Red Reef Conservation area is kid and pet-friendly. Red Reef Trail is a 2.2 mile round trip hike to a waterfall. Don't miss this beautiful hike!
Since St. George is such a popular golf destination, definitely add a tee time to your trip. In the evening check out a concert or show under the stars at the outdoor Tuacahn Amphitheatre.
Or combine your stay with relaxing spa services at Red Mountain Resort.
Weather wise, St. George, like all of Utah is nicest in Spring and Fall. Winter is temperate with some rain and snow but generally mild. Summer is crazy hot but also busy because so many people stay in St. George to visit Zion National Park.
Buckskin Gulch is a Utah Hidden Gem Most People Miss
Recommended by Chris and Lindsay of Called to Wander
One of the most beautiful ways to connect with Buckskin Gulch is via the Wire Pass Trail.
This hike in itself is amazing, as it takes you through the narrow slot canyons that lead to Buckskin Gulch. The trail eventually opens up to wide expanses with towering walls.
People that want to hike the entire 15 miles typically do this as a multi-day backpacking trip, for which a permit is required. There aren't many places in the world with better views of the night sky than from within Buckskin Gulch!
The best time to hike Buckskin Gulch is in the fall or spring. You are still likely to encounter water in the gulch leftover either from the snow or the rain. Still, this is part of the journey and adds to the adventure.
Buckskin Gulch is one of the most popular hikes in Utah. At 15 miles, this adventure is not for everyone. But you don't have to tackle the whole thing if you don't want to. In fact many people only go in for the first few miles and are completely wowed.
Utah slot canyons and gulches can be extremely dangerous when rain causes flash flooding. Don't go on this hike if the weather report is predicting rain.
Another safety issue can be extreme summer temperatures so make sure to bring tons of water and hike early in the day.
The hike through Buckskin Gulch is both kid and dog-friendly. An awesome hotel if you are traveling with a pet is the Best Friends Roadhouse and Mercantile in Kanab, Utah.
In addition to being the nicest hotel for pets and owners, it's conveniently located to the office for Buckskin Gulch overnight permits and The Wave Lottery.
RELATED POST: 18 Awesome Things to Do Near Kanab Utah
Toadstool Hoodoos – One of the Coolest Utah Tourist Attractions
Recommended by Wendy Lee of Empty Nesters Hit the Road
Located in Grand Staircase Escalante National Monument in Southern Utah, not far from Kanab, is an unusual grouping of rocks called The Toadstools.
It looks as if someone has intentionally placed these rocks to mimic a collection of giant mushrooms, but this is a naturally occurring sight. In fact these are actually hoodoos, columns or pinnacles of weathered rocks.
Fortunately it's easy for anyone to see these rocks since the mostly flat trail to and from Toadstools is just 1.5 miles.
While you can't climb on the actual Toadstools, the rocks around them are very kid-friendly. There are also great views of the surrounding canyon. Dogs are also permitted on the trail as long as they remain on a leash. Allow about one hour for this hike.
This area gets very hot in the summer. It's not unusual for temperatures to exceed 100 degrees, so this may not be the best season for hiking to The Toadstools. But winter, spring, and fall are all good times for this hike.
Page, Arizona is conveniently located 30 minutes from The Toadstools, where you'll find other activities, like the Horseshoe Bend Hike, and hotels.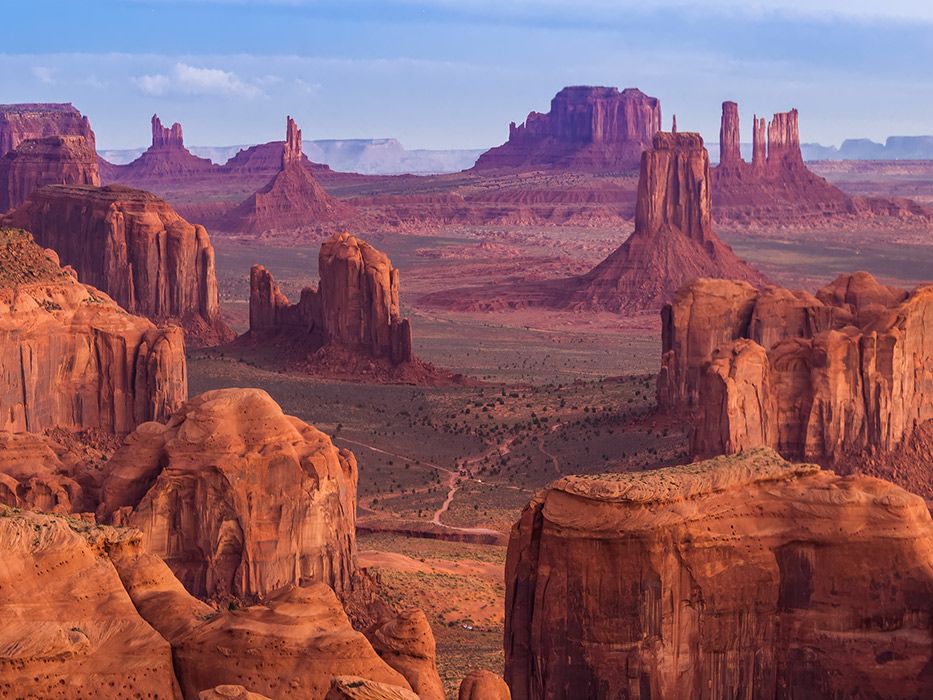 Monument Valley is One of the Most Unique Places to Visit in Utah
Recommended by James Ian of Travel Collecting
When you think of classic wild west scenery with picturesque buttes and mesas rising up out of the valley floor, you are probably thinking of Monument Valley. Featured in countless movies, it has the most iconic western scenery in the United States.
Monument Valley is half in Utah and half in Arizona, and fully in the Navajo Nation. The whole area is officially the Monument Valley Navajo Tribal Park and there is a $20 per vehicle entrance fee.
The main route through the valley is a 17-mile loop scenic drive, which is currently only available on a tour with a Navajo guide.
There are also tours into the backcountry where you see less visited places and visit a Navajo hogan (traditional mud house). On the main loop drive, you'll see all of the most famous landmarks and get to stop at John Wayne Point.
The only hike you can do without a guide is the Wildcat Trail. It's a great way to experience a part of the valley that very few people do.
Best visited in spring or fall, Monument Valley can be very hot in summer and snow in winter. If you visit in summer, it is best to head out early in the morning or late in the afternoon, especially if you have kids.
In a one day visit, you can do the scenic drive, possibly a longer back country tour, hike the Wildcat Trail, try Navajo nachos at the restaurant, and do some souvenir shopping. The closest place to stay is The View overlooking the main valley.
Valley of the Gods is an Epic Place to Explore in Utah
Utah is home to many amazing geological attractions, and the Valley of the Gods is one of the most impressive. However, it's rarely visited because it's impressive neighbor, Monument Valley is only 35 miles away.
This area of Cedar Mesa sandstone was sculpted 250 million years ago into buttes and monoliths, and today it offers breathtaking views.
There is a 17 mile unpaved loop that allows you to drive past these sandstone monuments. This is a great place to break out your camera or drone to capture
The Valley of the Gods is less crowded than nearby Monument Valley, making it a great option for those who want to avoid the crowds.
And since it's located on Bureau of Land Management land, there's no permit required and camping is free. So if you're looking for an Utah attraction that's truly out-of-this-world, be sure to add the Valley of the Gods to your list.
Rainbow Bridge National Monument
If you're looking for an unforgettable experience, add a visit to Rainbow Bridge National Monument to your Utah bucket list. Spanning 275 feet and standing 290 feet tall, Rainbow Bridge is one of the world's largest natural bridges.
The bridge was first discovered by the ancestors of the Navajo almost 8,000 years ago, and in their culture, it is considered a sacred symbol.
Rainbow Bridge is best visited in spring or fall, and there are several ways to get there. You can take a boat tour from Waheap or Bullfrog Marina, or you can rent a boat and make the 50-mile journey yourself.
Or, if you're feeling adventurous and you're in great shape, you can get a permit from the Navajo Nation and hike the 32-mile round-trip backcountry hike (just be prepared for some rough terrain).
No matter how you get there, a visit to Rainbow Bridge National Monument is sure to be a memorable Utah experience.
We hope that this list helps you find some of the best places in Utah that you may not have known of before. What places do you have on your Utah Bucket List? Have we missed any of your favorites? Let us know in the comments below.
---
Must Sees in Utah – Central Utah
Goblin Valley State Park is a Great Stop on a Utah Road Trip
Recommended by Ashley Jansen of Jetset Jansen
Utah is full of unique places to visit but one that looks particularly other-worldly is Goblin Valley State Park.
The state parks in Utah can often get overlooked because of the 5 National Parks within the state, but that's also an advantage when it comes to the crowds.
Goblin Valley is a little off the path and kind of in the middle of nowhere. It's about a 40-min detour south of I-70 and about 1.5 hours from Moab. However, if you have the time, it's a great stop for the afternoon or a short day trip.
This state park is full of weird looking formations, nicknamed 'goblins'.
There are 3 valleys to explore that are full of rock formations and one of the fun things about this park is that you can roam free. It's essentially a rock playground, because they allow you to climb all over the rocks here.
Some of the formations are quite large, so exploring the valleys is pretty fun, although you definitely want to keep an eye out for how to return.
As you can imagine with rocks in the middle of nowhere, there's little to no shade here. Going in the middle of summer and in the middle of the day can get extremely hot and you'll want to make sure you have plenty of water and snacks.
If you want to stay in the area, Goblin Valley does have a campground and even a unique yurt option. It's a fun place to explore and definitely worth the effort to get there!
San Rafael Swell One of the Secret Beautiful Places in Utah
Recommended by Ashlee Fechino of The Happiness Function
The San Rafael Swell is a dramatic upheaval in Utah close to Green River. The area has become one of the fastest-growing places to visit, thanks to its rock formations and wide-open spaces.
For outdoor enthusiasts of all types, the San Rafael Swell offers full enjoyment with its diverse terrain that ranges from steep canyons to wide open spaces for camping, hiking, mountain biking, and more.
It is free to explore and camp in the San Rafael Swell since it is public land managed by the Bureau of Land Management (BLM). Camping on BLM land is one of Utah's best-kept secrets because camping on public land is free!
Once campers find a dispersed campsite (meaning camping without a formal campground), it is important to be mindful not to damage biological soil crust along the way.
These complex crusted dirt ecosystems take years and even centuries before growing across arid west landscapes.
This part of Utah can be hot in the summer. The best times to hike and camp in the area are spring and fall.
Since there are practically no facilities, recreationists must bring their own food, water, bathroom equipment, electricity, etc., and practice Leave No Trace. There is limited to no cell phone reception in this remote area.
For outdoor enthusiasts of all types, whether you're a couple, a solo traveler, or family, the San Rafael Swell makes for the perfect backcountry adventure.
Dogs are even allowed in the area too! Be sure to add exploring the San Rafael Swell to your Utah bucket list!
Meadow Hot Springs is One of the Awesome Hidden Places in Utah
Recommended by Jessica Schmit of Uprooted Traveler
On a Utah road trip, a fun thing to do in central Utah is take a dip in Meadow Hot Springs. It's a series of three warm pools in the bucolic town of Meadow.
These springs reside on a private farm, in the middle of a literal cow pasture, so their more rural location has allowed this picturesque spot to fly under the radar.
The road to get to the main parking area is gravel and, while it has a few potholes, most passenger vehicles should be able to make it down the road just fine.
The first pool from the parking lot is the clearest and hottest of the springs, at a toasty 100°, making it the perfect spot to warm up during the cooler months.
The second and third pools are a bit chillier (and can be, at times, murkier) than the first and are probably a better bet to soak in during the warm summer months.
The springs are child-friendly and while leashed dogs are welcome, they must not swim in the springs themselves.
While some soakers seem to get a bit rowdy at night, plan your visit for just before sunset and watch the stars twinkle to life here- with little light pollution around. The stargazing is incredible.
During your visit, be sure to follow the posted rules and when you're done soaking, remember to pack out any of your trash.
These pools are privately owned and if treat badly, the owners may cut off access to them and prevent future hot spring lovers from relaxing at this beautiful spot.
If you're looking for a place in the area overnight, try the Best Western Inn & Resort or camping at the Fillmore KOA Journey.
Other Posts You Might Like:
Save These Best Places in Utah to Visit to Add to Your Bucket List? Pin It!