A visit to Bonneville Salt Flats in Utah allows you to see one of the most unique landscapes in America.
The Utah Salt Flats are not just home to the world-record setting land speed racers at Bonneville Speedway, it also has some great hiking and camping for those who want to get out of their cars and explore.
Visiting Bonneville Salt Flats is a highlight of a USA summer road trip and this post has all the tips that will help you have the best experience..
This site uses affiliate links, meaning if you make a purchase through our links, we may earn a commission. You can read our full disclosure policy here.
Planning a Trip to Utah? Here are some of our latest Utah posts:
Where Are the Bonneville Salt Flats in Utah?
Bonneville Salt Flats is an area of 30,000 acres of salt that are the remains of a dried up ancient lake Bonneville that was the size of Lake Michigan.
The salt flats are located about 110 miles west of Salt Lake City in Tooele County, very close to the Utah – Nevada Border. The drive from Salt Lake City to Bonneville Utah is less than two hours.
With Bonneville Salt Flats being so close to the Nevada border, it is worth noting that the drive from Reno or Las Vegas to Bonneville, Utah is 7 hours.
Bonneville Salt Flats is one of the top places to visit in Utah. If Utah Salt Flats racing or the best USA salt flats photography is on your bucket list, the drive to western Utah will be well worth it!
---
What is a Salt Flat & How Did the Utah Salt Flats Happen?
More than 14,000 years ago, ancient Lake Bonneville covered an area that was approximately half the size of the entire state of Utah – over 26 million acres!!
It's hard to conceptualize a lake being that big but if you picture Lake Michigan sitting in the middle of Utah, you get the idea.
The lake was fed from water that came from a glacier that no longer exists. Over a very long period of time, the water evaporated and left behind minerals and the dense salt crust that we see today.
This area is now home to the Great Salt Lake, basically all that is left of the prehistoric Lake Bonneville, and two kinds of salt deserts – the Great Salt Lake Desert and the Bonneville Salt Flats.
The Great Salt Lake Desert is a dry, white desert. The Utah Salt Flats are a flat expanse that has turned into an endless plane of shimmering white salt crystals under bright blue skies.
The thickness of the salt is up to 6 feet in some areas and just a very thin layer of white in others. Underneath the salt is mud that you would expect to find at the bottom of a lake.
We know this from personal experience by stepping onto an area that looked like hard packed salt and turned out to be more like quicksand that ate one of my husbands flip flops.
Important Tips For Visiting Bonneville Salt Flats in Utah
1. Best Time to Visit Bonneville Salt Flats
Visiting the Bonneville Salt Flats is a bucket list item for many travelers. However, if you are planning to visit Utah's salt flats, it is important to plan your trip carefully.
The salt flats are not always accessible due to weather conditions and can be dangerous when wet. If you want to avoid these issues and take some amazing photographs, read on!
Weather wise it's best to visit from June to September. May and October can also be good weather permitting.
Even though the weather is hot in the middle of the summer, through November because there are less people around and you'll have a better chance for peace and quiet.
There also tends to be snow on the ground in these months which means some spectacular photo opportunities with snowfall in the background!
While this area is very desolate and beautiful, the most exciting time to visit the salt flats is during an event. You'll find the details in section 8 below.
The excitement in the air as vehicles scream across the landscape at over 400 miles per hour during speed week or as hundreds of runners take part in an ultra marathon.
2. Bonneville Salt Flats Weather Can Be Extreme
Weather is a factor when visiting Bonneville. When we were there it was a stifling 90 degrees at night. Let's just say we had some RV air conditioner envy from our little tent.
That said, summer is a good time to go because it's dry. If we were doing it again, we would take a van or RV with A/C.
Spring – Average temperatures: March 53/33 F (12/0 C), April 61/41 F (16/5 C) and May 72/50 F (22/10 C)
Spring sees a huge change in weather from March to May. While the temperature may be conducive to a visit, you should know that the salt flats are often wet and the dreary weather can be a bummer.
You can take cool water photos sometimes when the flats become like a reflective mirror.
Summer – Average temperatures are highs of 90 F (32 C) and lows of 65F (18C)
Summer weather is hot, hot, hot! It is a dry heat so it's not awful but there is is absolutely no shade and when we were there no breeze either.
The good news is that it cools off over night. At this time, you can expect the salt flats to be dry allowing you to drive out on them.
Fall – Average temperatures: September 78/54 F (26/12 C), October 62/42 F (17/6 C) and November 47/29 F (8/-1 C) with 6-8 days of precipitation.
Like spring, fall sees a big change in weather from September to November. Early in fall is a good time to visit. After October, it starts getting dreary and cold.
Winter – Average temperatures are highs of 40F (-1C) and lows of 20F (-7C) with 8-10 days of rain or snow.
The temperature from December to February is pretty consistent with February being just a tad warmer but let's just agree, it's cold!!
It's also often wet, damp and snow is a possibility. Be prepared with the right gear to stay warm.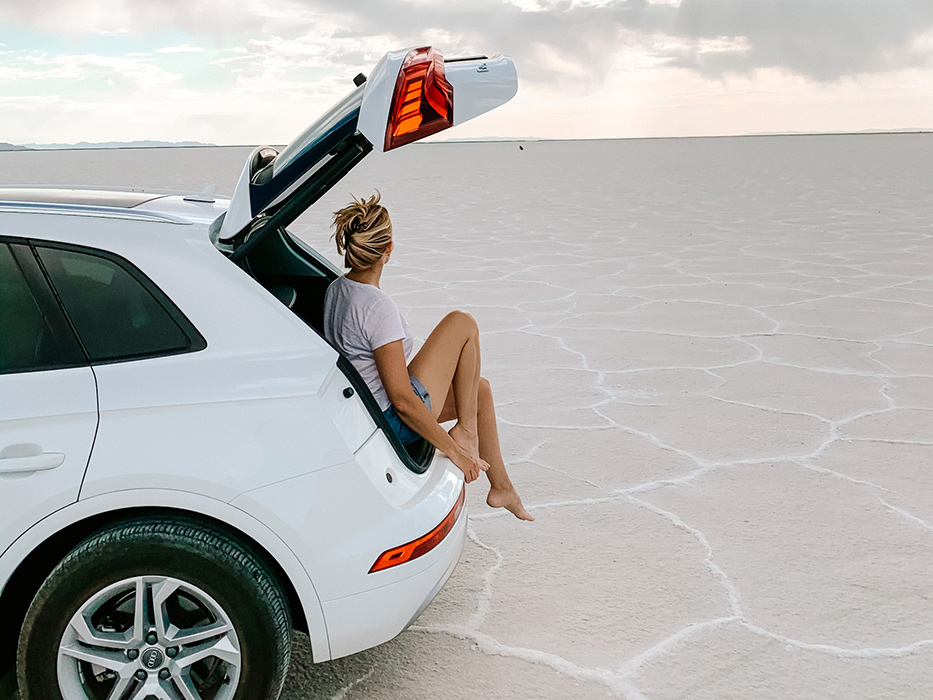 3. You Are Allowed to Drive onto the Bonneville Salt Flats
There is a Salt Flats rest area with plenty of parking and a place to drive down onto the salt. The salt is very hard and easy to drive on unless it's wet.
You'll be amazed at how big of an area it is and how far you can drive! If you're traveling with a new driver, this is a perfect place for them to test out their driving skills.
4. Don't Drive on the Salt Flats When it Rains
The salt flats are quite delicate even though you will find parts that feel surprisingly solid and hard. Below the perfect white salt crust is soft mud. Driving on the flats when they are wet will create damage to the salt and potentially your car.
Caution: We stopped at a spot off the side of the road about 20 minutes before the flats that deceivingly looked like a perfect spot for a photo. Guy stepped on it in flip flops and immediately started sinking like quicksand.
Thankfully he made it out but one of his shoes was not so lucky. When you visit Bonneville Salt Flats, be careful where you walk, especially when it's wet.
5. Bonneville Salt Flats Kayak Location is Off Limits
You may have seen the incredible photos that went viral of people kayaking in impossibly blue water in Utah and wondered how to make it happen.
Unfortunately, the Potash Canals are industrial and not meant for any type of recreational activity. They are also not open to the public.
For the people who will do anything to get an instagram photo, in addition to trespassing, you would have to park on the I-80, which is illegal and unsafe.
6. Camping on BLM Land at Bonneville Salt Flats is Free!
Bonneville Salt Flats camping is on Bureau of Land Management (BLM) Land and it's awesome! You can drive up in an RV, camper van or just your car and pitch a tent. T
There is plenty of room to find a somewhat private location with a beautiful view. The ground has a hard packed layer of dirt and salt that makes the perfect flat spot if you are putting up a tent or want a seating area outside your RV.
It's relatively clean, not muddy and bug free, at least when we were there. The only downside is that it can get hot in summer if you're there with a tent or a van with no A/C.
To find the BLM campground, I-80 Exit 4 at Leppy Pass Road and go right.
You will see places to camp on both sides of the road at the intersection of Leppy Pass Road and Bonneville Speedway Road. It's close to the highway but still pretty quiet.
If you want to camp at the Utah Salt Flats in a place with hookups, there are private campgrounds in Wendover.
Since you're staying in a place with limited resources, we made a list of campervan gadgets and accessories that are very helpful to have with you!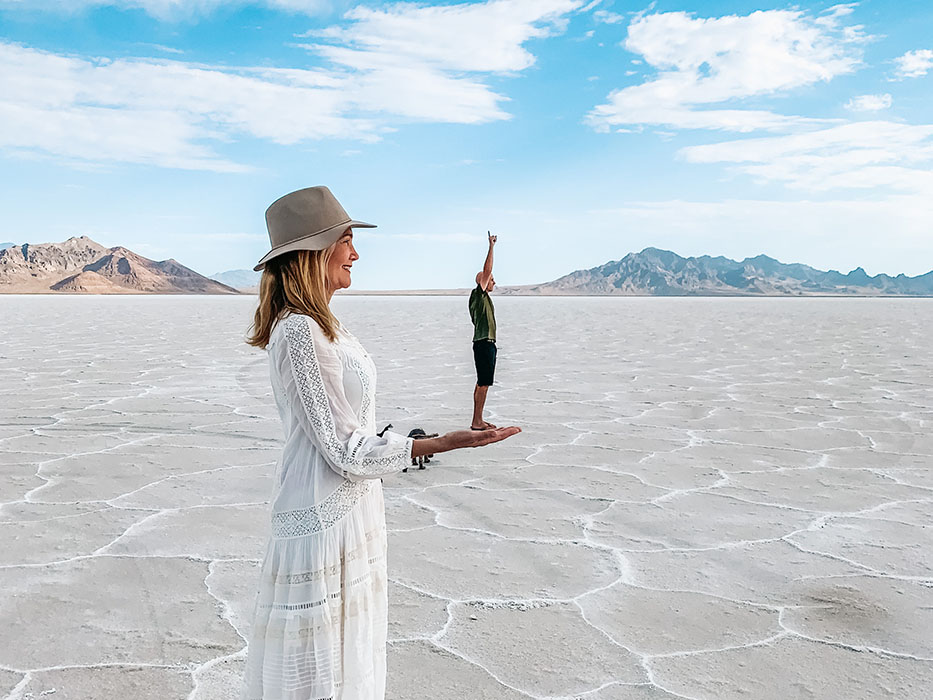 7. There Are Lots of Bonneville Salt Flats Photography Options
Mirror Photos – There are so many photo ops at Bonneville Salt Flats. When it rains and a layer of water covers the salt, it turns into a huge mirror. As mentioned above, you have to be extremely careful when the flats are wet.
Optical Illusion Photos – You can also play around with the cool optical illusions that are possible on a big flat background.. We had a little bit of fun but had a hard time keeping the dogs out of the photo. It kind of wrecks the illusion when you see them behind my hand 😂
Sunrise and Sunset photos – If you can manage to be at the flats for sunrise of sunset, it's really pretty. We felt like sunrise was better because the light lasted longer. If you camp on BLM land at Bonneville, you can catch both and tell us what you think is best.
Astrophotography – Bonneville salt flat is the perfect place to capture the Milky Way. With no light pollution, the star filled sky is spectacular.
8. Big Events at Bonneville Speedway
There are some really cool events at the Bonneville Salt Flats if you time your trip right. We got so lucky and managed to be in the area during Bonneville Speed Week. My dad told me about the rocket cars on the salt flats for my whole childhood so I was embarrassingly excited.
Salt Flats Endurance Runs
The Salt Flats Endurance runs offer 4 courses – 5K, 50K, 50 miles and 100 miles in May. It's a great race opportunity for people that really want to take on a huge physical challenge. For event details and sign up, click here.
Bonneville Speed Week
Bonneville International Speedway is well known from car enthusiasts because it's the site where land speed records are set by cars that resemble rocket ships. We went to Speed Week and IT WAS AWESOME!!
Check out our Bonneville Speed Week video to see what it's like. After watching cars and motorcycles race, you can get up close to see them afterwards. You can check the racing schedule here.
9. A Salt Lake City to Bonneville Salt Flats Tour
Much of the information here is based on the idea of visiting the Bonneville Salt Flats on a road trip.
However, if you are visiting Salt Lake City and looking for a great Salt Lake City Day Trip, you can take this Bonneville Salt Flats Tour. Have someone else do the driving and take photos of you!
Even though visiting Bonneville Salt Flats as a Salt Lake City Day Trip is 3-4 hours of round trip driving, it's completely worth it – especially for an event.
10. The Closest Hotels and Stores for Bonneville Salt Flats are in West Wendover, Nevada
The best place to stay overnight at a hotel for Bonneville Salt Flats is the Best Western Plus Wendover Inn. Keep in mind that during a Utah Salt Flats racing event, you need to reserve in advance.
As the closest town to Bonneville Salt Flats, Wendover is the place to find restaurants (mainly fast food), casinos, gas stations, and grocery stores.
Other than Wendover, your only other convenience store or gas option is at the Bonneville Speedway Road exit.
---
How to Get to Bonneville Salt Flats in Utah
The closest airport to Bonneville Salt Flats is Salt Lake City International Airport. From there you can rent a car.
Rent a Car To Visit Bonneville Salt Flats
We use Discover Cars for our rentals (we book a lot of rental cars since we travel full time). They basically check the prices at every rental car company and somehow manage to find a better deal than everywhere else.
It's smart to book early and you have nothing to lose since you can cancel the reservation if you don't need the car.
Another Great Option is to Rent a Campervan or RV for Your Utah Trip
Even though we took our own car to Bonneville Salt Flats, we ended up renting a campervan from Outdoorsy in Salt Lake City the following week to go to Zion National Park.
It was so much fun that a month later we started our own sprinter van conversion. If you want to try out van life or want a cool road trip vehicle, renting from Outdoorsy is a good way to test it out.
They have a great selection of vans (and RVs) in Salt Lake City and there are so many incredible places to visit in Utah.
---
Directions from Salt Lake City to Bonneville Salt Flats
You will take the I-80 West towards Reno. It's approximately 109 miles from the I-80 / I-15 interchange, less than 2 hours of drive time.
There is a rest stop exit to visit Bonneville Salt Flats where you can drive down onto the salt.
To get to Bonneville Salt Flats International Raceway, exit at Bonneville Speedway Road. Then drive approximately 7 minute to the entrance.
---
A trip to Bonneville Salt Flats in Utah is something you'll never forget. We highly recommend timing your visit with an event like Bonneville speed week. It's a perfect stop to add to a Utah or USA Road Trip.
Save Guide to Visit Bonneville Salt Flats? Pin it!