Traveling in January is a great time to visit so many different places around the world. Whether you are looking for a sublime warm weather getaway or some snowy adventures, there is a wide variety of places to visit during this time of year. From canoeing through crystal clear water, to enjoying incredible nightlife, to walking through a breathtaking ice festival, January has endless opportunities for whatever vacation you may be seeking. This list of best places to travel in January will have you booking your flight ASAP!
Best Places to Travel in January
Tulum Mexico
One of the best places to travel in January is Tulum, Mexico due to the warm weather and lack of rain. Out of all the amazing activities Tulum offers, visiting the cenotes is definitely something you don't want to miss. They are spread throughout Tulum and all ecompass a different adventure. whether that may be diving or admiring the variety of colors these cenotes offer. Check out our Tulum travel guide for the best to visit. Another great sight to see is Laguna Kaan Luum, a sinkhole in the jungle. Apart from water activities, it's always a fun idea to immerse yourself in some history while on vacation. You can do this by visiting the Tulum Ruins. Hotel: Nomade Tulum
Pasadena
Thanks to its historic buildings, scenic drives, and wonderful sunshine, Pasadena is a great place to visit. Descanso Gardens and the Huntington Library welcome visitors who delight in their beauty. Another treat is an afternoon at the Norton Simon Museum or shopping on Colorado Boulevard. While it's great year round, the best time to travel to Pasadena is January. Why? That's when everything comes up roses.
The Rose Bowl and Tournament of Roses Parade is the highlight of the year. On January 1st, millions turn on the TV to watch one of the most famous parades in the country. Hundreds of thousands, flock to Los Angeles and Pasadena to see it in person. Many of them in town to cheer on their team at the Rose Bowl following the parade. The beautiful floats are on display up close for the next few days. Hotel: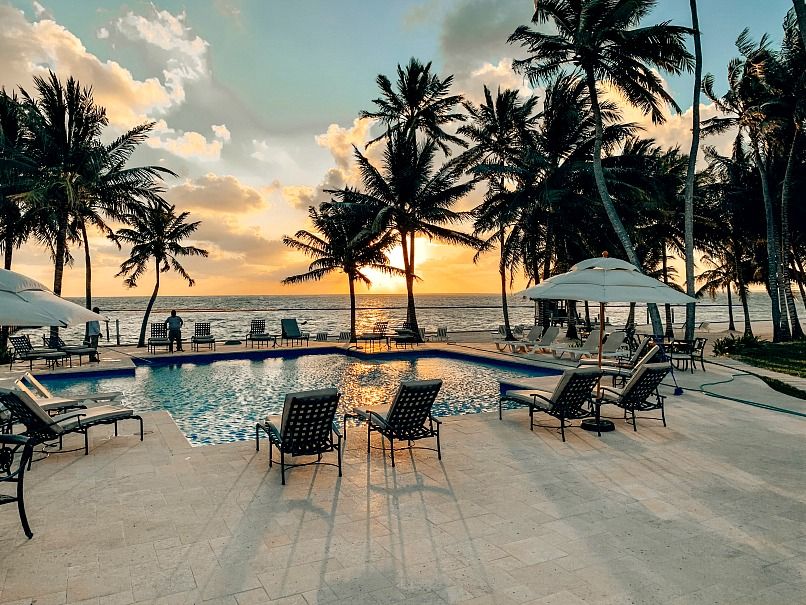 Belize
Belize is one of the best places to visit in January because of the warm days, cool nights, and cheaper airfare. If water adventures sound like fun to you, you're in luck! Go snorkeling amongst sea turtles and stingrays at Hol Chan and cave tubing down the Cave Branch river. Advanced scuba divers should head straight for the Great Blue Hole. Since that's not us, we took a bucket list flight for the best view ever. Visiting the ancient Mayan ruins and temples is something special to see as well. If encountering wild animals is of interest to you, visit the Jaguar Preserve at Cockscomb Basin Wildlife Sanctuary. Hotel: Itz'ana Resort & Residences
Phuket
It's no secret that Phuket, Thailand is a perfect winter vacation.. A very popular activity in Phuket is canoeing through Phang Nga Bay. The tall cliffs and incredible emerald green water is something you don't want to miss. Equally amazing activities can be found visiting the world famous Phi Phi Islands and more remote Khao Sok National Park. If you like wild nightlife, Bangla Road has a huge collection of nightclubs, shows, bars, and major people watching. Night markets are also a fun thing to take part in; you can stroll around and try some local foods, while watching street performances and listening to music. Hotel: The Shore at Katathani
Maldives
As winter marks the beginning of the dry season, January is the perfect month to visit the beautiful Maldives. Aside from relaxing on the white sand beaches, the Maldives has a ton of fun adventures such as snorkeling, sailing, diving and more. For those seeking some relaxation, you can find an underwater spa at Per Aquum Huvafen Fushi or even enjoy private sandbank dining at Baros. If experiencing the local culture is something that peaks your interest, visiting the "home" island of Thulhaadhoo, or attending a Boduberu, the traditional Maldavian dance, would be a fun way to immerse yourself. Hotel: Maldives Waldorf Astoria Ithaafushi
Seychelles
In January, the Seychelles is a place where the weather is nice and hot, especially for those seeking some outdoor adventure. The lush surroundings of the island provide for incredible hiking scenery. Make island's Copolia Trail is known to have the most stunning, postcard worthy views. Something to note about the Seychelles is the gigantic coco seeds that can be found in the Vallee de Mai nature reserve. If local food is of interest to you, I recommend enlightening your tastebuds with bat curry or shark chutney, yum! Exploring the Victoria Bazaar with all of its fresh food and handmade jewelry is a great thing to experience as well. Hotel: Ephilia Resort
Banff
Banff, Canada is one of the best places to visit in January. Banff's winter playground includes world class skiing, snowboarding, ice climbing and other adventures. From ice skating at Lake Louise to the Ice Walk at Johnston Canyon or seeing the spectacular frozen methane bubbles in Abraham Lake, you will be blown away by the variety of fun things to do. Check out our highlight video of Banff. Take the magic carpet at Mt. Norquay tubing park, and have a day full of laughter tubing through the Canadian Rockies. Catch the Ice Magic Festival from January 15-26 to see unbelievable ice sculptures. Hotel: Fairmont Chateau Lake Louise
Park City
Although Park City, Utah isn't one of the warmest places to visit in January, it's certainly a fantastic winter experience! Sundance Film Festival takes place January 23 – February 2, so you can mix skiing, movies and hobnobbing. If you're not watching movies or hanging with film makers in the bar, hit the slopes. The skiing and snowboarding is awesome. Park City is also known for having amazing cross-country skiing, dog sledding, snowmobiling, and tubing. It's a great trip with teens and you can spend some time in Salt Lake City too. Hotel: Hyatt Centric Park City
Harbin, China
If you've never heard of Harbin, China, you'll never forget it after seeing the World's largest Ice and Snow Festival (January 5-February 5). Global competitors create a veritable city of the largest blocks of ice carved into incredible sculptures and buildings. While this may not be the warm weather vacation you were seeking for January, it's definitely a bucket list trip. Round out your winter experience with skiing, dog sledding, and ice skating. Make time for the "must do" meal at the Shangri-la Ice Palace with tables surrounded by igloos. Pack your cold weather gear. Hotel: Wanda Vista Harbin
Abu Dhabi
Abu Dhabi can get extremely hot for most of the year. The best time to visit is in January when you get beautiful blue skies and daytime highs in the 70s. There are many extravagant sights to see in Abu Dhabi. One of the most popular is Sheikh Zayed Grand Mosque. Although not the oldest, this is one of the largest mosques in the world with 82 domes and more than 1,000 columns. Adventure seekers should take a desert tour, one of the top things to do in Abu Dhabi. Rub Al Khali, the world's largest uninterrupted sand mass, is the perfect backdrop for camel treks, dune buggy rides, balloon tours and more. Hotel: Jumeirah at Saadiyat Island Resort
Cartagena
A great place to visit in January where the weather is nice and hot is Cartagena, Colombia. A lot of exploring can be done in Cartagena, but the best place to stay and explore is the old city. Here you will find anything from picturesque streets to incredible history. If you're looking for some fun, head to El Totumo, a volcano with thick mud you that you can play and bathe in. Great views can also be found at Covento De La Popa, the highest point in the city. Extend your trip with a full Colombia itinerary. Hotel: Casona del Colegio
These are the best places to travel in January during the winter season. Whether you are seeking a vacation after the holidays or some adventure in the new year, these 10 destinations were handpicked for you. If you still need some more inspiration, check out the Best Places to Travel in December or the Best Places to Travel in February.
---
Our Favorite Travel Items

---
Other Warm Places to Visit in January:
Save The Best Places to Travel in January – Pin it!