The best places to visit in January include sublime warm weather getaways and snowy adventures in the USA and around the world.
Imagine canoeing through crystal clear water, enjoying incredible nightlife, or walking through a breathtaking ice festival as big as a city, This list of the best places to travel in January offers endless opportunities.
We have split this into 3 categories. First are the best places to visit in January in the USA. Next up are the places that are very close to the US and a quick trip to get there.
Finally we included January bucket list destinations that are amazing trips if you're ready for something big. This list of best places to travel in January will have you booking your flight ASAP!
This post contains affiliate links. If you book or buy something through one of these links, we may earn a commission. There is no extra cost to you. You can read our full disclosure here.
Best Places to Visit in January in the USA
Pasadena, California in January
Thanks to its historic buildings, scenic drives, and wonderful sunshine, Pasadena is a great place to visit.
Descanso Gardens and the Huntington Library welcome visitors who delight in their beauty. Another treat is an afternoon at the Norton Simon Museum or shopping on Colorado Boulevard.
While it's great year round, the best time to travel to Pasadena is January. Why? That's when everything comes up roses. The Rose Bowl and Tournament of Roses Parade is the highlight of the year.
On January 1st, millions turn on the TV to watch one of the most famous parades in the country. Hundreds of thousands, flock to Los Angeles and Pasadena to see it in person.
Many of them are in town to cheer on their team at the Rose Bowl following the parade. The beautiful floats are on display up close for the next few days.
Since Pasadena is part of visiting Los Angeles, make sure you take one of the many scenic drives, head to Malibu for a hike and to see the prettiest beaches in Southern California.
Mammoth Lakes, California in January
When looking for a snowy getaway, there might not be a more beautiful choice than Mammoth Mountain, high in the Eastern Sierra of California. The ski resort has more than 3,500 acres for skiing and snowboarding.
Nearby June Mountain adds another 1,500 acres of skiable terrain making Mammoth Lakes one of the best places to ski in January.
But there's so much more available in this area like cross country skiing at Tamarack Cross Country Ski Center, tubing at Wooly's Tube Park or Ice Skating. For bigger adventures snowmobiling and ice climbing are available.
For sightseeing, June and Mono lakes are winter beauties. Hot Creek Geologic Site is another stunning spot.
So whether you love hitting the slopes or visiting geographically interesting places, you will completely understand why Mammoth Lakes is one of the best places to visit in California in winter.
Park City, Utah in January
Park City, Utah is one of the best places to ski in January in the US because there's tons of snow and the city is abuzz with the film industry. Sundance Film Festival takes place in January, so you can mix skiing, movies and hobnobbing.
If you're not watching movies or hanging with film makers in the bar, hit the slopes. The skiing and snowboarding is awesome.
Park City is also known for having amazing cross-country skiing, dog sledding, snowmobiling, and tubing.
A great way to get away from the crowds and enjoy the beauty of winter is with a private snowshoe tour. In addition to beautiful views and great exercise, you might see some wildlife.
Make sure to spend some time in Salt Lake City too since you'll be flying in and out of the airport. You might be able to catch a performance of the famous Tabernacle Choir.
We spent a whole month in Utah in January checking off incredible adventures on our Utah Bucket List and highly recommend it. Kanab Utah is not that cold and it makes great hiking weather.
Minneapolis, Minnesota in January
A visit to Minneapolis in January, is a must for the 10 day Great Northern Festival names one of the best winter festivals in the US by Travel + Leisure, Condé Nast Traveler and Food & Wine magazines..
Visitors and locals celebrate winter with incredible food, art, and winter activities. Try out pond hockey, fat-tire bike racing, skijoring, watch the US Pond Hockey Championships or participate in the ice and snow sculpture competitions.
Foodies will surely enjoy the regionally curated drink and food-focused experiences. The festival runs from January 25 – February 5, 2023.
One of the prettiest events is scheduled for the beginning of February this year – The City of Lakes Luminary Loppet. Traverse Lake of the Isles on a candlelit trail with 1,200 luminaries, unique artistic installations, fire dancers and more.
Minneapolis might not seem like the obvious January travel destination but its vibrant nightlife with fun brew pubs and live music, the classic architecture, and the Mall of America make it a great place to visit.
Don't forget to see the 53-foot-high frozen Minnehaha Falls in Minnehaha Regional Park and visit the Chain of Lakes Regional Park, which has one of the best cross-country ski trails.
Where to Stay in Minneapolis:
RELATED POST: 60 USA Bucket List Trip Ideas
---
Best Places to Travel in January Near the USA
Tulum, Mexico in January
One of the best places to travel in January is Tulum, Mexico due to the gorgeous sunny days and lack of rain. It's high season but Tulum is more low key than other neighboring spots so it still feels perfect.
In January, music lovers will have their choice of shows at the Zamna Music Festival and Day Zero Festival. If you are planning a trip to Tulum in January, make sure to get your tickets early.
This Mexican enclave is known for art installations like Daniel Popper's Van a Luz sculpture, fabulous hotel architecture, delicious food, white sand beaches, yoga retreats and more.
Out of all the amazing activities Tulum offers, the cenotes are a highlight. They are spread throughout Tulum and each encompasses a different adventure, whether that may be diving, swimming or admiring the striking colors.
Don't miss the Tulum Archeological Ruins that put this area on the map. It's the only mayan ruins that can be found on a beach. Laguna Kaan Luum, although further away, is also worth a visit.
Our Tulum travel guide has everything you need to know to plan a trip including a list of activities, the best restaurants and the best places to stay in Tulum.
Traveling with your family? There are also fun things to do in Playa Del Carmen with kids.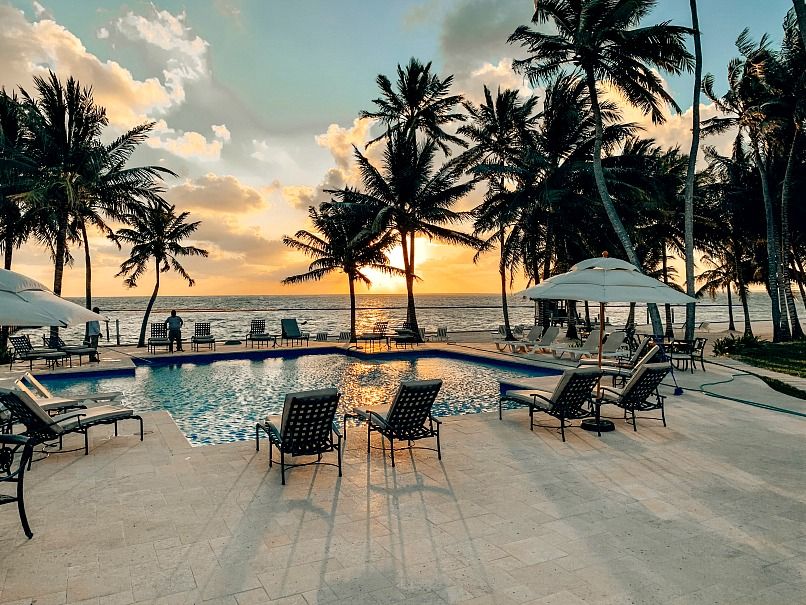 Belize in January
Belize is one of the best places to visit in January because of the warm days, cool nights, and cheaper airfare. If water adventures sound like fun to you, you're in luck!
Go snorkeling amongst sea turtles and stingrays at Hol Chan and cave tubing down the Cave Branch river. The Actun Tunichil Muknal (ATM) Cave Tour is one of the most popular activities and best things to do in Belize.
A day trip to see the Tikal archeological complex is an absolute must. This UNESCO World Heritage Site and massive Mayan kingdom is much more impressive than Chichen Itza, yet somehow off the radar of most tourists.
Advanced scuba divers should head straight for the Great Blue Hole. You can also do a snorkeling tour of the Blue Hole. We opted for a bucket list flight over the Great Blue Hole for the best view ever.
Visiting the ancient Mayan ruins and temples is something special to see as well. If encountering wild animals is of interest to you, visit the Jaguar Preserve at Cockscomb Basin Wildlife Sanctuary.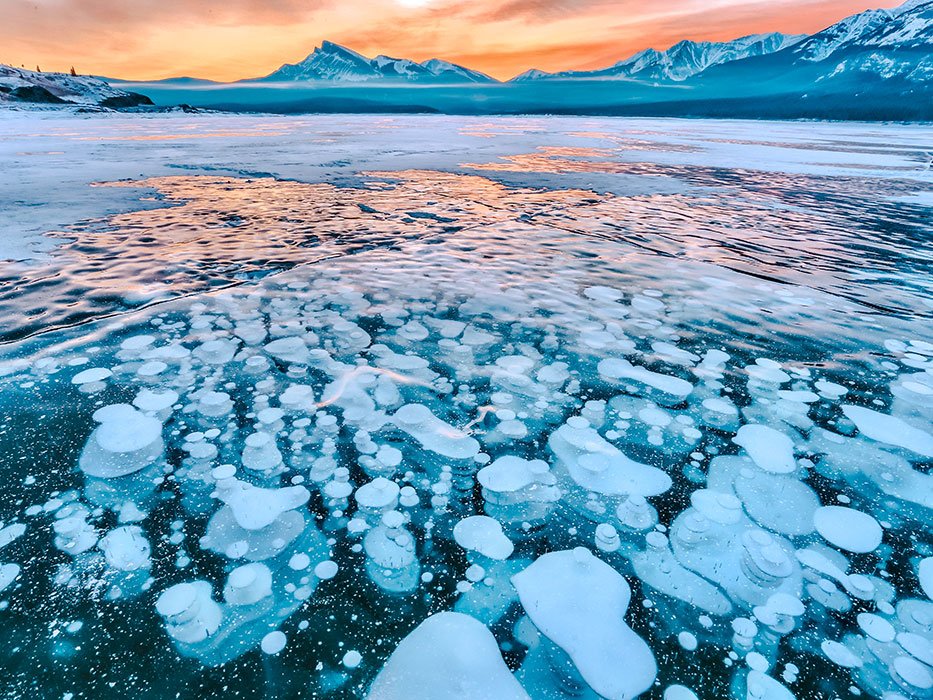 Banff National Park, Canada in January
Banff, Canada is one of the coolest places to visit in January and we're not talking about the weather. There are so many fun things to do in Banff in winter and the scenery is simply stunning.
The most bucket list worthy activity (and the main reason we went to Banff in January) is to see the frozen methane bubbles in Abraham Lake. It's a day trip from Banff that draws people from all over the world.
Banff a perfect family trip over winter break. Banff's winter playground includes world class skiing and snowboarding.
For lots of fun and laughter, take the magic carpet at Mt. Norquay tubing park, and go tubing through the Canadian Rockies.
Ice skating and ice fishing on Lake Louise are both crowd pleasers. You can also take a horse drawn sleigh ride, a snowmobile tour and see intricate ice sculptures at the Ice Magic Festival.
One of the most memorable things to do is an Ice Walk at Johnston Canyon where you can enjoy beautiful scenery and see ice climbers in action. A trip to Banff in Winter should be high on your list!
---
Best Places to Travel in January Around the World
Tromsø, Norway in January
Tromsø, Norway is one of the best places to experience an unforgettable winter visit!
Located almost 250 miles north of the Arctic Circle, you can witness the magical northern lights with their dramatic and vibrant colors during the Polar Night period.
Take a unique northern lights aurora hunting tour with a photographer that will help you capture extraordinary images of your European bucket list experience.
In January, Tromsø hosts the Polar Night half marathon on a torch lit route. Even though the race takes place mid day, it looks like the middle of the night since the sun never rises. The race has 5k, 10k, 21K, and a 42k category!
Also on offer during the night that never ends, be sure to take a ride on Fjellheisen cable car and enjoy some fjord cruising while whale watching! Adventurers should take a dog sledding tour or learn about the Sami Culture and visit a reindeer farm.
For those daring enough, stay overnight in an ice hotel and make your visit to Tromsø Norway one truly worth remembering.
Phuket, Thailand in January
It's no secret that Phuket, Thailand is a perfect winter vacation. With 2 Days in Phuket, you can trade the winter cold for picture perfect days relaxing on white sand beaches and exploring the incredible karst landscapes.
A very popular activity in Phuket is canoeing or taking a long tail boat through Phang Nga Bay to James Bond Island. The tall limestone cliffs and incredible emerald green water is something you don't want to miss.
Equally amazing activities can be found visiting the world famous Phi Phi Islands. Take a day tour to the Phi Phi Islands and Maya Bay. You will cruise through some of the prettiest bays on the planet.
Hike up to the Phi Phi view point and get a bird's-eye view of it all. You'll have multiple opportunities to snorkel and see marine life as well as a stop at Monkey Island.
If you have enough time, a trip to the more remote Khao Sok National Park is well worth it. Take a jungle tour, go cave trekking, or take a boat tour on Lake Cheow Lan.
For those that love wild nightlife, Bangla Road has a huge collection of nightclubs, shows, bars, and major people watching.
Night markets are also a fun way to experience the local culture. Stroll around and try some local foods, while watching street performances and listening to music.
Maldives in January
As winter marks the beginning of the dry season, January is the perfect month to visit the beautiful Maldives.
Aside from relaxing on the white sand beaches, the Maldives is the perfect combination of adventure and relaxation.
From taking a sunset boat tour to island hopping you will enjoy the gorgeous weather and beautiful vistas.
There are multiple ways to enjoy the Indian Ocean from snorkeling with nurse sharks to shredding waves at bucket list surf spots.
If you want something off the beaten tourist track and away from it all, why not visit one of the many deserted islands that dot the Indian ocean?
For those seeking some relaxation, the resorts in the Maldives offer memorable experiences.
You can find an underwater spa at Per Aquum at Huvafen Fushi or even enjoy private sandbank dining at Baros Resort.
If experiencing the local culture is something that piques your interest, visiting the "home" island of Thulhaadhoo, or attending a Boduberu, the traditional Maldavian dance, would be a fun way to immerse yourself.
With its incredible landscapes, vibrant culture and plethora of activities on offer – not to mention its idyllic weather – what more can you ask for?
Harbin, China in January
If you've never heard of Harbin, China, you'll never forget it after seeing the World's largest Ice and Snow Festival (January 5-February 28). Global competitors create a veritable city of the largest blocks of ice carved into incredible sculptures and buildings. While this may not be the warm weather vacation you were seeking for January, it's definitely a bucket list trip.
Harbin is very different than most of China. It was established as a stop on the Trans Siberian Railway and initially populated by many Russians.
Consequently, the architecture is a mix of Chinese and Russian influence. You can learn a lot about the early Russian culture by visiting Volga Manor and Saint Sophia Cathedral.
Round out your winter experience with skiing, dog sledding, and ice skating. Make time for the "must do" meal at the Shangri-la Ice Palace with tables surrounded by igloos. Pack your cold weather gear.
Abu Dhabi, UAE in January
Abu Dhabi is one of those places you really want to visit when the weather is good. Unbearably hot for most of the year, Abu Dhabi weather in January is delightful with beautiful blue skies and daytime highs in the 70s.
In January, the Al Dhafra Festival celebrates the Emirati culture with falconry, horse racing and even a camel beauty contest. Or learn about 250 years of Abu Dhabi history through creative events and cuisine at the Qasr Al Hosn Festival.
There are many extravagant sights to see in Abu Dhabi. One of the most popular is Sheikh Zayed Grand Mosque. Although not the oldest, this is one of the largest mosques in the world with 82 domes and more than 1,000 columns.
Another must see is the art collection at the Louvre Abu Dhabi and the stunning architecture of the building itself.
Adventure seekers should take a desert tour, one of the top things to do in Abu Dhabi. Rub Al Khali, the world's largest uninterrupted sand mass, is the perfect backdrop for camel treks, dune buggy rides, balloon tours and more.
Cartagena, Colombia in January
January in Cartagena is simply spectacular! If you're ready to soak up the warm sunshine, get sand between your toes and taste some of the best Colombian cuisine in the country, then it's finally time to plan a trip.
Visit the historic Walled City with its brightly colored colonial architecture and delightful cobblestone streets for enchanting sightseeing. Then immerse yourself in history in Plaza Aduana and see performers in beautiful Plaza Bolivar.
Make sure to try the street food in the plazas. The locally made Arepas are a mouthwatering treat! For sunset, head over to Cafe del Mar on the old city wall for a glass of wine with beautiful vistas sure to light up your night.
If you're looking for some fun, head to El Totumo, a volcano with thick mud you that you can play and bathe in. Great views can also be found at Covento De La Popa, the highest point in the city.
Don't forget about touring the Rosario Islands, where you can find some heavenly white sand beaches only an hour away from Cartagena. It's worth extending your trip beyond Cartagena with a full Colombia itinerary.
---
These are the best places to travel in January during the winter season. Whether you are seeking warm winter weather or some adventure in the new year, these destinations were handpicked for you. If you are looking for more winter inspiration, check out the Best Places to Travel in December or the Best Places to Travel in February.
---
Our Favorite Travel Items

---
Other Warm Places to Travel in January:
Save The Best Places to Visit in January – Pin it!