If you're looking for a summer adventure that's full of outdoor activities, beaches, and adorable shops, a day trip to Block Island is the perfect getaway.
Whether you want to go for the day or the weekend here are some of the best things to do on Block Island, especially with kids.
A 30 minute ferry ride from Rhode Island will transport you to this East Coast island gem that exudes storybook charm and the laid back feeling of summer. A trip to Block Island definitely deserves a spot on your USA bucket list.
Best Time to Visit Block Island
The busiest time to plan a trip to Block Island is in the summer months of June, July and August. The island is alive and everyone is having fun. During this time, it's best to plan ahead and make reservations including ferry tickets.
Highs are in the 70s and lows in the 60s from mid June to mid September. You can also expect some summer rain.
If you prefer to enjoy this beautiful island more peacefully, plan your trip in late Spring or early Fall. The weather is still nice and it's definitely more chill.
Best Things to do on Block Island Day Trip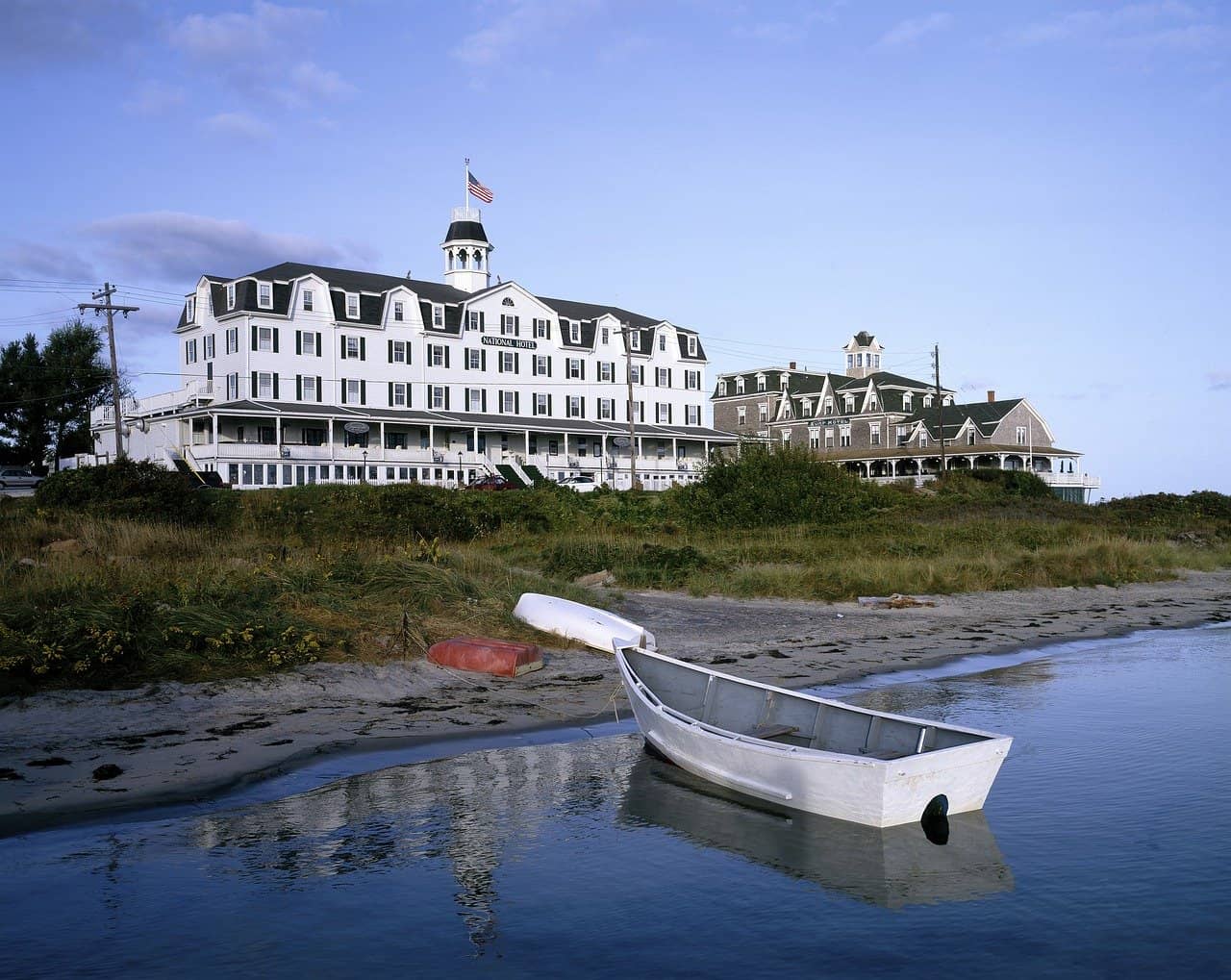 1. Tour Block Island on a Bicycle or Moped
One of the first things you'll notice when you arrive on Block Island, is the charming Old Harbor Historic District. After a quick look around and maybe a bite to eat at Ballard's Beach Resort, you'll probably want to check out the rest of the island.
Island Moped and Bike Rental is right across the street from the ferry. Rent a scooter or a bike by the hour, day or week. Helmets are included in your rental. If you are bringing the kids, they have trailers and baby seats.
Plus, cruising around on a bike or moped is one of the most fun things to do on Block Island. Everything is pretty close, so it's the perfect mode of transport.
Since we were meeting friends that were staying on block island with a car, we were all set. Not surprisingly, the guys still jumped at the chance to tour the island on motorcycles.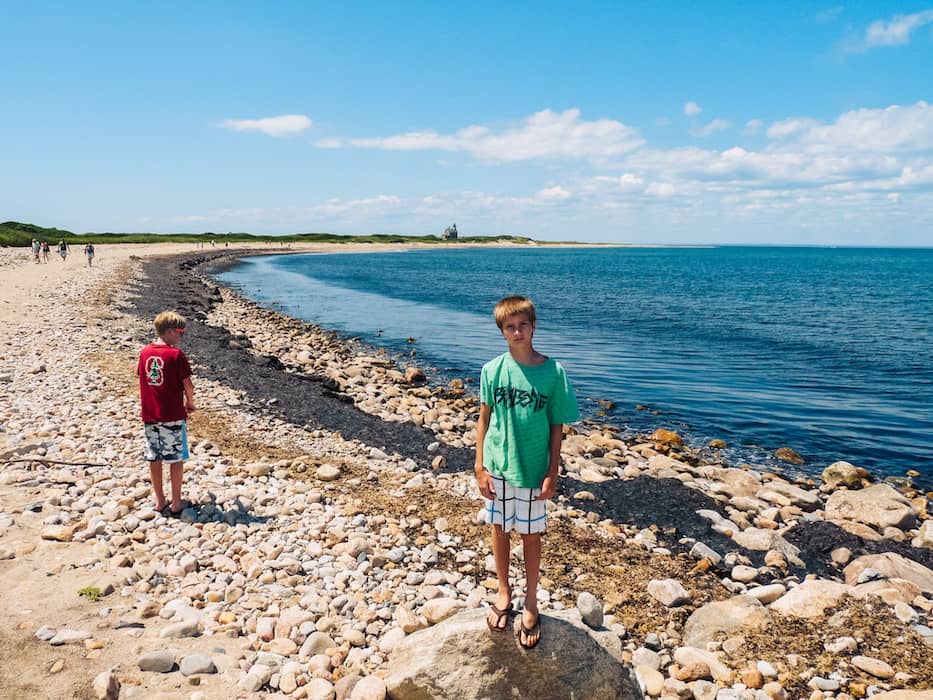 2. See Wildlife and Beautiful Views at the Block Island National Wildlife Refuge
Block Island National Wildlife Refuge is a 134 acre parcel of land and one of the most unique and beautiful places on the island. It's a popular spot for bird watching, as it is home to many different species of birds including migratory songbirds.
This is a chance for you to see undeveloped New England coastal wetlands. It provides a haven for threatened species as well as an amazing variety of plant and animal life.
It's about 4 miles from the ferry to the parking area at the end of Corn Neck Road. If you arrive early, you'll probably see a lot of seals and other wildlife that seem to become scare later in the day. Bring shoes to comfortably walk along the rocky beach.
3. Walk to the North Light and Beyond
No visit to the island is complete without a stop at Block Island North Light, one of the most iconic landmarks on the Island. Built in 1829, the North Lighthouse stands as a testament to the island's rich maritime history.
The lighthouse was open to the public (then closed during covid). offers stunning views of Block Island Sound. Visitors can also enjoy a stroll along the nearby beach, taking in the fresh sea air and admiring the view.
To get to North Light, simply take a leisurely walk from the parking area for the Block Island National Wildlife Refuge. It's approximately 1/2 mile. Continue walking past the lighthouse where the water converges over the end to see the seals.
4. Explore Great Salt Pond by Kayak, SUP or Take a Tour
If you're looking for a unique way to explore Block Island, why not consider kayaking or SUPing? Great Salt Pond is the perfect place to start, and there are plenty of tour options available.
Whether you're a beginner or an experienced paddler, you're sure to enjoy your time on the water. And who knows? You might even spot some wildlife!
Pond and Beyond Kayak has kayaks and stand up paddle boards available to rent unless you are lucky enough to have brought an inflatable kayak with you.
They also offer tours for individuals and families during the day and at sunset. Probably the coolest thing they offer is a full moon tour that is kissed by moonlight. So what are you waiting for? Grab your paddle and get ready for an adventure.
5. Go sailing on the Great Salt Pond
There's nothing quite like spending time out on the water. Block Island Club offers charters by the hour for leisurely afternoon cruise on the Great Salt Pond, can definitely fit in your Block Island Day Trip itinerary.
There are also plenty of charter companies that offer longer and more adventurous options, such as round-island cruises and sunset sails. So whether you're a seasoned sailor or a complete novice, Block Island is sure to offer a sailing experience that you'll never forget.
6. Seafood and a Mudslide at The Oar is a Highlight on Your Block Island Day Trip
If you're looking for a quintessential Block Island seafood restaurant, look no further than the Oar. Always full of boaters, locals and tourists that love the atmosphere, it's a great place to get a lobster roll and sip on a famous Block Island Mudslide.
They serve lunch and dinner daily in a colorful, oar clad dining room, on the covered deck or at picnic tables and Adirondack chairs on the lawn. The sushi is excellent as well as the calamari and Mahi Mahi tacos.
The food is great but the real star of the show is the view of the Great Salt Pond. So enjoy your meal with a view and don't miss their farm across the street with exotic animals like kangaroos, alpacas and camels.
7. A Block Island Day Trip "Must See" is the 1661 Exotic Animal Farm & Gardens
It doesn't get any better than the 1661 Exotic Animal Farm for fun things to do on Block Island. In addition to kangaroos with babies in their pouch, you'll also find camels, llamas, lemurs and more. It's thrilling for kids and adults alike.
Garden lovers will also appreciate the orchard and stunning array for colorful flowers. You'll find this little slice of New England paradise right across from the 1661 Inn in Old Harbor..
8. Tour the Highest Lighthouse on the East Coast
The Southeast Lighthouse, perched on the top of the Mohegan Bluffs overlooking the Atlantic Ocean, has the unique distinction of being the highest lighthouse on the East Coast at 200 feet.
It has been an important part of the island's history for centuries, and it offers stunning views. Impressively it was moved in 1993 back away from the edge of the bluff. Recently a full renovation was completed and is open to the public.
Hours are 10am to 4pm. Open daily during summer and weekends from Labor Day to October 10. Closed winter. Docent Tour $15 and kids under 9 are free with an adult.
9. Hike up Mohegan Bluffs for stunning views of the ocean
One of the island's most popular attractions is Mohegan Bluffs, a series of steep cliffs that offer panoramic views of the Atlantic Ocean. Visitors can hike to the top of the bluffs or take the stairs down to one of the prettiest Block Island beaches below.
Either way, it's a stunning sight. And on a clear day, you can see all the way to Montauk Point in New York. So whether you're looking for a vigorous hike or just a place to relax and take in the scenery, Mohegan Bluffs is well worth a visit.
10. Go Fishing
For the angler looking to wet a line, Block Island is a prime destination from May through November. The island's waters are home to a variety of fish, including striped bass, sea bass, bluefin tuna, fluke and more.
Cast your lines from shore or from a boat, and while daytime fishing can be productive, it's typically best to fish at night. That's when the big ones come out to play.
So whatever your preference, Block Island is sure to have something for you. The island has several charter boats that can take you out for the day or night. Block Island Fishworks has a bait and tackle shop and charters along with kayak rentals.
---
How to Get to Block Island
T.F. Green International Airport (PVD) in Providence, Rhode Island is the closest major airport to Block Island. It's 42 miles from the ferry terminal in Pt. Judith.
The Block Island ferry in Point Judith has a fast 30 minute high speed ferry or a one hour traditional ferry that takes cars too. It's a pleasant way to make the 12 mile trip offshore.
There are also ferries available from New London, Connecticut and Montauk, New York. They take about an hour and fifteen minutes. Block Island has an airport too but most people opt to take the ferry.
Once you arrive, you'll be centrally located in Old Harbor Historic District to start your Block Island day trip. Head right across from the ferry landing to rent bikes or a moped to get around the island from Island Moped and Bike Rental.
Check the Block Island ferry schedule and buy your Block Island ferry tickets here.
---
Where to Stay on Block Island
Want to make a weekend of your trip to Block Island? We don't blame you. Here are some cute places to stay overnight. These are all walking distance to town.
Block Island Beach House (8.8) – With cute beachy decor, 31 rooms with private bathrooms, dining on a wrap around deck and a swimming pool, this is a charming spot to set up for the weekend.
Neptune House (8.9) – great choice for families with an outdoor pool. All rooms equipped with a kitchen, dining area, seating area, and private bathroom. Choose from a studio, one or two bedroom apartment.
Old Town Inn (9.6) – This small inn has 10 rooms with private bathrooms, and set on a gracious property with a tennis court. It's a nice spot for couples and they offer a daily buffet breakfast. It's also pet friendly.
If you just want to do a Block Island day trip and need a hotel near the Pt. Judith ferry or in Newport::
The Break Hotel (9.3) – Bright coastal decor, spacious rooms, sea views, delicious complimentary breakfast and an outdoor pool in Narragansett by the ferry.
Attwater Hotel (9.0) – Stylish, comfortable rooms, great location, attentive staff and delicious food. Great for couples or families.
Pelham Court Hotel (9.4) – Condo hotel with fully equipped kitchens in a great location and pet friendly.
---
Block Island is a great place to visit for a day trip. There are plenty of things to do, and the island is small enough that you will find it easy to get around. So whether you're looking for a relaxing day trip or a fun-filled adventure, Block Island is the perfect destination.
Save This List of Things to do on a Block Island Day Trip For Later? Pin it!