If you made a plan to go hiking and you're not sure what to pack for a day hike, you're in the right spot. These 10 hiking essentials are just that – the most important things you should bring on any day hike, anywhere.
This day hike packing list will also come in handy when you are planning for a trip that includes hiking. Whether you're packing for a USA road trip or you are doing a Europe bucket list trip that includes hiking, this post has all the basics that you need.
This post contains affiliate links. When you purchase a product through our links, we may earn a commission. There is no extra cost to you. You can read our full advertising disclosure here.
What to Pack for a Day Hike: The Ten Essentials of Hiking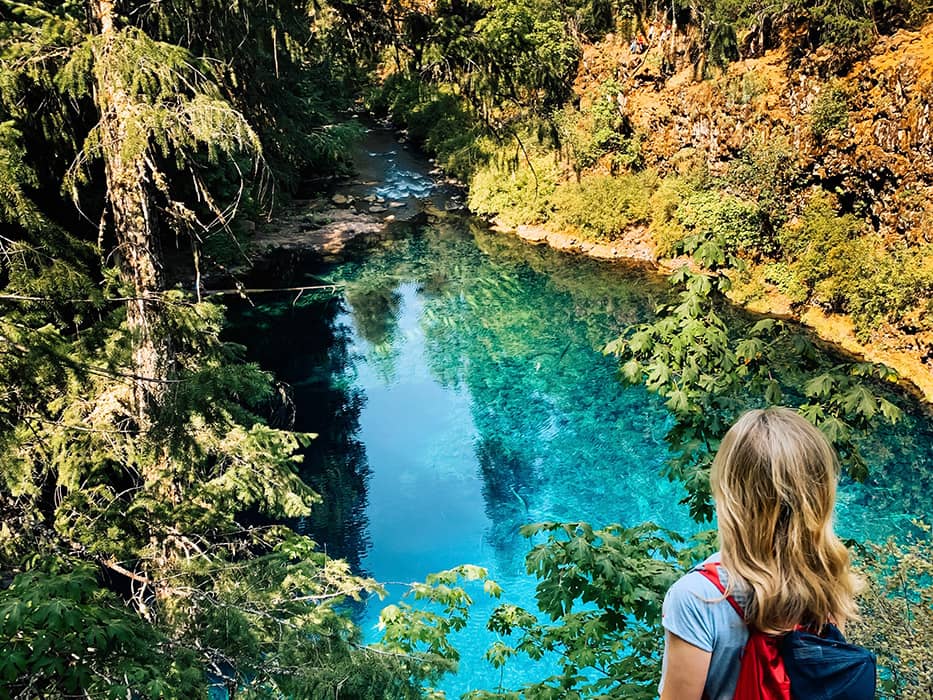 1. Daypack for Hiking
One of the most important day hiking essentials is your backpack. Backpacks can make or break your trip. In addition to needing a daypack to hold your gear, some of the easiest hikes can require you to be hands free at times.
Day packs are typically without an internal or external frame and range in size from 20-35 liters. The design varies when it comes to storage and organization. Some are best for people who carry more gear or a camera and others are lightweight and easily packable in a suitcase.
Best Day Hiking Backpacks:
---
What to Pack for Day Hiking
Hydration System
Another must have on the list of day hiking essentials is a hydration system. This can be as simple as a water bottle or a hydration bladder and drinking tube. Find a system that works best for you.
While not always necessary, another piece of your hydration system could also include a water filter. Bringing a water filter can give you peace of mind that you'll be able to safely stay hydrated if you run out of water or you get lost.
Sun Protection
Aside from rolled ankles and minor scrapes, the most common injury that people encounter while day hiking is sun related. These range in severity from mild sun burns to full on heat stroke.
Sunscreen and Lip Balm
The first layer of protection you'll want is sunscreen. The best sunscreen to pack for day hiking is a Water Resistant Broad Spectrum SPF 50 Sport Sunscreen that isn't washed away by perspiration.
Hiking to a waterfall? Use a Reef Friendly SPF 50 sunscreen that protects the environment from chemicals. Also bring Lip Balm with SPF.
Brimmed Hat and Sun Umbrella
The next layer of sun protection is a Men's vented hat or a Women's sun hat for hiking. Hats help deflect the UV rays and keep your head cool. Most importantly they provide a little shade around your face and eyes.
There are some hikes with absolutely no shade like The Wave in Arizona where a UPF 50+ UV Protection Sun Umbrella will be a lifesaver.
Sunglasses
And the last layer of sun protection is a good pair of Men's sunglasses or Women's sunglasses. Not only do sunglasses help you deal with the brightness of the sun, but they also protect your eyes against those harmful UV rays.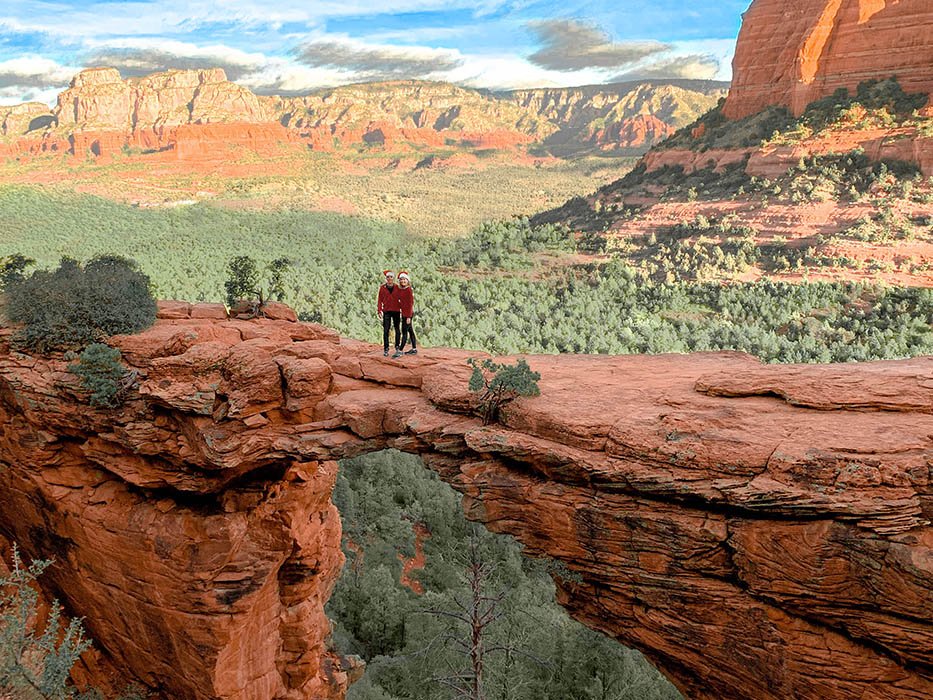 Navigation Tools
Plan your route ahead of time on AllTrails or GAIA GPS App, then refer back to it during the hike to stay on course. As long as you have the map up on your phone, you can see where you are, even out of cell phone range.
An extra level of safety is a Handheld Mini GPS. It has navigation the ability to trace your route back. You can send text messages and share your location with loved ones. With up to 14 days of battery life, you'll definitely have peace of mind when your phone is out of range. Practice using your GPS ahead of time.
None of these navigation tools will do you any good if you run out of juice. Bring a Portable Power Bank and/or a solar power bank with flashlight that charges along your hike when it's exposed the sun.
Lastly, bring a paper map and compass. Learn how to use it prior to taking a hike that's off the beaten track and pack it in a waterproof pouch to protect it.
Safety Gear for Hiking
When you go out for a hike, the last thing you usually think of is the worst-case scenario. But tragically, many people end up getting lost, hurt, or worse when they don't take into consideration the potential danger of getting on trail.
Even if you aren't going deep into the backcountry for an extended backpacking trip, it's imperative to be prepared to deal with an emergency.
The hiking essentials below are important to have to on hand when you go hiking, but make sure that you are proficient at using them too.
Consider taking a basic first aid class or signing up for a wilderness first responder class. This will give you the skills and knowledge to handle any medical or traumatic related incident you may encounter while out hiking.
First Aid Kit & Multi Tool
The easiest thing to do for a first aid kit is to buy one that is already assembled with everything that you need. This mini first aid kit has hospital grade supplies, comes in a waterproof clamshell case, and will cover you for bug bites, scrapes, blisters, and most things that could possibly happen on a day hike.
A Swiss Army knife comes in handy for anything from minor gear repairs to using the tweezers to remove a tick.
Emergency Shelter
Since this post is about what to pack for a day hike, you are probably not carrying a tent or gear that would keep you warm overnight. This Mylar Thermal Emergency Blanket only weights 2 ounces and is great to have In case of emergency.
Headlamp
I can't even count the times we stayed on a hike to watch the sunset and had to come down the hill using the flashlight on our phones. This Rechargeable headlamp is your best friend in low light and a lifesaver for an emergency.
Nutritious Snacks
One of the best things about day hiking is the snacks! Hiking is a physically demanding activity, so it's important to bring along plenty of high calorie snacks to help refuel your body while you're hiking.
Bring food that is easy to eat and doesn't create a mess when you eat it. Fruit, trail mix, jerky, and sandwiches are all great because they're easy to eat and full of energy producing calories. Just remember to throw away any trash you make. That includes things like orange peels and apple cores!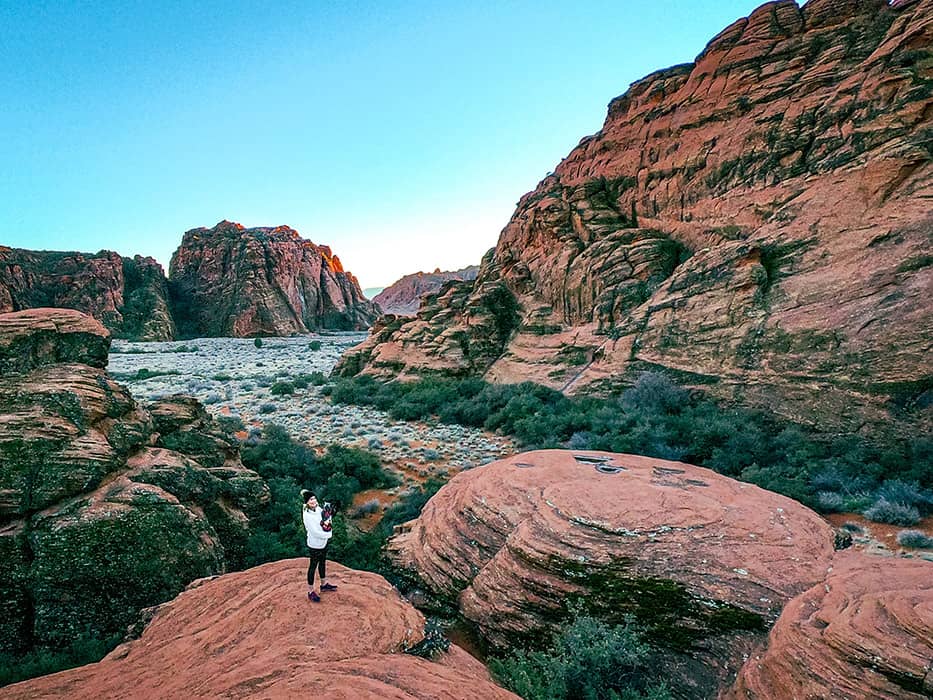 What to Wear For a Day Hike
Clothing System
The first thing you need to get together when planning a day hike are your clothes. Be sure to check out the forecast where you plan on visiting to ensure that you pack the right number of layers.
Choose Wool and Synthetics
One of the most important things you need to know is that when you are day hiking, avoid wearing cotton as much as you can. Cotton absorbs moisture and becomes heavy.
Wool and synthetic materials are much better fabrics when it comes to hiking clothing. They are lightweight and wick away moisture, which in turn keeps you cool and dry.
Wear Layers
Another essential when it comes to your day hiking clothing system is to bring layers. This will allow you to dress for the conditions that you encounter in a moment's notice. Having 2 or 3 layers to help you adjust to the temperature is ideal.
Start with a base layer, which is typically a wool or synthetic t-shirt or long sleeve for more sun protection.
The insulating layer is a fleece or a lightweight puffer jacket.
An outer layer is waterproof like rain gear.
Don't Forget Rain Gear
Don't let the rain ruin your day hiking plans! FROGG TOGGS Ultra-Lite2 Waterproof Breathable Poncho is 9 oz including the carrying case. It takes barely any room in your backpack and will keep you relatively dry (much better than the cheap ponchos like the ones above).
For a more sure-fire system, bring along a rain jacket and rain pants. This will be the better system to go with if you're planning on hiking where it's going to be wet and cold.
Hiking Clothing For Men
Hiking Clothing For Women
Good Quality Hiking Footwear
Something that a lot of beginners overlook when they are creating their packing list for hiking is footwear. Your footwear is the most important piece of gear that you bring hiking. It is the main way that you are going to be interacting with the trail.
There are two main types of footwear that will help you get the most out of your day hiking trip: trail runners and hiking boots.
Trail runners are running shoes specifically designed to keep up with the rough terrain of a hiking trail. The tread has a much better grip than regular running shoes, and the soles are thicker to help cushion your feet from the hard ground.
Trail runners are ideal for people who want to hike a long distance in warmer weather. They are lightweight and agile without the extra material to keep your feet warm in cold conditions.
Hiking boots are designed to keep your feet safe and comfortable throughout your hike. They're usually at least ankle high, which provides support to your ankles in unstable terrain.
They're also ideal for wearing in cooler conditions as a lot of hiking boots are designed with insulation to keep your feet nice and toasty in cold weather.
If you're hiking to a waterfall, check out the 10 Best Water Shoes for Hiking and Kayaking.
Hiking Shoes For Men:
Hiking Shoes For Women:
Hiking Essentials Checklist
Final Thoughts on What to Pack for a Day Hike
You've now got a solid packing list for a day hike. The most important thing to remember as you're gathering the 10 essentials for day hiking is to pick the items that work best for you in the conditions you're going to encounter.
If you've never gone day hiking before, this list of hiking essentials with recommendations should help you choose the best gear to get out on the trail. At the end of the day, don't let your gear get in the way of your adventures.
The more you head out on day hikes, the more you will get to know what gear you prefer to have with you.
Some Great Hikes in the USA That You'll Love
Save This Hiking Essentials Post For Later? Pin it!