Looking for the best water shoes for kayaking, canoeing or aquatic shoes for vacation? This post covers everything from the best kayak footwear to the best water shoes for men and women. So whether you are looking for the best and waterproof kayak booties or the best water sandals, you've some to the right place.
Did you know that the most dangerous part of paddle sports isn't actually on the water? It's on the shore! More people injure themselves when putting in and taking out their kayaks and canoes than any other time during a paddling adventure.
That's why it's incredibly important to ensure that you have good water shoes for kayaking, canoeing and even walking on the beach.
If you've never bought a pair of kayaking shoes and don't know where to begin, you're in the right spot. By the end of this post, you'll know the 10 best shoes for kayaking and canoeing, which will give you the confidence to buy shoes that will help you get the most out of your next paddling experience.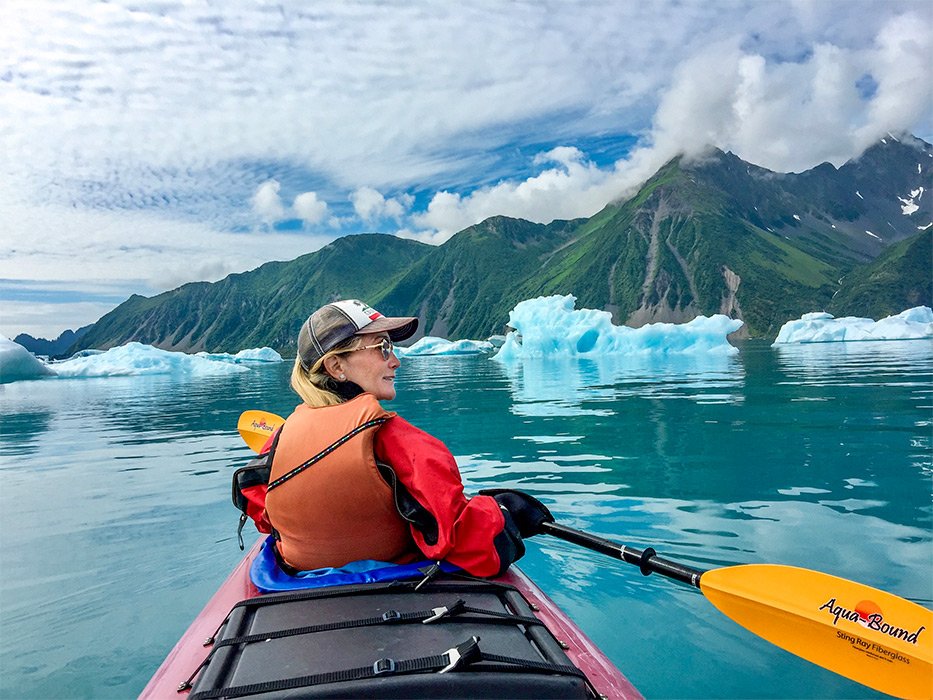 Why Listen to Our Kayaking Shoes Review & Recommendations?
We are former rowers and a surfer that have tried our share of men's and women's water shoes, water booties, and aqua socks.
There's nothing like launching a boat from the beach at 5am into freezing water to have an appreciation for keeping your feet protected and warm.
We fell in love with kayaking on a trip to Alaska and have been hooked ever since. That trip required waterproof kayak shoes and drysuit. It was an eyeopener to heavy duty kayaking gear for cold water.
Since then we've had plenty of summer kayaking adventures and exposure to the best footwear for kayaking in a variety of environments. So let's get started!
---
10 Best Water Shoes for Kayaking, Canoeing & SUP
This site uses affiliate links, meaning if you make a purchase through our links, we may earn a commission. There is no extra cost to you. You can read our full disclosure policy here.
Chaco Zcloud Sandal for Men & Women – Best Kayaking Sandals for Summer
One of the hallmarks of summer paddling, especially on the river, is a "Chaco tan." This refers to the tan lines left by the iconic straps that make a set of Chaco's instantly recognizable.
Chaco's were born on the river as the ideal warm water river paddling shoe. The open design helps keep your feet nice and comfortable, while the straps secure the durable rubber soles to your feet.
The straps on both the Chaco Men's Zcloud Sandal and the Chaco Women's Zcloud Sandal are adjustable to give you the best fit possible. The women's version of the Chaco Zclouds has a toe strap that will take a bit more adjusting to get the best fit. But once you've got it dialed in, these are some of the best shoes for paddling and walking on rough terrain.
---
KEEN Men's Newport H2 Closed Toe Water Sandal – Best Closed Toe Water Shoes
If sporting a Chaco tan isn't your cup of tea, consider the KEEN Men's Newport Closed Toe Water Sandals. These are a blend of the strap on sandal design with a more shoe like look. The result is an awesome hybrid of a paddling shoe that will keep your feet protected better than flip flops but won't sacrifice on ventilation.
Keep in mind that when you hike in the Keen Newports, you'll need to intermittently shake out any rocks that get in. It's a bit tougher to get rocks out due to the closed in design, but if you don't plan on hiking where there are a bunch of small, loose rocks, you should be fine.
---
KEEN Women's Whisper Closed Toe Sandals – Best Closed Toe, Lightweight Water Shoes
The KEEN Women's Whisper Closed Toe Sport Sandals are a great shoes for canoeing or a kayaking trip that involves hiking. Rocky shorelines or slippery waterfalls are easily maneuvered. The light shoe and metatomical footbed also ensures that you can comfortably go longer distances.
If you have a wider foot, you might be more comfortable in the KEEN Women's Newport Closed Toe Water Sandals. That said, most women prefer the feel and fit of the lighter KEEN Whisper.
---
Mishansha Unisex Adults Barefoot Water Shoes – Most Affordable Kayaking Shoes
These excellent minimalist Mishansha Unisex Adults Barefoot Quick Dry Water Shoes are perfect to wear kayaking for an all-day warm water paddle. If you want to get out and explore an island, you'll have plenty of sole to help keep your feet protected.
The elastic bungy tighteners help keep them secured to your feet while you paddle or hike. And the Lycra material used on the mesh uppers dry out super-fast, making them a great shoe to wear for other activities when you're done paddling for the day.
---
HIITAVE Barefoot Water Shoes – Most Comfortable and Fashionable Water Shoes
If you're looking for a shoe that will protect your feet, but not subtract from your ability to sense the ground below you, the HIITAVE Barefoot Water Shoes are a great choice.
These awesome shoes keep your feet shielded from sharp objects on the ground yet still allow you to feel the ground. They honestly feel like you're walking barefoot but with more protective padding for your soles!
Both the men's and women's water shoes for kayaking run true to size, so ordering is a breeze. Ladies will love the fun variety of colors. If you're planning on doing a short amount of hiking while you're kayaking or canoeing, these should serve you well.
---
Body Glove 3T Barefoot Cinch Water Shoe – Best Adventure Water Shoe
Body Glove Men's 3T Barefoot Cinch Water Shoe and the Women's 3T Barefoot Cinch are the best all around adventure water shoes. They are affordable and durable for an entire vacation's worth of fun! From paddling in your kayak or canoe to paddle boarding or for climbing shoes, these will have your feet protected and give you great traction from start to finish.
One thing to keep in mind is that the minimalist design of these shoes makes it a bit difficult to keep rocks and sand out of them. There is one adjustment strap in the back that you'll want to pull tight from time to time, but if you're not planning on doing a lot of hiking and instead plan on spending more time in the water, these will stay on your feet all day long.
---
NRS Kicker Wet Shoes for Men & Women
NRS is well known in the paddling community as the top of the line when it comes to all things paddle sports. From rafts to footwear, all of their equipment is designed to give you the best experience on the water!
The NRS Men's Kicker Wetshoe and NRS Women's Kicker Wetshoe are the newest version of the highly popular NRS Kicker Remix Wetshoe. It is a great option for those looking to do a bit of hiking along with their paddling.
You'll love how comfortable the 3mm neoprene uppers feel on your feet as well as the durable rubber soles that help with traction as well as guarding against rough surfaces. Order these a size up from your normal street shoes though as they tend to run a bit small.
---
Neo Sport Premium Neoprene Wetsuit Boots – Best Booties for Kayaking
For those looking to paddle in some cold water, you'll definitely want to get these Neo Sport Premium Neoprene Men & Women Wetsuit Boots. The 3mm thick neoprene uppers are puncture resistant and the soles are made of a relatively thick rubber. For really cold water, you can get thicker neoprene for more warmth.
They won't have the same ground feel as some of the other water shoes for kayaking but you'll still have the same amount of traction while your feet stay nice and warm inside.
These are perfect for paddling, but not as good for hiking. While the neoprene is very durable, it's not going to stand up to hours of walking over rough surfaces. So long as you plan on just using these in the water, you'll love them!
---
BPS 3mm Neoprene Dive Boots – Great Paddling Shoes for Cold Water
Another choice for those paddling in colder water is the BPS 3mm Neoprene Dive Boots. While these were made with SCUBA divers and surfers in mind, they work just as well inside of a canoe, on top of a kayak, or fishing kayaks.
The puncture resistant uppers keep your feet nice and toasty in the coldest of water while the exterior straps help you custom fit these paddling booties to ensure maximum comfort.
And similarly to the Neo Sport Premium Wetsuit Boots, these are best used for paddling only with minimal hiking. Keep those neoprene uppers as clean as possible to extend the life of these awesome paddling booties!
---
SIMARI Unisex Sports Barefoot Water Shoes – Kayak Water Shoes in Lots of Colors
The SIMARI Unisex Sports Quick Dry Barefoot Water Shoes are great for all day adventures while you're out kayaking and canoeing. The sole is made from a durable rubber that will give you plenty of traction and protection from sharp rocks.
These shoes are ideal to hike in after you've paddled out to your destination. Drainage holes in the bottom of the shoe help to get rid of excess water but can sometimes get caught on rocks if you're not paying attention.
They come in 42 color combinations so you are sure to find one to your liking.
---
Why Wear Water Shoes for Kayaking, Canoeing or SUP?
Wearing water shoes for kayaking or canoeing (also known as paddling booties) is important first and foremost because they give your feet protection from the ground as well as traction.
As mentioned earlier, most people get hurt when putting their watercraft into the water because they cut their feet on sharp rocks, or they slip and fall. Another reason why it's a good idea to wear paddling booties is to keep your feet insulated from cold temperatures.
Water temperatures don't have to be very cold to make you uncomfortable. Water as cold as 60°F can make your feet feel numb after being submerged for a while. This can be uncomfortable at best and dangerous a worst, because if you can't feel your feet, it's hard to walk or swim!
Common Types of Water Shoes for Kayaking
There are tons of options out there when it comes to kayaking and canoeing shoes. They all have pros and cons but the biggest thing to consider is the weather and where you will be kayaking. If you are on a rocky shore, you need thicker soles. If you are heading out from a soft sand beach, neoprene water shoes or flip flops might be fine.
Flip flops – They are inexpensive and comfortable to wear out in town after a day of paddling but can easily slip off your foot, causing you to lose your shoe.
Closed back sandals – Have the open air feel of flip flops while having straps to help with shoe retention. Your feet are still uncovered and could potentially lead to cut up feet depending on where you paddle.
Mesh water shoes are lightweight and inexpensive with a rubber sole to give more traction. It's great for summer but you won't have much in the way of insulation qualities if the water is cold.
Cold weather booties are incredibly warm and easy to slip on your feet but they can be expensive depending on the quality.
White water kayaking shoes are the best of the best when it comes to kayaking and canoeing shoes. It is basically a sneaker with quick drying upper material as well as beefed up rubber soles to give maximum traction. They're expensive though.
How Should Your Kayaking Shoes Fit?
Now that we've gone over the different types of shoes, it's time to talk about how your kayaking footwear should fit. When you're trying them on in the store or at home, you'll want them to be a little snug but not too small.
When you get in the water, the material will loosen up a bit. By having a snug fit when dry, you'll ensure that the shoe fits properly when you're wearing it while you're paddling!
Another thing to consider is whether you'll be wearing socks while you paddle or not. Wools and synthetic socks can do some pretty amazing things when it comes to keeping your feet warm while you paddle. If you plan on wearing socks out paddling, be sure to try your shoes on with the same brand of sock you'll wear out this season.
Things to Consider When Buying Kayak Shoes
Always double-check the fit. The shoes shouldn't be too small or too big. If you are planning on kayaking in the winter, it is best to opt for a size bigger than what you would typically wear, so you can put on socks if needed.
Look out for quick drying – a light, quick-drying, and flexible material is important for kayaking shoes. They will be more comfortable while paddling and easier to pack if you are taking them on a trip.
Think about the season. For colder weather, choose fully enclosed waterproof kayak shoes with a thicker sole. The best water shoes for kayaking in summer are lightweight sandals with straps or mesh/neoprene shoes that have good traction.