Planning your visit to Alaska! Here are the top things to do in Seward Alaska for the Kenai Fjords National Park part of your trip.
Seward, Alaska is the 4th biggest town in the Kenai Peninsula and the jumping off point for a lot of exciting things to do. It's a small city of about 3,000 people that peaks at 4th of July at over 30,000 visitors.
One of the main reasons people visit Seward is to take part in all of the activities you can do in Kenai Fjords National Park. If active adventures are your thing, you found your dream destination.
Kenai Fjords National Park covers more than 600,000 acres on the Kenai Peninsula. It has 38 glaciers coming from Harding Icefield, one of the largest one of the icefields in the United States covering more than 700 square miles.
The largest glacier from Harding Icefield is Bear glacier. We were lucky enough to have an adventure of a lifetime at Bear Glacier lagoon.
Planning your trip to Seward last minute? Here are the tours and hotels we recommend. Our 7-10 Day Alaska itinerary also has lots of information for your Alaskan road trip.
TOP EXPERIENCES & TOURS IN SEWARD
BEST HOTELS IN SEWARD
PRACTICAL INFORMATION FOR SEWARD
Best Time to Visit Seward Alaska
The main time to visit Seward and Kenai Fjords National Park is summer. Everything runs from May through September. While you can go during other seasons, many businesses shut down.
The temperatures in summer are very pleasant with highs around 70 degrees and lows in the 50s. You can expect 2-3 inches of rain per month from May through July and 5 inches in August.
You'll have a mix of sunny and cloudy days. Make sure to bring a light jacket and layers to stay comfortable.
The one reason you might want to go in the off season is to see the Northern Lights, which are less visible in the summer. We actually saw the Northern Lights in August but it was from the airplane and very faint.
Related Post: The Ultimate 10 Day Alaska Summer Trip Itinerary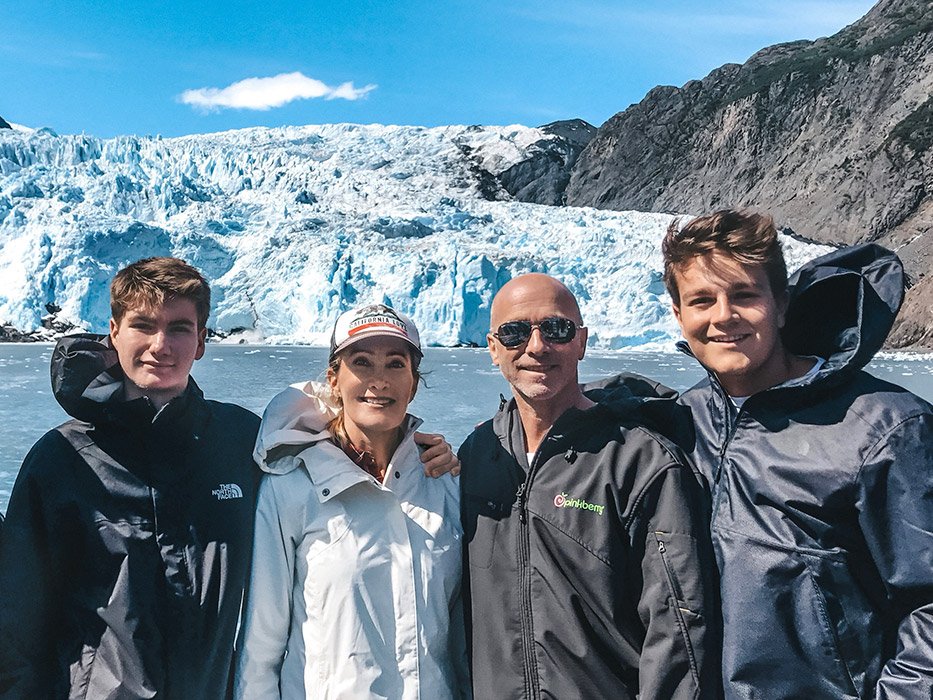 11 Exciting Things to do in Seward Alaska
Take a Seward Alaska Glacier & Wildlife Cruise
There are lots of things to see on a glacier cruise from Seward Alaska but 2 specific highlights you don't want to miss. The first is seeing glacier calving in action. It's so exciting to see part of a tidewater glacier drop off into the ocean and make a big boom. The fact that glaciers move forward is beyond comprehension! Some glaciers calve more regularly than others.
In Kenai Fjords National Park, the most active glaciers are Aialik Glacier and Holgate Glacier, both on Aialik Bay. Glacier calving is most active in May and June but we were there in July and saw plenty of action.
Here is the information for the Kenai Fjords National Park Glacier and Wildlife Cruise we took. If you love being out on the water and want to see 2 tidewater glaciers, you might prefer the 7.5 Hour Kenai Fjords Cruise.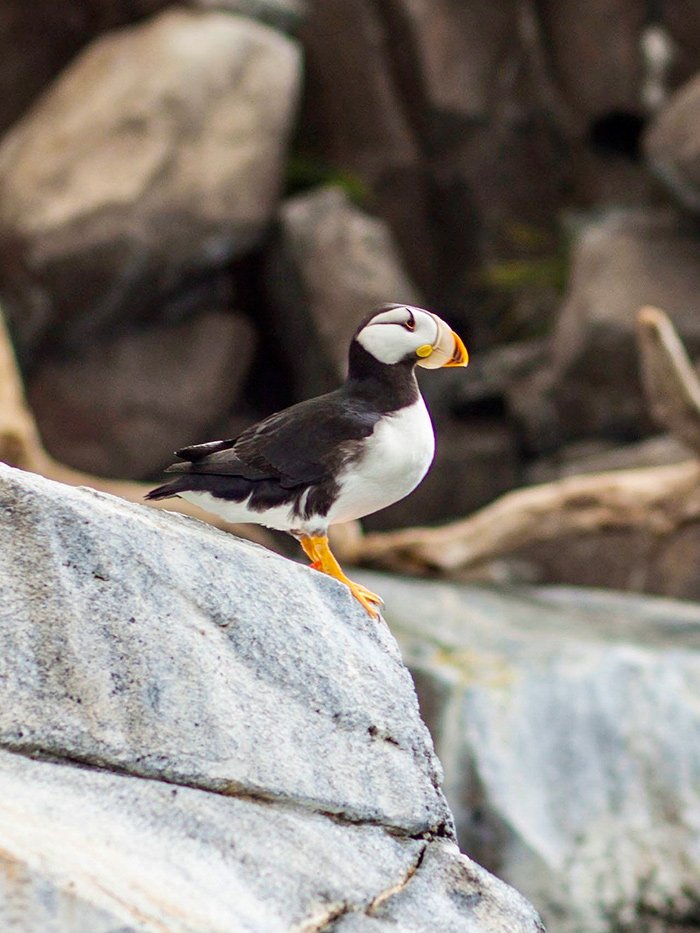 Whale watching is the other highlight of the Kenai Fjords cruise in Resurrection Bay. We saw a surprising amount of killer whales and also a rare sighting of a grey whale.
The other wildlife you'll see are puffins, sea otters and sea lions. It's a minimum 6 hour cruise if you want to see a glacier. While you will enjoy all of the exciting moments and the delicious salmon and prime rib lunch buffet, bring a book or playing cards for the downtime.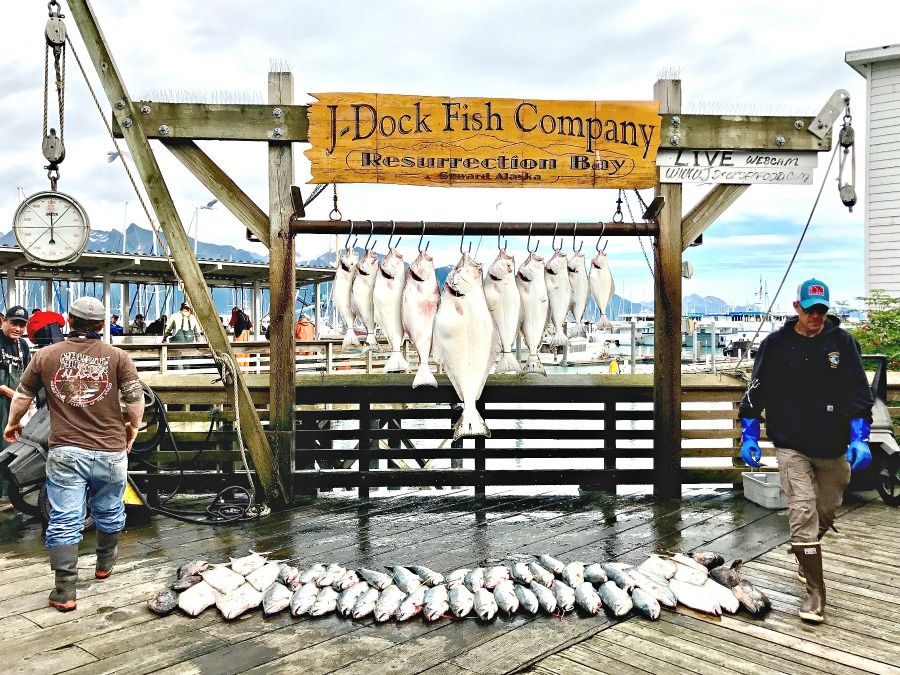 Get the Catch of the Day on a Fishing Charter
Fishing is one of the top things to do in Seward, Alaska. My boys went up in Talkeetna because we didn't have time in Seward but that didn't stop us from enjoying the fishing experience.
Exciting commotion fills the dock as the boats come in full of fish. The fishermen busily process the fish as the happy anglers admire their catch of the day.
In a final hurrah, the weighing station holds the fish in a beautiful display as everyone gathers to reminisce about the excursion.
If you want to book a fishing charter, check out the J-Dock website or if you just want to see all the action, show up at the end of the day as all the boats arrive.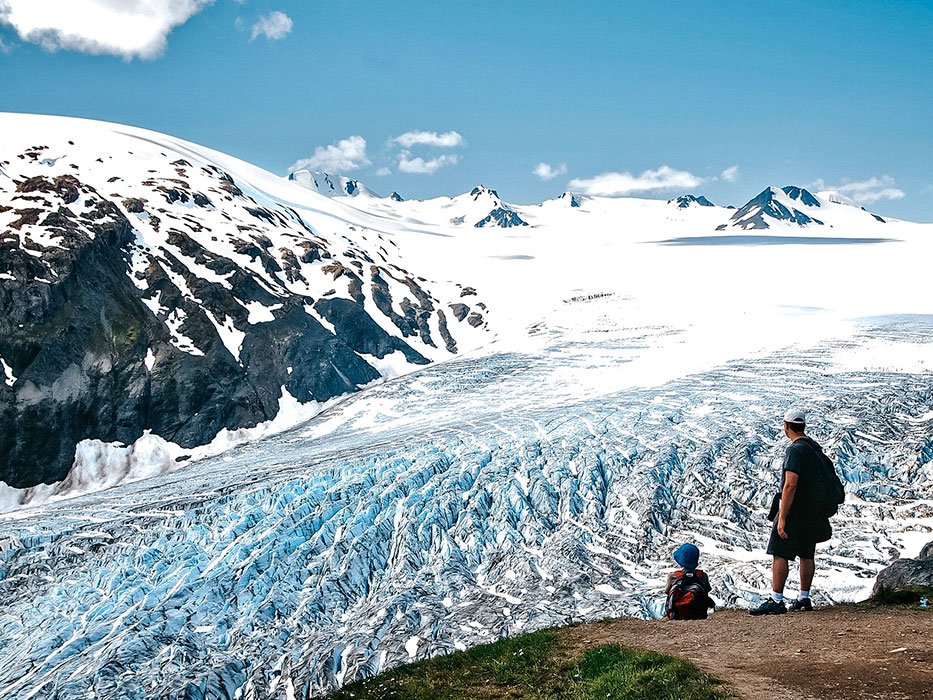 Hike the Harding Icefield Trail at Exit Glacier
Exit Glacier is the one glacier in Kenai Fjords National Park you can actually drive to. All the other glaciers are accessed by boat or helicopter. It's your chance to get up close and personal with a glacier in the easiest way possible.
An awesome Alaska experience, the Harding Icefield trail is an 8.2 mile out an back trail. The full hike is a day trip or just go as far as you want depending on the time you have.
The hike up to Marmot Meadows is 2.8 miles round trip or Top of the Cliffs is 4.8 miles. It's important to note that there are safety issues here.
Check trail conditions before you depart. Wear sturdy hiking shoes, bring a rain jacket, sunscreen and plenty of water.
If you are looking for an
Unfortunately one of the things you will get very present to during your hike is global warming. Exit glacier is disappearing.
There are markers along the way that show you where the glacier used to be and how far it has retreated. It's kind of ironic that the glacier is named Exit glacier.
If you want to learn as you explore, the National Park Service conducts a free ranger led 1.5 hour walk.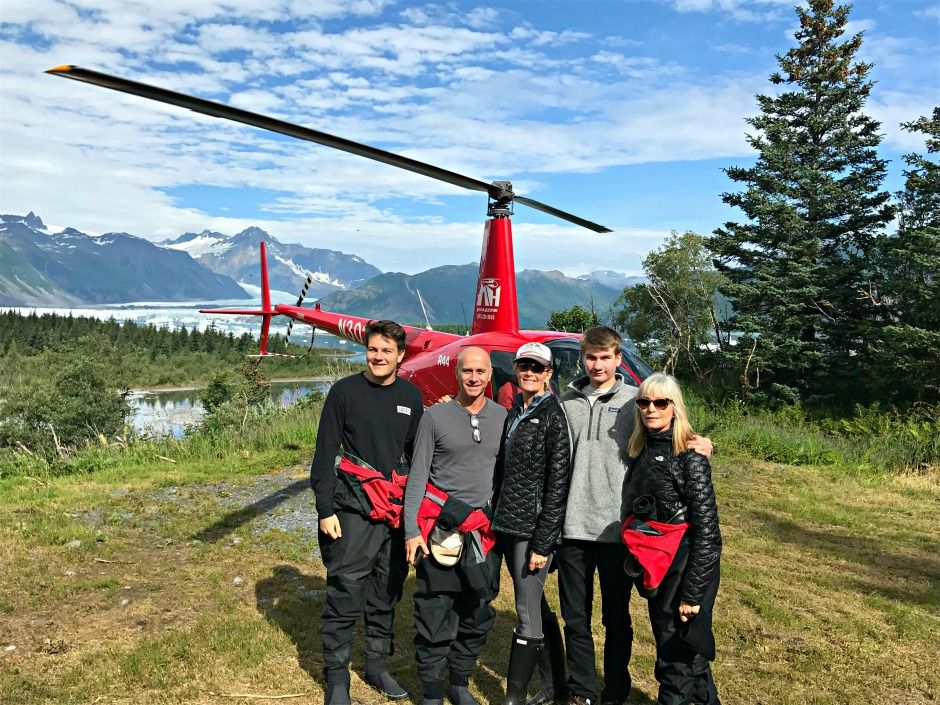 Alaska Helicopter Flightseeing from Seward
You can take a helicopter flight seeing tour for 30 minutes or more. It's incredible flying over parts of the glacier that no one ever sees except by air.
We were lucky to see goats but unfortunately no bears. I was dying to see bears somewhere other than on a hiking trail.
The other amazing thing to see during the helicopter flight is the bird's eye view of icebergs in Bear Glacier Lagoon.
Icebergs have 90% of their mass below the water and you can see a good portion of the iceberg underwater from the air. From a kayak, you can only see the 10% above the water.
There are other cool flight seeing trips. You can take are a 30 minute flight with glacier landing or a 45 minute flight to watch the Aialik glacier calving
if you don't want to take the 6 hour glacier cruise. We went with Marathon Helicopters and felt very comfortable with pilot Mike.
Bear Glacier Kayaking Alaska
You just have to go kayaking in Alaska! It's really one of the highlights even if you never kayak. So, it really comes down to where you kayak and there's no better place than Bear Glacier Lagoon.
One of the best parts of going to Bear Glacier Lagoon is that it's an activity very few people do. It's off the beaten track and feels very much like wild Alaska in a great way.
You can get to Bear Glacier Lagoon by helicopter (30 minutes) or by water taxi (2 hours). You need to coordinate with an outfitter that will rent you a kayak and a dry suit.
The water, as you can imagine, is extremely cold. We originally tried to book our trip with Liquid Adventures that had no availability. We found a different outfitter that was experienced and safe but definitely a second choice.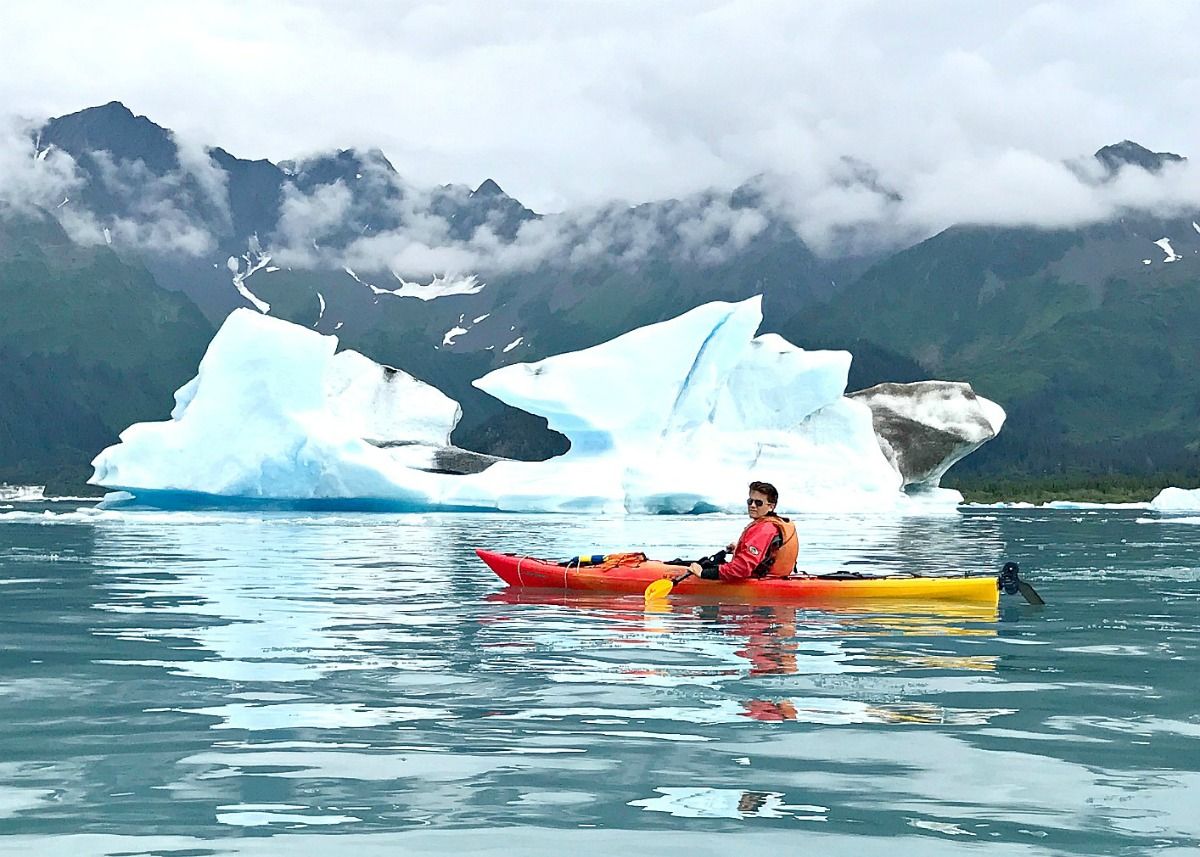 During your time in Bear Glacier Lagoon, you can paddle around icebergs that are the size of buildings. It's also fun to paddle to the glacier, which is so much bigger than it looks from a distance.
You'll see sea lions and other sea life in their natural habitat. It's such an incredible experience and you will most likely be the only people out there, like we were.
One of the things you will hear, is cracking and booming, which I assume is icebergs rolling over or the glacier calving.
Since Bear Glacier doesn't calve as actively as other glaciers in Kenai Fjords National Park, the noise is most likely the icebergs.
You have to maintain a safe distance and contrary to some photos I've seen on the internet, you cannot stand up paddle between 2 icebergs unless you want to risk your life.
If you want to kayak without doing a full day trip, you can take a water taxi from Miller's Landing and go to one of multiple locations around Resurrection Bay. There are plenty of great coves where you can explore for a few hours.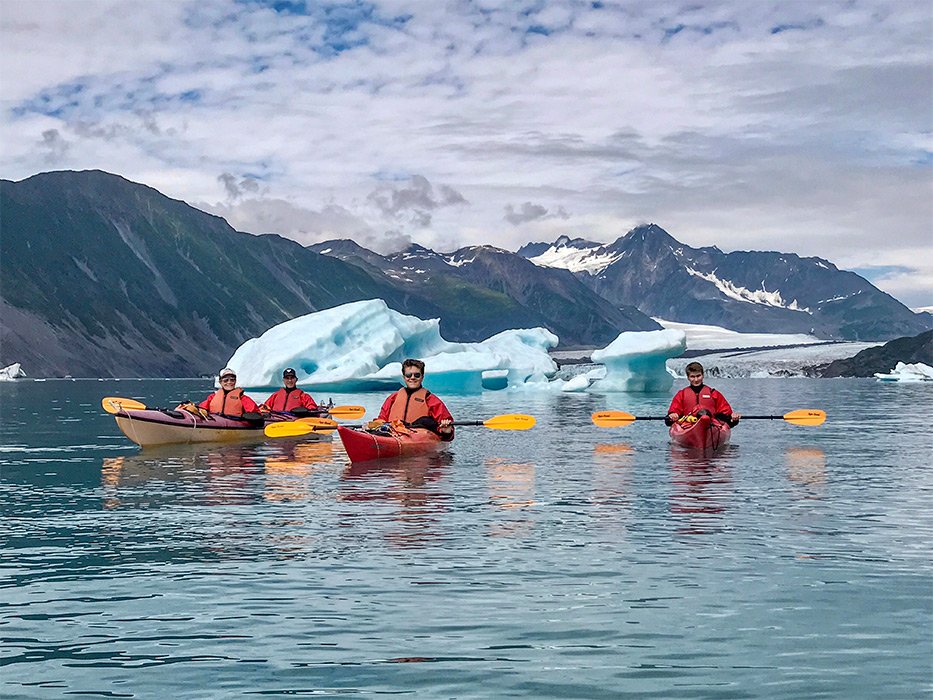 4th of July in Seward, Alaska – Mt. Marathon Race
Fourth of July in Seward Alaska may be the coolest thing to do of the entire list. There's a huge race called the Mt. Marathon Race. 30,000 spectators go to Seward to watch this endurance event in Alaska.
The race itself is only 3 miles but it's involves running up and down a 3,022 foot steep, rocky, muddy, slippery and grueling mountain.
Going up is hard but down is incredibly difficult to do at top speeds safely. Outside magazine refers to this race as "The Toughest 5K on the Planet."
If you are in Seward for the 4th of July, you can enjoy the race, a festival, a parade and fireworks over the 3 day event.
For everyone else, you can try your hand at the Mount Marathon Trail to see how you would fare in the race.
Your prize will be the incredible views of Resurrection Bay from the top and the workout of course. There's an easier path
Walk Around Main Street Seward Alaska
If you have extra time like we did, you can walk around Seward. It has a charming Main Street with restaurants and shops.
Eat Fresh Seafood at the Best Restaurants in Seward Alaska:
Seward Brewing Company – They have everything from salads and burgers to really delicious pizza. It gets crowded with a wait but you can go upstairs to be served more quickly. We bought one of our favorite trucker hats and tshirts there. Check out their merchandise for great souvenirs.
The Cookery – The Cookery was our first restaurant in Seward, right near our hotel and a total score. They have fabulous halibut and salmon. Their dishes are farm to table and delicious. We ate here twice.
Chinooks – The real star here is the waterfront location. It's a nice place at the dock in Seward to wind down after a busy day in Alaska. The seafood and burgers were good but the wait was pretty long even after we got a table.
Harbor Street Creamery – If you love ice cream this is your spot.
Visit the Alaska Sealife Center
If you're staying in Seward, it's probably walking distance from your hotel. This aquarium is a great place to get up close and personal with wildlife. You'll learn about all the wildlife in Alaska.
The nice thing is that you are supporting their conservation efforts by visiting.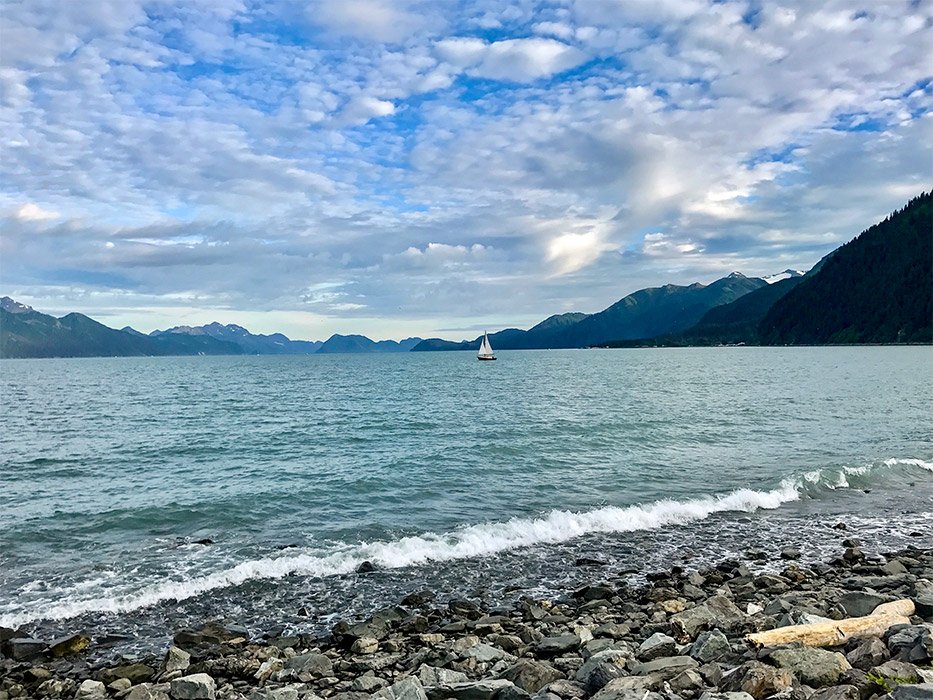 Stroll Along Resurrection Bay at Waterfront Park
There's a nice walk along the bay. The light is so pretty here for sunrise and sunset. the end of the day. If you are visiting in June or July, the days are very long but you will catch a sunset before midnight.
We started our day and ended it with walks along the path. This is also the area where are the RV parks are so you can get a glimpse into everything from Van Life in Alaska to the highest end luxury RVs.
Lowell Point
Lowell Point is a few miles south of Seward that is fun to explore when the tide goes out. If you're lucky you can spot whales. Campers can also pitch tents here on the beach.
Dog Sledding
When it comes to animal tours I always try to do research to see that the animals are treated properly before I participate. I've been on the fence about dog sledding.
Some places take great care of their dogs and the dogs seem to love their chance to mush. The Iditarod in Alaska, however, has a bad reputation for some of the things that have happened to the dogs.
If you decide to take a tour from Seward make sure you research the company you are thinking of using.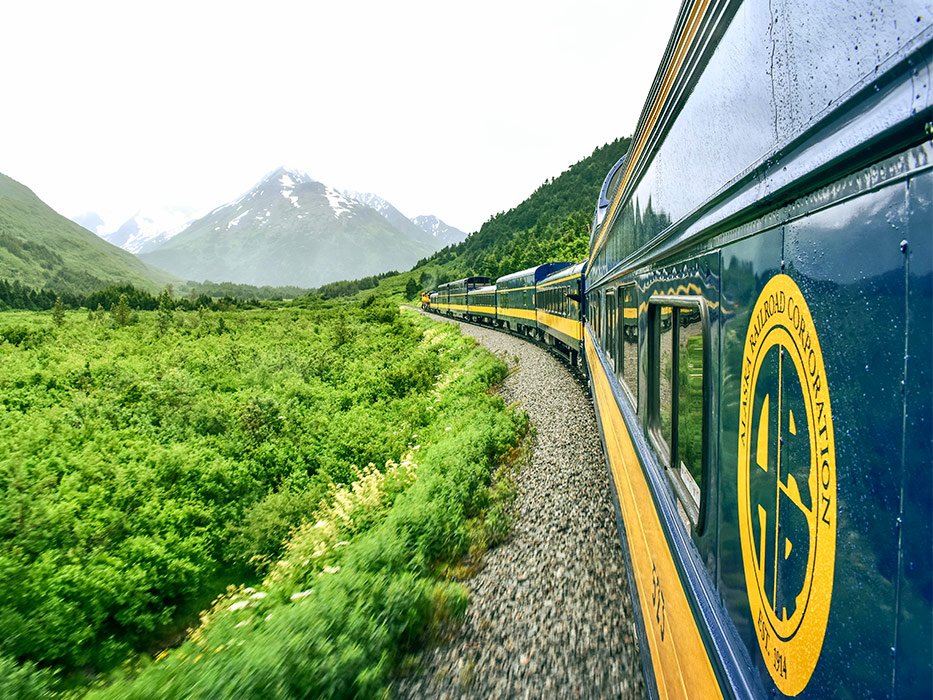 How to Get to Seward Alaska & Kenai Fjords National Park
The closest airport to Seward is the Ted Stevens Anchorage Airport. You have 3 main ways to get from Anchorage to the Kenai Peninsula.
You can take the Historic Alaska Railroad. The section from Anchorage to Seward is one of the prettiest train routes in Alaska. You can rent a car and take the equally beautiful Seward Highway. Or you can take the bus.
Option 1: Car Rental
The car rental is right at the airport. The drive to Seward is 125 miles and takes approximately 2.5 hours assuming you don't get sidetracked and want to stop along the way.
We couldn't help stopping at the Alaska Wildlife Conservation Center. Renting a car will give you a lot more flexibility with hotel locations and doing what you want to do when you want to do it.
Option 2: Train
The Coastal Classic train to Seward takes 4.25 hours. The cool thing about taking the train is that parallels part of Seward highway and then heads off into parts of Alaska that you can't see by car.
There are two train classes – Goldstar Service ($371 RT Adults/ $215 kids) with glass dome ceilings, an outdoor viewing platform, meals and drinks.
The Adventure Class ($179 RT Adults/ $90 kids) has big picture windows, a cafe car and a Vista Dome open seating car. There's only one train per day departing Anchorage at 6:45am and Seward at 6:45pm.
Option 3: Bus
The bus takes 3 hours and is $50 each way.
---
Where to Stay in Seward Alaska
The accommodations in Seward are a mix of hotels, little Inns. Bed & Breakfasts and Airbnbs. Book as early as possible to get the best places.
Seward Hotels
Vacation Rentals
Our time in Seward was a highlight of our Alaska trip mostly because of the Bear Glacier Lagoon Kayaking.
Plan at least 2 days in Seward then head to Homer or north to Girdwood, Anchorage or Denali.
Check out the rest of our 10 day Alaska Summer Trip Itinerary for more fun things to do in Alaska. If you have any questions, put them in the comments. We try to answer daily.
---
If You Love Outdoor Adventures, Check Out:
Save The Best Things to Do in Seward Alaska for Later? Pin it!