There is no doubt that this Alaska itinerary for 7 to 10 days includes some of the most beautiful and awe-inspiring places on earth, with its jaw dropping national parks, glittering glaciers, and abundant wildlife.
An Alaska summer road trip to the Alaskan Panhandle, Kenai Peninsula, and the area from Anchorage to Denali should be on everyone's USA bucket list.
Visiting Alaska was the completion of our 50 state travel challenge. We saved one of the best for last because we knew we wanted to do an extended 1 to 2 week Alaska trip.
This Alaska travel guide includes everything you need including day by day activities, the best places to stay and the best areas to visit.
This post contains affiliate links. If you book or buy something through one of these links, we may earn a commission. There is no extra cost to you. You can read our full disclosure here.
If you are planning a trip to Alaska, here are some other helpful posts:
Alaska Summer Trip Itinerary Days 1-3: Sitka & Juneau
If you're looking for an amazing Alaska itinerary and have at least 7 days in Alaska, make sure to add Juneau.
This capital city is brimming with activities and sights to see but most people only get there on a cruise. It's actually really easy to get there by plane on your way to Anchorage and you might consider a stopover in Sitka on your way.
How to get to Sitka and Juneau
When planning your trip to Alaska, you can fly into Juneau or Sitka to see some of the towns that are typically on an Alaskan cruise.
Major airlines and small planes go to both these places. Sitka is small enough to visit on a stopover or plan to stay for if you want to go hiking and whale watching.
We set up our initial flight into Juneau and got extra lucky with a 3 hour layover in Sitka that allowed us a quick visit to this tiny town. You'd be surprised at how much you can see in a town that's only 4 minutes from the airport.
Sitka Stopover: Fun Things to do in Sitka
Sitka, Alaska's third largest city, is located on Baranof Island in the state's southeastern panhandle. With its mild climate and rich history, it's definitely an interesting place to explore.
Totem Square is one of the first places you'll see when you get into town with a very cool, very tall totem pole. You'll also see the beautiful harbor. It's not the one from the movie The Proposal (not actually filmed in Sitka).
Downtown Sitka is filled with shops selling everything from Alaska-themed souvenirs to locally made artwork. We especially liked Alaska Pure Sea Salt. They have great flavored sea salts for cooking and nice bath salts and scrubs.
Grab a bite to eat at one of Sitka's cafes and restaurants worth visiting. Highliner Coffee Company is a local favorite, serving up fresh-roasted coffee and homemade pastries. Other popular spots include the Beak Restaurant and Ludvig's Bistro.
We did a self guided walking tour not knowing what we were doing but saw the interesting St. Michael's Orthodox Cathedral, the Sheldon Jackson Museum, the Sitka Fine Arts Camp and the Sitka Sound Science Center.
If we had stayed longer, we would have like to visit Sitka National Historical Park for some hiking, biking, and kayaking.
Flight From Sitka to Juneau
The flight to Juneau from Sitka takes 45 minutes from gate to gate. The airport is 9 miles from downtown. Juneau is much bigger than you might think and the lack of Uber drivers is why we recommend renting a car at the airport
Where to Stay in Juneau
Four Points by Sheraton Juneau (8.3) is nice, clean and one of the nicer hotels in Juneau. Some rooms have a great view of the cruise ships. There's a gym and good restaurant. Best of all it's walking distance to downtown Juneau.
Silverbow Inn Hotel & Suites (8.4) a boutique hotel on a quiet street, right in Downtown. Some rooms have kitchenettes.
Day 1: Juneau
Begin your time in Juneau by exploring the stunning natural scenery, including glaciers, rainforests, and mountains.
The Alaskan panhandle is an actual rain forest. Even though the environment is so different from a tropical rain forest like Belize, it shares the rainy climate. And, the weather in Juneau can change your plans.
Our Helicopter Tour and Guided Juneau Icefield Walk was canceled due to weather and poor visibility for flying.
The tour looks really exciting so hopefully you'll be lucky enough to go and get a birds eye view of Juneau and walk on top of the glacier.
As a back up plan, take a trip to Mendenhall Glacier Visitor Center. They offer a variety of interactive exhibits that educate visitors on the history and geology of the Mendenhall Glacier.
There's also a theater where films about the glacier are shown, and a number of ranger-led programs are offered throughout the day.
After exploring the visitor center, visitors can take a gentle, 2 mile out and back hike to Nugget Falls, to get an up-close look at one of Alaska's many majestic waterfalls. The falls are much bigger than they look in the photo above on the right.
Juneau is also a great place to drive around and explore even if it's raining. The way the clouds hug the mountains makes for beautiful photos. There are plenty of places to pull over and explore. You may get lucky enough to see a bald eagle.
Take a drive down Thane Road to see tons of salmon spawning at Sheep Creek. It's fascinating, but a little morbid because they die after they lay their eggs. Be prepared to see plenty of dead fish.
---
Day 2: Juneau
Ziplining on Douglas Island
Head over to Douglas Island with for an action-packed canopy tour with Alaska Zipline Adventures.. They outfit you with safety gear and teach you everything you need to know.
Then go soaring through the treetops, as you swiftly zip from platform to platform, seven in total. The final zipline takes you right over an axe throwing range.
Put your aim to the test, after the instructors teach you how to properly throw and axe. If you've got skills, you'll hear a satisfying thunk when you sink your axe into the target, or in my case you'll hear nothing, haha!
Mount Roberts Tramway
The Mount Roberts Tramway makes a six-minute ascent, taking you 1,800 feet up Mount Roberts. You'll be treated to views of Gastineau Channel, Douglas Island, Downtown Juneau and the huge cruise ships.
You can then choose to climb to the top on one of the three main trails or relax and enjoy a meal at the Timberline restaurant. There's also a Nature Center and Chilkat Theater on site, so you can really make a day of it.
For a truly adventurous challenge, hike the Mount Roberts Trail from Juneau up to the top of Mount Roberts. The trail is 7.6 miles out and back with a whopping 3,733 feet of elevation gain.
Or, just hike up, spend $15 at the Timberline restaurant and get a free ride down on the tram. It's a perfect adventure for your Alaska itinerary.
---
Day 3: Juneau
One of the most unique experiences for your Alaska itinerary can be found just outside of Juneau in Mendenhall Valley.
We mentioned visiting the Mendenhall Glacier Visitor Center on Day 1 in Juneau, but that's nothing compared to actually visiting the glacier itself.
The Mendenhall Glacier is a 12-mile-long ice sheet that flows from the Juneau Icefield into Mendenhall Lake. For centuries, the glacier has been slowly receding, and as it does so, it creates massive icebergs and spectacular blue ice caves.
The Mendenhall Glacier Trek or Glacier Kayak Tour is a must-do for any Alaska itinerary. Either way you get there, you'll be able to experience the glacier and ice caves.
While it's definitely a workout, it is well worth the effort. The experience of standing inside a giant cave of blue ice is truly unforgettable!
Mendenhall Glacier Trek
The Mendenhall Glacier Trek Guided Hike takes you on a hiking trail through the Tongass Rainforest to explore the edge of the glacier on foot.
You'll get to see the dramatic crevasses up close, and if it's safe, you'll walk on the ice with crampons and/or head inside an ice cave.
You need to be in decent shape as you will be doing an 8 mile hike wearing a 15 pound backpack of mountaineering gear.
And the trip is approximately 6.5 hours. Hotel pick up, snacks, water and gear are provided. Minimum age is 10 years old..
Mendenhall Glacier Ice Cave & Kayak Tour
We opted to get there on a guided kayak paddle and Mendenhall Glacier Ice Adventure Tour.
The trip is rain or shine – for us it was raining. Alaskans consider rain a normal part of life – make sure you pack a rain coat. Wear warm workout clothes and they will outfit you with waterproof pants, a waterproof jacket, boots, and kayak skirt.
Once you get in the kayaks or canoes, all of the tedious preparation fades away as you venture out on the glassy, reflective Mendenhall Lake with fog gently laying on top of the water.
It is 3 miles of quiet paddling in the prettiest location until you reach the base of the glacier.
The glacial ice from far away doesn't show the varied terrain but up close, you see the blue color of compacted ice and all of the crevasses.
It's a short path from the water to the entrance of an ice cave. If it is considered safe to enter, your guide will explain all of the safety precautions before you duck inside a wonderland of turquoise ice.
The melting ice drips from the ceiling into rivers of water on the ground. It's insanely beautiful and mind-blowing to think about the fact that you are standing under a massive glacier. For us, it was a highlight of our trip.
Afterwards, you hike up around the edge of the glacier. Without ice cleats you can't go on the glacier itself but it's still amazing from the edge.
Interesting tidbit – the dirt around the glacier is compressed silt. People pay good money for it as a facial mask. Surprisingly, my son refused the onsite beauty treatment we offered!
---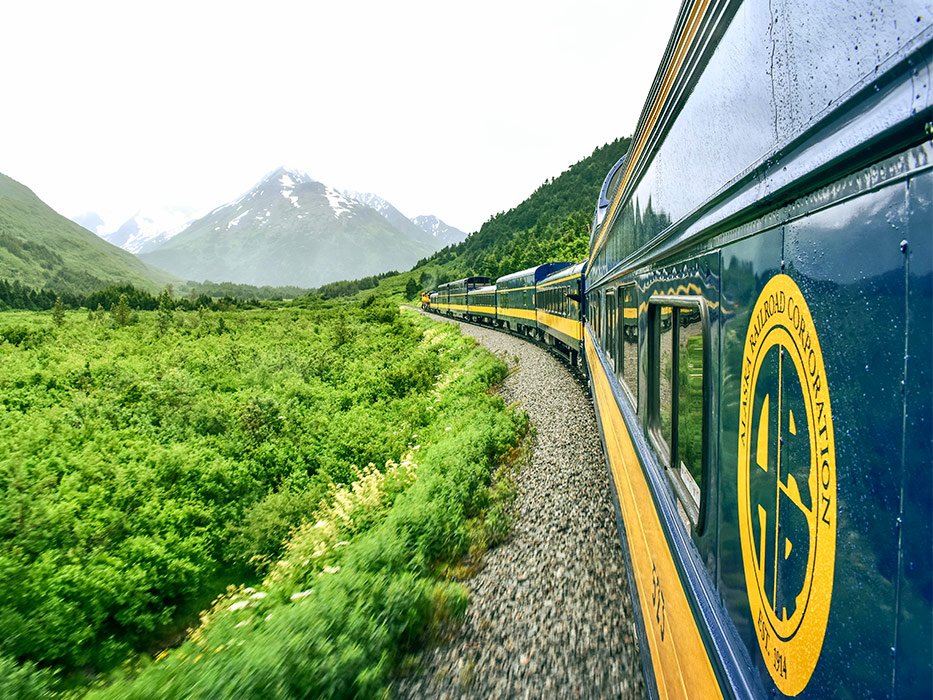 Alaska Summer Trip Itinerary Day 4-7: Kenai Peninsula & Girdwood
The best airport to fly into is Anchorage International Airport. If you are coming from Juneau it's less than a 2 hour flight on Alaska Airlines. If you are coming from the lower 48, there are multiple airlines that fly into Anchorage.
Car rental in Alaska is somewhat expensive. Expect to pay $2,000-2,500 per week for a rental car. There are deals if you are willing to get whatever car they give you.
You can also take the Alaska Railroad to Seward, which travels through Alaskan backcountry along the Turnagain Arm, where you'll catch glimpses of glaciers and waterfalls that aren't viewable from the road.
The Alaska Railroad schedule is pretty good during the summer. Either take a one way trip from Anchorage to Seward and then plan your trip back on a different day or a Seward Round Trip where you'll have about 6 hours to explore.
Where to Stay in Anchorage
Day 4: Kenai Peninsula
Seward Highway – One of the Most Scenic Road Trips in America
A must on your Alaska itinerary is a road trip down the famous Seward Highway from Anchorage to Seward.
At nearly 120 miles long, this breathtaking scenic route offers amazing views, beginning with the Turnagain Arm. Gently sloping mountains covered in lush pine forests and snow are reflected in a stunning bay.
Make the drive on your own or take a Wilderness Wildlife Glacier tour to many of the places mentioned below. If you are only in Anchorage for a day or two or you just want someone to show you all the best spot, this is the way to go.
One of the best places to stop is the Beluga Point lookout (near mile marker 110) – a spot along the highway where you can catch incredible views of incoming whales as they feed near shore.
We didn't see any beluga whales but it's a beautiful place to take in the view.
The next place to stop after Beluga Point Lookout would be the town of Girdwood but we decided to spend time there on the way back instead. You'll find the details below on Day 7.
Alaska Wildlife Conservation Center
Alaska is home to a wide variety of wildlife. As you begin your Alaska road trip to Seward, be sure to add the Alaska Wildlife Conservation Center.
This sanctuary is dedicated to preserving Alaska's wildlife through educational programs, research and animal care.
At the center, you can see bears and moose up close, watch wood bison roam free, and even feed reindeer and elk.
The 1.5 mile loop around the center is perfect for a leisurely walk or drive, and you're sure to spot all sorts of animals along the way.
So whether you're a wildlife lover or you'd prefer to see a bear from a safe distance, this is a great place to visit.
Summer Hours: 9am – 7pm every day • Adult: $18 • Kids (5-17) $14 (under 4) free
Whittier and Portage Glacier
Less than a mile after the Conservation center, you can take the side trip to Whittier and Portage Glacier. Drive through the one way Anton Anderson Memorial Tunnel. The fee to is $13 only charged one way for the round trip.
If you arrive in Whittier by noon, you can do a Prince William Sound Glacier Tour. See glacier calving, whales, sea life and possibly bears on a 5.5 hour cruise that includes lunch.
If you prefer a hike, the 4 mile round trip Portage Pass hike is highly recommended. Unfortunately we arrived too late in Whittier to take advantage of either of these outings.
In hindsight, we would have visited Whittier first and the Conservation Center afterwards.
Tours to the Turnagain Arm from from Anchorage
---
Day 5: Seward
We decided to spend two days in Seward and both had long excursions which took up a bulk of our time. The first was a whale watching cruise and the second was kayaking in Bear Glacier lagoon.
If you are planning to spend time in the Kenai Peninsula, there's even more information in the 11 Exciting Things to do in Seward Alaska.
Where to Stay in Seward
Harbor 360 Hotel (8.6) the best hotel choice if you are planning to do a Kenai Fjords Tour. The very convenient location is on the waterfront, there's an indoor pool and breakfast served each day.
Gateway Hotel (8.8) Great location with clean and comfy rooms. Continental and buffet breakfast served.
Best Western Plus Edgewater Hotel (7.5) We stayed here because we booked so late and nothing was left. It was fine and well located but overpriced for what it was.
Whale Watching & Glacier Calving in Kenai Fjords National Park
If you want to go whale watching AND see a tidewater glacier calving, you basically have a choice between two cruises. We chose the Kenai Fjords National Park 6-Hour Cruise.
The other option is the 7.5 Hour Cruise. On the longer cruise, you will see one extra glacier and it's approximately $20 extra per person.
For people that want to take a shorter 4 hour cruise, there is a Kenai Fjords Half Day Wildlife Cruise. You will see whales and other wildlife, skipping glacier calving altogether.
There's nothing quite like a Kenai Fjords National Park cruise to get you up close and personal with some of Alaska's most stunning wildlife.
On a Resurrection Bay cruise, you can expect to see pods of orcas, migrating gray whales, sea otters, seals, puffins, porpoises and other marine life.
And of course, the highlight of any Kenai Fjords cruise is stopping at an active tidewater glacier and seeing it calving.
It's hard to imagine these huge masses of ice moving, but you know it's true when they keep dropping off into the water with a big boom.
Lunch is included, as is a wilderness expert who shares lots of interesting commentary along the way. It's nice to just sit back, relax and take in the beauty of Alaska.
The whale watching trip returns at the same time as the fishing trips. There is a ton of excitement on the docks as they clean the fish and hang them up in a beautiful display. The fishermen of the day has the big guy hanging in the middle.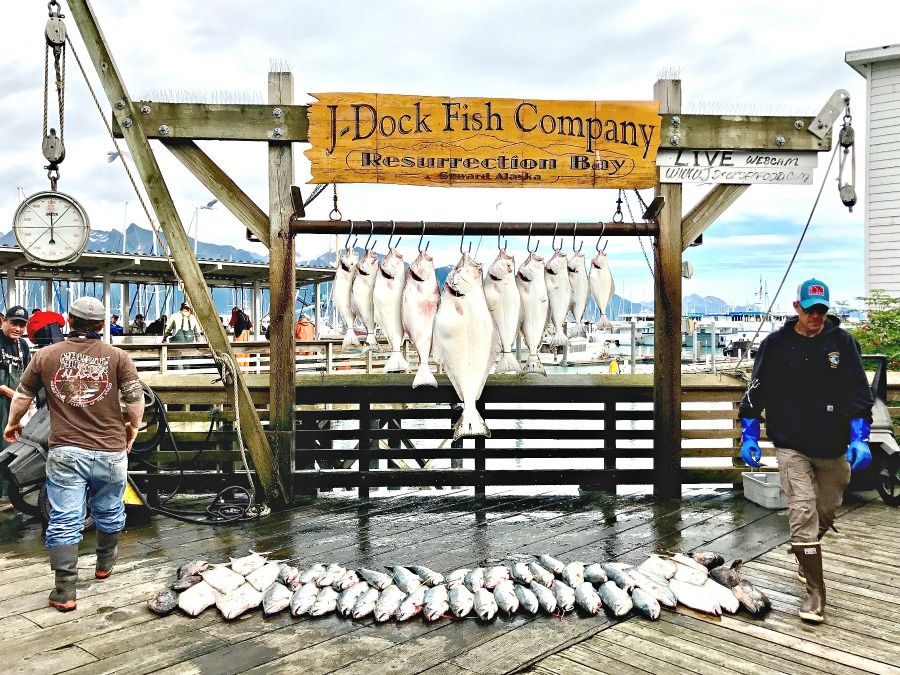 Resurrection Bay
Definitely make time to walk along the waterfront. The view of Resurrection Bay is too pretty not to snap a few pics. Resurrection Bay is a great place for kayaking and canoeing too.
There is a campground right on the bay for those doing an RV or Sprinter van trip.
When you are packing up for your trip, definitely consider packing an inflatable kayak or canoe to get out on the water. You can also rent kayaks at Miller's Landing.
We saw so many people taking a summer trip to Alaska with grandparents. It's such a great opportunity to build memories and bonds that last a lifetime.
If you haven't considered it, Alaska is the perfect trip to take with extended family. We loved having my mom with us.
Day 6: Iceberg Kayaking in Bear Glacier Lagoon
For the adventurous traveler, there is no better way to explore the beautiful Alaskan wilderness than by kayak or stand-up paddleboard.
And for those who really want to get off the beaten path, iceberg kayaking in Bear Glacier Lagoon is a must-do experience on your Alaska itinerary.
The lagoon is located in one of the most remote and pristine corners of Alaska. Surrounded by towering mountains and glaciers, it offers a truly unique setting for exploring by boat.
And while paddling through the frigid waters may not be for everyone, it is an unforgettable experience that will leave you with a newfound appreciation for the natural world.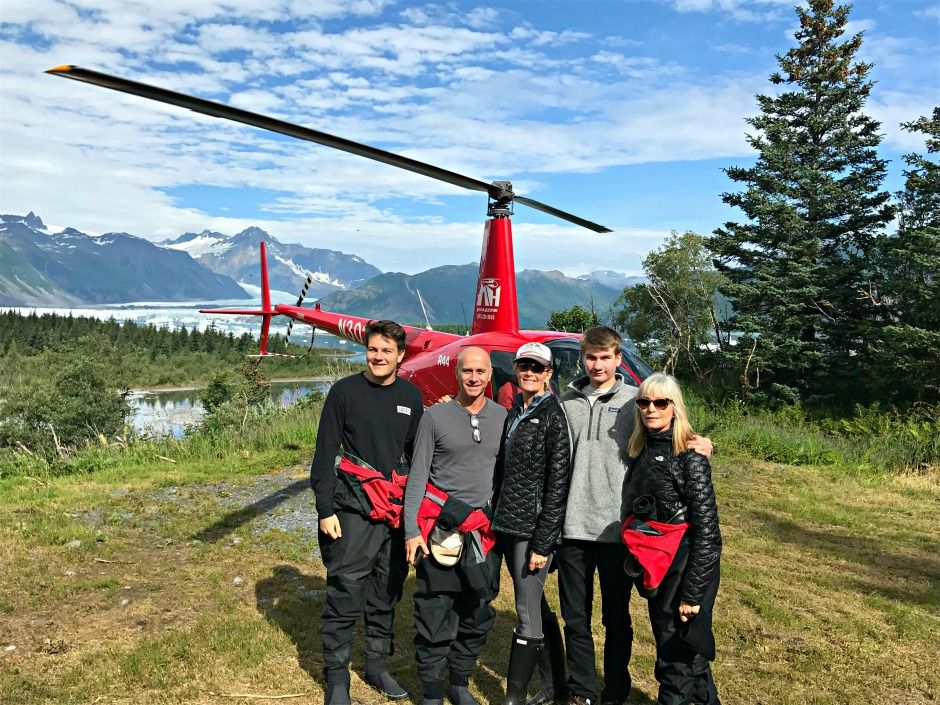 On our second day in Seward, we took a helicopter flight to Bear Glacier Lagoon for this kayak adventure. I had never been on a helicopter and seeing Alaska in the summer from above was amazing.
It's an expensive day trip but it was honestly one of the most memorable experiences of our lives.
The kayaking excursion is good for all fitness levels. You can also do a SUP version but need to have some SUP experience. You can take a SUP lesson beforehand if you need to learn.
The minimum age is 11 years old for kayaking and 13 years old for SUP. Here is the approximate cost from Liquid Adventures:.
Get to Bear Glacier lagoon by boat, 5.5 hour trip, drysuit and kayak gear provided $325 per person
Arrive at Bear Glacier lagoon by boat, return by helicopter, 9 hour trip, drysuit and kayak gear provided $550 per person
Arrive and depart by helicopter, 5.5 hour trip, drysuit and kayak gear provided $650 per person
Helicopter Flight Over Kenai Fjords National Park
There's something special about seeing Kenai Fjords National Park from above. As you fly in a helicopter over the stunning landscapes, you can't help but be awestruck by the sheer size and beauty of the place.
The mountains rise up like giant sentinels, guarding the coastline from the wild storms of the ocean.
The glaciers look like flowing rivers of ice, carving deep valleys into the rock. And the fjords themselves are like giant fingers reaching out into the sea.
In addition to incredible views of the mountains and glacier, you might get a glimpse of the wildlife that live in these mountains, like a running herd of mountain goats or Dall sheep clinging to the steep sides of the mountains.
I would highly recommend to anyone visiting Alaska that you get a chance to see Alaska from above, whether it's by helicopter or small plane.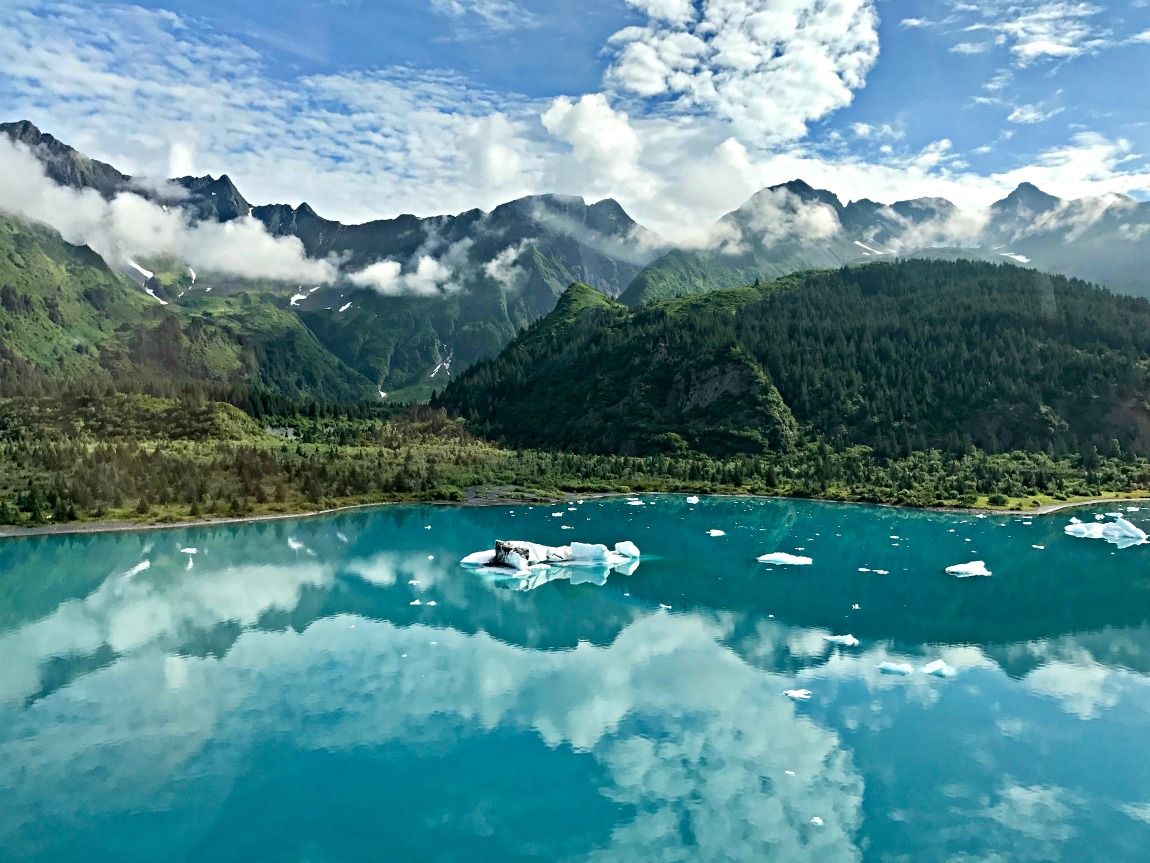 One of the most breathtaking sights was the amazing turquoise glacier water in Bear Glacier lagoon.
From the helicopter, you can see the huge part of the iceberg floating below the surface. Only 10% of the iceberg is visible with 90% being underneath the water.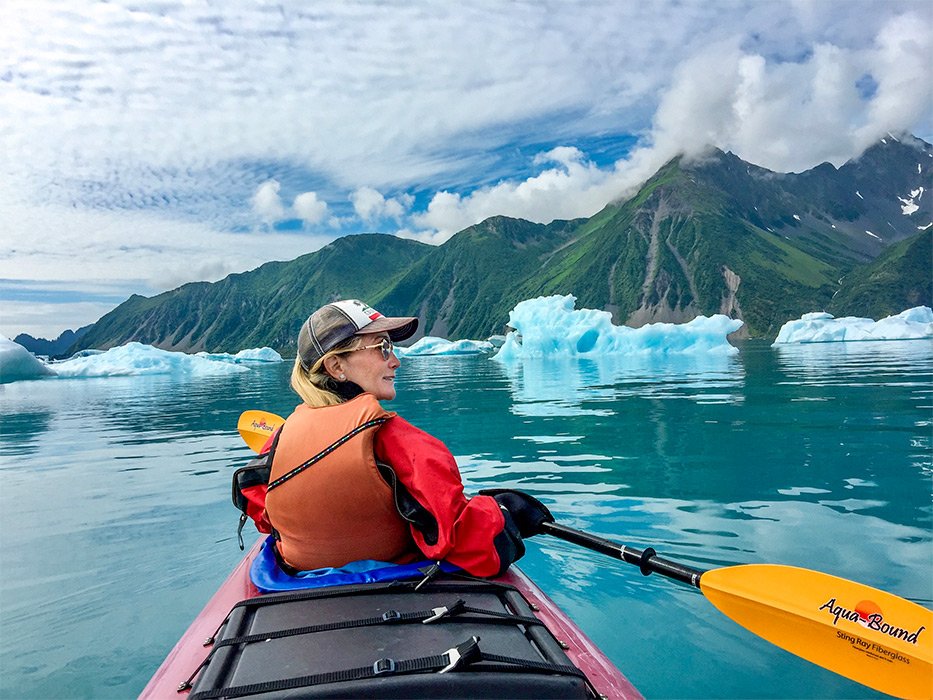 From water level, you are kayaking abound icebergs as big as trucks and buildings. We were cautioned to stay at a distance because the icebergs can flip over without warning.
Every once in a while the silence is pierced by a huge crack and boom of an iceberg breaking apart and rolling. It's also a great place to hear your voice echo.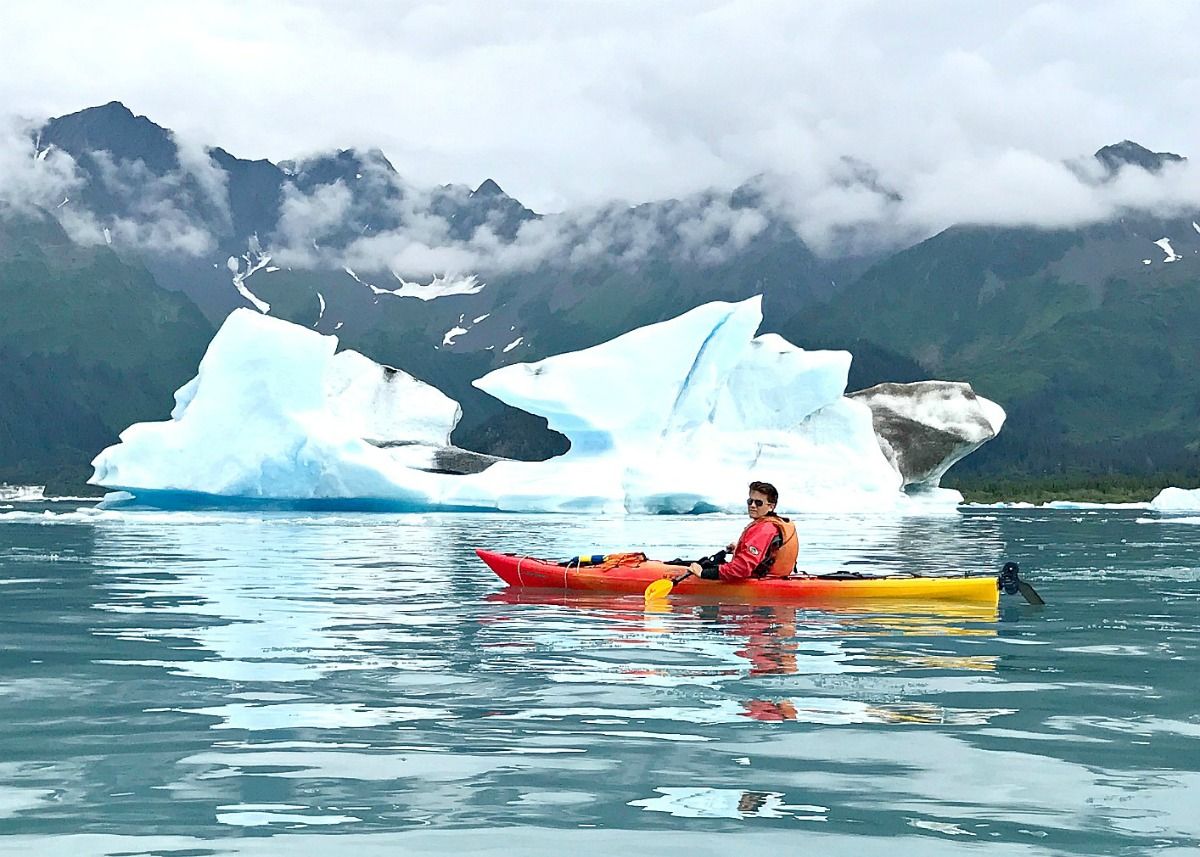 If you love to explore, you will see one thing after the next that you want to check out, including sea lions relaxing on an iceberg of their own. Depending on the trip you choose, you'll have 2-5 hours of kayaking time.
For current conditions at Bear Glacier Lagoon, Exit Glacier or the Harding Icefield, check the National Park Service website.
---
Day 7: Girdwood
To break up the 6 hour drive from Seward to Denali, the ski resort town of Girdwood is a perfect stopping point. Girdwood, Alaska is a small town with a big heart – and an even bigger mountain.
Nestled at the base of Mount Alyeska, Girdwood is a popular destination for outdoor enthusiasts of all types.
Where to Stay in Girdwood
Hotel Alyeska (8.4) is a true resort and a welcome respite that is more luxurious than most hotels in Alaska. It's perfectly located to every outdoor activity, has a full spa, fitness center and a great indoor pool.
Placer Cabin (9.6) a 2 bedroom, 1 bath cozy holiday home that's close to town and hiking trails.
Alyeska Aerial Tram
No visit to Girdwood would be complete without taking the Alyeska Aerial Tram 2,300 feet to the top of Mount Alyeska for panoramic Turnagain Arm views.
You can spot seven named glaciers and see the peaks of the Chugach Mountain Range too.
The tram tickets are $38 per adult, but you can get a discounted Dine and Ride ticket for lunch at the Bore Tide Deli & Bar or a complimentary ride for dinner at the Seven Glaciers Restaurant.
You can also get those great views for free if you're willing to hoof it to the top. The North Face Trail is 2.1 miles of switchbacks and 2,000 feet of elevation gain.
Make sure you wear shoes with good traction as you may encounter some snow depending on the month you go. You can ride the gondola back down for free.
Winner Creek Trail & Hand Tram
One of the most popular hikes in Girdwood is the Winner Creek Trail, a 4.9 mile out and back trail with a cool a hand-tram ride that takes visitors over a stunning gorge in an old growth forest.
For those looking for an easier hike with kids, the Virgin Creek Falls trail is only a half mile round trip, with a beautiful waterfall.
After a long day of adventure, refuel with some local flavor at the Girdwood Brewing Company. Whatever your taste, Girdwood has something to offer everyone.
---
Alaska Summer Trip Itinerary Days 8-10: Denali & Talkeetna
Four hours north of Anchorage is the area of Denali. Famous for Denali National Park, it's also a thrill seekers paradise. If you love hiking, off-roading, river rafting or wilderness adventures, get ready to have some fun!
Where to Stay in Denali
McKinley Creekside Cabins (9.2) Cute little cabins with comfy beds and creekside views from the porch. This is where we stayed and it was just outside Denali NP. Conveniently located to restaurants and excursions.
Day 8: Denali
Denali National Park
Alaska is a land of vast wilderness and dramatic scenery, and there is no better place to experience it than Denali National Park.
The park covers an immense six million acres, and its centerpiece is Denali (also called Mount McKinley), the highest mountain peak in North America – taller than Mount Everest!
On a 7 day Alaska Itinerary, it's hard to fit in more than a Denali National Park day trip. Ideally 2-3 days would allow you to get more of the true experience including spotting wildlife, for which Denali is famous..
We opted not to visit because a bulk of our day would have been riding the bus that goes through the park.
If you do choose to visit, you can book a bus tour, join a ranger-led program, explore the hikes in Denali's front country, or do what we did – an ATV tour in the landscape that essentially backs up to Denali National Park.
Denali ATV Tour
The Denali ATV Off-Road Tour takes riders through the rugged terrain of the boreal forest and Alaskan backcountry.
Get all the thrills of off-roading with everything you need provided for you, including all safety gear and a professional guide.
For this adrenaline-pumping adventure, you can choose to ride a single-rider ATV or a multi-passenger side-by-side ATV. We did both and took turns driving Grandma around (she had an absolute blast too).
The tour is suitable for all experience levels. Ride up to 30 mph with great stops for photo ops and wildlife sightings. It makes a good holiday card photo.
So whether you're a hardcore off-roader or just looking for a unique way to see Alaska, the Denali ATV Off-Road Tour is sure to please.
Pro Tip: Wear clothes that you don't mind getting dirty. We were filthy from head to toe and couldn't have been happier!
Into the Wild Bus
In 1992, Christopher McCandless set off on a journey to find himself eventually leading to Alaska. McCandless's Alaska itinerary was simple. He would travel to the most remote corners of the state, living off the land and embracing the wild.
For nearly four months, McCandless navigated Alaska's vast wilderness, testing his limits and reveling in the beauty of nature.
He spent his last days living in an abandoned bus near the town of Healy, Alaska. The bus still stands in the same location and people that are inspired by his story try to get there, but it's dangerous.
The safer, and much easier option, is to see the replica bus made for the movie, Into the Wild, It's located at the 49th State Brewing Company in Healy.
After you see the bus definitely stay for the good food and lively atmosphere. Another great restaurant is The Black Bear in Denali. They have a terrific breakfast.
---
Day 9-10: Talkeetna
Talkeetna is a funny Alaskan town that is said to be the inspiration for the tv show Northern Exposure. It has a funky vibe and is fun to hang around.
Talkeetna is the jumping off point for all kinds of adventures, from starting a Denali summit to flightseeing tours, boat tours, and fishing trips galore.
Unfortunately, bad weather prevented us from doing the #1 Alaskan excursion – a Denali flightseeing tour with glacier landing. Hopefully you'll have beautiful weather and can add this breathtaking experience to your Alaska Itinerary.
Where to Stay in Talkeetna
Denali Flightseeing Tour from Talkeetna
There is no better way to experience its sheer size and scale than on a Denali Flightseeing Tour from Talkeetna. This tour takes you within 6 miles of Denali's summit before descending into the Ruth Amphitheater.
On the regular 1 hour flightseeing tour you will get a birds-eye-view of The Ruth and Tokositna Glaciers, the ridges of Mount Huntington, and the hanging glaciers of Mount Hunter.
But for those who want a truly wild Alaska experience, the 1.5 hour tour includes a landing on a glacier. Land in the awe-inspiring place where climbers and skiers are dropped off to experience the wonders of Denali.
In clear weather, you might be able to see up 15,000 feet to the peak. From the air you will see Moose's Tooth, where climbers summit.
Another amazing thing to explore by air is the Great Gorge. The ice is a staggering 3,700 feet deep, the walls are approximately a mile high above the glacier, and the crevasses are big enough to swallow a house.
Reserve your Flightseeing Tour here and you will be charged 2 days prior to your flight. At the time of publishing, the 1 hour flight is $260 per person and the 1.5 hour glacier landing tour is $375 per person.
Downtown Talkeetna
We were Talkeetna locals for a few days since we were grounded. Talkeetna Roadhouse is a must for Talkeetna restaurants. You find a seat wherever you can fit in, even if it means asking people to move over.
They have pancakes so large that they flop over the edges of the plate.
There are lots of little, touristy shops. A large portion of the buildings are historic with plaques that tell their historic significance. You can really envision what it must have been like to be there years before.
Talkeetna is set at the base of Denali and on the banks of the Talkeetna and Sustina Rivers. The area is a great place to take a hike, even in the rain.
The Talkeetna Lake Trail is a 3.7 mile easy loop in Trapper Creek. There are also plenty of forest and river paths to explore.
Day 11: Anchorage & Seeing the Northern Lights
Anchorage
Our last day in Anchorage was uneventful but we went shopping, rode bikes along the Tony Knowles Coastal Trail. We also walked around downtown Anchorage shops and ate a great dinner at Glacier Brewhouse before heading to the airport.
Alaska Northern Lights
One of the best things to see in Alaska is the Aurora Borealis. Also known as the Northern Lights, the Aurora Borealis is a natural light show that is caused by charged particles from the sun interacting with atoms in the Earth's atmosphere.
The result is a stunning display of color that can be seen in the night sky. While the northern lights happen all year long it's hard to see during summer in the land of the midnight sun.
BUT it is still possible, especially the further you get away from the summer solstice around June 21st.
Check the Aurora Forecast map to see when the lights are most active. If the KP Index goes over 4 and there's a night sky, you may be treated to an unforgettable sight.
Sure enough, glued to the window of our red eye flight, I saw the Alaska Northern Lights. It was hard to get a photo that did it any kind of justice but I watched the dancing green lights for hours.
Best Time to Visit Alaska
The best time to visit Alaska depends on what kind of experience you're looking for. Summer is the best time to visit for the best weather and the most activities.
Summer – Average summer temperatures are between 50 – 80 F with sun and some rain. Daylight is approximately 18 hours during the summer so you'll have tons of time each day to enjoy activities. However, you'll be competing with throngs of other tourists for hotel space and activities. Peak tourist season is June to mid-August.
Shoulder season – In May and late August to early September is a great time to visit if you're looking for a balance of good weather and smaller crowds.
Fall – Stunning displays of autumn foliage and seeing the Northern Lights makes fall a great time to visit. However, there is a risk of early snowfalls, which can make travel difficult.
Winter – for people willing to brave the cold, you'll be rewarded with smaller crowds and the chance to experience Alaska's winter wonderland.
---
How to Get to Alaska for Your Summer Trip
If you look on a map you will find that the Alaska Panhandle (the southernmost strip) is not accessible by car. People can only bring their own car using a ferry system called the Alaska Marine Highway.
The difficulty moving from town to town in southern Alaska is why most people take an inside passage cruise for their summer trip. You can however, fly Alaska Airlines from place to place for a decent price.
If you plan to skip the panhandle and just do a road trip in Alaska, it's easy to get around from Anchorage as your starting point. you can also look at flights to Fairbanks but it is further north and not as centrally located. You are definitely better off starting in Anchorage.
---
Alaska 10 Day Itinerary Highlights
These are the things we did on our Alaska trip that all of us loved and we highly recommend.
The Things We Missed on Our 10 Days in Alaska Itinerary
The Denali Flightseeing Tour & Glacier Landing from Talkeetna due to weather. 🥲
Homer – We didn't have enough time to check out the Salty Dawg Saloon and drive down to the Homer Spit (a peninsula at the end of the Kenai Peninsula). If you like fishing, it's the halibut capital of the world.
Taking a Bear Viewing Day Trip From Homer to see bears catching salmon in Katmai National Park or Lake Clark National Park. You can check out the bear webcam for real time bear fishing.
Cruising Glacier Bay National Park. Alaska is huge and it's so hard to fit it all in.
Stay at an Alaskan Wilderness Lodge – a real summer vacation experience, like a luxurious camp with activities, gourmet meals and lodging included.
We didn't do anything with Alaska dog sledding because we've heard
---
Alaska Summer Trip Tips
Leave your umbrella at home and pack a rain coat and rain boots like the locals do.
Book hotels or an Alaskan Wilderness Lodge way ahead. If you wait too long you can find yourself overpaying for a hotel that is average at best. Throughout this Alaska itinerary, we've included hotel options in every area.
Be adventurous and do your own trip by car or rail. No cruise necessary.
Alaska is huge. You are going to have to pick and choose unless you have at least 2 weeks.
There are a lot of prop planes, float planes and helicopters to get around. It can be expensive but the time you save, the views you see and the interesting activities you can do, make it worthwhile.
To save some money on your Alaska trip, book your plane tickets with miles. Here are the best credit card offers if you need to boost your point balances.
We rarely take tours while traveling but Alaska is the place to go all out and get once-in-a-lifetime experiences.
---
If you're looking for an epic road trip that will take your breath away, consider planning a trip to Alaska.
With its rugged and beautiful terrain, amazing wildlife, and once-in-a-lifetime experiences, a 7 day Alaska Itinerary is sure to leave you with memories that will last a lifetime.
10 days is even better and ours turned out to be an 11 day Alaska Itinerary. Start planning your Alaskan adventure today!
Save This Alaska Itinerary Post For Later? Pin it!