Our Alaska summer trip was an awesome multigenerational adventure! When I first started planning, cruises seemed like the only way to see everything but I was determined to explore on our own timetable. If you are overwhelmed by the possibilities and scouring the internet for an Alaska itinerary, you've landed on the right page. This post includes our day by day activities so you can incorporate the things you think you would enjoy and skip the rest.
Visiting Alaska was our 50th state. Yep, we've seen them all! We saved Alaska for last because we knew we wanted to do an extended trip of at least 1-2 weeks. We were afraid Alaska wouldn't measure up to our high expectations of the trip we had to Iceland but we were so wrong. Alaska should be on every USA bucket list. This state is filled with beauty and incredible adventure. Our itinerary was filled to the brim with amazing things to do in Alaska.
Best Time to Visit Alaska
Unless you're trying to see the Alaska Northern Lights, the best time to visit Alaska is summer. Peak tourist season is mid-June to mid-August. There is a shoulder season in May and September when you might be able to score some discounts. Average summer temperatures are between 50 – 80 ºF with sun and rain.
Daylight is approximately 18 hours so you'll have tons of time each day to enjoy activities. The further north you go, the longer the days last.
Alaska Hotels & Vacation Rentals
Being the amazing summer trip that it is, the best Alaska hotels get booked quickly. If you wait too long you can find yourself overpaying for a hotel that is average at best. My sage advice is to book your hotels as early as possible. Throughout this Alaska itinerary, our hotel picks by area are below.
You can also find great properties on Airbnb and VRBO too. Lastly you might consider a vacation at an Alaskan Wilderness Lodge. They are on the expensive side but they coordinate all of your activities and they are usually on beautiful more remote properties.
How to Get to Alaska for Your Summer Trip
If you look on a map you will find that the Alaska Panhandle (the southernmost strip) is not accessible by car. People can only bring their own car using a ferry system called the Alaska Marine Highway. The difficulty moving from town to town in southern Alaska is why most people probably take an inside passage cruise for their summer trip. You can however, fly Alaska Airlines from place to place for a decent price.
If you plan to skip the panhandle and just do a road trip in Alaska, it's easy to get around from Anchorage as your starting point. I also looked at flights to Fairbanks but it is further north and not as centrally located. You are definitely better off starting in Anchorage.
---
Alaska Itinerary Day 1: Sitka & Juneau
My initial travel partners were my mom and son since we had more time to travel. We had a layover in Sitka that allowed us to get a quick view of the quaint, tiny town. If you saw the movie, The Proposal, you might be wanting to see Sitka but I sadly found out it wasn't filmed in Sitka.
3 hours later, we landed in Juneau, the capital of Alaska. It has a thriving population year round. Rent a car at the airport. It's much bigger than you think and Uber definitely doesn't have enough drivers.
Our hotel, was the Four Points by Sheraton Juneau. It's really nice, clean and new. Our room had a great view of the bay with all the cruise ships. There's a nice gym and a good restaurant in the lobby. Best of all it's walking distance to downtown Juneau.
The Alaskan panhandle is an actual rain forest. We learned immediately that the summer weather in Juneau (they have lots of it) can change your plans. Our helicopter trip to a glacier for dog sledding was canceled. Instead, we went to the Mendenhall Glacier for the Nugget Falls hike with a beautiful waterfall and a trip to the Visitor Center to learn all about glaciers.
Later that rainy day, we drove all around Juneau and found such interesting sites. We saw salmon spawning, which is truly fascinating but a little morbid when you see so many dead fish. It's part of their natural lifecycle. My mom's dark side was having fun taking dead fish pictures. She and my youngest son are both photographers. He got up close to a bald eagle and captured a great shot.
In the evening, we headed up the Mount Roberts Tramway to enjoy the sunset and great view.
Alaska Itinerary Day 2-3: Juneau
Our day started with Alaska Zipline Adventures. Our guide picked us up and drove us out to Douglas Island for a zipline tour. They outfitted us with gear and taught us everything we needed to know to swiftly zip from tree to tree. At the end of all the excitement, they had a surprise for us. We would try our luck at throwing axes (and I thought playing darts was hard). Actually I'm pretty sure no one should give me an ax to throw. I, of course, missed the target completely, but my son, the darts champion in our house, hit the mark.
Mendenhall Glacier Ice Cave & Kayak Tour
Our final day in Juneau started with a terrific breakfast at the Sandpiper Cafe with lots of locals. In the afternoon, we did a privately guided kayak paddle and ice cave tour back at Mendenhall Glacier with our guide from Above and Beyond Alaska Wilderness Trips. After putting on tons of gear – waterproof pants, waterproof jacket, boots, and kayak skirt – over our clothing, I felt like a big blob. Once we finally got in the kayaks, all of the tedious preparation faded away. We started in the rain on a glassy, reflective lake with fog gently laying on top of the water. It was 3 miles of quiet paddling until we reached the base of the glacier. The glacial ice from far away doesn't show the varied terrain but up close, you see the blue color of compacted ice and all of the crevasses.
It was a short path up to the entrance of the ice cave. Our guide, Brittney explained all of the safety information we needed before we ducked inside. It was a wonderland of turquoise ice. The melting ice dripped from the ceiling into rivers of water on the ground. You can't help but feel like you are so lucky to be there. It was a highlight of our trip.
Afterwards, we hiked up around the edge of the glacier. We didn't have ice cleats so we couldn't go on the glacier itself. The dirt around the glacier is compressed silt. People use it as a facial mask. My son refused the onsite beauty treatment we offered!
Alaska Itinerary Day 4: Juneau to Kenai Peninsula
From Juneau, we took a quick Alaska Airlines flight to Anchorage, connected with my husband and eldest son, rented a car and started the Alaska road trip portion of our adventure. The Alaskan Highway from Anchorage to Seward is supposed to be one of the most scenic road trips in America. I would have to agree. We stopped at the Alaska Wildlife Conservation Center along the way. Even though it's not the same as seeing animals in the wild, it was nice to see a bunch of cool animals. I kind of wanted to see a moose walking up the street in the center of town like the TV show Northern Exposure but we settled for the zoo.
Alaska Itinerary Day 5-6: Kenai Peninsula
Whale Watching & Glacier Calving in Kenai Fjords National Park
Finally out of the rainy weather, we took a whale watching trip in Kenai Fjords National Park with Major Marine Tours. We saw a few pods of orcas that were happy to spend time around the boat to the delight of us all. We also had a rare sighting of a fin whale. The other big draw of the trip is to visit an active tidewater glacier which means it is calving into the ocean. It's hard to imagine these huge masses of ice moving but you know it's true when they keep dropping off into the water with a big boom. On the way to and from the glacier, we saw sea lions, sea otters, seals, puffins and other wildlife. It was a perfect sunny day and the scenery was amazing.
We got back from whale watching at the same time as the fishing trips returned. There was a ton of excitement on the docks as they cleaned the fish. They hung up the biggest fish beautifully and commended the fishermen of the day.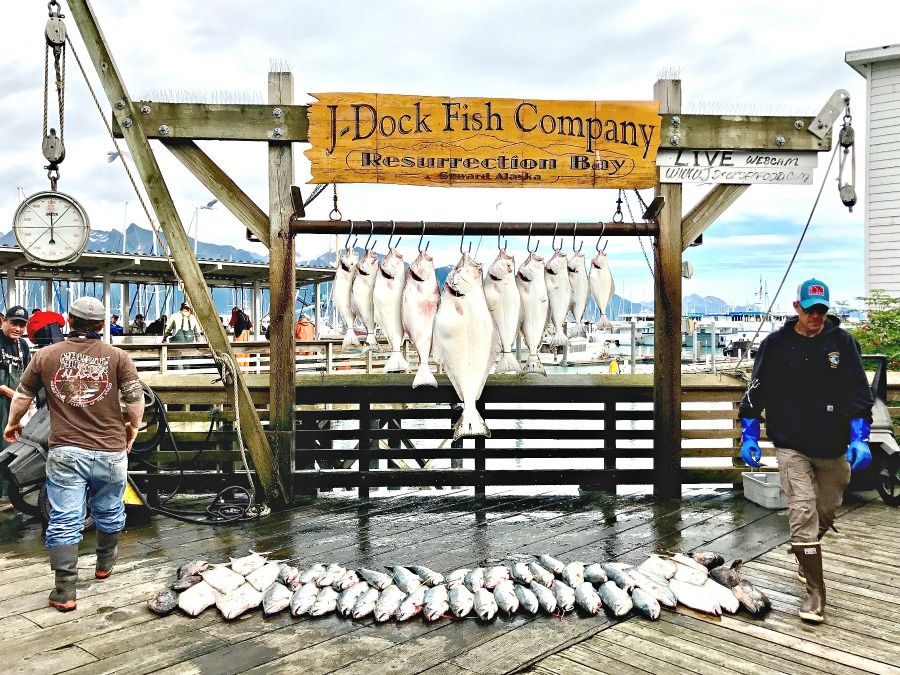 We walked along the waterfront on our way to dinner at Seward Brewing Company. The view of Resurrection Bay was too pretty not to snap a few pics. I love this one of my mom and sons. We saw so many people taking a summer trip to Alaska with grandparents. It's such a great opportunity to build memories and bonds that last a lifetime.
Helicopter/Kayak Trip to Bear Glacier
On our second day in Seward, we took a helicopter flight to Bear Glacier Lagoon for another kayak adventure. I had never been on a helicopter and seeing Alaska in the summer from above was definitely a highlight of our trip. We had incredible views of the mountains, the glacier, a running herd of mountain goats and the amazing turquoise glacier water.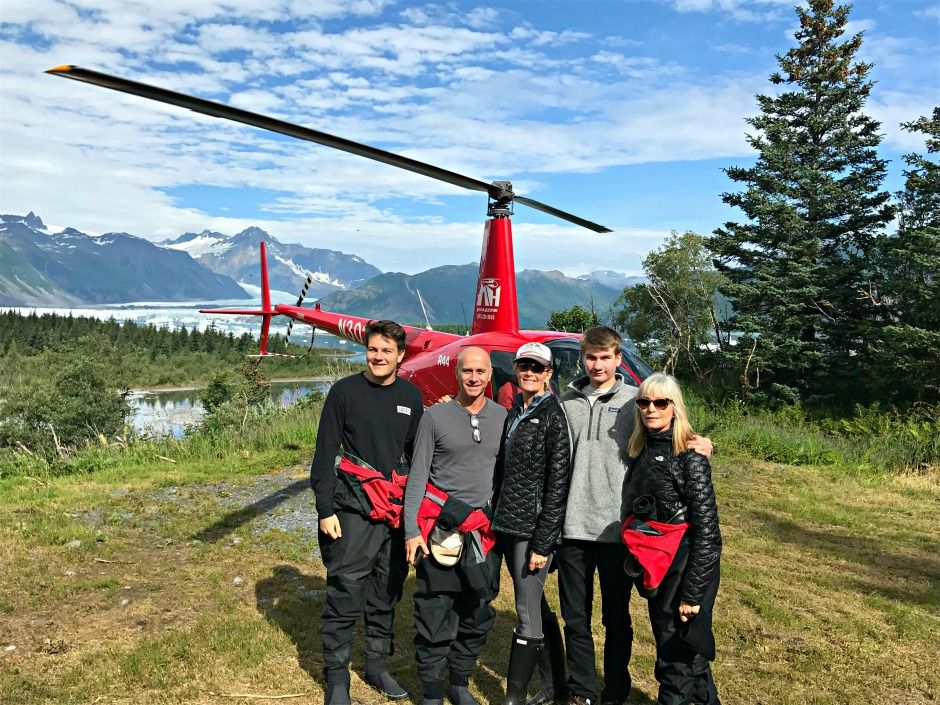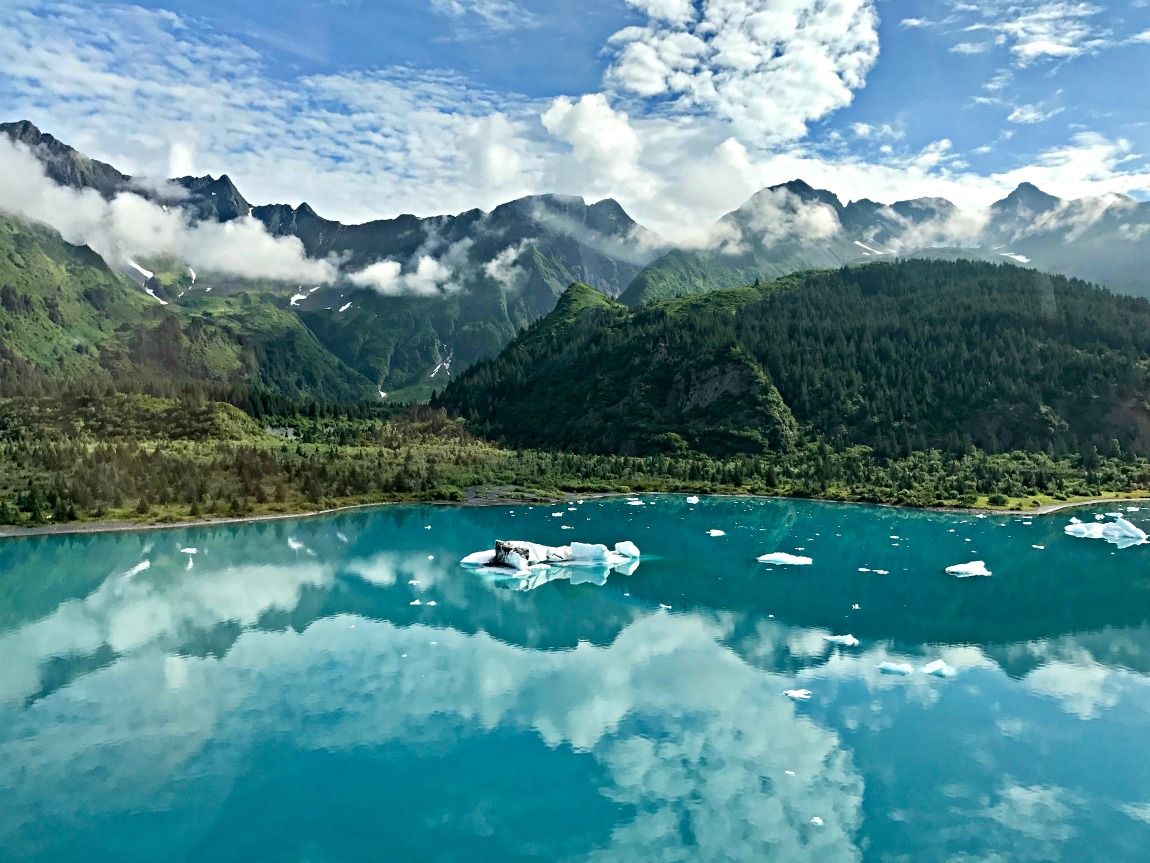 This time, we were kayaking abound icebergs as big as buildings. We were cautioned to stay at a distance because the icebergs can flip over without warning. Only 10% of the iceberg is visible with 90% being underneath the water. We were literally the only people in this little slice of wilderness that day. Every once in a while you could hear a huge crack and boom which was probably an iceberg breaking apart. If you do anything from this Alaska itinerary, do this! Kayaking or Stand up Paddleboarding in Bear Glacier Lagoon is a bucket list item. Liquid Adventures offers both trips.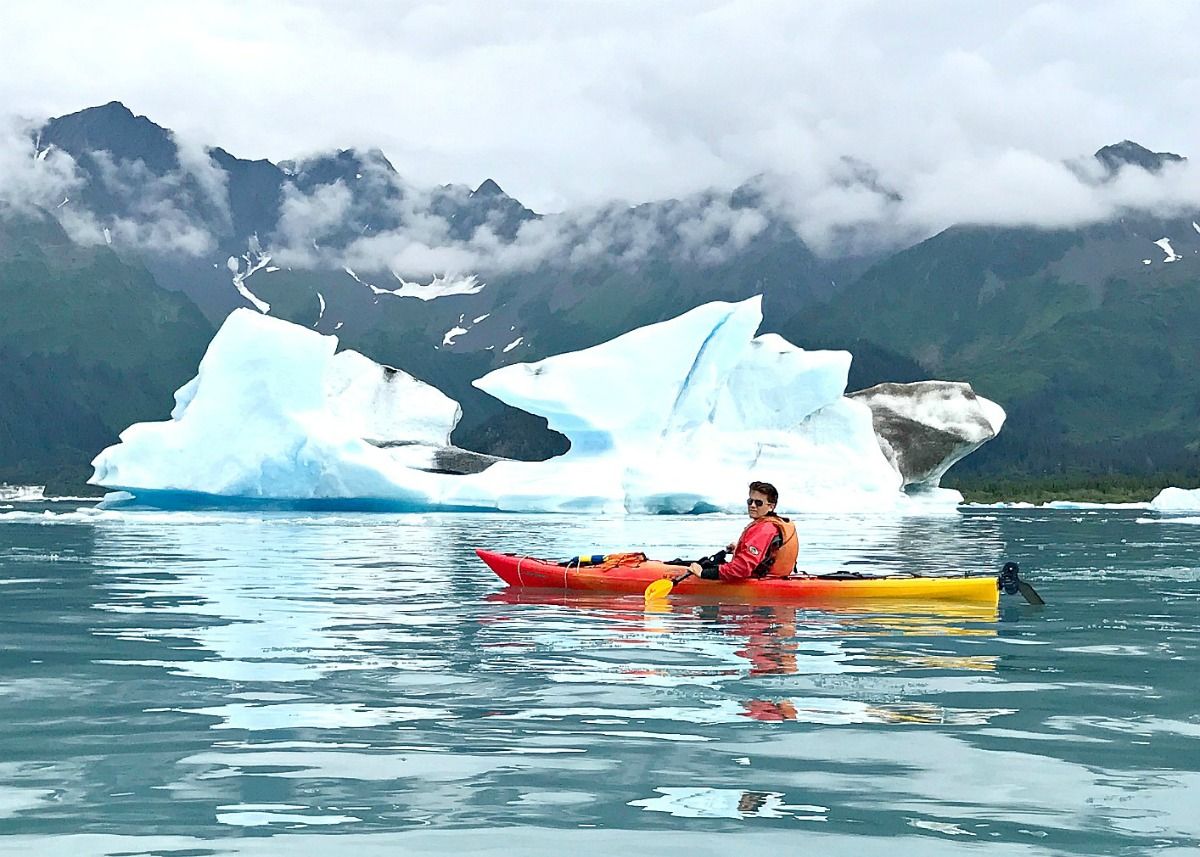 For current conditions at Bear Glacier Lagoon, Exit Glacier or the Harding Icefield, check the National Park Service website.
Alaska Itinerary Day 7: Girdwood
Girdwood is a ski resort town just outside of Anchorage. It's a great mid-point if you are traveling between the Kenai Peninsula and Denali. Our nicest hotel in Alaska was the Hotel Alyeska, a terrific resort. There are tons of great hiking trails. We hiked the Winner Creek Trail to the coolest hand tram. I was a "little concerned" about bear encounters. Just in case, take bear spray and make a lot of noise on the trail to avoid any unplanned meetings. The hike was invigorating and thankfully uneventful!
Alaska Itinerary Day 8: Denali
I did a lot of reading about Denali National Park and decided we didn't have enough time (2-3 days) to really enjoy it. It's one of the biggest national parks in the United States with the highest peak in North America. There is a bus route around the park which is approximately 6 hours round trip. Instead, we went ATV riding in an area that backs up to the national park. I guess it's no surprise that boys of all ages like going fast on ATVs through big mud puddles and getting dirty, making this their favorite activity of the trip. We did a private tour with Denali ATV Adventures. It was an absolute blast for us all!
The area where we rode ATVs was close to the location of the bus from the book Into The Wild about the journey of Christopher McCandless. It is dangerous to get to the actual bus because of the rivers. You can see the movie prop bus at the 49th State Brewing Company in Healy. They had good food and the atmosphere was very lively.
Another great restaurant is The Black Bear in Denali. They have a terrific breakfast. This is where we were caught using our cell phones and being anti-social. 😳
Alaska Itinerary Day 9-10: Talkeetna
Talkeetna is a funny Alaskan town that is said to be the inspiration for the tv show Northern Exposure. It has a funky vibe and is fun to hang around. Talkeetna is the jumping off point for all kinds of adventures. This is where people start for a Denali summit. There are also flightseeing tours, boat tours, and fishing trips galore. Unfortunately the mountain was obscured both days and we couldn't do the #1 Alaskan excursion – a flightseeing trip around Denali and landing on the glacier. If you make the trek, hopefully you'll have better weather.
We were Talkeetna locals for a few days since we were grounded. There are some great restaurants like the Talkeetna Roadhouse. You find a seat wherever you can fit in, even if it means asking people to move over. They have pancakes so large that they flop over the edges of the plate. Another yummy place was the Wildflower Cafe. There are lots of little, touristy shops. A large portion of the buildings are historic with plaques that tell their historic significance. You can really envision what it must have been like to be there years before. It was fun walking around in rain gear through town and on the beautiful forest walking paths.
We stayed in Belle's Cabin, a historic home owned by the Sheldon family that has a long history in this town and Denali. It was really comfortable and one block from downtown. If you want to see an incredible place to stay, check out their amazing new venture on Denali – Sheldon Chalet.
Leaving Alaska – Day 11
We took a red-eye flight and spent our last day in Anchorage walking around and eating. I found the Aurora Forecast map and realized that the night we were leaving there was a potential to see it. Sure enough, glued to the window of our red eye flight, I saw the Alaska Northern Lights. It was very hard to get a photo that did it any kind of justice but I watched the dancing green lights for hours.
Alaska Summer Trip Highlights
Juneau – Mendenhall Glacier Ice Caves Tour & Zipline Tour
Denali – ATV Riding
Kenai National Park – Wildlife cruise and glacier calving
Girdwood – Hotel Alyeska and Winner Trail Hike
Seeing salmon spawn
Meeting Alaskan locals. Everyone was very friendly.
The Things We Missed
Watching bears catch salmon at Brooks Falls in Katmai National Park. It's the most remote national park so you need to take a helicopter, float plane or boat to get there. Check out the bear webcam for real time bear fishing. So fun to watch!
Dip net fishing in the Copper River. It's only for Alaskan residents but it would be fun to watch.
Cruising Glacier Bay National Park. Alaska is huge and it's so hard to fit it all in. Cruise ships go here if your are taking an Alaskan cruise.
Homer – If we had a few more days, we would have gone to Homer. I've heard amazing things about just hanging out there and getting a really laid back Alaska vacation experience. If you do have time, check out the Salty Dawg Saloon, drive down the Homer Spit (a peninsula at the end of the Kenai Peninsula) and since this is the halibut capital of the world you might want to go halibut fishing.
An Alaskan Wilderness Lodge – a real summer vacation experience, like a luxurious camp with activities, gourmet meals and lodging included.
---
Alaska Summer Trip Tips
Don't worry about bringing an umbrella. Use a rain coat and rain boots like the locals do.
Book hotels or a lodge way ahead.
Be adventurous and do your own trip by car or rail. No cruise necessary.
Alaska is huge. Don't try to see everything unless you are planning to stay for awhile.
There are a lot of prop planes, float planes and helicopters to get around. It can be expensive but the time you save, the views you see and the interesting activities you can do, make it worthwhile.
To save some money on your Alaska trip, book your plane tickets with miles.
If You Love Outdoor Adventures, Check Out:
Save This Post For Later? Pin it!