So often you read about a location and someone gives you a list of 100 things to do somewhere. While it might be good to see all your options, I'm a bottom line girl – tell me the must dos! Then I can add other things in the time I have left. So here are the top, top, top…absolutely best things to do in Belize. But don't worry, I added extras so you're still covered.
One of the coolest things about Belize travel is that it's a 2 for 1 vacation. You can visit 2 separate areas and have 2 totally different experiences. The Cayo district is a jungle with Mayan Ruins, Caves, Ziplining and other adventures. The Cayes, are gorgeous beach destinations with white sand beaches, crystal clear, turquoise water, and "unBelizeable" water activities. Read on to see the best of the best to help plan your itinerary.
Planning a trip to Belize? Here are a few other posts you will find helpful.
First, our list of the 10 Things your are forgetting to pack for Belize includes exactly what you need for your trip. The best thing we did in Belize was a scenic flight to the Belize Great Blue Hole. You can read all about it and how to book the excursion.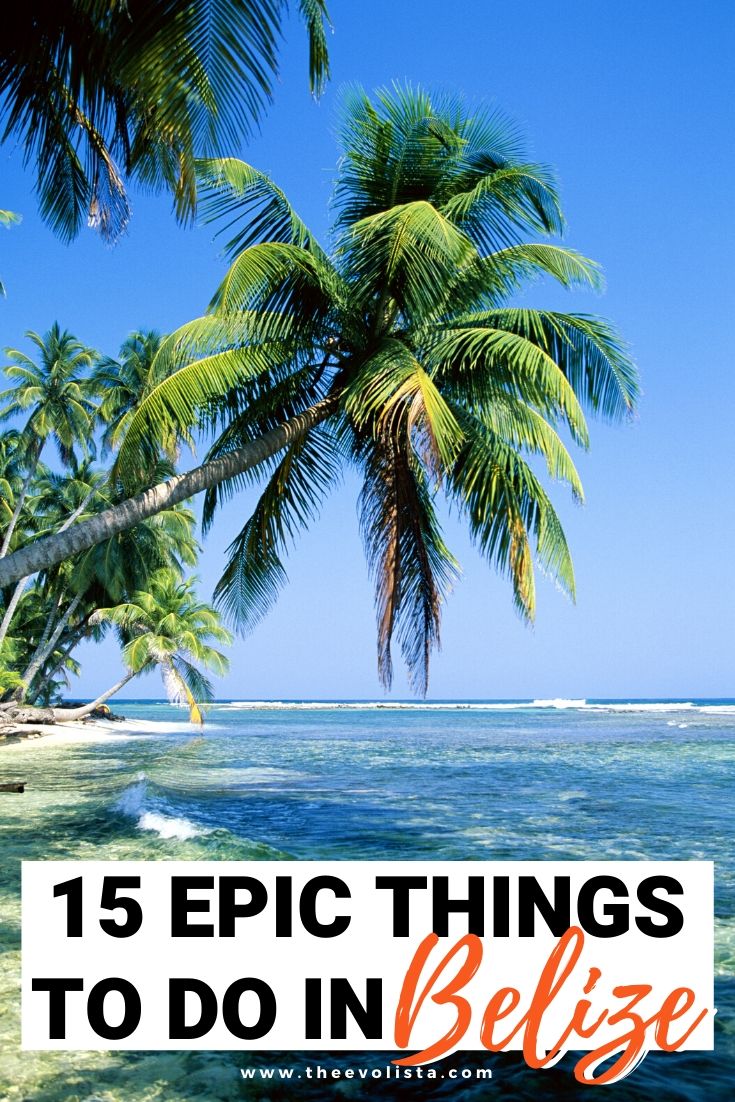 Things to Do in Belize's San Ignacio Cayo District
The main city of the Cayo District is San Ignacio. It's a perfect central place to stay for all the activities in the area. There is so much to do that you could easily keep yourself busy for a week or you can just relax Belize style.
Our hotel: Ka'ana Belize Luxury Resort was amazing and definitely one of the top hotels in Belize. We were so thrilled with our choice. The rooms are so comfortable, you have to check out the suites with private pools. The food was delicious. It's Eco friendly and also has it's own extensive organic farm that you can tour. They have the best list of activities, (including a Mixology Class) and coordinated everything for us. They even put an itinerary in our room the night before with the departure time, everything we needed to bring and helpful details.
How Long to Stay – Ideally you need at least 3 nights and 2 full days here. We had 2 nights and had to choose between 2 things we really wanted to do.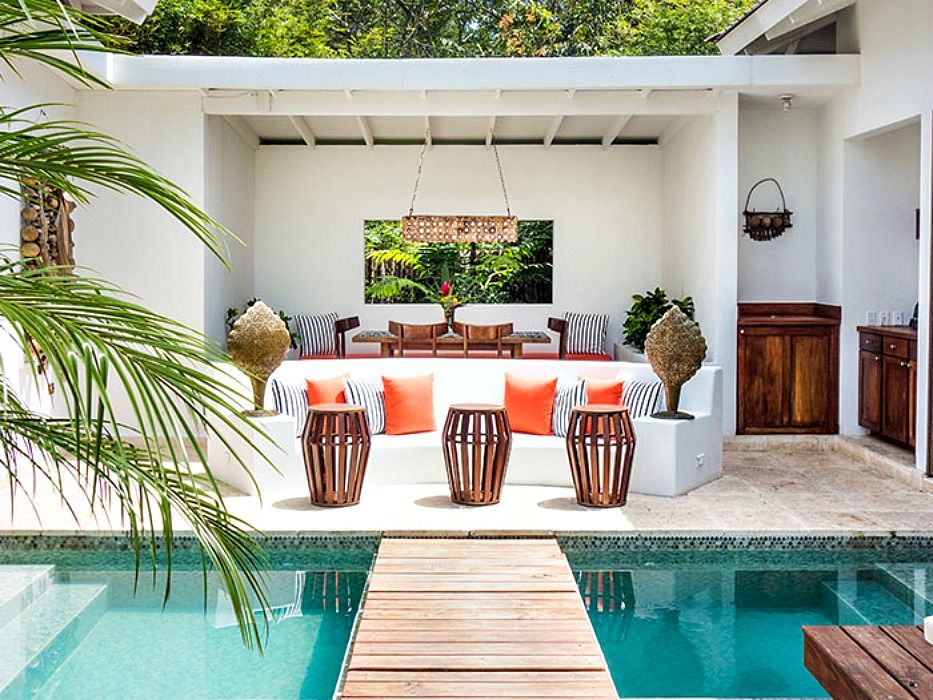 Actun Tunichil Muknal Cave Tour
This ATM Cave Tour is definitely one of the best things to do in Belize. It's a Raiders of the Lost Arc kind of adventure, climbing though caves, wading in water up to your waist, burial sites, preserved skulls and skeletons and more.
You have to take a licensed tour and I've been told that it's physically challenging. The people that have done the ATM Cave tour said it was fantastic. We had limited time and made the tough choice to go to Tikal instead.
One of the Best Things to Do in Belize is a Day Trip to the Guatemala Tikal Mayan Ruins
How can a Mayan Ruin site in Guatemala be one of the top things to do in Belize? San Ignacio is only 10 minutes from the Guatemala border and everyone we met was heading over to check it out.
You might know that we've been doing a World Travel Challenge so I couldn't pass up the chance to cross the border and go to Guatemala to see the most amazing ruins at Tikal. It's a Mayan Citadel (think Kingdom), about 10 times the size the famous Chitzen Itza. It has a staggering 4,000+ structures.
How to Get There – If you rent a car, you can cross the Guatemala border by yourself. You have to go though a passport check. Then drive the 2 hours to Tikal. You will pass a backpacker town of Petén where you can stay if you want to do a sunrise tour of Tikal or prefer not to do so much driving in one day. For a luxurious experience, stay at Las Lagunas or La Lancha. Check out this post for a full Guatemala itinerary.
We didn't have a car and our hotel Ka'ana Belize coordinated a private tour for us that took us from the hotel, to Tikal, helped with the border crossing, included a private tour guide and delicious lunch.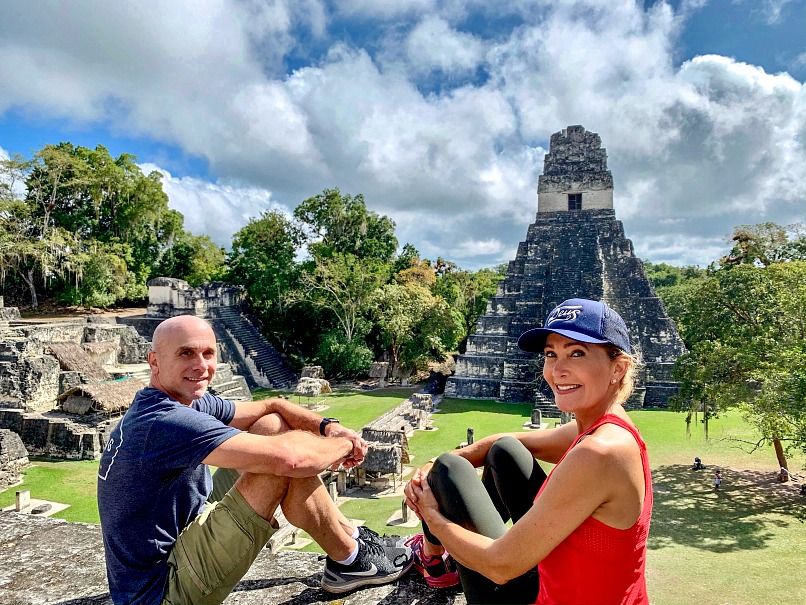 Other Unique Things to Do in Belize's Cayo District
There are a myriad of activities available in the Cayo district. So #3 is to pick one or a bunch of them depending on how long you stay.
Cave Tubing at Barton Creek Cave – You can do a cave tubing or canoe trip in the morning, floating down a river, in and out of various caves in Mountain Pine Ridge Reserve.
Zip lining – Also a half day activity, you can go ziplining through the jungle canopy in the afternoon.
More Mayan Ruins – Xunantunich Maya Ruins, Cahal Pech Mayan Ruins and Caracol Mayan Ruins are right nearby and incredible in their own right.
Horseback Riding – Riding can be combined with activities like seeing Mayan Ruins or you can just go out for a ride and picnic.
Farmer's Market – mingle with the locals at the Saturday Farmer's Market in San Ignacio. Try the pupusas, an El Salvador specialty that everyone is wild about in Belize. Drink the water out of a chilled, freshly cracked coconut. For dessert, get a huge, sweet papaya cut open for you.
Belize Cooking or Mixology Class – Ka'ana Resort had the most fun Mixology class where I learned to make a Watermelon Mojito and a Mango Habanero Margarita.
Belize Botanic Gardens is a slice of garden heaven with a tropical fruit orchard and rainforest trail. It's 15 minutes from San Ignacio.. It's open every day, has tours and volunteer opportunities.
Birdwatching, Butterfly farms and the Belize Zoo – Belize is a nature lover's paradise. Outside of this area but worth mentioning for people that love nature reserves is the Cockscomb Basin Wildlife Sanctuary.
Things to Do in Belize on Ambergris Caye
There are more than 400 little islands off the coast of Belize, called cayes (pronounced keys), that are part of the Belize Barrier Reef. Two very popular beach destinations in Belize, Caye Caulker and it's larger neighbor, Ambergris Caye get a majority of the visitors. Water sports reign supreme and people come to enjoy the stellar diving and snorkeling.
Our Hotel: Victoria House was in the perfect location. Far enough outside of the town of San Pedro to be calm and quiet but close enough to be a short ride into town. The resort is a gorgeous beachfront property with 2 pools, palm trees everywhere, and restaurants and bars onsite. We stayed in the most luxurious suite with 4 poster mahogany bed, huge bathroom, outdoor shower and private terrace. I was ready to move in!
How Long to Stay – At least 3 nights to go snorkeling and or diving,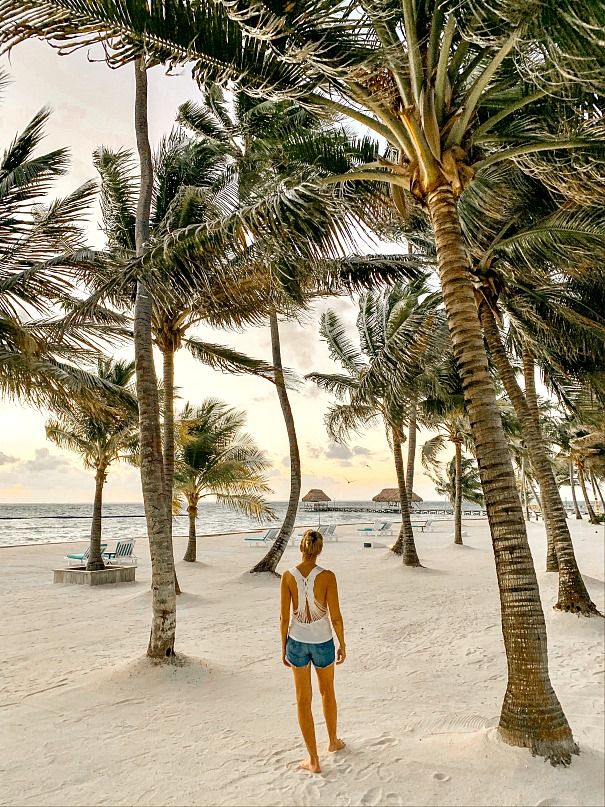 Our Favorite Thing to Do in Belize is a Flightseeing Tour of Great Blue Hole!!
You know when you get really excited to see something and it doesn't measure up to your expectations. Well, the Great Blue Hole does not disappoint. It was better in person than we hoped.
This world famous 400′ deep sinkhole off the coast of Belize has some of the most amazing, advanced diving in the world but the best vantage point is from the air. You can either take a helicopter tour or we took a plane flight. It's expensive but completely worth it.
The helicopter is booked by helicopter making it really expensive for just 2 people. The Tropic Air 1 hour plane flight had all window seats. They circled the Blue hole 2 times in both directions so everyone got an amazing view for the perfect photo.
Pro Tip: Ask if you can ride in the co-pilot seat. It's first come, first served. There are also boat tours to go diving and snorkeling. Keep in mind that diving at the great Blue Hole is only for advanced divers.
Hol Chan Marine Reserve
The Belize Barrier Reef, a UNESCO Heritage site, is the 2nd largest reef in the world running along 185 miles of Belize coastline. Because of it's protected status, the marine life provides top notch diving and snorkeling opportunities.
The Hol Chan Marine reserve is only 4 miles off the coast of Ambergris Caye making it one of the best things to do there. There are 4 distinct areas – Coral Reefs, Grass Beds, Mangroves, and Shark Ray Alley.
Each has their own marine life. You can spot anything from beautiful coral, sea grasses, large schools of brightly colored fish, lobsters, sea turtles, sting rays, and nurse sharks.
Victoria House has a Dive Shop right on their own pier where you can depart for snorkeling and scuba diving. In addition to renting all equipment, they also offer multiple dive courses from a-3 hour refresher course to full 3 day diving certification. If you are staying elsewhere, your hotel can help you coordinate half or full day trips.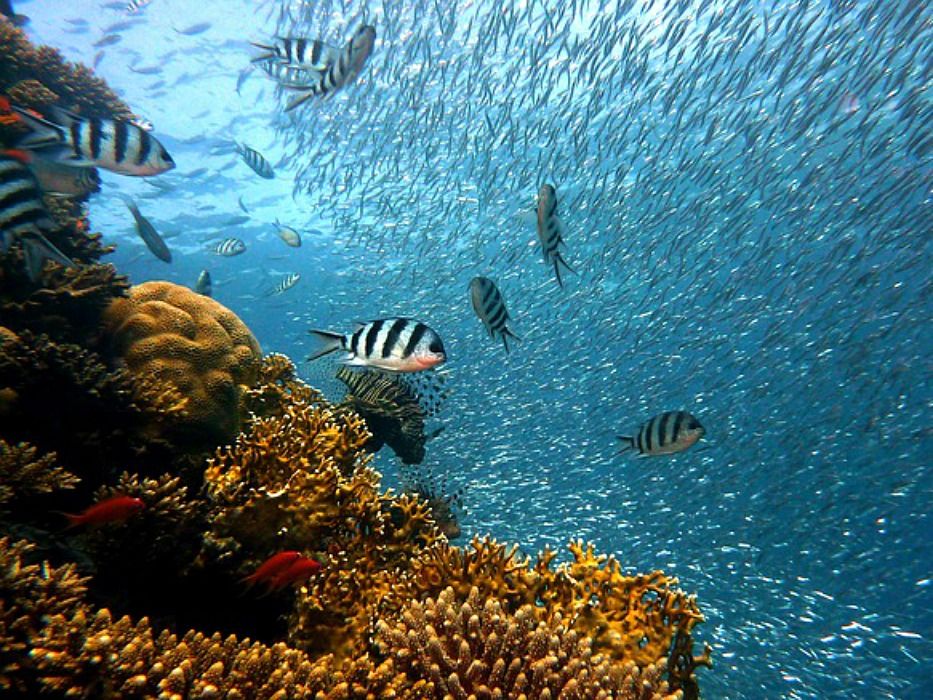 Other Fun Things to Do in Belize in San Pedro
Rent a Golf Cart – It's the best way to get around Ambergris Caye and if you have fun doing it, even better.
Secret Beach is the not so secret place everyone goes. It's a drive to the other side of the island so your golf cart will come in handy. There are activities like beach volleyball and water sports.
Day Trip to Bacalar Chico National Park and Marine Reserve. Accessible only by boat, this is a UNESCO Heritage and diving site on the northern tip of Ambergris Caye by the Belize/Mexico border.
Go fishing or just rent a boat and take a ride in San Pedro Lagoon.
Chicken Drop – Only in Belize can you gamble on chicken poop! Thursday night at Wahoo's Lounge, they put a chicken on a large game board to see where he will make his drop.
Take a chocolate making class or just get a treat at Belize Chocolate Company.
Hang Out & Relax – Drink coffee at Rum + Bean Coffee, go for Tacos and Margaritas at The Truck Stop, or have drinks while floating in an innertube at The Palapa Bar.
---
Layout of Belize
Understanding the layout of the country is the best place to start. Most people fly into Belize City but it's typically just a pitstop to your final destination. Because of that, there is either a big drive, a short flight or a ferry ride next. This post is focusing mainly on 2 areas of Belize – The Cayo District and Ambergris Caye.
If you have more time, you might head to the beach towns of Placencia or Hopkins. Ka'ana Resort, the amazing place we stayed in San Ignacio just built an even more amazing resort in Placencia called Itz'ana Resort & Residences.
We're dying to go check it out. The beaches and water are gorgeous! This area also puts you in closer proximity to Mayflower Bocawina National Park – home to Belize's longest zipline and some really cool rainforest friends like Howler Monkeys.
How to Get Around in Belize
Belize airlines – Tropic Air and Maya Island Air. Flying to the Cayes is the fastest and not that expensive. Flying to San Ignacio (Cayo District) is expensive and takes longer than driving because there's a stopover.
Shuttle service – Belize Shuttle by William – reliable and Wifi on board.
Ferry – Belize Water Taxi
Car Rental – Major car rental companies operate in Belize and Crystal Auto Rental has good review.
Chicken Bus – the least expensive option for backpackers.
Best / Fastest Options:
Rent a car at the airport, drive 2 hours to the Cayo District, return the car at the airport and fly 15 minutes to Ambergris Caye. It gives the most flexibility and the roads are good.
Take the shuttle from Belize Airport to San Ignacio (Cayo District) $50. Then fly from there to Ambergris Caye on the 1 hour flight $155-$200 one way. The shuttle and ferry option is 4 hours for $75.
Things to Pack for Belize
Check out this Complete Belize Packing List with a bunch of the things you need and might be forgetting.
Insect repellent We luckily had no problem in the hotels where we were staying but you definitely want to bring it with you for the day.
Waterproof phone pouch will be very useful for any cave tours or water activities.
Travel Insurance for Belize Having travel insurance is important any time you are in a different country including Belize. World Nomads is a great company and you'll have the peace of mind that you're covered if anything happens.
---
Our Favorite Travel Items

---
Love this post? Pin it!
Other Posts You Might Like: