It's no secret that Southern California has stunning natural beauty. The region is world-famous for its sunny beaches and majestic mountains. So it only follows that the lakes in Southern California are pretty great too.
We've picked 10 amazing Southern California Lakes that are great for a weekend getaway. Whether you have a boat or not, there are so many ways to enjoy lake life and escape the bustling city for a relaxing retreat. Start planning a girls' trip, romantic getaway, or a fun family vacation.
Here are the top ten lakes Southern California offers to serve as inspiration for your next trip along with the best places to stay and top things to do. If you're looking for other California weekend getaway inspiration, check out the 13 Prettiest Southern California Beaches or 10 Best California Coastal Towns.
Top 10 Lakes in Southern California
1. Lake Arrowhead
Lake Arrowhead is a slice of paradise nestled within the San Bernardino National Forest, about 85 miles from Los Angeles.
It's most visited in summer for lake activities but Lake Arrowhead fall colors are absolutely gorgeous. Winter and spring are beautiful too in this year round destination.
This lake is quaint but full of adventure. Hiking, backpacking, biking, skiing, and fishing are popular activities. However, nature isn't the only draw for this location.
The Lake Arrowhead Village is an exciting place to walk around, enjoy the shops, dine and see summer concerts.
Since Lake Arrowhead is a private lake, you cannot launch a boat or walk the lake path without being a homeowner or guest of one. However, you can get out on the water on the Lake Arrowhead Queen or with McKenzie Water Ski School.
Lake Arrowhead is the ideal retreat for nature lovers looking for luxurious accommodation options.
HOTEL: UCLA Lake Arrowhead Lodge (9.0) or VACATION RENTAL: New Luxe Cabin (9.7)
RELATED POST: 15 FUN THINGS TO DO IN LAKE ARROWHEAD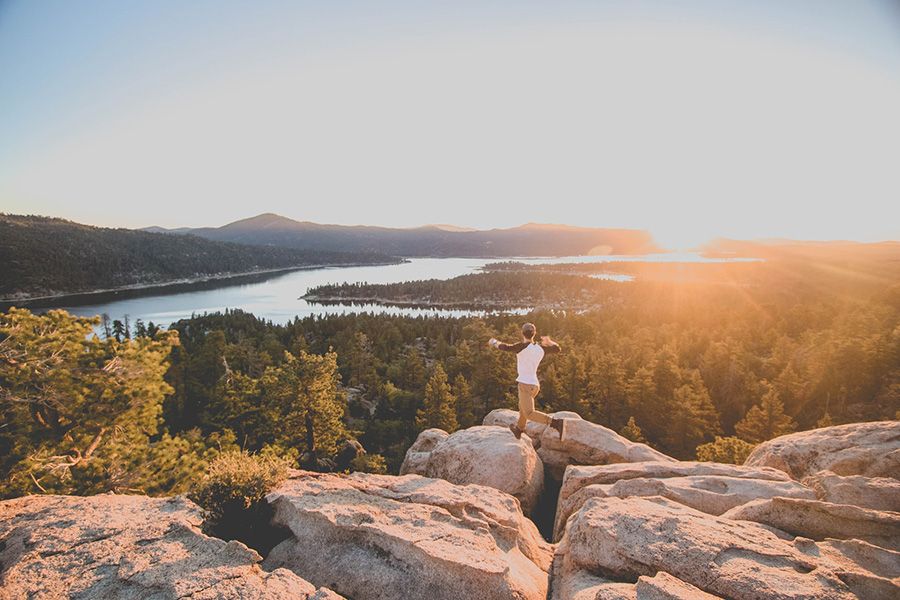 2. Big Bear Lake
Big Bear Lake is a famous year-round destination located just a few miles past Lake Arrowhead in the San Bernardino National Forest.
While many people think of Big Bear as a great Southern California winter ski resort town, summer shouldn't be overlooked.
Big Bear boasts hundreds of miles of hiking trails, stunning fall foliage, and water sports in the lake. Unlike Lake Arrowhead, there are boat rentals and you can launch your own boat on this lake that's open to everyone.
Bring inflatable kayaks with you to kickstart your adventure.
Big Bear is perfect for those looking to escape into the forest and disconnect for a weekend. Each season offers a unique experience, so it's a place you can visit over and over again.
HOTEL: Noon Lodge (8.6) or Bluegreen Vacations Big Bear Village, Ascend Resort Collection (9.6)
RELATED POST: 12 DREAMY LUXURY CABINS IN BIG BEAR FOR A WEEKEND GETAWAY
3. Lake Cuyamaca
Lake Cuyamaca is a unique, off-the-beaten-path lake about an hour east of San Diego. Its remote destination within Cuyamaca Rancho State Park isolates it from overcrowding.
The lake is small but has a lot to offer. Since tourists don't overrun Lake Cuyamaca, you can enjoy fishing, kayaking, boating, and relaxing at the lake in peace.
Lake Cuyamaca is situated by the historic town of Julian. You can tour an early 20th century gold mine, stroll through orchards for apple picking and see plenty of fall foliage.
There are lots of fun things to do in Julian and it has a completely unique feel from the rest of Southern California.
RETREAT: Quiet Mind Mountain Lodge, Retreat & Spa (8.8) or VACATION RENTAL: The Heart of Julian (9.5)
4. Silverwood Lake
Silverwood Lake is also in the San Bernadino National Forest at a lower elevation than Lake Arrowhead and Big Bear. It's a postcard-worthy destination surrounded by picturesque mountains.
Fun fact – if you are hiking the Pacific Crest Trail, you'll see Silverwood Lake as you walk past it.
This retreat has some fun recreational activities near the water. There are beach areas complete with swimming, windsurfing, and picnic areas.
Around the lake are biking, hiking, and horseback riding trails with jaw-dropping views.
It's only 30 minutes from Lake Gregory, another lake on this list, so you should consider pairing those two trips together for an exciting weekend. Silverwood Lake has campgrounds but no nearby hotels.
5. Cachuma Lake
Between Santa Barbara and the Santa Ynez Valley is the beautiful Cachuma Lake. There are so many things to do at the lake and surrounding area, that make it the perfect family weekend.
There are four campgrounds with RV hook ups, tent camping, and cabin rentals. Kids will love the swimming pools, arcade, miniature golf, Junior Ranger's program, lake cruises, nature walks and more.
Adults will love the lake view golf course and great hiking – Lake Cachuma Sweetwater Trail and Tequepis Trail.
Boating and kayaking is permitted on the lake but no swimming or skiing since body contact with the water is prohibited. You can rent boats from the marina.
The lake's diverse topography also makes it ideal for fishing. You'll find crappie, red-ear sunfish, rainbow trout, channel catfish, and bass within its waters.
Things to do in the area include a trip to the Dutch town of Solvang with cute shops and restaurants. The neighboring town of Los Olivos has wine tasting and plenty of vineyards to visit.
Both towns are 15 minutes away. Santa Barbara, 30 minutes in the other direction, has shopping, great restaurants and its star attraction – gorgeous beaches.
HOTEL: Hotel Ynez (9.3) in Solvang or one of the best boutique hotels in Santa Barbara.
RELATED POST: CHARMING COASTAL TOWNS IN CALIFORNIA
6. Lake Gregory
Lake Gregory is a small lake located in Crestline, between Silverwood Lake and Lake Arrowhead. Families with children love this lake because it offers endless activities for them.
There is an inflatable water park in the lake that keeps kids entertained all day. Along the shore, you'll find barbeque pits, skate parks, playgrounds, and sporting facilities.
Every Fourth of July, Lake Gregory throws an exciting bash complete with fireworks and a celebration. Lake Gregory is the perfect retreat for families seeking an adventurous summer cool-down spot.
If you are on an adults only trip you'll also love visiting Lake Gregory and Lake Arrowhead for fall colors. It's one of the only places in Southern California that you can experience all four seasons.
You'll find a lovely walking path around the lake and the Heart Rock Hike nearby.
HOTEL: The North Shore Inn (8.3) or stay in Lake Arrowhead
7. Lake Casitas
A spectacular lake near Ojai and north of Ventura is Lake Casitas. Its claim to fame is that it has some of the best bass fishing in the United States. There have been record-breaking catches at this lake.
Fishing isn't the only enjoyable activity in the area. There is a recreation area with boat and bike rentals, a snack bar, a grocery store and 400 campsites.
While you can't swim in the lake because it's a drinking water source, you can enjoy the Lake Casitas Water Adventure adjacent to the lake. Lake Casitas is ideal for fishing enthusiasts and families alike.
While enjoying Lake Casitas, a visit to the quaint town of Ojai is a must. You can check out the town with art galleries, shops and restaurants.
Hiking, horseback riding, golf, biking and wellness retreats are also popular activities. Ojai is the best place to base yourself if you prefer a hotel stay.
HOTEL: Ojai Valley Inn (9.2) or Blue Iguana Inn (8.9)
8. Pyramid Lake
An hour north of Los Angeles is Pyramid Lake. If you've ever driven on the 5 Freeway between LA and San Francisco, you've probably seen this lake when you were driving over the grapevine.
This is definitely one of the lakes in Southern California you would visit if you were going boating. It's not as much of a weekend getaway type lake with plenty of things to do in the area.
Launch you boat and have a day of skiing or visit one of the campgrounds to stay overnight. Additionally, Pyramid Lake is ideal for jet skiing and fishing. There are exclusive picnic areas only accessible by the water.
9. Diamond Valley Lake
Diamond Valley Lake is one of Southern California's newest and most extensive reservoirs.
Fishing is a big draw to this lake and they claim to be world renowned for Black Bass fishing. You can also catch trout, bluegill, sunfish, catfish and more. Launch your own boat or rent one of their fishing or pontoon boats.
Not only is Diamond Valley Lake an essential water source for the surrounding region, but one of the highlights is the spring wildflower bloom.
There are fantastic hiking trails near the lake to see all the beautiful multicolored flowers and breathtaking mountain views.
Hiking enthusiasts and nature-lovers will also enjoy the Multi-species reserve. It's an extraordinary 14,000-acre natural area with rare bird, animal, and plant species located between Diamond Valley Lake and nearby Lake Skinner.
Right near the lake are other fun kid activities like Sweetwater Farms Petting Zoo and the Western Science Center for dinosaur aficionados.
Couples might prefer a visit to nearby Temecula wine country. You could add in a winery tour, a hot air balloon ride or just a visit to the historic town of Temecula.
HOTEL: Hampton Inn & Suites (8.1) or South Coast Winery Resort & Spa (8.7)
10. Lake San Marcos
Lake San Marcos is the perfect quick getaway from San Diego or Los Angeles. It is an excellent destination for locals or people who have traveled to California extensively and want to see something different.
Unlike the other lakes on our list, its surroundings are urban rather than natural. All around the lake are luxurious accommodations with balconies overlooking the water.
The Lakehouse Hotel and Resort shown above sits at the water's edge with tons of amenities.
At the marina, you can rent kayaks, water bikes, and small boats. You can also rent bikes to explore the surrounding neighborhoods and parks.
If you're into golf or tennis, there are outstanding facilities nearby. Lake San Marcos is an excellent destination for travelers seeking a low key weekend on the water.
San Marcos is about a 10 minute drive from Carlsbad where there are a ton of activities you can add onto your weekend getaway.
In Spring, the Flower Fields are so pretty. Summer and fall are great times to visit some of the prettiest Southern California beaches.
HOTEL: Lakehouse Hotel and Resort (8.4) or Park Hyatt Aviara (9.1)
Other Posts You Might Like:
Save the Best Lakes in Southern California to read later? Pin it!