When we moved up to Lake Arrowhead last April, I felt like I knew this area so well after having a vacation house here for years. So it was a huge surprise to see the amount of Lake Arrowhead fall colors showing up everywhere. The forest around the lake is dotted everywhere with yellow trees and up close you can see fall foliage of every color. Get ready for some of the best fall colors in California.
Planning your Lake Arrowhead trip? Don't miss our latest travel guides:
9 Fun Things to Do in Lake Arrowhead in Fall
1. Take a Scenic Drive to View Lake Arrowhead Fall Colors
One of the best ways to jump right in is to take a scenic drive around the lake. Right as you head into Blue Jay, you'll be treated to bursts of color. It's completely worth making a full lap around the lake and driving up to McKay park to get a bird's-eye-view. I keep offering to do all the errands so I can see how the leaves look every day!
2. Get Out on the Lake
If you are an Arrowhead homeowner and have a boat, you're probably taking your last ride of the year before taking your boat out of the water. For everyone else, since Arrowhead is a private lake, go for a 45 minute cruise on the Arrowhead Queen. You'll see each bay and all the Lake Arrowhead fall colors. The captain shares points of interest and funny commentary.
3. The Best Lake Arrowhead Fall Event is Oktoberfest
Every weekend from mid September through October, Lake Arrowhead Oktoberfest kicks up the fun at Lake Arrowhead village. Everyone gets festive with lederhosen, dancing, German bier, big pretzels, brats and sauerkraut. It's a family friendly event during the day with kids games, German bands playing live music and a dance party. At night, the music and dancing continue with beer chugging for adults.
4. Take the Kids to Pumpkin in the Pines at Skypark at Santa's Village
For kids, fall fun is all about the going to the pumpkin patch. The kiddos pick out a pumpkin, then take it to Santa's Workshop to decorate it. There are tons of activities including face painting, and cookie decorating.
The Halloween theme continues with a Monster Mash skate party, a Halloween bike ride, and a family friendly hike in haunted Fantom Forest. Wrap up your day of fun with live music and a little boogie. Get the schedule here.
5. Go For a Lake Arrowhead Fall Hike
The weather for hiking in Lake Arrowhead is perfect in fall. The days are in the 60s and nights average in the 40s. The one thing you have to pay attention to is that sunset is really early – around 6pm. It gets dark quickly when you are surrounded by lots of tall trees and the mountain is adding extra shade. Some great trail to try:
Heart Rock Trail also know as the Seely Creek Trail (pictured above) – 1.3 miles out and back
Arrowhead Pinnacles – 7 miles and difficult with amazing views
Nature Loop at Lake Gregory – 2.5 mile walking path around the lake that's easy and really peaceful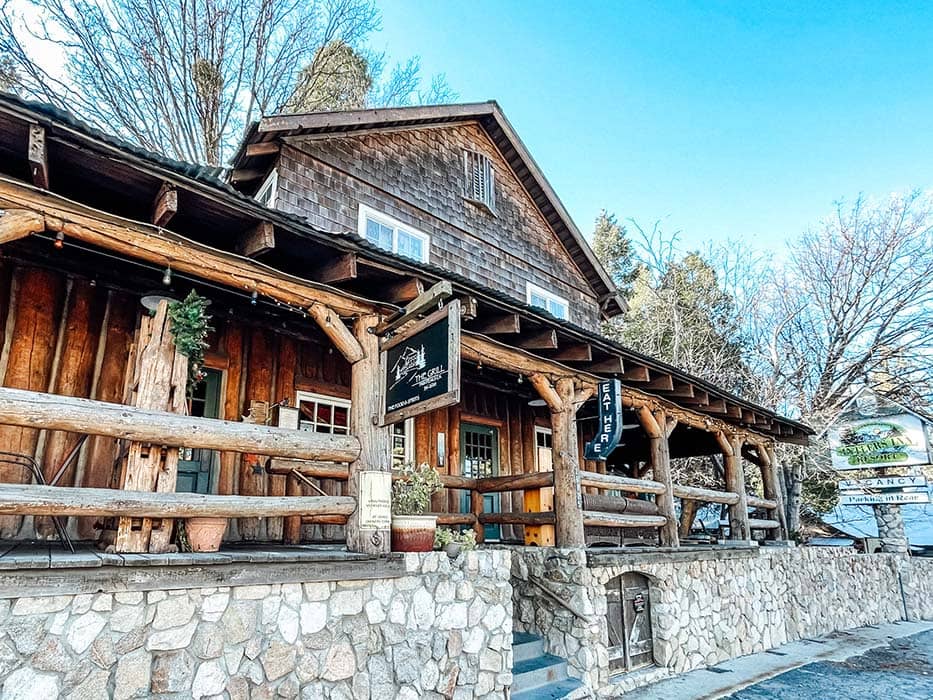 6. Eat a Delicious Meal at Lake Arrowhead's Best Restaurants
You'll definitely get that fall feeling in the local restaurants. From the big cozy fireplace at the Grill at Antler's Inn to the wine and cheese tasting at the Grapevine, your meals will enhance your fall experience. Did we forget to mention the decadent waffles at Belgian Waffle Works that is a must for brunch!
7. Sample Fall Flavors at Lake Arrowhead Brewing Company
Lake Arrowhead Brewing Company is a fun thing to do at night, especially if Oktoberfest is not the relaxed vibe you wanted for your weekend in Lake Arrowhead. With a nice patio and great forest location, it's a must do for a night out. There's nothing like a little Autumn Ale to go with those Lake Arrowhead fall vibes.
8. Check Out Big Bear Fall Colors
Take a 45 minute drive along the ridge of the San Bernardino mountains and you'll see that Big Bear's Fall colors are beautiful too. The leaves change a little earlier in Big Bear than Lake Arrowhead, probably because it's about 2,000 feet higher in elevation. You can see colors downtown and hiking but not around the lake as much. Maybe it was better a few weeks earlier.
Either way, the drive to get there is beautiful. I did the Castle Rock hike and it was a little steep but fun. One of my favorite things about hiking in Big Bear are the cool rock formations that are so different than everywhere else.
9. See the Nearby Southern California Lakes
Lake Gregory and Silverwood Lake don't have the same foliage as Lake Arrowhead because they are at lower elevations but they are still some of the prettiest lakes in Southern California. They also happen to be on the way as you head down the hill.
Lake Gregory, a small lake 20 minutes away from Lake Arrowhead, is kid heaven during summer with an inflatable playground on the water. There's also fishing, boat rentals, water slides and a nice lake path, perfect for a fall walk. Silverwood Lake is a beautiful drive another 20 minutes down the road.
Other Great California Fall Trips You Might Like: