Looking for Southern California foliage? Lake Arrowhead fall colors and activities along with Big Bear Fall Foliage, just 40 minutes away, is why the San Bernardino Mountains are the perfect place for a fall weekend getaway.
Since we know seeing fall colors is just part of the fun, we're listed 12 great activities to do in fall along with the best restaurants and places to stay. Get ready to experience the best kept secret in Southern California in October.
This post contains affiliate links. If you book or buy something through one of these links, we may earn a commission. There is no extra cost to you – and it helps us provide free travel guides to our readers. You can read our full disclosure here.
Planning your Lake Arrowhead or Big Bear trip? Don't miss our latest travel guides:
When is Fall in California?
When it comes to fall, California does things a little differently. While the rest of the country is bundled up in sweaters and pumpkin spice lattes, Californians are still enjoying the warm sun and beach days.
However, even though we may be late to the fall party, there are still plenty of ways to enjoy the changing season. In Northern California, fall starts in late September and peaks in October. Southern California lags behind.
Is There Fall Foliage in Southern California?
Yes! But fall foliage in Southern California sees a slightly delayed start, with peak color occurring in late October or early November. It's not a grand display of color in California beach towns. It's more like pretty trees here and there.
But the mountains in Southern California are a different story. The San Bernardino Mountains are known for their beautiful fall colors, due to the higher elevation, and the month of October is the perfect time to visit.
Big Bear Lake, at 6,750 feet, sees fall foliage first and peaks at least a week earlier than Lake Arrowhead at 5,200 feet. Both areas, about 40 minutes apart, experience beautiful shades of yellows, reds and oranges throughout the month of October.
So no matter where you are in California, there is sure to be a perfect spot to enjoy the changing leaves.
Where to Stay for Fall Foliage in Lake Arrowhead and Big Bear
Lake Arrowhead and Big Bear both offer hotels and vacation rentals. We've put together comprehensive lists of Lake Arrowhead Airbnbs and Big Bear Luxury Cabin Rentals so you have plenty of choices.
Where to Stay in Lake Arrowhead: Stay at Lake Arrowhead Resort & Spa if you want to be centrally located and walking distance from Oktoberfest in Lake Arrowhead. They have a delicious restaurant Bin 189 and relaxing massages in the spa.
Where to Stay in Big Bear: Stay at Noon Lodge. They offer cottages that accommodate 2-8 people so it's great for everything from a romantic getaway to a 3 bedroom townhouse for the whole family.
Lake Arrowhead Fall Colors and Activities
When we moved up to Lake Arrowhead, we had no idea that there was a true autumn. It was a huge surprise to see the amount of Lake Arrowhead fall colors that started with beautiful reds and oranges and finished with an explosion of yellow.
At the peak, the forest around the lake is dotted everywhere with yellow trees and up close you can see fall foliage of every color. Get ready for some of the best fall colors in California.
Scenic Drive to View Lake Arrowhead Fall Colors
Rim of the World Highway
Start with one of the best scenic drives in Southern California called the Rim of the World Highway also known as Highway 18. The beginning is the drive up the mountain where you'll notice little touches of fall foliage that get more prevalent as you get higher.
Along the ridge between Lake Arrowhead and Big Bear, fall colors vibrantly display themselves. This is the area everyone is referring to when they talk about the Rim of the World Highway. It's one of the prettiest Southern California scenic drives.
Scenic Drive Around Lake Arrowhead
A scenic drive around Lake Arrowhead is a must. From Highway 18, turn onto Highway 189 into Blue Jay where you'll be treated to bursts of color.
Then make a full lap around the lake on Highway 173 and drive up to McKay Park to get a bird's-eye-view. I keep offering to do all the errands so I can see how the leaves look every day!
See Lake Arrowhead Fall Colors From the Water
The fall foliage in Lake Arrowhead looks completely different from the road and from the lake. At lake level, you'll see an amphitheater of fall colors bursting through the tall pines.
Go for a 45 minute cruise on the Arrowhead Queen. You'll tour each bay and all the Lake Arrowhead fall colors. The captain shares points of interest and funny commentary. Arrowhead is a private lake, so the Queen is the best way to enjoy the lake.
The lake is very peaceful in fall and you'll see Arrowhead homeowners take their last ride of the season, amidst the autumn beauty, before taking their boat out of the water. There's something about it that just feels really special.
Oktoberfest Lake Arrowhead
Every weekend from mid September through October, Lake Arrowhead Oktoberfest kicks up the fun at Lake Arrowhead village. Everyone gets festive with lederhosen, dancing, German bier, big pretzels, brats and sauerkraut.
It's a family friendly event during the day with kids games, German bands playing live music and a dance party. At night, the music and dancing continue with beer chugging for adults.
Take the Kids to Pumpkin in the Pines at Skypark at Santa's Village
For kids, fall fun is all about the going to the pumpkin patch. The kiddos pick out a pumpkin, then take it to Santa's Workshop to decorate it. There are tons of activities including face painting, and cookie decorating.
The Halloween theme continues with a Monster Mash skate party, a Halloween bike ride, and a family friendly hike in haunted Fantom Forest. Wrap up your day of fun with live music and a little boogie. Get the schedule here.
Best Hikes in Lake Arrowhead for Fall
The weather for hiking in Lake Arrowhead is perfect in fall. The days are in the 60s and nights average in the 40s. The one thing you have to pay attention to is that sunset is really early – around 6pm.
It gets dark quickly when you are surrounded by lots of tall trees and the mountain is adding extra shade. Certain trails like Heart Rock don't get the benefit of the sunset light. We highly recommend a headlamp, one of our top day hike essentials for late hikes.
Great Lake Arrowhead Trails for Fall Hikes:
Heart Rock Trail (aka Seely Creek) – 1.3 miles easy out and back to a heart shaped boulder with a waterfall sometimes.
Will Abell Memorial Trail – 2 mile loop trail with 400 ft of elevation gain through the forest and a peek of Lake Arrowhead.
Arrowhead Pinnacles – 4 miles and 1,000 feet of elevation gain that's difficult but worth it for amazing 360 degree views.
Nature Loop at Lake Gregory – 2.5 mile walking path around the lake that's easy and really peaceful.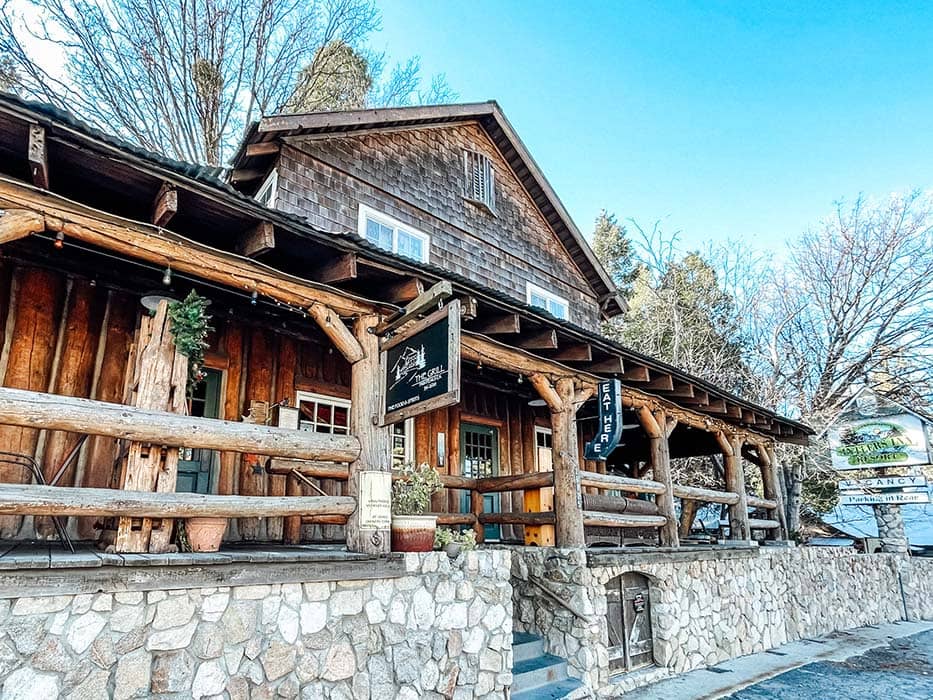 Eat a Delicious Meal at Lake Arrowhead's Best Restaurants
You'll definitely get that fall feeling in Lake Arrowhead restaurants. From the big cozy fireplace at the Grill at Antler's Inn to the cozy dining room at Puglia Italian Restaurant or the 5 course wine pairing dinners at the Grapevine.
The Tudor House hosts fun events all month long including a haunted Sunday brunch. Did we forget to mention the decadent waffles at Belgian Waffle Works – there's nothing like some delicious fall comfort food lakeside!
Sample Fall Flavors at Lake Arrowhead Brewing Company
Lake Arrowhead Brewing Company is a fun thing to do at night, especially if Oktoberfest is not the relaxed vibe you wanted for your weekend in Lake Arrowhead.
With a nice patio and great forest location, it's a must do for a night out. There's nothing like a little Autumn Ale to go with those Lake Arrowhead fall vibes.
---
Big Bear Fall Colors & Fall Activities
Take a 45 minute drive along the ridge of the San Bernardino mountains and you'll see that Big Bear's Fall colors are beautiful too. The leaves change a little earlier in Big Bear than Lake Arrowhead, because it's about 2,000 feet higher in elevation.
You can see colors downtown and hiking and mountain biking. It's the perfect backdrop for outdoor adventures in California.
Castle Rock Hike
There are two ways to do this 2.7 mile out and back hike. Start from the lake and go up, which is what almost everyone does. Or follow Google Maps up a deserted road through the forest and hike down. The second option is actually really great for fall because you drive through
I did the drive and Castle Rock hike alone and the remote location was a little unnerving until I got out on the trail and met a few nice couples. It's a little steep but fun. One of my favorite things about hiking in Big Bear are the cool rock formations that are so different than everywhere else.
Pumpkin Smash Zipline Tour
Cruise through the forest over views of the Johnson Valley at up to 35 miles per hour on 9 high speed ziplines and one suspension bridge. This 3 hour Big Bear Zipline Tour happens year round and it's highly popular.
On Saturdays in October, they add some fall flavor – you throw a pumpkin at a target and smash it for potential prizes.
Downtown Big Bear Fall Foliage & Shopping
Big Bear fall colors fill the streets of the downtown shopping and restaurant area. There are trinket and clothing stores. For food, try the historic Teddy Bear Restaurant for breakfast (cheddar biscuits and gravy) or lunch (great burgers). The Grizzly Manor Cafe also serves breakfast, lunch and dinner.
Speaking of dinner, try the Peppercorn Grill for hearty fare or 572 Social for delicious food with a fun vibe.
Big Bear Lake Oktoberfest
Big Bear also hosts a traditional Oktoberfest at the Big Bear Convention Center. The event is held inside and outside so you get a nice mix of crisp fall air and an indoor Biergarten with music and dancing.
They serve a delicious German feast, which includes bratwurst, German potato salad, huge soft pretzels, apple strudel, and more. There's more than enough food to fuel lots of dancing and of course a great selection of German beer.
It runs on weekends from September through the first weekend in November. Free trollies run from Downtown for a safe trip.
Don't Forget the Nearby Southern California Lakes
Lake Gregory and Silverwood Lake don't have the same foliage as Lake Arrowhead because they are at lower elevations but they are still some of the prettiest lakes in Southern California. They also happen to be on the way as you head down the hill.
Lake Gregory, a small lake 20 minutes away from Lake Arrowhead, is kid heaven during summer with an inflatable playground on the water. There's also fishing, boat rentals, water slides and a nice lake path, perfect for a fall walk. Silverwood Lake is a beautiful drive another 20 minutes down the road.
Other Great California Fall Trips You Might Like: