Lake Arrowhead, a beautiful mountain town in Southern California, has so much to offer tourists. As locals, we're sharing our picks for the best restaurants in Lake Arrowhead.
This list includes best brunch, best Mexican food, best romantic Lake Arrowhead restaurants and more.
Living in Lake Arrowhead for a year, we have literally tried every Lake Arrowhead restaurant multiple times. These are our top picks whether you're a visitor or a local.
Planning your Lake Arrowhead trip? Don't miss our latest travel guides:
Lake Arrowhead Restaurants in Blue Jay & Twin Peaks
Most people will head through Blue Jay (Highway 189) on their way into Lake Arrowhead. It's a small town that has most of the amenities you'll need during your stay.
Blue Jay also has some of the best restaurants in Lake Arrowhead – Stone Creek Bistro, Puglia Italian Restaurant and Spade & Spatula Gastropub.
Stone Creek Bistro
Stone Creek Bistro, specializing in upscale comfort food, is a perennial favorite and one of the most consistently good restaurants in Lake Arrowhead. This cozy American/French bistro is definitely a go to for a terrific meal.
Guest favorites include the Tomato Bisque, Steak Frites, and Shrimp & Grits. My mom loves the Duck Fat Fries.
It's not the best place for a vegan but they will adjust their fabulous Brussels sprouts for you. Reservations are highly recommended.
---
Puglia Italian Restaurant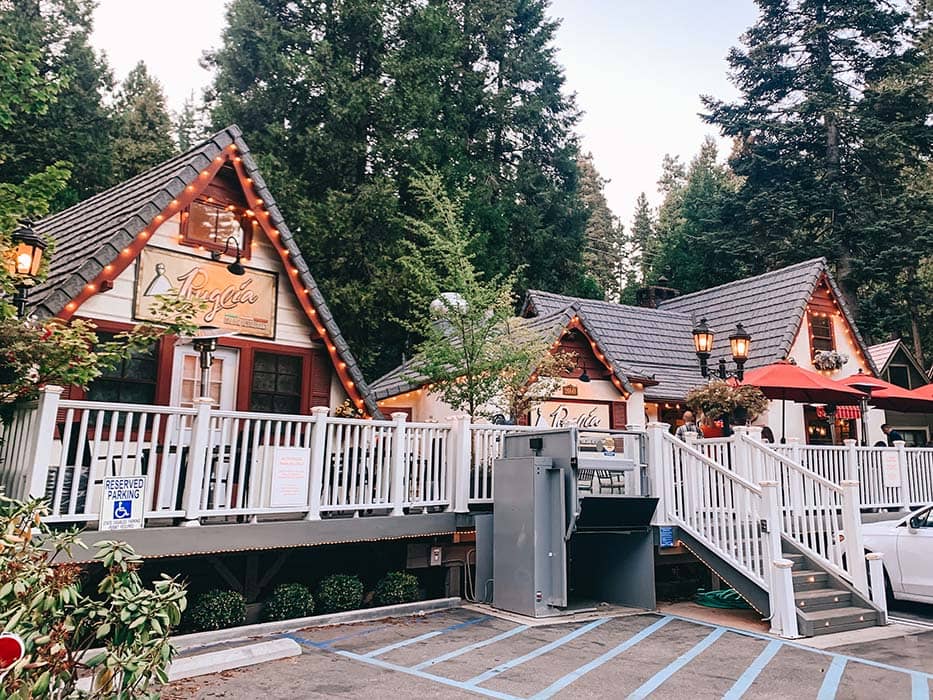 Puglia Italian Restaurant is probably the most hospitable restaurant in Lake Arrowhead. They welcome you like family and the service is beyond top notch!
As the name implies, they have traditional Southern Italian food from the Puglia region.
From handcrafted pasta in a velvety bolognese sauce to mouthwatering pizza and flavorful entrees, the food tastes like authentic Italian.
Our favorite is the Chicken Piccata! If you choose something from the specials, the prices can be high, so don't forget to ask.
Sit outside to enjoy your meal al fresco or inside the quaint dining room. Either way, you'll have a fabulous dinner to remember.
---
The Grill at Antler's Inn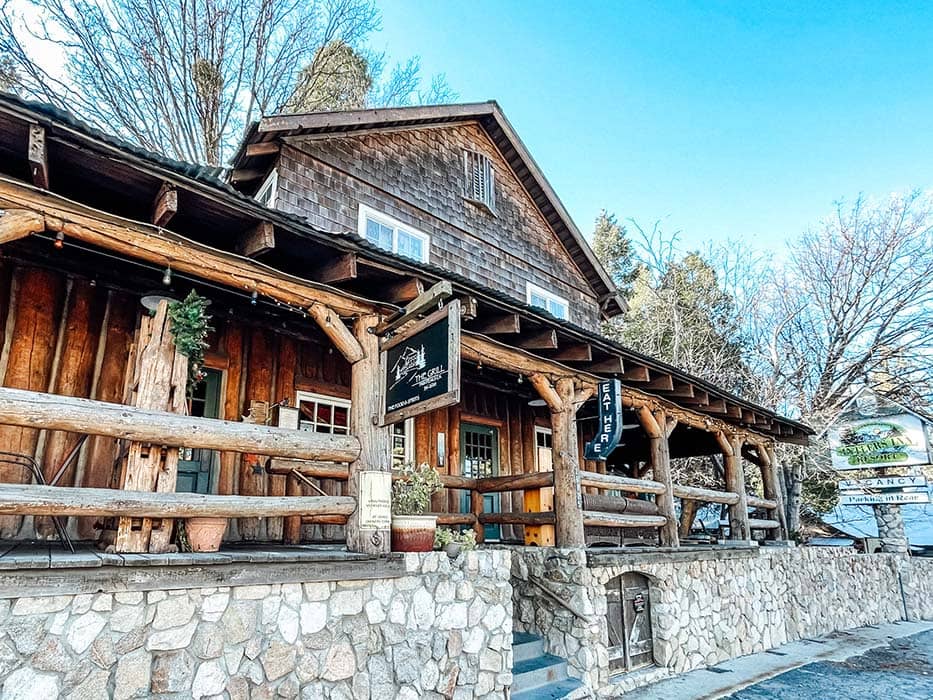 The Grill at Antlers Inn gets visitors from all over who drive up the hill for special occasions. It consistently wins the Trip Advisor Award of Excellence year after year.
With the ambiance of a historic lodge, they offer delectable dishes for dinner Tuesday – Sunday, and Sunday brunch.
Surprisingly, this is the go to spot on the mountain for sushi and great seafood. Other favorites include the Rosemary Chicken, mouthwatering steaks and out of this world desserts.
Reservations are highly recommended and try to snag a table by the fireplace.
---
Spade & Spatula – Ca. Gastropub
Spade & Spatula – Ca. Gastropub is one of the newer Blue Jay restaurants and a welcome addition. The owner and chef creates inspired dishes that are absolutely delicious.
The gastropub fare includes delectable burgers (try the Blue Jay burger) with fries, salads, excellent vegan dishes, and delicious brunch all day on Sundays.
The service can be slow, so get here on the early end of meal time or you may wait awhile for your food. They will kindly warn you when they are busy and have a long wait.
---
Lake Arrowhead Village Restaurants & Bars
Lake Arrowhead Village is where most visitors head for an outing. You'll find shopping, concerts, Stater Bros grocery store and of course restaurants.
There are plenty of restaurants in Lake Arrowhead Village, along with some of our perennial favorites. Parking can be crazy on the weekend but there's a big garage for overflow.
The Lakefront Tap Room Bar & Kitchen
The Lakefront Tap Room Bar & Kitchen is definitely one of the most popular restaurants in Lake Arrowhead village and one of our favorites.
The menu features pub food – yummy burgers, salads, sandwiches and appetizers. We love the Street Gryos, Beer Battered Fish & Chips and BBQ Bacon Burger.
You have a choice of indoor or outdoor seating, both of which have a great view of the lake.
Inside, there is often live music which can be a tad loud if you want to talk over dinner. Outside is a great way to take in the lake vibe.
There is a full bar area and as you would expect from the name, an extensive selection of beer.
The food is delicious and truly the only downside is how crowded it can get. When it's busy, the wait can be very long, so put your name in and take a walk around the village.
---
Belgian Waffle Works
A fan favorite are the waffles at Belgian Waffle Works. The waffles range from sweet to savory and they are positively decadent. The omelettes and lunch options are also delicious.
There are often long lines all the way through lunch! As soon as you park, get your name on the waiting list before you even take a peep at the lake.
You can get salads, burgers, hot and cold sandwiches and those fabulous waffles that are served all day.
Oh, and if you want that yumminess at home or a great Lake Arrowhead souvenir, they sell their waffle mix in a cute bag.
Our only issue with Belgian Waffle works is they don't allow dogs on the outdoor patio, like most of the other Lake Arrowhead restaurants.
---
The Tea & Coffee Exchange
If the lines at Belgian Waffle Works are too long, or you just want a coffee and pastry, The Tea & Coffee Exchange is an ideal alternative. To be completely honest, the coffee and food is good, not great.
But when you're hungry or caffeine depleted, it's a decent solution. There's a pleasant patio our front, which is perfect if you have your pup and a fun spot to meet other people.
---
Jetties Waterfront Kitchen + Drink
Jetties is a huge restaurant in Lake Arrowhead Village that has great food. When you walk in, you may be put off by the fast food looking order area, but just count it as a quirk because it's a great place to eat.
The Smoked Brisket, Tres Tacos, and Seared Ahi Salad are delish. Since they have such a big space, they can often accommodate you when other restaurants are crowded.
Jetties has a great view, patio seating, and lakeside seating and a full, rather large, bar inside where you can also eat.
---
Bin 189 Restaurant & Bar
If you're looking for a Lake Arrowhead restaurant with a view, look no further than Bin 189 Restaurant & Bar. With plenty of windows overlooking the lake, this restaurant's location is unbeatable.
Set inside Lake Arrowhead Resort & Spa, contemporary American cuisine is served for breakfast, lunch, and dinner daily.
Dine inside and enjoy the rustic chic wood-paneled decor, antler chandeliers, and cozy stone fireplace, or take your meal outside to the deck area for an al fresco experience with the same breathtaking views.
The full bar, offers wines by the glass, microbrews and cocktails. While the view and food are great, the service can be hit or miss.
---
Lake Arrowhead Brewing Company
Lake Arrowhead Brewing Company is not a restaurant but they have a pop up food option regularly called Elevated Greens that offers vegan Mexican food.
As for the real star, they have a great beer selection with special seasonal options on tap that accommodate every preference.
There's a huge patio with the tall forest surrounding and just a cool vibe. You'll find people having fun, including kids and dogs.
In winter, you can sit in one of the clear igloos. If you love beer, this is a definite go to on your trip to Lake Arrowhead.
---
Cedar Glen Malt Shop
Cedar Glen Malt Shop is a little off the beaten path. Most visitors never know about this little retro gem tucked away in Cedar Glen
The burgers are so delish and the onion rings are the best I've ever had. The fries are amazing too.
Of course, you should definitely order a malt. They also serve sandwiches and some other items. Portion sizes are huge.
The kid's meals are served in cute little cars. If you are looking for the perfect spot to eat with the kids, this is it.
---
Best Restaurants Near Lake Arrowhead
Lake Arrowhead has surrounding towns that are so close you may not realize that they are separate towns. It's just a few more minutes of driving to get to these restaurants.
LouEddies Pizza
If you ask anyone, LouEddies is the favorite pizza restaurant in the area and we highly recommend it. Choose from unique, scrumptious combinations of toppings or go traditional. They also have salads.
There is a very small indoor seating area and a deck where you can sit in the beautiful forested area with a bar downstairs. The wait can be really long to get your food so consider calling in your order before you arrive.
---
Rosalva's in Skyforest
Most locals agree that Rosalva's in Skyforest is the best Mexican restaurant in Lake Arrowhead. Almost everything on the menu is great.
Everyone I know has a different favorite menu item so feel comfortable ordering whatever you like.
We love the enchiladas, carne asada and margaritas! The service is quick. The ambiance is great and the patio outside is a perfect place to sit. You'll love it.
---
Hortencia's at the Cliffhanger
On your way up to Lake Arrowhead you'll undoubtedly notice the restaurant with the completely full parking lot that looks like the busiest place in town. Hortencia's has traditional Mexican food with an insane view.
They have great service and the food comes to your table steaming hot as you can see in the photo. They serve breakfast, lunch and dinner.
The view at night is incredible too. Mexican food in Lake Arrowhead can be hit or miss but Hortensia's is tried and true.
---
Our Favorite Restaurants in Lake Arrowhead by Cuisine
Fast Food Burgers – Cedar Glen Malt Shop. Blue Jay Burger can be good too.
Takeout Pizza – LouEddies in Skyforest and Roadhouse Pizza near the village.
Mexican – Rosalva's in Skyforest, El Pájaro Azul in Blue Jay, Elevated Greens at Lake Arrowhead Brewing Company and Hortensias for the view.
Italian – Puglia is the only game in town and it's a treat being there.
Pub Food – Lakefront Tap Room
Breakfast/Brunch – Spade & Spatula in Blue Jay
---
If there's a restaurant you haven't seen on this list, there's a chance that we wouldn't recommend it to visitors. Instead of sharing a bad review, we would rather just highlight the best.
If there is a restaurant you think we overlooked, send us a private message and we will give it another shot.
Save The Best Restaurants in Lake Arrowhead? Pin it!