A weekend in Lake Arrowhead is a total escape from Los Angeles. In less than 2 hours, you'll find yourself surrounded by the tall trees of the San Bernardino mountains taking in views of a sparkling blue lake. It's the perfect spot to rejuvenate in the fresh mountain air, enjoy lake life and all the outdoor activities. Here's our list of the top 10 fun things to do in Lake Arrowhead in summer.
Why should you listen to us? We actually moved to Lake Arrowhead 6 months ago. So we definitely have the local perspective now. Prior to that, we spent many summers in Lake Arrowhead at UCLA Bruinwoods and owned a vacation house in Lake Arrowhead for years.
The amount of time spent in Lake Arrowhead led us to eat at every single restaurant, do every possible activity and shop at every single shop. That's not an exaggeration. We have literally done it all.
Weather and the Best Time to Go to Lake Arrowhead
The experience is completely different in summer and winter so this post is focusing on the summer activities. Summer starts with Memorial Day weekend and ends with Labor Day weekend. While you can do summer type activities outside of that time frame, that is main summer season. The weather is perfect! For most of the summer daytime highs are in the 70s and 80s while the evening temperatures are in the high 50s. The lake water temperature is in the mid 60s.
3 Day weekends and holidays like 4th of July get really busy and super fun. Normally we try to visit places off peak but you want to be in Lake Arrowhead when it's a big fun summer party. Just make sure you book early because you'll have a hard time finding accommodations on a holiday.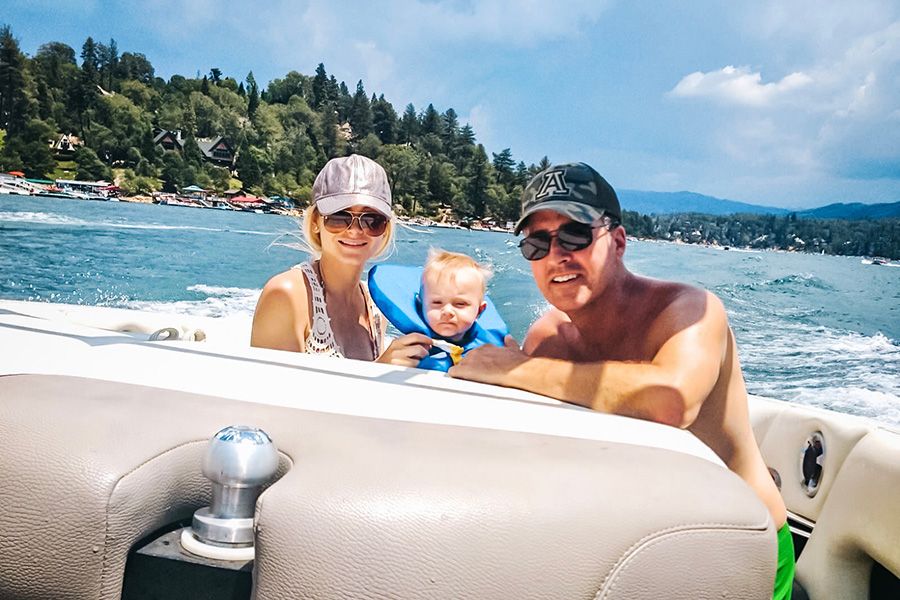 Top 10 Fun Things to Do in Lake Arrowhead
These activities are some of the best things to do during summer. Most people spend a bulk of their time on the lake or doing lake activities. But, there are tons of fun things to do even off the water. It's all listed below and highly recommended.
Since Lake Arrowhead is a private lake, some activities are restricted to residents. Don't worry though because there are still ways for you to enjoy lake life. UCLA Alumni Association members can attend UCLA Bruinwoods, more about that below. You can also stay at the Lake Arrowhead Resort & Spa to get more access to lake than staying at an Airbnb or other hotel.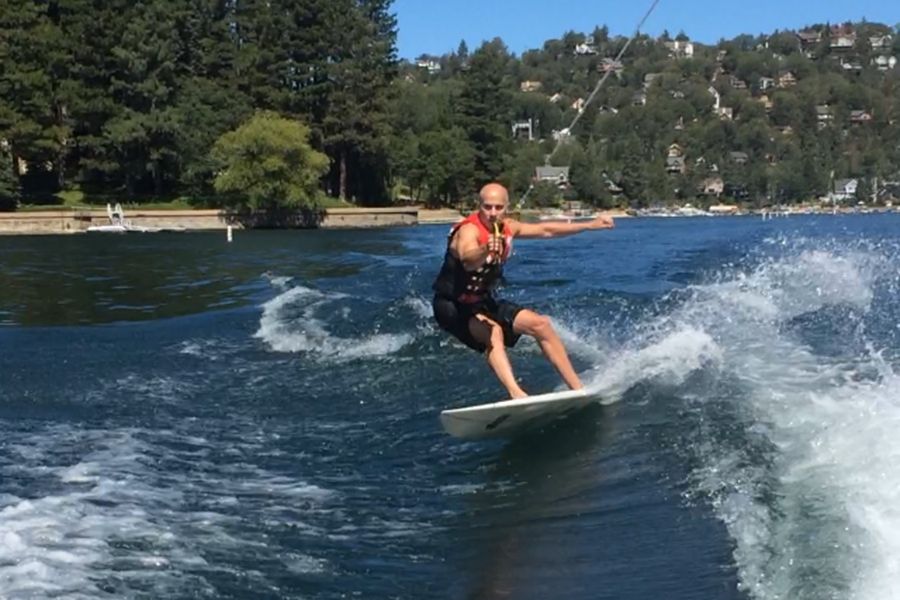 1. Waterskiing
Since Lake Arrowhead is a private lake, only members of the Arrowhead Lake Association (ALA) have access to boating. Fear not, you can still get out on the water a few ways. McKenzie water ski school will teach you how to water ski, wakeboard or kneeboard. They're open from Memorial Day through September. They also offer private outings.
If you have a friend that is an Arrowhead resident with a boat, you can also go with them. We all need a friend with a boat and a house in Arrowhead, right 😉 Many people inquire about boat rentals in Lake Arrowhead but it's not possible unless you own property. You can't rent an Airbnb and drive a boat on the lake. but nearby Big Bear and Lake Gregory have boat rental options for visitors.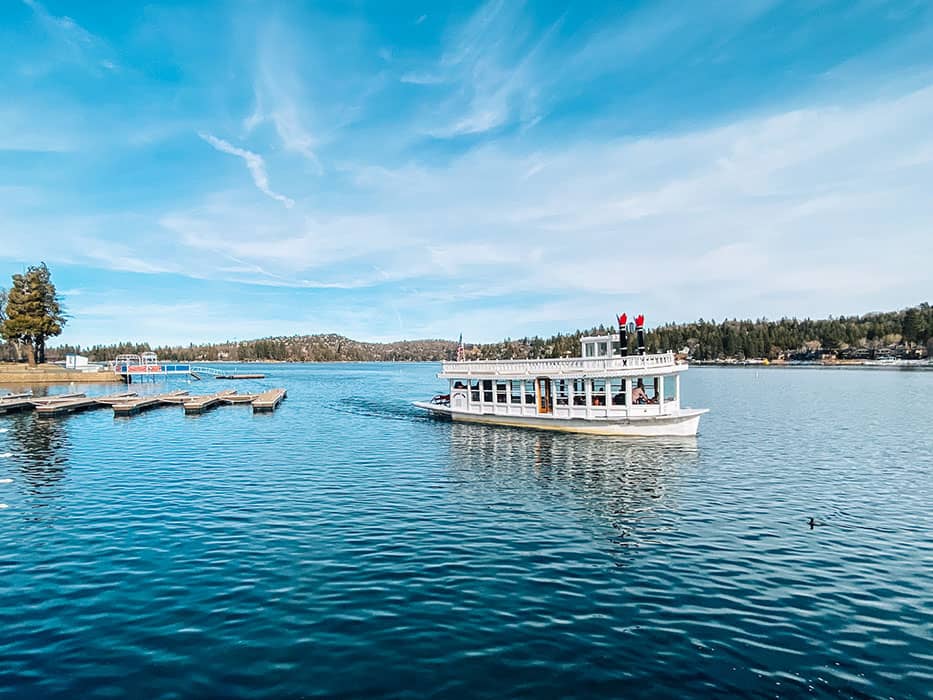 2. Lake Arrowhead Queen
The Lake Arrowhead Queen offers a one hour cruise around the perimeter of the lake. It's a great way to get out on the water and be able to see all of the incredible lake view homes. Some of them have been used for filming Hollywood movies like The American President and Parent Trap.
3. Hiking in Lake Arrowhead
If you have access to the lake through an ALA membership, there is a 10 mile path that goes all the way around. Most people just walk around a portion and make it a fun little adventure. I highly recommend the shorter walk. You need to be an ALA member or with a member and be carrying a lake pass with you.
For a challenging, dog friendly hike with 1,100 foot elevation gain, the Arrowhead Pinnacles Trail is a 4.6 out and back trail with birdseye lake view. You might get lucky with wildflowers and there are cool boulders like Joshua Tree. It can get hot and doesn't offer any shade so bring water and sunscreen and try to go early in the day.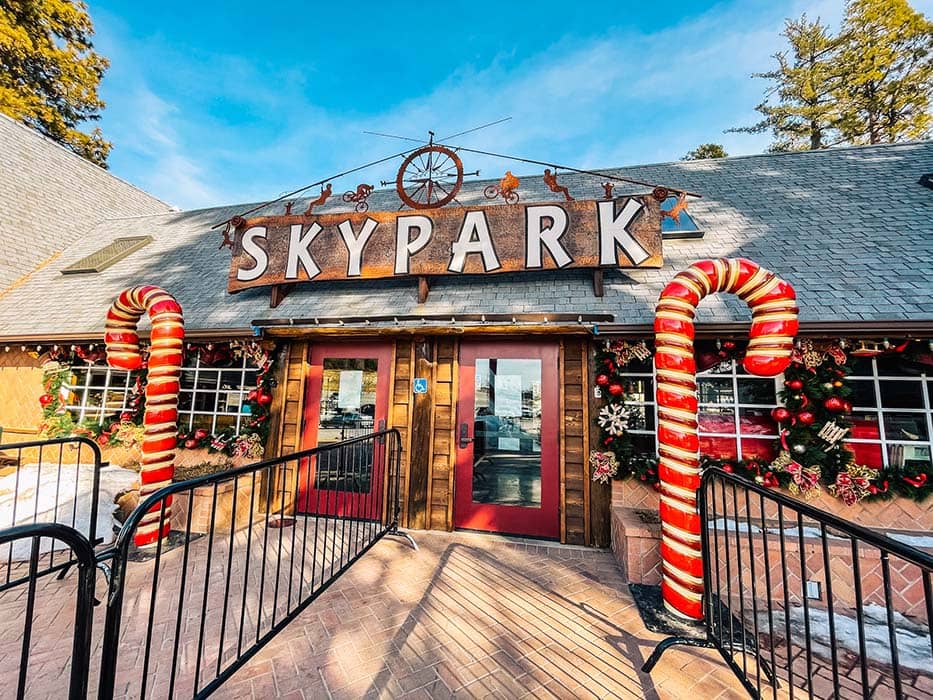 4. Skypark at Santa's Village
A 7 minute drive from the Lake Arrowhead shopping center is the Skypark at Santa's Village, which has a ton of fun things to do in summer. There's a professionally designed bike park with mountain bike trails, 2 skills areas and a pump track and balance trail for young riders. On the 230 acre property, there are hiking trails, fly fishing, zip lining, rock climbing, a roller skating rink and so much more. It's an adventure wonderland.
5. Arrowhead Lake Association – Beach, Kayaking and Fishing
These activities are all lumped together because a beach pass or dock access with a member of the Arrowhead Lake Association will give you a chance to these activities. You either need to be an ALA member or accompanied by one. If you do not have the capability to use Arrowhead Lake Association facilities, don't worry. You can go to Lake Gregory or Big Bear Lake and do all of the same things.
With an ALA membership, fishing still requires a fishing permit that can be purchased if you are above 16 years of age. You can get a daily permit at Leroy's Ski and Snowboard shop. Lake Gregory also has fishing and requires a permit. Kayaking or inflatables are allowed from the beach or a dock assuming that you don't go into the main lake. Basically, you need to stay close to shore and not head for open water.
6. Concerts in Lake Arrowhead
Lake Arrowhead Village hosts a free Summer Concert Series. It typically features tribute bands that are super fun. Shows are every weekend on Friday and Saturday night from 7-9pm. There is a Beer Garden that opens one hour prior. You also have the chance to do paid, reserved seating. These concerts are the best Lake Arrowhead entertainment at night.
The summer concerts are one of may favorite things in Lake Arrowhead. We can actually hear the music filling the summer air right from our deck so you might be able to enjoy them at a distance too.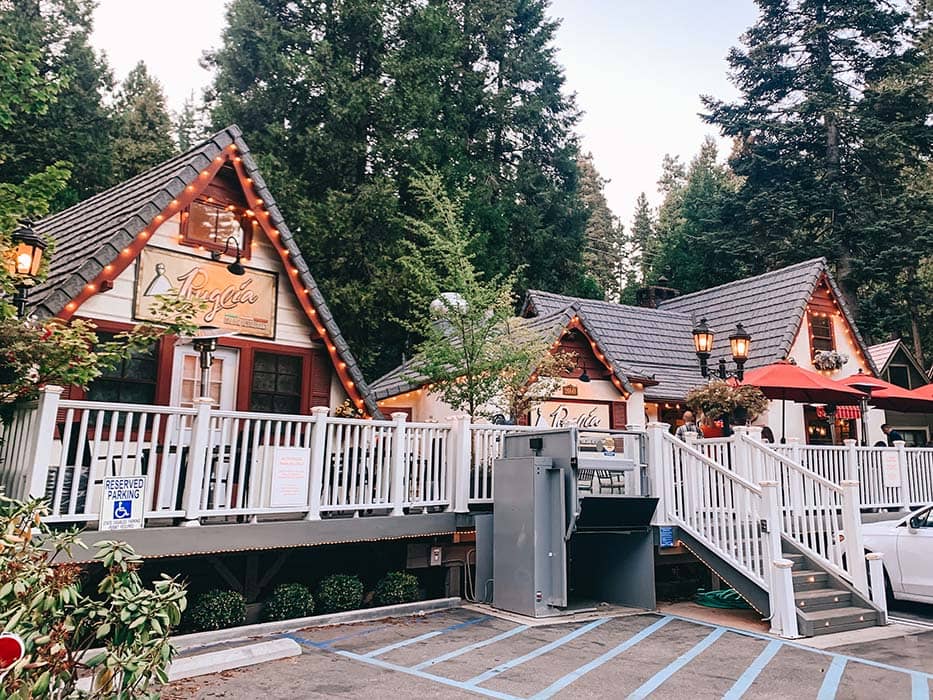 7. Dining in Lake Arrowhead
One of the best things to do in Lake Arrowhead is buy groceries on your way in and cook with friends and family. There are 2 main supermarkets in Lake Arrowhead, Jensen's Market and Stater Bros. Both markets are decent but somewhat limited if you are plant based or looking for really healthy options. I personally do my shopping before I get to Arrowhead and bring them in these amazing refrigerated grocery bags.
If you want to try the Lake Arrowhead restaurants in the Village, breakfast at Belgian Waffle Works is always a decadent treat. The Grapevine has a nice deck with great beer and wine flights and appetizers. Kids will enjoy the playground, while bigger kids love the arcade at Village Pizza.
Some of the best restaurants outside of the village are Puglia Italian Restaurant in Blue Jay. They have delicious Cacio e Pepe! Right near that is Stone Creek Bistro, which is delicious and will catch your attention right as you drive into town. Another place you'll notice on the way up the hill is Hortencia's which is always crowded so go early.
Most visitors don't know about the Cedar Glen Malt Shop with amazing burgers and even better onion rings. It's totally cute, retro decor feels authentic and the staff are so nice. Lou Eddie's is a local pizza favorite and fine dining at The Grill at Antler's Inn is great if you want a night out.
8. Shopping
Lake Arrowhead Village is one of the main and biggest shopping areas. You will find outlet stores, souvenirs, sporting goods, clothing, jewelry, books, toys, home decor and art galleries. Since it is also serves as one of the main centers for residents, there is a upper level with beauty services, gym, pharmacy and Stater Bros. grocery store. My favorite shop, Jeannine's Home Furnishings, is right by the entrance of the village and has amazing gifts and home decor.
The next largest shopping area is in Blue Jay with some of the same types of stores, but not as touristy. Jensen's is the favorite Lake Arrowhead grocery store with a Starbucks inside. You'll also find Rite Aid, a Nail Salon, Pet Grooming and more.
Cedar Glen is the smallest of the towns around the lake but they have a gas station, small grocery and a few restaurants. Magpi is a super cute clothing and gifts store, The Lake House has upscale decor and great things to take home. Timberline in the Glen is one of the largest home decor stores in the area with some great treasures.
9. UCLA Conference Center – Bruinwoods
Bruinwoods is an all inclusive family camp. You stay in one of their cabins for a week and eat meals at their delicious buffet. They have activities available all day and night. There's always something fun to do at this Lake Arrowhead retreat like waterskiing, zip lining, tennis, ceramics and more.
If you or someone in your family is a UCLA alumni, you should definitely book a week at Bruinwoods. It's crazy popular and you have to lottery for a spot over the 10 week summer season. Once you get in, you have that spot for the same week every year. We went for week 3 for many years as our kids were growing up. You see the same families every year and it's a great tradition.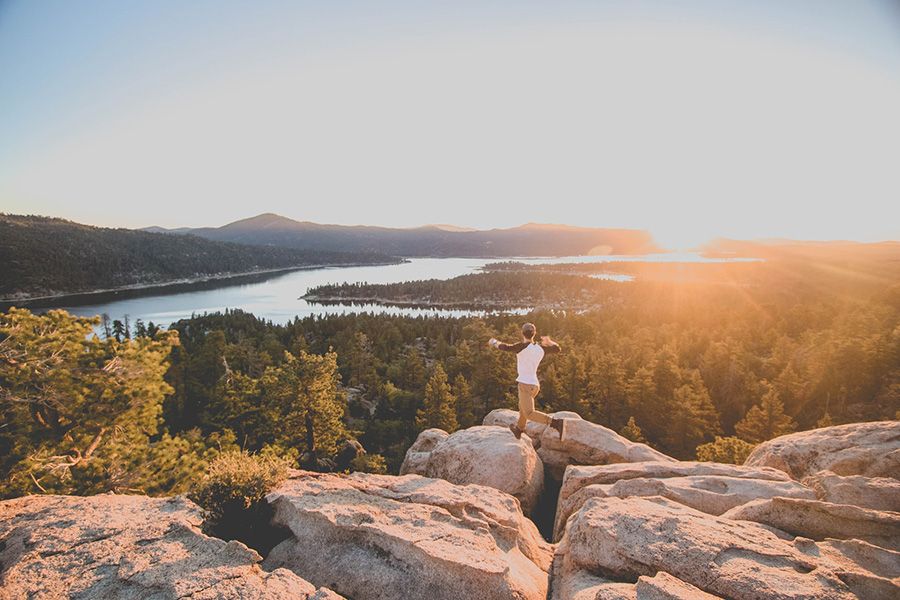 10. Take a Day Trip to Lake Gregory or Big Bear Lake
Time permitting, you can also head to Lake Gregory and Big Bear for even more options. Lake Gregory is a small lake where you can go fishing, kayaking or rent a fun aqua bike. You can set up on the sandy beach and make a day of it. It's a great day trip with kids because they have so many fun things to do on the lake and it's only a 15 minute drive from Lake Arrowhead.
Big Bear is a bigger, public lake that has all the amenities of Lake Arrowhead and more. It's not as pretty or quaint but it is accessible to anyone so you can rent jet skis, pontoon boats, fishing boats and more. It's approximate a 45 minute drive from Lake Arrowhead.
Where to Stay in Lake Arrowhead
Lake Arrowhead is a California hidden gem. Most people from out of state don't know it exists and you will fall in love with this charming lake town. It's a perfect vacation spot year round and these 10 fun things to do are just the beginning of a great week or weekend in Lake Arrowhead. Feel free to leave questions in the comments below.
Other California Posts You Might Like: