California is well-known for its stunning coastline, and there are plenty of great beach towns to explore up and down the coast. From laid-back surf communities to glamorous resort towns, there's something for everyone. Here are 12 of the best beach towns in California.
What's better than a radiant sunny day with the wind in your hair as you drive along the California coast? Traveling from one beach town in California to the next is the ultimate summer dream. This group of 12 handpicked, amazing coastal towns in California is where you can meet friendly locals and see what it would be like to live and vacation in the Golden State.
The best coastal towns in California are names you've heard like Malibu and Santa Barbara. Others may be less familiar, but one thing is for sure, visiting all the towns on this list, will make the best trip ever.
If you're planning a trip to California, you'll find the Best Scenic Drives in Los Angeles and the 15 Biggest Mistakes to Avoid When Visiting LA really helpful. Glamping in the Big Sur Redwoods and 13 Prettiest Southern California Beaches are also great for making the most of your time by the coast.
Best Time to Visit California Coastal Towns
California's predictably agreeable weather is enveloped by fog in part of May and most of June near the coast. June gloom, is the chilly Pacific Ocean's stubborn reaction to the onset of warm summer days. As soon as the ocean soaks up part of the heat, the cloud cover disappears and all is well in July and August. Northern California typically has more fog by the coast. The warmest, sunniest and driest months to visit are August – October. Blissful beach days often last well into December, especially in Southern California.
The Top 12 Beach Towns in California
Heading from the north to the south, the coastal landscape will transition gradually from a rugged, windswept look to welcoming, wide, white sand beaches. These areas have coastal towns that feel like the perfect match for their location.
Mendocino is One of The Best Northern California Beach Towns
A Northern California Road trip on Scenic Highway 128 winds you through towering redwoods, past lakes, wineries and restaurants until you eventually reach the remote, rocky coastline for which Mendocino is known. Honestly, getting to Mendocino, through Anderson Valley is half the fun.
Pennyroyal Farm is a must visit. See their cheesemaking process and sample the goods with a glass of their delightful wine. Another highlight is Roederer Estate with award winning bubbly that competes with the finest Champagne.
Visit one or a few of the picturesque state parks in the area. Russian Gulch State Park has trails to a stunning waterfall and an impressive sinkhole created by an ocean tunnel. Hendy Woods State Park and Mendocino Headlands State Park are also worth a visit.
Garden enthusiasts will love the Mendocino Coast Botanical Gardens at Fort Bragg that peak with blooms toward the end of summer. Kiddos will get a thrill out of taking the Skunk Train through the redwoods.
There's so much to do in this area. Don't forget the pretty beaches like Glass Beach or Jug Handle Beach or shopping in adorable Mendocino town. Get lunch at the Good Life Cafe & Bakery. Hotel: The Harbor House Inn (9.7 and their restaurant has a Michelin star) or Glamping: Mendocino Grove (9.1)
RELATED POST: 15 Best Things to do in Sonoma County California
Sausalito Has An Awesome View of San Francisco Bay
One of the best things to do in San Francisco is to take a walk or dive over the Golden Gate Bridge. On the other side, you'll find prettiest California coastal town of Sausalito. Right after you cross the bridge, on the Marin County side of the bay, you'll find multiple places to get great views of the Golden Gate Bridge.
Towards the ocean are fantastic Golden Gate Bridge views in the Marin Headlands. Towards Sausalito, there are terrific San Francisco city views.
Bustling downtown Sausalito is a fun place to shop and have lunch or dinner. Copita's patio dining is perfect for people watching while you indulge on yummy tacos and margaritas. Or take a Sausalito Food and Wine Tour and get the inside scoop on the best spots.
For a fun activity, you can rent bikes and ride to other places in Marin. From a quick cruise down the Sausalito boardwalk to a bigger ride to Muir Woods redwood forest. If you're raveling with a pup, Old Mill Park is a great dog friendly redwoods nearby. Hotel: Waters Edge (9.4)
Capitola is One of the Warmest Beaches in Northern California
A lively little town, 10 minutes south of Santa Cruz, with restaurants, boutiques, colorful houses and beaches is off the radar for most people. It would be such a shame to miss Capitola because it was eclipsed by the bigger towns surrounding it.
Capitola Beach, positioned at the center of town is a great place to spend the day. New Brighton State Beach, popular with campers, has long stretches of undisturbed beach where you can walk and play.
Nearby you'll find Forest of Nisene Marks State Park. It's a great place to hike or mountain bike ride in the redwoods. Stay here for a beach weekend or just stop by on a drive down the California coast. It's well positioned between Santa Cruz and Monterey. Hotel: Dream Inn Santa Cruz (8.8) or Hotel Paradox Autograph Collection (9.3)
Carmel-by-the-Sea is the Artsy Northern California Beach Town
Carmel is a much-loved beach town in Northern California. If you're looking for a romantic getaway, this is the spot for you. Stroll though the cobblestone streets of Carmel's village perusing little boutiques, wine tasting shops, art galleries and restaurants.
Visitors love this Carmel Small Group Walking Food & Cultural Tour to learn about Carmel's History while sampling the delicious cuisine. When you are done, head down to beautiful Carmel Beach, found at the end of Ocean Avenue.
Take an Electric Bike Tour of 17 Mile Drive stopping at Spanish Bay or the famous Pebble Beach. You can also make a leisurely drive along the stunning coast in your car. This scenic route in and around Carmel showcases sweeping views of the Pacific ocean and jagged coastline.
Carmel Mission Basilica, founded in 1770 is an opportunity to step into California's historic past. Many a wedding is held at this beautifully restored mission, where you can attend a mass, view the museum's collection and tour Saint Junipero Serra's living quarters. Hotel: Candle Light Inn (9.2) to be in the center of town or Carmel Valley Ranch (9.0)
RELATED POST: 60 Awesome USA Trip Ideas You'll Love
Santa Barbara May Be The Best California Beach Town to Live In
This quaint beach town is located just 90 minutes north of Los Angeles. Santa Barbara's beaches are famous for their gentle waves and beautiful sunsets. Downtown Santa Barbara is also worth exploring, with its shops, restaurants, and Spanish colonial architecture.
Start your visit in the middle of town on State Street and Paseo Nuevo, the outdoor mall. You'll find great clothing stores, restaurants, bars, galleries and so much more. Filled with Spanish style colonial buildings, you will want to set aside a minimum of 2-3 hours to walk around or try a Santa Barbara Electric Bike Tour.
Don't miss the Santa Barbara County Courthouse right in town. They have a 360 degree view from the top of the clock tower and it's probably the prettiest courthouse you'll ever see. Many couples take wedding photos in front of this historic building and others enjoy the beautiful garden for picnics. You can also take a free tour or the courthouse and garden.
To take in more of the beach, go to Stearn's Wharf for a stroll along the coast. It's specially pretty at sunset. Bring inflatable kayaks or surfboards and enjoy the Pacific Ocean. If you are a newbie to the world of surfing or SUP, take a surf lesson. Then enjoy a seafood lunch or dinner with a view at one of the many restaurants.
Santa Barbara is definitely one of prettiest California coastal towns so just relax and take it all in. Hotel: Hotel Californian (8.9) or The Ritz-Carlton Bacara (8.3)
RELATED POST: 10 Beautiful Southern California Lakes for a Weekend Getaway
Summerland is the Littlest Coastal Town in California
Summerland is the cutest little town you'll ever see. It's bustling downtown area is 3 blocks filled with cute shops and boutiques. But don't let Summerland's small size fool you – the shops here are top notch. Explore antique stores, home decor shops, clothing stores and more – even if you aren't looking for anything in particular chances are you will find something that catches your eye!
For home decor, don't miss these swoon worthy stores – Porch, The Well Summerland, Botanik and Garde. For a delicious meal, try the Summerland Beach Cafe. Field and Fort, is the best of both worlds with a delicious restaurant and a shop. They will also pack a picnic lunch that you can take to Lookout Park and walk down to Summerland Beach.
Summerland's glitzy neighboring town of Montecito is a must visit. Go for drinks and appetizers at the Rosewood Miramar Hotel's Beach Bar. It's the perfect place to watch the sunset and you can walk down the stairs to the beach. Butterfly Beach is another dreamy spot to lay out a towel and enjoy the sun. Hotel: Inn on Summer Hill (8.9)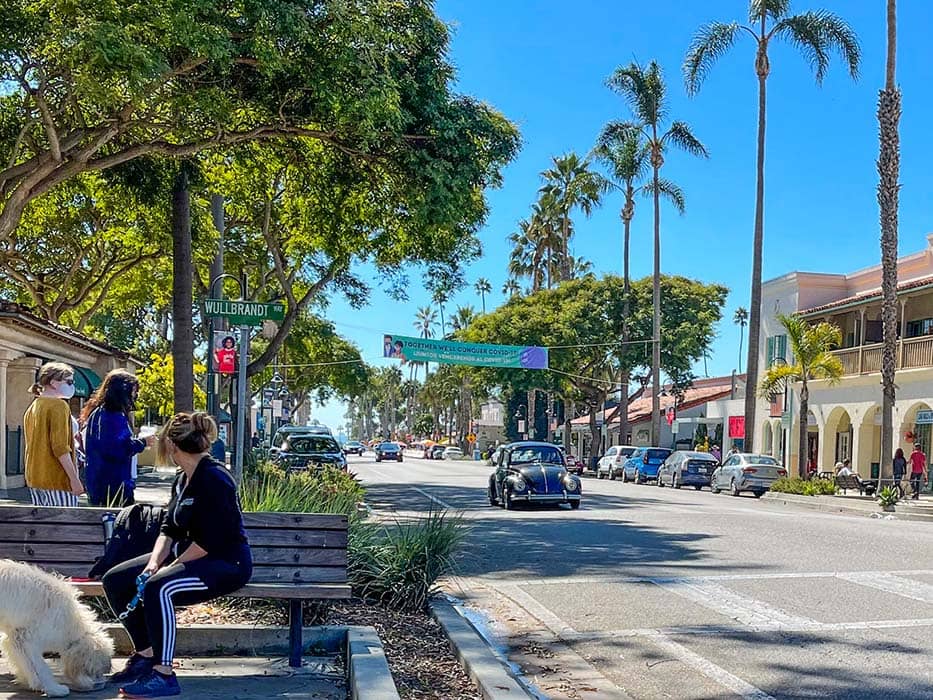 Carpenteria is One of the Cutest Towns in California
Carpenteria is a small city in Santa Barbara County, home to the state's largest salt marsh and plenty of shops and restaurants. With an easy-going beach town vibe, people fall in love with Carpenteria. Whether you want to relax by the beach, explore nature preserves or grab a drink with friends, Carpinteria will be a perfect getaway from your busy life.
One of the biggest draws to this town is Carpenteria State Beach when you can have fun in the sun and maybe see dolphins swim by! On your way to the beach, Carpinteria Salt Marsh Nature Park, a 230-acre estuary, is home to coastal wildlife and plants. There are trails that run throughout the park so it's perfect for hiking, strolling or even biking.
Another beautiful spot with ocean views is the Carpinteria Bluffs Nature Preserve. It's great for a short easy hike. There's also an amazing Seal Sanctuary and Tar Pits Park nearby that kids will love.
In town, there are lots of cute boutiques and several coffee shops and restaurants to keep you busy for the entire afternoon. Definitely try Padaro Beach Grill, Teddy's By The Sea, Sushi Teri, Rincon Brewery, and Siam Elephant Thai Restaurant. Hotel: Inn on Summer Hill (8.9) or Best Western Plus Carpinteria Inn (8.0)
Malibu is Home to Some of the Top California Beaches
Malibu, the most notorious beach town in California, can be found on our favorite Los Angeles scenic drive up Pacific Coast Highway. Known for its gorgeous coastline, trendy stores, cafes, restaurants and famous residents, Malibu is a great place to spend the day.
Start with breakfast at Malibu Farm at the end of the Malibu Pier. It has flawless views of the ocean and surrounding mountains. While they serve food all day, the totally yummy, organic eatery it's much less crowded and fun at breakfast.
Practically next door, take a tour of Adamson House, a historic estate and garden set on an incredible piece of beachfront property. Another fun option is a Small-Group Malibu Wine Hike through vineyards.
Surfrider beach, one of the most popular surf spots is right in front. Surfing in Malibu should definitely be on your California bucket list. You can rent a surfboard, a stand up paddle board (SUP) or just body surf. There is an area with the perfect beach experience for you whether it's surfing, sun bathing or building sand castles.
Some of the best shopping and restaurants in Malibu are found right in the center at the Malibu Country Mart. If you want to get the local experience, have lunch at John's Garden, a Malibu staple for more than 30 years. Grab a spot at the picnic tables and take in the relaxed atmosphere.
You should also check out The Real Coconut, a new restaurant to Malibu that has it's original location in Tulum. Nobu Malibu is famous for their sushi. Peruse all the cool California boutiques after your yummy meal. With all this eating, you definitely want to check out our favorite Malibu Hikes to burn it off. Hotel: Malibu Beach Inn (9.1) or The Surfrider Malibu (9.2)
RELATED POST: 10 Best Hikes in Malibu and Pacific Palisades
Manhattan Beach is the Quintessential California Surf Town
If you are looking for a fun, super chill, Southern California beach day, look no further than Manhattan Beach. It's one of the prettiest and friendliest coastal towns in California. Ride your bike or take a walk down the Strand where residents and visitors fill the beaches with fun activities like volleyball, surfing, swimming and more.
Manhattan Beach Boulevard is filled with trendy shops and delectable restaurants. Here are 15 Fun Things to do in Manhattan Beach for a perfect day trip itinerary. After shopping, walk straight down Manhattan Beach Boulevard to the pier. There's a cute little, free aquarium at the end of the pier if you have kids. Skip the crazy tourist filled beaches of Santa Monica and Venice, and opt for a day in Manhattan Beach instead. Hotel: Shade Hotel Manhattan Beach (8.5) or The Belamar (8.3)
Laguna Beach is the Artsy Southern California Beach Town
Laguna Beach is one of the best California coastal towns. Located in Orange Country, just outside of Los Angeles, it's a great place for a weekend getaway. The highlight here is the Pacific ocean and some of the prettiest beaches in California. 1,000 Steps Beach and Victoria Beach are must-sees!
You'll also find great tide pools if you love strolling around the beach and finding fun creatures. Surfing, kayaking, SUP, snorkeling and other ocean sports are available. Try the popular Laguna Beach Ocean Kayaking Tour with Sea Lion Sightings.
For other fun outdoor pursuits, take advantage of the hiking in Alta Laguna Park, Laguna Coast Wilderness Park and Crystal Cove State Park where you can see unbelievable views from the 5 mile El Moro Canyon Loop Trail. There is also a shorter version that is 2.9 miles. Wait until you see the sunset from this vantage point!
Another huge draw to the area is the art scene. There is a monthly First Thursday's Art Walk from 6-9pm that makes a fun night out followed by dinner.
Laguna also hosts the wildly popular Pageant of the Masters and the Festival of Fine Arts Show. Not to be outdone by the others, the Sawdust Art Festival is a summer long outdoor marketplace that rotates exhibits from 100 artists. This town loves it's art and art enthusiasts love Laguna. Hotel: Montage Laguna Beach (8.9) or Hotel Joaquin (8.9)
La Jolla is One of the Best Beach Cities in California
La Jolla is a stunning, upscale beach town in San Diego. Once you step foot here, you'll never want to leave! Being that La Jolla is situated right on the coast, you'd be missing out if you didn't explore and relax on the warm, sunny beaches of Southern California.
La Jolla Cove and La Jolla Shores are two of the best. Scripps beach is also fun with a great pier and wide sandy area. There are other incredible Southern California Beaches right nearby and you will be kicking yourself if you miss them.
La Jolla has a very unique coastline with multiple sea caves. Sunny Jim's Sea Cave is a small store with an entrance to an underground staircase and a tunnel until you reach the water. Another option is to take a 2 Hour Kayak Tour of 7 Sea Caves. It's a great way to get out on the water and explore this distinctive part of the California coast.
After fun on the beach or by the pool, take a stroll down Prospect Avenue for boutique shopping, art shops, clothing stores, cafes and restaurants. There's a whole downtown area that can keep you busy for a few hours of window shopping. There is so much to see. Hotel: La Valencia Hotel (8.3)
---
California is so diverse and there are so many amazing towns to explore. No matter what you do on your California trip, these 11 prettiest California coastal towns won't steer you wrong. If you have any additional questions, feel free to comment below. I'm confident you'll love these West Coast towns just as much as we do!
Other California Posts:
Save the Best California Coastal Towns for Later? Pin it!