If you are looking for Lake Arrowhead Airbnb rentals, these amazing cabins make the perfect getaway any time of year.
Plan a romantic escape for two, a weekend with the kids, a bachelorette weekend, or a summer family reunion at an incredible lakefront Airbnb in Lake Arrowhead, California.
Some of these Lake Arrowhead cabin rentals have stunning lake views while others are set back from the lake to give you more space to relax and enjoy tree-top views.
Each one of these dreamy cabins in Lake Arrowhead is stylish, cozy, and perfect for your Instagram feed. So pack your bag and leave your cares behind as you head up to the fresh mountain air!
This post contains affiliate links. If you book or buy something through one of these links, we may earn a commission at no extra cost to you. You can read our full disclosure here.
Planning your Lake Arrowhead trip? Don't miss our latest travel guides: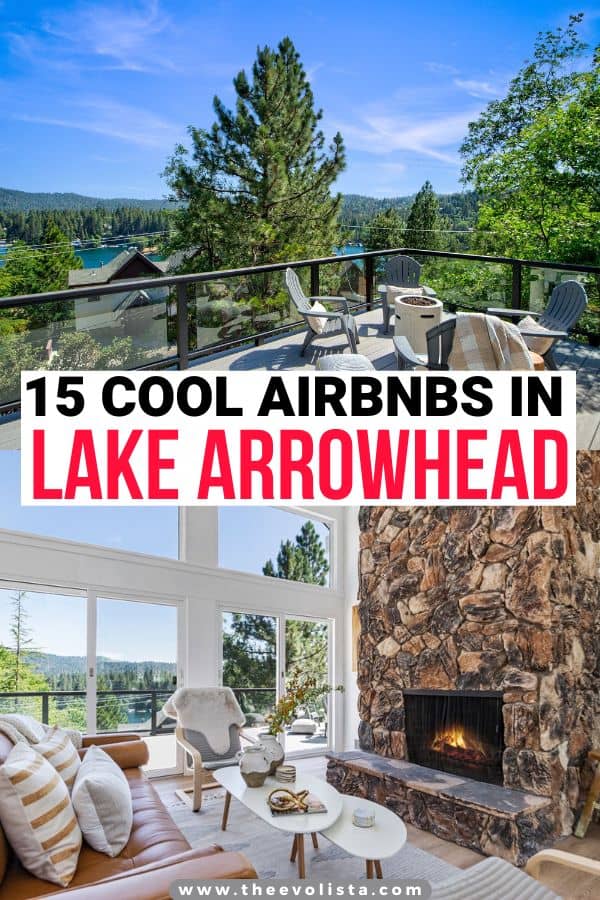 15 Incredibly Stylish Lake Arrowhead Airbnb Cabins
This selection of Lake Arrowhead vacation rentals showcases the best properties around the lake. Book early for summer and holidays.
If you're looking for the ultimate Lake Arrowhead cabin rental, Lake + Pine is a beautifully remodeled, must-see A-Frame.
We stayed in this amazing 3 bedroom house overlooking North Bay Lake Arrowhead and you couldn't pick a better spot.
With its bright and airy design, designer furnishings, and stunning lake views, you'll feel right at home as soon as you walk through the door.
With plenty of space for families, including a designated movie-watching area for the kids, this cozy and inviting cabin is ideal for a family vacation.
The fully stocked chef's kitchen and indoor and outdoor dining areas makes it easy to prepare and enjoy meals together.
A stylish upstairs living space with a fireplace and huge deck overlooking the lake provides the perfect setting to relax and unwind.
With two king bedrooms featuring hotel-quality mattresses and 65-inch flat-screen TVs in each room, plus a third bedroom with two full-size beds, and a den with a pull-out sofa, this cabin comfortably accommodates up to 10 guests.
And with AC included, you can enjoy your stay in comfort no matter the season. So if you're looking for the best Lake Arrowhead Airbnb, look no further than this stunning cabin.
---
Let's start with the dreamiest house in Lake Arrowhead. Set in Emerald Bay, this simple, yet elegant vacation home was renovated with the highest quality materials and details by LA designer Jenni Kayne.
Featured in Dwell Magazine and Rip & Tan (the Jenni Kayne Blog), you can see before and afters of this knockout transformation.
Have a relaxing getaway in this beautifully appointed, 4 bedroom, 4 bath home that has sensational views throughout. Warning – staying here will make you want to renovate your home into a stylish oasis like this one.
---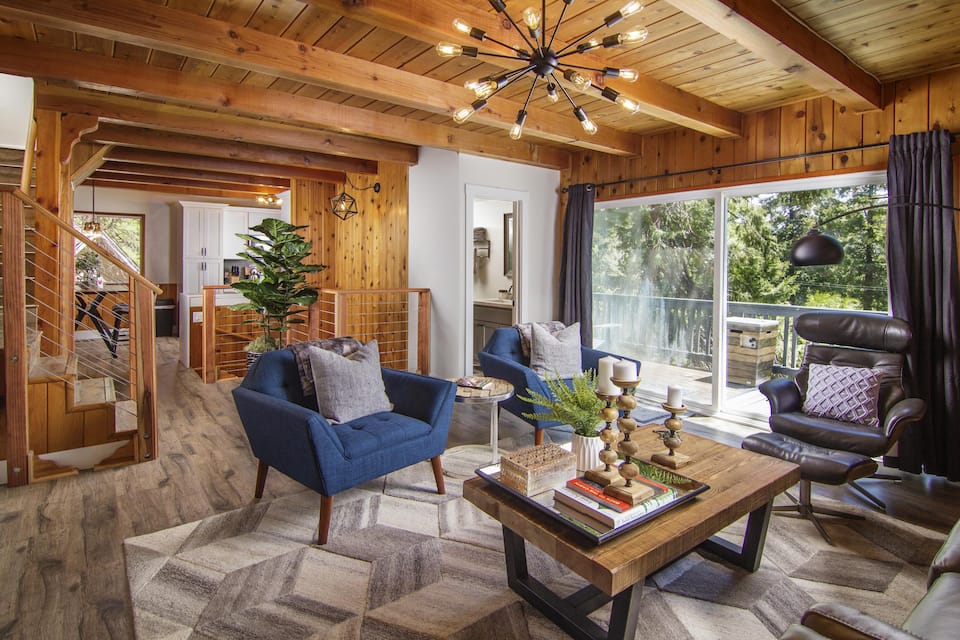 Finding the ideal Airbnb can be a challenge, but this Whispering Pine Modern Luxe Lodge will surely exceed all of your expectations.
It features 4 bedrooms, 2 baths, a convenient kitchen, and a deck with a tree view, it is an excellent choice in a superb location.
The rental has an emphasis on outdoor living, so visitors can enjoy a stainless BBQ, fire pit, and festive lighting.
Some previous guests have noted that Wifi connection and T-Mobile cell reception were poor, so keep that in mind when planning a visit.
---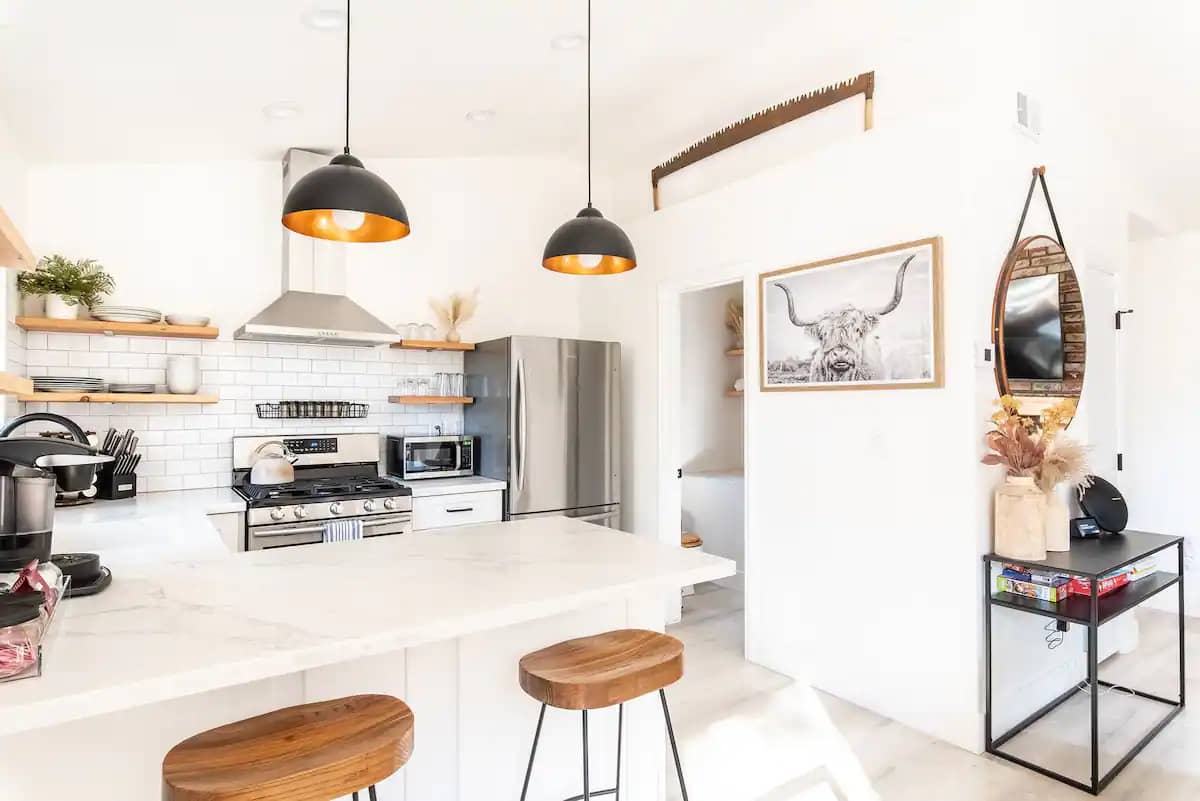 If you're looking for a bright and airy vacation rental, Sky's Secret Cabin is sure to be it.
This charmer is nestled into a beautiful forest with gorgeous views, especially from the large deck off of the living area. Enjoy your morning coffee or dinner under the stars.
Even though you'll feel far from the hustle and bustle it's still just a 5 minute drive to Lake Arrowhead Village and restaurants and one mile from Santa's Village at Skylark.
There are 2 beautifully appointed king and queen bedrooms and 2 bathrooms. It's perfect for 2 couples or a family, with a crib if you need it.
---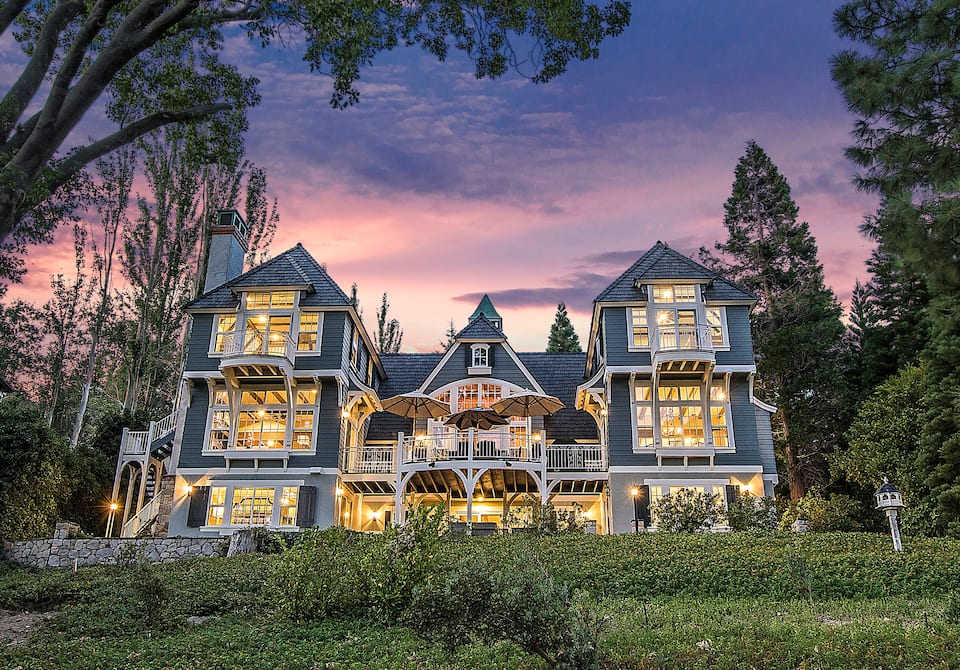 Searching for luxury cabin rentals? This Spectacular Lake Front Retreat is a newly-remodeled historic property will feel like a fairytale.
With 6 bedrooms, the accommodation can sleep more than 20 people. Therefore it is well suited for family and friend trips.
All main-level living and dining spaces open onto a large furnished lake view.
A highlight of the house is its two additional master suites located at both ends of the top floor, which have their own staircases and balconies.
Downstairs, guests may even enjoy a 'spa' area with a hot tub. The rental has fantastic common areas but enough room to find some privacy.
---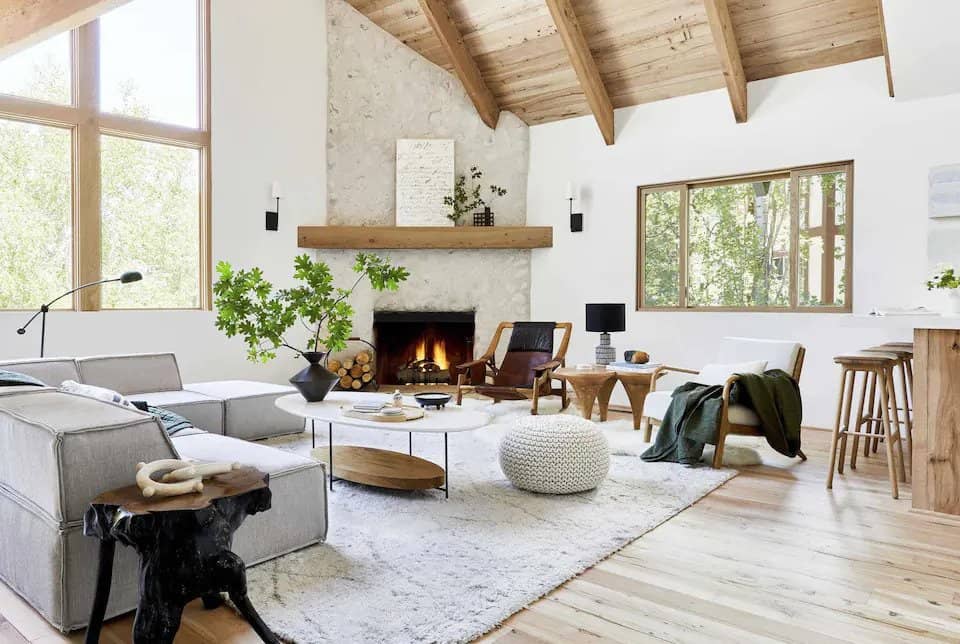 Interior designer, Emily Henderson, renovated this incredible 4 bedroom, 4.5 bath right as a project in tandem with her dedicated fans. And now, you can stay in the house and see the finished project up close.
Every aspect of the renovation was covered on the Emily Henderson blog and the completed Mountain House project was also featured in House Beautiful.
Have an extended family reunion. Up to 14 of you can prepare meals together in the state of the art kitchen. There are 4 spacious bedrooms and 4.5 bathrooms.
The kids will love the playroom and hanging out in the backyard. This home is managed by To Dwell Here.
---
For a truly dreamy getaway, Palisades Point Lakehouse is an inviting retreat that can fit up to 3 couples in guest rooms and 3 kids in the kid loft.
It's a great home for 2 families to enjoy together. What sets it apart from other rentals is the incredible 180-degree views of the lake including water views from each room.
There are 3 huge decks with a fire pit, hot tub, outdoor dining and swings. Enjoy a cup of coffee in the morning or a glass of wine with friends while you overlook the lake.
Guests repeatedly comment on the attentiveness of the owners and their enjoyable stay.
---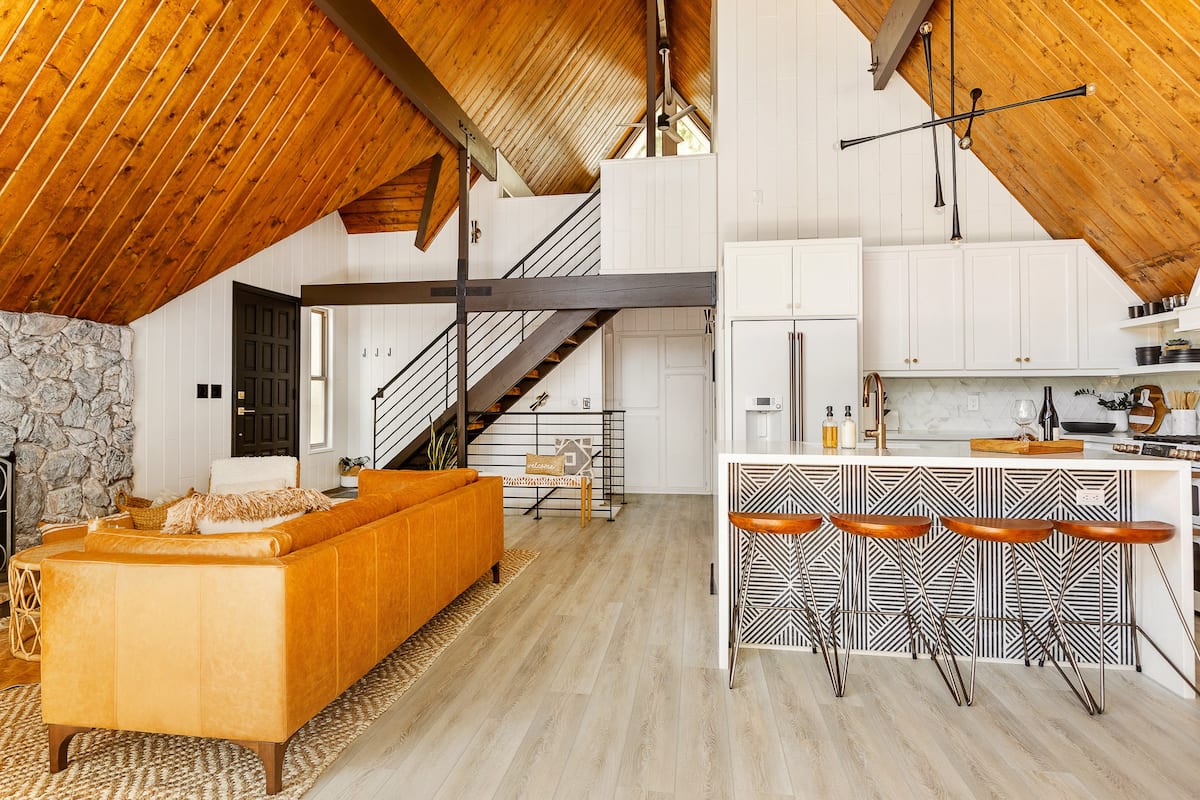 Admirers of lavish design will surely enjoy a stay at this stunning remodeled Oak Tree A-Frame. Bamboo mattresses, butter-soft bamboo sheets, huge windows, and plenty of other thoughtful details will make your vacation a good one.
The cabin can sleep eight people. Additionally, there are two twin air mattresses so two more guests can join the adventure.
Sit back and relax on the deck under a huge oak tree, take in the far-reaching forest views, and have the time of your life. Your kids will be entertained, too – there are many yard games and a tire swing that will keep them occupied.
---
With woodsy, mid century modern decor and forest views, the 2 bedroom, 2 bath Forest Haven A-Frame is a terrific cabin rental in Lake Arrowhead and your pup is welcome.
It can accommodate up to 7 people in 2 bedrooms with 2 baths. Located on the north side of the lake near UCLA conference center, you'll be able to enjoy the quiet neighborhood.
The Airbnb features everything one might need for a comfortable stay – a well-equipped kitchen, free WiFi, a wood-burning fireplace, and a wonderful deck.
In addition, the cabin is conveniently nestled in the majestic San Bernardino National Forest, so you will be close to the Rim Nordic Ski Area and the Will Abell Memorial Trail.
---
The Lake Arrowhead village has its fair share of alluring lake houses, but this Upscale Modern A-Frame cabin surely comes high on the list.
The fully renovated accommodation has all the luxury amenities to make your vacation a great one – high-speed wifi, newly added A/C, Apple TV, living room that offers splendid views on the forest, and so much more.
The house can comfortably host up to four people. However, keep in mind it is not suited for small children. Since the Lake Arrowhead Airbnb has several sets of stairs with gaps and railings only on one side, it can be a challenge for little travelers.
---
The newly renovated a-frame cabin is a true slice of heaven in the mountains.
With breathtaking scenery and that incredible feeling of living in the pines – there is no doubt you will have a wonderful time staying at The Shack Lake Arrowhead Airbnb.
The cabin is suited for 8 guests and offers 3 bedrooms, a main living area with a smart TV and a fireplace, a full kitchen, and everything else needed for the ultimate getaway.
Note that during the winter months, power outages are possible. If that happens, flashlights are provided at the Airbnb.
---
For those planning their winter getaway in Lake Arrowhead, staying at this 1942 Chalet is a must. Thanks to its many original features, the Airbnb looks straight from a storybook.
With 3 bedrooms and 2 baths, this home hosts 7 people comfortably and offers small lake views near its cozy fire pit.
So make some s'mores while enjoying the warmth of the fire, or snuggle up watching movies inside – the Airbnb is just a charming inside as outside. Similarly, like the rental before, it is not possible to make a booking for people under 25.
---
Cozy Old Creek Cabin is nothing like the other Lake Arrowhead Airbnb rentals in the area. The dark, moody color palette, a Malm fireplace, and southwest furnishing will be a real treat for those who admire fine interior design.
As you walk into the 3 bedroom cabin, you will be greeted with a 2 story wall of glass windows that look out onto the forest.
Guests truly appreciate the seasonal thoughtful touches that added to their stay. As the owners say, "your only debate will be whether this cabin calls for whiskey or wine".
---
Another fine example of architecture and splendid views is Mile High Haus. Have a laidback day swinging in the hammock, wind down in the tub or spend time looking at the surrounding wilderness – there is no doubt you will be wowed by the incredible rental.
The open concept 3 bedroom house is an idyllic place to connect with friends and family. Cozy up by the fire or challenge your kids to a game of ping pong. The chance to reset and change the scenery from city life to fresh mountain air, will leave you feeling completely renewed.
---
This beautiful Lakeside Retreat featured in Sunset Magazine might seem small, but don't let its size fool you. The single bedroom cozy Arrowhead cabin will instantly make a big impact.
All around the premises, you will find vintage paintings and decorative objects that enrich the interior. A fully equipped kitchen includes everything to make a delicious meal.
This Lake Arrowhead vacation rental is a wonderful example of the timeless sophistication that is created by mixing old and new.
---
With so many great options, you are guaranteed to find the ideal Airbnb in Lake Arrowhead. One word of advice, these are the top rentals in the area and will book quickly. Don't wait to make your reservation or you'll miss out.
Save These Lake Arrowhead Cabins & Vacation Rentals for later? Pin it!