This 2 days in Yosemite Itinerary that will make you fall in love with Yosemite in Winter. In addition to the benefit of less crowds, there are extra winter activities available that are nothing short of magical.
You can use this guide for any season but there's nothing like a Yosemite winter trip. We visited Yosemite in December for New Year's Eve and scored a glamping reservation at Autocamp Yosemite, which was an awesome trip all on its own.
A Yosemite itinerary for 2 days allows you to do the trip as a weekend getaway and enough time to see so much of the beauty in Yosemite National Park.
Planning Your Trip to Yosemite Last Minute?
If you are trying to pull together your trip quickly, here is a quick reference guide to the tours and hotels we recommend, along with practical travel information.
Get more California winter travel ideas on our 11 Best Places to Visit in California in December or 16 Epic Things to do in Death Valley. For a huge list of cool things to do in the USA, check out 60 USA Bucket List Trip Ideas.
This site uses affiliate links, meaning if you make a purchase through our links, we may earn a commission. You can read our full disclosure policy here.
TOP EXPERIENCES & TOURS IN YOSEMITE
BEST HOTELS IN YOSEMITE
PRACTICAL INFORMATION FOR YOSEMITE
Best Time for This 2 Days in Yosemite Itinerary
Truthfully, any time is a good time to go to Yosemite but the experience varies by season. Yosemite is the most visited National Park in California. It's a top destination for summer vacation, especially if you are doing one of the scenic drives in Northern California.
The weather is warm to hot (highs in the 80-90 degree range) and while there is some rain, the days are generally sunny. People that like camping with find the evening to be in the 50s. The biggest issue in the summer is that Yosemite is crowded.
Spring and Fall are great times to visit, especially in May when the waterfalls are at their peak, wildflowers abound, the roads are open and the weather is in the 70s during the day.
Fall has beautiful autumn color and while the waterfalls may run dry there are plenty of hikes and views to enjoy without tons of people. Toward the end of fall and throughout the winter, daytime temps drop into the 50s.
Winter is the least visited season and the most underrated. Bring some warm clothing and enjoy seeing snow on the ground. Winter activities like winter hiking, snowshoeing, ice skating and skiing are available. Waterfalls are running again – not at the Spring pace but still really pretty. Yosemite is one of our favorite places to visit in California in December.
Visiting Yosemite in Winter
Our 2 day Yosemite trip was December 30 – January 1 for New Years. Christmas to New Years in the busiest time in Yosemite in December. Yosemite in January after everyone goes back to school is much less crowded AND BEAUTIFUL with snow!!
Yosemite in December
December is a festive time to visit Yosemite. Many families travel to Yosemite over winter break for a trip to the snow. Yosemite hikes in winter are more limited due to weather and icy trails but plenty of people go specifically for winter hiking.
Other winter activities include the Badger Pass Ski Area with downhill skiing, snowboarding, cross country skiing, snow tubing, and sledding. There's also an ice skating rink in Curry village or Tenaya Lodge.
Yosemite in January
January is officially the least crowded month of the year. There are still plenty of Yosemite winter activities Bring your hiking essentials and get this Yosemite winter wonderland to yourself.
Yosemite in February
Photographers flock to Yosemite in February to see the Yosemite Firefall at Horsetail falls. This natural phenomenon occurs around the second week in February when the sunset illuminates the falls so it looks like hot lava.
The best place to capture a photo is the El Capitan picnic area. You can also catch it on Southside Drive near the Sentinel Beach picnic area.
The fiery falls can also be a highlight of a Valentine's weekend getaway to Yosemite. Enjoy couple's hikes by day, a cozy cabin retreat in the evenings and a memorable romantic dinner at the Ahwahnee Hotel main dining room on the 14th.
RELATED POST: 11 Best Places to Visit in California in December
2 Day Yosemite Itinerary – Day 1
The Yosemite Valley was carved from glaciers in the last ice age. Yosemite National Park covers an area of 12,000 square miles and there is so much to do. Day 1 is the perfect time visit the Valley floor, that is 8 miles long by 1 mile wide.
To get around the Valley Floor, you can walk, bike, drive it yourself or take the 2 hour Valley Floor Tour. Yosemite Valley Visitor Center is open year round if you want to stop by to get some maps or advice for your visit.
TUNNEL VIEW
Tunnel View, shown above, frames some of the most well known attractions in Yosemite. From here, you'll have views of Half Dome, El Capitan, Bridalveil Falls and Yosemite Falls.
If you enter through the Yosemite South Entrance, this will likely be your first stop since you will drive through the tunnel on your way to the valley floor.
You may want to add a Tunnel View sunrise visit to one of your days. At sunrise, the light hits El Capitan and it's so worth the sleep you'll miss getting up so early.
There are quite a few people who show up to take a photo of the classic Ansel Adams view. If you are serious about getting the perfect shot, get here a minimum of 30 minutes before sunrise.
From Tunnel View, continue to the Yosemite Valley Floor Loop to see the classic Yosemite sights. Don't forget to stop by the Ansel Adams Gallery on the Valley floor for more inspiration.
BRIDAL VEIL FALLS
The first spot you'll come to on the Yosemite Valley floor is the trail for Bridal Veil Falls. It's only 1,000 feet from the parking area to the base of the falls so it's one of the most crowded spots to visit.
Depending on the time of year it will be a roaring waterfall, a light flow or somewhere in between. The 620 foot drop makes it pretty impressive.
LOWER YOSEMITE FALLS
The Lower Yosemite falls trailhead is an easy 15 minute hike to the base of the falls. If you go in Spring, there will be a ton of water and it can be close to dry by fall.
You'll see the base of the falls from a distance and you can do a Little Rock climbing over some big boulders to get closer but the rocks are slippery so there's a good chance you'll get your shoes wet. The trail is an easy walking loop that takes about 30 minutes. Stop 6 on shuttle.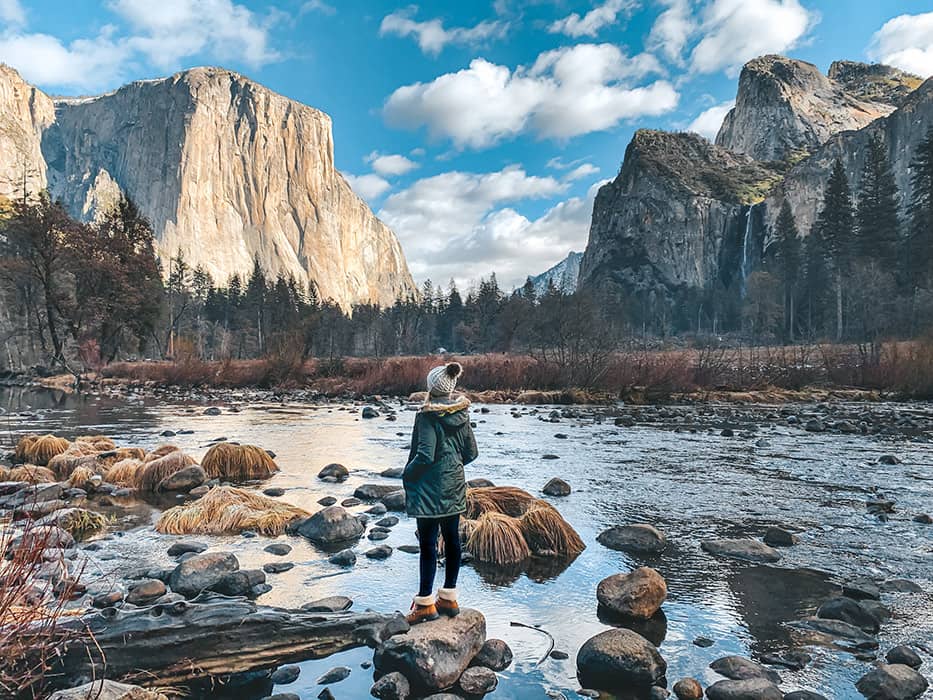 YOSEMITE VALLEY VIEW
One of my favorite viewpoints in Yosemite often gets missed because it's at the end of the loop drive. It's a valley floor version of the vista from tunnel view.
The reflection is so pretty when the Merced River is glassy and it looks so different with each season. If you try to climb out on the rocks, be careful because they are slippery, especially in winter.
GLACIER POINT
From the valley floor it takes about 45 minutes to drive up to Glacier Point. Stop at Washburn point along the way for beautiful views even if you aren't planning to hike.
Take a full day Yosemite and Glacier Point Tour where you can have a guide take you to some of the most majestic spots in Yosemite. The drive from Washburn Point to Glacier Point has the most incredible view of Half Dome seen above.
At Glacier Point you'll find 2 parking lots that can get really busy. The views of Half Dome and Yosemite Falls from here are amazing. There are two main trails here – the Panorama Trail and the Pohono Trail.
The best time to visit is the late afternoon for fun hikes and spectacular sunset vistas. The Pohono trailhead is at about 7,100 feet elevation.
You can hike to Sentinel Dome and Taft Point from here. They are in opposite directions but you can do both hikes. Taft Point has the prettiest views, so if you are just choosing one of these hikes, pick Taft Point.
SENTINEL DOME
The Sentinel Dome trail is an easy 2.1 mile round trip trail that's busy. It is 456 feet of elevation gain that is steep in some parts but it's not a long trail.
It starts from Glacier Point right near Taft Point and most people will hike both at the same time. The views are massive.
TAFT POINT
Taft Point is a 2.2 mile round trip hike that is generally pretty easy and provides insane views of Yosemite valley and El Capitan.
This is for people that are NOT afraid of heights. You can walk right up to the edge and look over without a guard rail. Taft Point trailhead and Sentinel Dome trailhead share the same parking lot.
---
2 Day Yosemite Itinerary – Day 2
As you can probably tell, Yosemite is a hiker's dream. There are plenty of easy to moderate hikes and some pretty hefty advanced hikes. The biggest problem you'll have in Yosemite is having enough time to do everything you want to do.
Both of these days are interchangeable but Day 2 is set up with more of an emphasis on hiking. Personally, I recommend starting your day with sunrise at Tunnel View.
MIST TRAIL TO VERNAL FALLS
Mist Trail is the jumping off point to other hiking trails. The trail up to Vernal Falls has been in existence since the 1850's so you are venturing on a historic trail enjoyed by the earliest Yosemite visitors.
The Vernal Falls footbridge is less than a mile with an elevation gain of 400 feet. Up another 600 feet of elevation including 700 granite steps is Vernal Falls. The total distance from the beginning is 1.5 miles.
You can hike an additional 2 miles to Nevada Fall or 7 miles to get to the top of Half Dome for a total of 4,800 of elevation gain.
Half Dome requires a permit and you will need more than 2 days in Yosemite if you want to take some of the bigger hikes without skipping the traditional sightseeing.
VERNAL FALLS
Depending on your speed, the Vernal Falls hike takes 2-3 hours. It has a 317 ft waterfall. I still remember doing this hike when I was really young so if you have kids, this is a good one.
The waterfall and water flow will be most impressive in Spring and will create a rainbow from the off spray. Since there is no parking at the trailhead, park at Curry Village or take Valley Visitor Shuttle to stop #16.
MARIPOSA GROVE OF GIANT SEQUOIAS
The giant sequoias are a big attraction and many people would include Mariposa Grove Road as part of their 2 day Yosemite winter trip. If you are truly only staying for 2 days and want to do lots of hiking, you may want to skip it.
Another reason to skip it is if you are seeing tall redwoods elsewhere on your California trip. If you are looking for something easy and relaxing, then it might be a great choice.
UPPER YOSEMITE FALLS
The hike to Upper Yosemite Falls is challenging to say the least and it's not accessible in winter. It's 3.2 miles each way with 2,000 feet of elevation gain.
We didn't do it but it's supposed to be a strenuous, beautiful hike that has a pool at the top. Some people swim in it when the falls have died down but it can be dangerous.
It's probably too much to add this 6-8 hour hike to your 2 days in Yosemite without skipping something else. If you really want to do hikes like this and Four Mile Trail (9.6 miles), plan to stay 3-5 days.
---
Where to Stay for a 2 Day Yosemite Winter Trip
Yosemite Lodging Inside the Park – Easiest for 2 Days in Yosemite
Staying inside the park is most convenient if you are limited on time. These places book well in advance so you'll need to plan ahead.
The Ahwahnee Hotel – The Ahwahnee should be on your California bucket list whether you decide to stay overnight or not. It was built in 1927. They also host the Bracebridge Dinner, a 17th century Christmas celebration with a 7 course dinner that is held multiple times throughout December.
Yosemite Valley Lodge – a very convenient location but make sure to book in advance. Their WiFi is spotty.
Curry Village – location below Half Dome and Glacier Point Road
Yosemite Winter Accommodations Outside the Park Can Be More Fun
Keep in mind that the area outside of Yosemite National Park is also a great place to stay, especially in winter when there is sledding, ice skating and more. In addition to visiting the park, you will also have plenty of things to do near your hotel that can be part of your Yosemite experience.
Tenaya Lodge at Yosemite – one of the more upscale places to stay outside the South entrance. It's a big resort with lots of Yosemite winter activities. Tenaya Lodge is pet friendly.
Autocamp Yosemite – If you have ever had dreams of staying in an airstream trailer, this is your chance. Autocamp Yosemite has very stylish airstreams with fire pits.
Yosemite Winter Glamping at Autocamp
Glamping at Yosemite Autocamp allows you to stay in an Airstream without having to spend a fortune to buy your own and then pull it around the country behind your car. It also adds another fun activity to your 2 day Yosemite itinerary.
The campsite is in Midpines near the historic town of Mariposa and 38 minutes from the Big Oak Flat Entrance of Yosemite.
The airstream trailers have a private bedroom with a plush queen sized mattress, super soft sheets and a flat screen TV. It was big enough for the two of us and our 2 small dogs.
The living area contains a kitchenette equipped with all the necessities and a sofa that opens to a full sized bed that was perfect for our son. The decor has a chic mountain/mid century modern feel and the huge, gorgeous bathroom was awesome.
Each trailer has a dedicated outdoor area with a fire pit and grill. There are stylish wood chairs and blankets you can use to snuggle up and make s'mores or grill your dinner. Other food options are available at the clubhouse or in Mariposa.
Glamping aficionados should also check out Glamping in Big Sur under the redwoods.
RELATED POST: 9 Glamping Destinations in California & The USA
---
Getting to Yosemite in Winter
These days, we all just set our GPS and magically get where we are going. The one important thing to know about Yosemite when you are planning is that Yosemite has 5 entrances and they're not all open during winter.
You should check the National Park Service website for current road conditions and closures. Make sure you bring tire chains because you may need them.
Yosemite Entrances – Which Ones Are Open to Yosemite in Winter
South Entrance (Highway 41) – Best entrance for visitors coming from Southern California.
Arch Rock (Highway 140) – Good for visitors from the Bay Area
Big Oak Flat Entrance (W Highway 120) – Good for visitors from the Bay Area
Hetch Hetchy Road – The northern most, and least used entrance on the west side of the park. It's open year round.
Tioga Pass Entrance (E Highway 120) – While this is the best entrance for visitors from Nevada or Mammoth Lakes during summer, Tioga Road reaches 10,000 feet in elevation and is typically closed to Yosemite in winter from November through late May. This closure also prevents access to the Tuolumne Meadows area.
RELATED POST: How to Get a National Park Pass For Free
Favorite Yosemite Winter Moments
Tunnel view at sunrise seeing Half Dome and El Capitan light up on New Year's Day wearing winter gear
Glamping in an Airstream Trailer at Autocamp Yosemite and enjoying a toasty fire with S'mores
Views, views and more views. We couldn't get enough! There was a beautiful snow icing over everything.
FAQs About Yosemite in Winter
Is it Worth Visiting Yosemite in December?
Yosemite in December is a completely different experience than summer. There are lots of fun winter activities like ice skating, sledding and skiing. December also has plenty of festive holiday things to do like the Christmas Bracebridge Dinner or the New Year's Eve Gala at the Ahwanhee Hotel.
Is it worth visiting Yosemite in Winter after December?
January is the quietest time in the park and perfect for those who love winter hiking. Plus there's nothing prettier than Yosemite with snow. In February, the Yosemite Firefall is a huge attraction.
Can you drive through Yosemite in winter?
Yes, you can drive through Yosemite Valley and Wawona. You may need chains so check the National weather service if it's snowing. The Tioga Pass Entrance closes from November to late May.
---
We hope you love Yosemite in Winter as much as we do. It is one of the best US National Park winter experiences. While Yosemite in December, between Christmas to New Year's is busy, it's nothing compared to the summer months.
Our 2 days in Yosemite Itinerary will allow you to see the best sights, get some Yosemite winter hiking and time to play in the snow.
Other Posts You Might Like:
Save 2 Days in Yosemite in Winter to read later? Pin it!