Traveling closer to home provides an opportunity to take advantage of the National Park systems. The US National Parks are each so amazing and we usually try to get to one a year. This year we knew we would save money by getting the America the Beautiful National Park Passport and it paid for itself in one week on a trip to Utah and Arizona.
We're still getting tons of value and we're only halfway through the year. Check out The Evolista YouTube channel to see all the places we're using our pass. While the National Park Pass is a great deal at $80 for a year, there are also ways you can it for free or at a discount.
The America the Beautiful Pass
The America the Beautiful Pass is $80, valid for one year and covers the entry of one vehicle and 4 adults. Kids under 16 are free. It covers all 61 National Parks, national monuments, recreation sites and battlefields. All totaled, this pass will give you free entrance into 2,000+ federal recreation sites across America. Here is the extensive list of locations by state.
Since the pass also covers parking at many hiking spots, we hit the $80 value in less than one week. We're excited to see how many spots we can get to in 2020. We have so many USA trip ideas using our national park passport from an Arizona Road trip to the parks in the Pacific Northwest. We've even been thinking about heading to explore the East Coast national parks. Having the pass is great encouragement to use it!
---
How to Get an America the Beautiful National Park Passport at a Discount or Free
Read the qualifying details below and obtain your National Park free pass at one of these locations.
Tips to Get More Value From Your National Park Pass
Buy the National Park annual pass here and REI will donate 10% of your purchase to the National Park Foundation.
Make sure you enter the park in one vehicle. Since the pass includes up to 4 people in one vehicle and kids under 16 are free, leave your friend's car outside the park and go in together.
The America the Beautiful Pass is non-transferrable but you can list two people on the card. In our case, we have spouses but it can be friends, roommates, or anyone you want. Then you both can use the card even if you aren't traveling together. There is only one physical card and you need to present it with your ID so 2 people cannot use it at 2 places at the same time.
Plan your trip for the beginning of the month and buy your pass then. The pass is for one year starting the following month. If you buy a pass June 1, 2020, the pass is good until June 30, 2021, giving you 13 months instead of 12.
If you are just wanting to go to one park a few times, they may have a lower priced annual pass. At Joshua Tree National Park, a one week pass costs $30 and an annual pass for Joshua Tree National Park only is $55. If you won't be going to any other parks in that year, it may be better to buy an annual pass for one park.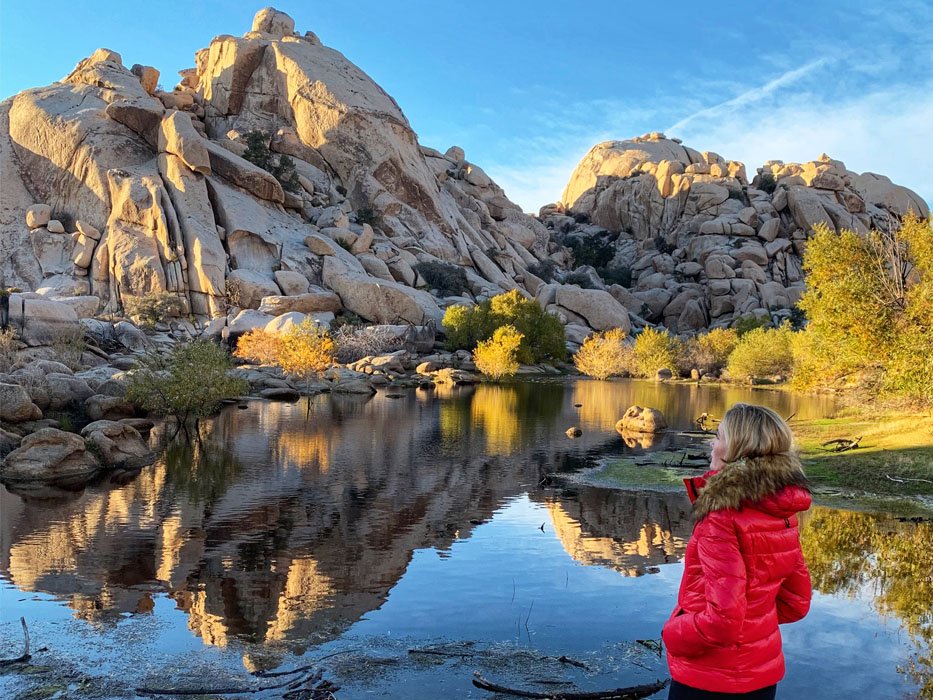 Parks We've Visited With the National Park Passport
Ever since we knew about the America the Beautiful National Park Passport, we've been on a National Park binge. Here are some of our favorites.
Canadian Discovery Pass
Our neighbor to the north has a similar National park passport program called the Discovery Pass. It includes admission to 80 Parks Canada places and might be worth if it you live near the border or are planning a trip to Canada. It includes Banff, Jasper and Glacier National Parks, among many others. Canada has incredible National parks. Set a Canada itinerary to see everything the Canadian Rockies have to offer.
---
A National Park Passport Makes a Great Gift
If you know someone who loves nature and the outdoors, the America the Beautiful Pass makes a great gift. You can also combine it into a gift basket to suit a special occasion like graduation, a wedding, a birthday, Mother's Day, Father's Day, Christmas, Teacher/Coach's gift or a thank you gift. Here are some ideas on things you can include:
Personally my favorite gift is travel. We usually go somewhere instead of buying gifts. For someone besides your spouse, it's a little harder to give the gift of travel. It's not like you can just give plane tickets or a hotel room. That's what is so great about a National park passport. It's a gift that gives the recipient fun things to do all year long from weekend recreation to bigger trips. The best part is you can pick the amount of gift that you want. If you want to spend more than $80, you can make a travel gift basket.
Other Posts You Might Like:
Save this Post for Later? Pin it!