If you're looking for a unique outdoor experience, the best kayaking trips in the US are definitely the way to go. You can explore waterways and landscapes that you would never get to see any other way.
From the Colorado River to the dramatic shorelines in the Midwest to sea caves and icebergs, the best places to kayak and canoe in the USA will blow you away!
For this post, we teamed up with some of our favorite travel bloggers to give you the "best of the best" places to kayak and canoe in the United States.
You'll find plenty of stunning kayaking destinations to choose from. So if you're ready for an adventure, read on for the best kayaking trips and multi day canoe expeditions in the US!
Our Favorite Resources For a Kayaking or Canoe Trip in the USA
Best Kayaking Trips in the US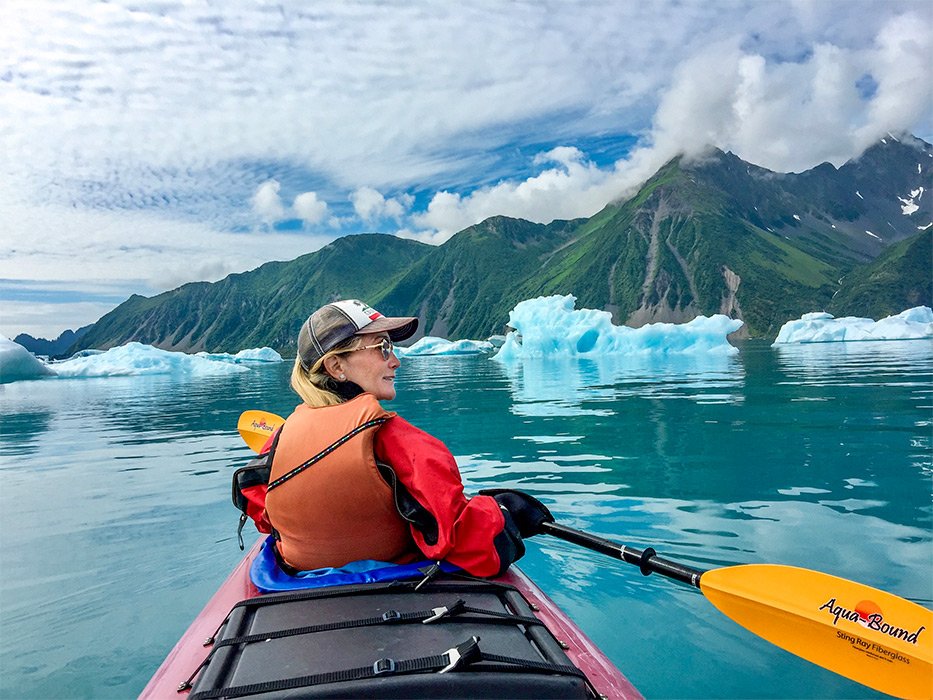 Bear Glacier Lagoon, Alaska is Our Vote For Best Kayaking Trips in the US
There's something special about paddling through a landscape of icebergs. It's like being in another world. And that's exactly what you'll find when you go kayaking in Bear Glacier Lagoon in Kenai Fjords National Park.
This unique place is home to some of the largest glaciers in Alaska, and it's an absolute paradise for kayakers.
The lagoon is full of icebergs of all shapes and sizes, and paddling through them is an incredible experience. You'll also have the chance to see wildlife up close, including seals, otters, and other creatures.
Getting to Bear Glacier Lagoon is half the fun. You either take a helicopter or a water taxi. The helicopter gives you a Birdseye view of the icebergs above and below the impossibly turquoise water.
Once there, you will meet your outfitter who will supply you with a kayak, drysuit, dry bag and everything you need for the 2-4 hour paddle.
The cost for this adventure ranges from $325-$650 per person depending on your transportation to the lagoon. It's suitable for all ability levels and sure to be one of the most memorable experiences on your Alaska itinerary.
Other fun activities in Seward include a whale watching cruise where you can also see a glacier calving, a fishing charter or hiking on Exit Glacier.
Stay at the Harbor 360 Hotel Seward. It's perfectly located near the dock where boats depart for multiple activities. If you prefer camping, Resurrection Campground & RV Park have beautiful views of the bay complete with hookups.
RELATED POST: 11 BEST THINGS TO DO IN SEWARD ALASKA
Backhaul Horseshoe Bend May be the Coolest Arizona Kayaking Destination
Recommended by Catherine of Nomadicated
Experience a different perspective of the famous American landmark, Horseshoe Bend, by kayaking the Colorado River that winds through it.
To embark on this adventure, make your way to the nearest river access, Lee's Ferry in Glen Canyon National Recreation Area.
You will need a National Park Pass or a day pass and hire a backhauling service to tow you north to the starting point. Horseshoe Bend is at mile marker 10, but tell the captain if you would like to start even further.
Be prepared for a full day of kayaking through incredible landscapes. Starting at Horseshoe Bend, expect to paddle for approximately 3-4 hours as the river currents are slow-moving.
Beginners and experts alike are welcome, as there are no rapids to worry about here.
Along the way, break up the journey by hiking in secret slot canyons, picnicking on the shores of the Colorado River, and discovering ancient petroglyphs. If you're lucky, you may even encounter wild horses quenching their thirst on the banks of the river.
Horseshoe Bend is one of the best places to kayak in the US, but there are so many other awe-inspiring things to do in Page, Arizona too.
Make time for other hotspots like touring through Upper Antelope Canyon, the lesser visited Lower Antelope Canyon or boating on Lake Powell.
Hampton Inn & Suites is well located in Page to get to all activities. Camping is available at the Waheap Campground or the Page Lake Powell Campground.
RELATED POST: 11 THINGS TO KNOW BEFORE DOING THE HORSESHOE BEND HIKE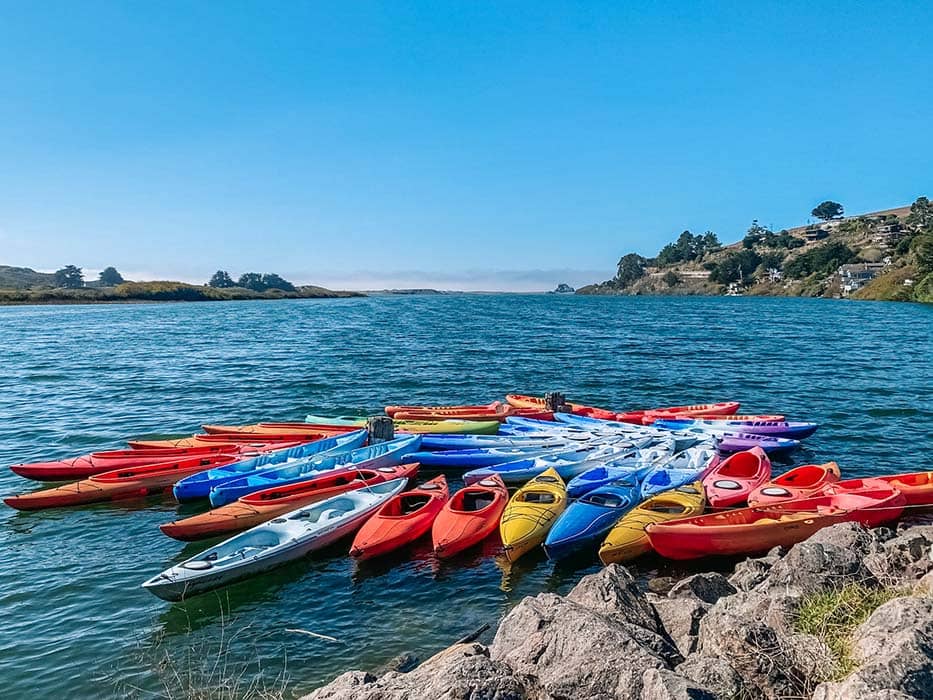 Russian River Kayaking in Sonoma County, California With Sea Kayaking in Jenner
Sonoma County is home to some of the best kayaking in California. The Russian River is particularly popular for canoeing and kayaking, as it runs through some of the most stunning wine country, redwoods and quaint small towns in the state.
There are plenty of options for paddling on the Russian River from a half day canoe float to a full day multi activity Kayak, Bike and Wine Tasting trip.
What says vacation more than taking a break from your California wine tasting with a paddle on the Russian River?!
Another amazing place for a kayaking tour is in Jenner at the mouth of the Russian River, where it meets the Pacific Ocean.
In this quaint coastal town, you will find a scenic estuary filled with sea lions, wildlife, beaches, sandbars and breathtaking coastal views.
It's one of those magical places to spend time out on the water and is great for all ability levels and ages.
Launch your own kayak or rent one in Jenner by Cafe Aquatica, a terrific place to enjoy a meal before or after.
There are beautiful Northern California beaches you can explore when you are done like Goat Rock State Beach. Hikers will enjoy the trails in Sonoma Coast State Park and Jenner Headlands Preserve.
Highlands Resort or AutoCamp Russian River in Guerneville are great places to stay. Or choose one of the Best Hotels in Healdsburg to be right in town with great restaurants and shops.
RELATED POST: 15 FUN THINGS TO DO IN SONOMA COUNTY CALIFORNIA
Apostle Islands National Lakeshore is One of the Best Kayaking Trips in the US
Recommended by Deanne of Scenic and Savvy
The Apostle Islands National Lakeshore is a nature lover's paradise. Located on the northernmost tip of Wisconsin, the Apostle Islands are set in the turquoise waters of Lake Superior with stunning sea caves naturally carved into the Islands.
From small to spacious, these sea caves are a popular spot for kayakers. Whether you kayak on your own or with a tour, for a few hours or an entire day, you'll be amazed at the spectacular scenery that awaits you.
Beginner kayakers may decide to venture to the sea caves with a guided tour. There are many local tours to choose from.
If going on your own, be sure to have all the proper equipment. Because Lake Superior is a large unpredictable lake, a sea kayak is recommended. No permit is required, but parking at nearby Meyer's Beach costs $5.
Kayaking isn't the only adventure in the Apostle Islands. There are great hiking trails, waterfalls, boat tours, wineries, and restaurants nearby.
The city of Bayfield is the gateway to this beautiful area. You'll find a variety of accommodations here. The Wild Rice Retreat is a stylish Scandinavian inspired retreat that offers delicious dining, yoga, meditation and more.
If camping is more your style, the Apostle Islands Area Campground has more than 60 wooded sites with firepits, picnic tables and hookups.
Boundary Waters Canoe Wilderness Area is a Multi-Day Bucket List Canoe Trip
Recommended by Stephanie of The Unknown Enthusiast
The Boundary Waters Canoe Area Wilderness in northern Minnesota is an absolutely stunning place for a canoeing adventure.
No motorized vehicles are allowed, a limited number of permits are given out per year, and campsites are at least ¼ mile away from the next site, so the area maintains an undeveloped feel where you can have a peaceful nature experience.
The Boundary Waters is about a million acres in size and brimming with over 2,000 lakes.
As such, a trip to the Boundary Waters is designed as a unique, multi-day adventure, where you paddle across a lake, portage (carry all your gear + canoes across land), and repeat as you explore this pristine wilderness.
Some people will set up a base camp and do day trips where they explore nearby lakes, but packing up every day and exploring deeper into the Boundary Waters is perhaps more adventurous.
After you've done your canoeing for the day and made camp, you can swim in the crystal clear lakes, go cliff jumping, relax in hammocks, fish, climb a waterfall, or do a hike.
Permits are valid for up to 14 days of canoeing, but you can have a great experience with even just a few nights on the lakes.
While you can do the Boundary Waters as a relative beginner, it is highly recommended to have at least one person experienced in canoeing, navigating, and remote camping in your group.
Most groups start the Boundary Waters from the town of Ely, MN – a great hotel there is the Grand Ely Lodge.
Watson Lake, Prescott, Arizona is One of the Best Places to Kayak in Arizona
Recommended by Brittany of Travel by Brit
Kayaking at Watson Lake is one of the best things to do in Prescott, Arizona, during the spring, summer, or fall, when the weather is sunny and warm.
Watson Lake is a beautiful seventy-acre lake with large granite boulders surrounding the lake.
These boulders make Watson Lake an excellent place for hiking, picnicking, or bouldering, in addition to water sports, like kayaking and paddleboarding.
Since the lake is so calm, it's a great location for adventurers of all skill levels to enjoy.
While there is no permit required to kayak at Watson Lake, there is a three-dollar parking fee to enter Watson Lake Park. If you don't have your own kayak, you can rent a kayak from Prescott Outdoors.
Tandem kayaks cost $20 for the first hour and $15 for each additional hour, and solo kayaks cost $15 for the first hour and $10 for each extra hour.
You probably won't need to stay longer than three hours, so budget roughly $30-35 per person if you're planning to rent kayaks.
While you're in Prescott, don't miss the chance to explore the quaint western Courthouse Square. You can take a walk down Whiskey Row and grab a table at The Palace Saloon—one of the country's top ten historic bars.
If you're interested in more outdoor adventures, an eBike ride at the Peavine National Recreation Trail is a filled with great views and fun.
The Prescott Resort and Conference Center is the best hotel choice in the area and Point of Rocks RV Campground has large private RV spots with hookups but no tent camping.
RELATED POST: 20 EPIC ADVENTURES FOR YOUR ARIZONA BUCKET LIST
Animas River in Durango, Colorado is a Top Kayaking Trip in the US for Families
Located in the heart of Colorado, the Animas River is renowned for its scenic beauty. This 126 mile gem originates high in the San Juan Mountains, northeast of Silverton, and joins the San Juan River at the New Mexico border.
Whether paddling through towering cliffs or peaceful meadows, kayakers are sure to be mesmerized by the natural wonders of this region.
For those looking for a bucket list kayaking adventure, the Animas River is a must. The 26 mile stretch of the Upper Animas River offers challenging Class III-V rapids for experienced kayakers. Single day and multi day trips are available.
The most thrilling sections can be found through Rockwood Gorge and the Silverton Section. The Needleton section is a little less crazy but still a fun adventure through stunning scenery.
If you are visiting with the whole family, the Lower Animas River in Durango is perfect for beginners. In addition to kayaking, you can also take a half day family rafting trip or even tube down the river for a few hours.
Durango is also home to some of the best hiking and mountain biking trails in the country. Do a zipline adventure in the San Juan Mountains.
History buffs will enjoy riding on the famous Durango & Silverton Narrow Gauge Railroad to the historic town of Silverton. You can also do a little shopping or enjoy the restaurants in Downtown Durango.
Club Wyndham Durango is perfectly located for every activity. United Campgrounds is on the banks of the Animas River with RV and tent sites and plenty of fun things to do.
Pictured Rocks National Lakeshore, Michigan is One of the Top Kayaking Destinations
Recommended by Rebecca of Veggies Abroad
Michigan's Upper Peninsula is renowned for its miles and miles of untouched beauty — dramatic kaleidoscope cliffs, turquoise waters, waterfalls, and lush forests.
One of the best ways to truly experience this beauty is kayaking through the Pictured Rocks National Lakeshore.
Launch from Sand Point Beach, Miners Beach, Twelvemile Beach, and Hurricane River — we found launching from Sand Point Beach to be a great starting point.
Head east along the cliffs to enjoy an array of scenery. A few gorgeous spots to look out for include the dramatic cliffs of miner's castle and its secluded beach, Painted Coves, Lovers Leap, Chapel Rock, Spray Falls, and much more!
There are a few things that you should know before you go. Conditions can change rapidly. Lake Superior has been known to overwhelm even the most experienced kayaker.
For this paddle excursion, you're going to need a sea kayak, life vest, whistle/air horn, and a spray skirt — it is required by law that a life vest is worn at all times.
If the conditions of Lake Superior are rough, you can head just slightly north to Grand Island, which is usually sheltered from the rough seas. Grand Island is also a part of the lakeshore and has its own variety of painted cliffs and coves to explore!
Kayaking through Pictured Rocks can be done in one-day, or some will plan to camp at rustic spots along the way, including Chapel Beach and Twelvemile Beach, but you do need a reservation, and it is $25 a night.
The best places to stay in Pictured Rocks is in Munising at The Beach Inn Motel.
Voyageurs National Park, Minnesota is One of the Best Kayaking Vacations
Recommended by Taylor of Nomads in Nature
A truly unique place to canoe in the United States is in Northern Minnesota at Voyageurs National Park.
This very remote national park partly borders Ontario, Canada and contains 84,000 acres of water, 655 miles of undeveloped shoreline, and over 500 islands. To say this is a rare and bucket-list-worthy destination to canoe is an understatement.
While you can stay at hotel like the Cantilever Hotel, Trademark Collection by Wyndham and canoe in one of the fairer-weather lakes, the most exciting experience is to camp inside Voyageurs National Park.
All of the 270 campsites in Voyageurs are canoe or boat-in only and must be reserved in advance.
To get to Voyageurs National Park, fly into International Falls and rent a canoe in town.
From here you can canoe over Rainy Lake to one of the remote islands, where you will have one of the most epic campsites you've ever experienced. Plan on staying two nights at a campsite.
During the day you can fish for walleye, northern pike, and lake trout or adventure out to a few of the other islands and explore the backcountry hiking routes.
At night soak in the dark sky with phenomenal stargazing and if you're lucky, you may even see the northern lights!
Read our Voyageurs National Park Camping Guide to learn exactly how to camp, rent, and explore Voyageurs,
Emerald Cave, Arizona for a Half Day Colorado River Kayaking Adventure
Just an hour from the bright lights of Sin City, you can find yourself paddling through the serene waters of the Colorado River on the border of Arizona.
Even beginners can handle the relatively easy 2 mile paddle to Emerald Cave, which boasts emerald green water that's simply stunning.
The cave is small but the kayaking is delightful on this gentle portion of the Colorado river, through the Black Canyon.
You'll pass areas where Native Americans lived along the shoreline. And if you feel like stretching your legs, you can even get out of your kayak and explore some of the historical sights dotting the landscape.
Most people start kayaking from Willow Creek Marina where you can rent kayaks or launch your own.
If you are visiting from Las Vegas you can take the highly popular Half-Day Emerald Cove Kayak Tour, which includes a knowledgeable guide, all your gear and transportation.
It's a great way to beat the heat of Las Vegas and spend the day on the water.
La Jolla Cave Kayaking Trips are a "Must-Do" in San Diego, California
Recommended by Chelsea of Chelsea Explores
If you are looking for the best places to kayak in California, La Jolla, San Diego has to be at the top of your list. The rugged sandstone sea cliffs that stretch along the shoreline with seven sea caves that you can enter, make it a unique experience.
You'll also be paddling through the La Jolla Marine Reserve and the La Jolla Underwater Park, which are protected areas that are home to many different types of sea life, including leopard sharks, sea lions, stingrays, squid, sea turtles, and more.
This is a great destination for both beginner and experienced kayakers. Take a guided tour like this 90 minute kayaking cave tour or bring your own inflatable kayak and enter from La Jolla Cove or La Jolla Shores. A few hours to kayak in this area is ideal.
Kayaking in La Jolla is just one of the many things to do on a trip to San Diego. Visit Coronado Island, have a fancy dinner in downtown San Diego, or spend time in historic Old Town San Diego, home to California's first settlement.
Staying at La Valencia Hotel is a great choice for location and above-average amenities. There are a couple of RV parks nearby but the closest option for tent camping is Sweetwater Summit Regional Park, just 15 miles from La Jolla.
RELATED POST: 13 PRETTIEST SOUTHERN CALIFORNIA BEACHES
Trillium Lake, Oregon is One of the Prettiest Places for Kayaking
Recommended by Val of Voyages With Val
Trillium Lake near Mount Hood is a beautiful spot to go kayaking and one of the best day trips from Portland. The drive is a little less than 2 hours to get to one of the prettiest lakes in Oregon.
Around the lake, there is a picture-perfect view of Mount Hood. In the morning, the mountain is reflected in the lake on a clear day.
The lake itself is 63 acres so there is plenty to paddle, all while gazing up at Oregon's most famous mountain. This lake is usually calm, so it is great for all types of kayakers.
You can spend the morning kayaking around the lake, followed by hiking one of the many beautiful trails in the Mount Hood National Forest. There is an easy 2-mile trail around the lake if you don't want to drive far to a trailhead.
There aren't rentals available at the lake, so you will have to bring your own kayak. There is easy parking with access to the lake and a boat ramp available. Parking for the day is $10 a vehicle, or you can use a Northwest Forest Pass.
To stay nearby, consider camping at the campground located on the edge of the lake. You can also stay in the nearby town Government Camp at the famous Timberline Lodge.
Lake Cushman, Olympic National Park, Washington
Recommended by Anna of Anna Tee
A really great place for kayaking and canoeing is Lake Cushman in Washington. Paddling out on a lake is fun and relaxing, and doesn't require any experience!
Lake Cushman is a little over 4,000 acres, and it's surrounded by gorgeous scenery, with mountains around the lake.
A fun thing that you can do when you kayak or canoe on Lake Cushman is to paddle to Lake Cushman Rock – a big boulder on the northern shore of the lake – and climb onto it to jump off!
The jump is less than 20 feet high, so this is a really popular cliff jumping spot.
You only need one a day to kayak on Lake Cushman. It's an easy day trip from Seattle or a fun stop on your way to Olympic National Park.
You don't need a permit and there is no parking fee if you launch from the north side of the lake, where there are several pull outs and parking areas. Some people start from Skokomish Park, which does have an entrance fee of $15.
After you're done kayaking on Lake Cushman, there are a lot of fun hikes in the area! You can drive into Olympic National Park and hike the easy Staircase Rapids Loop, or hike Mount Ellinor for a challenge.
Stay overnight in a vacation home with private lake access or camp at one of the tent sites at the Staircase Rapids campground nearby. Since Lake Cushman is right next to the national forest, you can also wild camp for free!
Lake Pend Oreille, Sandpoint is One of the Best Places to Kayak in Idaho
Recommended by Christina of Live A Wilder Life
Lake Pend Oreille is the largest lake in Idaho and sits in the panhandle of North Idaho, an area famous for its reclusive, quiet, and lush environment.
With 111 miles of shoreline, there are plenty of paddling routes to choose from and you can spend days out exploring.
Eagle Boat Launch, Talache Point, and Garfield Bay are all popular put-in areas for kayaks and canoes. Experienced kayakers will love the serene beauty of the Clark Fork Delta for the sloughs, channels, and backwater exploration.
Anyone from beginners to experts will enjoy the depth and breadth of paddling possibilities on Lake Pend Oreille.
You'll want to spend two to four days in Sandpoint to try out different lake spots, whether that's the right off City Beach in downtown Sandpoint or the resort community of Dover for a quieter day on the river portion of Lake Pend Oreille.
Be sure to keep your eyes peeled for bald eagles gliding over the lake to find their next meal.
After you've gotten your fill of exploring by kayak, there are plenty of fun things to do in Sandpoint. Check out local art galleries, sip on craft beer at Mick Duffs, or try Idaho's best ice cream at Panhandle Cone and Coffee.
If you're looking for more adventure, drive up to Schweitzer Mountain, a ski resort, and hike to to the top for panoramic views of Lake Pend Oreille.
The Best Western Edgewater Resort is popular for its proximity to downtown Sandpoint and lakeside access. If you're looking to camp, Springy Point is a lush campsite on the water that's just over the scenic Long Bridge into town.
Lake McDonald, Montana is an Iconic Kayaking Adventure in Glacier National Park
Recommended by Jessica of Uprooted Traveler
If you want to kayak in one of the most jaw-dropping alpine landscapes, Lake McDonald, in Montana's Glacier National Park, should definitely be on your bucket list.
The fjord-like lake, located in the park's West Glacier section, is the largest body of water in the park (over ten square miles!).
It arguably, offers its most stunning scenery, with the dramatic Rocky Mountains reflected in its emerald waters.
In addition to the accessible paddling, the lake offers tons of places to pull off, bring your kayak ashore, and go on small hikes, like the Lake McDonald Trail, to explore the gorgeous surrounding forests.
The lake is suitable for kayakers of all levels. There are no additional parking or permit fees for kayaking here, beyond the park's entrance fee ($35) and mandatory vehicle reservation if you're visiting in the busy summer months ($2),
After your day on the water, take advantage of all the outdoor adventures to be had in Glacier, from hiking the famed Highline Trail to gazing at ancient glaciers. And of course, you must drive up the the famed Going to the Sun Road.
Consider a stay at Lake McDonald Lodge, a historic lodge built in 1913 with stunning views of the lake.
If camping is more your speed, consider staying at Under Canvas Glacier or the Avalanche Creek Campground, nestled in a gorgeous pine-tree forest and right by the trailheads of two of the most beloved hikes in the park, Avalanche Lake and Trail of the Cedars.
Put-in-Bay Island, Lake Erie is One of the Best Places to Kayak in Ohio
Recommended by Nikki of She Saves She Travels
If you're looking for the best places to kayak in the US or canoe in the US, then Lake Erie must be on your list!
Located on the northern border of the US, Lake Erie is the 4th largest of the Great Lakes, with a surface area of almost 10,000 square miles.
One unique spot to kayak or canoe on Lake Erie is the island of Put-in-Bay. Rent kayak and do a fun paddle around Gibraltar Island.
Another great place to launch a kayak or canoe is from South Bass Island State Park. You'll kayak along the limestone cliffs of the island, with rocky beach views and blue-green water beneath you.
It's not safe to get too far away from the shore because the water can be really choppy. Stay along the shoreline and within the bays of the island.
Oh, and keep an eye out for the area's well-known water snakes! Kayaking on Lake Erie at Put-in-Bay is best done in 1-2 hours, or an afternoon adventure.
There are plenty of fun things to do in Put-in-Bay. Dine at a tiki bar or catch live music downtown. There are two wineries on the island, butterfly gardens, an international peace memorial and even a crystal cave.
You won't run out of fun activities for a day (or two) spent on Put-in-Bay, Ohio.
For local accommodations, try the Anchor Inn Boutique Hotel. You can also find a basic tent campground at the South Bass Island State Park, which is near the boat dock.
Night Glow Kayaking in Pensacola, Florida
Contributed by Roshni from TheWanderlustWithin.com
The only place to try night glow kayaking along the Florida Panhandle is the historic city of Pensacola.
This experience is located on Little Sabine Bay, and involves crystal clear kayaks which allow you to view the marine life below you.
This experience is elevated at night, as the kayaks are fitted with LED lights, meaning you can observe "life under the sea" with a colorful glow. Fish, stingrays, jellyfish and even starfish are found in this bay.
The kayaking tours are suitable for everyone including first timers, and there are 1 to 2 people per kayak.
The shallowness of the bay, means this is a family friendly activity, but all children must be accompanied by an adult and there is minimum weight of 30 pounds. Children between 10-17 can kayak solo if they have parental permission.
Sessions last 45 minutes, and there are multiple time slots available between 7pm and 11.30pm daily.
If you want to experience something different and are over 18, there are also glow stand up paddle boards or glow bicycles, available to rent.
Note, there is limited parking available at the premises, but there is public parking across the street.
The Margaritaville Beach Hotel is well located for glow kayaking and kayaking right from the beach during the day.
If you prefer to camp, then head over to the Fort Pickens area of Gulf Islands National Seashore, and stay at the campground there.
Kayaking With Manatees in Florida at Crystal River
Recommended by Taylor from Tea N' Sea Travel
Crystal River is the perfect spot for a Florida kayaking adventure. The water is pretty clear, but the real draw is the manatees!
Also off the river are tons of natural springs that are around 72 degrees year round and great for swimming! Three Sisters Springs is one of the best natural florida springs to visit, especially during manatee season!
The beauty of kayaking on Crystal River is you can choose varying lengths of time to spend on the river. Go on your own or take a 2 hour clear kayak tour of crystal river or a Three Sisters Springs kayak and swim eco-tour of Crystal River.
Kayaking Crystal river does not require a permit. Metered parking and kayak launches are found at Kings Bay and Hunter Springs Park, as well as the Crystal River Preserve State Park.
If you are renting a kayak, there are many companies around which typically offer parking at their place of business.
Crystal River is a great spot for beginners and kayaking enthusiasts alike. With a very low current, lots of springs to swim and enjoy, and plentiful wildlife, it's a great way to cool off from the Florida heat!
After spending the day kayaking, you can explore some of the town's mom-and-pop restaurants, visit the local winery and brewery, or head down to Tampa for some nightlife!
Plantation on Crystal River, Ascend Hotel Collection is a conveniently located hotel with plentiful amenities to make your trip to Crystal River longer than a day trip.
If you're looking for a campsite, there are a plethora of options around including the Crystal Isles RV Resort, which offers lots of amenities including laundry, pools, and more!
Outer Banks Kayaking in North Carolina
Recommended by Candice of CS Ginger
A great place to go kayaking on the east coast is the Outer Banks in North Carolina.
The Outer Banks is about 200-miles of barrier islands off the coast. It is a great place for a vacation filled with water sports, relaxing at the beach, and more.
The Outer Banks have beautiful scenic paddling paths. Paths range from calm waterways through the rivers to ocean waves.
If you want to paddle in the ocean but do not want the large waves, you can paddle through the sound side of the islands. No matter your experience, you can find a place to kayak in the Outer Banks.
One of the best places to kayak in the Outer Banks is the Alligator River National Wildlife Refuge. It is one of the best wildlife refuges in the area. The water here is very calm and there are lots of fun things to see.
You can also launch a kayak right from the Outer Banks beaches. There are rental companies that offer launches right from the beach.
The sound side of the island will have calmer water than the ocean side. There are no permits required or parking fees.
Saltaire Cottages are located right across from the beach and near a kayak tour of the Kitty Hawk Maritime Forest. There are a plethora of campgrounds to choose from.
Kayaking in the North East in Cape Cod and the Islands, Massachusetts
Recommended by Shobha of Martha's Vineyard Tourist
Many people love to kayak in Cape Cod and the islands of Martha's Vineyard and Nantucket. Although these places get busy in the summer, there are never that many people paddling on the water.
When you kayak Martha's Vineyard's ponds or the Nantucket ponds, for example, you will feel like you are on your own in nature. Yet, you are very near lots of summer tourist resort amenities when you get out of the water.
On Cape Cod, you can paddle the Cape Cod National Seashore which is a haven for birds and other wildlife.
There are so many ponds that you can kayak as much as you want and never get bored. Travel between Cape Cod and the islands via ferry. The ponds are easy to kayak for mixed-ability groups like families.
Either bring your own kayaks or rent them locally. Kayak rental stores will bring kayaks to where you would like to go. There are public kayak launches easily accessible as well.
There is no permit needed to kayak. Parking fees will depend on the location.
Wequassett Resort and Golf Club has tons of activities and access to Cape Cod National Golf Course. The Richard in Edgartown is charming and well located for a trip to Martha's Vineyard.
Both Martha's Vineyard and Cape Cod have campgrounds. Dune's Edge Campground in Provincetown has RV, tent and rustic cabins on the edge of the National Seashore.
Wailua River and Hanalei River, Kauai, Hawaii Kayaking Tour
Recommended by Megan of Next is Hawaii
You will find several amazing places to go kayaking in the United States and one of the top spots on Kauai is Kayaking the Wailua River. The Wailua River is the only true navigable river in the state and definitely the only one on Kauai.
The Wailua River and Secret Falls Kayak and Hiking Tour includes a waterfall that can only be reached by kayaking the river first. It is a fun and relatively easy trip takes about half the day and perfect for beginner kayakers visiting Hawaii!
You will be given points along the river to meet at but can navigate it at your own speed and leisure.
Once you arrive at the trailhead for Uluwehi Falls, it is about a 20-30 minute hike to the waterfall (with a few stream crossings along the way). The two mile kayak trail can also be done by canoe or standup paddleboard.
Another cool kayak adventure is the Hanalei Bay Kayak & Snorkel Tour on the Hanalei river. Experience sea turtles and other marine life in addition to exploring by kayak.
If youʻre looking for some things to do after the kayaking trip, a Na Pali Half Day Snorkel Raft Adventure or a Na Pali Sunset cruise will allow you to see the dramatic cliffs of Kauai, with a stunning sunset, dolphins and other marine life.
A great place to stay that is not too far from the Wailua River is the Royal Sonesta Kaua'i Resort Lihue set on gorgeous Kalapaki Beach, near the Kauai Lagoons Golf Club. It is a short drive from the Wailua River kayaking tour meeting point.
---
Have you been inspired to add one of these best places to kayak or canoe in the US to your next trip? We have!
Pack your inflatable kayak and hit the open road! Make the trip even more exciting with a $50 off your first Sprinter van rental from Outdoorsy. What was your favorite place to paddle? We're always looking for more cool adventures!