April is a great time of year to travel. The beginning of spring brings festivals and beautiful flowers all over the United States. What's better than warm spring weather and off-season travel rates? The best places to visit in April in the USA, spring break destinations like Florida, are experiencing high season but it's still a great time to go before it gets too hot!
The USA is also one of the best countries to visit in April because there are so many fun things to do for vacation! From cherry blossoms in DC, bucket list hikes in Utah, beach destinations in California and on the east coast, April has something for everyone. Get ready to pack your bags for the best holidays in April!
Planning a Spring Break Trip in the USA or Abroad? Check out these latest posts too:
12 Best Places to Visit in April in the USA
1. Washington D.C.
Average temperatures and rain: High 67F (19C) / Low 44F (7C); 8 rainy days
Washington DC is definitely one of the best places to visit in April in the USA. The city is at its prettiest, filled with pink blooms during the National Cherry Blossom Festival that takes place in late March and early April. Also in April is the Sakura Matsuri – Japanese Street Festival with performances, food and Japanese crafts.
Spring is the perfect time for a walking tour of the city and a DC food tour. Visit Georgetown – Washington's oldest neighborhood. Walk along the Potomac River waterfront lined with cherry blossom trees. History buffs will love the memorials and monuments on the National Mall. Don't forget to step into a few of the many great museums. HOTEL: Eaton DC (9.1) or The Line Hotel DC (8.7)
2. San Diego, California
Average temperatures and rain: High 69F (21C) / Low 56F (13C); 2 rainy days
April is a beautiful month to visit San Diego in one of the best states to visit in April. The weather is just getting beachy and most days are sunny because June gloom, the heavy marine layer that sits on the California coast at the beginning of summer, hasn't started yet. It's the perfect USA spring break destination.
The wildly colorful Carlsbad Flower Fields will be in peak bloom for the month of April. If you are visiting with kids, Legoland is right nearby and with some exciting new openings happening this spring. Another fun thing that starts up in April is the beginning of baseball season for a Padres game. Earth Day in Balboa Park is also a fun event at the end of April.
Since the beach and Pacific Ocean reigns supreme, bring an inflatable kayak to tour the coast of La Jolla or take an organized kayak tour to explore sea caves with a guide. Windandsea Beach, one of the prettiest beaches in Southern California, has amazing sunsets. Also check out the beach cave at Sunset Cliffs if you can be there at negative tide. HOTEL: Fairmont Grand Del Mar (9.2) or Pacific Terrace Hotel (9.0)
3. Arches National Park in Moab, Utah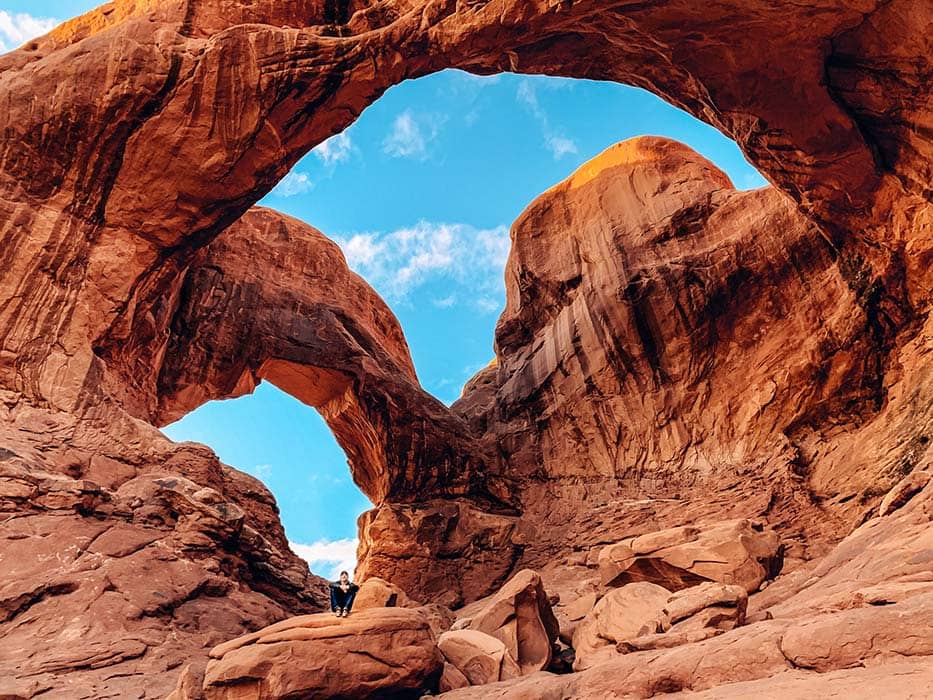 Average temperatures and rain: High 73F (23C) / Low 42F (6C); 3 rainy days
The town of Moab is a spring break hot spot. The weather in April is perfect for an unbelievable amount of fun activities! Do a half day Colorado River rafting trip, bike the Slickrock Trail, the 4×4 on the Hells Revenge Guided Tour, get sunset views of Dead Horse Point State Park. and spend time exploring two amazing National parks.
Arches National Park is a stunning natural wonder that has over 2,000 natural arches and bridges, as well as a variety of other geological features to discover. Drive the 18 mile scenic loop road and make sure to stop at Double Arch, Windows Arch and Turret Arch. You should also hike to Delicate Arch for sunset.
Canyonlands National Park is made up of three districts: the Island in the Sky, the Needles, and the Maze. Each offers its own unique landscape and set of activities to keep you entertained. So whether you're into hiking, camping, biking, or simply sightseeing, you'll have plenty to do. HOTEL: Moab Springs Ranch (9.7), Under Canvas Moab (8.8) or Hyatt Place Moab (8.8)
4. Palm Desert, California
Average temperatures and rain: High 86F (30C) / Low 59F (15C); 0 rainy days
With 350+ days of sunshine each year, paying a visit to Palm Springs is always a good idea. If you are a fan of music, plan your adventure in April when some of the biggest festivals in the country take place one after the other – Coachella Music Festival, Stagecoach Music Festival and the White Party Palm Springs.
Spring is an excellent time to discover Palm Springs because it's one of the hot destinations in April that's dry and pleasant, and not humid. Lay by the pool and get some rays, hike the Tahquitz Canyon Loop trail, or do a day trip to Joshua Tree National Park. Another fun thing to do is take the Palm Spring Aerial Tramway to the top where you might find snow. HOTEL: Dive Palm Springs (9.4), ARRIVE Palm Springs (9) or Kimpton Rowan Palm Springs Hotel (8.9)
5. Bend, Oregon
Average temperatures and rain: High 57F (14C) / Low 30F (-1C); 3 rainy days
Most people think of Bend, Oregon as a winter or summer destination but spring is an amazing time to visit. The spring skiing and snowboarding at Mt. Bachelor is thought to be some of the best in the country. Mt. Bachelor hosts RendezVan, a 5 day event in April, for RVers and Vanlifers with skiing all day, live music each night and tons of activities.
Smith Rock State Park is often too hot in summer but April will be just right. Rock climbers come from all over to scale these mountains. Even if you're not a climber, you won't be able to take your eyes off all the exciting action. Plus the hikes are awesome.
Bend is the perfect place to use an inflatable kayak or inflatable SUP in multiple lakes and on the Deschutes River float right through the center of town. Other fun activities include visiting Tumalo Falls, shopping Downtown and a day trip to Sisters and the Blue Pool. The Bend Marathon takes place in April. There's also a half marathon, 10K and 5K so everyone can join in. HOTEL: 10 Best Boutique Hotels in Bend Oregon
6. Antelope Valley, California
Average temperatures and rain: High 73F (23C) / Low 45F (7C); 1 rainy day
The Antelope Valley is a desert valley in the eastern part of Los Angeles County, California. It's home to one of the most beautiful natural phenomenons on earth-the Super Bloom! The Super bloom occurs when the yearly rainfall exceeds 14 inches in just one year and all of the plants start blooming at once. It becomes an explosion of color with some areas having more than 100 species flowering at any given time!
People come from all over the world to see this spectacle because it only lasts for 2 weeks. There are 8 miles of trails from which to enjoy the incredible display of color. While Antelope Valley might be the most well known, wild poppies can also be found in Anza-Borrego State Park, near Lake Elsinore. Both of these spots make great day tours when visiting Southern California in April.
7. Kanab, Utah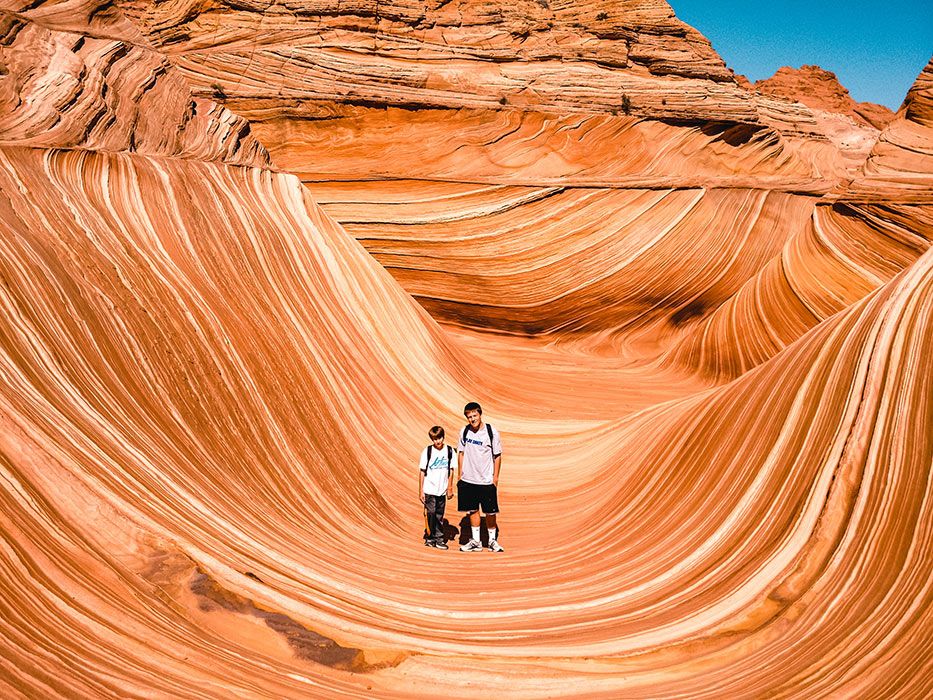 Average temperatures and rain: High 68F (20C) / Low 36F (2C); 3 rainy days
For the world's best spring break trip, visit Kanab Utah in April. In addition to being the main jumping off point for the hike to the Wave (shown above), it's also perfectly positioned near the border to see a plethora of cool places from both your Utah bucket list and your Arizona Bucket List.
Go to massive slot canyons like Buckskin Gulch, weird rock formations at the Toadstool Hoodoos, and the best national parks to visit in April right nearby like Zion, Bryce and the Grand Canyon. You can also day trip to Antelope Canyon, Lake Powell and Horseshoe Bend in Page, Arizona.
In April, one of the most exciting events is the Kanab Red Rock ATV Jamboree from 4/20-23 where ATV enthusiasts can go on daily rides to Island in the Sky, Peekaboo Slot Canyon and other incredible red rock spots. HOTEL: Best Friends Roadhouse and Mercantile (9.5)
8. Seattle, Washington
Average temperatures and rain: High 57F (14C) / Low 45F (7C); 10 rainy days
To avoid crowds, one of the best places to visit in April is definitely Seattle. Since it is technically off-season, spring is an excellent time for hotel deals as long as you don't mind a little rain.
Head to the Skagit Tulip Festival that is traditionally held all April to see millions of tulips burst into bloom. Or join the Anacortes Spring Wine Festival, which features 30 local wineries. Do some tasting of the yummy drink, try different food pairings, and listen to live music. There are also some great hikes near Seattle, which are absolutely stunning.
In addition to the Space Needle, make sure to include the Chihuly Garden and Glass, where you can see the incredible work of Northwest glass artist Dale Chihuly. Stop by Pike Place Market to get your hands on delicious goods. We suggest trying fresh Italian grub at the Pink Door and the best clam chowder at the Pike Place Chowder. HOTEL: Hotel Ändra (9.1) or The State Hotel (9)
9. San Antonio, Texas
Average temperatures and rain: High 81F (27C) / Low 57F (14C); 3 rainy days
Thanks to the comfortable weather and cultural activities, one of the best places to travel in April is San Antonio. From March 31 to April 10, a colorful fiesta that includes three major parades – two along Broadway and one at the San Antonio River Walk – takes place in the city. The longstanding tradition sheds light on the diverse cultures of San Antonio and will be an experience unlike any other.
While you are there, make a trip to Natural Bridge Caverns, the biggest commercial caves in Texas. To satisfy your inner shopaholic, wander around the Pearl District that includes restored buildings, great shops, and has a reputation for excellent cuisine. If you are a fan of tea, discover the Japanese Tea Garden and have a meal at the Jingu Hous. HOTEL: Hotel Emma at Pearl on the Riverwalk (9.6) or La Cantera Resort & Spa (8.9)
10. Outer Banks, North Carolina
Average temperatures and rain: High 69F (21C) / Low 52F (11C); 6 rainy days
Fewer crowds, yet plenty of fun things to do – Outer Banks is one of the best places to travel in April. Bring your family with you and enjoy the opportunity to see Corolla's wild horses. These stunning animals can be spotted wandering around the sandy dunes. To have a more in-depth experience, join the Outer Banks horse tour. In April, you can also attend fun events like the Flying Pirate Half Marathon and the Outer Banks Bike Week & Music Festival.
The main reason people go to the Outer Banks is to enjoy incredible beaches. We suggest stopping by Nag's Head, Kitty Hawk, and Rodanthe, which are vibrant beach towns and perfect to catch a tan. HOTEL: Holiday Inn Express Nags Head Oceanfront (8.8)
11. St. Petersburg, Florida
Average temperatures and rain: High 81F (27C) / Low 65F (18C); 3 rainy days
St. Petersburg Florida is one of the most popular destinations for April. Its home to some of the best beaches in the country, and it offers plenty of attractions. Whether you start on St Pete Beach, Shell Key Preserve, or another white sand beach on these barrier islands, jump into that Caribbean blue water, then relax and feel the easy living set in.
There are plenty of outdoor activities and spaces to enjoy like the Sunken Gardens, Sawgrass Park and the Clearwater Aquarium. Go for a bike ride on the Fort De Soto Park Trail or the Pinellas Trail.
Art filled Downtown St Petersburg is home to the Dalí Museum, the Museum of Fine Arts St. Petersburg and the glass sculpture Imagine Museum. The artistic flair extends to the streets filled with amazing murals. Browse cute shops and grab a bite to eat at one of the many terrific eateries. At night, this hipster area is the place for bar hopping. On Friday evenings, check out the St Pete Shuffle – fun for all ages! HOTEL: The Don CeSar – Recently Renovated (8.0) or The Saint Hotel (9.4)
12. Savannah, Georgia
Average temperatures and rain: High 78F (26C) / Low 55F (13C); 5 rainy days
Savannah, Georgia is a beautiful city with plenty to offer visitors. From its well-preserved historic district to its vibrant arts scene, there's something for everyone in Savannah. A free walking tour is the perfect way to acquaint yourself with various historical attractions, such as the Cathedral of St. John the Baptist or the Owens-Thomas House.
You can also enjoy the beautiful parks and squares throughout the city, during peak azalea season, such as Forsyth Park or Lafayette Square. And don't forget to check out some of Savannah's amazing restaurants!
Savannah is one of the best places to visit in the South in April. The Savannah Music Festival is a 17 day festival with up to 100 musical events around the city. Another treat towards the end of April is the North of Gaston Street (NOGS) Tour of Hidden Gardens, where in addition to touring some of the most beautiful gardens of Gothic Revival homes, you'll be invited to a Southern Tea at the Green-Meldrim House. HOTEL: Mansion on Forsyth Park (9.0) or The Alida, Savannah (8.6)
For a spring break vacation that keeps everyone happy consider staying at the Montage Palmetto Bluff Hotel (9.2) with a Jack Nicklaus Signature Golf Course, a spa with a full schedule of wellness events and tons of kids activities. This perfectly situated lowcountry resort, set on the stunning May River, is 30 minutes from Savannah and 30 minutes from the endless beaches and golf courses of Hilton Head Island, South Carolina.
---
Still Need Some More Ideas for Places to Go For Spring Break?
The 10 Best Places to Travel in May has more spring break destinations in the USA as well as places to go for vacation abroad. You should also check out the Best Places to Visit in April in Europe. Or plan an amazing trip with one of the 45 Best USA Trip Ideas in one of the Prettiest States in the USA.
---
Save the Best Places to Visit in April in the USA to read later? Pin it!