Looking for the best places to visit in March in the USA, Europe or somewhere amazing on the other side of the world?
Experience the "luck of the Irish" at some of the best spots to celebrate St. Patty's day, buy a new swimsuit for an exotic vacation or tie up those snow boots because these spring break destinations will give you inspiration for your next trip.
Whether you are looking for a celebration, a relaxing vacation in the sun or want to hold on to the last of winter, here are the best places to travel in March.
This post contains affiliate links. If you book or buy something through one of these links, we may earn a commission at no extra cost to you. You can read our full disclosure here.
Planning a Spring Break Trip in the USA or Europe? Check out these latest posts too:
Best Places to Visit in March in the USA
Chicago, Illinois in March
Is it smart to travel to the Windy City in March? Absolutely if you want to see the biggest green river and celebrate St. Patrick's Day stateside. Chicago has a ton to offer from architecture to shopping to some of the country's most innovative restaurants.
Tour the city starting at one of Chicago's most famous landmarks, the Cloud Gate sculpture, also known as "the Bean" in Millennium Park. Spend hours perusing the impressive collection at the Art Institute of Chicago.
Visit the Willis Tower Skydeck to stand in a glass box over Chicago's skyline. It can be a little bit scary, but definitely worth the view! One of the most popular tours in Chicago is an architecture river cruise where they share all the highlights.
Want to learn more about Chicago's colorful history? The Gangsters and Ghosts Tour will take you back to the world of bootlegging, speakeasies and notorious gangsters of the roaring 20s.
Then shop 'til you drop on Michigan Avenue's Magnificent Mile before you get your foodie on at one of Chicago's culinary gems!
RELATED POST: 60 Bucket List Trip Ideas in the USA
Death Valley National Park, California in March
Known as the hottest and driest national park, Death Valley is a place unlike any other. Despite its scary-sounding name, it should be on the bucket list of every eager traveler, and the best time to visit the fascinating place is surely March.
Spring brings comfortable temperatures to Death of Valley with highs around 80 degrees and lows around 55 degrees. It's great for active pursuits and camping.
Besides better weather, there is the possibility of experiencing spring wildflowers which typically peak in late March. The hottest place on Earth is an unusual destination, but one that should be seen at least once in one's lifetime.
It is also a wonderful time to explore the Darwin Falls at high water, see the colorful hills at Artists Palette, and discover sand dunes such as Mesquite Dunes and Ibex Dunes without dying of heat exhaustion.
One of the easiest ways to explore is with a self guided driving tour. Download the app for a driving tour complete with audio that is activated by GPS as you get to each location.
RELATED POST: 17 Epic Things to Do in Death Valley National Park
Monterey County, California in March
The Monterey Peninsula is comprised of the cities of Monterey, Pacific Grove and Carmel-by-the-Sea. Each has their own distinct personality and are often visited on a California Coast road trip.
In March, music lovers congregate for the Jazz Bash by the Bay that includes a mix of Jazz, Swing, Ragtime and Blues music. There are 7 venues and 6 dance floors where you can really live it up!
If you're with the kids, a visit to the Monterey Bay Aquarium is a must. March is a peak time to spot humpback and grey whales migrating through the Pacific Ocean on a Half-Day Whale Watching Tour.
Carmel-by-the-Sea is the prettiest California beach town that's perfect for a March getaway! Rain or shine, enjoy a relaxing weekend browsing boutiques, eating at quaint cafes and exploring eclectic art galleries.
Wrap up in a sweater and walk down to the beach or do an electric bike tour of 17-mile Drive for breathtaking views of the Northern California coast. Keep an eye out because you'll likely spot some sea lions!
Golfers can play a round at Pebble Beach, one of the most legendary courses in the US. After the weekend, you will want to pack up your things and snag your own beach house.
RELATED POST: Redwoods Glamping in Big Sur California
Tucson, Arizona in March
Tucson is a great place to visit in the springtime. The temperatures are mild, and there are plenty of things to do and see.
The Tucson Folk festival is a free, family friendly event that hosts all types of music from bluegrass and blues to country and various styles of Latin music. It kicks off at the end of March.
One of the best places to visit is Saguaro National Park. There you can see the majestic saguaro cacti, which only grow in the Sonoran Desert. Wildflower blooms peak in March, making it the most colorful time to visit.
Another popular attraction is Biosphere 2, a research center that replicates Earth's ecosystems. History buffs should make sure to check out Mission San Xavier del Bac, one of the oldest churches in Arizona.
And if you're looking for something fun and active, try hiking or biking through the desert trails around Tuscon. A half day rock climbing or canyoneering tour of Mt. Lemmon is great for those that want to take it up a notch.
RELATED POST: 20 Epic Places to Visit in Arizona for Your AZ Bucket List
Austin, Texas in March
March is the time to plan a visit to Austin, to attend South by Southwest, one of the world's premier music festivals. Additionally there are SXSW conferences and exhibitions city wide over 10 days showcasing music, film, and media.
At the beginning of the month, Rodeo Austin's hosts a huge, Texas style BBQ cook off called BBQ Austin! Teams from all over the state compete and there is carnival with more than 80 rides and tons of carnival treats,
The capital of Texas is also home to plenty of cultural performances and world-class museums. Make sure to stop by the Blanton Museum of Art. Dance aficionados should catch a Ballet Austin performance.
Austin is always great for an evening out. Hit the Continental Club, which is internationally acclaimed for launching careers for many superstars. Around St Patrick's Day, you'll find a family friendly festival and plenty of pub crawls.
Take your inflatable kayak to paddle on Lady Bird Lake or one of the other beautiful lakes in Austin. See the stunning waterfall at Hamilton Pool Preserve. Austin is full of beautiful places tp enjoy the outdoors.
RELATED POST: Most Beautiful States to Visit in the USA
---
The Best Places to Visit in March in Europe
Dublin, Ireland in March
Is there better place to be for St. Patrick's Day then Ireland? March 17 is serious business in Dublin. A sea of green moves through the Dublin streets as parades kick off and the entire city celebrates.
Iconic Temple Bar is one of the best places to grab a drink and join in the revelry. March is a great time for Dublin solo travel because you'll be sure to make tons of instant friends.
One of the biggest festivals called Country to Country (C2C) takes place in March. It's a traveling country music festival that hits London, Dublin and Glasgow with heavy hitters and emerging talent.
After the citywide party is over, visit the Guinness Storehouse to see their famous beer making process and Jameson Distillery where you can blend your own whiskey to take home.
Walk over Ha'Penny bridge, duck into St. Patricks Cathedral, and see the Book of Kells at the famous Trinity College library. Then take your show on the road with our epic 7 Day Ireland Itinerary.
If you are headed to Dublin and just want to see some of the bigger sights on day trips, take a Cliffs of Moher and Galway tour.
Or a extend your trip to Northern Ireland to see Giant's Causeway, Game of Thrones sights and stay in one of the best hotels in Belfast.
RELATED POST: 7 Days in Ireland Itinerary Including Northern Ireland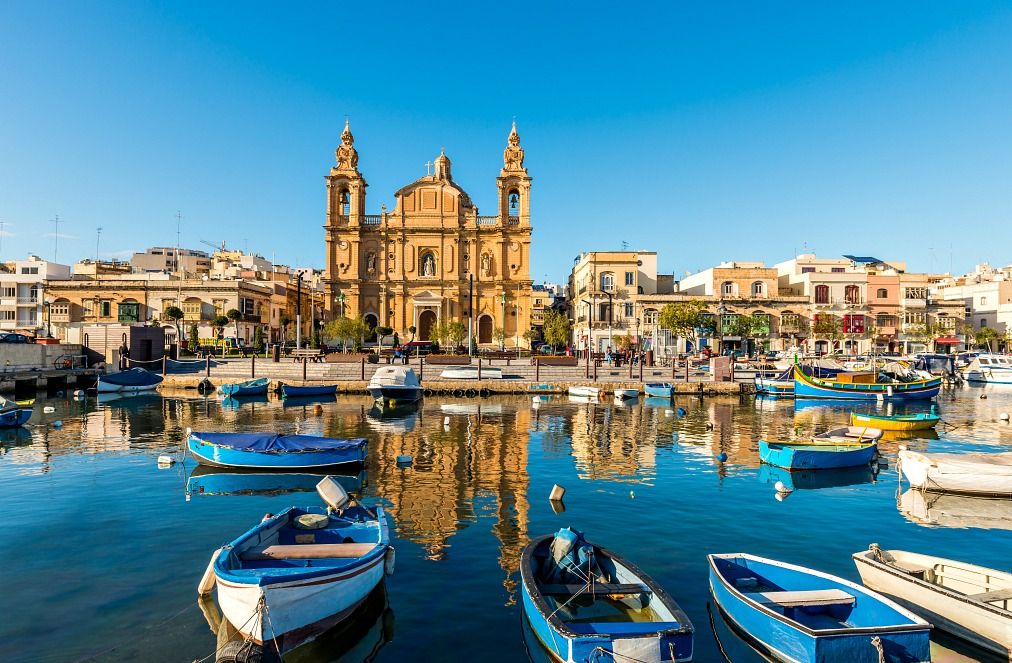 Malta in March
Malta is a small archipelago off the coast of Sicily. It's an interesting mix between European and Middle Eastern cultures.
The capital city of Valetta is a sophisticated, chic city filled with beautiful, historic churches, charming restaurants and it's the business hub of Malta.
Outside of Valetta, is a completely different feel. Malta has multiple Game of Thrones film locations in Rabat, the historical city of Mdina and nearby Gozo Island that you shouldn't miss. You can take a day tour to Gozo and the Blue Lagoon.
History buffs will love Ħaġar Qim, a historical site with old temples dating back to 3600 BC. Another interesting film location is Popeye Village built for the Popeye movie.
Those who love nightlife, will find it in St. Julian's. March is the shoulder season in Malta and has the possibility of warm beach days. If so, you can enjoy beaches and the Blue Grotto without crowds.
RELATED POST: The Best 3 Days in Malta Itinerary
Valencia, Spain in March
If you're looking for the best places to visit in March in Europe, Valencia, Spain is the place! With mild weather and plenty of sun, there's something for everyone to enjoy.
It all kicks off with Las Fallas de San Jose – a five-night celebration involving parades of Ninot Fallas and fireworks to celebrate the arrival of Spring. To top off the festivities, giant papier-mâché heads are then burned in a huge bonfire!
You can immerse yourself in Valencian culture by taking part in a Paella cooking class before admiring the largest aquarium at City of Arts and Sciences and taking part in a Rooftop Wine Tasting with Tapas.
Be sure to explore the iconic Valencia Cathedral where you can climb to the top for breathtaking views or stroll through Barrio del Carmen's trendy boutiques, eat at great restaurants, or hang out in the hip bars and nightclubs.
Don't forget about Jardin del Turia either – A beautiful park stretched over 9 km along old bed of Turid River – ideal for an evening stroll or day picnic.
Whether you're seeking culture or just an evening on a terrace overlooking illuminated cityscape Valencia has it all – best seen in March!
RELATED POST: 22 Best Weekend Breaks in Spain
---
Best Places to Travel in March Around the World
Palawan Islands, Philippines in March
With 1,800+ islands, Palawan has plenty of exciting activities to offer, making it one of the best tropical places to travel in March. From perfect turquoise water to secret white sand beaches, this is an incredible bucket list destination.
Start off your Palawan itinerary with an El Nido island hopping tour around Bacuit Bay.
Whether you prefer to kayak, take a boat tour, go diving, or visit the best beaches in Palawan, it's an experience you'll never forget.
You can also take a boat tour through the longest Puerto Princesa Subterranean River. In your downtime, explore the island on a motorbike or climb Mt. Tapyas for an unforgettable view of Coron Town, Busuanga Island and Coron Island!
There's also an amazing hot springs nearby – Maquinit Springs and a hidden lagoon at Twin Lagoon where you can get up close with magnificent marine creatures.
Best save the beautiful Lake Kayangan and Barracuda Lake – home to unique underwater mountains – as a cherry on top of your trip!
RELATED POST: The Ultimate 7 Day Bali Itinerary
Yellowknife, Canada in March
March is a great time to see the Northern Lights in Yellowknife because the weather is getting warmer and the skies are clearer. There's also a great mix between daylight and night hours so you can have adventures by day and Aurora viewing at night.
If you've been dying to see this incredible phenomenon, now is your chance! Take an Aurora Tour from Yellowknife with a guide or go for the cozy cabin aurora experience with dinner and some awesome hosts.
Another really cool thing to do is drive the Dettah Ice Road. This is an actual 4 mile road on top of frozen Yellowknife Bay that connects Yellowknife to Dettah. You can drive this road when it freezes over in the winter and take some cool pictures.
Starting in November crews harvest panels of ice that weigh 200-300 pounds each from Yellowknife Bay to create the Snow Castle that opens on March 1st. It's the beginning of the Snowking's Winter Festival and an exciting time in Yellowknife.
It's a great family activity to visit this huge ice fort complete with an ice slide, an ice stage with live entertainment, a cafe, amazing ice sculptures and more. Bring warm clothes. March temperatures can still dip below zero.
RELATED POST: 18 Epic Things to do in Banff in Winter
Jordan in March
Jordan has very moderate temperatures in March making it one of the best times to visit. This incredible country should have a prominent spot on every travel bucket list.
Petra, one of the 7 Wonders of the World, is the most popular site but there is so much more that you can see in a 7 day Jordan itinerary.
From Petra head to the Wadi Rum desert where they filmed The Martian and glamp in a the most luxurious luxurious bubble hotels with clear ceilings to view the amazing star filled sky. By day, you can take a tour of the Wadi Run highlights.
No Jordan trip is complete without a visit to the Dead Sea. Float in the world's saltiest sea, 1300 feet below sea level, and cover yourself in mineral filled mud. Make sure to stop by Wadi Mujib for a hike or canyoning.
Finish your week with a trip to see the Roman ruins at Jerash. Amman is a terrific city to spend a few days filled with historical sites and fun nightlife.
RELATED POST: 9 Best Bubble Hotels in the Wadi Rum Desert
Morocco in March
Morocco is definitely one of the best places to travel in March due to the warm weather. Start your journey in the bustling Marrakech Medina, where you can take a stay in one of its cool Riads, and taste some of their traditional Moroccan food.
This is a great base to explore the labyrinth of shops and attractions such as Jamaa el Fna Square.
Take part in a three day desert safari through the Atlas Mountains to the Sahara Desert! You'll have an unforgettable experience of camel rides, sand boarding and nights under a star filled sky to add more magic.
Make sure your Morocco itinerary includes a visit to Fes, the walled city and UNESCO World Heritage Site that is one of the oldest cities in Morocco, for some shopping and sightseeing.
Take a day trip to Chefchaouen, known as the blue city thanks to its houses painted in various shades of blue. Some beach time is also in order. Hit the waves in Agadir or visit the fishing village of Essaouira and enjoy the Mediterranean sea views.
Last but definitely not least, save time for a bucket list glamping experience at a Morocco Desert Luxury Camp. There are so many opportunities for a magical trip to Morocco in March.
Dubai, UAE in March
This Emirate city is known for its endless array of activities and attractions from world-class shopping and dining to exciting outdoor adventures.
And with average temperatures ranging from 18°C to 29°C, you can be sure to enjoy sunny skies all month long in Dubai.
In March, you can cheer on your favorite horse at the Dubai World Cup, one of the world's most prestigious horse races. Browse works by international artists at Art Dubai or check out the latest yachts at the Dubai International Boat Show.
Of course, you have to get a bird's eye view from the top of the Burj Khalifa and visit the Dubai Aquarium. Adventurers should embark on a desert safari complete with camels, 4x4s and sand boarding.
Or head indoors to hit the slopes at Ski Dubai, an indoor ski resort featuring real snow! Another thing to do since it's so close is a day trip to Abu Dhabi to see the Sheikh Zayed Grand Mosque, the Louvre Abu Dhabi and Ferrari World.
Japan in March
The Japanese tradition of the Cherry Blossom Festival dates back centuries ago. Although they start to bloom as early as January, the festival runs from March to April.
The Cherry Blossom Festival is not only about admiring the beauty of nature. It is also a time to meet friends and family, as thousands of people swam to the parks and enjoy picnics in the public spaces.
It's a romantic time of year, perfect for a romantic Japan honeymoon. Don't forget to give your bride a sweet treat on White Day, March 14, when men reciprocate the chocolates they got from their Valentines in February.
Without the Cherry Blossom Festival, there are plenty of other things to do in the Honshu region. In March, the Tokyo Marathon kicks off the month, the Grand Sumo tournament. and Anime Japan at Tokyo Big Sight.
Don't miss teamLab Planets, the immersive art experience, Shibuya crossing, Senso-Ji temple and a trip to Nikko – the perfect destination for anyone interested in wildlife, nature, and natural hot springs.
Nepal
March is the beginning of the spring bloom and a great time to visit the Himalayas. For the more adventurous, Nepal has some of the best and most challenging treks that can take between two days and a few weeks.
Even if the 15 day Mount Everest Base Camp trek isn't for you, you can still take a helicopter tour and land at Base Camp visited by the world's best climbers or even go trekking in Nepal with kids.
There are so many unique things to do in Kathmandu from visiting museums and spiritual places to day hikes and white water rafting.
Aside from the incredible excursions, Nepal is very centered around religion, Hinduism and Buddhism in particular. Taking time to explore spiritual sites will certainly open your mind to this diverse culture and way of life.
In March, there are some great Nepali festivals. Ghode Jatra festival of horses has a variety of horse races and demonstrations by the Nepal Army.
Thousands of visitors go to the Pashupatinath Temple to celebrate Maha Shivarati and Lord Shiva. Holi celebrates the arrival of spring with colorful powder thrown into the air.
Delhi, India in March
When people think of India, they might picture cows wandering the streets, spicy food and unfortunate poverty. But there's another side to this diverse and vibrant country – one that is rich in history and culture.
New Delhi hosts the annual Holi Festival in March. It's a celebration that takes place all over India and is particularly spectacular in Delhi. If you're looking for a colorful, immersive experience into Indian culture, this is the year's biggest party!
Make the most of your time in the capitol city by arranging for a driver when you're ready to see the sights. Explore the Red Fort, Old Delhi, the Hauz Kauz complex, and definitely make time for a day tour to the Taj Mahal and Agra.
---
These are the 15 best places to visit in March. Get a head start on a warm weather vacation or enjoy the beginning of Spring. I personally like Spring and Fall travel the best. It's the shoulder season for so many places and the best time to get a great deal.
Our guide to find great flight deals can help you make it happen.. If you're looking for some more inspiration, check out the best places to travel in February.
---
Other Amazing Places to Travel in March:
Save The Best Places to Travel in March – Pin it!