As Winter comes to an end and Spring commences, March has tons to offer for any type of getaway you are seeking. For those who are ready to get under the sun or even want to hold on to the last of winter, I have carefully chosen the best places for you to travel in March. Whether you are looking for celebration or a relaxing vacation, this time of year brings opportunity for all of that and more. Experience the "luck of the Irish" at some of the best spots to celebrate St. Patty's day, buy a new swimsuit for an exotic vacation or tie those snow boots up because your travels this month will delight!
Best Places to Travel in March
Dublin
Is there better place to be for St. Patrick's day than Ireland? March 17 is serious business in Dublin. A sea of green moves through the Dublin streets as parades kick off and the entire city celebrates. Iconic Temple Bar is one of the best places to grab a drink and join in the revelry. After the citywide party is over, visit the Guinness Storehouse to see their famous beer making process and Jameson Distillery where you can blend your own whiskey to take home. Walk over Ha'Penny bridge, duck into St. Patricks Cathedral, and see the Book of Kells at the famous Trinity College library. Then take your show on the road with our epic 7 Day Ireland Itinerary. Hotel: Iveagh Garden Hotel
Chicago
Is it smart to travel to the Windy City in March? Absolutely if you want to see the biggest green river and celebrate St. Patrick's Day stateside. Chicago has a ton to offer from architecture to shopping to some of the country's most innovative restaurants. Tour the city starting at one of Chicago's most famous landmarks, the Cloud Gate sculpture, also known as "the Bean" in Millennium Park. Spend hours perusing the impressive collection at the Art Institute of Chicago. Visit the Willis Tower Skydeck to stand in a glass box over Chicago's skyline. It can be a little bit scary, but definitely worth the view! Then shop 'til you drop on Michigan Avenue's Magnificent Mile before you get your foodie on at one of Chicago's culinary gems! Hotel: Virgin Hotels Chicago
Carmel-by-the-Sea
Carmel-by-the-Sea is the prettiest California beach town that's perfect for a March winter getaway! Whether you encounter sun or rain, you can enjoy a relaxing weekend strolling around town or reading a book by a cozy fire. Browsing boutiques, eating at quaint cafes and exploring eclectic art galleries will make you fall in love with the town that captured the heart of Clint Eastwood. Nearby, Pebble Beach's scenic 17-mile Drive has breathtaking views of the Northern California coast. Keep an eye out because you'll likely spot some sea lions! Golfers can play at one of the most legendary courses in the US. After the weekend, you will want to pack up your things and snag your own beach house. Hotel: La Playa Carmel
Delhi
The weather might be heating up but so is the excitement for the Hindu festival of Holi, March 9-10, 2020. Holi is celebrated different ways in various parts of India and Dehli is known for being the biggest party. Every color of the rainbow is thrown around as the crowds dance and rejoice. Make the most of your time in the capitol city by arranging for a driver when you're ready to see the sights. Explore the Red Fort, Old Delhi, the Hauz Kauz complex, and definitely make time for a day tour to the Taj Mahal and Agra. Hotel: The Leela Ambience Gurgaon Hotel
Nepal
March is the beginning of the spring bloom and a great time to visit the Himalayas. For the more adventurous, Nepal has some of the best and most challenging treks that can take between two days and a few weeks. Even if the 15 day Mount Everest Base Camp trek isn't for you, there are so many unique things to do in Kathmandu. Aside from the incredible excursions, Nepal is very centered around religion, Hinduism and Buddhism in particular. Taking time to explore spiritual sites will certainly open your mind to this diverse culture and way of life. Hotel: The Dwarika's Hotel
Philippines Palawan Islands
The best tropical place to travel in March is definitely Palawan Island. From perfect turquoise water to secret white sand beaches, this is an incredible bucket list destination. Start off your Palawan itinerary with an El Nido island hopping tour around Bacuit Bay. Whether you prefer to kayak, take a boat tour, or go diving, visiting these beaches is an experience you'll never forget. You can also take a boat tour through the longest underground river, Puerto Princesa Subterranean River. In your downtime, explore the island on a motorbike and meet friendly locals in town. Hotel: El Nido Resorts Pangulasian Island
Yellowknife
March is a great time to see the Northern Lights in Yellowknife because the weather is getting warmer and the skies are clearer. There's also a great mix between daylight and night hours so you can have adventures by day and Aurora viewing at night. If you've been dying to see this incredible phenomenon, now is your chance! Don't forget to pack your warm winter clothes. Another really cool thing to do is drive the Dettah Ice Road. This is an actual frozen road connecting Yellowknife to Dettah. You can drive this road when it freezes over in the winter and take some cool pictures. Hotel: The Explorer Hotel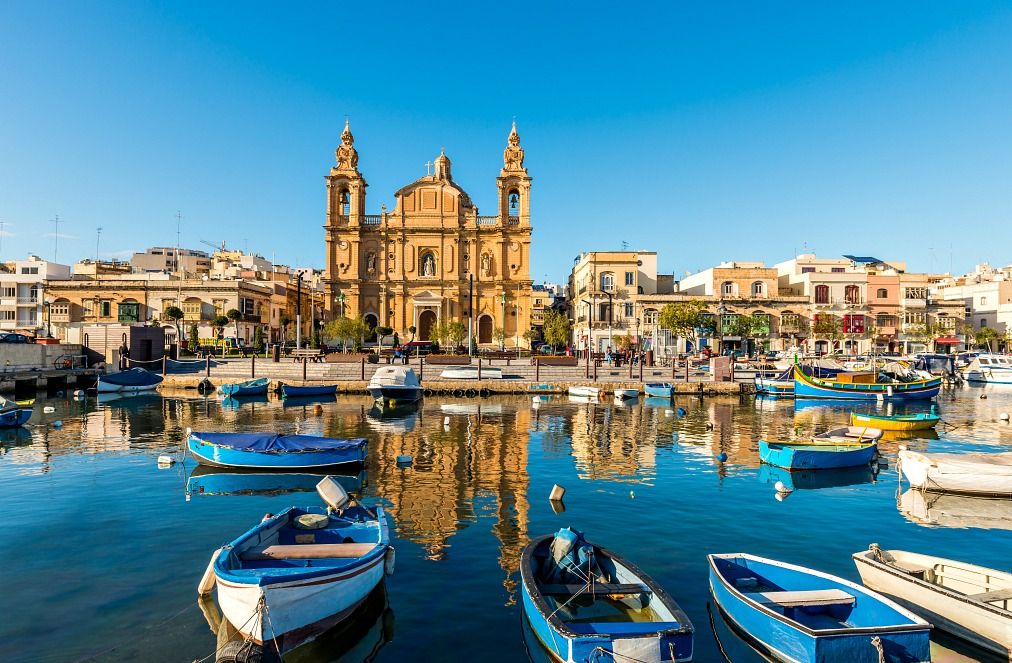 Malta
Malta is a small archipelago off the coast of Sicily. It's an interesting mix between European and Middle Eastern cultures. The capital city of Valetta is a sophisticated, chic city filled with beautiful, historic churches, charming restaurants and it's the business hub of Malta. Outside of Valetta, is a completely different feel. Malta has multiple Game of Thrones film locations in Rabat, Mdina and nearby Gozo Island that you shouldn't miss. History buffs will love Ħaġar Qim, a historical site with old temples dating back to 3600 BC. Another interesting film location is Popeye Village built for the Popeye movie. Those who love nightlife, will find it in St. Julian's. March is low season in Malta and has the possibility of warm beach days. If so, you can enjoy the Blue Grotto without crowds. Hotel: Palais Le Brun
Jordan
Jordan has very moderate temperatures in March making it one of the best places to travel. This incredible country should have a prominent spot on every travel bucket list. Petra, one of the 7 Wonders of the World, is the most popular site but there is so much more that you can see in a 7 day Jordan itinerary. From Petra head to the Wadi Rum desert where they filmed The Martian and glamp in a luxurious Martian Bubble Tent. No Jordan trip is complete without a visit to the Dead Sea. Float in the world's saltiest sea, 1300 feet below sea level, and cover yourself in mineral filled mud. Taking a trip to see the Roman ruins at Jerash is breathtaking. Amman is a terrific city too filled with historical sites and fun nightlife. Hotel: Wadi Rum Bubble Luxotel
Morocco
Morocco is definitely one of the best places to travel in March due to the nice, warm weather. Get happily lost in the Medina in Marrakesh and find your way back to your beautiful riad. From Marrakesh, head through the Atlas Mountains and then to camp overnight in the Sahara Desert. From glamping to camel riding to ATV tours, the Sahara has it all. To round out your itinerary, add the blue city of Chefchaouen, and the port city of Essaouira to your Morocco itinerary. Hotel: Riad Palais Calipau
These are the 10 best places to visit in March. Get a head start on a warm weather vacation or enjoy the beginning of Spring. I personally like Spring and Fall travel the best. It's the shoulder season for so many places and the best time to get a great deal. Our guide to find great flight deals can help you make it happen.. If you're looking for some more inspiration, check out the best places to travel in February.
---
Our Favorite Travel Items

---
Other Amazing Places to Travel in March:
Save The Best Places to Travel in March – Pin it!