When I was planning our 7 day Bali Itinerary, I couldn't find a definitive answer about the best amount of time to visit Bali. We ended up choosing 10 days and by the end of our 10 day trip to Bali, we wanted to move there.
My advice is to plan your trip for as many days as you can but if you only have a week for your vacation, this 7 days in Bali Itinerary will let you experience the best of the best.
This site uses affiliate links, meaning if you make a purchase through our links, we may earn a commission. You can read our full disclosure policy here.
Planning Your Trip to Bali Last Minute? Here are the tours and hotels we recommend.
You can also get more detailed information on the 50 Most Beautiful Places in Bali and where to find them, a Complete Bali Packing List and the 10 Biggest Mistakes to Avoid in Bali.
TOP EXPERIENCES & TOURS IN BALI
BEST HOTELS IN BALI
Weather and Best Time to Spend 7 Days in Bali
Peak Season – June, July and August when the weather is cooler and drier. Temperatures range from the 70s-80 with almost no rain. This is absolutely the best time to go to Bali for the weather. The downside to traveling to Bali during this time is that you will find it is much more crowded. With the crowds come higher prices.
Shoulder Season – April, May, September and October are the months to get better deals. It will also be a little more peaceful with less tourists and only a few rainy days. We went at the end of October and had perfect weather with only 2 hours of rain in 8 days. I was so nervous to book our trip when I read so many resources that said avoid October and it was absolutely perfect.
Rainy Season – November through March is the main part of the rainy season. It is hot and humid during this time, especially January. I have friends that live in Bali and they still think Bali is wonderful during this time of year. Since a vacation in Bali has plenty of time to relax, you could just read a book if you have any rain during your Bali trip.
---
7 Day Bali Itinerary: Days 1-3 in Uluwatu
Uluwatu is a beach lover's paradise in South Bali. It's 45 minutes from the airport, which makes it a good place to start or end your Bali 7 day itinerary.
The town is so relaxed and welcoming. it just feels like you fit right in and instantly get used to this super chill way of life. There are so many fun ways to spend your time, my surf widow fears were immediately put to rest.
The fact that I'm married to a surfer made it destination #1! If I'm being honest, which is pretty much my job as a travel blogger, I was not excited about going to Uluwatu. I had visions of being a surf widow on this trip. Imagine my surprise when I loved Uluwatu.
Where to Stay in Uluwatu
Uluwatu is a surprisingly big area located at the southwestern tip of the Bukit Peninsula.. There are hotels in every price range with amazing ocean views.
We stayed at the most spectacular resort Alila Villas Uluwatu (9.4) with a totally secluded, secret beach. It's more remote and a drive to get places but it's the place to be if you want to get off the beaten path into pure Balinese luxury.
Other great luxury resort choices include Six Senses Uluwatu (8.9), Bulgari Resort Bali (9.5) and The Edge Bali (9.7).
For a more affordably priced, but still amazing, accommodation try Dreamsea Bali (8.7), PinkCoco Uluwatu (9.2), or Melali Bingin (9.8).
RELATED POST: 12 BEST HOTELS IN ULUWATU BALI
Best Beaches to Visit in Uluwatu During Your 7 Days in Bali
Uluwatu is world renowned for it's beautiful beaches and the surf here is on every surfer's bucket list. You will hear a lot of people mention the beaches in Canggu, Seminyak and Nusa Dua but Uluwatu is by far the best.
Here are our favorite beaches. We didn't get to Nyang-Nyang, Bingin or Pantai Tegal Wangi but heard they are worth the trip if you have time.
PADANG PADANG BEACH
The most well known beach from Eat Pray Love is pretty and centrally located. If you have a scooter, you can park across the street and walk over to the entrance booth.
The cost to get in is 10,000 IDR (less than 1 USD). It's a pretty entrance with Bali decor and a somewhat steep staircase down to the beach.
Padang Padang is more of a surfer's beach than a swimming beach. It's fun watching all the surfers and you can walk along the coast to find a less crowded spot to sit.
If you are a surfer or want to try surfing, you can rent boards right on the beach. They rent them by the hour or by the day. They have short, medium and long boards.
The vendor will also hold your things to keep them safe while you're in the water. Pro tip: bring surfboard wax with you as they don't have any there.
SULUBAN BEACH
If you can only visit one beach during your 7 days in Bali – make this the one! Suluban beach was the best Bali beach winner for both of us.
You will dead end into the scooter parking lot. Cost to park is anywhere from 3,000 – 5,000 IDR. It seems to change often and you will temporarily forget that you are talking about the difference of about 25 cents.
The dramatic entrance down a steep staircase (even more steep than Padang Padang) to the beach, opens up to amazing beach caves and finally a stunning view of the surf. The lighting is spectacular at sunset.
This beach is great for everyone – surfers, surf watchers, sun worshippers, and swimmers alike.
The best part is that the beach is so long you can find your perfect spot with as many or as few other people as you'd like.
Just make sure you go at low tide so there is a beach. You will find a slew of shops and fun restaurants in the area above the beach.
RELATED POST: 50 of Bali's Best Instagram Spots
Best Places to Catch the Sunset in Uluwatu
ULUWATU TEMPLE
Set on a 250 foot cliff, Uluwatu Temple has one of the best sunsets in Bali with an 180° view of the Indian Ocean.
You can also see the traditional Tari Kecak Fire Dance. The best way to get there and to get around Uluwatu is to rent your own scooter.
If you take a cab there, you will be hard pressed to find one when you are ready to leave. Uluwatu Temple is 30,000 IDR to enter.
The entry to the Tari Kecak Fire Dance is 100,000 IDR (approximately 7 USD). Wear clothing that covers your shoulders and knees or they will require that you wear their purple sarong.
SUNSET BARS
Sunday's Beach Club is a beach club by day and daily bonfires, live music, drinks and food at sunset. It's on the expensive side but fun.
Savaya is perched over the Indian Ocean with insane views. This hot spot hosts VIP events, celebrity DJs and more.
Oneeighty at The Edge Bali is another place with jaw dropping views and an infinity pool that is mind-blowing. This is a great place to relax and enjoy the chill Uluwatu vibe.
RESTAURANTS IN ULUWATU
---
7 Day Bali Itinerary Day 4: Seminyak
The beachside town of Seminyak is home to some of the island's best restaurants, bars and clubs, as well as plenty of luxury hotels and resorts. Seminyak is also famous for its lively nightlife scene, so if you're looking to party, this is the place to be.
If you like busy, lively places, you'll love Seminyak. We prefer low key, local areas, and we would have been better off staying in nearby Canggu and just visiting Seminyak.
Read our Bali for first timers post for more information about how to choose between Seminyak and Canggu.
The best way to get to Seminyak from Uluwatu (250,000 IDR) or the airport (150,000 IDR) is by taxi. Ask your hotel to help you arrange one. You will see just how much traffic they have in Bali during this ride AND the unbelievable amount of scooters.
Where to Stay in Seminyak
We stayed at the Hotel Indigo (9.3) with the coolest decor and awesome pool. It is right near La Plancha Beach bar, which has a must-see scene at sunset.
Other great resorts include Alila Seminyak (8.9), W Bali Seminyak (9.2) and Potato Head Studios at Desa Potato Head (9.5).
Things to do in Seminyak
Beach clubs by day and sunset bars by night. The scene at La Plancha Beach Bar at sunset is the most colorful place I've ever seen. Potato Head Beach Club is also fun and more upscale.
Shopping – You can shop your little heart out in Seminyak. Auguste the Label for women's clothes and Bali Boat Shed for men's/women's clothing and swimwear (snap a photo of the instagram worthy storefront). Many of the stores here can also be found in other parts of Bali.
Restaurants – There are soooo many restaurants in Seminyak. Corner House Bali is a great cafe with live music at night and really yummy food from breakfast to dinner. They have delish Avocado Toast and Corn Fritter stacks. If you like to instagram your food, you'll be in heaven. Motel Mexicola serves lunch, dinner and late night Mexican Tapas in their super trendy restaurant with wild colorful decor. Kynd Community has those insta-famous acai bowls in their plant-based, pink cafe. Don't miss the pink tacos or vegan ice cream!
---
7 Day Bali Itinerary Day 5: Canggu
Canggu (pronounced Chan-goo) is the neighboring, completely different town from Seminyak. A laid back Bali surf community, in the midst of picturesque rice paddies was our version of Bali heaven.
The quaint, kind of hipster village has the coolest restaurants, cute boutiques, and an overall stylish atmosphere.
It would be easy to spend your entire 7 days in Bali right in Canggu. It's just the coolest town that you never want to leave.
We could have easily eaten at every delicious vegan restaurant, taken yoga classes, spent days on the beach and explored all the nooks and crannies of the area. We have visions of going back and spending a few months there in the future.
Where to Stay in Canggu
We put together a whole post on the best hotels in Canggu that you can find here.
We stayed at Lila Boutik, the cutest Canggu boutique hotel that we booked last minute.
If we had planned ahead, we would have chosen one of these 3 amazing hotels. They all have amazing decor and are right by the beach. ZIN Canggu Resort & Villas (8.9), Amar Boutique Hotel (9.7) or COMO Uma Canggu (8.8).
Want to stay in Canggu for awhile and looking to find the perfect place to hustle, work, rest and play?
Tribal Bali is the newest co-working hostel with private and dorm rooms, an infinity pool and a massive work area with dedicated booths, high speed internet and plenty of tasty coffee.
Things to do in Canggu
Tanah Lot Temple is an exceptionally beautiful temple built on a rock surrounded by the ocean. Watching the sunset here during your 7 days in Bali is an absolute must! It's an enjoyable 25 minute scooter ride from downtown Canggu passing beautiful rice paddies along the way. It gets crowded but it's still fun and one of the prettiest places in Bali. Entry for foreigners RP 60,000 Adults, RP 30,000 Kids, RP 3,000 Parking (less than 10 USD for 2 adults and a scooter).
Yoga & Workout – There are a plethora of classes and retreats available around town.
Surf – Old Man's (Batu Bolong beach) is a good beginner surf spot while Berawa and Echo beach have waves for more experienced surfers. The best surf on Bali is in Uluwatu.
Shopping – Bamboo Blonde has really cute women's clothes and jewelry that's very affordable. Erica Pena for beautiful women's resort wear. Love Anchor is an every day bazaar with over 100 vendors and is even bigger on the weekends. They have clothing, jewelry, straw bags, house wears, gifts, food and more.
Restaurants and Beach Clubs in Canggu
There are so many cool restaurants in Canggu and Bali as a whole. You could just do a food tour to Bali and be there for weeks. And did I mention that Canggu has the most Instagrammable food on the planet?!
Beach Clubs – The one thing all beach clubs in Canggu have in common is really cool decor. Cafe Del Mar is the latest see and be seen 10,000 sq. meter club at Berawa beach in Canggu and it channels the Ibizia / Greek Island vibe.
La Brisa may be the prettiest club, designed with reclaimed materials. It reminds me of Tulum's chic hangouts. The Lawn (shown above) has a pretty setting on Batu Bolong Beach.
7 Day Bali Itinerary Days 6-7: Ubud
To get to Ubud from Canggu or anywhere else in Bali, you will probably take a taxi. Our Canggu Airbnb helped us organize a minivan to Ubud for 250,000 IDR (18 USD) The rate from the airport is 360,000 IDR (26 USD).
You might also consider booking a full day taxi tour because there are so many things to do in Ubud and they are not all close to each other.
It will cost you approximately 600,000 IDR (45 USD). It will also save you the headache of trying to find everything.
Where to Stay in Ubud
We stayed at the Alila Ubud (8.9). Our room was an amazing Balinese villa that was set in the rainforest. The hotel has a gorgeous infinity pool over the lush mountains and their own personal monkey gang.
The monkeys ran around all over the place, and the staff helped us see them up close safely. They also had something fun each night like an outdoor cinema by the pool. It's a great hotel choice for a Honeymoon in Bali because it's so private.
A few other great places to stay in Ubud are Capella Ubud, Bali (9.4), Permata Ayung Private Estate for Adults Only (9.5) or The Kayon Jungle Resort (9.5), and 11 on Kajeng (9.3) is a great affordable option.
RELATED POST: 12 Best Luxury Resorts in Ubud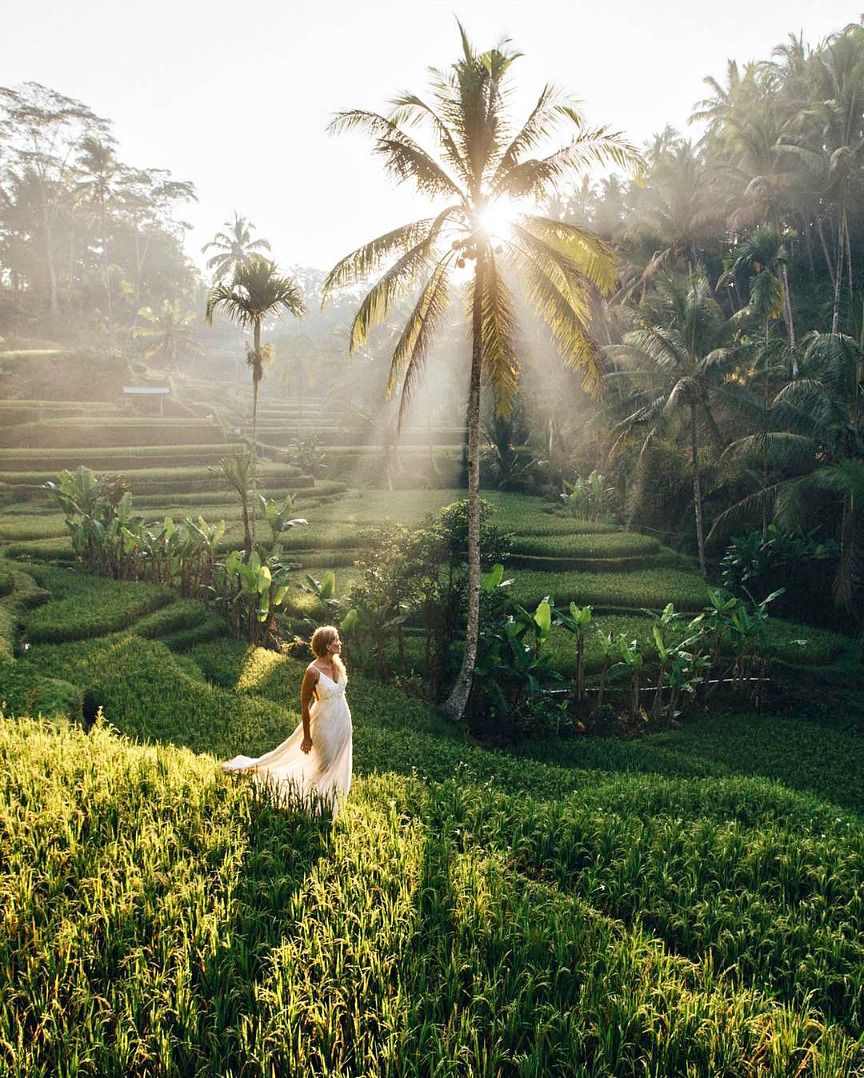 Best Things to do in Ubud
Tegalalang Rice Terraces are the most stunning area of rice paddies. You will see other rice fields in Bali that are so beautiful but the Tegalalang Rice Terraces, at first glance are a absolute WOW.
It's jaw dropping beauty especially at sunrise with the rays of light streaming though the palm trees is incredible.
The best time to go is before the harvest times in May and November. It's also beautiful when they replant around February and August.
Campuhan Ridge Walk – Most people, me included, go to Ubud thinking of Campuhan Ridge Walk as a photo opportunity but it is such a cool place to go take a walk or run.
We were there early in the morning around 7am and watching all the people getting their exercise. It makes you feel like like you're hanging out with locals. The path is in the middle of everything with the best views of the surrounding jungle.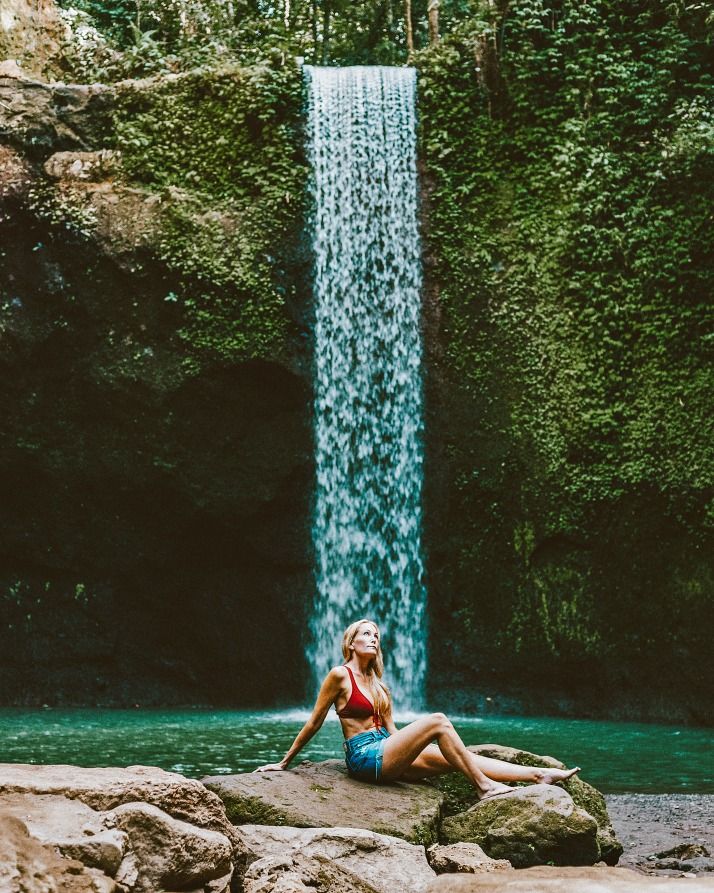 Waterfalls – The best waterfalls in close proximity to Ubud are Tegenungan Waterfall (shown on the left). After a 10 minute walk including stairs, you are rewarded with a beautiful waterfall.
Arrive early to avoid crowds. Hours: 7am-6pm, small fee for parking and entry.
Tukad Cepung Waterfall (shown on the right). It's a little bit more of a trek down a longer path with stairs and into a cave but so worth it when you see the stunning waterfall.
There are multiple spots here to take photos here and again, arrive early! Hours: 6am-6pm, small fee for parking and entry.
Nests/Swings – You can find these swings and nests in multiple places. We went to a place that was like an Instagram theme park called Terrace River Pool Swing right by the Rice Terraces.
There have multiple swings and nests around the property. While you wait for your turn, try the Kopi Luwak coffee sampler.
For the best swing and waterfall locations, there are a lot more options with details is this post on Bali Instagram spots.
Sacred Monkey Forest – I'm hesitant about recommending the Sacred Monkey Forest because there are monkeys all over Ubud.
We visited the Ubud Monkey Forest but it was unnecessary after seeing the wild monkeys living around our hotel.
If you want to go, you'll be able to see the monkeys interact with each other. You are not supposed to look them in the eye as it's a sign up aggression (whoops).
Put away your sunglasses or anything they can grab. They will unzip your backpack if it's even slightly open.
Downtown Ubud – This bustling town is full of culture, history, and natural beauty. Start your day by exploring some of the amazing temples, including the iconic Pura Dalem Agung Padangtegal and Puri Saran Royal Palace.
Then, wander through the local markets, where you can find handmade goods. Straw bags and long boho skirts make great Bali souvenirs.
Yoga and Massage – Many people travel across the world for the yoga retreats in Ubud. If you want less of a commitment, you can take a class at the Yoga Barn.
Another specialty in Ubud is a traditional Balinese massage – perfect after a long day of exploring,.
Make sure you indulge in the incredible Ubud restaurants. Try Suka Espresso for great breakfast and lunch. Locavore is the place you need to book ahead to score a dinner reservation. Melali Ubud is a hot spot for dinner and amazing cocktails.
---
Adding to Your 7 Day Bali Itinerary – Nusa Penida Days 8-9
We loved Bali so much that we added a few extra days to our trip so we could go to Nusa Penida and it was the best decision we ever made. It belongs on your adventure bucket list!
The Nusa islands are actually 3 small islands situated close to each other, namely Nusa Penida, Nusa Lembongan and Nusa Ceningan.
These 3 Bali islands are very popular tourist destinations and offer some stunning Bali beaches, Bali cliff jumps as well as Bali surfing spots. If you are limited on time, we suggest focusing on Nusa Penida.
How to Get to Nusa Penida
Getting to Nusa Penida was not as hard as we expected. We coordinated a taxi from our hotel in Ubud to the Nusa Penida boats. I've heard people refer to it as a dock but the boats are entered from the beach.
You will see all types of travel agencies coordinating trips. Talk to a few of them and haggle on the price.
The little waiting areas on the beach are the actual people who take you and you can buy your ticket directly from them.
It will cost approximately 200,000 IDR (15 USD) one way or 300,000 (22 USD) round trip. Once you arrive on Nusa Penida, you need to coordinate transportation. If you have bags, you will probably need a taxi.
You can also coordinate with your hotel ahead of time of just take one of the many people who will be dying to give you a ride from the dock.
Nusa Penida as a Bali Day Trip or Overnight
Daytrippers can go to Nusa Penida with an organized Full Day Nusa Penida tour that will take you to all the best spots. The upside is that this is a really easy option and you can just relax and enjoy.
It's more expensive but it will make your life easier. The only downside is you may wish you were staying overnight, which I highly recommend if you have time.
Where to Stay on Nusa Penida
We stayed at Coco Resort (8.4) which was clean, had a nice pool and decent food. The proximity to Crystal Bay was great.
The Adiwana Warnakali Resort (9.1) for Adults opened in 2020 and has amazing views. Rumah Pohon is the rustic treehouse shown a few photos above. There are also plenty of hotels on the neighboring island Nusa Lembongan.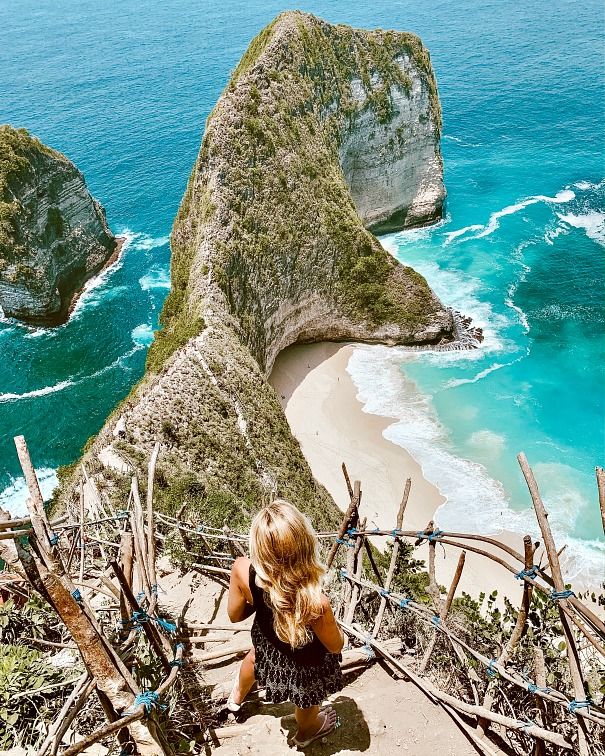 Best Things to do on Nusa Penida
Nusa Penida is a big island and most people will split their sightseeing into 2 days.
Day 1: Visit Kelingking Beach, Broken Beach, Angel's Billabong, and Crystal Beach.
Day 2: Enjoy the east Nusa Penida gems, Diamond Beach, Atuh Beach and the gorgeous Thousand Islands viewpoint
Kelingking Beach (pictured above left) – The T-Rex shaped land surrounded by crystal blue water and the tallest cliff in Asia. The hike down is precarious. You have to hold on to those wood rails because there aren't really steps. This is the ultimate Bali bucket list spot. Wear solid shoes not flip flops.
Broken Beach (above right) – Broken Beach is a natural bridge with that same gorgeous water. You can walk all the way around this protected cove. It's so pretty to see from all angles.
Angel's Billabong (pictured below) is a tide pool that is walking distance from Broken Beach and allows you to get in the water. Exercise caution with the very strong surf here and stay in protected areas.
Crystal Bay Beach – Lounge on the palm lined, white sand beach or take a dip in the clear turquoise waters. If you're feeling more adventurous, swim with manta rays on Nusa Penida at Crystal Bay and Manta Bay. Or just go snorkeling to explore the colorful coral reefs.
Best of all, it's the perfect place to relax and take it all in for sunset. Just a quick scooter ride away from the Coco resort to finish your dreamy visit to Nusa Penida.
---
How Many Days to Plan in Bali
If this is your first trip to Bali, we highly recommend reading 10 Mistakes to Avoid for Bali First Timers. It's the scoop on everything we wish we did differently.
You should also check out our post on Instagrammable Bali even if you think Instagram photos are silly. It will show you everything pretty you might want to see during your one week in Bali and where it's located.
Whatever you are thinking is a good amount of time to visit Bali, you'll probably wish you stayed longer. In a perfect world, 2 weeks would allow you to see almost everything without feeling like you stayed too long.
That said, we know we sometimes don't have the choice to stay as long as we want. Here are some pointers on what to do depending on how much time you have.
Ideas for 3 days to a 2 Week Bali Itinerary
1 – 3 Days in Bali – Pick one location. Ubud is the quintessential, spiritual center of Bali and home to the prettiest waterfalls and rice terraces. If you like a surf vibe head straight for Uluwatu. If you want great restaurants, yoga/surf, and cool beach clubs go to Canggu. Families with small kids looking for a beach resort will like Nusa Dua. If you want party scene beaches by day and crazy Bali nightlife, head to Kuta.
4 – 5 Days in Bali – Visit Ubud and one other area.
6 – 7 Days in Bali – Visit 3 areas. For one week in Bali, my choice would be Ubud, Canggu, and Nusa Penida. It's tough to leave out Uluwatu because they have the prettiest beaches in Bali.
8 – 10 Days in Bali – If you're lucky enough to spend more than a week in Bali, add the Nusa Islands, Uluwatu, and a sunrise Mount Batur hike or Eastern Bali overnight.
2 weeks in Bali itinerary – Northern Bali has beautiful waterfalls, Pura Ulun Danu Temple and Bali Twin Lakes. The Gili Islands (Gili Air & Gili Trawangan) are another popular place to add for a 14 day itinerary, though not officially Bali.
READ NEXT: What to Pack for a 7 Day Bali Itinerary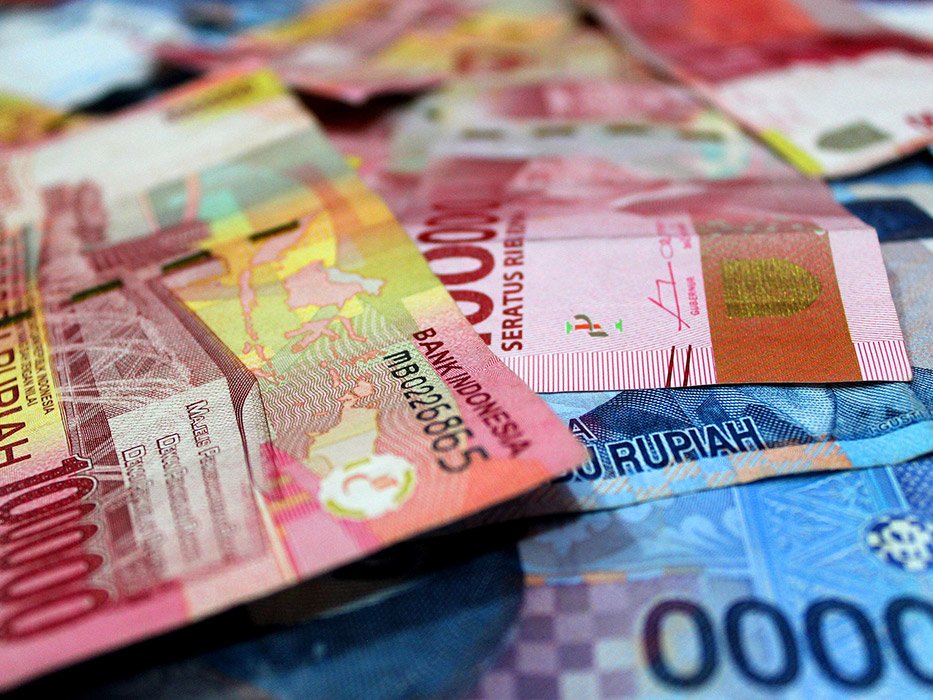 Transportation, Money, & Supermarkets in Bali
Transportation – The main transportation in Bali is a scooter. The cost to rent one is 60,000-100,000 IDR ($4-7 USD) per day. Taxis are very affordable but used mostly for trips that include your luggage. The 45 minute ride from the Airport to Uluwatu is less than $20 USD.
Money: The currency is Indonesian Rupiah. You can change money right in the airport although you don't need to carry much cash because you can go to an ATM or use credit cards everywhere. Here are more helpful tips about Money in Bali.
Supermarkets: There are plenty of grocery stores if you are staying in an Airbnb or just need supplies. We put together a post with everything you need to know about supermarkets in Bali.
Airport Customs – We paid 20 USD per person to skip the 2-3 hour customs line and got out of the airport in 10 minutes. You can change currency at the airport.
---
Final Thoughts About a 7 Day Bali Itinerary
If you started reading this post for a 7 Day Bali Itinerary you might be wondering – is 7 Days in Bali enough? My advice is to plan as many days as you can in Bali.
You won't be disappointed with a 10 day Bali itinerary or even 2 weeks in Bali. There are so many wonderful places to visit. Some visitors never catch their return flight because they want to keep exploring this magical island.
I recommend reading our other Bali posts for more information that should help answer all your questions. Feel free to ask anything here in the comments that we might have missed. Enjoy your Bali Trip!
Additional Bali Posts to Help You Plan Your Itinerary:
Save this 7 Day Bali Itinerary For Later? Pin it!
Other Posts You Might Like: