Imagine being on the island vacation of your dreams and knowing you made a mistake. Bali is an island filled with wondrous things that could keep you busy for weeks. We got on the airplane, sad to go home but determined to share with you all the things we would do differently. Read on for our list of the top 10 mistakes for Bali first timers.
Planning a trip to Bali? Here are a few other posts you will find helpful.
First, our 7-10 Day Bali Itinerary covers the best places to visit in Bali. The 50 Most Beautiful Places in Bali and where to find them will get you super excited about visiting. Lastly, here are the 10 things you need to pack for Bali that you might be forgetting.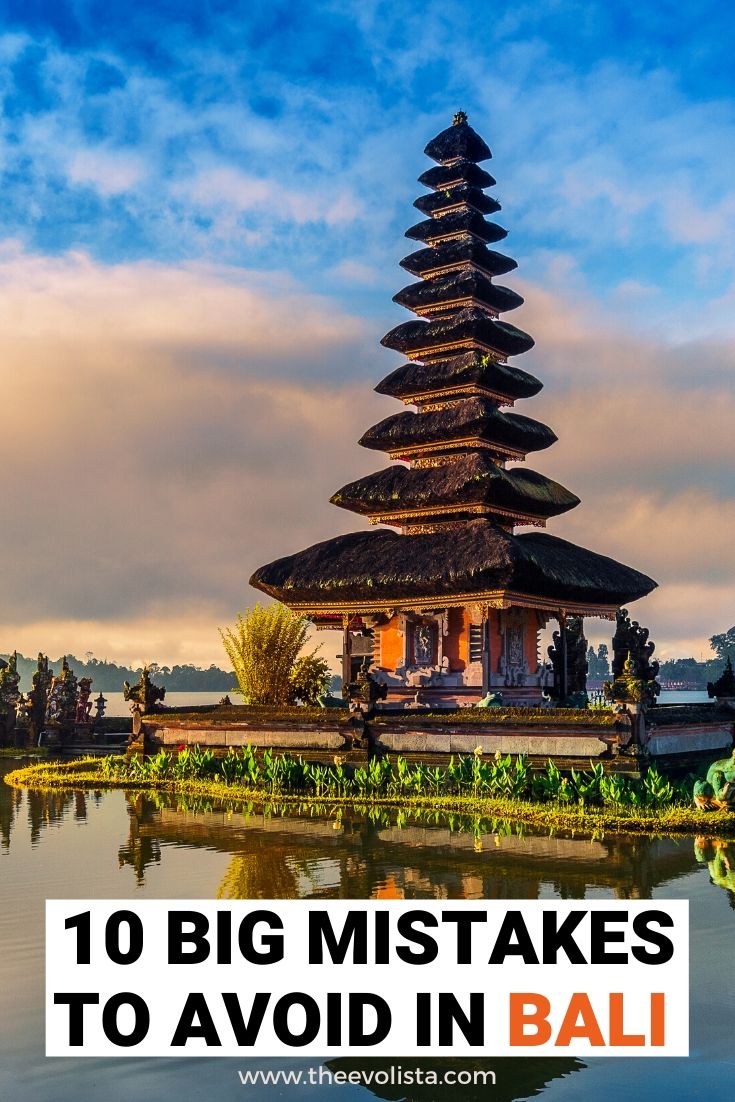 Don't Make The Mistake of Thinking Bali is Too Far
The number one mistake is not going to Bali because you think it's too far. The first question everyone asks when we tell them how amazing our trip was to Bali is "How long did it take you to get there?" It took us 15 hours to get to Hong Kong and another 5 to get to Bali with a layover in between. And I would hop on a flight tomorrow in the middle of coach if I could go back again. OK, maybe not the middle of coach but an aisle seat!
Fun fact about Bali is that it's not uncommon to hear that someone went on a trip and decided to move there. Sign me up! You just have to suck it up for the plane flight and then watch out for the next mistake of making your trip too short.
First Timers to Bali Often Don't Plan to Stay Long Enough
I have NEVER said this about visiting anywhere. There is so much to do in Bali that it is impossible to do it all in a week. We booked our trip for 2 weeks and I thought since we were flying far, we should stop in Singapore and Phuket on the way back. It was such a huge mistake. We could have had 5 more days in Bali. See our Bali Itinerary for how we would have used that extra time.
For Bali first timers, this is by far the biggest mistake. That's why so many people do multiple Bali trips. If you can swing it, try to visit Bali for at least 10 days to 2 weeks. If you have more time than that, check out the Gili Islands, Raja Ampat, Java or one of the other amazing places in Indonesia.
Worrying About the Weather is a Typical Bali Mistake
Our trip was the last week of October. I read multiple websites ahead of time that literally said don't go to Bali in October. The "wet season" is from October to April. Guess what? We had 2 hours of rain in 9 days. As you can see in the photo above, the weather was beautiful.
Whenever we are first timers, we want the scoop about weather and for Bali, there is so much bad weather advice out there. Here are the average rainy days by month. These include full rainy days and rain for a few hours. If it were me, I'd skip December-March but I've heard of people having amazing weather in December too. I've seen numerous beautiful sunny sky photos from December through March.
October – 12 days
November – 16 days
December – 22 days
January – 27 days
February – 22 days
March – 20 days
April – 9 days
Bali First Timers Don't Realize How Crowded it is in Seminyak
Seminyak and Kuta beach are the main tourist areas. Consequently, there is a ton of traffic, a zillion shops on repeat every few blocks, and oodles of people. There are some cool beach clubs toward the northern end but you can easily stay in the neighboring town of Canggu and still go to them.
Canggu is completely different. It has a totally chill, beachy, healthy, yoga/surfer vibe. The restaurants are relaxed but super hip and cool. There are rice fields everywhere that add to the bucolic Bali "out in the country" feel. I would move to Canggu tomorrow if I could.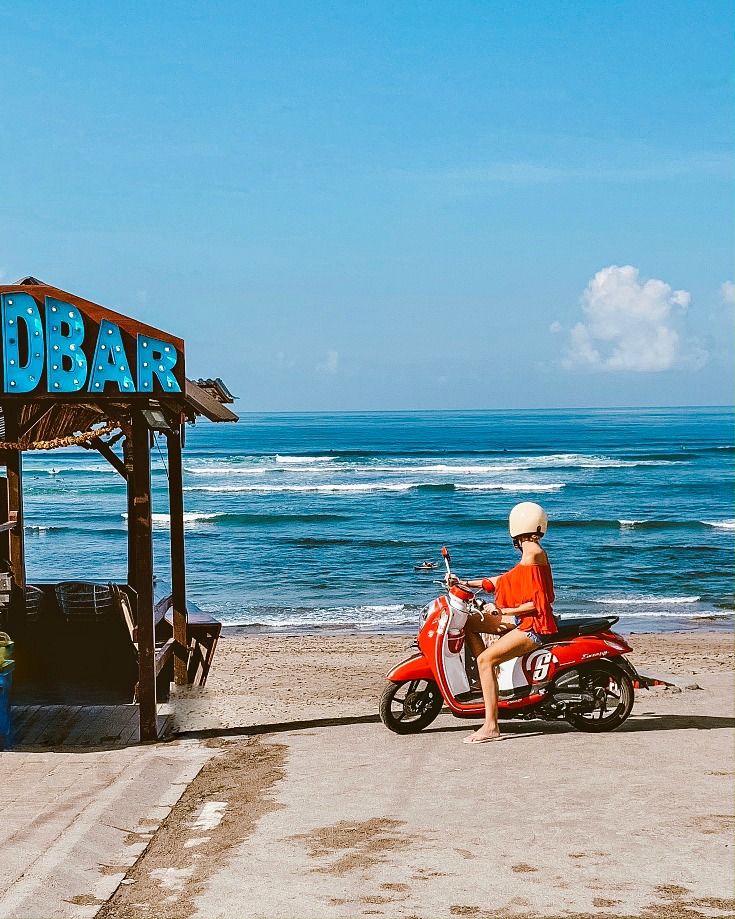 Scooters Are a Really Convenient Form of Transportation
At first, seeing all the scooters buzzing around was kind of scary. I got on the back of one my husband rented and had visions of spending our Bali trip in the hospital. But, we settled into Bali scooter life quickly and it is by far the best way to get around.
Bali first timers should seriously consider scooters for transportation. I don't even know if there are car rentals but taxis are unnecessary unless you're going to another part of the island. Cost between $5-10 USD per day.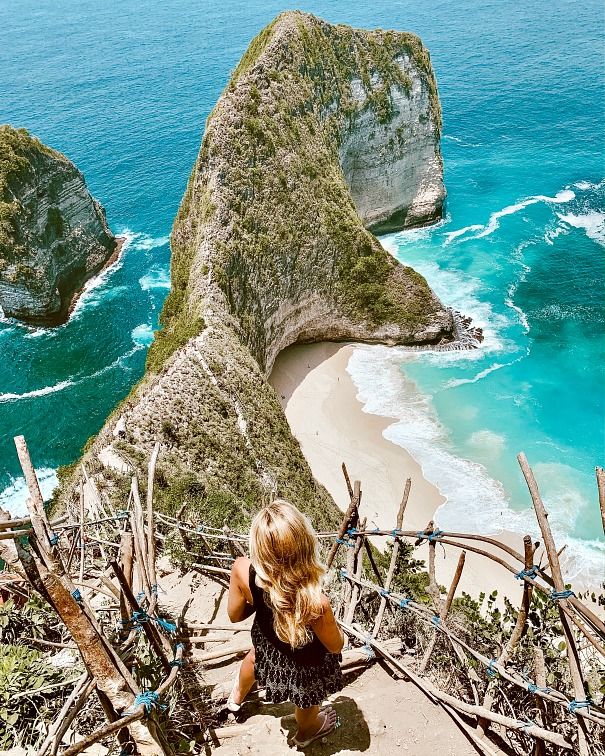 Skipping Nusa Penida is the Biggest Mistake of All for Bali First Times
Make sure you go to Nusa Penida!! We did 1 day / 1 night and loved it also much that we were sorry we didn't have time for another day/night. Lots of people skip Nusa Penida or do a day trip (better than nothing but definitely not enough).
Nusa Penida has some of the most beautiful beaches and picturesque places in Bali. See Instagrammable Bali Spots for more details. There are at least 2 days worth of things to see (3 days if you like diving). There are also 2 neighboring islands Nusa Cenigan and Nusa Lembogen that you can visit if you have extra time.
Using a Guide Sometimes Will Save You a Ton of Getting Lost Time
We are very independent travelers that feel really confident figuring things out even in countries where we don't speak the language. One of our biggest mistakes on this trip was not hiring a guide in Nusa Penida that approached us right as we got off the ferry.
Instead, we rented a scooter and did Nusa Penida ourselves. The road was horrific. Thankfully we never crashed. Worse, we got lost over and over again and were surrounded by people who were lost. The guide had a van and knew exactly where to go which would have saved us so much time.
In Ubud, we were with a local photographer. We covered so much ground seeing the best places at the best time of day. Because of his friendships with other locals, we were able to get into places other people couldn't go.
You should definitely consider using a guide in Nusa Penida and Ubud.
Bali First Timers Should Know That There are Great Hotels at Every Price Range
We love staying in great hotels. Bali is one of those places that has insanely amazing resorts that can be quite expensive. That said, there are also tons of really cute places that are inexpensive. No matter what price point you are looking at, you can find an excellent place to stay.
After not liking Seminyak, we made a last minute decision to move to Canggu and found adorable Lila Boutik (shown above right) on Airbnb. Another amazing place, right on the beach is Dreamsea Bali Uluwatu.
The other places we stayed and highly recommend:
South Bali – We stayed at Alila Villas Uluwatu in one of the most incredible private pool suites. Read more about our amazing stay.
Ubud, we stayed at Alila Ubud which was in the middle of the jungle with monkeys everywhere. We could have skipped the Monkey First because we had our own. Our room was absolutely gorgeous with a bathtub that overlooked the forest.
Nusa Penida – Coco Resort Penida was close to Crystal Beach with a nice pool. The room was a little rustic but comfortable and the nicer end of the hotels on this island. If you are staying for 2 nights, you could stay at a resort on neighboring island Nusa Lembongan and take the 15 minute boat to Nusa Penida.
First timers to Bali should know that there are great Bali accommodations for every price range.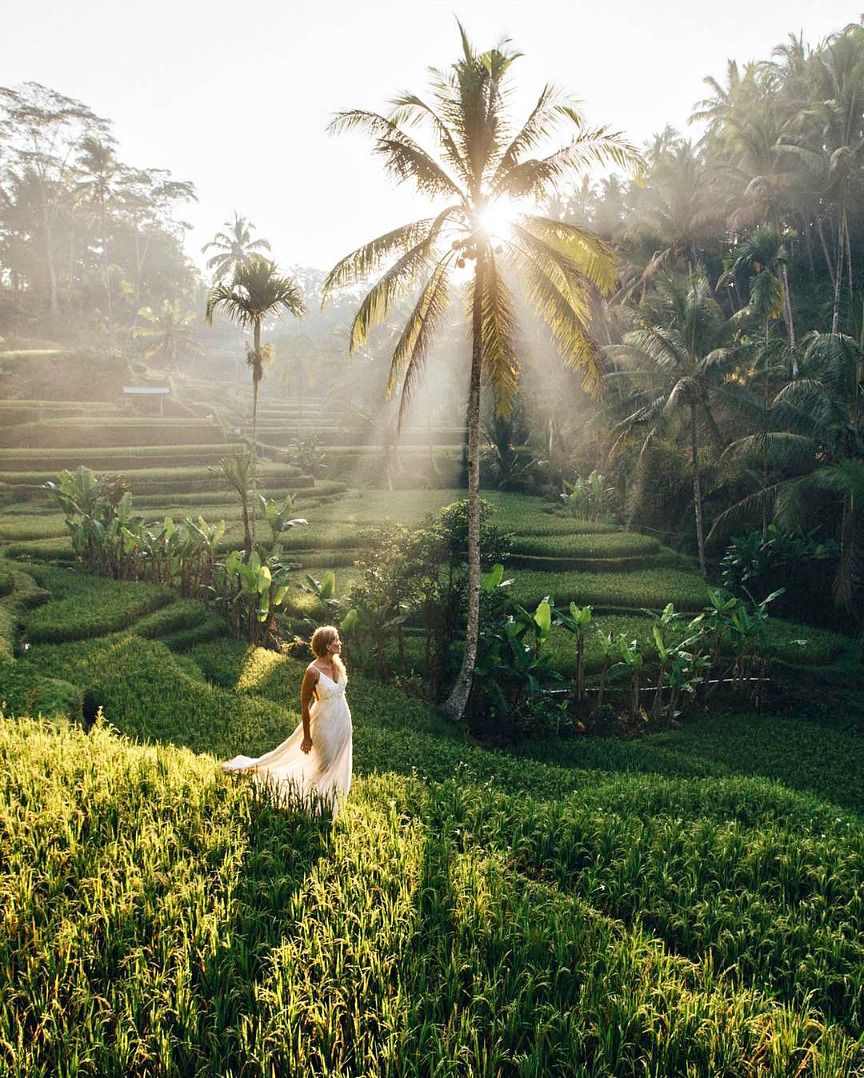 Best Tip for Bali First Timers – Don't Miss Sunrise
A lot of people aren't willing to get up for sunrise but if the time change is on your side, take advantage of getting out to see it. Honestly even if the time is working against you, sunrise is spectacular in these places:
Tegalalang Rice Terraces Ubud – Shown above
Mount Batur Sunrise Trek
Pura Lempuyang Luhur, Karangasem
Munduk Moding Plantation North Bali
Missing Sunset with the Gang
Not to take the place of seeing a gorgeous sunrise but you have to see Sunset with other people. I can't believe I'm saying it but seeing the sunset in Bali in the midst of a crowd is even better than alone. Everyone's excited and you can just feel this amazing energy.
Bali has so many incredible places to see the sunset that it's hard to tell you the best. Here are the top 5 sunset spots we enjoyed:
Canggu Beach – A medium crowd, low key and perfect beach vibe
Tanah Lot Temple – the crowd is less exciting but this may be the most beautiful.
Uluwatu Temple – very crowded but not uncomfortable, fun energy and monkeys running around
Potato Head Beach Club Seminyak – crowded, clubby, fun and surprisingly clean
Crystal Beach Nusa Penida – super low key and absolutely perfect
---
Bali for First Timers Tips
To recap and make sure you make the most of your trip as Bali first timers, use these tips for the best vacation ever.
When you go to Bali stay for 1-2 weeks, as long as you can swing it.
Rent a scooter when you're there so you can get around easily.
Get a guide if you are pressed for time. In Ubud, you can pay a taxi driver to drive you around all day for a very reasonable rate.
Don't skip Nusa Penida or Canggu.
Experience every sunrise and sunset that you can!
We hope this advice will allow you to skip the mistakes we made on our trip. Bali is one of the best trips we ever took. This is one place you really want to slow down your trip and truly experience the magic of Bali. For more information, check out these other Bali posts.
---
Our Favorite Travel Items

---
Additional Bali Posts to Help You Plan Your Itinerary:
Save This Bali for First Timers Post to Read Later? Pin it!
Looking for an Amazing Beach Vacation? Our Favorite Destinations: