Planning a trip to Bali and looking to avoid those big mistakes first timers make? This Bali travel guide for first timers is full of information we wish we knew ahead of time.
You can use this post as a Bali tourist guide and feel confident that you won't have any regrets. Bali is an island filled with wondrous things that could keep you busy for weeks.
We made so many mistakes planning our first Bali trip so we're sharing all the things we wish we did differently.
Let's make sure your Bali vacation is the best trip ever!
This site uses affiliate links, meaning if you make a purchase through our links, we may earn a commission. You can read our full disclosure policy here.
Planning your trip to Bali last minute? Here are the tours and hotels we recommend. You can also get more detailed information on our 7-10 Day Bali Itinerary, the 50 Prettiest Places in Bali, and 10 things you're forgetting pack for Bali.
TOP EXPERIENCES & TOURS IN BALI
BEST HOTELS IN BALI
PRACTICAL INFORMATION FOR BALI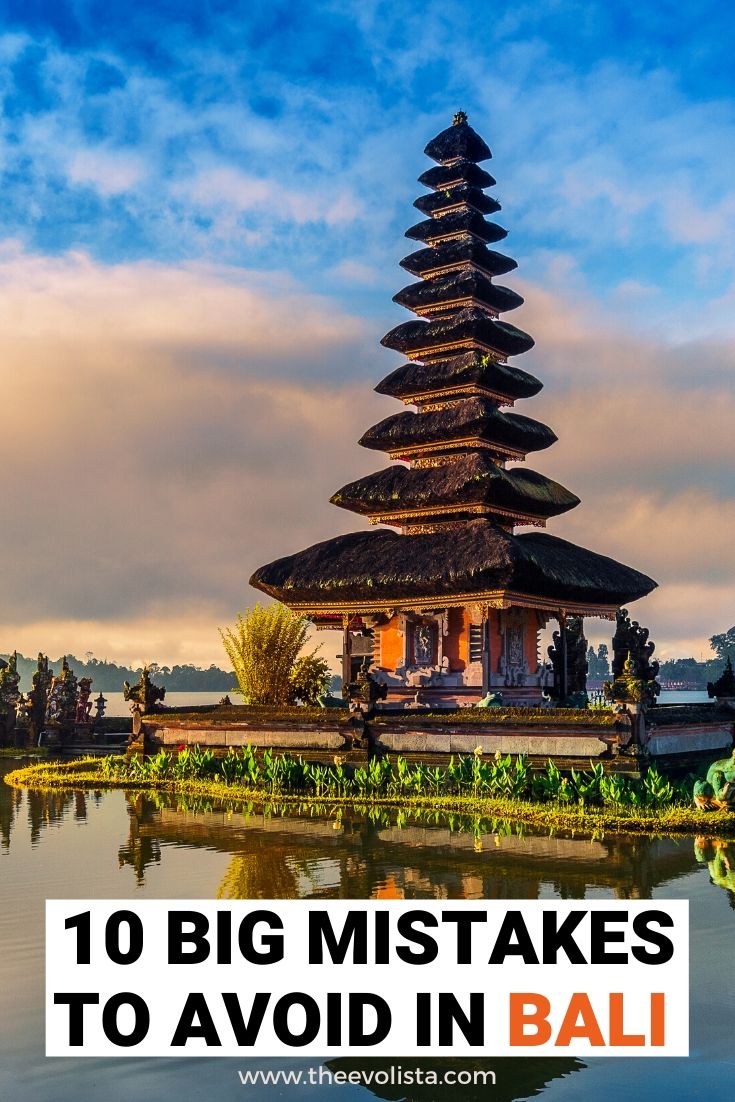 Bali Travel Guide for First Timers – 10 Important Bali Travel Tips
Below you will find travel tips for Bali with all the questions you are probably asking. Each one also has a mistake that Bali first timers make so you should be able to use the information to have an amazing trip.
Is Bali Worth Visiting?
I think this is a popular question because Bali is a far trip for anyone from North America or Europe. So first of all, the answer is yes! Bali is 100% worth whatever you have to go through to get there.
From Los Angeles, it took us 15 hours to get to Hong Kong and another 5 to get to Bali with a layover in between.
And I would hop on a flight tomorrow in the middle of coach if I could go back again. OK, maybe not the middle of coach but an aisle seat!
The number one mistake first timers make regarding Bali is not actually making the trip because they think Bali might not be worth the hassle of getting there.
So what does Bali actually offer? Bali has beautiful beaches and incredible natural topography since it's a volcanic island.
You'll also meet he most lovely people, visit interesting cultural places like temples and ceremonies, and find lots of places to do yoga and more. You've seen Eat, Pray, Love, right!
Fun fact about Bali is that it's not uncommon to hear that someone went on a trip and decided to move there. Sign me up!
You just have to suck it up for the plane flight and then watch out for the next mistake of making your trip too short.
How Many Days in Bali for Bali First Timers?
I have only said this about visiting Bali and Madeira – we didn't plan enough days for our Bali trip.
There is so much to do in Bali that it is impossible to do it all in a week. If you live close to Bali and can go multiple times, a week is fine.
If you are like us, flying half way around the world, try to plan for 2 weeks in Bali or at the very least 10 days.
There are multiple places to visit – Ubud, Uluwatu, Canggu, North Bali, East Bali, and Nusa Penida to name a few.
Each one of those areas has days worth of interesting things to do, not to mention just taking the time to relax in Bali.
You won't regret the extra time. If you have more time than 2 weeks, check out the Gili Islands, Raja Ampat, Java or one of the other amazing places in Indonesia.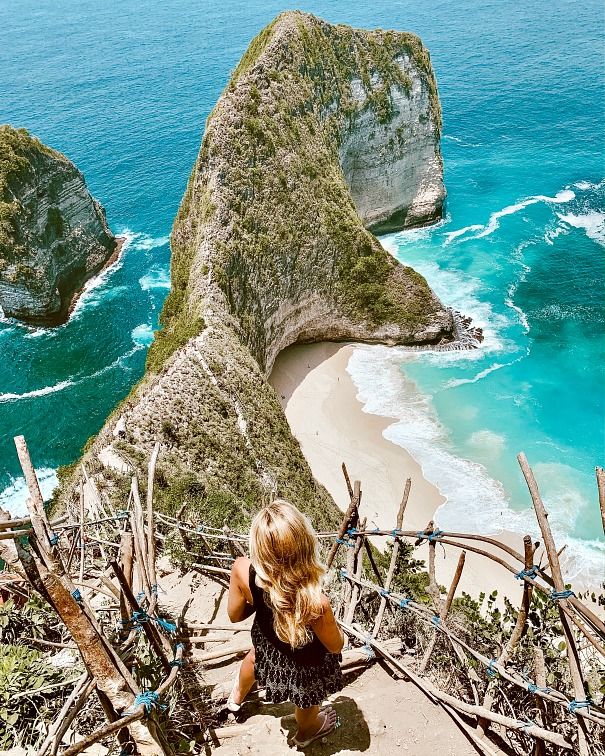 When Bali Trip Planning, Don't Miss Nusa Penida
Make sure you go to Nusa Penida!! We did 1 day / 1 night and loved it also much that we were sorry we didn't have time for another day/night.
Lots of people skip Nusa Penida or do a day trip (better than nothing but definitely not enough).
It's one of the most Instagrammable Bali Spots and there are at least 2 days worth of things to see (3 days if you like diving).
There are also 2 neighboring islands Nusa Cenigan and Nusa Lembogen that you can visit if you have extra time.
One of the most popular tours in Bali is the day trip to Nusa Penida to Swim with Manta Rays. If Manta Rays aren't your thing, you can just do a Nusa Penida Full-Day Tour by Fast Boat to see the highlights.
READ NEXT: BALI ITINERARY FOR 7 DAYS
Weather in Bali
The "wet season" is from October to April and the dry season is May to September. If you look at any guide, they will tell you to do during the dry season and skip the wet season at all costs.
Guess what? Our trip was the last week of October and we had 2 hours of rain in 9 days. As you can see in the photo above, the weather was beautiful.
I read multiple websites ahead of time that literally said don't go to Bali in October. We're so glad we didn't listen!
One of the benefits to traveling to Bali off season is that it's much less crowded and prices are lower. My advice would be to skip December-March if you would be really disappointed having a rainy trip.
That said, I've heard of people having amazing weather in December and seen numerous beautiful sunny sky photos from December through March.
Rainy days per month including full days of rain and days that have an hour of rain, then sun.
October – 12 days
November – 16 days
December – 22 days
January – 27 days
February – 22 days
March – 20 days
April – 9 days
Where to Stay in Bali
This is a huge question because there are so many good places to stay. As I mentioned above, Bali is a big island and it's so worth visiting multiple places.
If you want to see every place we stayed, look at our Bali Itinerary and we also listed them in the box below.
The one place we stayed that we felt was a mistake was Seminyak.
We read that Kuta was a party area that was really crowded and that Seminyak was the hip, cool shopping area but we definitely don't agree about Seminyak.
Seminyak and Kuta beach are the main tourist areas. Consequently, there is a ton of traffic, a zillion shops on repeat every few blocks, and oodles of people.
There is nothing charming about it and if you don't like crowds, don't stay here.
There are some cool beach clubs toward the northern end of Seminyak and truthfully some very nice hotels. We stayed at the Hotel Indigo in Seminyak, which was beautiful.
If you want nightlife, Seminyak is good for that.
So here's the thing, you can stay in the neighboring town of Canggu and still visit Seminyak easily. We put together a list of the best hotels in Canggu and they are awesome!
Canggu is amazing with a totally chill, beachy, healthy, yoga/surfer vibe. The restaurants are relaxed but super hip and cool.
There are rice fields everywhere that add to the bucolic Bali "out in the country" feel. If I was planning to live on Bali, I would choose Canggu.
Here are the places that we stayed:
We also have a full posts on the Best Hotels in Uluwatu Bali and the Best Luxury Resorts in Ubud.
Is Bali Expensive?
One of the best things about Bali is that it's so affordable. You can spend a lot of money if you want to but you can also get great deals without sacrificing quality.
Bali First Timers Should Know That There are Great Hotels at Every Price Range
We love staying in great hotels. Bali is one of those places that has insanely amazing resorts that can be quite expensive.
There are also tons of really cute places that are inexpensive. No matter what price point you are looking at, you can find a dreamy place to stay.
The Cost of Everything Else in Bali
Again, there are cheap and expensive options for other things in Bali like restaurants, shopping and transportation. Overall though, you will find Bali to be very affordable.
On one hand this is a great time to spend money on things you might not splurge on normally like a full day tour, meals at amazing restaurants or an ocean view hotel, because they're such a great deal.
If you are on a tight budget, you can stay in really nice cheaper accommodations, buy food and supplies at Bali supermarkets and use a scooter for transportation.
Tipping in Bali
Tips are not expected or required in Bali but they are appreciated. Sometimes they will be refused but in that case the gesture is still appreciated. If you do choose to tip, it's just a small portion like 2-5% that's appropriate.
READ NEXT: 9 HELPFUL THINGS TO KNOW ABOUT CURRENCY AND MONEY IN BALI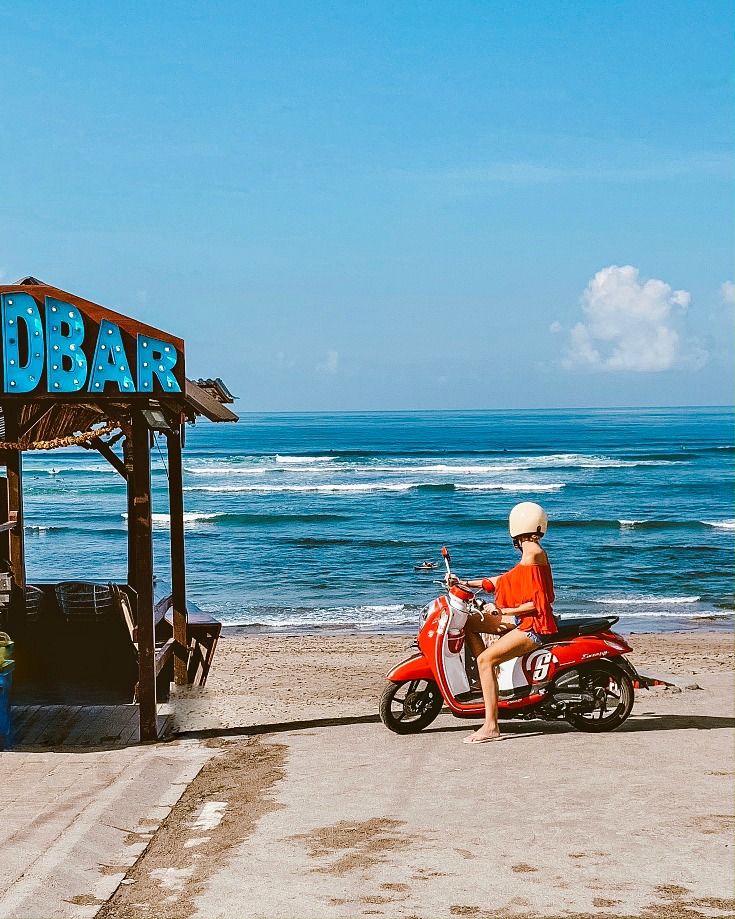 How to Get Around Bali
Scooters Are The Most Convenient Form of Transportation
At first, seeing all the scooters buzzing around was kind of scary. I got on the back of one my husband rented and had visions of spending our Bali trip in the hospital.
But, we settled into Bali scooter life quickly and it is by far the best way to get around.
Bali first timers should seriously consider scooters for transportation.
The pros are you won't get stuck in tons of car traffic since the scooters all move to the front at a light. They are very inexpensive around $5-10 USD per day. And there's lots of scooter parking.
The cons are that you could have an accident. Start out driving in easy places. If you really don't feel comfortable after a day, us a different form of transportation in Bali.
Regardless, make sure you get travel insurance for Bali. With water activities, scooter driving and whatever else, it's also good to be protected. We use Safety Wing.
There are ride apps in Bali called Grab and Gojek
You can download them both from the App Store. They pretty much work like Uber but there are some areas where they are prohibited because the taxi drivers don't want them there.
Taxis are more expensive but if you are in an area that doesn't allow them, you can just get a private taxi.
---
Using a Guide Sometimes Will Save You a Ton of Getting Lost Time
We are very independent travelers that feel really confident figuring things out even in countries where we don't speak the language.
One of our biggest mistakes on this trip was not hiring a guide in Nusa Penida that approached us right as we got off the ferry. Instead, we rented a scooter and did Nusa Penida ourselves.
The road was horrific. Thankfully we never crashed but we got lost over and over again and were constantly surrounded by people who were lost too.
The guide had a van and knew exactly where to go which would have allowed us to see and do so much more.
In Ubud, we spent the day with a local photographer. We covered so much ground seeing the best places at the best time of day.
Because of his friendships with other locals, we were able to get into places that other people couldn't go.
You should definitely consider using a guide and taking tours in Bali.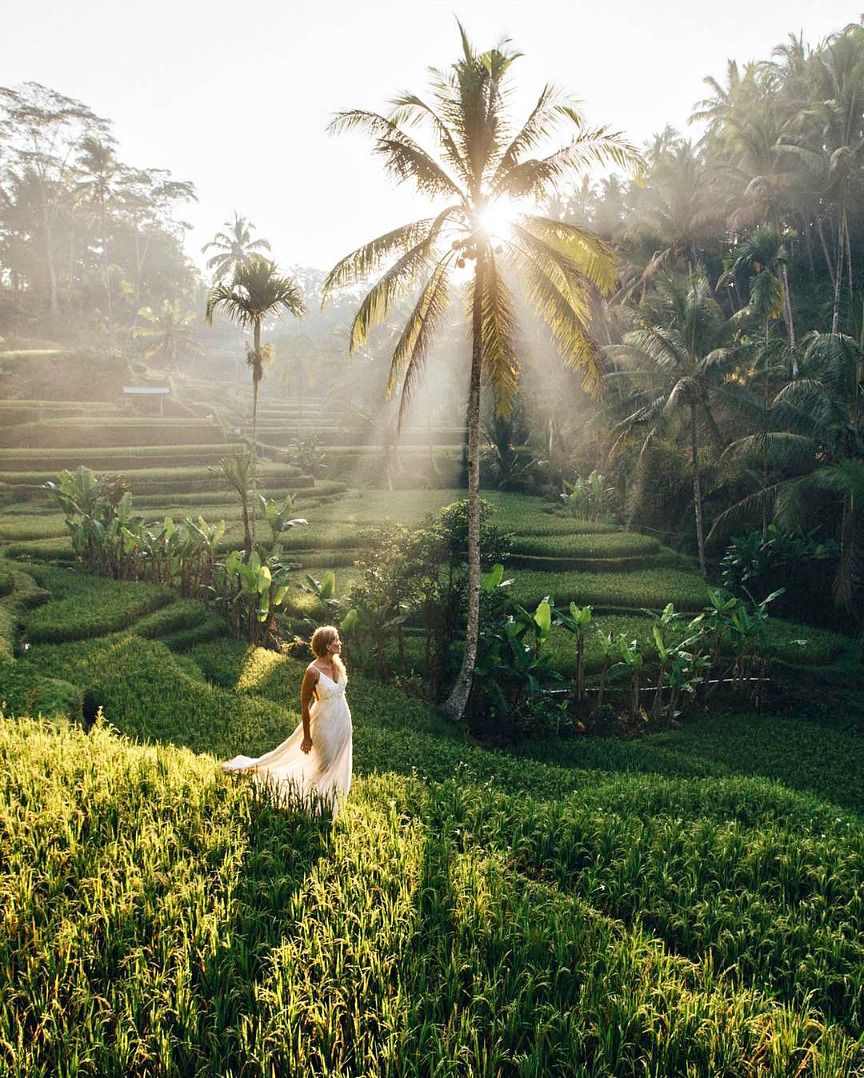 Bali Travel Tips for Sunrise & Sunset
A lot of people aren't willing to get up for sunrise but if the time change is on your side, take advantage of getting out to see it.
Honestly even if the time change is working against you, sunrise is spectacular in these places below.
I have included a few tours because I always feel safer having someone else do the driving in the dark when I'm in a foreign place. You'll definitely want a tour for Mount Batur.
Not to take the place of seeing a gorgeous sunrise but you have to see sunset with other people.
I can't believe I'm saying it but seeing the sunset in Bali in the midst of a crowd is even better than alone.
Everyone's excited and you can just feel this amazing energy. Bali has so many incredible places to see the sunset that it's hard to tell you the best.
Here are the top 5 sunset spots we enjoyed:
Canggu Beach – A medium crowd, low key and perfect beach vibe
Tanah Lot Temple – the crowd is less exciting but this may be the most beautiful.
Uluwatu Temple – very crowded but not uncomfortable, fun energy and monkeys running around
Potato Head Beach Club Seminyak – crowded, clubby, fun and surprisingly clean
Crystal Beach Nusa Penida – super low key and absolutely perfect
---
What to Pack for Bali or More Importantly What NOT to Pack for Bali
We have a whole blog post on What to Pack for Bali that you should look at so you don't forget anything important. But here are a few really important things to know.
ELECTRONICS
You will need an International travel adapter if you are coming from the USA, Canada, Australia and anywhere that doesn't use a Type C socket. A step down voltage converter will also be necessary if your home country is not on a 230 V system.
VIRTUAL PRIVATE NETWORK (VPN)
Indonesia has strict censorship of the internet. We love NordVPN because it allow you to access websites that are blocked in Bali. It also protects your private data over unsecured networks in hotels and airports.
You obviously don't go to Bali to watch TV but at night we like to go to sleep hearing the TV (in English 😂).
We travel with this Amazon Fire Stick that has all of our TV apps logged in. We plug it in, turn on NordVPN and it allows us to see US television instantly.
SARONG
You need to cover your shoulders and knees for Bali Temples and walking around local areas.
If you don't have a sarong to wear into a temple, you'll have to rent one or buy one on your trip. The rules apply to both men and women.
INSECT REPELLANT, SUNSCREEN & MEDICATION
Don't forget insect repellant and reef safe sunscreen. Make sure
It never happened to us and it's unlikely to happen to you but it's a good idea to be prepared for Bali Belly.
Don't spend any of time worrying about it other than having medication on hand just in case. You can eat fresh foods and ice with no fear.
LIGHT CLOTHING
Pack breathable, lightweight fabrics. Bali can get hot. Leave your jeans at home.
The one exception is that you'll need a jacket for things like the Mount Batur sunrise hike. It gets much cooler at higher elevations or the interior of the island.
Watch Out For the Monkeys (and Other Wildlife)
As cute and funny as these guys are, they are sometimes mean. I should not be doing what I'm doing in this photo and looking at the monkey directly.
At the Monkey Forest, the monkeys know the tourists have things they want so they tolerate humans but they are also pretty crafty and will get into your bag.
They will also grab your sunglasses or whatever they can get their hands on.
It's best to travel with an anti-theft travel bag or anti theft backpack that will keep the monkeys and pickpockets out of your bag.
The monkeys at our hotel were scary. We didn't approach them on our own.
The hotel staff were attempting to get them to interact with us but the monkeys were aggressive. You should consider any wild animals off limits in Bali, even dogs.
---
Bali Tips for First Timers Recap
To recap and make sure you make the most of your trip as Bali first timers, use these tips for the best vacation ever.
When you go to Bali stay for 1-2 weeks, as long as you can swing it.
Rent a scooter (if you feel comfortable) so you can get around easily.
Get a guide if you are pressed for time. In Ubud, you can pay a taxi driver to drive you around all day for a very reasonable rate.
Don't skip Nusa Penida or Canggu.
Experience every sunrise and sunset that you can!
We hope these Bali travel tips will help you avoid some of the biggest mistakes we made on our first trip to Bali. From choosing the best places to stay in Bali to how to get around Bali, this should help answer some of your questions.
For more information, we have links to our other Bali posts below. Feel free to ask any questions in the comments.
---
Additional Bali Posts to Help You Plan Your Itinerary:
Save This Bali Travel Guide for First Timers to Read Later? Pin it!
Looking for an Amazing Beach Vacation? Our Favorite Destinations: