Looking for the best anti theft backpacks for travel to keep your things secure?
Here you'll find anti-theft backpacks that have multiple points of protection so you can avoid being a victim of backpack theft or a slash and grab incident and loose your most valuable items.
All of the backpacks below have more anti theft features built in than a normal backpack.
They give you a sense of security so when you're traveling you don't have to worry about your valuables being taken.
This post contains affiliate links. If you book or buy something through one of these links, we may earn a commission at no extra cost to you. You can read our full disclosure here.
What Are the Best Anti-Theft Backpacks for Travel?
These are our top picks for anti theft backpacks that are great for travel. You'll find a detailed review for each one below.
There are anti-theft backpacks for women and men but many are unisex. They are great for sightseeing, day trips, carry ons or flash packing travel.
If you're looking for smaller options, like purses and more daypacks, look at our Best Anti-Theft Travel Bags for Women.
Women's Anti Theft Backpacks
Unisex Anti Theft Backpacks
What is an Anti Theft Backpack?
Anti theft travel bags are purses, backpacks, crossbody bags, and sling bags that have multiple points of protection so you can avoid being a victim of bag theft.
All of the bags below offer more protection than a normal purse. These anti theft purses are so useful, you might start using them at home too!
Safety Features of an Anti Theft Travel Backpack
Here's the skinny on all the safety features included in anti-theft backpacks from locking zippers and RFID credit card slots to hidden pockets and slash proof shoulder straps.
LOCKING ZIPPERS
On many anti-theft backpacks, there is a locking feature on the zipper to keep thieves out. It goes without saying that skilled pickpockets can get in and out of zippered bags without you even knowing something has happened.
The functionality of a locking zipper allows you to protect your bag effortlessly using the built-in system. And it's very effective. It even works at the Bali Monkey Forest where those crafty monkeys unzip tourist bags and take things!
SLASH PROOF SHOULDER STRAPS & BODY
One of the unfortunate trends in crowded areas is for a thief to just grab your backpack by cutting the straps. Or they use a knife to cut into the fabric of your bag to remove the contents.
To protect you, anti-theft travel backpacks have wire inside the strap and steel wire mesh in the sides and body of the bag.No one will be able to cut your bag to get it away from you or get inside it.
LOCKING STRAPS
Locking straps are one of the best features of a theft proof bag.
When you've been sightseeing all day and taking a rest at a local cafe, your guard may be down and someone can just grab your bag without you knowing.
Or you are in a crowded train station or airport, trying to figure out if your flight is boarding or trying to keep your kids from running off.
Many theft proof backpacks have straps that allow your bag to be attached and locked to an object. Think of it like a bike lock for your backpack. With a locking strap, you can secure your bag to a chair or counter.
A friend of ours had her bag stolen last year right off of a table. She was in Europe for less than 24 hours and lost her passport, credit cards, all forms of ID, and money.
She spent the whole next day at the embassy getting a new passport. A locking strap would have protected her.
HIDDEN POCKETS
We love bags with lots of organizational pockets but they aren't the best place to store anything valuable. Hidden pockets are a great security feature that can protect your valuables.
Most theft safe backpacks will have hidden pockets on a strap, under a flap, or designed into the backpack where a thief can't see or get into it.
It's the perfect spot for your passport, money, jewelry or anything you really need to keep safe.
RFID BLOCKING CREDIT CARD SLOTS AND POCKETS
All your credit cards, debit cards, passports and other forms of ID with that little chip on them have the capability to send your data to a card reader through radio frequency (or RFID).
While it is very convenient when using your credit card for payment, it can also be accessed by a thief with a scanning device or reader that is standing close to you, in places like the airport or a subway.
To protect your data, you should keep your credit cards and ID in something with RFID blocking protection.
Most anti-theft backpacks have built in RFID blocking card slots and pockets.
---
Best Women's Anti Theft Backpacks for Travel
The Baggallini Securtex® Anti-theft Vacation Backpack is versatile and lightweight. It's been carefully designed to store your travel items in a secure and organized way.
The front has 2 locking zipper pouches and on the back facing side it has a built in wallet section with RFID protected credit card slots. Water bottle pockets are located on each side that hold skinnier bottles.
The main compartment can fit a small tablet and a few small travel essentials. You can squeeze in a 13″ laptop if you need to but you probably want a bigger bag if you intend to carry your laptop in it regularly.
Just keep in mind that this bag is really meant to be more of an organized travel purse/backpack. The straps are unpadded and skinny so too much weight will make the cut proof straps uncomfortable to wear.
The backpack is made with water and slash resistant materials so you can feel safe using it.
Why we like this backpack: It's a stylish backpack that is perfect if you want a smaller bag that can be used on your vacation as a purse or daypack.
Size: 13 x 10 x 3.5 inches
Available in 8 colors/patterns.
---
The Travelon Anti Theft Classic Backpack is the perfect size backpack for your personal item on the plane or day trips or when you need to hold more in your bag.
The main body of the bag has a pocket for a tablet or iPad and slot for smaller items. You can also fit a packable jacket, makeup bag and DSLR camera.
There is a front locking zippered compartment with RFID slots for easy access travel items like your passport, phone and credit cards.
The side pouch holds a water bottle or an umbrella and is secure so that nothing falls out.
The straps are adjustable to fit different sizes bodies comfortably so you can share with a spouse or wear it on your front in crowded areas.
You can also lock the bag to a chair with peace of mind since the interior wire makes them slash proof. The backpack's main body is also made of slash resistant materials.
Why we like this backpack: It's lightweight and very secure. It can hold more than your basic travel essentials that make it ideal for day trips.
Size: 12 x 16 x 6 inches
Available in 6 colors/patterns.
---
The Travelon Anti-theft Signature Slim Backpack is perfect for women that prefer a backpack to a purse when traveling. It looks great with any outfit, is loaded with safety features and has a nice minimalist design.
While this bag has a slim profile, it has a surprising amount of functional organization for a small bag. The main compartment can hold an iPad or small laptop.
For other smaller items like sunglass or cords, there are 2 zippered interior pockets. On the front of the backpack is a small compartment with a locking zipper.
From an anti-theft prospective, there are RFID protected organizational slots for credit cards and your passport. The locking zippers are easy to use and effective.
This lightweight bag is made with a water resistant fabric that has a slash proof body and cut resistant shoulder straps with a lockdown feature so they can be secured to a chair.
Two things to note on this bag. The first is that these cute slip straps are unpadded, which can be uncomfortable for some people. Some have complained about the top flap not staying shut, however the compartment below is still zippered.
Why we like this backpack: It's a cute slim profile backpack with quite a bit of storage, easy locking zippers, good safety features and it's one of the most affordable anti-theft backpacks for women.
Size: 11 x 13 x 2 inches
Available in 3 colors – black, sable and smoke.
---
The PacSafe Women's Citysafe CX 17L Anti Theft Backpack is Pacsafe's most popular small backpack and for a good reason.
It's stylish, loaded with anti-theft safety features and eco-friendly, made of recycled material inside and out that is very sturdy and slash proof.
The front compartment has 2 slots for easy accessible items and is secured with a puncture proof, locking zipper. It's good for things you need to get to easily that don't need RFID protection.
The 17 liter main compartment has interlocking zippers that protect the 16″ padded computer slot and a zippered RFID pocket instead of card slots. This is nice for someone who prefers to keep their cards in the wallet.
The pocket is also big enough to hold your passport, ear buds, and computer cords.
The straps are padded and adjustable with a lock down feature to secure it to a chair. Additionally, there are clip together carry handles at the top which make it easy to carry like a bag.
It has 2 nice sizable side pouches for a larger water bottle or umbrella that will hold things securely in place. The back has a luggage pass through strap to attach to your carry-on suitcase handle.
Why we like this backpack: For a bag that holds a larger computer and quite a bit inside, it's still nicely compact. The top carry handles are also helpful.
Size: 15.4 x 10.6 x 6.3 inches
Available in 4 colors – black, blush tan, merlot and nightfall.
---
Best Anti Theft Backpacks for Travel for Men or Women
The Pacsafe Vibe 20 Liter Anti Theft Travel Daypack is one of the most secure and comfortable anti-theft backs you can get your hands on and is perfect for on the fly travel.
The main and front compartments have interlocking zippers for the best protection against thieves.
The backpack is made with eXomesh® slashguard panels placed in lower front, side and bottom provide security against knives and sharp objects.
The main compartment has a padded laptop sleeve can fit up to a 13 inch laptop. It also has room other essential travel gear.
The front has an easy access zippered pouch to keep your phone, passport and wallet organized which also has RFID blocking to keep your credit cards safe.
The adjustable straps are padded for comfort and detachable for securing to stationary objects. It also has a chest strap for additional comfort.
It has 2 side pockets that can hold a water bottle, umbrella or anything that requires easy access.
Why we like this backpack: It's comfortable to wear and the safest travel backpack
Size: 18.1 x 10.6 x 7.1 inches
Available in 5 colors.
---
If you like a bag where everything has its place, the NOMATIC Travel Pack 20-30L Anti-Theft Backpack is one of the most functional travel backpacks available.
It's expandable so for lighter travel the backpack can be used in the slim 20L design and when you need to pack more it can expand to 30L by opening a zipper.
The organizational front of the backpack contains an RFID pocket and multiple mesh divider pockets for cords and to keep things easy to find.
On the back side is the TSA friendly, padded laptop compartment. It sits at your back to keep your electronics safe and can also hold a tablet too.
The middle of the bag has the main storage for clothing with pockets around the outside edges to hold things securely.
An easy access top lined pocket is great for sunglasses or a cell phone and has a pass through cord to charge your phone. There's also a hidden pocket on the back side for valuables.
It has 2 magnetic water bottle pouches on the exterior that can hold a large bottle and collapses when not in use.
The backpack has a suitcase handle slot to ride on your luggage and the back is padded to add to the comfort. If you don't want to travel with it on your back, it has handles to carry it like a duffle bag.
The structure of the bag helps it stand up on its own. It's also waterproof with long lasting, high quality YKK zippers.
While this bag has anti theft features like hidden pockets and RFID, it does not have locking zippers.
Why we like this backpack: Expandable bag can be 20-30 liters with 22 organizational pockets. It has a sleek look.
Size: 18.5 x 12 x 6-9.5 inches (the bag is expandable from 6″ to 9.5″)
Available in black.
---
The Travelon Anti-theft Packable Backpack is by far one of the handiest anti theft backpacks that can be folded and packed into it's own case for storage in a suitcase during your travel.
Loaded with anti theft security features, it has a main lockable compartment with a RFID inside pocket, slash resistant mesh body panels and slash resistant shoulder straps.
It also has a locking front compartment which is great for frequently needed accessible items.
The locking zippers help prevent pickpockets from getting into your backpack and taking your things.
The backpack has 2 mesh expandable side pockets for a water bottle or a nice size bag of trail mix.
The mesh shoulder straps are adjustable so you can get the perfect fit.
It's lightweight and ideal to use a daypack. When traveling, it doesn't take much room in your suit case when its folded into its own zip bag.
Why we like this backpack: It's a lightweight backpack that folds up into its own bag so it can be packed for a trip.
Size: 10.5 x 6 x 17 inches
Available in black and charcoal.
---
The Nomatic Navigator Anti-Theft Travel Backpack 32L is designed size wise to have a carry-on suitcase fit on your back comfortably.
It's expandable so it can be used for short day trips at 32L or easily expanded to 41L for longer multi day trips.
The beauty of this backpack is that it can fit a 16″ laptop, all personal items and 4-5 days of clothing.
With its 20 pocket configuration, there's a spot for all travel items to stay organized and separate of the main packing compartment.
For security, it has a RFID pocket, hidden pockets and tamper resistant zippers.
The backpack has a waste strap to distribute heavy loads when traveling with a full backpack weighing you down.
It also has a handle to carry like a suitcase instead of carrying it on your back.
On the exterior, it has 2 zippered side pockets for water.
Why we like this backpack:
Size: 14 x 9 x 22 inches
Available in black.
---
The Travelon Anti-Theft Classic Large Backpack is a streamlined looking back pack designed with anti theft features to give you peace of mind.
It has locking zippers, cut proof straps that can lock down and secured compartments. It's made with slash resistant materials and the fabric is waterproof.
The back of the bag will hold a 15″ laptop in a TSA friendly, fleece lined pocket that's easy for you to access but difficult for a pickpocket.
The main compartment is spacious enough to pack clothes and small travel items. The side has an expandable water bottle pocket.
The front compartment has a slot for a tablet and RFID blocking pockets for your passport and credit cards. There's also a place for pens.
The top of the bag has a grab handle and the back has a luggage strap for easier travel mobility.
Why we like this backpack: This sleek bag has all the safety features and good organization without overdoing it..
Size: 18.5 x 12 x 7 inches
Available in black.
---
Other Anti Theft Travel Items for Extra Protection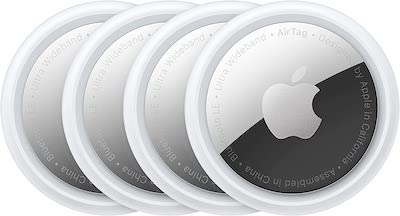 We highly recommend attaching an Apple Air Tag to the key fob or putting it in a hidden pocket in your anti-theft backpack. The set up is easy and it connects to your iPhone, iPad or computer.
You'll be able to track your checked bag, a purse that gets stolen or even your pet. One of our AirTags has helped us find our cute old, and now deaf, escape artist dog multiple times.
Our friend tracked her bag and informed the airline that they were delivering her bag to the wrong hotel. If you misplace your keys or backpack, being able to instantly find them can save you precious time on your vacation.
Attach it to a variety of items with an Air Tag key ring. Or use this snazzy Air Tag card holder to fit it in a card slot in your wallet or backpack.
Honestly, we can't recommend Air Tags enough and practically sound like Air Tag sales people but it is a game changer for travel.
Plus, the splash, water and dust resistant design means it's as useful on the beach as it is on a city vacation.
Air Tags are inexpensive and they have the potential to save you so much headache and money from losing things. Get an AirTag 4 pack to protect multiple things or split them with your friends or family.
---
It's always a good idea to use multiple safety measures just in case and sure way to keep your money, credit cards and passport from getting stolen is to use a travel neck wallet separate from your purse.
The great thing about this type of wallet that makes it super safe is you can wear it underneath your clothing. It's an anti theft classic.
For comfort, it has a soft neck strap, it's slim and lightweight making it perfect for both women and men.
It has zippered pouches that provide easy access to cash, credit cards and your passport. It also protects you against digital thieves with RFID blocking technology.
---
Final Thoughts About the Best Anti Theft Travel backpacks
Anti theft backpacks can be both stylish and functional, making them a great choice for anyone looking to stay safe while traveling.
And since these backpacks come in different styles and sizes, you can find the perfect one.
Take a little extra precaution and buy an anti theft backpack to make sure all of your belongings are safe on your next trip.
best anti theft travel backpacks
Save Anti Theft Backpack for Later? Pin it!