This is the most complete guide of Instagram spots in existence that covers the whole island of Bali. Whether you are headed to Ubud, Canggu, Seminyak, Uluwatu, North Bali, or Nusa Penida, we've got you covered. Bali is one of the most beautiful, unique and instagrammable bucket list places we have ever been. This list will make sure you don't miss a thing!
Bali is one of the most amazing places to visit. Please be respectful to the environment, the locals, other tourists and animals. You should never leave anything behind, create any damage or participate in the abuse of animals.
Planning a trip to Bali? Here are a few other posts you will find helpful.
First, our 7-10 Day Bali Itinerary covers the best places to visit in Bali. We also shared the mistakes we made on our first trip to Bali that we wish we knew ahead of time. Lastly, here are 10 things you may be forgetting to pack for Bali.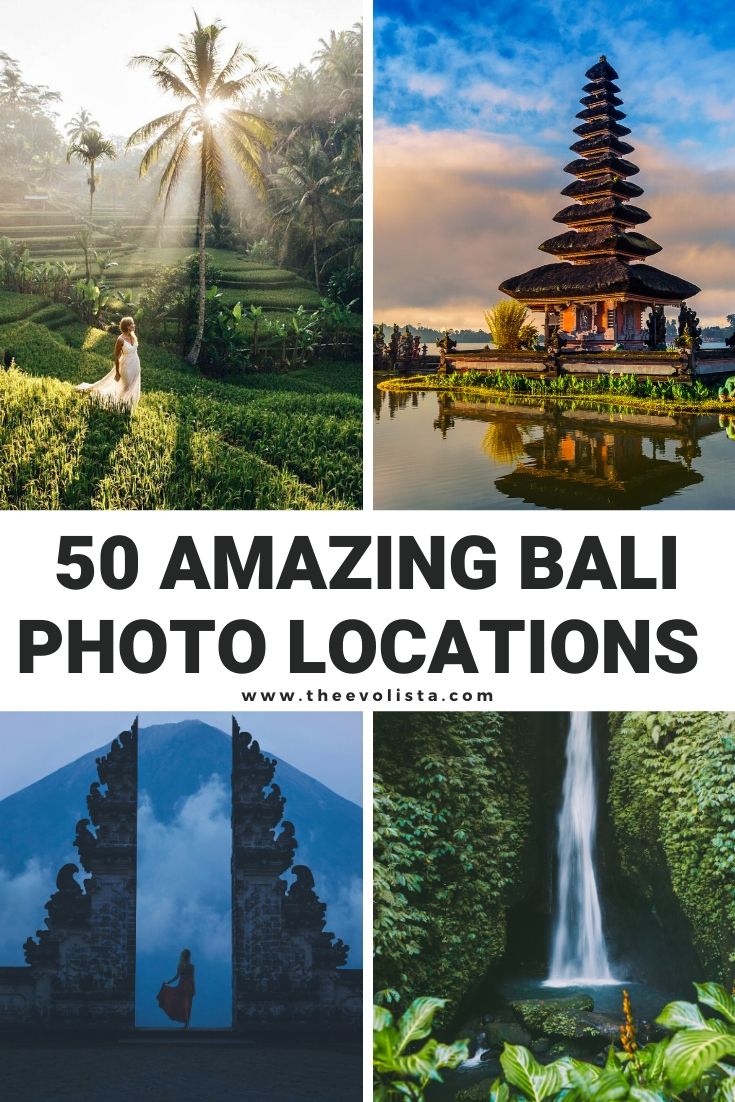 Tegalalang Rice Terraces
The Tegalalang Rice Terraces are the prettiest rice paddies in Bali and have to be in the top around the world. For all of the photos you have have seen, in person, these rice fields are breathtaking at first sight. Show up for sunrise so you can get the light streaming through the palm trees.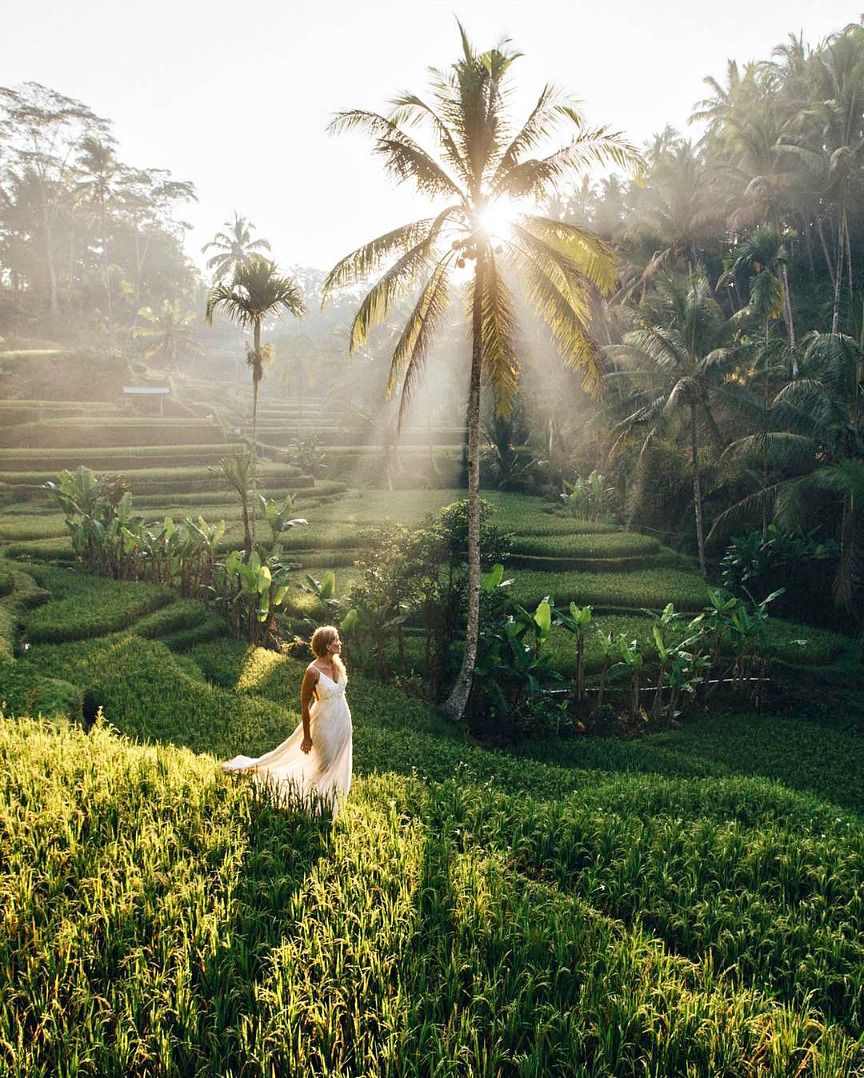 Bali Nests and Swing Instagram Spots
You can find nests and swings all over Bali. Here are the top 3 in Ubud:
Zen Hideaway Swing – Cost: Included in room price. You have to be staying in this AirBnb to use the swing but the accommodation itself is one of the best Bali Instagram spots in it's own right.
The Bali Swing – Cost: 35 USD for entrance to a bunch of photo ops including buffet lunch and beverages. There are 9 nests, 15 swings, 3 tandem swings and unlimited swing time. It also includes a free shuttle ride from downtown Ubud. You can get a pick up from your hotel for an additional fee.
Wanagiri Hidden Hill (North Bali) – Cost: 7 USD for entrance and swing and nests. Has a beautiful view overlooking a lake. It's right by the Handara Golf Gate and Ulin Danu Temple, which are both hot Insta shots. Yes I'm quite the poet 😉
RELATED: THE BEST 7 DAY BALI ITINERARY
5 Stunning Instagrammable Bali Waterfalls to Chase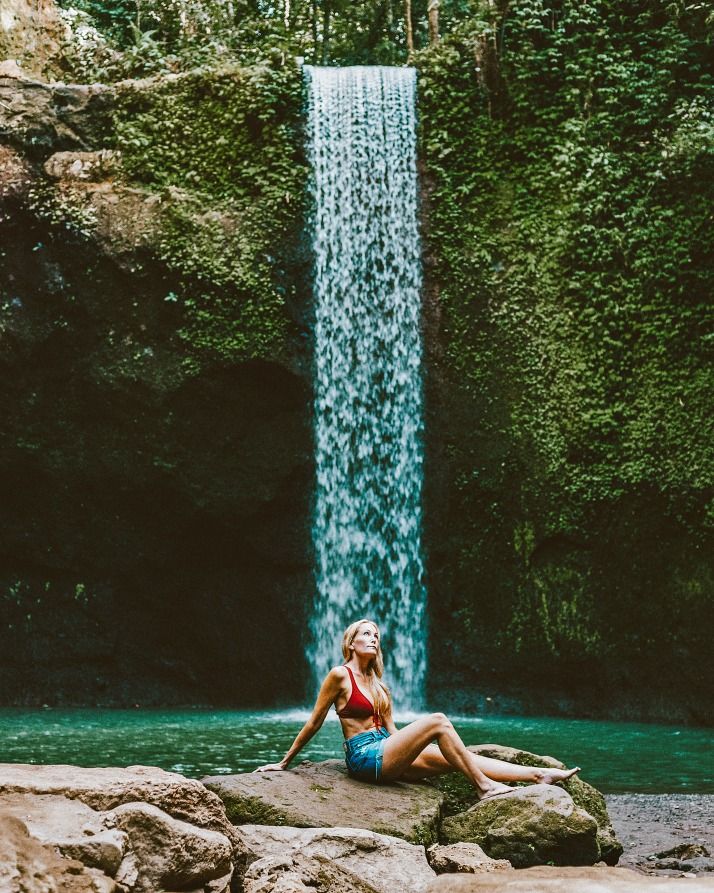 Tibumana Waterfall (Ubud Area) – An easy waterfall to get to with a pool of water that you can swim in if you are so inclined. It can get crowded so go early. Opening hours 6am – 6pm. The left photo above.
Tukad Cepung Waterfall (Ubud Area) – Such an interesting waterfall in somewhat of a cave. There are other very beautiful spots here to take photos with the light streaming through. Hours: 6am-5pm. The right photo above.
Tegenungan Waterfall (Ubud Area) – Depending on recent rains, this can be a really powerful waterfall, which has a pool at the base. You can climb around and brave souls can get right up next to the falls.
Leke Leke Waterfall (on the way to North Bali) – If you are driving from Canggu or Ubud, this waterfall is a great pit stop on the way to North Bali. It's a beautiful waterfall and there is a gorgeous wooden bridge that is a photo opportunity too. Hours: 7am-5pm
Sekumpul Waterfall (North Bali) – It's a trek to get there but worth it to see one of the prettiest waterfalls in Bali. Open 24 hours.
Aling Aling Waterfall (North Bali) – You've probably guessed that many of the best Bali waterfalls are between Ubud and North Bali. This one actually has a group of waterfalls so there's a lot to enjoy. Hours 8am-5pm.
Instagrammable Bali Spots in Downtown Ubud
Campuhan Ridge Walk – This is a beautiful walking path in the middle of the jungle but it's raised above almost everything so you can get a great view. It's a great place for Bali photography and once you go, you'll want to come back and be part of the exercise gang.
Sacred Monkey Forest Sanctuary – Our hotel, Alila Ubud had a slew of monkeys so we didn't really need to come to the Monkey Forest. The cool thing about it is seeing a monkey society in action. They are very busy. Watch your belongings. They will take your sunglasses, grab inside your backpack. They can even unzip it if they see a small opening. My suggestion is to go in the morning before they eat so they are more interested in the fact that you are visiting.
Ubud Market – Some of the best Instagram spots in Bali are shopping for souvenirs like cute straw bags in the Downtown Ubud art market.
READ NEXT: 12 BEST LUXURY RESORTS IN UBUD BALI
Uluwatu Bali Instagram Spots
Beaches – Suluban Beach (above left), Padang Padang Beach, Tegal Wangi Beach Cave
Alila Villas Uluwatu – Amazing infinity pool and private pool villas. Photo above right and you can see more Alila Villas Uluwatu photos here.
The Edge Bali Beach Club – Such a cool view point – not an infinity pool exactly but a pool with glass and a to die for view of the surf. There is a daily charge
Uluwatu Temple – One of the best Instagrammable Bali sunset spots and you can watch the Kecak Fire Dance. Just add one of these perfect sunset captions.
READ NEXT: 12 BEST HOTELS IN ULUWATU BALI
Bali Instagram Spots in Seminyak and Canggu
Tanah Lot Temple is a 25 minute scooter ride from central Canggu and well worth the trip. It's an amazing water temple and the prettiest temple we saw in Bali because it's location is so unusual. The best time to go is about an hour before sunset. Photo above left.
Beach clubs – Potato Head Beach Club (above right), The Lawn Canggu
Instagrammable Cafes & Restaurants – The Shady Shack, Matcha Cafe Bali and The Avocado Factory all have healthy, yummy food and they are such cute Instagram spots. They also have the best smoothie bowls in Bali! You may not have ever thought of getting great Mexican food in Indonesia but Motel Mexicola is delicious and one of those unique instagrammable places (think I love Lucy meets Mexico).
RELATED: 10 MISTAKES TO AVOID FOR BALI FIRST TIMERS
Nusa Penida – The Best Bali Instagram Spot of All
Nusa Penida island off the coast of Bali is the most instagrammable Bali location. It's a very remote island that's a little challenging to get around but soooo worth it. I highly recommend spending 2-3 days there.
How to Get There: Take a ferry over from Sanur. There are a bunch of companies that line the beach walk. You can check in with them to buy a ticket. The ride takes 45 minutes on the fast boat. You can also do a tour.
How to Get Around: You can rent a scooter at the ferry landing or you can hire a taxi. We got a scooter, and rode around VERY uncomfortably. The roads are horrible AND everyone gets lost, constantly. In hindsight, I would have spent the money and taken a taxi. It would have saved tons of time because they know where they are going and although the broken roads would have still been uncomfortable, they wouldn't have been jarring.
Where to Go: You need to choose between the East and West Coast or stay for more than one day.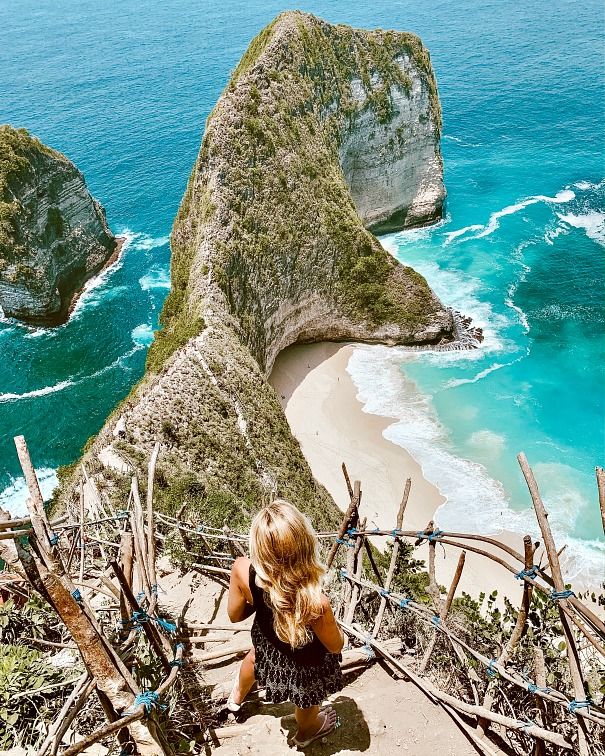 Nusa Penida Photo Locations
Kelingking Beach – The famous dinosaur head in the photo above left. The quintessential Bali instagram spot. If you want to hike down, it is one of the most precarious hikes I've ever attempted and I was wearing flip flops so I only went down a short distance. If you want to go to the bottom, go early, it gets very warm and wear solid shoes with good tread. From what people said, it was totally worth the hike.
Broken Beach – A stunning area with that gorgeous colored water. Easy to get lost on your way there but you can see this and Angel's Billabong in the same location. Photo above right.
Angel's Billabong – Gorgeous Bali spot with or without Instagram but be cautious of the tide.
Crystal Bay Beach – We enjoyed a beautiful sunset here. It's a perfect spot for Bali photography. Here are some great beach quotes for your Instagram captions. The nearby road with palm trees make a great photo too.
Atuh Beach Diamond Beach – This gorgeous Instagrammable Bali beach is on the east side of Nusa Penida. You need to choose West or East if you are only doing one day on Nusa Penida. One of our biggest disappointments was making the mistake of only staying on Nusa Penida for one day.
Nusa Ceningan – You can also take a 15 minute ferry over to this neighboring island for the Blue Lagoon, the yellow bridge to Nusa Lembongan and Le Pirate Beach Club.
Most Instagrammable Hotels in Bali
You can check all the spots out on Instagram to see some of the amazing pics. The are all very Insta worthy. Some of these are Airbnb locations.
RELATED: INSTAGRAMMABLE BALI HOTEL ALILA VILLAS ULUWATU
More Instagrammable Bali Photo Spots
Tirta Gangga Amlapura Karang Asem (East Bali) – Bali Spiritual retreat but the gate below is the star of the area.
Lempuyang Temple (East Bali) – The prettiest Bali gate because of the way it frames the Mount Agung and has a reflection. If you won't be in this area, Handara Golf gate in Mundak is a great Bali Instagram spot.
Handara Golf Course Gate (North Bali) – Bali gates are beautiful. The gate at Lempuyang Temple mentioned above is the prettiest but this is a definite contender for a great Bali shot.
Ulun Danu Temple (North Bali) – This temple surrounded by water makes the cover of guide books. Whether you want to be in the photo or not, it's a perfect Bali shot.
Pura Tirta Empul (Manukaya) a Hindu temple with holy water spring for ritual purification. A beautiful spot to meditate and get a great pic. It's a 15 minute drive from Tegalalang Rice terraces and 30 minutes from downtown Ubud.
Floating Breakfast– Many hotels in Ubud will prepare a floating breakfast that is definitely insta worthy.
Flower Bath – Many Ubud hotels offer this option too. The hotel where we were staying didn't typically do this so we created our own. We bought the flowers at a local street market. Then we made our simple design on top of the water. Tips: use the coolest water you can stand so the flowers don't wilt. Get in carefully and save some petals to add in where necessary. Make sure you clean it up and don't let the petals go down the drain.
Tips for Good Instagram Photos
Plan your photo – Look up the locations from this travel guide on Instagram to see the types of shots other people get. It may give you ideas on what looks good. What color clothing looks best? Is it a good sunrise/sunset location?
Make a full shot list with the above information taking into account the places that are close to each other on a map.
Go to the busiest places early in the morning to avoid crowds.
Take a test photo or two, look at it, make adjustments. Take another test photo, make adjustments, etc… Try facing different ways to get the best lighting and body angle. Don't worry if other people are in the photo while you are trying to figure out your shot. Once you know what you want – then get the perfect photo.
Make sure you are using an app (I use Preview) so you can plan out your Instagram grid before you actually post.
For tips on editing photos and apps you can use, read How I Edit Photos on an iPhone
The most instagrammable places are also some of the coolest spots in Bali. Whether or not you are looking for the best Bali Instagram spots, you can use this list for what to do in Bali and where to go in Bali. It can also be your Bali travel guide to the most beautiful places in Bali Indonesia. Enjoy this paradise on earth!
Additional Bali Posts to Help You Plan Your Itinerary:
---
Our Favorite Travel Items

---
Want to Save These Instagrammable Bali Spots? Pin it!
Other Blog Posts You Might Like: