When planning a trip to Bali, you are probably wondering about the currency and all things related to money in Bali. This post was created to help you find the best exchange rate, know how much cash you need to keep on hand, and where to find safe ATMs. You'll even find information about tipping and what attractions require cash. Bookmark this post about currency and money in Bali to serve as a helpful travel guide for your trip.
American, Canadian, European, and Australian tourists will be pleased to know that your dollars and euros will go a long way in Bali. Because the exchange rate is such a large amount of Indonesian rupiah to USD, the whole trip will have a funny impact making you feel like you are spending so much money in Bali when you are actually spending very little. Read on to see the things you need to know about Bali money to help you on your Bali trip.
Planning a trip to Bali? Here are a few other posts you will find helpful.
First, our 7-10 Day Bali Itinerary covers the best places to visit in Bali. We also shared the mistakes we made on our first trip to Bali that we wish we knew ahead of time. This helpful Bali packing list includes exactly what you need for your trip. Last but not least, the 50 Most Beautiful Places in Bali and where to find them will get you super excited about visiting.
9 Tips To Help You With Currency and Money in Bali
1. The Official Currency in Bali is the Indonesian Rupiah
The official currency of Bali is the colorful Indonesian Rupiah also known as IDR, which is used throughout all of Indonesia. So far this year, the rupiah is Asia's number one performer putting it at 15,381 to a dollar. With that being said, the dollar is stronger. The stronger dollar means the exchange rate is very beneficial if you are visiting from the United States. Use this helpful currency converter to convert dollars to Indonesia currency or vice versa.
Over the past 20 years or so, the rupiah has been weakening pretty notably. The rupiah hit an extreme low a couple of years ago and we are now seeing a slight strengthening of the currency during the past few months. Because of the current weakness, you will find that many purchases seem to be a lot cheaper than they would be in the US. Due to this, traveling to Bali during a time when currency is so weak will make your Bali trip very affordable.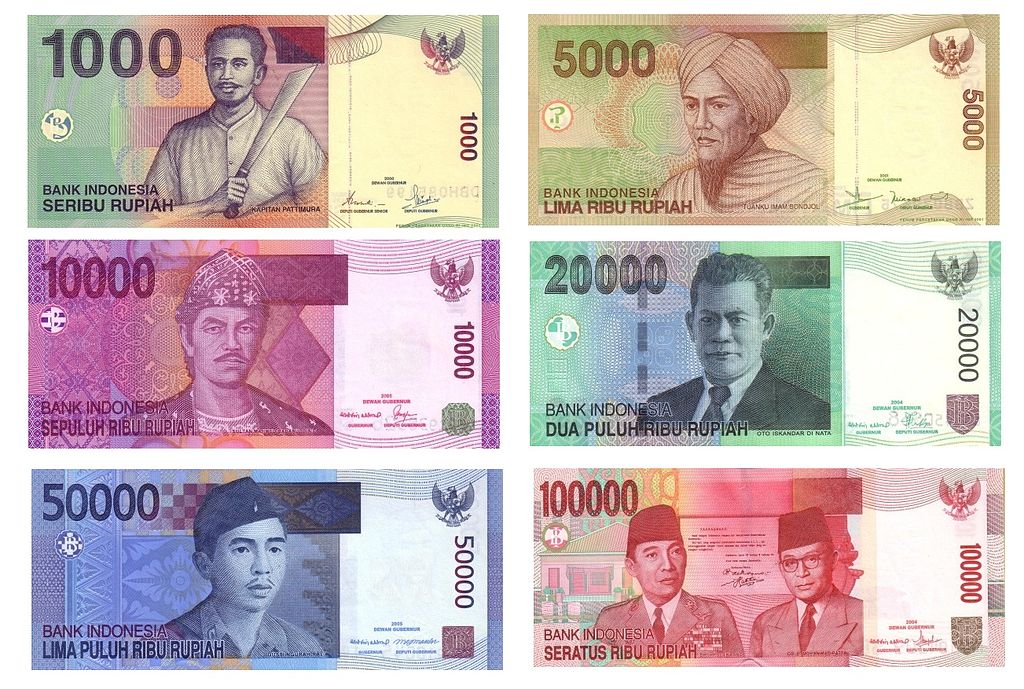 2. You Don't Need to Carry Too Much Money Around in Bali. Credit Cards and Debit Cards Are Accepted Almost Everywhere.
Credit and Debit cards are widely accepted in Bali. You can pay with a credit card at hotels, spas, restaurants and stores. In many foreign destinations, cash is absolutely necessary but in Bali you won't need to keep that much on hand. Credit or debit cards can pay for almost all accommodations. If you do decide to withdraw cash from an ATM, you definitely don't need to withdraw a large amount.
3. You Can Exchange Money in Bali Airport or Withdraw Money From the ATM
The safest place to withdraw cash is definitely at the Denpasar International Airport. Although there are ATMs all over Bali, scams and high fees can certainly occur. Airport ATMs are the most reliable, so make sure to withdraw money for Bali when you land. The ATMs in the Bali airport are owned by large Indonesian banks. Independently operated ATMs will charge you crazy fees and Southeast Asia has many of these independent ATMs.
The Bali airport also has banking facilities. You can either head to these banks that have normal hours or simply go to one of the ATMs that are available 24 hours a day. This is all located right after you exit immigration before reaching your transportation. If you turn to the left right after exiting customs, you will find the banks and ATMs.
Related Post: Bali for First Timers – 10 Mistakes to Avoid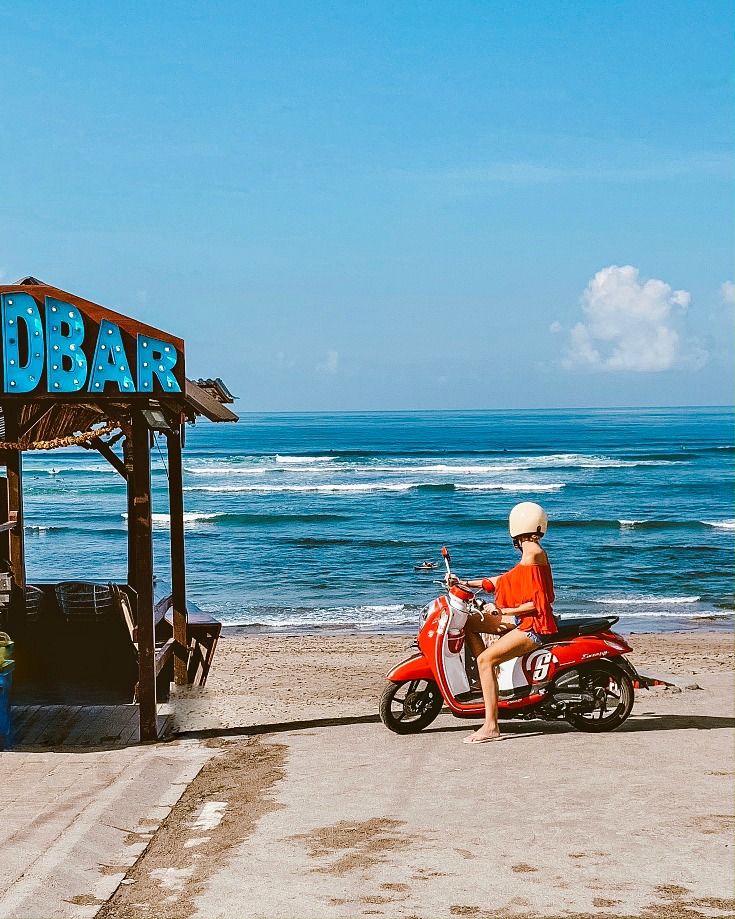 4. The Main Times You Will Need Cash in Bali is a Taxi From the Airport, Entrance Fees at Temples and Waterfalls and Parking Fees
A majority of your trip will be paid for with a credit or debit card. You will probably need cash for transportation from the airport as taxis from the airport require cash. That's why it's best to withdraw cash at the airport as soon as you land. Make sure you get some smaller bills to pay the exact cost. Taxi drivers do not typically have change.
Keep a small amount of Indonesian currency with you for smaller things like entrance fees and snacks. Waterfalls and temples in Bali have an entry fee that is paid in Indonesian currency. The cost is typically between 5,000 – 20,000 IDR (less than 2 USD). There are also concessions at some tourist attractions, where you can buy water or a snack, that only takes cash. If you are doing a tour, the entry fees may be included.
You will probably rent a scooter at some point during your trip. If you take a scooter to the beach or a temple, you may find an attendant that charges 3,000-5,000 IDR for parking. That's less than 1 USD. So it's good to keep a small amount of Bali money in smaller denominations for incidentals like parking. You will also need to keep cash if you need fuel. We only had to buy gas in Nusa Penida and it comes in a soda bottle from a tiny store.
Related Post: Top 50 Bali Instagram Spots
5. Save Your Receipts From Tax-Free Shopping in Bali So You Can Get Your Money Back on Departure
Many countries, including Bali take part in a VAT (Value Added Tax). The VAT tax means that when/if you spend money in Bali on products such as clothing items or other goods, you will get some of your money back when you are heading home from the Bali Airport. Currently, the VAT in Bali is at 10% and this can certainly add up to a good amount in return. The minimum you will need to spend on goods to get your money back, is 50,000 IDR or about $35.
The way to get this money back is to keep any receipts over 50,000 IDR and bring them with you to the airport. Make sure to ask the cashier at the store you purchase goods from for a tax-free receipt. Upon departure, you will show your receipts to the customs office in Denpasar airport to receive your money back.
Arrive at the airport early ensure you have time to claim your money back in Bali. The customs office can get quite crowded. I would recommend coming at least 2 hours earlier to be on the safe side. Truthfully you will need to arrive that early for an international flight anyway.
6. Tipping is Not Necessary But Appreciated
Tipping in Bali is not necessary. It is, however always appreciated and accepted. Nobody in Bali is expecting a tip, but if you experienced good service or a delightful experience whether that be at a restaurant or a tour, feel free to leave a tip. If you do decide to tip, 5-10% is an acceptable amount, nobody expects anything more than 10%. Also, there are some restaurants that may have a service charge already included. In this case, don't worry about adding anything extra.
Related Post: The Ultimate 7 Days in Bali Itinerary
7. Make Sure You Stock Up on Cash Before Any Public Holidays
If you are visiting Bali during any bigger public holiday or festival, make sure you withdraw cash ahead of time. The reason for this is that locals will withdraw large amounts of cash days before holidays leaving ATMs dry and banks closed. Although cash isn't used in too many circumstances, you will still need some. If you do find yourself in a situation, you can usually exchange money in Bali at hotels.
8. For Larger Currency Transactions in Bali, Head to a Bank
In Bali, the ATMs only let you withdraw less than 2.5 million IDR which is equal to about 175 USD. This is a relatively small amount of cash and leads to tourists making more than one withdrawal. Although you can make a few separate withdrawals, the fees will add up and end up costing you more than you'd like. In order to avoid this, head to your home bank or a local bank and take out one larger chunk of cash. Changing money at banks is very safe and you won't have to worry about security like you would at some ATMs.
Banks are a great place to make large transactions because they are the most reputable money changers in Bali, but the downside is that they include commission. This means that the rate you see to change money will have an additional transaction fee. The local banks in Bali are generally open from 9am-4pm. Go in the morning to avoid any crowds.
Related Post: What to Pack for Bali: 10 Things You Can't Forget
9. Stay Away from Convenience Stores ATMs When Withdrawing Money in Bali
Convenience stores are probably the worst place to withdraw money from an ATM for a few reasons. Independently owned convenience store ATMs charge a high transaction fee. They also tend to have the majority of scams or fraudulent activity. A skimming device is something you don't want to come in contact with as it will steal your credit card information. Also, guards will sometimes be standing in the convenience stores, but this still doesn't make the ATM safe.
Convenience stores in Bali really do target tourists and it's not worth the risk. Some will even have cameras watching for you to type in your pin. Others will have some questionable activity especially during later hours. It's best to just avoid these situations completely and withdraw money in Bali at the bank, Denpasar airport ATM.
---
Additional Reading for Your Trip to Bali
If you are currently planning a trip to Bali, we have a 7 Days in Bali Itinerary as well as a Bali for First Timers post so you will be able to avoid common mistakes people make planning a trip to Bali.
For people that want to know what beautiful things you can see in Bali, check out our post on the Top 50 Instagrammable Bali Photo Spots. You'll love this post even if you don't have Instagram.
When it comes to packing, we have you covered with the Bali Packing List that includes everything you need as well as some thing you might be forgetting.
Figuring out the money in Bali is pretty easy and you'll adapt to Balinese life quickly. It's funny how fast you start bargaining down prices. Bali is one of the most incredible places to have a luxurious vacation at affordable prices. Stick to these 9 tips about money for Bali. It should help you steer clear of Bali scams. Most of the people we came in contact with were wonderful and honest. If you have any additional questions, feel free to leave a comment below. We hope you love your trip to Bali as much as we did!
---
Additional Bali Posts to Help You Plan Your Itinerary:
Save This Currency and Money in Bali Post to Read Later? Pin it!
Looking for an Amazing Beach Vacation? Our Favorite Destinations: