Getting ready to take a trip and looking to upgrade some of your gear? Here are the best travel accessories for minimalist travel.
As full time digital nomads who never check any bags, we are very picky about what we carry with us. If it's not incredibly useful AND small, it's not on this list of must have travel accessories.
So get ready for your trip with the 20 best travel accessories that will easily fit in your bag and make travel so much better!
This site uses affiliate links, meaning if you make a purchase through our links, we may earn a commission. You can read our full disclosure policy here.
Best Travel Accessories for Minimalist Travel
We've looked at so many lists of travel accessories and can't believe how many ridiculous things are marketed. Here's what this list doesn't have – a bunch of useless things that make your bag heavier.
Having the right travel accessories on the plane and on your trip can make all the difference. It's all about comfort on long haul flights and trips. There are some great items here that will make you look and feel like a travel pro.
Anti-Theft Purse
If you are heading to a terrific city location where they have pickpockets, an anti-theft handbag will be your saving grace. These bags give you the protection you need from the most common types of theft.
The Travelon Anti Theft Mini Shoulder Bag has a slash resistant body and straps, a locking main compartment, and interior slots for credit cards and a passport with RFID blocking. That means that no one can steal your personal data as you walk through a crowded airport.
Wear it as a shoulder or cross body bag. At 8.5″ x 8.5″ x 2″ some may worry that it's too small but there are multiple compartments to keep everything organized.
If you still feel that you need more space, the anti-theft messenger bag is slightly larger (9″ x 12″ x 3.5″) and has two mesh water bottle pockets.
Using an anti-theft travel bag is a perfect way to stay safe and carry everything that you need on a trip. For more space, there are also a variety of anti-theft backpacks.
---
AirTag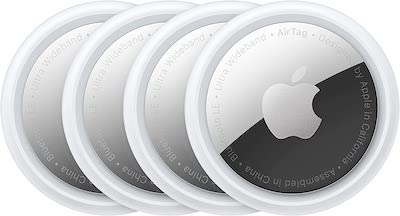 We can't even imagine traveling without an Apple AirTag anymore. A tracker gives you the ability to always locate your belongings. If your bag doesn't show up in baggage claim, just let the airline know where it is.
An AirTag 4 pack makes the price per AirTag lower and you will definitely use them all. Here are a few nifty ways to use the AirTags.
The key to successfully using an AirTag is to hide them in inconspicuous places in your belongings using one of the holders below. You want to have as much time as possible before a thief finds it and discards it.
The Best AirTag Holders and Cases
A Credit Card Sized Holder for an AirTag fits easily in your wallet so you can always track it.
We put the first one on the dog with this case. Knowing your pet is safe at home when you travel is pretty great.
If you hide an AirTag in your backpack with this clip on AirTag holder, you can easily track it.
---
Fire TV Stick
Are you ready to have your mind to be blown? Here's how to use a Fire TV Stick to get all your streaming apps when you are abroad. Say goodbye to those jet-lagged nights watching hours of BBC News since it's your only English channel.
We never thought much of a fire stick until we moved to Portugal and couldn't watch any US Streaming apps because they are blocked in other countries.
Sure you can use a VPN (Virtual Private Network) on your phone or computer but it's such a bummer not to be able to use the full sized TV that's sitting right in front of you! Here's how it works.
Buy a Fire TV Stick
Sign up for NordVPN. There are other VPNs but we've had the best luck with NordVPN.
Before your trip, load NordVPN onto the Fire TV Stick through Amazon Silk.
Pack the small Fire TV Stick (1.2″ X 3.9″) and Remote (1.5″ X 5.6″) in your bag.
At the hotel or Airbnb, plug it into the power outlet (110V – 240 V) and HDMI port of the TV.
Connect to the internet, set NordVPN to your home country, then use your apps as you would at home. Easy peasy!
Once you travel with this gizmo, there's no turning back. The 4k streaming is really crisp and will blow your mind on a 4K or UHD TV.
The Fire TV Stick remote also has Alexa Voice so you can search, play content and adjust volume with voice commands. She can also connect to other smart home devices and activate them.

---
3 in 1 Apple Wireless Charging Station
This 3 in 1 Apple Wireless Charging Station is our favorite new minimalist travel gadget. Skip all the cords and make your travel life so much easier by setting everything on top and charging it all at once.
At less than 4 inches when folded, it's compact size is easy to slip into any pocket. It's magnetically held closed so it won't open up unintentionally.
You can use the wireless charging station is a flat strip or fold it together as a stand so you can use your phone to watch a movie while it's charging.
Charging works quickly and the LED indicators let you know all three pods are powered.
---
International Travel Plug Adapter
This International Travel Plug Adapter works in over 150 countries. Gone are the days when you sort through plug adapters to find the right one for your destination.
Easily move the levers to get the adapter that you need. It has 4 USB outlets to charge your phone, your Apple Watch and a computer.
If you use the wireless charging station above, you can plug it into this international adapter and charge in any country.
---
External Portable Power Charger
A typical sightseeing day means that you'll be using your phone for directions, photos, videos, getting an Uber and staying in touch. If you have ever gotten the low battery sign, then you know a portable power bank is invaluable.
In addition to having enough capacity to charge a phone 3.5 times and you can also charge multiple devices simultaneously. No more game of who is the most desperate person in the car that gets to use the charger.
A power bank is the most important of travel accessories in an emergency. I learned my lesson on a trip to Cuba when the power went out for almost a day and I had no back up power.
---
Step Down Voltage Converter
This may not look like the most useful travel accessory you have ever owned but trust me, we rely on this little step down voltage converter more than almost any other gadget.
We are all familiar with plug adapters. It makes a foreign outlet fit the plug from your country. BUT, it does not change the voltage and you can ruin appliances that are not dual voltage.
An international power adapter will work for your phone, computer, anything with USB and dual voltage appliances. Anything that's NOT dual voltage needs a step down voltage converter when you are traveling to another country.
We have tried a few brands and this is by far our favorite step down voltage converter. It comes with attachments for 150 countries, which is why it has been our trusted travel companion since 2018.
Since it's pretty much impossible to buy the step down voltage converter you need overseas, you have to buy it before your trip.
---
Portable Rechargable Mini Fan
One of our favorite travel accessories for warm destinations is this rechargeable Mini Fan. Let's face it, we've all had that misfortunate taxi ride in sweltering heat, hotel rooms that don't cool down enough or waiting in a customs line.
It fits in your pocket and has 3 functions. Use it as a handheld electric fan or fold it and set it on a desk in your hotel room. It also doubles as a flashlight!
The pocket-sized mini-fan comes in 5 colors and operates for up to 20 hours on one charge. Then just plug it in to a USB charger. This is one of the best travel items ever!!
---
Lightweight Travel Scarf
You will get more year round use out of a lightweight linen travel scarf than anything else. It's the perfect travel accessory for keeping your neck warn on the plane to wearing at the beach for a cover up.
It's also great for countries where you need a head covering to go into churches and temples.
The gauze linen fabric is soft and luxurious. You will not believe how nice it is for such a low price. It's such a great deal that you can easily throw a few different colors into your bag to wear with multiple outfits.
---
AirPods Pro
Are you rocking some old blue tooth ear buds and are ready to upgrade? AirPods Pro (2nd Generation) offer a higher quality audio experience and a better noise cancelling feature.
The customizable fit will be a welcome feature for most people with 4 different sizes to choose from making the earbuds that much more comfortable than previous generations.
Battery life is up to 30 hours with 6 hours of listening time.
---
Waterproof Micro Bluetooth Speaker
A Waterproof Micro Bluetooth Speaker might not be the first thing you think of packing but this little guy is soooo cool!
If you plan to do anything outdoors, the waterproof speaker straps to your backpack, a bike or anything you want. It connects by bluetooth to play music, audio books and has cool voice control features.
In addition to being waterproof, the speakers can stand up to extreme elements. You can have up to 6 hours of audio on a single charge and the compact size (1.4″ x 3.9″ x 3.9″ and 10 oz.) makes it easy to fit into a purse, backpack, or suitcase.
The microphone feature allows you to make and answer calls, ask Siri or Google Now™ to play your favorite music, give you a weather update, get the score of a game, and a lot more.
The sound quality is amazing and people rave about this awesome little speaker. Buy two of them to link together for stereo sound. For its size, sound quality and price, it's by far one of the top travel speakers
---
Travel White Noise Machine
When you travel, one things is for sure, you can't control random noises to make it hard to go to sleep. This 3.5″ white noise machine for travel plays soothing noises that drown out everything else.
It's also great for home. People rave about this as a solution to noisy neighbors, traffic sounds and keeping a baby asleep,
So skip the sleeping pills, turn off the fan and fall into a deep slumber with 6 soothing sounds and a sleep timer that will turn it off automatically. No batteries are needed for the portable white noise machine. Just recharge with the USB cord.
---
MagSafe iPhone Wallet
The nice leather MagSafe iPhone Wallet is a wallet that attaches magnetically to your phone. It will fit your ID and 2 credit cards so you can head out the door without a full wallet.
The leather is high quality and is available in several different colors.
If the wallet somehow gets separated from your phone, Apple's Find My will ping you to alert you of its last location.
---
Airplane Phone Holder Mount
When traveling on a long haul flight, the last thing you want to do is hold your phone for hours so you can enjoy some entertainment. Problem solved! Get an Airplane Phone Holder.
This gadget works with most phones and it simply attaches to the airplane seat tray with a clamp so you can enjoy handsfree entertainment from your phone at any angle.
The Phone Mount isn't just for the plane. It can also attach to your suitcase handle so while you're in the airport waiting for a flight, you can enjoy entertainment at eye level.
You can fold it in a position that can be used as a phone stand on the top of your desk for video conferencing at home or on the go.
This may win the award for the least expensive and most practical travel accessory. And it's so small that you can fit it in the pocket of any bag.
---
Compression Socks
I always take socks on long flights because my feet get cold. A few years ago, I switched out normal socks for these compression socks and I am a total convert.
If you've never used them before, you will not believe how much of a difference they make in your comfort level both on the plane and days afterward.
Recently off a flight to Portugal, I noticed a bunch of people in the customs line with swollen ankles. Athletes extoll the virtues of compression socks but most travelers don't realize the benefit of increased circulation.
I've tried multiple brands of compression socks and these are the best I've found that really work. They are not medical grade so it's not for people with a serious medical condition. But for the average person on a long haul flight, they are amazing.
I am insane for these and I tell EVERYONE about them. They come in multiple colors and patterns. You can use the compression sports socks you already have, but the knee high variety works better when you're stuck sitting for so long.
---
Travel Camera Backpack
This travel camera backpack is pretty close to perfect. It has a protected, adjustable area for camera equipment that doesn't take up the whole backpack to you can use it as your carry-on bag.
It holds a laptop from an outside pocket that is at the back side of the pack so it's easy to get to but well protected. There are organizational pockets for cords, chargers, water bottle and a tripod. Best of all is the price. The backpack is water resistant and comes with a waterproof cover.
We use a bigger roll top camera backpack that fits gear and clothing, it will hold your camera gear, a drone, a laptop and some clothes.
---
Hard Shell Carry-On With Front Laptop Pocket
Good luggage that's durable AND functional can be hard to come by but this hardshell spinner carry-on has it all.
With an anti scratch surface and silent 360 degree spinner wheels that can handle cobblestone streets, you can be assured that this bag will hold up. The interior is surprisingly spacious and secure with 2 built-in TSA Locks.
The best feature is the locking hard shell front compartment, where you can store your laptop and still have easy access. It's an all-in-one solution so you can ditch your laptop backpack and have one bag for everything.
Most of all the LEVEL8 Road Runner is stylish. So when you are ready to upgrade your carry-on bag for business travel or a weekend getaway, this is a great choice.
---
Compression Packing Cubes
Packing cubes make it much easier to stay organized and find things in your suitcase. Now you can take it to the next level with compression packing cubes that allow you to pack more clothes in the same suitcase.
This is the latest set from a brand we've been traveling with for a long time. The packing cubes are very durable – no zipper or stitching issues. They added XL sizes to the set which were excited about because it holds bigger stuff.
If you want to use the compression feature, you can. You can also leave the compression zipper open for a regular type of packing cube. The see thru feature is nice so you know what's inside without unzipping.
---
RFID Travel Wallet
When you are in and out of airports and places with a lot of people, it's good to protect your financial information with an RFID Blocking Wallet.
Our credit cards that have Radio Frequency Identification chips for easy scanning when you're making a purchase, can also be accessed by nefarious people. The material in this wallet blocks any access to the data on those chips.
This bifold wallet comes in 32 colors, has space for up to 16 credit cards, zippered pockets to hold two types of currency, and even space to hold your cell phone.
Get a functional, safe wallet that will give you peace of mind while you are traveling.
---
Nomader Collapsible Water Bottle
Always in search of the perfect water bottle, I love this food grade, silicone collapsible water bottle because it's just like a normal water bottle when it's filled but it packs so small when it's empty. It has a leak proof cap and it's BPA free.
It's great for a day of sightseeing, going on a hike, on the plane or anything else you've planned for your trip because it packs very small and you can store it in your bag until you have a place to refill it.
Feel good that you're doing your part to cut back on plastic bottles with a solution that is convenient for you at the same time.
---
Bonus – This Blanket Makes My Road Trip Minimalist Packing List
I also love this super soft travel blanket that I take with me on all road trips. You can buy it on it's own or in a set with a sleep mask. I don't take it on the plane because I don't want it to get dirty. But road trips are a different story.
It actually packs pretty small and it's such a luxury to cuddle up with.
---
Final Thoughts About The Best Travel Accessories
Now that you're ready with great minimalist travel accessories, pick a destination and enjoy your trip. If there are any travel accessories you absolutely love, please share them in the comments. Use our tips for great flight deals to travel more.
Most Popular Destination Posts