When we tell people that we are moving to Portugal, we're met with the same responses and questions each time. Most everyone has an interest in WHY we are making the move to Portugal from the US, how we are making it happen and what it means for our future.
So we're sharing our American expat journey for those that are thinking of moving to Portugal or some other part of this amazing world.
Planning a Trip to Portugal? Check Out Our Latest Posts.
Our Decision Process About the Move to Portugal
The reason for writing this blog post was to share all the things we considered when deciding to make this move. We are using the D7 Visa to get our Portugal residence permit. If you are interested in making a move to Portugal, there is information towards the end of this post that can help you start the process.
1. We Always Wanted to Empty Nest or Retire Abroad
Guy and I met each other 32 years ago in a bar in Mexico on my senior year spring break. We eloped after 6 weeks. And if that wasn't wild enough, we just picked up and moved to Paris as soon as I graduated. Here's our crazy story.
Being exposed to a new culture is exciting. The lines started to blur between our American frame of reference and our Parisian existence. We soaked it all in for 6 months until we ran out of money and had to come back to the US to get jobs.
From that point on, we were hooked on wanting to be expats again. We considered doing it many times with our kids in tow and ultimately decided that our desire to give them a hometown outweighed all the exciting possibilities of living elsewhere.
With our youngest graduating college now is the time. So let's jump into – Why Portugal.
2. American Expats Moving to Portugal Love the Cost of Living
It's no secret that Portugal is one of the best countries for American Expats. It's been featured as one of the top 10 countries in Forbes, Travel and Leisure, Conde Nast Traveler, and Business Insider. One of the biggest reasons is the affordable cost of living.
Some people say Portugal is so cheap but it depends on your situation. If you live in a less expensive part of the US and move to Portugal's bigger cities, you might consider it more reasonable than cheap.
We rented a house in downtown Ericeira, walking distance to everything including the beach, for 1/4 of what it costs us to live in Los Angeles. Our private health insurance is 1/10 the the cost in US. Cell phones, groceries, restaurants and other living expenses will also be less expensive. Car expenses will be higher.
3. Communicating in English and Spanish Makes the Move to Portugal Much Easier
When we were choosing where we wanted to move, language was an important consideration. With English, strong Spanish, and some French, there were quite a few options.
Thankfully many Portuguese people speak English, especially in big cities. As a backup, Spanish comes in quite handy when there's a language gap. Being able to minimize the language barrier allows us time to learn Portuguese.
My initial reaction to Portuguese was that it's so hard to learn but I feel pretty confident that we'll manage because Portuguese people are very gracious when we try to practice.
4. A Lot of Other Expats Move to Portugal
It always helps when you can find other people with common interests and moving to a new country definitely bonds people.
There are so many Expat groups and activities in Portugal. We joined Americans & Friends PT Facebook Group and have already made friends in our new town and around Portugal.
Many expats have commented that their social calendar is busier than ever since their move to Portugal. It helps to make fast friends while you get to know your Portuguese community.
5. Enjoying the Portuguese Way of Life
We love the culture in Portugal. Portuguese people are kind, friendly and InterNations.org has ranked Portugal as the friendliest country towards expats. In addition to being very welcoming, the Portuguese relaxed way of life is so appealing.
We opted to move to a town 40 minutes outside of Lisbon so we can have the best of both worlds. We'll have all the benefits of living near a big city with fantastic restaurants, museums, shopping, the airport, the hospital, and more.
And our day to day life will be in the cutest surf town with cobblestone streets and being able to walk everywhere.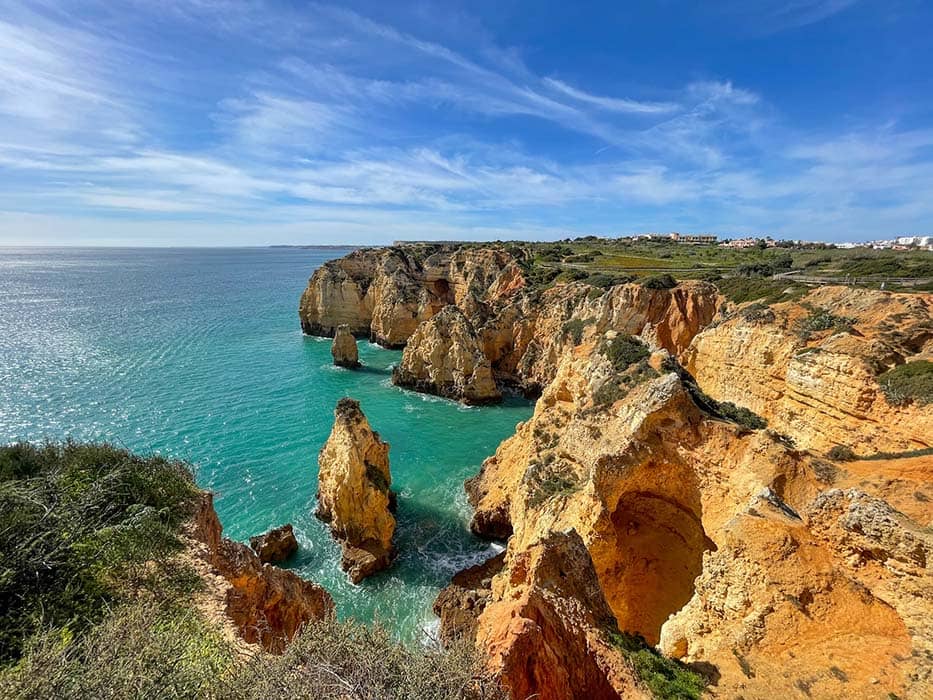 6. The Mediterranean Climate Was Key For Our Move to Portugal
I'm one of those people who would never survive living in Seattle or somewhere grey. Bright sunny days are my must-have.
At a risk of sounding like Goldilocks, it also can't be too hot either. That's why we knew that the Algarve region wasn't a good fit. The northern part of Portugal gets chilly and rainy in the winter. The area north of Lisbon, the Silver Coast, is just right!
Ericeira has its own microclimate. The ocean regulates the temperature keeping it from getting too hot or too cold. I've had Ericeira in my weather app for the last year, checking it multiple times a week. The climate mirrors Los Angeles very closely.
7. Portugal is One of the Safest Countries in the World
Safety and public issues like homelessness have been have been front and center in Los Angeles and the US in general. Additionally all the intense feelings everyone has about vaccines, masks, and politics is exhausting.
While you need to pay attention to your personal safety and petty crime in any major city in the world, violent crime is extremely low in Portugal. Homelessness is also very low in Portugal. And vaccination rates are very high.
No country is perfect. There is good and bad everywhere, but overall we feel really safe about moving to Portugal.
8. Portugal is Filled With Beautiful Places to Explore
We've been dying to have a new place to explore and there is sooooo much to see in Portugal.
On our first trip, we visited the dynamic city of Lisbon, castle-filled Sintra and the incredibly beautiful city of Porto. They were all amazing and a great first look at the country. But we knew there was so much more to see.
We headed back to Portugal armed with a list of places that were potentially good places to live. Our 2 week Portugal scouting trip included Ericeira, Mafra, Peniche, Foz do Arelho, Obidos, Nazaré, Cascais, Évora, Comporta, Vila Nova de Milfontes, Sagres and Lagos.
We've barely scratched the surface of what's available and plan to explore the country in depth over the next year. I can't wait to share all of the beautiful destinations we will visit, here on the blog.
9. Moving to Portugal for Great Surfing
Surfing is one of Guy's must-haves. He absolutely would not move to Portugal or live anywhere that is more than 10 minutes from the beach. So I had to look for places with great waves.
Portugal is known for some of the best surfing and the town we are moving to, Ericeira, is one of 10 places in the world (and the only one in Europe) that is part of the World Surfing Reserve. It's probably not coincidental that we are moving from one of the 10 WSR places, Malibu, to Ericeira.
There are wide sandy beaches for relaxing, protected beaches for safe water activities and world class surfing beaches. There are also plenty of surf spots for beginners. We highly recommend one of these Ericeira hotels so you can see it for yourself.
Since I'm not a surfer, you might wonder what's in it for the non-surfers. Like many surf towns, Ericeira has lots of yoga, plenty of hiking and gorgeous sea views from everywhere. The town reminds me of Canggu, Bali with a great beach vibe and yummy, healthy restaurants..
10. The Ability to Work Remotely in Portugal
When we originally planned to move abroad, we never saw a way for Guy's job to move with us. The one good thing about our Covid world is that Guy's work is almost 100% remote now. As a travel blogger, I can work anywhere with decent internet.
Thankfully, Portugal has great infrastructure including high speed internet. We've traveled to plenty of places where that's not the case.
We are talking our careers with us and the best part is that the time change allows us to have all day free. Guy will start working around 3pm.
The move to Portugal is a huge upgrade on our quality of life and the only thing we're giving up is going out to dinner on weekdays.
11. The Portugal D7 Visa Allows You to Try Residency
We get so many questions about how to move to Portugal and the one thing that's clear is that there's a lot of confusion.
The Portugal Golden Visa program is possible if you are willing to financially invest through real estate or a business, to get a residency permit. There are a bunch of rules and the real estate options do not include Portugal's coast or biggest cities.
We are using the Portugal D7 Visa, also known as the Retirement Visa, Passive Income Visa or Digital Nomad Visa.
People of all ages and work status use the D7 Visa option. The D7 Visa allows you to get a residency permit for one year. It is renewable in 2 year increments after that.
The D7 visa application process takes approximately three months and we did it on our own. As long as you are someone who is detail oriented and can follow instructions, you can get a D7 Visa without using a lawyer. The Facebook group Americans & FriendsPT has all of the current requirements.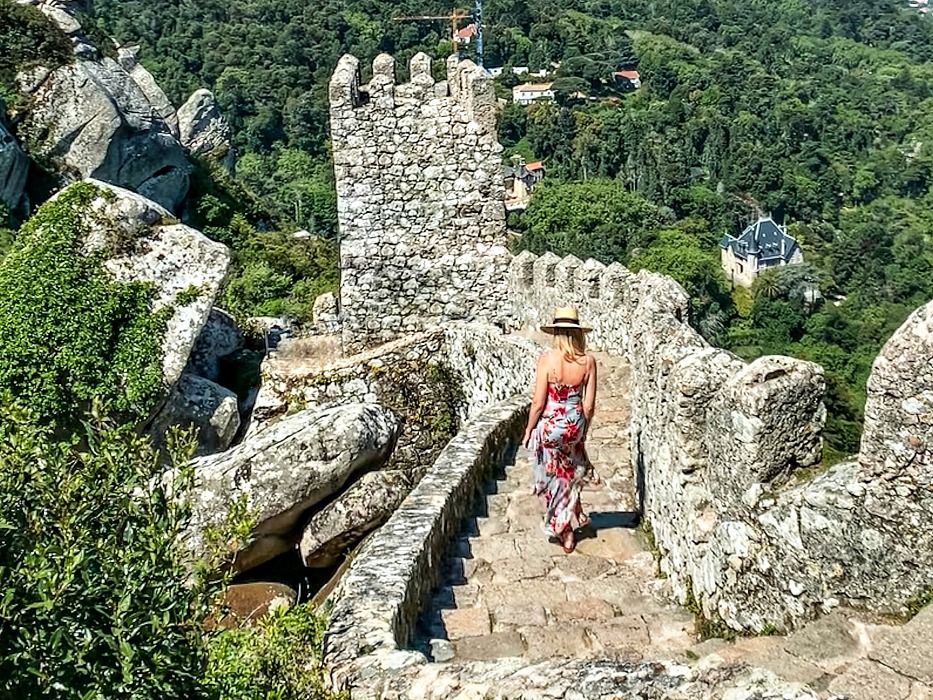 12. There's a Path to Portuguese Citizenship After Five Years
One of the exciting parts of going through the Portuguese residency process is that it can lead to permanent residence and citizenship in 5 years. If you live 6-8 months a year in Portugal (Golden Visa only needs 2 weeks a year), after 5 years, you can become a Portuguese citizen.
We have no idea if this is something that will end up happening but it's our goal if we love living there. Portugal offers one of the fastest paths to citizenship in the European Union.
13. There Are So Many Great Countries to Explore Near Portugal
If you have followed this blog, you may know about our 50 Country World Travel Challenge. The goal was to visit 50 new countries in our 50s so that we would push our boundaries and visit places we might not go otherwise.
This fun goal paved the way for our first trip to Portugal and this new chapter of our lives.
It also opened the door for us to try countries that we thought of as one day, making them a reality like Croatia, Malta, Turkey, Jordan, and Egypt .
We were off to a great start and went to 14 countries in the first 2 years until life as we know it changed. While the last 2 years has been incredibly difficult for everyone, it taught us the benefits of slowing down and the joy of slow travel.
Living 40 minutes from the Lisbon Airport and lots of cheap non-stop flights, opens a world of possibilities. When you can get places in a few hours, you're not pressed to do too much in too little time.
---
If You Want to Know More About Our Move to Portugal
Feel free to ask questions in the comments if there is something we have not covered here. Our goal in sharing is to help anyone that is considering making the move to Portugal.
The process of getting a D7 Visa for Americans moving to Portugal has been a little complicated but it is very doable if you meet the requirements. And so worth it!
Save this Post About Moving to Portugal for Later? Pin it!