When we told people that we were moving to Portugal, we were met with the same responses and questions each time.
Most everyone has an interest in WHY we decided to make the move to Portugal from the US and questions about the process.
So we're sharing our American expat journey and everything you need to know about moving to Portugal from the USA – from making the decision to boots on the ground living in Portugal.
In this post, you'll find the common misconceptions about Portugal in general. We are also sharing the details of the process to get a D7 visa and everything you need to know to pack up and relocate to Portugal.
Planning a Trip to Portugal? Check Out Our Latest Posts
Why We Decided to Move to Portugal
These are the things we considered when deciding to make this move. We used the D7 Visa to get our Portugal residence permit.
1. We Always Wanted to Empty Nest Abroad
Guy and I met each other 32 years ago in a bar in Mexico on my senior year spring break. We eloped after 6 weeks. And if that wasn't wild enough, we just picked up and moved to Paris as soon as I graduated. Here's our crazy story.
Being exposed to a new culture is exciting. The lines started to blur between our American frame of reference and our Parisian existence. We soaked it all in for 6 months until we ran out of money and had to go back to the US to get jobs.
From that point on, we were hooked on wanting to be expats again as empty nesters.
We considered doing it many times with our kids in tow and ultimately decided that our desire to give them a hometown outweighed all the exciting possibilities of living abroad.
Most importantly, living in Europe also gives you the chance to take advantage of long term travel in Europe.
2. American Expats Moving to Portugal Love the Cost of Living
It's no secret that Portugal is one of the best countries to move to from the USA. It's been featured as one of the top 10 countries in Forbes, Travel and Leisure, Conde Nast Traveler, and Business Insider. One of the biggest reasons is the affordable cost of living.
Some people say Portugal is so cheap but it depends on your situation. If you live in a less expensive part of the US and move to Lisbon, you might consider it more reasonable than cheap.
Our rental house in downtown Ericeira is walking distance to everything including the beach, for 1/4 of what it costs us to live in Los Angeles. Portugal private health insurance is 1/10 the the cost of what we paid in US. Cell phones, groceries, restaurants and other living expenses are also less expensive. Utilities, gas and tolls are higher.
3. Communicating in English and Spanish Makes the Move to Portugal Much Easier
Thankfully many Portuguese people speak English, especially in big cities. As a backup, proficient Spanish comes in quite handy when there's a language gap.
It has given us time to learn Portuguese, which is a difficult language. Many of the words are similar to Spanish but they sound nothing alike. There are many guttural sounds like Russian. Reading is much easier than speaking.
4. A Lot of Other Expats Move to Portugal
It always helps when you can find other people with common interests and moving to a new country definitely bonds people.
There are plenty of Expat groups and activities in Portugal. We joined Americans & Friends PT Facebook Group and have made friends in our new town and around Portugal.
Many expats comment that their social calendar is busier than ever since their move to Portugal. It helps to make fast friends while you get to know your Portuguese community.
5. Enjoying the Portuguese Way of Life
We love the culture in Portugal. Portuguese people are kind, friendly and InterNations.org has ranked Portugal as the friendliest country towards expats.
In addition to being very welcoming, the Portuguese relaxed way of life is so appealing. We moved to a town 40 minutes outside of Lisbon so we can have the benefits of living near a big city with fantastic restaurants, culture, a major airport, hospital, and more.
Our day to day life is in Ericeira, the cutest surf town with cobblestone streets, where everything is walking distance. It reminds us of Canggu, Bali with a great beach vibe and yummy, healthy restaurants..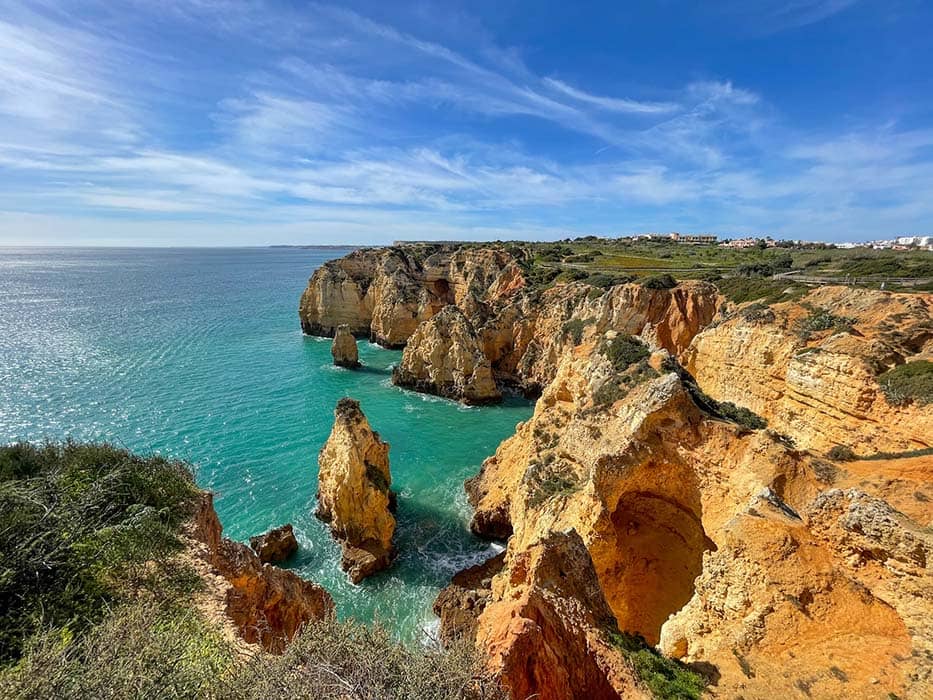 6. The Mediterranean Climate Was Key For Our Move to Portugal
I'm one of those people who would never survive living in Seattle or somewhere grey. Bright sunny days are my must-have. And at the risk of sounding like Goldilocks, it also can't be too hot either.
The Algarve region seems to run hotter, especially in the summer, but the winters look great. Lisbon is quite warm during the summer.
The northern part of Portugal is beautiful during the summer but winters are cold and rainy.
The Silver Coast between Lisbon and Porto seems to have mild temperatures with windy days. A lot of expats move to Foz do Arelho Portugal and it's so pretty we can definitely under why.
We decided to start our journey in Ericeira, which has its own microclimate that is 10 degrees cooler than Lisbon even though it's only 50 km (31 miles) away. The climate is similar to Los Angeles.
Where to Stay in Ericeira Portugal: 16 Best Ericeira Hotels & Vacation Rentals
7. Portugal is One of the Safest Countries in the World
Safety and public issues like homelessness have been have been front and center in Los Angeles and the US in general. Additionally all the intense feelings everyone has about vaccines, masks, and politics is exhausting.
While you need to pay attention to your personal safety and petty crime in any major city in the world, violent crime is extremely low in Portugal. Homelessness is also very low in Portugal. And vaccination rates are very high.
No country is perfect. There is good and bad everywhere, but overall we felt really safe moving to Portugal.
8. Portugal is Filled With Beautiful Places to Explore
There are so many amazing places to see in Portugal. On our first trip, we visited the dynamic city of Lisbon, castle-filled Sintra and the incredibly beautiful city of Porto. They were all amazing and a great first look at the country.
We headed back to Portugal armed with a list of places that were potentially good places to live. Our 2 week Portugal scouting trip included Ericeira, Mafra, Peniche, Foz do Arelho, Obidos, Nazaré, Cascais, Évora, Comporta, Vila Nova de Milfontes, Sagres and Lagos. We've since visited Coimbra, Azenhas do Mar, São João das Lampas, Foz de Figuera, and Aviero.
Our favorite trip within Portugal so far was to do the amazing Levada Walks in Madeira. You just have to visit and stay in one of the best hotels in Funchal for one of their many annual celebrations.
We've barely scratched the surface of what's available and plan to explore the country in depth We can't wait to share all of the beautiful destinations here on the blog.
9. Moving to Portugal for Great Surfing
Surfing is one of Guy's must-haves. He absolutely would not move to Portugal or live anywhere that is more than 10 minutes from the beach.
Portugal is known for some of the best surfing and Ericeira, is one of 10 places in the world (and the only one in Europe) that is part of the World Surfing Reserve. It's probably not coincidental that we are moving from one of the 10 WSR places, Malibu, to Ericeira.
There are wide sandy beaches for relaxing, protected beaches for safe water activities and world class surfing beaches. There are also plenty of surf spots for beginners. We highly recommend one of these Ericeira hotels so you can see it for yourself.
10. The Ability to Work Remotely in Portugal
The one good thing about our Covid world is that Guy's work became almost 100% remote allowing us a chance to move. I can run this website from anywhere with good internet. The internet speeds in Portugal are fast and cost less.
The time change allows us to have all day free and start working around 3-4pm to be in line with the US.
Working remotely is so popular in Portugal that they added a digital nomad visa after the overwhelming success of Madeira's digital nomad town.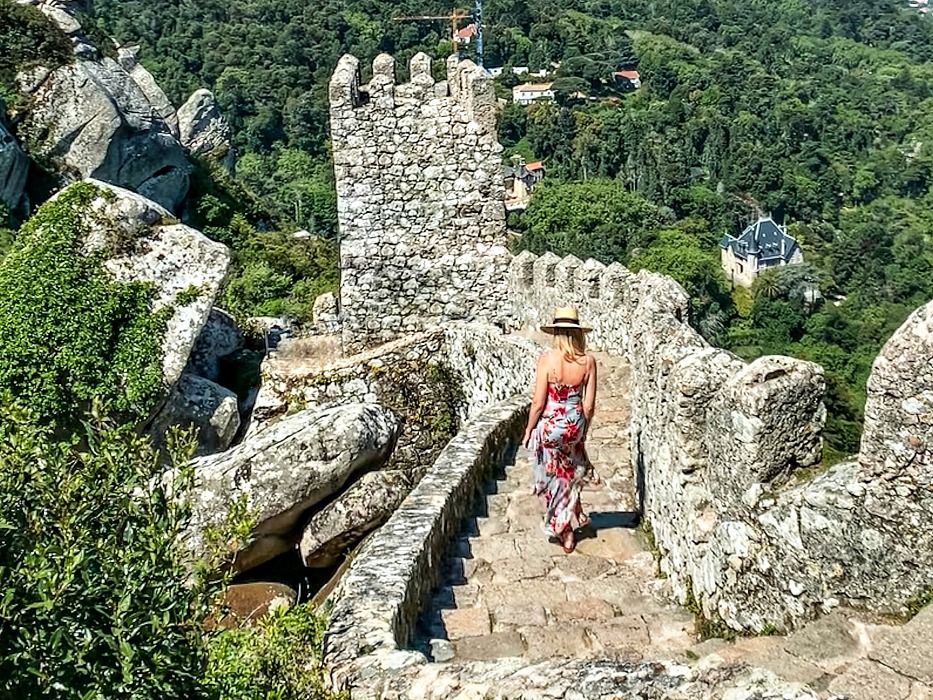 11. There's a Path to Portuguese Citizenship After Five Years
One of the exciting parts of going through the Portuguese residency process is that it can lead to permanent residence and citizenship in 5 years.
We started our journey in Portugal thinking that it would be nice to get citizenship but the amount of time per year you have to spend in Portugal is too hard for us when we travel so much.
For those that travel less than a month or two per year, Portugal offers one of the fastest paths to citizenship in the European Union.
12. There Are So Many Great Countries to Explore Near Portugal
If you have followed this blog, you may know about our 50 Country World Travel Challenge. The goal was to visit 50 new countries in our 50s so that we would push our boundaries and visit places we might not go otherwise.
This fun goal paved the way for our first trip to Portugal and this new chapter of our lives. It also opened the door for us to visit countries that we thought of as one day, making them a reality like Croatia, Malta, Turkey, Jordan, and Egypt .
We were off to a great start and went to 14 countries in the first 2 years until life as we know it changed. Living 40 minutes from the Lisbon Airport and lots of cheap non-stop flights, opens a world of possibilities.
If you're looking for ideas for your own world challenge, check out these 25+ Bucket List Trips to Europe.
---
Common Misconceptions About Moving to Portugal
Misconception #1: A Portugal Golden Visa
By far, the biggest misconception about moving to Portugal is that the ONLY way to do it is by buying property in Portugal through the Portugal Golden Visa program.
First, the Portugal Golden Visa Program has been discontinued – but more importantly, there are multiple paths to getting residency in Portugal.
The Portugal D7 Visa (also known as the Retirement Visa or Passive Income Visa)
People of all ages use the D7 Visa option. The D7 Visa allows you to get a residency permit for two years without buying property. It is renewable in 3 year increments and you can apply for citizenship after 5 years.
You are required to spend 8 months a year in Portugal and not have any absence longer than 6 months if you want to qualify for the renewal or citizenship.
You also need to prove that you have income outside of Portugal through investments or remote work to sustain your life in Portugal.
There is also a new Digital Nomad Visa that I'm not as familiar with that's worth looking into if the D7 doesn't work for you, however, there is no path to citizenship with it.
Misconception #2: Portuguese People Don't Like Americans
We have found Portuguese people to be very welcoming. There were a few articles widely circulated in the US that said Americans were creating a rise in prices for Portuguese people. The LA Times blamed it on Californians alone. Here's the reality:
Portugal's decision to attract immigrants was based on the fact that Portugal's population is decreasing. According to the Portugal News, in 2021 there was a population loss of 217,376 residents due to lower birth rates, death rates and migration.
As of 2021, foreigners make up 5.4% of the population (555,300 people) and 6,900 are American.
The impact of 6,900 people on a population of 10 million is not the picture you get when the American news quotes 45% growth in American immigrants. Said another way, the American population in Portugal grew from 4,800 to 6,900 people.
A Portuguese photographer friend complained about the cost of living in Downtown Porto in 2018. He attributed it to the increase in tourism and the business of short term rentals.
A fun little tidbit – there are more than 300,000 Portuguese Americans living in California alone.
Misconception #3: You Need to Hire an Immigration Service or Lawyer
If you are buying a house in Portugal, it is highly recommended to use a lawyer. However, there are services charging excessive amounts for the D7 visa services.
Like a lot of other people, we did the D7 application process on our own. As long as you are someone who is detail oriented and can follow instructions, you can get a D7 Visa without using a lawyer.
I have listed the process below but it changes constantly so you should join the Facebook group Americans & FriendsPT for the current requirements and access to their free resources.
Misconception #4: Portugal is a Tax Haven
The non-habitual resident taxation regime (NHR) provides lower Portuguese taxes for 10 years but it might not apply to you. These laws favor retirees and certain occupations.
There are tons of UK websites claiming Portugal is a tax haven. Be careful with advice you find online. If you are seriously considering a move to Portugal, talk to a US accountant and a Portuguese accountant about your specific situation.
You will need to file returns in both places – two accountants and two sets of tax preparation fees.
The US/Portugal Tax Treaty ensures there is no double taxation but Portugal income tax goes as high as 48%.
Certain income is exempt from tax in Portugal, however, you may have to pay federal and state taxes on that income.
---
The Process of Moving to Portugal from the US
Once you are seriously considering the move to Portugal, there are a bunch of things to do. We're sharing the process we went through to give you an idea of what is involved.
We highly suggest you join the free Facebook group Americans & FriendsPT. They have a ton of helpful, up to date resources with all the current requirements.
Plan a Portugal Scouting trip
A scouting trip can serve multiple purposes. The first is to figure out where you want to live. It's good to familiarize yourself with a variety of areas so you can see what feels like home. Research ahead of time will help you nail down an itinerary.
The second reason to do a scouting trip is to obtain the documents you will need for your visa application. When we did our trip, we found a house and signed a one year lease, which is required for the D7 Visa.
We also got a NIF number which is a Portuguese version of a social security number. In hindsight, it would have been helpful to get our NIFs before our trip because you literally can't do anything official in Portugal without one.
The last thing you should do on a scouting trip is open a Portuguese bank account in person, because it's difficult to do remotely from the US.
Once we opened the account, we transferred money using Wyze. They make it easy to take money from your US bank account and deposit it into your Portuguese bank account. Their exchange rate is much better than most places and the fees are low.
The Things You Need to Apply for a D7 Visa
Fill out the online D7 application from the VFS Website
Make a VFS appointment and print out a hard copy of your confirmation
Make sure your Passport has a minimum of 6 months of validity
Make a copy of your passport and get it notarized
Get 2 passport photos cut to Portuguese size for your visa
Get a travel insurance policy
Provide proof of financial means from recurring income like stock dividends, real estate income or social security
Proof of Portuguese bank account with the required amount of funds
A copy of a one year lease or contact from buying a property
NIF number
FBI background check
Release for a Portugal background check
If married, get a copy of your marriage certificate notarized
If you are bringing your children, get copies of their birth certificates notarized
A personal statement about why you want to move to Portugal
Make a flight reservation for your move to Portugal and print out the itinerary
Money order for the visa application
---
Moving Abroad Checklist
Get a VPN
I'm putting this right at the top because I forgot to do it and had to coordinate with my son to set it up after I left. Whether it's just for travel or moving, a VPN will give you a protected internet connection.
VPN stands for Virtual Private Network. In simple terms it creates a private connection when you are using unsecured airport/hotel network. It's very easy to set up and use through an app on your phone or a website on your computer.
It also allows you to make it look like you are in the US when you are online. That's important if you want to use your streaming services while you're abroad. Everything but Netflix is blocked without using a VPN.
We use NordVPN and have been very happy with it. For less than $3 a month we can connect 6 devices. Some friends use Surf Shark and they seem equally happy. It is essential to protect you and to stream services when you travel or live abroad.
We literally use our VPN every single day.
Get Up to Date on Medical Appointments and Issues
Do all your annual check ups like the eye doctor and dentist. Get a physical, a mammogram and deal with any ongoing health issues before you move. Get copies of all your records and get things like MRIs on CDs if you need them.
Fill prescriptions and see if they have the medications you need in Portugal. Stock up on your preferred vitamins and things like contact lenses.
If you need to get medication in Portugal, you will need to make a doctor's appointment and get a prescription. Plus, there are many medications we get over the counter in the US that you cannot buy in Portugal like Advil.
You want to give yourself enough time to set up your healthcare in Portugal. Once you get your real insurance in Portugal, you will need to wait out a grace period for all issues. Most things are 60 days but childbirth is a year.
Your travel insurance will cover you for any major, unexpected issues but anything routine will be out of pocket for at least the first 60 days.
The good news is that the full cost for a medical visit in Portugal is often less than the cost of a copay in the US.
Get Your Finances in Order
Make sure your accounts are set up for electronic statements. If you have costs that are happening in the US after you are gone like a mortgage, get it set up on auto-pay.
Go over your investments with an advisor to see if you want to make any changes.
Set up an account with Wyze so you can easily transfer money between your US to Portugal bank accounts. It's the least expensive way we've found to transfer funds.
The other thing we like about Wyze is that you can keep an eye on the exchange rate and transfer the second it looks good to you.
Set up a USA Forwarding Address
You need to have a physical place to send mail. US banks require you to have a US address.
Many people will use a family member's address. It's unlikely that you will get much mail but setting up a plan for your US address is important.
Figure Out a Pet Plan – Traveling to Portugal With a Pet
Moving your pet can be one of the most stressful parts of the move. They need a rabies vaccination and to be microchipped. Then they need to be tested 30 days later and get USDA clearance.
You have to make a flight reservation for them whether they are in cabin or cargo.
Our dog went through the rabies and microchipping but we were dreading the flight because he was the right weight but too tall to fit under the seat and too frail for cargo.
We ultimately made the heartbreaking decision to leave him in the US with our family because he was 15 years old – now 16 and happily living in Los Angeles.
We definitely feel that we made the right choice. It felt unfair to move him at that age when he had never been on a plane before.
Some people charter a flight and split the cost with other people. There are Facebook groups where you can connect. We would have felt comfortable doing that but the cost is $9,000+ per ticket.
If you are bringing your pet, bring any medication they might need. Also bring enough of their current food while you transition them to a new food that can be easily found in Portugal.
Relocating to Portugal Using a Shipping Container or Going Minimal
For some people it makes sense to pare down. We want to keep things light so we can travel for a few months at a time.
We fit our things into 4 traditional duffle bags, a rolling duffle bag, a surfboard bag, 2 hardshell spinner carry ons and 2 of our favorite travel backpacks.
We highly recommend using airtags so you can track your bags. If your luggage gets lost, you'll be able to tell the airline where it is instead of being at their mercy to find it.
You can minimize baggage fees by using credit card miles to get award tickets. Be sure to check the airlines baggage policy before you buy tickets or pack.
We carefully planned our baggage to pay zero excess baggage including the surfboards. We've heard of people paying up to $1,500 for all their baggage.
Other people buy a house and are planning to retire in Portugal. They might want to pack up their belongings in a shipping container so they can bring the comforts of home with them.
It takes awhile until you receive your container so figure the timing into your plan.
There's no one size fits all answer to the question of what to bring with you or how to get it there. A shipping container is expensive but for some, it may be less expensive than completely refurnishing a house.
Sell The Things You Aren't Bringing With You
Once things start getting down to the wire, your life starts to feel like a fire sale. We sold our car, our precious sprinter van, and a house that we had remodeled.
As we sold each item things became more exciting because we knew we were one step closer to the move but more complicated because we didn't have a place to live or a car to drive.
It's almost never a good idea to import your car into Portugal. There are shipping costs and you have to convert the car to Portuguese standards to register and insure it.
Everyone that imports their car resoundingly calls it a mistake. We were so sad to part with the Sprinter but we can build a new one here.
Think twice before selling your house if you can rent it out to cover the mortgage or create an income. A lot of people move to Portugal and end up changing their minds.
If it makes sense to hold onto your house for a few years, you can always sell it later when you are 100% sure you're not moving back.
We know we will eventually move back because it was never our intention to move forever. Our house is rented and we're getting ready to take our first trip home to change tenants.
When you sell your car or do anything DMV related, make sure to get a copy of your driving record if you are over 60 years old.
In California, you just walk in and use the kiosk to print it out. No waiting in line. I think there was a $5 charge that you could pay by ATM or credit card.
Most people do not need to do the Portuguese driver's license exchange. I was so relieved that they changed the rule because the stories I heard sounded like such a pain.
---
If You Want to Know More About Relocating to Portugal
Feel free to ask questions in the comments if there is something we have not covered here. Our goal in sharing is to help anyone that is considering making the move to Portugal.
The process of getting a D7 Visa for Americans moving to Portugal has been a little complicated but it is very doable if you meet the requirements. And so worth it!
Save this Post About Moving to Portugal from USA for Later? Pin it!