Porto is one of the prettiest cities in Europe with colorful tall buildings flanking a busy river and bright blue skies. this 2 days in Porto itinerary, you will find all the details for the perfect trip.
In planning a trip to Portugal, you may feel the need to choose between the cities of Porto and Lisbon, but you can have it all.
This travel guide for two days in Porto will show you the top sights, delicious restaurants, the best places to sample Port wine and the top tours. Get ready to fall in love with this charming city.
his post contains affiliate links. If you book or buy something through one of these links, we may earn a commission at no extra cost to you. You can read our full disclosure here.
Planning your trip to Porto last minute? Here are the tours and hotels we recommend. You will also helpful information in the Coolest Porto Boutique Hotels and the Top Hotels in the Douro Valley.
TOP EXPERIENCES & TOURS IN PORTO
BEST HOTELS IN PORTO
PRACTICAL INFORMATION FOR PORTO
---
Porto is the 2nd largest city in Portugal with a long and illustrious history. Founded by the Celts and occupied by the Romans in the 4th Century, Porto has witnessed many different occupiers, emperors and leaders across the centuries.
Porto was even declared an independent city during the Middle Ages with its own King. With each change, the city became a mix of architectural styles including Gothic, Medieval, Romanesque, Renaissance, Neo-Classical and Modern.
It's a beautiful patchwork of influences dotted with traditional Azulejo tiles and colorful buildings on an exceptional river front location.
The Historic city center, Luis I Bridge and Serra do Pilar are a protected UNESCO World Heritage Site due to it's continuous development over 2,000 years filled with important buildings and monasteries.
Notably, Porto became an important trading hub of Portugal, especially with respect to wine. It also became one of its leading cultural centers–it's no wonder so many come to explore it every year!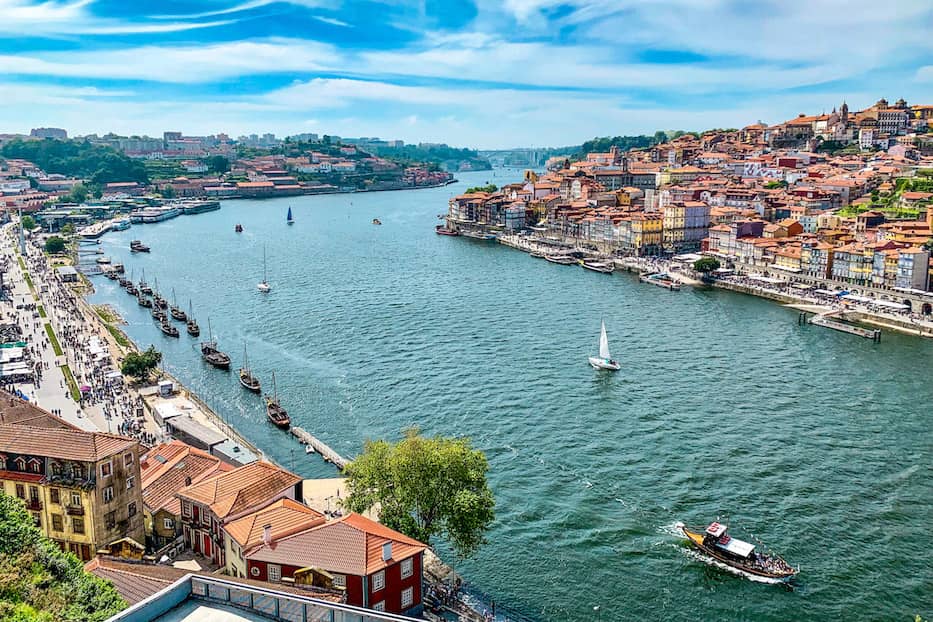 Best Time to Visit Porto
While Porto never reaches very low temperatures during the year, it doesn't reach incredibly high ones either.
The most popular time to visit is during Summer, the warmest months, June through September. Highs are generally in the 70's and lows in the low 60's.
The shoulder season in Spring and Fall are definitely good times to visit as well. The crowds are a little less in April, May, October and November. Make sure to bring a jacket for the evenings and an umbrella for rain.
Winter has a lot more rainy days. The worst time to visit is January – February. December can be quite cold and rainy but there are some fun seasonal events that make it more worth it.
---
Porto 2 Day Itinerary
Day 1 – São Bento Train Station, Porto Cathedral, Luis I Bridge, Jardim do Morro & Monastery of Serra do Pilar, Vila Nova de Gaia Port Tasting, Douro River, Ribeira District, Palácio da Bolsa, Clérigos Tower
Day 2 – Livraria Lello, Carmo church, Majestic Café, Afternoon in Matosinhos or 6 Bridges Cruise
Day 3 Option – Day Trip to Douro Valley w/ Boat Tour, Wine Tasting or Guimarães and Braga full-day tour
About This Porto Itinerary
This 2 day Porto itinerary is set up for anyone wanting to do a weekend trip or more likely as part of a larger Portugal itinerary. It's basically a list of the most important things to see in Porto.
Porto's small historic center tourist sites are easily seen on foot in 1 – 2 days. Guided tours are a great option to do fun activities while touring the city. I've included the best tours below that are a good value and worth your time.
Since, you'll only have 2 days in Porto, the first day is filled with a busy walking tour while the second day leaves time to slow down and enjoy.
Ideally you would spend 3 days in Porto and do a day trip on one of your 3 days.
Regardless of the time of year that you visit, we highly recommend that you book your hotels and tours ahead of time.
READ NEXT: 12 BEST BOUTIQUE HOTELS IN PORTO
---
2 Days in Porto Itinerary – Day 1
Porto is set on 2 riverbanks with the Douro River running through the middle. Actually one side is called Porto and the other is Vila Nova de Gaia.
The first day of this Porto itinerary will be spent on both sides of the river giving you a chance to see it from all angles.
The itinerary below is laid out as a walking tour. The route is 1.9 miles (3 km).
You can also see everything with the Hop-On Hop-Off Bus, River Cruise, & Port Cellar Tour. At €35 per person, it's definitely one of the best sightseeing deals in Porto.
Stop 1: São Bento Train Station is the Start of Your 2 Day Porto Itinerary
The train from Lisbon to Porto takes less than 3 hours. You'll arrive in Sao Bento station, Porto's 20th century Beaux-Arts railway station decorated with 20,000 incredible, hand painted, blue ceramic tiles that will take your breath away.
It's the perfect entry point into the historic city center of Porto and a grand way to be welcomed by this fabulous town! Each image in the azulejo tile mural portrays some part of Porto's history.
Make sure to visit Sao Bento train station if you arrive in Porto another way.
RELATED POST: The Best 2 Days in Lisbon Itinerary
The first building you'll notice outside of the bustling train station is Igreja de Santo Antonio dos Congregados church, covered in more amazing azulejo tiles.
It's a preview of coming attractions in a town that is filled with decorative exteriors, so unique to Porto. From São Bento you can catch a taxi to your hotel or walk if you are close enough.
Stop 2: Porto Cathedral (Sé do Porto)
Porto Cathedral is a 5 minute walk from Sao Bento train station. The oldest Roman Catholic church in the city is also a national monument.
There is no cost to enter the cathedral but €3 for the cloister. The halls are adorned with azulejo tiles. You can also get a sneak peak from the outside.
Around the cathedral is a large square. During the Medieval Ages, commerce and trade would take place here.
The crowds here can get very busy so make your way to the edge of the square overlooking the river for the beautiful view of the city shown in the photo above before making your way to the next stop.
Cross over the Luis I Bridge to Vila Nova de Gaia
It's time to head over to Vila Nova de Gaia. The Luis I Bridge has an upper and lower deck, which will connect you to the Vila Nova de Gaia riverbank area where you can do Port wine tasting.
The lower deck is for cars and there is a sidewalk for pedestrians but the upper deck has better views.
The upper deck connects you to the hills overlooking the riverbank. This big open bridge is also used by the Porto Metro so keep an eye out for trains.
Right as you step onto the bridge, you will have incredible views of the city and Douro River. You can take amazing photos from the bridge but be careful with your camera, it's very windy. I had a Marilyn moment with my dress!
Stop 3: Jardim do Morro
Walk straight forward from the bridge. On the right is Jardim do Morro and it's the perfect place to stop for a little break and sit down.
Jardim do Morro is a beautiful garden with exquisite views of Porto. If you are hungry, there's a place where you can get coffee and a snack.
The park is probably most crowded at sunset because it's such a pretty spot to take amazing photos of Porto with city and river views. Adjust your day to come here after port wine tasting (Stop 5) if you want.
Stop 4: Monastery of Serra do Pilar
For an even bigger view, head across the street and up the hill to Monastery of Serra do Pilar. It's honestly a little underwhelming until the lights go on in the evening.
This is one of the highest viewpoints in Porto and worth the walk up. You can enter the cloister for €4 (€2 for kids) but the best thing to see here is the view.
If you are looking to save a little time in your day or you just don't want to walk any more, this would be the thing to drop and you can just appreciate it's beauty from below.
Stop 5: Take a Port Cellar Tour & Wine Tasting in Vila Nova de Gaia
Walk down the hill to the Vila Nova de Gaia riverfront. This is where you will find all the the port wine cellars. You will be able to learn about the port making process and do tastings of the famous Porto wine.
Port is a sweet, fortified wine and probably not something you'll drink glass after glass.
There are 4 different styles of port, going from lightest to darkest, white, rose, tawny, and ruby port. Cooks may be familiar with ruby port, used for a port wine reduction sauce.
It's best to pick 2 quality guided tours that have tastings of Port that is aged and will let you experience the distinct differences between the 4 styles.
Taylor is one of the most well known cellars but their tours are self guided with an audio headset.
If you prefer a tour with a knowledgable human, I recommend the Graham's Port Lodge Tour & Premium Tasting with Pairings. It's a working cellar with incredible Porto views. The price is €35 for the tour and tasting.
For the second tasting, I recommend the tour at Cálem and you can combine the Port Wine Tour and tasting with a Portuguese Fado performance. The best part is that it's €23, which is much less than doing both things separately. Reserve your tickets for the Cálem Cellar Tour, Fado Show & Wine Tasting here.
If you prefer to have someone coordinate everything for you, take the Porto: Walking & Wine Tour. This is a 3.5 hour afternoon tour to two wineries and can try Port wine, green wine and some cheese!
Cost: €34.90 per person
Duration: 3 hours
Starting time: 4:00pm
Meeting point: Dom Luis I Bridge in Porto's side
Stop 6: Walk Back Over the Bridge to the Cais de Ribiera (Porto Riverfront)
To head back to the Porto side of the river, walk back across the lower portion of the Luis I Bridge.
When you reach the lively riverbank, it's a great time to get something to eat or check out the views from one of the best rooftop bars in Porto.
At some point during your two days in Porto, meat lovers should try a francesinha sandwich. It's one of the most famous foods in Porto. I didn't like it but lots of people do.
The most well known sandwich is at Café Santiago but you can find it all over. If you want to do it right, you have it with fries and a beer. Share with a friend. The portions are huge.
Stop 7: Palácio da Bolsa, the Former Porto Stock Exchange
Porto's itinerary is incomplete without a trip to Palácio da Bolsa. This architectural gem is the perfect blend of neoclassical and Palladian style.
Porto architect Joaquim da Costa Lima Júnior spearheaded the project, with other notable artists and architects contributing to the finished palace.
It is no surprise then that this building was classified as a National Monument in 1982, drawing almost half a million visitors every year!
Since you cannot tour the building on your own, book a 30 minute guided tour of Palácio da Bolsa. Tours are conducted in English, Portuguese, Spanish, and French.
Some of the best things to see art the moorish Salão Árabe (Arab room) with painted ceiling and the iron and glass dome in the Hall of Nations sown above.
This is the perfect place to visit if you're in Porto when it rains.
Cost: €12 Adults, €7.5 Students/Seniors, children under 13 are free. (includes entry ticket and tour)
Hours: 9:00am-6:30pm
Stop 8: Clérigos Tower and Church
A Roman baroque style church, Clérigos Church has a very tall (249 foot) prominent bell tower, which you can see from all around the city of Porto.
You'll find quite a bit of tourist traffic coming to see the view from the top. If you get here at the end of the day, you may be able to catch a beautiful sunset.
Cost: €6
Hours: 9:00am-7:00pm
---
2 Days in Porto Itinerary – Day 2
Livraria Lello
Igreja Do Carmo
Majestic Café
6 Bridges Cruise
Praia de Matosinhos
The architecture in Porto is magnificent. The first half of the day will take you buy many notable buildings. If you want to enter, you should make choices about what places are most important because some are very crowded.
Choose between Livraria Lello Bookstore or Clérigos Church Tower as your starting point so you don't get stuck with a ton of waiting time.
Start Day 2 of Your Porto Itinerary at the Livraria Lello & Irmao Bookstore
Livraria Lello also known as the Lello Bookstore is a wildly popular attraction in Porto. The design of the bookstore is unlike any other.
It is believed that J.K. Rowling used to work in this shop and that it was the inspiration for Harry Potter Hogwarts.
The biggest tip I will give you is to get here at least 15 or 20 minutes before it opens. People queue up outside Livraria Lello, especially Harry Potter fans, and the lines get long very quickly. Purchase a €5 entry ticket at the bookstore.
If it doesn't matter that much to you, you still might want to walk by the shop at night when no one is there. You can partially see inside.
Cost: €5
Hours: 9:30am-7:00pm
Stop 2: See Some of The Beautiful Azulejo Tile Buildings During Your 2 Days in Porto
Walk approximately 2 blocks from Livraria Lello to Igreja Do Carmo.
Carmo Church definitely has a starring role on Instagram and might have been the beautiful building that drew you to Porto in the first place.
The azulejo tile, for which Porto is well known, is just one type of beautiful exterior.
For a modern example of tile clad buildings in Porto, check out this mural of 8,000 colorful tiles by artist Joana Vasconcelos at Steak & Shake, one block from Carmo Church.
These are just a few examples and you will undoubtedly see many like Igreja de Santo Ildefonso on the right above.
Stop 3: Igreja Do Carmo and Igreja dos Carmelitas are Porto Itinerary Must Sees
The ornate decor extends to the interior of buildings too. Right next to azulejo tiled Carmo Church, you will find Igreja dos Carmelitas, a baroque style church that is very large and architecturally magnificent.
As you can see in the photo above, the interior of Carmelitas Church is very ornate and well worth a step inside.
Stop 4: Coffee at Majestic Café During Your 2 Days in Porto
Majestic Café is another great place to tap into Porto's exquisite architecture. This Art Nouveau cafe dates back to 1921 and you can just visualize what it must have been like over the years.
This is a perfect place to stop and recharge for the sightseeing day ahead. It's a little on the expensive side, but definitely worth the experience. Get a coffee and some pastels de nata, the delicious Portuguese custard pastries.
Afternoon Option 1: Take a 6 Bridges Cruise
After a day of touring buildings, it's fun to get an open air perspective of Porto from the water on the Porto: 6 Bridge's Cruise.
It's a 50 minute tour and you will get to see the 6 bridges, Vila Nova de Gaia, the historic center of Oporto and more. It's a nice way to wrap up your time in Porto out on the water.
Cost: €18 per person
Duration: 50 minutes
Meeting point: Cais da Estiva
Afternoon Option 2: Head to the Beach Like a Local
If you want to get out on the sand and into the surf, catch an Uber to Praia de Matosinhos, 13 km from Porto. It's one of the best Portugal Beach Towns.
There are places to rent surfboards and stand up paddle boards. There are also some great seafood restaurants in the area. You can also visit the Fort of São Francisco do Queijo at the of the beach.
---
Best Day Trips to Add an Extra Day to Your Porto Itinerary
Seeing Porto in 2 days is great but if you can add extra time, and you really want to experience Portugal to its fullest, why not consider adding a day trip on to your Porto itinerary.
Get out of the city to the terraced hillsides of the Douro Valley for Port wine tasting with incredible vistas. It's prettier in real life than any photos you have seen.
You'll also be able to experience a longer wine tour, I recommend trying visiting the Douro Valley w/ Boat Tour, Wine Tasting & Lunch.
This is a 9 hour tour that takes you to 2 wineries and tastings of port, red, white and rose wine within the Douro Valley region. The tour also includes a traditional Portuguese lunch and Douro river cruise.
Cost: €95 per person
Duration: 9.5 hours
Meeting point: picked up at specified hotel
A day trip to the nearby Minho region is equally great. A Guimarães and Braga full-day guided tour offers visitors incredible views and experiences that shouldn't be missed since they are so close to Porto.
Marvel at the sites of Guimarães and its beautifully preserved center that is a UNESCO World Heritage Site. This is also where companies like Parachute produce their fine linens.
Braga is one of the largest cities in Portugal, filled with beautiful buildings and more flowers than you can imagine. After touring around, have lunch and then visit the breathtaking Bom Jesus do Monte.
Adding an extra day or two to this Porto itinerary is highly recommended if anyone wants to get off the beaten path and journey through Portugal's hidden gems.
Cost: €65 per person
Duration: 9 hours
Meeting point: picked up at specified hotel
---
Where to Stay in Porto for 2 Days
Porto Hotels
We LOVE the boutique hotels in Porto so much that we have a whole post with our recommendations. Here are a few favorites.
Torel 1884 Suites & Apartments – Where we stayed on our most recent trip to Porto. They offer suites and apartments that are tastefully decorated.
Torel Avantgarde – Where we wanted to stay but it was fully booked. Best location with a pool with river views. Book early, this is definitely one of the top hotels in Porto.
Pestana Palácio do Freixo – A gorgeous and totally luxurious hotel on the Douro River. This baroque style hotel includes a Turkish bath and infinity pool.
Well Located Vacation Rentals in Porto at a Great Price
If you prefer to make yourself more at home, these vacation rentals will give you more of a local experience and the convenience of extra space, full kitchens and WiFi.
Restaurants to Try During Your 2 Days in Porto
Here are a few other notable Porto dining options to add to your itinerary.
Bartolomeu Bistro & Wine in the Torel 1884 Hotel is delicious. Make reservations ahead, We had to wait a bit but the food is worth the wait. Check out the wine cellar in the former bank vault.
Euskalduna Studio – A cozy yet pricey restaurant in the center of Porto. If you are looking to go all out, you definitely don't want to leave Porto without coming here. The food is beautiful and delicious, and the wine pairings top off the meal perfectly.
Farinha – A more casual pizza & pasta restaurant with outdoor and indoor seating. The pizzas here are definitely the most popular; try the honey pizza for a more unique experience!
Tapabento S.Bento – A smaller restaurant in the heart of Porto that serves Portuguese food. The seafood is to die for, but make reservations ahead of time as it can get quite busy.
Natas D'Ouro – We came here to get the port flavored Pastel De Nata but ended up walking out with a sampler box of multiple flavors. Don't miss this yumminess.
---
How to Get to Porto
PLANE: Porto has an international airport called Francisco Sá Carneiro Airport or Porto Airport (OPO).
The cheapest airlines to take into Porto Airport are RyanAir, EasyJet and Vueling. With that said, TAP Portugal is a great airline to fly all over Portugal or internationally.
If you are flying into Porto from an international destination, you will generally have a layover in Lisbon or another European city.
TRAIN: Being that Porto will likely not be the only destination on your Portugal itinerary, there is a good possibility you will be coming from Lisbon. Although you can fly from Lisbon to Porto, I would recommend taking the train.
There are trains almost every 45 minutes and they are relatively cheap. The total trip duration is about 2 hours and 50 minutes on average. Click here to get more information and check out the train schedule.
Cost: $30+ per person
Duration: 2hr 50min average
Departure Station: Lisboa Santa Apolónia & Lisboa Oriente
Arrival Station: Porto campanha
---
Getting Around Porto
Porto is a very walkable city. You don't need to rent a car unless you are taking a Portugal road trip. There are a lot of public garages where you can park, but the busier the season, the harder it is to find a spot.
Ubers and taxis are readily available but walking can be faster especially when it comes to crossing the bridge. Just pack some good walking shoes for your 2 days in Porto and you'll be set!
We highly recommend bringing an anti-theft travel bag because like all major cities, Porto has pickpockets.
---
Final Thoughts About This 2 Days in Porto Itinerary
Seeing Porto in 2 days is busy but doable. You could easily spend a month exploring this fascinating city. Extending to 3 days will make it a little more relaxed and let you take advantage of a day trip in the area.
I have no doubts that you'll enjoy this city filled with rich history, culture, great food and shopping! If you have any questions, leave a comment below. Porto truly is such a picturesque city and an essential stop when visiting Portugal.
---
Other Posts to Help You Plan Your Portugal Itinerary:
Save this Itinerary for 2 Days in Porto. Pin it!
Other Posts You Might Like: