Portugal is a country of vibrant coastal towns with some of the most beautiful beaches in Europe. We have visited at least 30 Portugal Beach towns in the Algarve, Costa Vicentina, the Silver Coast and even Madeira. This is a list of our favorites.
Whether you're looking for a relaxing holiday by the seaside or an action-packed adventure, the beach towns in Portugal have something to offer everyone. Here are our picks for the best beach towns in Portugal to add to your itinerary.
Planning a Trip to Portugal? Check Out Our Latest Portugal Posts.
Best Portugal Beach Towns
This post contains affiliate links. If you book or buy something through one of these links, we may earn a commission at no extra cost to you. You can read our full disclosure here.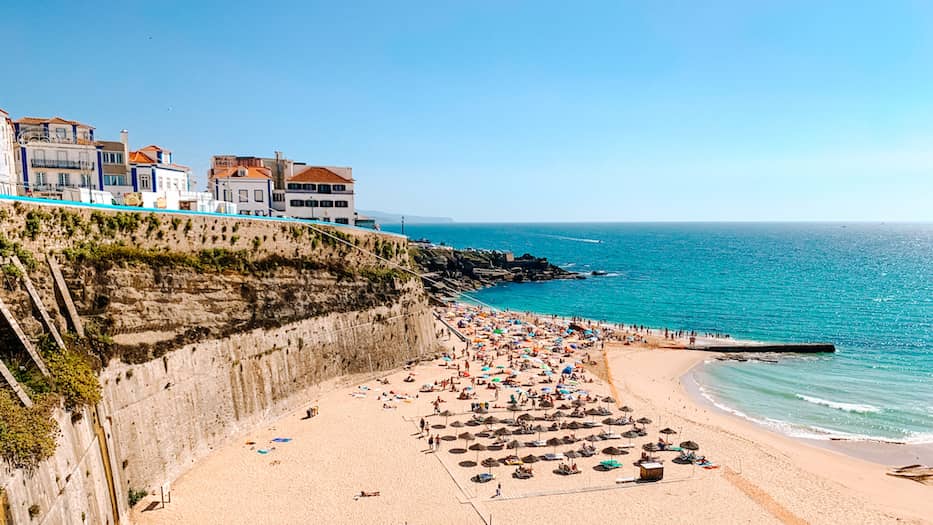 Ericeira – Our Top Choice for Best Beach Town in Portugal
When we decided to move to Portugal, Ericeira became our home, so you know why it's listed in the top spot on the best beach towns in Portugal. It's a hidden gem that is often missed on a Portugal itinerary.
Ericeira is Portugal's answer to California's Manhattan Beach. This former fishing village has whitewashed buildings with blue trim and cobblestone streets, making it a colorful and charming town.
While there are fantastic cafes and restaurants, cute shops, and great nightlife, the real draw to Ericeira is the 5 miles (8 km) of coastline. You'll find 13 of some of the best wide sandy beaches in Portugal and a hotspot for summer sun bathers.
Surfers flock to Ericeira from all over the world for the killer waves. It's the only beach town in Europe with a World Surf Reserve designation, due to the quality and consistency of the waves along with the surf culture.
Some of the best breaks include Ribeira d'Ilhas, Coxos and São Lourenço.
Ericeira Hotels range from luxurious ocean view resorts and vacation rentals to fun surf hostels, so you can find the perfect place to stay.
So whether you're a surf enthusiast or looking for a beautiful and historic Portugal beach that makes a great day trip from Lisbon (40 minutes away), Ericeira is the perfect place for you.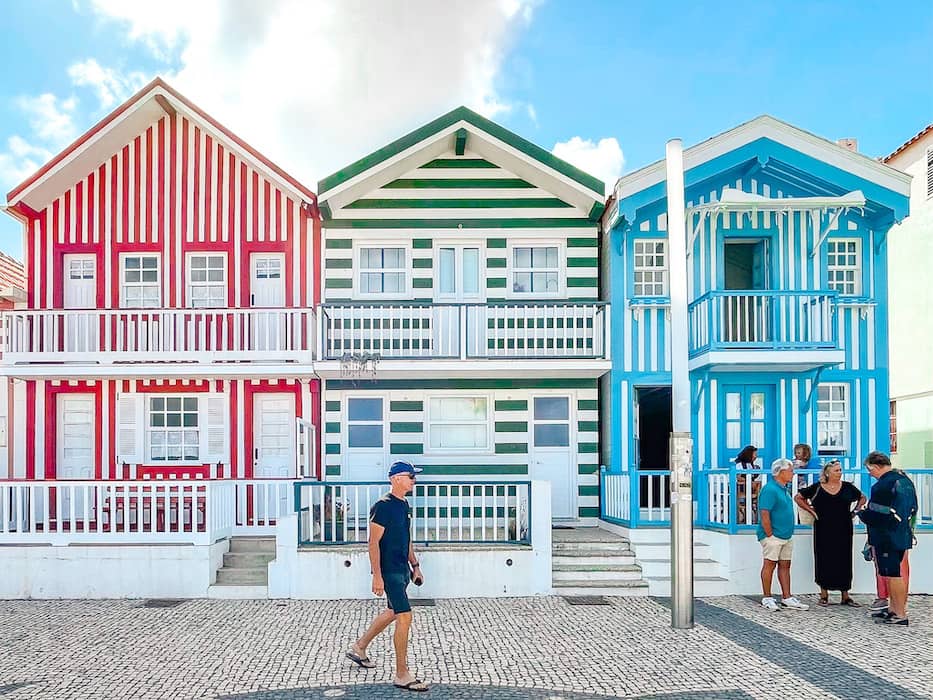 Costa Nova
If you're looking for a quintessential Portuguese beach town, look no further than Costa Nova, a popular spot for both locals and tourists alike.
This former fishing village is located near Aveiro, and is best known for its, striped beach houses (Pahleiros) that were once used by fisherman to store their gear.
Today, the Pahleiros have been transformed into colorful photo ops. You'll find the houses pictured above on José Estevão Avenue.
In addition to its beautiful beaches, Costa Nova is also home to the passadiços – a 6 km raised boardwalk built to protect the sand dunes.
Whether you're looking to enjoy the art nouveau architecture in Aveiro, take a cruise in a moliceiro (traditional boat), or just relax on the beach, Costa Nova is the perfect place to do it.
And if you're short on time, You can also take a half day Aveiro & Costa Nova tour from Porto. That said, it's definitely worth an overnight. Villa Rafa and Cestaria Costa Nova are really cute places to stay.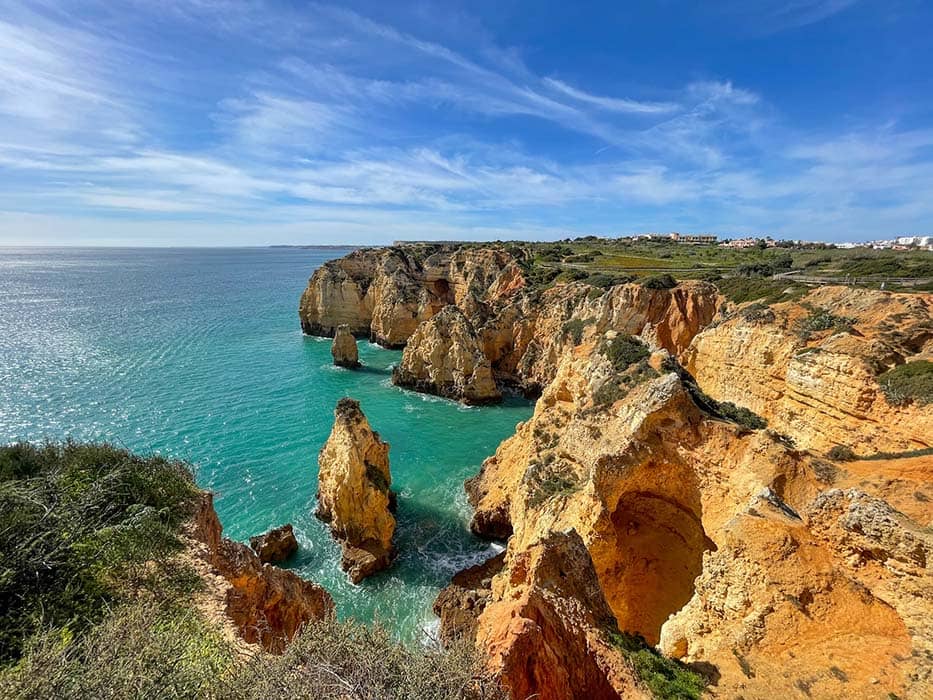 Lagos
Lagos is one of the most visited Portugal Beach towns. It's packed with activities for both tourists and locals alike. From hiking and kayaking to simply relaxing on the beach, there's something for everyone in Lagos.
One of the best things to do in Lagos is to walk along Ponte da Piedade, a beautiful promenade that offers stunning views of the town's rocky coastline and turquoise sea.
Within the old town area, you will find Igreja de Santo Antonio, a beautiful church that dates back to the 18th century.
The beaches in Lagos are beautiful. Praia do Camilo and Meia Praia are both great options for swimming, sunbathing, and simply taking in the stunning views. A 2 hour kayak tour of the sea caves will allow you to explore the coast from the water.
The Belmar Spa & Beach Resort is a beautiful resort overlooking Porto de Mos beach with spa facilities and nice restaurants on site.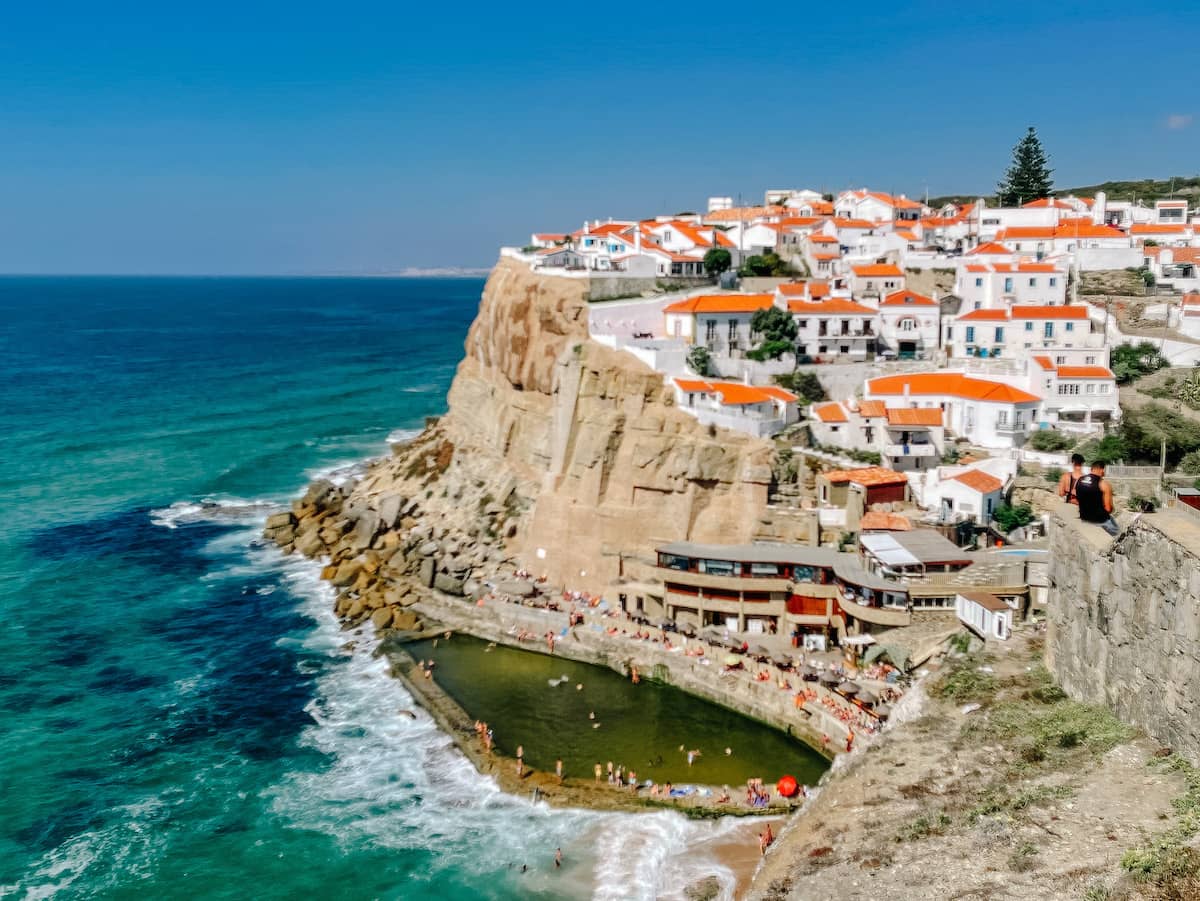 Azenhas Do Mar
Azenhas do Mar is well-known as one of the prettiest coastal villages in Portugal. In fact, you've probably seen it in many photos. The meaning of the name is Watermills of the Sea.
Situated on the Atlantic coast, and a stop along with Cabo Do Roca on a Sintra and Cascais Full-Day Tour From Lisbon. Azenhas do Mar offers stunning views, a laid-back vibe, and plenty of things to do.
One of the best ways to take in the town's natural beauty is from the Azenhas do Mar viewpoint where you can see the natural pool at the base of the mountain. Go for a swim, followed by a poolside lunch at Restaurante Piscinas Azenhas do Mar.
There's a 7.2 mile hiking trail with striking ocean views that goes to Praia da Aguda and Praia do Magoito, a stunning beach with great waves for surfers too. The trail is also popular for birding.
Praia das Maçãs is one of the most popular beaches in the area at the mouth of Colares river, near a lively town full of restaurants. From there, you can take a 40 minute ride on a 100 year old red tram to Sintra for €3.
With spectacular sea views in chic apartments, Azenhas do Mar West Coast Design and Surf Villas is steps from the beach.
READ NEXT: Dreamy Day Trip from Lisbon to Sintra for Incredible Castles
Seixal & Porto Moniz
Seixal is one of the prettiest beach towns in all of Madeira, Portugal. The natural black volcanic rock that defines the north coast of Madeira is ever present and provides a stunning contrast to the deep blue waters of the Atlantic Ocean.
One of the biggest draws to Seixal is the black sand beach. It's one of only 4 sand beaches on the island and quite beautiful.
Swimming in the Seixal Natural Pools is a must – the water is crystal clear and refreshingly cool. It's s perfect spot to catch the sunrise.
The Véu da Noiva Waterfall viewpoint is also a must-see – the cascading waterfall looks like a bride's veil, hence the name.
For those looking for a bit more of an adventure, try the Chão da Ribeira waterfall hike in mountains above Seixal. It's approximately 7 miles through lush forest called the Sanctuary to a group of waterfalls.
Visitors love Aqua Natura Madeira hotel for the striking sea views, huge comfy beds and full resort services if you want to stay in the area. If you don't have a car, you can take a tour of the Skywalk, Porto Moniz Volcanic Pools, and Fanal.
Nazaré
Winter is the time to visit Nazaré. This Portugal beach town was made famous by the 100 Foot Wave documentary. Nazaré gets the biggest waves in the world and it is truly a once in a lifetime experience to see it in person.
The town of Nazaré is split into a historic town on top of a hill and the beach town below. The upper town's main attraction is the São Miguel Arcanjo Fort where you can watch the death defying surfers.
Santuário de Nossa Senhora da Nazaré, a beautiful church at the center, where you can stop before heading down the hill. The most scenic way to get there is on the Nazaré Funicular. It's €4 for a round trip ticket.
In the lower beach town, Praia da Nazare is a wide, sandy beach that's perfect for swimming, sunbathing, and surfing. Stroll along the promenade and dine at one of the many traditional Portuguese seafood restaurants.
For something truly unique, visitors can also take a tour of the Grutas de Mira de Aire Caves, a series of limestone caves located just outside of town.
Take a Nazare Jeep Safari for a fun way to check out the area. DonaCamó Charming House is a quaint, beachfront 2 bedroom apartment with coastal decor and a full kitchen.
Carvoeiro
Unlike many of the bigger Algarve beach towns, which are more like cities, Carvoeiro is a popular destination due to its quaint village atmosphere along with sandy beaches and stunning cliffside views.
Visitors to Carvoeiro can enjoy a variety of activities starting with a stroll on the wooden Carvoeiro Boardwalk. From the boardwalk, you can continue on the Seven Hanging Valleys Trail, one of the best hikes in Portugal.
The full route is 6km one way (12km round trip) from Carvoeiro to Marinha Beach. Some of the most notable things to see are the Algar Seco caves and the Benagil Caves viewpoint.
A kayak tour or a boat tour to the inside of Benagil Cave from the water is the best way to get a full view. For a completely different experience, visit the 8th century Moorish Castle of Silves.
Back in Carvoeiro, explore the town's shops, enjoy a meal at one of the many restaurants or spend some time relaxing on the beach.
Carvoeiro Beach, Vale Covo Beach or Paradise Beach are all great choices. Whether you're looking for a hidden cove or a bustling beach scene, Carvoeiro has something to offer everyone.
Tivoli Carvoeiro is a beautiful cliffside hotel, conveniently to the beach, town and hiking trails.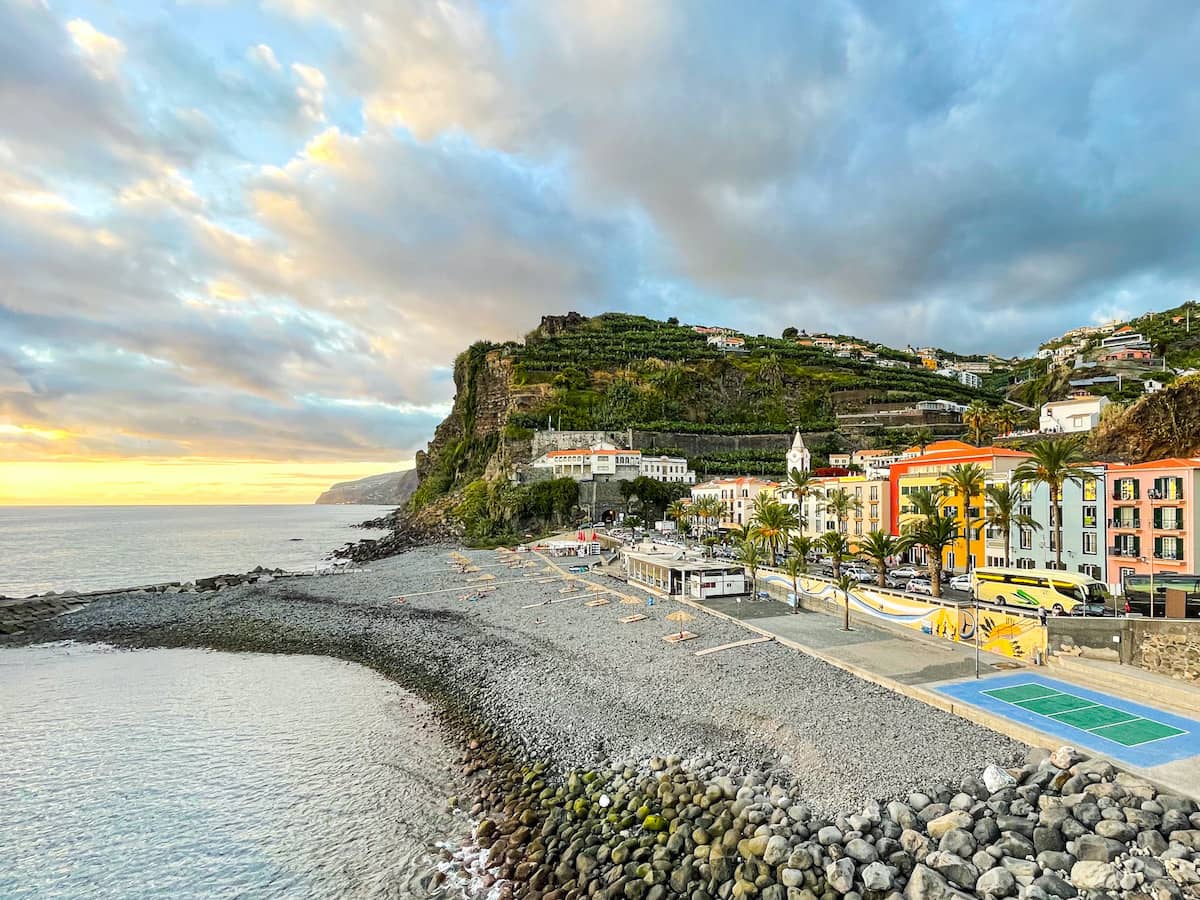 Ponta do Sol
Ponta do Sol is the world's first digital nomad town. You can apply to the Madeira government to live in this Portugal Beach town and have free access to a co-working space with other digital nomads.
Located on the south coast of Madeira, with traditional colonial-style buildings in a rainbow of colors, Ponta do Sol is one of the sunniest places on the island and has the best sunsets.
For active pursuits, one of the best Madeira Levada Walks is right nearby.. The 5 mile trail from Levada do Moinho to Levada Nova takes 3-4 hours and hikers will be treated to a beautiful waterfall.
Another must-see spot is Cascata dos Anjos, an angel-shaped waterfall that hits the road. You can drive through for a fun car wash or pose for a picture perfect Instagram photo.
For some great viewpoints, walk over the Ponta do Sol Arch Bridge or take the tunnel on the west side of town with another bridge leads to a stunning viewpoint through an arch on the cliff. No matter what you choose to do, Ponta do Sol is sure to be a beach town you'll never forget!
Escarpa – The Madeira Hideaway has FANTASTIC views and the hotel is beautifully decorated. Or stay in one of the best hotels in Funchal to be more centrally located.
READ NEXT: The Best Hikes and Levada Walks in Madeira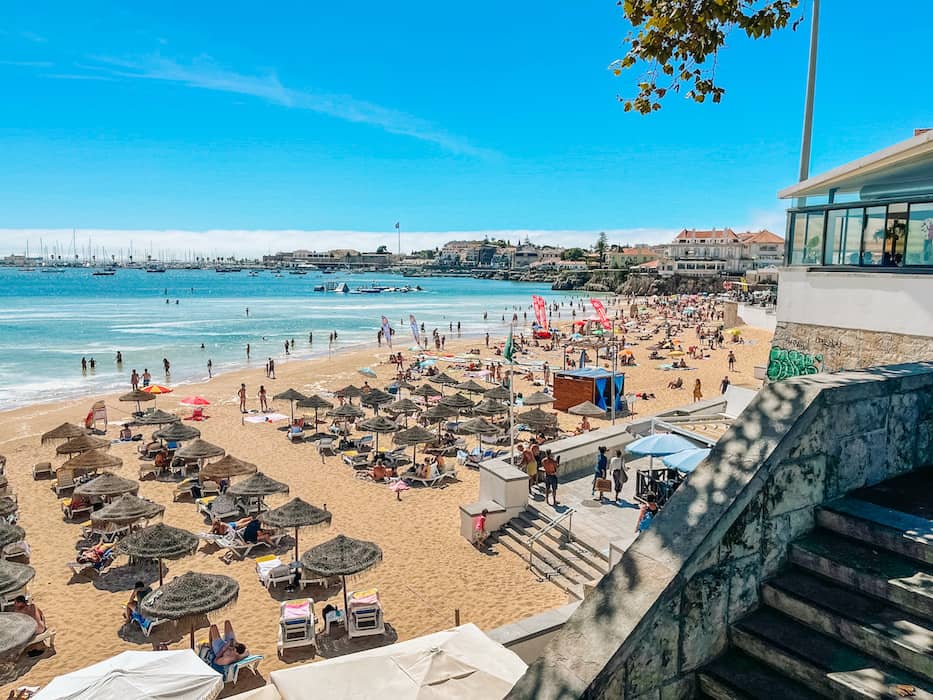 Cascais
Known for its beautiful sand beaches, Cascais, just 20 minutes from Lisbon, is where Portuguese nobility spent their summers. Today it's a hotspot for the closest beaches to Lisbon.
Praia da Rainha is a popular spot for locals, while Praia da Ribeira de Cascais is ideal for swimming and sunbathing. For a more active experience, Praia do Guincho is perfect for windsurfing and kitesurfing.
Afterwards, wander the Portuguese paved streets of the old town where you can't miss Seixas Palace, Fortress Nossa Senhora da Luz, and the Palace of Cascais Citadel.
Or, take a short drive to Portugal's amazing open cave rock formation, Boca do Inferno, which translates to Hells Mouth. If you're lucky and tide is right, you can feel the ocean's energy blowing water and mist into the air at this fantastic spot for sunset.
Cascais is only a 20 minute drive from the castles of Sintra. Tour Pena Palace, the Moorish Castle and Quinta da Regaleira. If you're a golfer Oitavos Dunes Golf Course is your spot for an 18 round of seaside golf.
Cascais can be a great place to base your stay if you want your trip to a be a mix of beaches and historical landmarks. The Albatroz Hotel has perfect ocean views of Cascais Bay.
READ NEXT: 12 Best Hotels I Cascais Portugal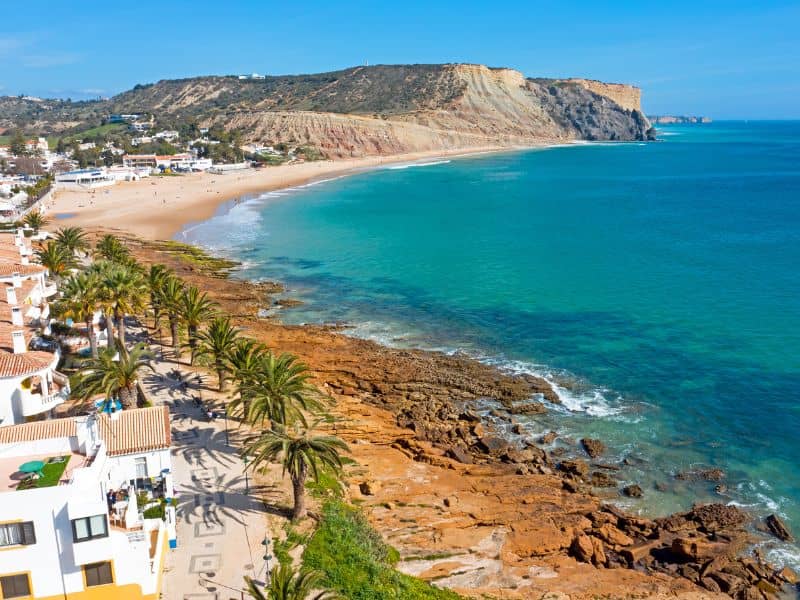 Praia da Luz
Portugal's southern coast is dotted with charming beach towns, and Luz is one of the best. This quaint town has a beautiful sandy beach, perfect for relaxing or swimming, while still being conveniently located to the bigger city of Lagos.
Right when you arrive, you'll notice the low key vibe and opportunity for aquatic activities. From surfing and kiteboarding to stand up paddleboarding and scuba diving, you definitely won't be bored.
History buffs will love to visit Fortaleza da Luz and Church of Nossa Senhora da Luz, both built in the 1500s. You'll also find Roman ruins and an aqueduct dating back to the 3rd century.
If you're looking for a bit more activity, consider hiking Fisherman's Trail. Do the steep 15 minute ascent from Praia da Luz toward Rocha Negra. Then enjoy the scenic beauty all the way to Praia de Porto Mós.
Since you are visiting a beach town, make sure to kick back on Praia de Porto Mós, Praia do Canavial, or Praia da Luz. Boaty's Tapas Cafe is a great place to grab lunch or dinner that's right by Praia da Luz.
There are plenty of apartment rentals in Luz but if you want more of a pool resort, Vila Luz has great ocean views and a convenient location.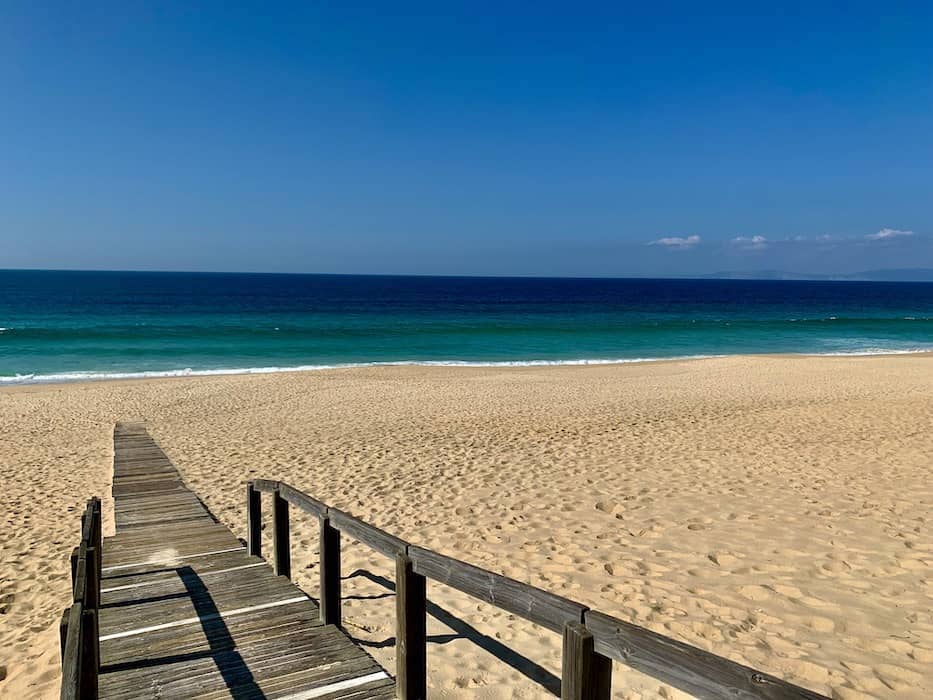 Comporta
If you're looking for the Portuguese beach town of the jet set, Comporta is your spot. Stylish people from all over Europe flock to the golden beaches of the Troia Peninsula, just 1.5 hours from Lisbon.
Known for its eco-chic vibe, the best hotels in Comporta include gorgeous resorts like Quinta Da Comporta Wellness Boutique Resort with impeccable design, overlooking paddy fields, where you can get away from it all.
The beaches of Praia da Comporta and Praia do Carvalhal are definitely worth a visit (or two). The water is such an incredible shade of blue, you'll think you've died and gone to heaven.
An enjoyable activity off the beach is to hike or mountain bike the rice fields along Açude de Vale dos Coelheiros from Carrasqueira.
You can also explore the Sado Estuary Natural Reserve – home to 250 species of birds, including storks and flamingos (you'll see the flamingos in fall and winter).
Spend at least one afternoon in town shopping for home goods or the perfect beach attire and enjoying a leisurely meal. Sublime Comporta offers wine tasting experiences that are sure to delight.
Comporta and neighboring Melides are absolute must visit Portugal beach towns.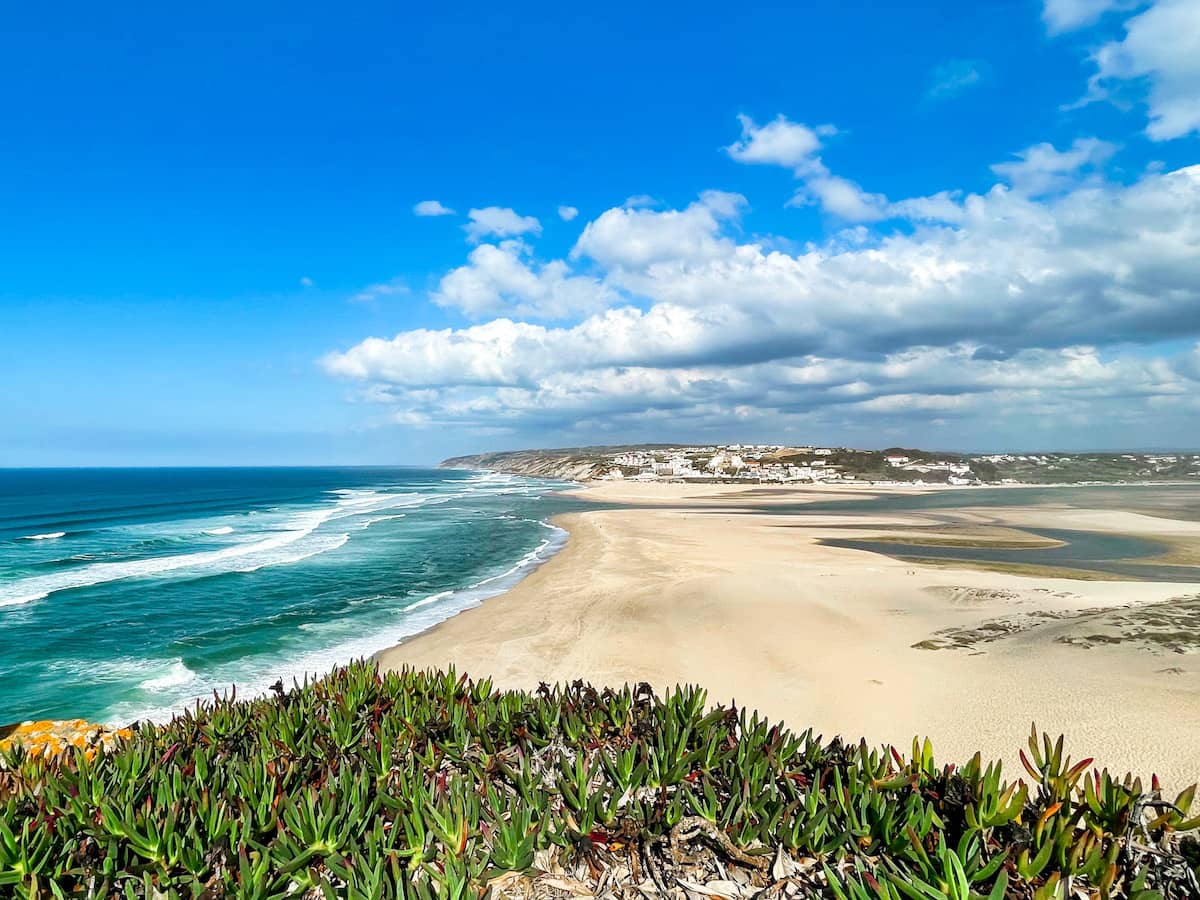 Foz Do Ahrelo
Foz do Ahrelo is definitely one of the best Portugal beach towns. Located on the Silver coast, this town is home to some of the best beaches in Portugal.
Praia Foz da Ahrelo is a must-visit, with its white sand beaches and crystal-clear waters. Visitors can relax on the beach or take a dip in the ocean. There are several restaurants overlooking the beach, to enjoy a delicious meal while taking in the picturesque views.
Looking for a little more adventure? Kayaking and stand up paddleboarding are great activities on the Óbidos Lagoon. Or take a surf lesson from one of the best teachers in the area. You can also go paragliding.
They are a series of wooden walkways lining the coast called the Passadiços da Foz do Arelho. In addition to a workout, they offer fantastic views all the way up, especially at sunset .
Foz do Ahrelo is also home to the Palacete Almeida Araújo, a beautiful villa, open to the public, that was once owned by a Portuguese nobleman. And of course, Óbidos Castle is so close, you have to head over for a few hours.
For a 5 star stay, Praia D´El Rey Marriott Golf & Beach Resort offers the relaxing vacation you deserve and a great round of golf.
READ NEXT: The Best Things to Do in Foz do Arelho, Portugal a Beautiful Hidden Gem on the Silver Coast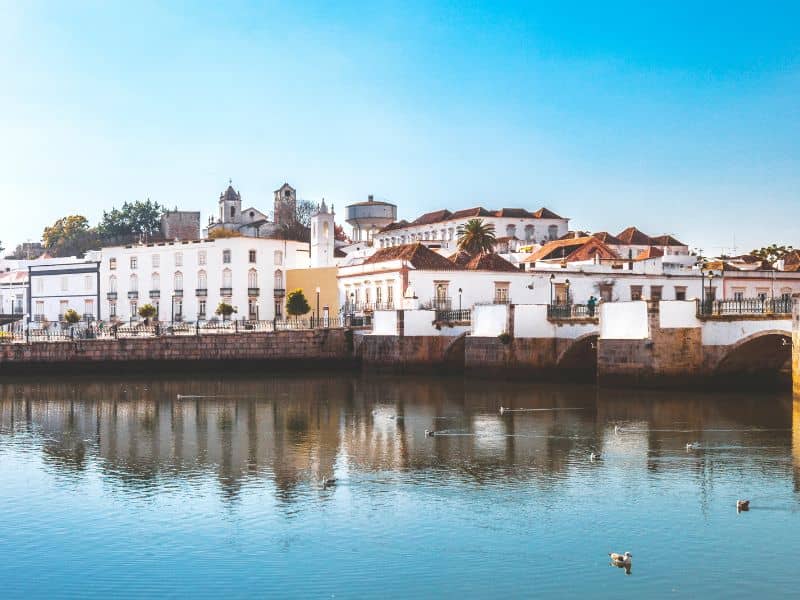 Tavira
Tavira is one of the most beautiful Portugal beach towns, and it has a long history to match its good looks.
The town was first settled by the Phoenicians in the 9th century BC, and its strategic location on the Gilão River soon made it an important trading post. 
The Moors occupied Tavira for centuries, and their influence can still be seen in the town's beautiful architecture. After the Christians reconquered Portugal in the 12th century, Tavira became an important center of shipbuilding and trade.
These days, Tavira is a popular tourist destination, and its Old Town is a designated UNESCO World Heritage Site.
Visitors can stroll through the narrow streets, admire the medieval buildings like Tavira Castle, Igreja da Misericórdia and its famous Roman bridge Ponte Antiga Sobre o Rio Gilão.
And be sure to catch a performance of Fado com História, a traditional Portuguese music genre that tells centuries-old stories of love, loss, and hope.
You'll need to take a ferry to the Ilha de Tavira barrier island to access Tavira's pristine beaches. Praia do Barril and Praia da Ilha de Tavira offer plenty of room for sunbathing.
With so many great things to do in Tavira, it's the perfect place to enjoy a Portugal beach vacation. Colégio Charm House is the prettiest boutique hotel and the perfect place to stay.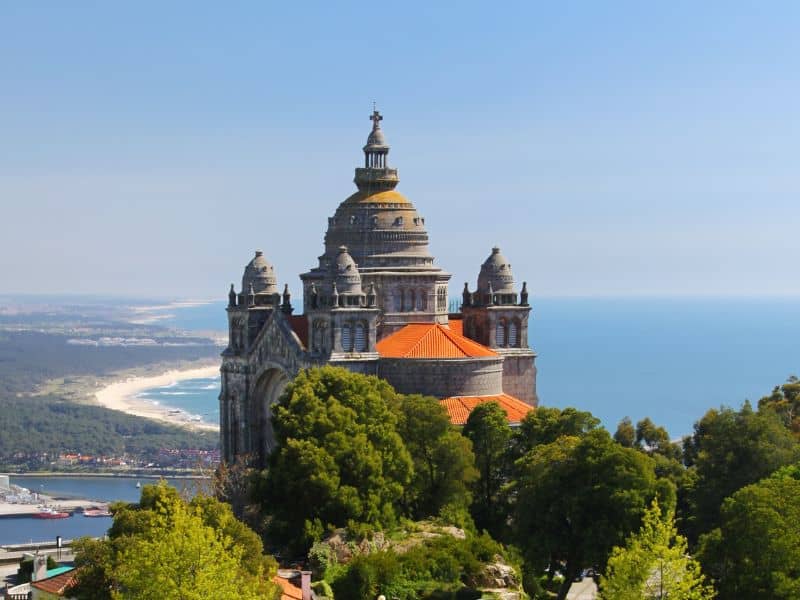 Viana do Castelo
Situated on the northwest coast of the country, Viana do Castelo is known for its medieval architecture, beautiful beaches, and fascinating history.
The town's name means "Castle on the River," and it is said to have been founded by Vikings in the 9th century.
Today, Viana do Castelo is a popular tourist destination, teeming with things to do.
For starters, you can stroll around Praça da República and take in the Chafariz fountain and baroque church Santa Casa Da Misericórdia.
The town is so much bigger and prettier than we expected. It's fun to road around. You will undoubtedly see pilgrims doing the Portuguese coastal Camino de Santiago route.
A walk along the the Limia River is lovely. Stop at a cafe for lunch or sit on the river's edge and enjoy a peaceful moment. Don't miss the Gil Eannes, a former Portuguese hospital ship turned museum.
Then, visit Santuário de Santa Luzia, a mountain top church with a beautiful dome. Getting there is half the fun.
The Santa Luzia funicular is the longest in Portugal and takes you 2 miles up 600 feet for some breathtaking views. You can also drive to the top.
If you're looking to go back in time, check out the ruins of the Old Town of Santa Luzia from 5 BC. There are also several museums and historical sites to visit, making Viana do Castelo an ideal place to learn about Portugal's rich history.
And last but not least, Cabedelo Beach is perfect for a day of kitesurfing, surfing, or just relaxing on the 1.5 mile long golden sand beach.
HOTEL: Hotel FeelViana or Hotel Laranjeira right in town. Our room had a spacious patio with beautiful rooftop views of the city that you could see from bed.
Sagres
Located in the southwestern tip, Sagres is a small, somewhat remote and laid-back beach town in Portugal known for its beautiful beaches and steep cliffs.
With a laid-back vibe and plenty of things to do, the surf town of Sagres is the perfect place to relax and enjoy the good life.
Surfers will love Praia do Zavial, Praia do Tonel, and Praia do Beliche, while those looking for a more family-friendly beach experience can head to Praia do Martinhal.
For a bird's-eye view of the area, be sure to check out Cabo de São Vicente, the second most powerful light visibility in Europe with a range of 36 miles!.
History buffs will also want to visit the Sagres Fortress, a 15th century fort that survived the 1755 tsunami.
And when you're ready to refuel, there are plenty of fun restaurants in town where you can grab a bite or a drink. Memmo Baleeira – Design Hotels is one of the best hotels in the area that overlooks the harbor with a great pool.
So whether you're looking to surf, sightsee, or just relax, Sagres is the perfect place to be.
Final Thoughts About Portugal Beach Towns
With so many head-turning Portugal beach towns, it's hard to choose which ones to visit. Whether you're looking for the best Algarve beaches, Silver Coast beaches or even Madeira beaches, there's definitely a Portuguese beach town for everyone.
And if you're near Lisbon, there are even some great options close by. So what are you waiting for? Start planning your trip and add some of the best beach towns in Portugal to your itinerary.