If you asked us as young 20 somethings if we would be living a digital nomad lifestyle in our 50's, we would have said a resounding YES!
The dream of traveling or living in a foreign country after your kids are off to college or have jobs and you have an empty nest, can be a wonderful reality. But there are some important things to take into account before you dive in.
Here are the pros and cons of living life as a digital nomad as an empty nester or after you already have an established
Life as Empty Nest Digital Nomads
We met in Mexico on Spring Break our early 20s and got married 6 weeks later. I finished my final semester of college and we moved to Paris as soon as I graduated. You can read more of our crazy story here.
Flash forward 30 years and we are the proud parents of two employed college graduates. So there was no time like the present to make our travel dream of living abroad a reality.
We decided to move to Portugal on a D7 visa in 2022. It felt like a good way to move to Europe and still maintain a home base. Also, the idea of getting citizenship after 5 years was the huge draw.
In reality though, the requirement of spending 8-9 months a year in Portugal wasn't giving us enough time to travel.
So after 5 months of living in Portugal, we packed up our things and did a one month test of life on the road, traveling around Spain and Italy.
It went so well that we made the decision to give the digital nomad lifestyle a real go.
The Pros of an Empty Nest Digital Nomad Lifestyle
Living as digital nomads definitely has its plusses and minuses. It's not for everyone and it is not for us forever. BUT, it has some amazing benefits.
Pro #1: Seeing and Doing Amazing Things All the Time
Our life at home used to be work 5 days a week and then have plans on the weekend. Then we would take trips 2-3 times a year. We had a great life but we lived for those trips.
Now, every day is an adventure. Yesterday we were wandering around this incredible landscape in the middle of the Negev Desert in Israel after visiting the birth place of Jesus in Bethlehem a few days before.
Pro #2 Travel Deeper
When we were limited to a few trips a year, there was only so much that we had time to see. Now, well into our World Travel Challenge, we are experiencing so many cultures and seeing sights we never would have been able to.
Visiting Spain meant seeing Barcelona, Madrid and Seville. Since then we have had enough time to experience most of the 22 best places to visit in Spain.
Prior to our digital nomad life, we only visited Lisbon and Porto in Portugal. Now, in addition to dozens of incredible places, we also found that one of our favorites is Madeira – a place we never would have had time to visit.
It's hard to imagine taking a 1-2 week trip now because we have seen first hand how much you miss when you only have enough time to do the top tourist activities.
Pro #3 Expanding Our World View
Being in other countries and hearing their news stations, their opinions and seeing the way that they live their life, expands our way of thinking about the world.
This time in our lives is an opportunity to learn about how people from different cultures and religions view things and how we can have more compassion and appreciation people for other perspectives.
We feel incredibly lucky that we were born in a country that is comparatively safe and has so many things we used to take for granted.
One thing that really makes an impression is how much other cultures work to live and spend time with their families.
Pro #4 Minimalism
There's something amazing and freeing about being able to pack your life into a small bag. We started our minimal journey when we rented out our house in 2020.
We pared down and started traveling full time with whatever could fit in our car. When we moved to Europe, we had to pare down again.
Stupidly, as soon as we were in a Portugal house full time, we started buying things again and nesting.
So switching to digital nomad life again meant another round of purging and fitting what was left into our small European car as opposed to our American SUV.
It appears that we will expand into whatever space we have, but we definitely feel more free and can move around more easily when we have less stuff.
Pro #5 Working Remotely
Being able to work while we travel means being able to travel without using our savings. We have met so many people that are taking advantage of living abroad and working.
---
The Cons of Living as a Digital Nomad
Con #1 – The Transportation Part of Traveling is a Pain
We all know the joys of airports, delayed flights, a crummy rental car and bad google directions driving in a city you don't know.
Add to that being up close and personal with strangers who have learned absolutely nothing about keeping their germs to themselves after the last few years.
Travel days and figuring out how to get from point A to B is just never going to be fun and we experience more of it than we would ever want to.
Con #2 – The Weather
When you travel full time, there's no way to avoid bad weather. You can try to be in certain places at certain times but rain, crazy wind, thunder, lightning and unexpected snow storms happen when they happen.
We try to use bad days as a chance to catch up on work but we had to leave Transylvania early because it started snowing like crazy (not in the forecast) and our rental car was definitely not a 4WD.
It's a bummer when the weather ruins your plans but it's one of those things you just have to take in stride.
Con #3 – Missing our Family and Friends
We really miss our family and friends. It's the biggest negative and the reason that we won't live as digital nomads forever.
It's also the reason we don't stay in places for a month at a time. We want to see and do as much as we can while we are spending time away from everyone because we know this will come to an end.
We talk to our kids almost every day and our parents a few times a week. It's harder keeping up with friends because of time changes and just being able to reach each other.
Con #4 – The Lack of Personal Time and Space
Honestly being together all the time is mostly a pro and we get along surprisingly well. When we argue, it's usually about directions (driving AND walking).
The good thing is that we are forced to make up much faster than would happen in normal life. It's hard to stop talking to someone you can't get away from and the only person you know in a city. 😂
In a perfect world, we would always be staying in a spacious 1-2 bedroom with a living room and kitchen. It's funny though because we still end up right next to each other no matter how much space we have.
That said, we've gotten pretty good at managing in a small hotel room – minus someone's tendency to snore and the reason for the reference to the 2nd bedroom above.
Con #5 – Healthy Eating
Sometimes we go places where getting delicious, healthy food is easy – typically big cities. Other times, finding healthy food is almost impossible.
We attempt to try the local cuisine, however, I am not the most adventurous eater. Lately we've been on a good run. Romania has delicious cuisine and Israel has amazing food.
Con #6 – Staying Connected
I feel like a weirdo that is obsessed with internet speed when I should be focused on the amazing destination we are visiting but we can't work when the internet sucks.
Sometimes it's so easy to get a good internet connection and have reliable phone service. Our Portugal Vodaphone plan is a dream that works in every EU country.
When we travel outside of the EU, we use an E-Sim plan that can be hit or miss. When it's bad, it's sooooo frustrating because we can't get driving directions.
We haven't perfected our strategy yet in this area but as we do, we'll add it to the tips below.
---
5 Things to Consider as an Older Digital Nomad
You can read plenty of stories on the internet about people who are digital nomads in their 20s or 30s. Plenty of them are single and traveling solo. Lots are couples. And some are traveling families.
The place we would really like to shed some light is what it's like to choose a digital nomad lifestyle when you are in your 40s, 50s or 60s. There are some big differences.
1. Healthcare
When you're getting older, you have to think about healthcare and have a plan. Our plan is two-fold.
By moving to Portugal, we were able to learn how to maneuver their healthcare system.
For routine appointments and annual tests, we can just go to Portugal and get everything done without having to fly back to the US or maintaining expensive US health insurance.
We got Portuguese health insurance when we moved. The cost for one year is the price for 2 months in the states. It covers us in Portugal and for up to 45 days of travel in the EU.
2. Nomad Insurance
Since we have been traveling for longer than 45 days and going outside of the EU, we got Safety Wing Nomad Insurance.
Policies are available from 5 days to 364 days and if your policy is over 90 days, it even covers you for a return trip to your home country.
With Safety Wing, we have medical insurance that moves with us, wherever we go. It covers us for healthcare and for travel issues all over the world.
In addition to medical insurance, chiropractic care, emergency dental, and emergency medical care, we also have travel delay and lost checked luggage coverage.
One of the aspects that is most important to us, beyond the typical travel issues is knowing that we have protection in the event of an unthinkable emergency like political evacuation, emergency response, and natural disasters.
If you want to check out coverage for your next trip or for full digital nomad life, you can use the box below. The price varies by age up to 70 years old. High risk sports and pre-existing conditions are not covered.
---
3. The Digital Nomad Living Situation Can Be More Expensive
Staying in hotels and vacation rentals is more expensive than a long term rental or paying a mortgage. Due to that fact, you are typically staying in a place that's smaller and not as nice for more money.
Digital nomad is a type of tourism has mostly applied to people in their 20's staying in hostels. Hostels and co-living places are not as desirable when you get older and want privacy, quiet and a nicer place.
Older digital nomads that stay in nicer accommodations have been dubbed flashpackers. Flashpacking travel is basically a luxurious backpacking trip.
Most people going on vacation are willing to splurge on a nice place but when you live in hotels full time, you have to keep the splurge behavior in check.
We manage our budget by choosing nice, inexpensive places when they are available so we don't feel bad spending more in countries that are notoriously expensive.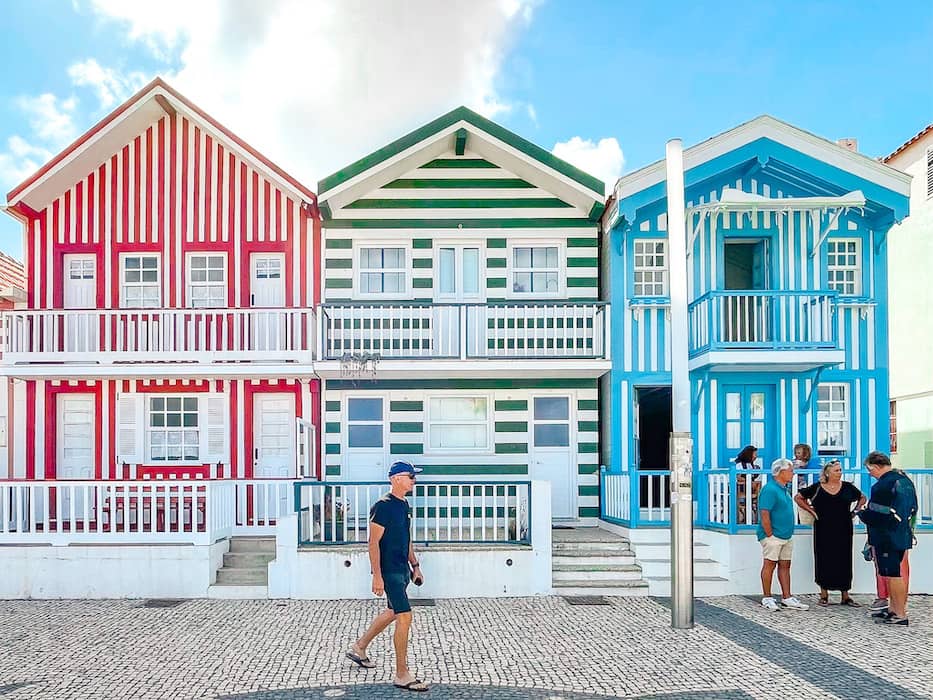 4. Slow Travel
Our ideal situation would be to rent a place for a month and explore from a home base. That hasn't happened yet because we have been taking advantage of off season before the summer crowds.
We intend to slow our pace down but for now we stay in each place for a few days to a week at a time.
After using every option out there, we now use Booking.com almost always because they have the largest selection of hotels, aparthotels, and vacation rentals and their Genius program makes their prices the cheapest.
Aparthotels are our top choice because they offer most of the amenities of a hotel with more living space. They cater to digital nomads and families with full kitchens, a separate bedroom and living area and usually have high quality wifi.
PRO TIP: Book short term vacation rentals though Booking.com instead of Airbnb to avoid all the excessive fees and more honest reviews since guests aren't afraid of getting reviewed by the owner.
5. Homesickness
Some people are really challenged with homesickness. One of the little things we do makes it a non-issue for us. This is going to sound silly but it works like a charm.
We travel with a Fire TV Stick that is programmed with all of our US streaming services.
All we have to do is plug it into a hotel television, connect to our NordVPN and then we can watch TV like we are in the states.
It might not seem like a big deal but it's very comforting compared to flipping channels trying to find English and being forced to watch depressing world news.
When you are in another country, things that are easy at home can be difficult, especially with a language issue, Our little TV set up provides a simple break.
---
Final Thoughts About Long Term Empty Nest Travel
As we travel for longer, we are sure to add more digital nomad pros and cons to this list as well as tips on how to best navigate the exciting options available to other empty nesters.
If there's anything you would like to know more about our digital nomad lifestyle, feel free to put it in the comments and we'll get back to you.
We hope this post has been somewhat helpful if you are considering a life abroad.