We can't believe we have been living in Portugal for a month already. Since we get lots of questions about this new life journey, life in Portugal and becoming an expat, we thought a monthly recap will allow us to share what it's really like.
One of the most fun things about moving to Portugal is that we have heard from so many people. Catching up with friends from every phase of our lives and readers of the blog, has been an absolute blast. We love hearing from you all!
We'll tell you about all the awesome things that happen and mishaps, which are sure to be many. A true adventure is amazing but it rarely comes without cuts and bruises along the way.
This site uses affiliate links, meaning if you make a purchase through our links, we may earn a commission, at no additional cost to you. You can read our full disclosure policy here.
Highlights of Our First Month Living in Portugal
Finally Making the Move to Portugal
Our plan to move to Portugal was more than a year in the making. It's mind boggling how many things there are to do to actually make it happen. Only half of it involves the paperwork, visas, finding a place to live, getting a bank account, etc.
The other half was concluding our life in the states. Think about all the things you try to get done before you go on a trip and multiply it by ten.
Doing all our annual doctors appointments, finishing our projects, getting my hair done (highly important!), packing some things and selling others. Our empty nest lifestyle required lots of coordination.
So when we finally touched down in Lisbon, it was surreal. We go from "we actually did it" to feeling like we're just on a big trip. After 3 weeks of living in Portugal, and getting on a more normal schedule, we are finally starting to believe it.
Selling the Projects We Worked on For the Last Year
The Sprinter Van
When we decided to do a sprinter van conversion, we were very open to the idea the finished van could have been for our personal use, a one time project that we would sell or potentially the start of a sprinter business.
Along the way, we completely fell in love with it and it was bittersweet when it turned out to be option #2 – a money making project.
That said, the family that bought it stayed in touch with us and are currently on a road trip. So we're living vicariously through them and maybe one day, we'll build another one.
The Lake Arrowhead House
We were open ended about the house too. It was either going to be a vacation house for our family or a flip house.
We were not as sad about leaving the house because we felt that it was such a great home for the last year and we are so excited for the new owner to make a lifetime of memories there.
Making it to Our Immigration Appointments
When the Portuguese government gives you a D7 visa, they also schedule a time and place for your SEF interview. You have 90 days to show up in Portugal and complete the residence permit process at the in-person interview.
Originally our plan was to be living in Portugal by mid-May, but the universe had other plans for us.
I had sinus surgery in March that didn't work and it took awhile to get a date for the bigger surgery. It also took us longer than expected to finish all of our construction and sell everything.
There were many times we didn't think we'd get to Portugal in time. We would have had to start the process all over again since you only have 90 days to enter Portugal from the date on the visa.
Thankfully we arrived one day before Guy's appointment!!!
Guy Getting Back to Surfing
For the last few years, we've been living away from the ocean and moving to Ericeira, Portugal was a lot about surfing. This is the beach Guy has been going to the most.
It's less than a 5 minute walk from the house. He's in heaven being able to surf almost every day again, minus the day he got hit in the head by someone else's surfboard!
---
August Challenges
SEF Appointment
Guy's appointment was in Coimbra. The office was packed with people and when it was finally Guy's turn the woman was so helpful and Guy was approved.
Mine was a week later in Figueira da Foz. The woman doing my interview was like a cross between an unhappy DMV employee and a police detective doing a murder investigation.
Flipping through my passport, issued in January, seeming to have a problem with the empty pages, she peered up at me suspiciously, "Do you live in Portugal?" I would say, "yes." She would ask again and again, like I might change my story.
With the last 3 months of our Portuguese bank account statements in her hands, she said I needed to provide my bank statements. There was no convincing her that she was holding them.
At the end of my appointment, she gave me a list of things I needed to send her, which I did the next day by registered mail. Hopefully my residence card shows up one of these days.
Many Portuguese people speak English but it's much more for tourism. Once you are interacting with government offices or the Portuguese healthcare system, it's important to speak Portuguese.
So we're definitely putting in more effort to learn and trying to understand silly things like why Portuguese people break the gender rules for how to say thank you in Portuguese. Hearing girls say obrigado really threw me for a loop.
Summer Crowds & House Location
While our new town is fun and lively during the summer, it's been pretty noisy. The upside and downside of our house in town is that we are very close to everything. September has already been much better.
Overall, we would have preferred living in a house that was a 5 minute drive to town, however year long rentals (required for the D7 residence permit) are hard to find since most good rental properties are for short term vacation rentals.
It's highly likely that we will end up buying a place. Property prices in Portugal are much lower than the United States and most of Western Europe but there are high taxes when selling real estate so you really need to be sure that it's the right place.
We also might want to buy a place that will allow us to take advantage of a Portugal Golden Visa. The area we currently live is excluded from the Golden Visa so we will need to do more exploring.
---
August Travel in Portugal
August car rental prices were crazy but we thankfully we found an awesome deal with Discover Cars that was half the price. We've had multiple good experiences with Discover Cars for Europe car rentals.
Since we knew that there would be time in between our car rental and buying a car, we took every chance to explore parts of the country we hadn't seen yet.
Coimbra
Our second day in Portugal, we headed to Coimbra for Guy's SEF meeting. We drove through the tiny little streets for a tour. If we weren't so jet lagged, we would have hoofed it around town, up and down all the steps.
The oldest University in Portugal is at the top of the hill. There are also some amazing old churches, and as you can imagine, great views. We will definitely return.
Figueira Da Foz
Guy got pumped up at the outdoor gym equipment for my SEF meeting. We arrived pretty early so we tooled around and tried to find interesting things to do in Figueira da Foz.
It's not as pretty as other cities in Portugal. Part of the coast is nice and the other part is by a town that looks like it needs updating. After the meeting we went 30 minutes north to Aveiro.
Aveiro
Aveiro is referred to as the Venice of Portugal and other than these gondolas, I'm not sure why. The gondolas are very photogenic and fun to watch and overall it's an artistic city with nice museums and churches. One of the best places to see when you go to Aveiro is the beach town of Costa Nova.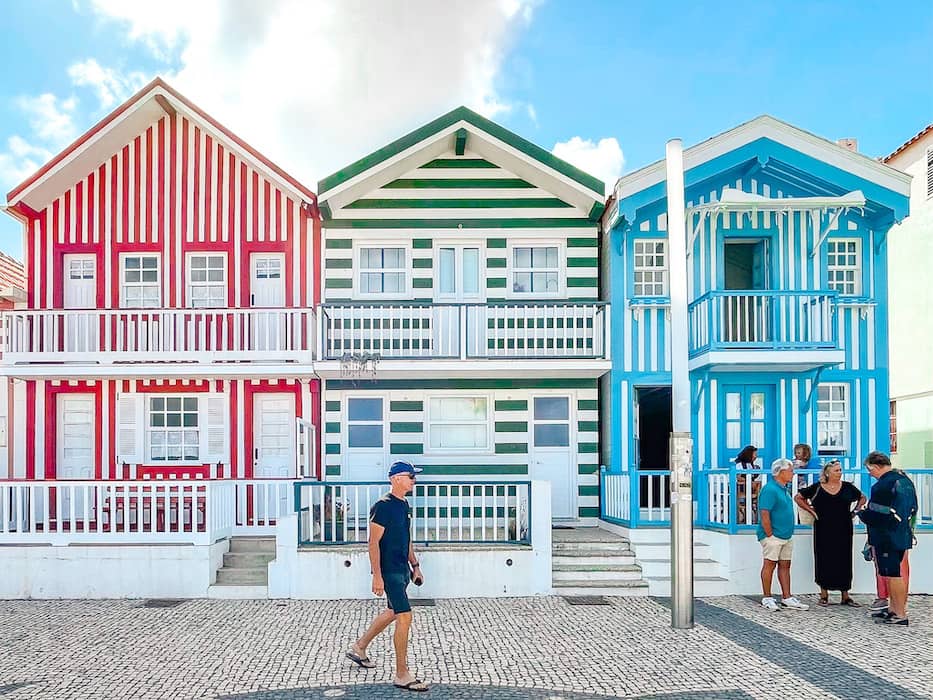 Costa Nova
This former fishing village turned resort town is less than 10 minutes from Aveiro. The long peninsula has lots of these fun striped beach houses called Pahleiros that were originally built by fisherman to store their gear.
On the opposite side of the peninsula are the prettiest sand dune beaches in Portugal. Bring your walking shoes for the 6km awesome raised boardwalk (passadiços) that was built to protect the dunes between Barra and Costa Nova.
It's definitely worth an overnight. Villa Rafa and Cestaria Costa Nova are really cute places to stay. You can also take a Half Day Aveiro & Costa Nova Tour from Porto.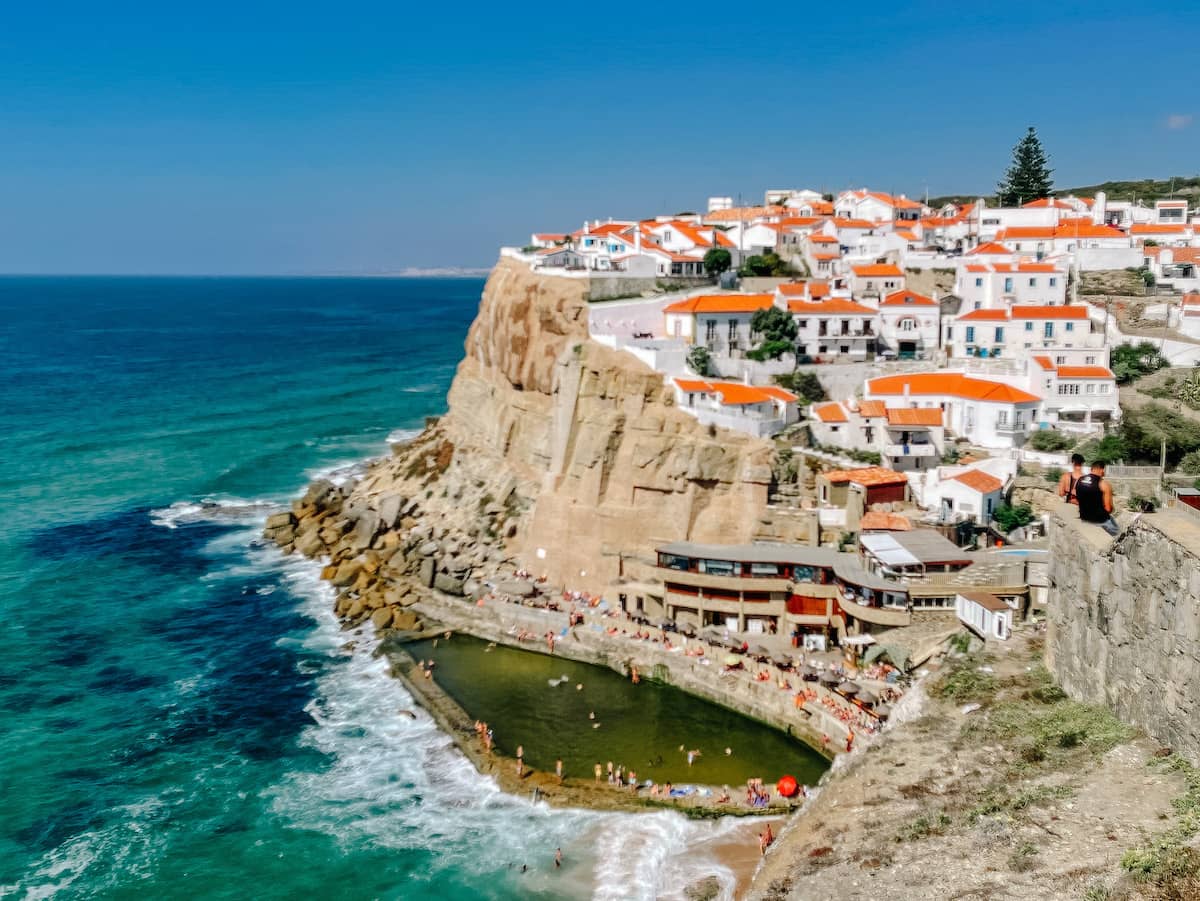 Azenhas do Mar
Guy and I love exploring and getting off the beaten path. It almost always leads to something great. So when we went to Ikea yet again, we decided to take the long way and totally scored.
We ended up in a little village called São João das Lampas and found a busy local cafe. Guy ordered a burger and I would pay good money to have a video of the look on his face when they brought out a patty with an egg and no bun. He looked like he couldn't even comprehend what was happening!
After lunch we kept making our way to the coast and happened upon Azenhas do Mar, one of the most picturesque villages in Portugal. The seawater pool at the base of the village is so cool.
If you want to stay overnight, Azenhas do Mar West Coast Design and Surf Villas is the perfect spot. Or stay at one of the Best Hotels in Cascais and enjoy all the beaches.
You can also see it on a Sintra and Cascais Full-Day Tour From Lisbon.
---
August Blog Posts
It was hard to keep up with blogging during the move. That said, the Best Boutique Hotels in Bend Oregon is something I have wanted to post for awhile.
We love Bend and our Things to do in Bend YouTube video unbelievably has 40,000 views. We highly recommend a visit and these hotels range from fun boutique types to awesome resort getaways.
Updated Posts – Moving to Portugal got a complete overhaul answering all the most pressing questions people have about living in Portugal, Golden Visas and more.
The Best Places to Travel in October was updated with new destinations for 2022, including some of the ones we are looking forward to visiting soon. Lake Arrowhead Airbnbs and Big Bear Luxury Cabins have some great new listings added.
---
August Musings
What I watched on TV
I binge watched Indian Matchmaking on Netflix and I don't even like reality TV shows. It's a behind the scenes look at arranged marriages in the US and India. Besides who doesn't think a wedding, complete with elephant rides and multiple extravagant clothing changes, is worth watching!
What I'm Reading
I've been reading Circe by Madeline Miller for a month so it's not a page turner but it is interesting if you want a story about Greek Gods.
The Book of Longings by Sue Monk Kidd is a historical fiction novel about the possibility of Jesus having a wife and what that might have been like. It's such a great book!
What We're Eating
The little town where we live has a population of 10,000 and more than 100 restaurants. We have tried at least 20 so far between our trip in February and living here in August. The food is absolutely delicious.
We tend to go for the healthy/trendy food over the traditional Portuguese restaurants. Portuguese food is a lot of beef, fish like large sardines, French fries, stews, the infamous pastéis de nata and other yummy baked goods.
Best Purchases
NordVPN – VPN stands for Virtual Private Network and it does 2 key things. First, it gives you a worry-free secure connection on public WiFi like the airport or hotel. It also allows you to watch television from other countries anywhere in the world. If you have run out of good things to watch, the world is literally your oyster.
Philosophy One Step Cleanser – someone gave me a sample and I LOVE it so much that I brought it to Portugal. Just a tiny bit removes all your makeup in one shot and leaves your skin feeling amazingly clean and without drying it out.
We got a ventless dryer and we're in love! I know lots of people say they like hanging their clothes to air dry but I prefer nice soft clothes. The dryer evaporates the water out of your clothes and then you just empty the little tank.
---
That's all for our first month living in Portugal as expats. Do you have any questions about expat life, Portugal or anything else? Let us know if there's something you would like to know more about.