Looking for the best weekend getaways or weekend breaks in Italy? From romantic getaways in Venice to art-filled explorations in Florence, there are plenty of options for an unforgettable weekend trip to Italy
In this post our favorite travel bloggers recommended their choices for the best Italian city breaks along with "can't miss" things to see and do. We even have you covered with hotel and vacation rental options so you know exactly where to stay.
With its dreamy Mediterranean climate, stunning natural settings and awe-inspiring historic sites, it's no wonder that Italy is one of the most popular countries for visitors worldwide!
This site uses affiliate links, meaning if you make a purchase through our links, we may earn a commission. There is no extra cost to you. You can read our full disclosure policy here.
The Best Places to Visit for Weekend Breaks in Italy
Venice
Weekend breaks in Italy can be a truly magical experience and Venice is one of the best cities. In addition to all the iconic sites, this city is filled to the brim with art and romance.
A walking tour through St Mark's Square is a good place to start to admire the beauty and architecture of Venice. Skip the long lines by taking a guided tour of the iconic St Mark's Basilica and Doge's Palace, where you can walk over the famous Bridge of Sighs.
One of the best things to do in Venice is get lost in the labyrinth of the city, crossing over bridges and waterways and watching the natives go about their daily life. Make sure to include the bustling Rialto Bridge in your promenade.
A nighttime cruise of the Grand Canal, enjoying all the city lights, is simply mesmerizing! You can also up the ante by romanticizing your holiday with a Gondola ride; it is such an iconic sight that you will forever cherish!
Further explore extraordinary art collections at the Ponte dell'Accademia museum and then marvel at the Peggy Guggenheim Collection.
Then there's the Murano Glass Museum at Burano Island to pay homage to Italian culture with plenty of unique handicraft displays, making for great souvenirs.
Venice is one of the best places to visit in February in Europe to see Carnival. It's a bucket list event with grand balls, boat parades and incredible costumes. It's the perfect trip for your Valentine.
Where to Stay in Venice:
Florence
Recommended by Kristin from World on Wheels
Florence makes a great destination for a long weekend in Italy due to how easy it is to travel to, plenty of fun activities, many options for day trips, and it's small and homey feel.
Known for its art scene, you could spend hours in Florence's museums admiring several famous pieces such as Michaelangelo's "David" and Botticelli's "the Birth of Venus." You will also find Leonardo Da Vinci's "Annunciation," and Lorenzo Ghiberti's "Gates of Paradise."
Other must see/do experiences in Florence include visiting Piazza Michaelangelo for fantastic views of the city. Touring the Duomo to see its magnificent ceiling, which depicts the judgment day is a highlight
For an incredible bird's eye view of the city and a closer look at the painted dome inside the church, you can climb over four hundred steps to get to the top of the Duomo.
Foodies will want to hone their cooking skills at a pizza and gelato making class when you are in town.
If you want to get out of the city for a while, you can choose to take a day trip to Pisa, Cinque Terre, Siena or San Gimignano. A trip to the chianti region for wine tasting is also another great option. Get Your Guide offers fantastic options for day trips if you are traveling without a vehicle of your own.
Where to Stay in Florence:
The 25hours Hotel Florence Piazza San Paolino (9.7) themed around Dante's Divine Comedy, has striking decor and colors that create a fun and moody ambiance. It offers a gym, spa, biking, entertainment and is pet friendly.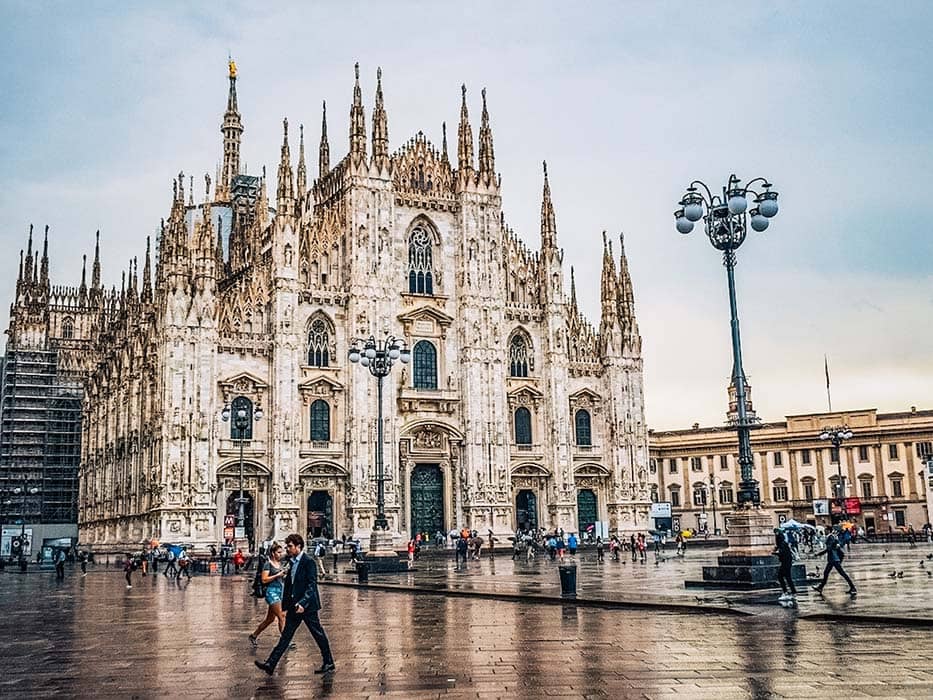 Milan
Recommended by Danielle Zito from Scratch Your Mapa
Milan is the perfect Italy city break for a 2-3 day getaway. Famous for its stunning Duomo Cathedral, there are plenty of activities around it, as well as throughout the city.
The Duomo is stunning both day and night, and marks the heart of the city. Choose a Fast-Track Milan Cathedral and Terraces Guided Tour to skip the line and see the highlights from an expert guide.
Another main attraction right next to it is the Galleria Vittorio Emanuele, where you can find tall ceilings, marble floors, and high end shops.
Right next to the Duomo you can grab a drink at one of the great rooftops such as the Aperol Spritz Cafe, or Terrazza Duoma, which have balconies facing the beautiful cathedral.
Milan has a great neighborhood to check out at night which is called Navilglio Grande, situated along the river. This is the where you'll want to go in the late afternoon for an Italian Aperitivo, browse the shops, and watch the city light up. Some other great attractions are the vertical forest, Teatro all Scala, Torre Branca, and Castello Sforesco.
You can easily enjoy a full weekend in this cosmopolitan city. However, you can also opt for day trips to Lake Como, Lake Maggiore, or the quaint town of Monza just a half hour away.
If you'd like to explore the beautiful surroundings of Milan on a day trip, there is a great tour that includes Lake Como, Lake Bellagio, and Varenna.
Where to Stay in Milan:
Rome
Recommended by Monique Skidmore of Trip Anthropologist
It's hard to imagine a bigger blockbuster weekend in Italy than a visit to the Eternal City, Rome. The challenge is not to exhaust yourself visiting Rome in a day or two with the sheer number of UNESCO World Heritage sites, art, architecture, and magnificent piazzas and monuments.
The best itinerary for a long weekend stay involves Rome's three largest attractions: Vatican City, the Colosseum, and the Forum and Palatine Hill.
If exploring Ancient Rome isn't your thing, a visit to the Colosseum (especially at night!) will still amaze you. Then follow it up with a Food Tour of Rome's most-loved establishments.
If you plan to skip the Forum and Palatine Hill, then a visit to the Pantheon, Trevi Fountain, and Spanish Steps is only a half-day of activities because they are so close together.
For Rome's big attractions you need to get tickets in advance and skip-the-line express entry tickets are necessary when you only have a weekend and don't want to spend several hours of it queueing for tickets!
There are a number of combination tickets that represent great value, such as a combined Colosseum, Palatine Hill and Forum ticket (which is booked hundreds of times each day), but also a Vatican Museums and Sistine Chapel or St. Paul's Basilica tour (which is sometimes the only way to gain entrance to the Basilica).
If you're keen to get out of Rome for a day and it's your first time in Italy, the round trip to see the ruins of Pompeii just outside of Naples, is by far the most popular day trip from Rome, just be prepared for a long day!
Where to Stay in Rome:
Verona
Recommended by Dhara from It's Not About the Miles
The romantic city of Verona is a wonderful weekend getaway in Italy. With magnificent landmarks, the Romeo and Juliet connection, lively squares, and great food and drink, Verona offers much to do in its own right, but it's also perfect as the base from which to take a day trip to round out your weekend.
Visiting the Arena is one of the best things to do in Verona. The Roman amphitheater still hosts opera performances and other concerts. The well-preserved Arena is located on Piazza Bra, one of the main squares in the city that you can stroll.
If you would like to learn about the history, you can take an Arena Skip the Line Guided Tour. For exploring more of Verona, you also take a History and Hidden Gems Walking Tour.
While visiting Juliet's house and posing for a photo on the balcony is touristic, it's still a must-do in Verona. Visit early in the day to avoid crowds in season.
Ascend to the top of the Torre dei Lamberti for panoramic views over the city. The city is located in the lively Piazza delle Erbe. You can take the lift!
Another fantastic viewpoint is the courtyard of the Castel San Pitero, on the other side of the Adige River. Take the funicular to the top and then soak in the views over the river and the rooftops of Verona.
Lake Garda makes for a great day trip from Verona. The bus is the best way to arrive in Sirmione, a pretty town on the southern shore of the lake. Another way to get there is in a small group boat tour.
Where to Stay in Verona:
Palermo
Recommended by Catrina from 24 Hours Layover
Palermo is one of the best places for a weekend trip to Italy – from the warm weather to the delicious food and stunning architecture! There are so many unique places to visit in Palermo, and the architecture is so impressive and different to the rest of Italy due to it's unique history being the most conquered city in the world!
Make sure to visit the Cathedral, San Cataldo church and Cappella Palatina as well as Quattro Canti, Fontana Pretoria and the beautiful Teatro Massimo. Any easy way to see these sights is with a city center walking tour.
Plus of course – head to the beach! Mondello is Palermo's local beach, just a 20 minute bus ride away. There is a stunning pier here and several nice cafes too!
Make time to visit Monreale town with its stunningly impressive gold-mosaic Cathedral and panoramic views. Monreale is just 30 minutes drive from Palermo so it makes for an easy day-trip from Palermo!
In the evening head to the bustling street La Vucciria where you can get a glass of wine for 1 or 2 Euros from one of the many bars!
Palermo's Street Food and History Walking Tour is the tour of choice in Palermo! This tour mixes a foodie and historical walking tour together. Taste 5 delicious typical Palermo street foods and admire the fascinating architecture and historical landmarks of the city. Palermo has many unique street foods that aren't found anywhere else in Italy so you don't want to miss out!
Where to Stay in Palermo:
Taormina
Recommended by Missy Cahill from Travels With Missy
The beautiful town of Taormina, Sicily sits peacefully near Mt Etna, one of Europe's most active volcanoes. Steeped with an incredible history that dates back to a time when the Greeks were present on the island of Sicily.
You can even step into the past by visiting the Teatro Greco di Taormina and learning about this incredibly well-preserved amphitheater that nowadays plays host to an international film festival and musicians from around the world.
Spend your day leisurely exploring the town of Taormina with its incredible stores which range from designer brands to local Sicilian pastry stores.
Sicily proclaims to have some of the best food in all of Italy and throughout Taormina, you'll encounter local ingredients such as pistachios and lemons that are used in dishes from pasta, and pizza to dessert.
Make sure to check out the Pasticceria Gelateria D'Amore to sample a range of cannoli flavors and typical Sicilian pastries. Here's a fun food and wine walking tour.
Cool off on the beaches below Taormina by taking the cable car down to Isola Bella, one of the most photographed beaches in Sicily.
Spend your day soaking up the sun and cooling off in the Ionian Sea, before heading to one of the local beach bars and ordering a typical Sicilian Granita, a flavored slushie.
Take a guided hike to Mount Etna that includes a wine tasting and a typical Sicilian lunch. Admire the beauty of one of Sicily's most famous volcanoes and the landscape around it.
For more inspiration watch Season 2 of The White Lotus which is set entirely in one of the best hotels in Taormina.
The San Domenico Palace, a Four Seasons property, has the most amazing views and the perfect place to stay for a weekend break in Italy.
Where to Stay in Taormina:
San Marino
Recommended by Shaun from Travel Mad Mum
San Marino is its own tiny country in north central Italy. Perched on top of a sheer cliff face, the country feels medieval with castle ruins, cobbled pathways and historical buildings.
Dating back to the 11th century the three tower citadels are one of the most prominent and recognizable sites of San Marino. Literally on a cliff edge the towers look like something out of a fairy tale book. They can often be seen above the clouds on an overcast day.
San Marino is small and the perfect place to wander around. Take one of the incredible guided tours to learn the history of one of the oldest republics in the world.
The trail between the three towers is easy to follow independently, however with guide the experience is so much more.
Book a table at Cesare restaurant for dinner to try their 5-course tasting menu in an environment with dramatic views. Featuring open fires, great wine and blankets to keep warm, it is a really cozy restaurant.
Hang out at Piazza Cava Antica cafes for great people watching in the cutest square. Finally, head to Monte Cerreto Pinewood adventure park for a tree top rope adventure.
San Marino has lots of trees, Fall is fantastic to visit when the cobbled pathways laden with colorful foliage.
Where to Stay in San Marino:
Bellagio
Recommended by Enzo from Inguaribile Viaggiatore
Called the pearl of Lake Como, Bellagio is located on the saddle of the lake where it splits into 2 different sections. It's quite large and has an incredible variety of beautiful landscape and nature due to its position, straddling hills, the lake coast, and the Alps. The highest peaks in the area are the Monte San Primo, Monte Palanzone, and the Corni di Canzo.
Among the most fascinating aspects of this village, there are undoubtedly its enchanting villas, famous all over the world for their splendor and their well-kept gardens.
One of the most famous is Villa Serbelloni which is a symbol of the municipality of Bellagio. It is a splendid seventeenth-century villa built on the ruins of a previous castle which was destroyed.
Another beautiful villa in the municipality of Bellagio is Villa Melzi, located on the western coast of Lake Como,
A must see is to visit the important basilica of San Giacomo, a church built in the 12th century, which houses numerous paintings especially by Renaissance painter Perugino.
A great way to visit the village and the Como area is in a guided tour. You can also take a boat tour. The Central Lake Tour starts from Bellagio and lasts 2-hours. It will take you to the most beautiful places in the center of the lake, including Menaggio, Varenna, Villa Carlotta, Tremezzo, and Lenno.
Where to Stay in Bellagio:
South Tyrol
Recommended by Paul from Paulmarina
South Tyrol is a lesser known region in northern Italy, and it's a well-kept secret. The Italian province is also called Alto Adige on paper, and it was originally part of Austria before WW1. Locals still speak Austrian-German and now also Italian.
The mountainous region is known for its mild climate, traditions and welcoming natives. The region has truly something for everyone!
Mountain lovers should definitely plan a hike to the breathtaking Dolomites. Nature lovers will appreciate the crystal clear waters of Lake Braies.
If your Italian weekend break is in winter, make sure to check out the Christmas markets in Bolzano and San Candido. You can also take a Dolomites private snowshoe tour.
Those looking for a mystery or two should seek out the bell tower in Lake Resia and the castle ruins of Montechiaro. Visitors will appreciate a stroll through the old world towns, Bolzano and Merano.
Well-known vineyards also surround the towns. A wine tasting session with local Speck (a cured lard bacon) should be on everyone's to-do list on a visit to South Tyrol.
Adventurous busy day trips are every traveler's dream, and a special evening in South Tyrol is best spent unwinding in the Thermal spas with a wellness dinner a deux, one of the best things to do in Merano.
A weekend in South Tyrol gives one plenty of time to explore the area in a relaxed pace and will most certainly make for one of the most memorable Italy weekend trips.
Where to Stay in South Tyrol:
Positano
Recommended by Lori from Travlinmad
If you're looking for a great weekend destination Italy, the sun-drenched city of Positano on the Amalfi Coast is the getaway destination for many Italians!
Known for its colorful cliffside houses stacked high over the sea, Positano is a place to see and be seen. It's a popular destination with A-listers and others wanting the quintessential views to fill photos. Days are lazy and nights are hot, and there's always something fun to do.
Rent a beach lounger and relax at Spiaggia Grande for the morning. This is the main beach in town though it's rarely crowded. After lunch at Chez Black, spend the afternoon strolling the town and shopping for beachwear or handmade sandals.
To see the famous Amalfi Coast sites, rent a vespa and wind your way through the narrow streets. Better yet, take a boat tour and see the coast from the water. This top-rated all-day small group tour from Positano takes you along the entire Amalfi Coast including Sorrento and Capri!
For an easy day trip, hop a bus to the hilltop town of Ravello, just 16 km away. There are plenty of unique things to do in Ravello like strolling through the famous gardens at Villa Cimbrone overlooking Amalfi.
Where to Stay in Positano:
READ MORE: The Best Boutique Hotels in Positano Italy
Turin
Recommended by Lori from Italy Foodies
Italy has no shortage of great places for a weekend getaway and one of the best city breaks is the Imperial city of Turin (Torino in Italian). Located in the Piedmont region of northern Italy, Turin has a great deal to offer for a weekend visit.
See many of the city's important sights with a visit to Piazza Castello. This famous square is surrounded by the Palazzo Reale with the king's apartments and royal library, the Palazzo Madama and the Mole Antonelliana with the National Museum of Cinema and a panoramic elevator to see incredible views of the city.
Known as Italy's Chocolate City, chocolate is ubiquitous in Turin, but knowing what to try first can be daunting. Start off by doing agianduiotto chocolate tasting at any of the better chocolate shops in the city — GuidoGobino is among the best.
The chocolate bars look like small gold ingots but inside your tastebuds will find chocolate heaven made from cocoa, hazelnuts, and sugar.
Then, make your way to the historic Caffe al Bicerin to indulge in a glass of decadent bicerin, a hot drink made with espresso, chocolate, and milk that dates to the 18th century.
For shopping and dining, stroll the day away along Via Garibaldi, the main street in the pedestrian-only zone. The area is packed with cafes, boutique shops, restaurants, and casual bars.
No trip to Turin would be complete without visiting the Egyptian Museum, considered to be the best collection of Egyptian artifacts outside of Cairo. Taking a guided small group tour like this one with skip-the-line tickets is ideal!
Where to Stay in Turin:
Naples
Recommended by Lisa of Waves and Cobblestones
Naples, famous as the birthplace of pizza, is an excellent choice for a weekend getaway in Italy. The many great things to do in Naples will fill a weekend and more! The historic center of Naples is recognized as a UNESCO World Heritage site for its incredible monuments and historical significance.
On a Naples itinerary, history buffs will delight in exploring Naples' many fortresses: striking Castel Nuovo, Castel Dell'Ovo (Naples' oldest standing fortification), and Castel Sant'Elmo, the star-shaped hilltop fortress looking over the city and harbor.
All visitors to Naples will be delighted with the wealth of incredible architecture and stunning artwork throughout the city. Admire the iconic basilica, the focal point of the Piazza del Plebiscito, or visit the Cloister of Santa Chiara, whose gardens feature an array of columns and benches beautifully decorated in Majolica tiles.
Performing arts aficionados will want to tour the opulent San Carlo Theater, the oldest continuously operating opera house in Europe. Watching an opera or ballet performance in this magnificent opera house is a memorable way to spend an evening in Naples!
Naples also makes a great home base for regional day trips. Spend a day exploring Mount Vesuvius and the city of Pompeii with an archaeologist, which was destroyed by the volcano's eruption in 79 A.D.
Don't miss out on sampling some Neapolitan specialties! Take a street food tour with a local guide and get a taste of delicious local foods as you wander past some of Naples' best attractions!
Where to Stay in Naples:
Cinque Terre
Recommended by Roxanne of Far Away Worlds
The jewel of Italy's Ligurian coastline, visiting the five towns of the Cinque Terre National Park make an enchanting weekend getaway. The historic fishing villages are nestled into the cliffs and overlooking the ocean, making them a breath-taking place to spend a few days.
The towns are on the train route and easily accessible by public transport, although driving to some of them is more of a challenge.
Spend a day visiting the villages, either by the connecting train or by walking between them, whichever you prefer. You won't have a huge amount of time in each town, but it will give you a good feel for each village and you can always return to your favourite later.
The towns can get busy during the day, so it's worth visiting the popular Cinque Terra towns early, particularly Vernazza, which can be quite crowded in the afternoons of the peak season.
If you didn't walk between the villages (and even if you did), be sure to go on a hike in the national park. The trails in the hills between Manarola and Corniglia wind through the vineyards and especially lovely, while you can see all five village from a lookout above Monterosso.
If you have the time to spend a few days in the area, it's also well worth taking a day trip up the coast to the beautiful seaside towns of Moneglia and Sestri Levante.
A slightly longer train ride will get you as far as Santa Margherita, where you can walk around the cliffs to the famous Portofino – just be aware that prices there are exceptionally steep.
If you're visiting the Cinque Terre in summer, consider a kayak tour to see the wonderful coastline from a new perspective.
Where to Stay in Cinque Terre:
Tropea
Recommended by Dan of Urban Abroad
When looking for the best weekend getaways in Italy you can't miss Tropea in the Calabria region. As any local will tell you, the town is very popular with domestic travelers and with one of the most picturesque beaches on what is known as God's Coast, it is not hard to see why.
Aside from the Tropea Red Onion which can be found in various dishes here, the town is known for the Sanctuary of Santa Maria which is a church that is perched on the top of a beautifully carved stone in the sea.
Not only is the sanctuary one of the great symbols and highlights of any Calabria itinerary you may wish to embark on, but it also offers some of the best views in town. The chapel is free to enter and you can pay a fee to explore the beautifully crafted garden that lies behind.
During the evening in Tropea, try out one of the local restaurants such as Carpe Diem which is popular for its local variety of seafood dishes and also offers a handful of Vegan and Gluten free options.
From Tropea, you can get to Zambrone by train which is home to a beach called Marinella Di Zambrone also known as 'Paradiso dei Sub' (divers' paradise) and is popular with travelers during the summer months.
Another popular day trip where you can find stretches of fine white sand and crystal clear waters is by doing a tour to Capo Vaticano, which is the perfect location for snorkeling and natural scenery.
Where to Stay in Tropea:
Bologna
Recommended by Richard Meek of RJ On Tour
Bologna, the culinary capital of Italy is a beautiful city in the Reggio Emilia region of Italy and is famous for its food. It has a nickname, the La Grassa or The Fat One, which refers to the amount of delicious food from the city.
There are a few must try dishes while visiting the culinary capital of Italy, most notably the famous Tagliatelle al Ragù Bolognese. Take a Traditional food tour to 5 restaurants to learn about history and sample the delicious food.
As well as the food, the city has lots of things to do. Get acquainted with the main attractions on a Bologna city center walking tour including visiting Piazza Maggiore, the town's main square. Piazza Maggiore has a fantastic church, palaces and lots of other things to keep you busy.
Another fun thing to do in Bologna is to walk the length of Portico di San Luca. Portico di San Luca is the longest in the world. This leads from the city centre to the Sanctuary of the Madonna of San Luca. The walk is splendid, the views from the top are great and the church is rather nice too.
Bologna also has an impressive collection of towers, many of which you can climb. The highest being Asinelli, which is part of the famous two towers of Bologna. As Bologna is famous for its food, there are lots of fantastic restaurants. A particularly welcoming one is Trattoria Vineria, which serves lots of the Bologna classics.
Where to Stay in Bologna:
Alberobello
Recommended by Jackie of Jou Jou Travels
Alberobello is one of the best weekend getaways in Italy, located in the very south of Italy in the region of Puglia. It is a magical place known for its thousands of cone-shaped homes referred to as trulli.
These unique stone huts can actually be stayed in and it is definitely recommended to do so as it's a very unique experience you won't want to miss. Alberobello is divided into two parts: Rione Monti and Rione Aia Piccola.
Rione Monti is the busiest area where you will find many shops and this is where most of the tourists centralize.
The former is the residential area where you will be able to explore a quieter side of Alberobello and see more of the gorgeous trullo homes.
When exploring the shops you'll notice some will allow you to go up to the rooftop with a small purchase and here you can get panoramic views of this amazing town.
There is also a trullo shaped church you can visit, Trullo Church of St. Anthony. For dinner, you can head over to Casa Nova Il Ristorante and try the traditionally ear-shaped pasta known as Orecchiette.
One of the other great activities for your weekend in Alberobello is going on a local tour to learn about the history of the homes and taste olive oil while you're at it.
Alberobello is one of many quaint towns you can visit in the Puglia region. You can easily take day trips to neighboring places such as Polignano a Mare which is a beautiful seaside town.
Where to Stay in Alberobello:
Bari
Recommended by Theresa of Fueled By Wanderlust
Bari, Italy, once a Roman harbor town called Barium, is the capital of Puglia that features winding stone lanes in its Old Town and a beautiful waterfront along the Adriatic Sea.
Spend a weekend in Old Town Bari to experience the city's charm, stroll under romantic arches, and stumble upon hidden squares. Or tour the city on a bike tour with an expert guide.
There are several historic and cultural sites to visit in Bari, such as Bari Cathedral, which is the city's main church that dates back to 11th century. Significant as this cathedral is, it often gets overshadowed by the Basilica di San Nicola, which receives Christian and Orthodox pilgrims who come to worship the Saint's remains in the church's crypt.
Finally, it would be remiss to visit Bari and not appreciate the Adriatic Sea by taking a stroll along the concrete waterfront path or spending time at Pane e Pomodoro Beach. In the morning you might even see fishermen catching fresh octopus for the day.
There are several great day trip options within an hour's drive from Bari. Head south down the coast to the Medieval seaside town of Polignano a Mare or visit the UNESCO towns of Alberobello or Matera to see unique historic architecture of Puglia.
The best way to taste all the local Puglian specialties, including crispy focaccia, orecchiette pasta, and an octopus sandwich is on a street food tour. Foodies can take their Puglian culinary adventures even further by making dinner reservations at La Tana del Polpo and ordering the impressive seafood platter.
Where to Stay in Bari:
Siena
Recommended by Places of Juma
Siena is definitely one of the best weekend getaways in Italy! This wonderful city is located in the heart of Tuscany and is perfect to visit over a short weekend trip.
There are so many unique things to do in Siena and the surrounding area is also worth seeing. During a city tour of Siena, you will be amazed at the many imposing sights, the many interesting museums and the stunning buildings from the Middle Ages. The many charming squares are also a dream and just perfect for romantic dinners.
A highlight is the Piazza del Campo, one of the most romantic squares in Italy and an absolute must on any trip! Surrounded by medieval buildings, one marvels at the magical ambience that surrounds this square.
There is also the Fonte Gaia fountain, which once supplied Siena with water and today delights with its numerous decorations and details.
A really fun thing to do is a visit to Palazzo Pubblico, the town hall, with the imposing Torre del Mangia, one of the most important landmarks of Siena. Climbing the 102-meter-high tower, you have a magnificent view all the way to the Tuscan hinterland.
A short walk away is the famous Cathedral of Santa Maria della Scala, one of the most important religious buildings in Italy. It contains an entire museum complex, for which some already need a whole day to explore!
For a fun day trip, take a tour to medieval San Gimignano and Montalcino for a wine tasting adventure in the beautiful chianti region of Tuscany. Or stay at an incredible wine hotel in Tuscany and day trip to Siena.
Where to Stay in Siena:
Sorrento
Recommended by Sam Oppenheimer of Find Love & Travel
When traveling to Italy, a weekend Sorrento is a must! Sorrento is a lovely coastal town that really encapsulates the magic that Italy has to offer! Located near Naples and the Amalfi Coast, you will also be centrally located.
Start your visit to Sorrento in the town square, Piazza Torquato Tasso. You will find restaurants, bars and plenty of cute shops with everything from clothing to Italian ceramics. Wander through the lively streets filled with music and local art and enjoy!
Some of the top attractions you will want to add to your Sorrento itinerary include the colorful beach clubs to lounge by the Mediterranean Sea and the lemon groves at I Giardini di Cataldo, where you can take a leisurely stroll under the giant lemons and enjoy some limoncello.
The serene Marina Grande is a quaint fishing village where you can relax by the small coastal beach in the harbor. Don't forget to have a meal by the bay for fresh seafood!
Sorrento is the perfect jumping off spot for amazing guided tours. A day trip through the Amalfi Coast is a must. See the famous cliffside towns of Positano, Amalfi, and Ravello.
Another exciting option is a boat tour to Capri Island. Sailing along the Sorrento coast is matched only by swimming in the crystal clear water and exploring Capri. You'll find high-end shopping, stunning vistas, and the famous Blue Grotto, and terrific restaurants.
When you get back to Sorrento, make sure to try a variety of local restaurants that provide you with that traditional taste of Italy. There is excellent pizza at Vicoletto Restaurant.
Where to Stay in Sorrento:
Sassi di Matera
Recommended by Agnes of The Van Escape
Sassi di Matera, carved in stone, is one of the most unusual cities in southern Italy. Until the end of the 20th century, Matera had no electricity, running water, or sewage system.
But being one of the oldest cities in the world and the most spectacular example of a cave settlement in Europe, the city has been on the UNESCO World Heritage List since 1993. Matera has been the setting for films including "The Passion of the Christ" by Mel Gibson and the last part of James Bond, "No Time to Die."
The best thing to do in Matera to feel the ancient spirit of the city is to stay in a cave hotel. During the day, it's worth visiting two parts of the ancient caves: the older Sasso Caveoso and the newer Sasso Barisano.
The winding and narrow streets of Matera make it easy to get lost. Take a guided walk tour of Sassi di Matera so architectural gems like the Casa Cava, Piazza Vittorio Veneto, the rock church of Sant'Antonio Abate, and the magnificent Apulian-Romanesque cathedral won't be missed.
Another great activity is a hike to the Gravina Gorge. It is worth crossing the Ponte Tibetano Suspension Bridge for a magnificent view from the Belvedere Murgia Timone.
In the evening you can dine at Vitantonio Lombardo, the only MICHELIN star restaurant in one of Matera's thousand year old caves.
A day trip is worthwhile to Bari to relax on the beach or to Alberobello to admire the famous Trulli. Both places are only an hour's drive from Matera.
Where to Stay in Sassi di Matera:
Final Thoughts About the Best Italian Weekend Breaks
With so many wonderful choices for weekend getaways in Italy, it's hard to know where to start. But with our helpful list of great places to visit and things to do, you can't go wrong. So book your ticket, pack your bags, and get ready for a fun-filled weekend in the beautiful country of Italy!
Save The Best Weekend Breaks in Italy to read later? Pin it!