Travel in February can be a great time to pack up and explore because of the generally low numbers of tourists. There are many places around the world that have prime weather during this time of year. Whether you are still hoping to take in the last of winter or maybe even get a taste of warm weather, the world is your oyster this month. It's the perfect time to whisk your Valentine off for a little travel romance. From festivals to snowcapped mountains and tropical beaches, this list of best places to travel in February won't let you down!
Best Places to Travel in February
New Orleans, Louisiana
A great place to visit in February is New Orleans. Known for it's delicious food, incredible French architecture, music, and of course Mardi Gras. Mardi Gras, in english "Fat Tuesday", is the last day before lent to eat all the fatty foods before fasting begins. This year, Mardi Gras falls on February 25th. Leading up to this time, the streets of New Orleans are completely filled with people, parades, food, and anything else you can imagine. Although these parades and festivals can be enjoyed from balconies, tickets for seating are available for very cheap pricing as well. Hotel: Bourbon Orleans Hotel
Aspen, Colorado
One of the most beautiful and upscale ski areas in the U.S. is Aspen, Colorado. This is a ski and snowboarder's paradise. Aspen itself is a very quaint mountain town surrounded by a variety of incredible ski slopes. If après ski interests you, Aspen has a bunch of cool spots for this, Chair 9 – The Little Nell in particular. Aside from the winter sports, the town of Aspen itself is a great place to walk around and grab a bite to eat. February is a good time to visit because of Aspen Laugh Festival. From February 19th to the 22nd, a ton of famous comedians come into town and put on nightly shows. After a long day on the slopes, it's always fun to end with a laugh! Hotel: St. Regis Aspen Resort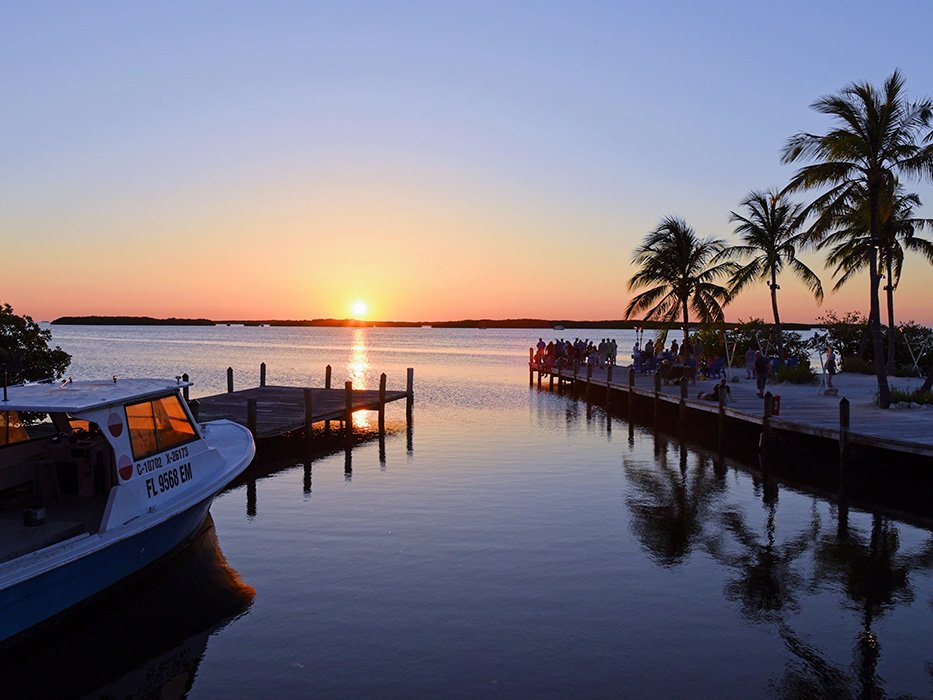 Florida Keys
One of the best places to travel in February is to the Florida Keys. The Keys have some of the warmest beaches in the world in February so if you are looking for a nice beach getaway, this is your place! Aside from laying out and enjoying the warm weather, the Florida Keys have some greats laid-back adventures as well. In Key West, Duval Street is a great place to roam around and eat at a nice cafe. Duval Street also has some great history such as Ernest Hemingway's home and museum. Mallory Square in Old Town Key West is a great area to visit in the evening as nightly sunset celebrations take place. If you are a diver, I definitely recommend visiting Key Largo. Hotel: H2O Suites Hotel
Idaho
Idaho is definitely a go to state for adventure lovers. In fact, it is one of the best places to enjoy winter outdoor fun. Sun Valley resort draws skiers from all over the world with 2,000+ acres of skiable terrain. You'll also find snow tubing, snowmobiling, fat tire mountain biking, snowshoeing and tons of cross country skiing too! Afterwards, experience one of the state's many natural hot springs. In February, you should definitely check out the McCall Winter Carnival with incredible Ice Sculpture competition and the American Dog Derby, the oldest All American dog sled race in Ashton, Idaho. Hotel: Knob Hill Inn
Venice, Italy
Venice is always a great, romantic destination any time of year. It's unlike any other city in the world with its gondola filled canals, beautiful palaces and traditional Italian food. Although February may not be the most warm and touristy time of year to visit Italy, the Carnivale di Venezia will give you a great excuse to visit this breathtaking city. The carnival begins on February 8th and ends the 25th. Here you will find celebrations all over the city along with everyone wearing elaborate masks and costumes. This only happens once a year, so grab your camera and get Venice Instagram photos of a lifetime. Hotel: Belmond Hotel Cipriani
Lapland, Finland
Although typically the coldest month of the year, Lapland will be covered in snow and have mostly clear skies during this time. The main attraction here is the Aurora Borealis also known as the northern lights. The best time to witness this phenomenon is in the winter. Since February has the highest likelihood of clear skies, your chances will be at a high! Aside from this incredible sight, Lapland has tons more to offer such as cross country skiing, snowmobiling, ice fishing, dog sledding, and even reindeer safaris! I definitely recommend taking advantage of time outside in this spectacular location, but definitely bundle up because temperatures will be well below freezing. Hotel: Pyha Igloos
Austrian Alps
An incredible winter wonderland vacation is the perfect way to end the winter season. The Alps are one of the best places in the world for skiers and snowboarders. There is nothing but 360 degrees of snowcapped mountains. Grabbing a pair of snowshoes and hiking during the day or even at night underneath the stars is a great activity as well. If the action becomes a little too much, one of the best spas in the world is located in the Austrian Alps. Aqua Dome is the name and it is both a hotel and a spa. The views are absolutely breathtaking but be careful because you may never want to leave this romantic getaway! Hotel: Aqua Dome – Tirol Therme Langenfeld
Cape Town, South Africa
Cape Town, South Africa is one of the best warm places in February with so much to see and do. One of most famous sights is Table Mountain. You can either hike or take a cable car to the top and see magnificent views of the landscapes surrounding Cape Town. From down below, there will sometimes be a cloud cover over just the top of the mountain, giving it the appearance of a table cloth which is a pretty spectacular sight! The views around the Cape of Good Hope are also something I recommend seeing. In terms of adventure, you can visit Boulders Beach and see thousands of African penguins surrounding you, so cute! If you're a surfer, South Africa has some of the best beaches in the world to either watch or take part in the action. Hotel: Cape Grace
Cabo San Lucas
With temperatures not excessively hot, Cabo San Lucas is definitely one of the best places to travel in February. One of the most famous attractions in Cabo is the Arch of Cabo San Lucas. This is a huge arch-shaped rock in the ocean. Many visitors will often take boat tours, private or not, for a couple of hours around the arch. Here you can relax, eat, and even snorkel if you choose to. There are also many different beaches to visit in Cabo San Lucas that are beautiful in their own way such as Lovers Beach and Playa del Amor. If you need some more excitement, I recommend renting jet skis or visiting the downtown area and seeing what the nightlife has to offer. Hotel: Viceroy Los Cabos
Myanmar
February is a perfect time to visit Myanmar because it is right between the cold and hot season, making temperatures a lot more comfortable. History buffs in particular will love all that Myanmar has to offer. Something that you don't want to miss out on is the Shwedagon Pagoda, one of the most famous pagodas in the world. If you are able to visit the city of Bagan, I highly recommend going and exploring the thousands of temples by motorbike. Although quite touristy, U Bein Bridge is the longest and oldest teakwood bridge in the world and has absolutely breathtaking views during sunset. Hotel: Belmond Governor's Residence
Sri Lanka
February is a good month to visit Sri Lanka because monsoon season has just ended and tourist season has not yet begun. Sri Lanka is a great place to explore the outdoors and get up close and personal with the wildlife. Elephants can be seen all over the country, but your best chance to see elephants roaming free is at Uda Walawe National Park. In Yala National Park, you will likely be able to come across leopards as the highest population of leopards reside here. Blue whales swim very close to land during the months of January through April, so if you are near the southern tip of Sri Lanka, keep an eye out! Aside from wildlife, Sri Lanka is famous for tea. You can visit a tea empire in Nuwara Eliya and take home some samples, yum! Hotel: Heritance Kandalama
These are the ten best places to travel in February. Take in the last of winter or head to the sunny beaches for a great trip no matter where you end up. These locations were handpicked to give you the best February travel experiences possible. If you need some more inspiration, check out the best places to travel in January or March.
---
Our Favorite Travel Items

---
Other Amazing Places to Visit in February:
Save The Best Places to Travel in February – Pin it!