Looking for the best places to visit in February? Travel in February can be a great time to pack up and explore because of the generally low numbers of tourists.
There are many places around the world that have prime weather during this time of year. Whether you are still hoping to take in the last of winter or maybe even get a taste of warm weather, the world is your oyster this month.
It's the perfect time to whisk your Valentine off for a little travel romance. From festivals to snowcapped mountains and tropical beaches, this list of best places to travel in February won't let you down!
This post contains affiliate links. If you book or buy something through one of these links, we may earn a commission at no extra cost to you. You can read our full disclosure here.
Best Places to Travel in February in the USA
New Orleans, Louisiana in February
If you're looking for a place to have an unforgettable time, then look no further than New Orleans! Rich in culture, music and cuisine, it's one of the best places to visit in February in the USA.
The top draw to New Orleans in February is all the over the top Mardi Gras parades and celebrations. The land of gumbo and beignets is one massive party where everyone lets loose before giving something up for Lent.
Leading up to this time, the streets of New Orleans are completely filled with people, parades, food, and anything else you can imagine. These parades and festivals are a must see at least once in your life.
A walking tour of Bourbon Street will give you a glimpse at a different side of New Orleans, where jazz bars are ever-present and the feel is full of live energy. In February, you can expect to see colorful bead necklaces and plenty of Hurricane cocktails.
One of the best ways to experience the French Quarter is on a food tour when you can sample many cajun specialties and learn about the history of New Orleans.
Make sure to take a day to take one of the cool tours on the outskirts of New Orleans. Our favorite is a swamp boat tour. It's cold in February but such a blast. If you want to stick closer to the city, go for a haunted ghost tour.
RELATED POST: 20 Must Have Travel Accessories for 2023
Aspen, Colorado in February
One of the most beautiful and upscale ski areas in the U.S. is Aspen, Colorado. With four incredible ski resorts, you'll have plenty of terrain to explore.
There are also fun ski events like Ski for the Pass and the Nordic Bonfire Dinner that take place in February. If you're all about après ski, check out Chair 9 – The Little Nell.
Aside from the winter sports, the town of Aspen itself is a great place to walk around for shopping, restaurants and fun nightlife. Learn about the history of Aspen in a fun and spooky way on an Aspen Dark Side Ghost Tour.
Catch the Aspen Laugh Festival in February when famous comedians come into town and put on nightly shows. After a long day on the slopes, it's always fun to end with a laugh!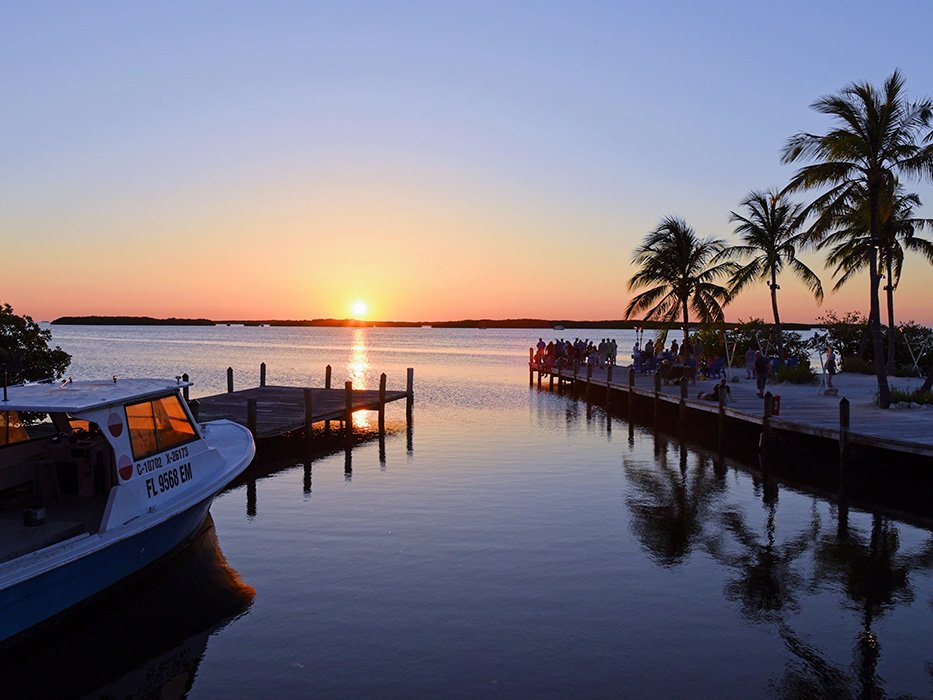 Florida Keys in February
One of the best places to visit in February is the Florida Keys. The Keys have some of the warmest beaches in the world in February for a romantic trip with your valentine.
Aside from laying out and enjoying the warm weather, you can take a bike tour around the island or swim with dolphins at the Dolphin Research Center. You can also get out on the water for sailing, kayaking or snorkeling.
Visit the Ernest Hemingway Home and Museum, go shopping in the historic district of Old Town Key West and make sure to watch the sunset from Mallory Square. Or better yet, do a sunset sail on a catamaran with a full bar and live music.
No visit would be complete without dining on fresh seafood at one of the local restaurants or indulging in key lime pie!
The overseas Highway to the Florida Keys is one of the best road trips in the United States. Divers should consider a stay in Key Largo to charter a boat to explore the coral reefs.
RELATED POST: 10 Best Things to do in Exuma Bahamas
Idaho in February
Idaho is definitely a go to state for adventure lovers. In fact, it is one of the best places to enjoy winter outdoor fun.
Sun Valley resort draws skiers from all over the world with 2,000+ acres of skiable terrain. You'll also find snow tubing, snowmobiling, fat tire mountain biking, snowshoeing and tons of cross country skiing too! Afterwards, experience one of the state's many natural hot springs.
In February, you should definitely check out the McCall Winter Carnival with incredible Ice Sculpture competition, snow shoe golf, dog sledding and fireworks.
The American Dog Derby is the oldest All American dog sled race in Ashton, Idaho. There's also a snow shoe race where the humans have a chance to race against each other. Boise, not to be outdone, hosts the Lyte Sky Lantern Festival that's absolutely beautiful.
---
Best Places to Visit in February in Europe
Venice, Italy in February
Venice is always a great, romantic destination any time of year. It's unlike any other city in the world with its gondola filled canals, beautiful palaces and traditional Italian food.
Venice is often filled with tourists and even though February is not like summer, you'll still save tons of time with a priority entrance tour to Doge's Palace and St. Mark's Basilica.
Another great thing to do is a day trip to the nearby Venetian islands. Visit a glass factory in Murano, the colorful houses in Burano, and the first Venetian settlement in Torcello.
Although February may not be the most warm time of year to visit Italy, the Carnivale di Venezia makes a terrific Italian weekend break to this breathtaking city. The carnival begins on February 12th and ends March 1st. Celebrations are all over the city with elaborate masks and costumes, making for Venice Instagram photos of a lifetime.
Verona, Italy in February
If you travel to the Venice Carnival, we highly recommend adding on Europe's oldest carnival in Verona, only 2 hours away.
Bacanàl del Gnoco, dates back to the Middle Ages and honors the tradition of giving out gnocchi on the last Friday of carnival. In fact, Papa Gnocchi leads the parade carrying a giant fork, called a pizou.
But the biggest reason to visit Verona in February is for the celebrations around Valentine's Day. The city of love is not just for star-crossed lovers yearning for a balcony to confess their undying affection.
The Verona in Love Festival is a four-day celebration of all things amoré. Shop for Italian handicrafts, goodies and jewelry at Piazza dei Signori. Romantic movie lovers should check out the Teatro Ristori Film Festival.
And for those looking to chase away the winter blues, the Romeo and Juliet Half Marathon should definitely be on your Italy bucket list.
Make sure to catch the views from Torre dei Lamberti and Castel San Pietro. Bike around the city on a Verona Bike Tour for a fun way to sightsee. Or take your valentine on the Amarone Wine Trail Tour!
Málaga, Spain in February
With weather that rivals summer in Northern Europe, Málaga, on the Costa del Sol, is one of the warmest places to visit in February in Europe and best places for a winter weekend break in Spain.
Take a Málaga Tour to must-see historic sites. The Málaga Cathedral is one of the tallest in Andalusia and you can climb to the top of the tower for amazing views of the whole city.
One of the best things to do in Málaga is visit the Alcazaba, an 11th century Moorish Palace and fortification. Right nearby is the Gibralfaro castle, built to protect the Alcazaba and the Roman Theater.
Málaga is filled with terrific museums and on February 28, the Day of Andalucia, all the museums have free entry. Make sure to check out the Picasso Museum and the Pompidou Center.
In February, one of the biggest events is the Málaga Carnival that lasts for 2 weeks with multiple parades, concerts, dancing, street food and a huge bonfire at the end of it all. It's a party you don't want to miss!
Make sure you make time in your itinerary for a day trip to do the spectacular Caminito del Rey hike over the Gorge of Gaitanes. It's only an hour from Málaga and one of the most bucket list hikes in Spain.
READ NEXT: 8 BEST DAY TRIPS IN MALAGA, SPAIN
Nice, France in February
Ready for another great European Carnival in February? Well, you kind of get a 2 for 1 in Nice and Menton France.
Celebrated over a two week period, Nice Carnival is a huge, exciting event on the Côte d'Azur that attracts over 1 million visitors.
It's a beautiful spectacle on the Promenade des Anglais with flower parades by day and light parades by night.
In neighboring Menton, one of the most colorful places in France, the Lemon Festival takes place at the same time with parade floats made of lemons and oranges.
There are also massive citrus sculptures in Biovès park, that are illuminated at night. And if that wasn't enough there is also an Orchid festival!
After you take part in all the exciting events, there are plenty of things to do in Nice, making it an ideal winter weekend getaway in France.
Explore the small alleys and vibrant streets in Vieille Ville, taking in its incredible architecture including the Nice Cathedral and Cours Saleya market.
Don't miss Parc de la Colline du Château for amazing panoramic scenery or Musée Marc Chagall.
If you're short on time, a One Day French Riveira day trip is one of the best day trips from Nice. See Monaco's charming old town, Casino Square and Grand Prix circuit, in addition to visiting Cannes, Antibes, and the medieval village of Eze.
Best place to visit in February in Europe? We'd say Nice has something unique and wonderful up its sleeve.
Lapland, Finland in February
Although typically the coldest month of the year, Lapland will have mostly clear skies in February making it the perfect time to see the Aurora Borealis, also known as the northern lights.
The best time to witness this phenomenon is in the winter when there are more hours of darkness and stay in one of the best glass igloo hotels in Finland to see the lights from bed!
Since most people stay in Rovaniemi, the capital of Lapland and self-proclaimed hometown of Santa Claus, the best way to see the incredible lights dancing across the sky is on a tour.
Northern Lights Tours will take you away from the light pollution, help you learn how to get the best shots and even feed you a yummy BBQ while you're waiting.
Aside from this incredible sight, Lapland has tons more to offer. Take a snowmobile safari through the arctic forest to a Reindeer and Husky farm where you can hop on a dog sled and experience mushing.
Take advantage of time outside in this spectacular location cross country skiing, ice fishing, dog sledding, and winter hiking Korouoma Canyon, where you'll be able to see spectacular frozen waterfalls and maybe some ice climbers.
Winter in Lapland is a journey you'll never forget.
RELATED POST: 27 Incredible Adventures to Add to Your Europe Bucket List
Austrian Alps in February
For a dreamy romantic getaway with your Valentine and best places to visit in Europe in February, head over to the beautiful and picturesque area of Tyrol Austria!.
The Alps are one of the best places in the world for skiers and snowboarders. With 360 degrees of snowcapped mountains, you can enjoy six skiing options in Ötztal, including the popular Obergurgl-Hochgurgl and Sölden.
Other winter activities available include cross country skiing, ice climbing, tobogganing, ice skating, sleigh rides and loads of winter hikes.
Grabbing a pair of snowshoes and hiking during the day or even at night underneath the stars is a great activity as well. Don't miss out on the Rotes Wandl hike, Lake Piburger See or the Ochsengarten loop trail.
In the middle of this heavenly winter wonderland is a resort that is a destination all on it's own. The Aqua Dome Tirol Therme Längenfeld is known for being an amazing resort with a wellness center, spa, thermal pools and more.
The views are absolutely breathtaking but be careful because you may never want to leave this romantic getaway!
RELATED POST: World Travel Challenge
---
Best Places to Visit in February Around the World
Cape Town, South Africa in February
Cape Town, South Africa is one of the best warm places in February with so much to see and do.
One of most famous sights is Table Mountain. You can either hike or take a cable car to the top and see magnificent views of the landscapes surrounding Cape Town.
From down below, there will sometimes be a cloud cover over just the top of the mountain, giving it the appearance of a table cloth which is a pretty spectacular sight! The views around the Cape of Good Hope are also something worth seeing.
In terms of adventure, visit Boulders Beach and see thousands of African penguins surrounding you, so cute! If you're a surfer, South Africa has some of the best beaches in the world to either watch or take part in the action.
RELATED POST: How to Score Cheap Flights to Travel More
Cabo San Lucas, Mexico in February
If you're looking for a relaxing vacation spot with plenty of activities to keep you busy, Cabo San Lucas is the place for you. With its stunning beaches and vibrant nightlife, there's something for everyone in this Mexican paradise.
The beaches in Cabo are beautiful, definitely go to Medano and Lover's Beach, but there is so much more to do in this corner of Mexico than sunbathe.
Adventurers will have a blast on an ATV tour or a 4 Hour Snorkel Cruise on the Sea of Cortez where you'll see the famous Cabo Arch. Hike up Mt. Solamar or the Pedregal for amazing views and an awesome workout.
At the end of an active day, visit the downtown area for shopping and a great meal. Then check out what the nightlife has to offer.
RELATED POST: Tulum Travel Guide: What to Do, Where to Stay & Eat
Vietnam in February
For seven days in February, colorful lanterns light up the night sky, for the Tet Nguyen Dan New Year's Festival in Hoi An to thank the gods for the arrival of spring. Witness the magic on a sampan boat ride and set your own lantern adrift.
The Perfume Pagoda Festival follow, where pilgrims flock to the Buddhist Huong Pagoda to pray for a prosperous year.
Meanwhile, in Central and South Vietnam, the beach weather is perfect for those seeking a bit of sun and relaxation. Spend a few days of your Vietnam itinerary on Phú Quốc's palm lined, white-sand beaches!
Check out the floating markets in the Mekong Delta, take an overnight cruise through Halong Bay, visit the Khmer pagodas and stilted houses set among the breathtaking rice terraces.
Tour the Ba Na Hills where you can walk across the instagrammable Golden Bridge and ride the longest cable car in Asia.
February may be high season, but trust us, the weather and fun festivals are worth it. So, pack your bags and celebrate the Vietnamese New Year in style!
Sri Lanka in February
Tourism is back in Sri Lanka and February is a good month to visit because monsoon season has just ended and tourist season has not yet begun.
Sri Lanka is a great place to explore the outdoors and get up close and personal with the wildlife.
Elephants can be seen all over the country, but your best chance to see elephants roaming free is at Uda Walawe National Park. In Yala National Park, you will likely be able to come across leopards as the highest population of leopards reside here.
Blue whales swim very close to land during the months of January through April, so if you are near the southern tip of Sri Lanka, keep an eye out!
Aside from wildlife, Sri Lanka is famous for tea. You can visit a tea empire in Nuwara Eliya and take home some samples, yum!
RELATED POST: What to Pack for Bali or a Tropical Vacation
These are the ten best places to travel in February. Take in the last of winter or head to the sunny beaches for a great trip no matter where you end up. These locations were handpicked to give you the best February travel experiences possible. If you need some more inspiration, check out the best places to travel in January or March.
---
Our Favorite Travel Items

---
Other Amazing Places to Visit in February:
Save The Best Places to Travel in February – Pin it!