Looking for the best weekend breaks in France? The country of croissants, cheese, champagne, art, and so much more has been the most loved travel destination for years for good reason.
Although most visitors choose Paris as the best place to visit in France, it's just one of the idyllic places to add to your France itinerary.
Whether you prefer a laidback sojourn in Provence or a party-filled adventure in the French Riviera, the land of the Eiffel Tower has something to offer to everyone.
Here is a list of the most beautiful cities in France and the best activities to try in them. We've also included the best day trips and hotels in France so you know exactly what to do and where to stay.
For extra inspiration, check out the 22 Most Beautiful Cities in Spain, 22 Amazing Weekend Breaks in Italy and 27 Epic Adventures For Your Europe Bucket List.
This site uses affiliate links, meaning if you make a purchase through our links, we may earn a commission. There is no extra cost to you. You can read our full disclosure policy here.
Best Weekend Breaks in France
We worked with a group of our favorite travel bloggers to create this list of France's most beautiful cities up to give you ideas for places to add to a France itinerary or the best weekend getaways in France.
There are ideas for the best things to do in each city along with a fun tour or day trip to take to have an amazing experience.
Whether you have 3 days in France or are planning a 2 week France road trip, this is a great place to start planning your vacation in France.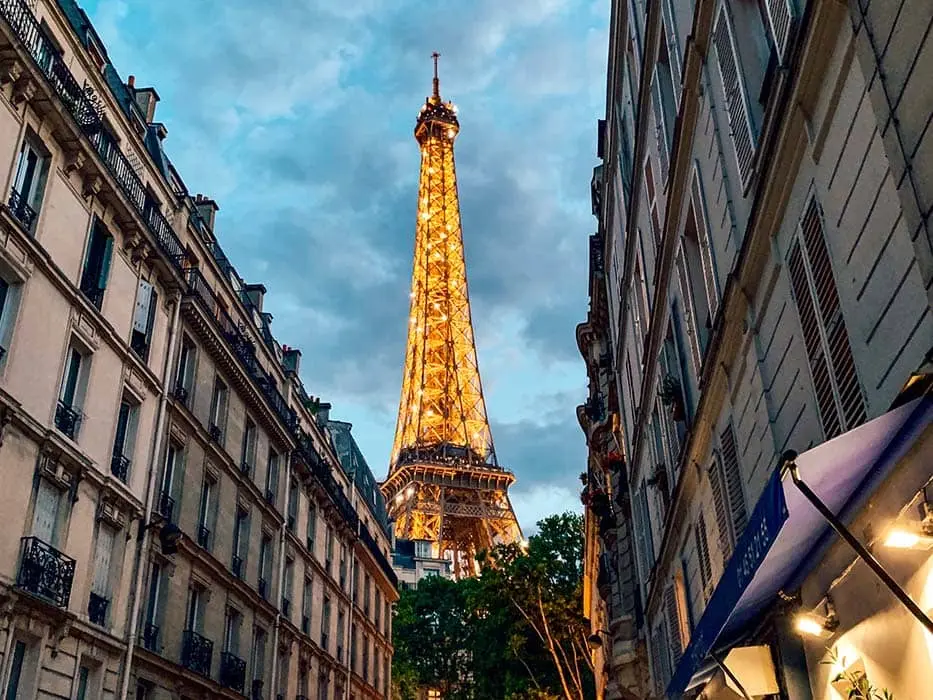 Paris
Known as the capital of love, there's a good reason Paris is the ideal for a weekend break in France. The 2nd most visited city in the world is a global center for art, design, and gastronomy.
From the iconic Eiffel Tower to the Arc de Triomphe, Paris is a city full of charm and breathtaking sights. While most people come for the romantic atmosphere, there's plenty of amazing cultural and historical attractions to explore as well.
The city hosts some of the world's best museums – and one of the biggest problems you'll face is how to choose which to go to or NOT go to.
The Louvre is the most famous and biggest with lines to match. A skip the line ticket and guided tour are well worth it!
Our other favorites include Musee D'Orsay with amazing impressionist art, Musee Rodin with a lovely garden and sculptures, and Musee Picasso that has an impressive collection of his work over all periods.
Other interesting things to do include visiting the Paris Catacombs, strolling the neighborhoods of Montmartre and Le Marais, catching a show at the Moulin Rouge or a Seine Dinner Cruise at night.
Immerse yourself in Parisian life with nights full of music, cosy cafes and stylish restaurants. Take a relaxing promenade along the Seine or enjoy amazing gardens such as Tuileries Garden or Luxembourg Gardens.
Any time of year is good for a trip but the Paris cherry blossoms in spring and autumn leaves in fall make it even more spectacular.
Don't forget to make time for a day trip to the Palace of Versailles. It's truly a sight to be seen!
Nice
There's a reason why Nice attracts five million annual visitors, and it's not only for the famous Nice Carnival in February.
This jewel of the Mediterranean is known worldwide for its stunning coastal views, luxury shopping opportunities and picturesque seaside restaurants. In fact – after Paris, Nice is the most visited city in France.
Although you could easily spend months in this charming beach town, Nice happens to be the perfect spot for a European weekend getaway.
Spend the first day in Nice, taking in the nice (pun intended) views from Castle Hill and the historic Cimetière du Château.
Enjoy a long leisurely walk through the city's pastel alleyways on your way to Chez Pipo – a Niçoise restaurant serving "socca," a type of flatbread made from chickpeas, since 1928.
Or consider booking this fun small-group food tour to fully immerse yourself in French cuisine.
Finish off a perfect day in Nice with a tour of Henri Matisse's best works in the Musée Matisse and a round of drinks at Le Negresco – Nice's world-famous hotel dating back to 1913 and one of the best hotels in Nice.
On day two of your weekend in the French Riviera, take the #82 bus to explore the historic cliffside town of Èze.
Head to the highest point in town – Le Jardin Exotique d'Èze – for stunning views of the Mediterranean Sea and a walk through one of France's most famous gardens.
After a quick lunch and a glass of delicious French wine with a view, hop on the #112 bus and make your way to Monte Carlo.
If the dress code isn't an issue, consider strolling through some of Monte Carlo's famous casinos.
After rubbing elbows with the rich and famous, head to the Prince's Palace of Monaco for a truly unforgettable sunset view framed by 800 years of history.
Recommended by Madison from Madison's Footsteps
Strasbourg
When it comes to beautiful cities in France, Strasbourg stands out. With its strong culture and striking architecture, this captivating city has lots to see and do for a weekend escape.
Strasbourg is located in the northeastern corner of France, on the German border. The city is known for its blend of French and German culture and renowned for its charming half-timbered architecture.
It is perhaps most famous for its extensive Christmas market, which is the oldest in France and the biggest of the bucket list Alsace Christmas Markets.
What makes Strasbourg unique is its position as a capital of the European Union, which brings together the best of both worlds: the historic charm of France and the modernity of the European Union.
Tour the old and new parts of the city on a Strasbourg Segway tour. Visit the European Parliament in the Wacken district to witness democracy in action on an international scale.
Strasbourg's La Petite France neighborhood has an enchanting ambiance in addition to its postcard-worthy photo opportunities.
Take time to admire the half-timbered houses, canals, and cobblestone streets. On a nice day, the terrace of La Corde a Linge brasserie is a great place to enjoy a leisurely meal.
One of the most iconic buildings in the city is the Strasbourg Cathedral, which stands 142 meters tall and is a beautiful example of medieval Gothic architecture.
Inside is an astronomical clock, another popular attraction. The cathedral also offers stunning views of the Vosges and German Black Forest Mountains from its platform, which is accessed by climbing about 330 steps.
For a memorable day trip from Strasbourg, visitors can take a short train ride to the nearby town of Munster, famous for its smelly cheese. Stroll the Path of Poets, shop on the Grand Rue, and take a hike on nearby trails.
Recommended by Melanie of Postcards & Places
Bordeaux
Bordeaux is the world capital of wine and perfect destination for a weekend break in France! This beautiful city is full of great architecture, interesting flavors and friendly people.
Visiting Bordeaux's wine museum, La Cité du Vin should be high on your list. You will learn everything about wine! From theory to practice during tasting – you will get to know wine from a local and global perspective.
All around the city, you will notice magnificent castles, beautiful vineyards, and stunning architecture. The Old Town of Bordeaux is on the UNESCO World Heritage List, a testament to its prestige and architectural value.
Catch a performance at the Grand Theatre, walk through Place de la Bourse, cruise the River Garonne, shop in flea markets, see the bell tower of the cathedral and stop by the Musee des Beaux-Arts.
When in France, indulging in delicious cuisine is required, n'est pas? You will find the best oysters in France (from Arcachon). La Cabane Cent Un restaurant has great wine and seafood!
For a sweet treat, make sure to try the traditional rum and vanilla pastries with a custard center called Cannelés de Bordeaux.
Wine tasting in Saint-Emilion, the UNESCO listed medieval village, is highly recommended. A few of the best luxury hotels in Bordeaux can be found on a vineyard if you want to stay overnight.
Bordeaux is quite busy during the summer. September is one of the best times for a weekend in Bordeaux with multiple festivals and great weather to enjoy all the activities in the region.
Recommended by Jakub at tymrazem.pl
Cannes
On the French Riviera, Cannes is best known for its Film Festival in May, where stars and celebrities swarm the city, lounge in luxury hotels, or sip cocktails while relaxing on magnificent yachts along Cannes Old Port Marina.
But there is more to Cannes than the movie scenes. Spend a day exploring the city. Walk along the Promenade de la Croisette, passing high-end shops like Dior or Chanel.
If you are into modern art, visit the La Malmaison Art Center. Visit the 19th-century Notre Dame de Bon Voyage church. Head to Le Suquet, the old quarter of Cannes, where several houses date back 400 years.
Walking up the hill is worth it, as you can take in incredible views of the city and the Mediterranean shoreline. The Castle Museum features an extensive collection of antiquities from Mediterranean and Middle East history.
When you're ready to take a break, enjoy some of the ice creams sold by the Square Mérimée or seafood at one of the port's restaurants.
Another day can be spent exploring the nearby Iles de Lerins, the two main islands being different yet having their own charms and interests.
Saint Honorat is known for its 5th-century monastery, still active today thanks to its Cistercian community who produce their own liquor.
Sainte-Marguerite is famous for the Man in the Iron Mask, whose story as an unidentified captive held at the Fort Royal and wearing an iron mask was written about by Alexandre Dumas in the D'Artagnan books.
A tour of the Iles de Lerins is undoubtedly one of the top things to do in Cannes!
Recommended by Patricia Pagenel at Ze Wandering Frongs
Lyon
Set in the east-central part of the country, Lyon is considered one of the prettiest cities in France. Well known for outstanding cuisine and gastronomy, it is the perfect destination for foodies.
If you want to try some of the best specialties, the 4 Hour Food Tour through Old Lyon is highly recommended.
In addition to trying local specialties like Rosette lyonnaise and Saucisson de Lyon, you will walk through and learn about the secret traboules (passageways) used by the silk trade during Renaissance times.
From the moment you arrive, you'll notice Notre Dame de Fourvière Church as it sits above the city. Visit to see the panoramic views and beautiful stained glass windows and frescos inside.
When visiting Lyon, stop by the districts of Old Lyon, the Presqu'île, and the slopes of the Croix-Rousse, which are included in the UNESCO World Heritage List.
In Vieux Lyon, you'll want to spend time enjoying all of the lovely neighborhoods and squares. Don't miss Place des Terreaux where you will find the ornate Hôtel de Ville, the Bartholdi fountain and the Musée des Beaux-Arts.
The best time to visit Lyon is in December for the Fête des Lumières. For 3 days, millions of people come to see in the interactive light exhibits throughout the city. We absolutely LOVED it!!
Tours
The lovely city of Tours is an excellent choice for a France weekend break and the perfect base to explore the Loire Valley and visit some of its famous chateaux.
When visiting Tours, don't miss Place Plumereau, a beautiful square surrounded by gorgeous 15th-century half-timbered houses, located right in the heart of the historic centre.
It's a lively area with several bars and restaurants, making it a wonderful place to return to in the evening for a great meal after a long day of exploring.
Just off the square, take a stroll through the labyrinth of cobbled stone streets with its wonderfully quirky retro shops.
Another highlight of the city is the 12th-century gothic-style Tours Cathedral. It's well worth a visit for its striking stained glass windows and the chapel dedicated to Joan of Arc.
France is all about food, so be sure to visit the Halles de Tours, an indoor market, to pick up a baguette and some local cheese and wine. Then head to the river or botanical gardens for an idyllic French picnic.
Since this area of France is famous for its wines, take a Half-Day Loire Valley wine tour to two wineries with a regional wine expert. This highly-rated wine tour departs daily from in front of the Tours Tourist Office.
From Tours, reaching nearby towns and chateaux by train or bicycle is incredibly easy.
Definitely pay a visit to nearby Ambois, a beautiful city with three incredible castles, including the Château du Clos Lucé, the home of Leonardo da Vinci, who lived here for the last three years of his life.
Recommended by Sarah Wilson from Life Part 2 and Beyond
Gordes
Decades ago, Gordes, a commune set in southeastern France, gained a reputation of being the place for artists. If you are looking for a taste of Provence, there is no better place to visit.
With its winding streets, cobblestone paths, and surrounding beauty, Gordes has become one of the most loved destinations in the area.
It's one of the most iconic towns in Provence that gets pretty busy during spring and summer, drawing visitors intrigued by the hilltop town perched above the surrounding valleys offering a chance to take in incredible views.
Live the provencal way of life for a weekend while your explore the Luberon and splurge on a stay at the luxurious Airelles, La Bastide de Gordes to take it up a notch.
In addition to living the provencal way and enjoying farmer markets, old town vibes and lavender products, you can visit the Abbaye Notre-Dame de Senanque, Village des Bories and Saint Firmin Palace Caves.
We suggest planning your trip from mid-June to mid-July for chance to see the nearby flowering lavender fields. Another point of interest is the Colorado Provencal.
This natural site has beautiful red and orange rock formations, as it used to be an ocher-mining quarry. It's one of the prettiest natural sites in France.
If you opt instead to stay in Avignon, the biggest city of the area, we recommend this Best of Provence Tour where you will visit Gordes and the famous lavender fields on a day trip.
Seline at On The Road Diary
RELATED POST: PROVENCE LAVENDER FIELDS FOR YOUR EUROPE BUCKET LIST
Lille
Lille is without a doubt one of the best and most beautiful cities in France! The capital of the Hauts-de-France region is known for having friendly locals, beautiful art and ornate buildings.
One of the coolest ways to acquaint yourself with the city when you first arrive is by taking this unique Citroen tour of Lille with a private driver tour guide in a snazzy 2CV car. Plus, it includes a champagne break halfway through!
Old Lille is the historic center of the city where you will find a combination of French and Flemish architecture dating back to the 17th century. Take time to walk through the cobblestone streets and explore.
Lille is very well known for art. Palais des Beaux Arts is a massive, must-see, museum filled with works by famous impressionist painters and more.
Nearby is La Vieille Bourse, the former stock exchange and one of the most notable city landmarks. Visit the courtyard inside where you can grab a bite at a cafe or shop one of the markets.
Make sure to check out the beautiful grounds of Jardin Vauban for a little look at history and to take in its beauty. Animal lovers will definitely appreciate a visit to the Zoo de Lille.
One of the best places to eat at is La Creperie Grand Place. This family owned restaurant is a situated just off the city centre and without a doubt worth a visit.
No matter if you've got a sweet tooth or love the classic savory filling, they do it all and really well at that! There are tons of options so you're bound to find something you like and the coffee is exquisite!
Recommended by Alex and Leah from alexandleahontour
Marseille
One of the best places for a weekend break in France is the city of Marseille. As the second most populous city in France, the city has a lot of great things to do and see.
It is located on the French Riviera, which lies on the Mediterranean Sea, and there are many good day trips that you can do from the city, such as one to the city of Nice.
The city of Marseille is very beautiful and has a lot of historic architecture spread throughout. One of the best things to do here is to visit the Notre-Dame de la Garde located on a hill in the city.
The basilica's Byzantine Revival style architecture is amazing and from here, it is possible to get a panoramic view of the whole city.
The Old Port of Marseille is located very close to the basilica. This is a part of the city where a lot of restaurants can be found and this part of the city has a great atmosphere as well.
A great place to get pizza is Pizze E Sfizi or take a Marseille Sunset Dinner Cruise to enjoy views of the city from the water and a delicious meal.
Another highlight of the city is Mucem, which is a museum that is dedicated to the culture and history of Mediterranean civilizations and other European civilizations.
The Marseille History Museum is an interesting museum as well. Besides that, one of the best activities in the city is a very simple one, going for a walk through the historic city center and its beautiful colorful streets.
Recommended by Dymphe from Dymabroad
Annecy
Annecy is one of the most beautiful towns in France and very easy to fall in love with at first sight.
Thanks to the network of picturesque canals and small bridges that stretch all over the city, it's often called the Venice of the Alps.
Add the charming old town full of colorful buildings, crystal-clear Lake Annecy, many outdoor activities with the mighty Alps in the background and it adds up to an amazing travel destination for a France weekend break.
Many people visit on a day trip but it's highly recommended to stay in the city and experience it over the whole weekend. Annecy provides visitors with lots of exciting things to do.
Strolling among its medieval old town streets and visiting iconic Palais de l'Île and Château d'Annecy is a must-do. Don't miss the Gardens of Europe with Lovers' Bridge, where love can be sealed just by one kiss.
An Annecy Segway Tour with a local guide is a unique and fun way to see the city.
And of course, there are plenty of water activities on Lake Annecy with amazing views over the mountains nearby. Rent a paddleboat to get out on the water or a bike to ride on the path around the lake.
A great one-day trip idea from Annecy is visiting Les Gorges du Fier – a stunning gorge featuring a footbridge suspended 25 meters above the river or Chateau de Menthon Saint-Bernard – a fairytale castle that inspired Walt Disney's Sleeping Beauty castle.
Recommended by Sonia – Happylittletraveler
Toulouse
One of the best city breaks in France that's great for a weekend getaway is Toulouse.
This city is often called "La Ville Rose," since many of its buildings possess a unique pinkish hue due to the color of the bricks used in the construction of many buildings.
In reality, visitors will see various shades of red, orange, and pink on display day and night, which is one of the things that makes Toulouse a delight to visit!
In addition, the city offers visitors plenty of sights to see to fill your itinerary. For example, visitors can't miss out on seeing the Capitole de Toulouse, which is the city's most iconic landmark dating back to the 12th century.
Similarly, another architectural marvel is the Basilique Saint-Sernin, which is recognized as the largest Romanesque church in France.
Science enthusiasts should visit Cité de l'Espace. This popular space center provides interactive experiences and exhibits on the solar system, weather, space exploration and more.
For those keen on getting out of the city for a bit, consider a day trip to Carcassonne, where you can soak in all the history at Château Comtal and Ramparts and visit the impressive Basilica of Saints Nazarius and Celsus.
Another option is visiting Albi, a quaint town and home of Berbie Palace, an archbishop's palace dating back to the 13th century with perfectly manicured gardens.
Recommended by Kristin from Global Travel Escapades
Dijon
When it comes to beautiful cities in France, Dijon stands out as a must-see destination. Not only is it the capital of Burgundy but the city is brimming with history and culture.
From awe-inspiring palaces to breathtaking views, there are a ton of reasons why Dijon is worth visiting for two or three days.
Perhaps one of the most awe-inspiring attractions is the Palais des Ducs de Bourgogne. It was once the residence of the Dukes of Burgundy and now houses the Musée des Beaux-Arts.
You can tour the palace and the museum for free. Afterward, make sure to head up to the Philippe le Bon Tower.
From its terrace, you'll have some of the most remarkable views over Dijon. Opening times are limited, so be sure to book a spot at the Office of Tourism in advance.
Then, of course, there's Dijon's Notre Dame Cathedral and the Saint Bénigne Cathedral. Both of which are architectural masterpieces.
But no trip to Dijon is complete without going on a wine tour. Take a Half Day Tour of the Cote de Nuits Vineyards from Dijon for a chance to see the French countryside and taste the best wine Burgundy has to offer. 
If visiting over the weekend, the Saturday market in Beaune, France nearby is one of the best things to do in a charming Burgundy small town.
Finally, if you're looking for something to do at night be sure to head to Place François Rude. Not only is this one of the most beautiful squares in Dijon, but there are tons of restaurants, cafés, and boutiques to visit.
Recommended by Jen Ciesielski from Dabbling in Jet Lag
Avignon
Avignon is a must-see city in the popular Provence-Alpes-Cote d'Azur region, known for its Palais des Papes, or the Palace of the Popes.
A UNESCO fortress-like structure that was once the residence of the Popes in the 14th century, the Palais des Papes will transport you back in time as you explore the palace's courtyards, chapels, and grand halls.
Another iconic attraction that Avignon is famous for is the Avignon Bridge, also known as the Pont Saint-Bénézet. You may have heard the folk song "Sur le Pont d'Avignon," and this is the very bridge it sings about.
While only a few arches of the medieval bridge remain, it still stands as a symbol of the city's past and offers breathtaking panoramic views of Avignon and the Rhône River.
If you're up for a day trip from Avignon, make sure to visit the UNESCO site of Pont du Gard. This ancient Roman aqueduct is a true marvel of engineering.
You can explore the bridge, walk along the river, and even go kayaking or take a refreshing swim in the crystal-clear waters below.
There is a terrific afternoon Wine Tour to the famous Châteauneuf-du-Pape vineyards which includes a stop at a former Popes summer residence and two wine-tastings at different cellars.
When the sun sets, Avignon doesn't disappoint. The city comes alive with its thriving nightlife scene. Head to Rue des Teinturiers, a charming street adorned with cozy cafes and lively bars.
It's a great place to relax with a drink and soak up the vibrant atmosphere. And when hunger strikes, make your way to La Mirande, a highly acclaimed restaurant that serves delicious Provencal cuisine.
Recommended by Renee of Dream Plan Experience
Cassis
Not far from Marseilles, the beautiful Mediterranean fishing port of Cassis tempts weekend visitors.
It's one of the prettiest places in Provence with its colorful, sun-splashed sidewalk cafés, romantic harbor, and bucket list pebbly beaches.
As you wind your way down the coastal highway into town, you'll immediately spot the dramatic profile of 9th century Carolingian Château de Cassis. It stands sentry above the bay, at the edge of the impressive Cap Canaille Cliffs.
For beach time, head directly to Plage de la Grande Mer, the main beach in Cassis or nearby Bestouan Beach for a more adult vibe with loungers available.
Cassis is best-known as the gateway to the Calanques National Park with its rocky inlets framed by limestone cliffs and brilliant aquamarine waters.
In fact, a stand-up paddleboarding tour across the pristine turquoise water or an E-bike tour with stops at the best viewpoints make the perfect day trips.
Or spend one day on the water and one hiking one of the 137 popular trails here including the stunning Calanque d'En Vau.
While many visitors think that crème de Cassis—best known as the liqueur in France's famous Kir Royale—hails from Cassis, it's actually made in Burgundy.
But don't let that deter you. Cassis is famous for its local wines… herbal, full-bodied whites and a few rosés as well.
Avid wine tasters should dedicate at least one day to exploring nearby wineries. You'll also find plenty of tasting rooms right in town.
Chris at Explore Now or Never
Dinan
Dinan is an incredibly picturesque medieval village that sits high on the Rance River in Brittany.
This fortified city is enclosed by nearly three kilometers of ramparts and filled with narrow cobblestoned streets, ancient churches and over 130 historic timber-framed houses.
It's no wonder this history lover's paradise is the second most photographed town in France. Dinan is also known for its art galleries, boutique shops, and traditional Breton cuisine.
On a visit to Dinan, make sure to see the Tower of l'Horloge, a 15th century clock tower with stunning views over the city. Some of the best medieval architecture in France can be found on Rue du Jerzual.
Other notable buildings include St Malo's Church, a masterpiece of Flamboyant Gothic architecture and St Saviour's Basilica, a triumph of Romanesque architecture.
A circular walk on the ramparts surrounding the city is highly recommended to take in the amazing views and visit the 14th century Château de Dinan.
Dinan was a centre of trade for Brittany because of its port, which is lined with boats, restaurants, bars and cafes. There are incredible views of the river and the viaduct that was built to provide access to the town in 1852.
You can take several boat cruises from the port including a short hour long one to the little town of Léhon, you can also take a boat to and from Saint Malo to Dinan, or a romantic dinner cruise.
Recommended by Faith at XYUandBEYOND
Rouen
Rouen is the capital of the Normandy region and a great place for a city break in France for history lovers.
It was one of the most prosperous cities in Europe during the medieval era and the local sights reflect this.
Top things to see while in Rouen are the Cathédrale Notre-Dame de Rouen, the Joan of Arc Museum, and the pretty timber-framed architecture of the old town area.
Rouen is filled with incredible gothic churches. The most impressive is the beautiful Rouen Cathedral. There is a light show set to music in the evenings during the summer months.
The Joan of Arc Museum tells the story of the heroine's life up to her execution.
Rouen's cobblestone old town has streets lined with incredible half-timbered houses, many of which are historical monuments. Don't miss the incredible Gros-Horloge clock.
The Secret History of Rouen Tour with a local will show you around all the parts of the city while being told the story of each site. You can also find out about the best restaurants while on the tour, like Le P'tit Bec.
A nearby day trip is the first French seaside resort of Dieppe, a lovely city by the sea. The seafood restaurants and the local sites are fantastic for a day out by train.
The best activity to do at night is to enjoy some French wine while watching the nightly light show at the cathedral.
Recommended By Rich From RJOnTour.com
Metz
Metz is a charming pearl is located in the northeast of France, close to the borders with Germany and Luxembourg. There are so many terrific things to do in Metz, as this beautiful city in France has many monuments and attractions to offer.
You should definitely visit the banks of the Moselle River, which invites you to go for a walk with a panoramic view.
It is especially beautiful there in the summer, because then you can rent small boats and enjoy the river ambience at its best!
But there is more to discover, for example picturesque gardens, the historic old town and many delicious French restaurants and boutiques.
Another must-see is the small island of Saulcy, a historic 18th-century district connected to the center by a bridge.
Probably the most impressive attraction is the Metz Cathedral – Saint-Étienne. It is often called one of the most stunning and largest Gothic church buildings in France.
Metz has the distinction of having one of the oldest working opera houses in Europe, the Opéra-Théatre de Metz Métropole. You can take a tour of the building or catch a performance.
Art lovers will also appreciate an opportunity to visit the latest exhibits at the Centre Pompidou-Metz.
In any case, it is also fun to take a break at the gorgeous Place Saint-Jacques, where you can indulge in the many restaurants and cafes with a wonderful backdrop.
If you have time for a day trip, you can easily reach Luxembourg or even Paris by train!
Recommended by PlacesofJuma
Chamonix
If you're into the outdoors, Chamonix is the all-year-round perfect destination in France. The most daring visitors can tackle climbing the famous Mont Blanc, but there's plenty to do for other adventurous souls.
During winter, the slopes surrounding Chamonix offer world-class skiing. Don't miss Plan Praz and Le Brévent.
At any other time of the year, hikers seeking beautiful trails and views will be welcomed.
The lakes of the Aiguilles Rouges Nature Reserve are superb, but the range of activities goes from short walks in nature to the "Buvettes en Montagne" (restaurants in mountain huts) to a multi-day trek for 170 km known as the Tour du Mont Blanc.
No matter when you visit, make sure you take the cable car up to Aiguille du Midi for the most stunning views you can get of the French, Italian and Swiss Alps, and "step into the void" on a glass over a 1000-meter abyss.
The best day trip from Chamonix is to Aiguille du Midi & Mer de Glace, a valley glacier on the slope of Mont Blanc, on a full day trip that includes the cable car and the breathtaking 360 degree views at the top.
You can also board a rack-and-pinion railway to Montenvers, and then a gondola down, from where you'll find steps that will take you inside the glacier.
If you're up to seeing the sights from above, you can do a tandem paragliding flight with all the equipment and provided to get a bird's-eye views of the Mont Blanc range.
One last piece of advice: account time to see the town itself! It's small and walkable, with plenty of great restaurants, shops, spas and bars.
Recommended by Coni from Experiencing the Globe
Antibes
Antibes, situated on the French Riviera between Cannes and Nice, is a picturesque coastal city known for its breathtaking beaches, particularly the Plage de la Gravette.
The old town of Antibes is a must-visit, with its quaint narrow streets, charming buildings, and delightful squares.
Be sure to check out the Marché Provençal, an enchanting open-air market that boasts an array of fresh produce, flowers, and handcrafted goods.
History enthusiasts will love exploring the city's various historical sites, including the Musée Picasso housed in the 14th-century Château Grimaldi, a once home to the Grimaldi family.
The museum showcases an extensive collection of Pablo Picasso paintings, sculptures, and ceramics.
For nature lovers, the eastern side of the town features the Cap d'Antibes, offering awe-inspiring views of the Mediterranean Sea and coastline.
Several hiking trails provide an excellent opportunity to immerse oneself in the area's natural beauty.
One of the best things to do in Antibes is to visit and admire Le Nomade, a majestic sculpture that overlooks the sea at Port Vauban.
Explore Juan les Pins on a Private sea excursion in a solar catamaran, an impressive seaport town of Antibes, on a private 1-hour catamaran cruise.
Famous for its beaches and historical Art Deco buildings. Admire seafront villages, marinas with yachts, fishing boats, and Hotel Belles Rives.
Antibes' irresistible blend of natural beauty, cultural heritage, and modern amenities make it an essential destination for anyone visiting the French Riviera.
Recommended by Christine Rogador from Journey To France
Colmar
Colmar is a city in the historical region of Alsace near the German border. Known for its colorful half-timbered houses and charming old town, it has long been one of the best places to visit in France.
A stroll through Colmar will reveal, the area's French and German mixed influences which are reflected in the architecture.
The customs and local traditions make Colmar unique in France. Exclusive boutiques and small artisanal stores with local specialties and handmade things can be found along the small intriguing cobblestone lined roads.
One of the prime neighborhoods to discover are the water canals in the Little Venice district. This was originally the fishmongers and butchers' quarters.
Visitors can explore the city of flowers and colors from another perspective on a relaxed boat ride across the old town.
Dine at the Les Bateliers, just below the Little Venice bridge, and take in the warm and welcoming atmosphere.
Local food specialties such as Tarte Flambée, Escargot and Foie Gras are best enjoyed with a locally produced neutral Pinot Gris or a fruity Gewürztraminer white wine.
Wine aficionados will appreciate a day trip along the Alsace wine route to some of the most delightful villages in France, such as Riquewihr and Ribeauvillé.
Stock up on white wines and relish the top wine types on a vineyard tour to sharpen your taste receptors.
Recommended by Paul D'Souza from Paulmarina
Aix en Provence
Aix-en-Provence is one of the most beautiful cities in the south of France. A 3-hour TGV train ride from Paris or a 30-minute drive from Marseille will get you there.
Once a capital of Provence, Aix is known for many things including its Roman beginnings. Today, the city is known for its chic vibe, art and culture, having earned it the nickname of the "21st arrondissement of Paris".
Aix is perfect for a France city break with plenty of things to do from museums through walking tours to concerts or just simply people-watching while sipping a drink on Cours Mirabeau.
The historic center of Aix-en-Provence is the main attraction. It is largely walkable with many zones being reserved for pedestrians. Stroll through the many markets that take place almost daily on several squares in town.
Make sure to visit Hôtel de Caumont, a private museum in an elegant villa located in the Mazarin quarter of Aix-en-Provence.
This museum features art exhibitions, beautiful rooms appointed in the 18th century-style, and artfully landscaped gardens.
Foodies will love Japanese-French fusion Restaurant Koi with an outdoor terrace and delicious food for a variety of dietary styles plus amazing cocktails.
Aix-en-Provence is also a great base for fun-filled day trips, like the colorful landscapes of Roussillon, the nearby lavender fields (when in season) or an e-bike tour of the Sainte-Victoire mountain.
So if you want to experience France at its best, you should put Aix-en-Provence on your must-visit list.
Recommended by Aixoise from All About Aix
Angouleme
Nestled in the Charente in the South West of France is the city of Angouleme. Positioned strategically on top of a hill it surveys the landscape as it has done for hundreds of years.
Steeped in history you'll find everything from medieval buildings and cobbled streets to monuments and ramparts.
For history buffs take a trip to the Hôtel de Ville, originally Château d'Angoulême, the fortified castle dating back to the 9th century. It served as protection in the long hundred years' war between England and France.
Markets are a way of life in France and like most larger towns in France, Angouleme has a covered market, Les Halles.
The building was designed by the architect Victor Baltard who was also responsible for Les Halles market in Paris. The building was originally a prison but was also home to the Resistance during the war.
But Angouleme isn't just a historic city it's also known for its street art. Each year in January it places host to the Comic Festival.
And as you walk around the city, you'll see murals and wall art in the most unusual places. Grab a map from the tourism office and discover 30 art installations that were commissioned by the government back in 1986.
Take a day trip from Angouleme to the town of Cognac, home to some of the world's biggest Cognac houses, including Hennessy, Martell, Courvoisier, and Rémy Martin, where you'll discover the secrets behind this world-famous drink.
Recommended by Kylie Lang from Life in Rural France
---
Final Thoughts About the Best Weekend Breaks in France
France is full of beautiful cities and charming villages. Have a glance at Mona Lisa, taste some macaroons or perhaps wander around the lavender fields of Provence – either way, you are guaranteed to have a fantastic time.
There is a good reason that France is the most visited country in the world. These beautiful cities in France are all perfect for a weekend getaway or make a full vacation out of a visit to a few of them on one trip.
Other Posts You Might Like:
Save The Most Beautiful Cities in France to read later? Pin it!