If you're looking for the perfect spring trip, we hand picked the best places to visit in Europe in April. Explore the various cultures, sights, sounds, tastes, and experiences.
April is one of the best months to see beautiful spring flowers and enjoy the beginning of warmer weather. Mild temperatures with refreshing breezes are perfect for sightseeing!
On a year when Easter falls in April, the Best Places to Travel in Europe in April there are even more exciting things to do. Many European countries celebrate Easter with huge celebrations.
For other great ideas when visiting Europe, check out these 25+ Epic Adventure to add to Your European Bucket List and the 10 Best Places to Visit in May.
Best Places to Visit in Europe in April
Amsterdam, Netherlands
The land of cheese, wooden shoes, and windmills is definitely among the list of best countries to visit in April. In Spring. the Holland Tulip festival takes place.
With over 60 miles through 2,500 acres, the Tulip Route was voted by National Geographic the world's most beautiful road trip. To see the best of the blooming of tulips, make sure to include Keukenhof in your itinerary.
Another reason to visit the Netherlands in April is King's s Day – held on April 27, marking the birthday of King Willem-Alexander. There are parties, flea markets and a sea of people wearing orange.
When discovering the Netherlands for the first time, taking an evening cruise on the Canals of Amsterdam or exploring by bicycle, is a must.
Visit the famous Anne Frank House, Van Gogh museum, Rijksmuseum and have fun at De Efteling – one of the oldest theme parks in the world.
HOTEL: The Dylan Amsterdam (9.2) or Waldorf Astoria Amsterdam (9.6) or one of the Best Boat Hotels in Amsterdam.
Lisbon, Portugal
Lisbon is the perfect spot for a sunny April European vacation that's not too overcrowded. The mild weather is perfect for exploring all this city has to offer.
Hop on an iconic yellow tram up to the Alfama district for beautiful views. Visit Santa Justa Lift, one of the most beautiful elevators in all of Europe. Take a boat ride down Tagus River and visit Belém Tower.
On a 2 Day Lisbon Itinerary, you should spend an evening in Bairro Alto, one of Portugal's oldest neighborhoods. It has been transformed into a major nightlife center during recent years. You can go on a pub crawl or stop in a cozy Fado restaurant to take in the Portuguese vibe.
April brings some fun festivals too. The Lisbon Fish and Flavors Festival is a great place to sample Portuguese cuisine. Music days in Belem showcases classical music, while Sónar Lisboa is all about cutting edge electronic music.
Save some time for a day trip to castle-filled Sintra or the historic city of Evora, see the beautiful beaches of Ericeira or spend 2 days in Porto.
HOTEL: EPIC SANA Marquês Hotel (9.2), Browns Central Hotel (9.1) or one of the 15 Best Boutique Hotels in Lisbon.
RELATED POST: Moving to Portugal – Life as an Expat
Corsica, France
Corsica is a French Island located in the Mediterranean Sea, known for its dramatic landscape, hiking trails and gorgeous beaches.
If you're looking for a European island getaway in April, Corsica is definitely worth checking out! The weather is warmer than in other parts of France, and there are plenty of activities to keep you busy.
You can explore the villages and towns, hike in the mountains, or relax on the beach. Given that Corsica is a bit off the beaten path, it's still not as crowded as some of the more popular tourist destinations.
So if you're looking for an authentic French experience combined with some beautiful scenery, Corsica should be at the top of your list!
HOTEL: La Dimora – Les Collectionneurs (9.2) or Grand Hôtel De Cala Rossa & Spa Nucca (9.3)
RELATED POST: 23 Most Beautiful Cities in France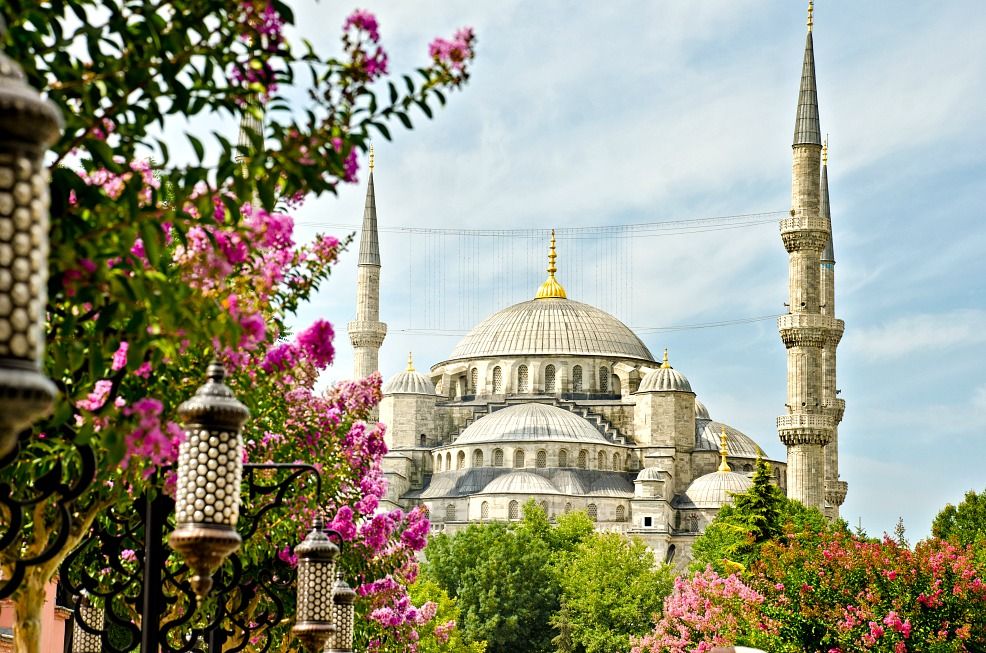 Istanbul, Turkey
Istanbul is one of the best Turkey holiday destinations that offers many opportunities for the history buff, the architecture lover and those who want to experience Turkish culture.
Visit the Blue Mosque and the Hagia Sophia, originally built as a church in 537 AD and converted into a mosque in 1453. Topkapi Palace, the Grand Bazaar and the Spice Bazaar are all must-sees, as is a cruise down the Bosporus.
In April, the Tulip Festival with 30 million tulips blooming around the entire city is a surprising treat. The tulips are accompanied by cherry blossoms and other flowers in beautiful displays and are definitely a sight to see.
April is a great time to visit because it's the shoulder season where you'll get better hotel deals and it's easier to pack for Turkey since it's warmer than winter.
If you visit during Easter week, hotel prices will be higher with the increased crowds. With a 7 Day Turkey Itinerary, you'll also have time to visit otherworldly Cappadocia, Ephesus, and the Turkish Riviera.
HOTEL: SOHO House Istanbul (9) or one of the 15 Best Istanbul Boutique Hotels.
Zermatt, Switzerland
In Zermatt, April brings the first stages of spring and is perhaps the most beautiful time of the year. It also happens to be a great time to visit if you want to get some great deals.
If the weather's not too warm (and it typically isn't), you may still enjoy some last-minute skiing or snowboarding. Zermatt famously has some of the best ski resorts in the world.
Make sure to take the cable car to the highest cable car station in Europe on the Matterhorn for the insane views that you need to see at least once in a lifetime. Those that are daring can do a winter hike or ski from this point.
Take a train journey from Zermatt to Gornegrat. It is regarded as the most scenic ride in Europe with views of the Matterhorn. At the final stop, enjoy panoramic views of the mountains (at the height of over 10,000 feet) and get yourself warm with a cup of fresh coffee. Another fun thing to do is explore the old village and its charming buildings, dating back to the 16th century.
HOTEL: Firefly Luxury Suites (9.5) or 22 Summits Boutique Hotel (9.3) or Unique Hotel Post (9.1)
RELATED POST: 27+ Epic Adventures to Add to Your Europe Bucket List
Rome, Italy
All roads lead to Rome, especially in April. Whether you are Catholic or not, the chance to visit the Vatican at Easter is definitely a bucket list event.
The festivities at the Vatican, most held at St Peter's Basilica and St. Peter's Square, are understandably crowded. Arrive early because the number of visitors is strictly controlled.
Typically, in the week leading up to Easter, the Pope travels to other churches in Rome to perform holy rites. It's an amazing thing to do when visiting Rome with kids for Spring break or a romantic weekend getaway in Italy.
The best way to explore Rome is by eating your way through on a Roman food tour. Indulge in mouthwatering pasta, pizza, and tiramisu to your heart's content.
Then work off those carbs as you explore the Eternal City climbing the Spanish Steps, seeing the Colosseum, the Parthenon, Piazza Navona and more.
HOTEL: Chapter Roma (9) or DOM Hotel Roma (8.8)
RELATED POST: 22 Best Places to Visit in Italy for a Weekend Getaway or an Italian Road Trip
Seville, Spain
The mesmerizing Andalusian capital city of Seville is absolutely one of the best places to visit in Europe in April. Orange blossoms scent the air from the 40,000 trees around the city.
You can join the colorful flamenco dancers at the annual Sevilla Swing Festival. But the biggest happening is Semana Santa – the Holy Week leading up to Easter Sunday. It is a captivating event that commemorates the passion and death of Jesus Christ.
Seville is known for its unique blend of Gothic and Moorish architecture. La Giralda, the Mudejer style bell tower attached to the gothic Seville Cathedral, was a former mosque minaret. Climb to the top for an amazing view of the city.
Other must-sees are the Plaza de Espana, the stunning Real Alcázar that has been the backdrop for Game of Thones filming. The Setas de Sevilla is a wooden art installation where you can walk along the top for great views.
Lastly, save time in your itinerary for a day trip to the while villages of Southern Spain or to Jerez de la Frontera to visit a bodega for sherry and wine tasting or to see the famous dancing horses at the Royal Andalusian School of Equestrian Art.
HOTEL: Hotel Lobby Room Sevilla (9.4) or check out our post with the Best Boutique Hotels in Seville
RELATED POST: 22 Most Beautiful Cities in Spain for a Weekend Break or Your Spain Itinerary
Berlin, Germany
If you want to see cherry blossoms, Berlin is one of the best places to visit Europe in April. When the Berlin Wall came down, 20,000 people in Japan donated to the Sakura Campaign to donate 9,000 trees to the City of Berlin symbolizing renewal. You can see the trees all over the city and at the annual Cherry Blossom Festival.
Another highlight in Berlin in Spring are the Berlin Easter Markets at Zitadelle Spandau and Alexanderplatz, where you can find everything from traditional Easter sweets to handmade gifts.
If you're feeling adventurous, head to the Tierpark Zoo, where you can watch the animals celebrate Easter with their own special egg hunt. Tiergarten is also a lovely park to enjoy in Berlin during Spring.
And of course, no trip to Berlin would be complete without a visit to the Brandenburg Gate. Built in 1791, this iconic structure was once part of the Berlin Wall and is now one of the city's most popular tourist destinations.
One of the best ways to see the sights of the city is by bicycle. And if you are visiting on a Sunday, make sure to ride to Mauerpark, the very popular flea market that also hosts the outdoor Bearpit Karaoke.
So whether you're looking for history or just a good time, be sure to add Berlin to your list of April travel destinations.
HOTEL: SO/Berlin Das Stue (9.1) or Sir Savigny Hotel (8.7)
Budapest, Hungary
The best time to plan a trip to Budapest is definitely in April for the Budapest Spring Festival. This great Hungarian cultural event with more than 200 events, from classical music to dancing and cinema, deserves a spot on your Budapest itinerary.
Take a walking tour to experience Budapest's architecture going past the neo-gothic Parliament Building, St. Stephen's Basilica, Buda Castle and the Fisherman's Bastion. Don't miss the Shoes on the Danube memorial or the House of Terror museum.
Walk across the historic Széchenyi Chain Bridge from Buda to Pest, then on your way back, spend time on Margaret Island, a beautiful parkland space in the middle of the Danube, that will be starting to have spring blooms.
Great Market Hall is a fun place to visit for yummy food and souvenirs. Then have a relaxing afternoon at the Gellert Bath and Spa center, which takes pampering to a whole new level.
Pay a visit to Faust Wine Cellars to sample wines from 22 different Hungarian wine regions. Plus – taste the traditional Hungarian fruit palinka.
At night, head to the Jewish Quarter for the cities coolest cafés and restaurants along with the notoriously fun Hungarian ruin bars.
HOTEL: Aria Hotel Budapest by Library Hotel Collection (9.6) or Hotel Vision (9.6)
Scotland, United Kingdom
Scotland's driest month is in April. It also happens to be the month when many castles reopen for visitors after their winter closure. With 375 castles recorded in Scotland, it's impossible to see them all in one visit.
Scotland is chock full of events in April from the Glasgow International Comedy Festival to the Glasgow Kilt Walk. Book your Glasgow hotel early and plan a day trip to the Scottish Highlands.
Music lovers will enjoy Bonfest, the Scottish rock festival or the International Harp Festival in Edinburgh, depending on preference.
With a 3 day Edinburgh itinerary you'll be able to tour Edinburgh Castle, walk the Royal Mile, climb Arthur's Seat, celebrate with a pint at the Grassmarket AND still have time for one of the best day trips.
The best boutique hotels in Edinburgh are fun, quirky and super stylish. From dark and moody boutique hotels to a hotel on a restored ship to the epitome of luxury with castle views, these hotels will be a highlight of your trip.
One of the things you'll notice outdoors is the amount of wildflowers blooming. Animal lovers will see a return of birds like puffins and baby sheep frolicking.
So if you want to avoid crowds and enjoy some peace and quiet while exploring beautiful Scottish scenery, then April may just be your time to visit!
HOTEL: Tigerlily (9) or The Scotsman Hotel (8.9)
---
Final Thoughts About the Best Places to Travel in Europe in April
If you're looking for the best places to visit in Europe in April, you can't go wrong with any of these cities, renowned for their beauty and history.
All offer a wide range of activities to enjoy from cruising canals, to incredible architecture, art, ancient ruins and gorgeous destinations for nature lovers.
No matter what your interests are, you're sure to find a city that suits you perfectly for a trip in the springtime.
Other Posts You Might Like:
Save The Best Places to Visit in Europe in April? Pin it!