Trying to figure out what to wear in Turkey? If it is your first time visiting, you might feel confused about what should be on your Turkey packing list. Don't worry, we've got you covered from appropriate Turkey outfits to what to wear by season.
No matter where you're going in Turkey, everything you need to know about the Turkish dress code for women and men including how to dress in mosques or at the beach is included here.
If you stick to these packing suggestions, you should have no problem looking chic and respecting Turkish culture at the same time.
This site uses affiliate links, meaning if you make a purchase through our links, we may earn a commission. You can read our full disclosure policy here.
Planning Your Trip to Turkey Last Minute?
If you are trying to pull together your trip quickly, here is a quick reference guide to the tours and hotels we recommend, along with practical travel information.
You can also get more detailed information on our Ultimate 7 Day Turkey Itinerary, the Best Istanbul Boutique Hotels and the Best Cave Hotels in Cappadocia. Lastly, there is a short video with things to do in Cappadocia on our YouTube channel.
TOP EXPERIENCES & TOURS IN TURKEY
BEST HOTELS IN TURKEY

Soho House Istanbul – ISTANBUL (one of the coolest places to stay)
Hotel Poem – ISTANBUL (well located near the Bosphorus and many tourist sights)

PRACTICAL INFORMATION FOR TURKEY
What to Wear in Turkey
When trying to understand what to wear in Turkey, keep in mind, there is no "one size fits all." It really depends on many factors, including the time of the year you plan your visit, the places you wish to see and the activities you hope to enjoy.
During winter, you must pack clothes that will keep you warm. Since rains are quite common in the cold season, make sure to bring clothes that will keep you dry (for example, raincoats) or – at least – an umbrella.
During summer, choose clothes made of light materials, because the heat can be quite intense.
The second thing to keep in mind is that Turkey is a Muslim country. However, compared to others, it is fairly liberal, so you don't have to dress as conservatively as in other Muslim destinations, especially at beach resorts or coastal area.
Still, remember to be respectful to the local traditions because there are places in Turkey that are quite conservative. And, in mosques, you need to cover up.
---
What to Wear in Bodrum – Turkish Dress Code for Resorts & Beaches
Those staying in a beach resort don't have to worry much about the dress code for Turkey. Generally, it is acceptable to wear whatever you would in any other place.
Bring flip flops, bikinis, swimsuits, tank tops, short shorts, dresses and wear them as you please.
However, when heading to a restaurant or a bar (even if it's on the beach), it is important to wear a coverup. Wandering around in your swimwear is not considered appropriate.
In many resorts, women are allowed to sunbathe topless. However, it might draw unwanted attention. 
In areas like Antalya, Bodrum, and Marmaris or family friendly hotels in Turkey, you should avoid it entirely.
What to Wear in Turkey as a Woman
While exploring Turkey, seeing its impressive mosques and religious sites is a must. When it comes to Turkish dress code in places like the Blue Mosque or Hagia Sofia, you have to cover up.
The Blue Mosque, Hagia Sofia and all mosques have a dress code in Turkey. Women must cover their heads, chest, shoulders and knees. Both men and women cannot wear shorts, sleeveless shirts, or anything exposing your legs/shoulders.
The photo above was from visiting the Hagia Sofia in 2019. It is no longer possible to enter without a head scarf since it was converted from a museum into a mosque again in 2020.
---
What to Wear in Istanbul and Turkish Cities
Choosing what to wear in Turkey depends on the places you plan to visit.
Istanbul clothing is very modern. You will find men and women in all kinds of outfits – some may wear only shorts and tank tops, others are fully covered. Short dresses are acceptable too.
In other areas of Turkey, for example, the Eastern and Central parts as well as Anatolia province, you have to dress more conservatively.
The same goes for Konya, Eastern Turkey, and Ankara, where it is best to dress modestly. Choose stylish jumpsuits, comfortable linen shirts, trousers, or – in winter – sweaters and coats.
---
What to Wear in Turkey in Winter
When packing for a trip to Turkey in winter, it's important to keep in mind that the weather can be quite variable. In some parts of the country, you may experience snow and freezing temperatures, while in others it may be relatively mild.
Istanbul has quite a bit of rain in the winter months and temperatures in the 40-50s. While Cappadocia can dip down into freezing temps with gorgeous snowy landscapes but you can get cozy in your luxurious Cappadocia Cave Hotel.
As a result, it's a good idea to pack layers that can be easily removed if the temperature rises. A few items that should definitely be on your packing list include: a coat, sweater, hat, scarf, and gloves. Long pants and long-sleeved shirts are your best bet for sightseeing. Don't forget an umbrella.
10 Things You Will Need to Pack For Turkey
1. Include a Foldable Sun Hat in Your Turkey Packing List
It is no secret Turkey can get sweltering hot with intense sun during the summer months. It is crucial to have a wide brimmed hat with you.
This cute foldable hat with UPF 50+ protection comes in 18 colors including all types of neutrals. The best part is you don't have to worry about it getting ruined or squished.
If you are visiting a beach resort on your Turkey trip, a foldable, packable Floppy Beach Hat has a wider brim and will give you even more protection from the sun.
2. Cute Turkey Dresses Are Comfortable and Great for Photos
There's something about touring around Istanbul that makes you want to wear a pretty summer dress. Maybe it's that they look good in pictures, or that they feel somewhat like the perfect cross between vacation and city life.
Short dresses are great when the weather is warm. A simple swing dress, a sleeveless tank dress or a cute beach cover up are all great for warm days.
For the city, you can look a little more dressed up with this floral chiffon dress or this ruffled dress.
For longer dresses, this wrap dress is stylish, comfortable and will work for day or night in a beach town or city. This floral dress or this smocked dress will work perfectly for beautiful vacation photos.
This summer casual dress or this maxi dress works really well as resort wear. Most importantly, all of these dresses are easily packable and are generally wrinkle free.
Finally make sure you pack comfortable shoes to wear on long sightseeing days like a pair of cute sneakers or Allbirds. They look cute with dresses or any outfit and work really well on cobblestone streets in the historic areas of Istanbul.
3. Portable Charger Power Bank
In Turkey, there are plenty of times where you have long sightseeing or transportation days and you need a portable charger. In addition to charging your phone, you might need to charge camera or video equipment too.
We travel with 2 chargers for all of our devices and this 2 Pack of portable chargers is a great deal. Each charger will charge an iPhone 3 times. They are small and lightweight so you can easily fit it in a backpack or purse.
4. Step Down Power Converter & European Travel Plug Adapter with USB Ports
When you get back at night and are ready to charge your electronics, you need a Turkey plug adapter and a step down voltage converter.
An international power adapter will work for your phone, computer and dual voltage appliances. Anything that's NOT dual voltage needs a step down voltage converter.
Our favorite step down voltage converter has traveled with us all over the world since 2018.
It converts the power from 220 volts to 110 volts so you don't burn out your USA appliances. It has 2 110V outlets and 4 USB ports to charge everything at once. A voltage converter can take the place of a power adapter if you don't need more outlets.
Since you can't buy a step down voltage converter overseas, it's one of the most important items for your Turkey packing list.
Pro Tip: Hair dryers / straighteners don't work well with any adapter. Save yourself the headache and buy a dual voltage travel hairdryer or dual voltage travel hair straightener. They're compact, inexpensive, and can be used in any country.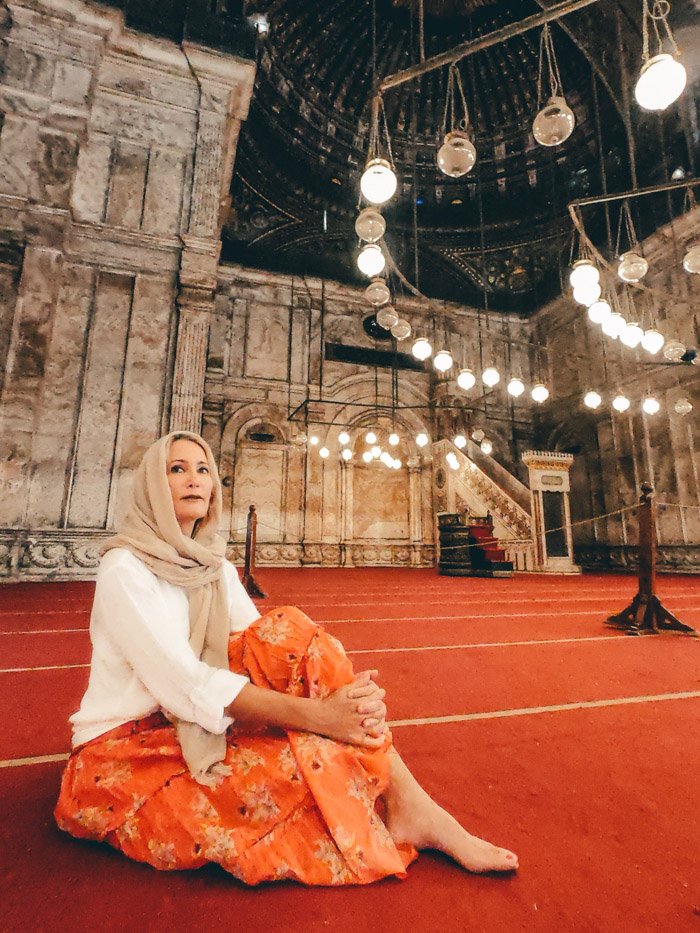 5. A Lightweight Scarf is What You Will Wear in Turkey to Visit Mosques
One of the most important things to pack for Turkey or any middle eastern country is a lightweight scarf.
While Turkey is very modern and the Istanbul dress code is probably close to what you wear at home, you will need to cover up when visiting mosques.
If you forget a head covering or are not properly dressed, they will provide a big scarf that you must wear to enter. If you don't want to wear something worn by multiple people per day, carry a scarf in your bag.
This lightweight gauze scarf comes in 14 colors and it's the best deal. It is super soft and can be used to cover your head, shoulders, as a wrap or around your neck if it's chilly. At 75″x43″, it's sizable enough to work for everything.
In the summer months when you might be wearing a tank top or a dress that bares your shoulders, use a scarf to cover your chest and shoulders. If you are wearing leggings or shorts, wrap the scarf around your waist and cover your knees.
---
6. Long Sleeve Button-Down Shirt
Another way to cover up when you need to is to carry or wear a long sleeved button down shirt. It's the perfect versatile piece of clothing for Turkey to wear in the day or out at night. I often wear one over a dress tied in a knot at the front.
Depending on the time of year you travel, Turkey can be hot. To stay as cool as possible and protected from the sun while sightseeing, a basic button-down shirt is a must for your Turkey packing list.
Even if you are staying at a beach resort, it is a good idea to bring a long couple of lightweight long-sleeved shirts that are made of breathable materials.
7. A Lightweight Puffer Jacket for Nights and Winter Months in Turkey
If you plan to go to Cappadocia, make sure you bring a jacket. Fot air balloon flights, you will be picked up from your hotel around 4am. A lightweight puffer jacket is a must.
They are so easy to pack. I roll mine up and keep it in a little bag. It barely takes up any room and it fits perfectly in a carry on bag.
This is my current favorite puffer jacket. This was my tried and true North Face Puffer that I used for years and still love. Both are high quality jackets.
If you need a less expensive puffer jacket, this one has tons of positive reviews, looks really cute and comes in multiple colors. I can't vouch for it personally but it might be worth a try.
It's likely that you'll be taking flights (or busses or trains) within Turkey to get to different regions and a puffer jacket comes in handy on the airplane too.
Even if you are heading to Turkey in the summer months, have at least one light jacket with you, because the nights can get cold, especially in spring and autumn.
8. An Umbrella for Rain or Sun Should Be on Your Turkey Packing List
When traveling to Turkey, do not forget your travel umbrella. December is historically the wettest month and May is the driest. We were there in May and had a full day of heavy rain. Rain boots would have come in handy too.
Windproof & Waterproof Rain Umbrella
This lightweight compact travel umbrella will easily fit in your carry on bag. It's windproof and waterproof and sturdy enough to handle heavy rain. There are 7 available colors with some bright ones that are cute for photos.
UV Protection Sun Umbrella
In the summer months, the sun is HOT! This is especially true if you are traveling to places like Cappadocia or Epheusus where you will have difficulty finding shade. Bring this UPF 50+ UV Protection Travel Umbrella to avoid getting sunburned.
9. Jeans Are a Staple of the Istanbul Dress Code for Women and Men
It wasn't until I got home and looked at my photos from Istanbul that I realized denim is king in Istanbul. Men and women love wearing jeans.
In general you should definitely put blue jeans and black jeans on your Turkey packing list. I also brought white jeans, which were not on anyone else but they also weren't frowned upon.
During the day, blue jeans are very casual for everyone. At night though, people wear jeans dressed up, and black jeans are perfect for Istanbul's thriving nightlife scene.
10. Is Turkey Safe? Anti-Theft Bags, Backpacks and Tracking Devices
Are you asking yourself questions like is Turkey safe for Americans or is Istanbul, Cappadocia, Bodrum or Antalya safe?
When we went to Turkey, we had quite a few people question us about the decision. The news and people's opinions don't matter. Always check travel advisories for up to date information and people who recently traveled to Turkey.
We personally felt safe in Istanbul, Cappadocia, Bodrum, and Izmir. However, like all cities, Turkey has its share of pickpockets and people who prey on tourists so you should always exercise caution.
Make sure to bring an anti-theft purse or anti theft backpack for travel that has locking zippers and slash proof materials.
Anti-Theft Purse
I carry a cross body bag in cities. It's right in front of me and I can easily hold it. It's small (8"W x 4.5"H) but holds my phone, credit cards, passport, money, lip gloss and hand sanitizer.
For those that want something a little bigger the anti-theft shoulder bag is 8.5" x 8.5", has slash resistant straps/sides, and RFID slots for your passport and credit cards
Anti-Theft Backpack
Guy carries this roll top camera backpack when we are bringing equipment with us. No one can reach into it so your gear is safe. There is now an 11 liter backpack for women or men that works great for a day pack.
Bag Locks and Tracking
We bought an AirTag to hide in each one of our bags and highly recommend it. You can retrieve a stolen bag and will know where your checked suitcases are at all times even if the airline doesn't.
A friend bought an AirTag 4 pack and gave them to her kids. Immediately afterwards, her daughter put the AirTag in her suitcase, the airline lost the bag and when they went to deliver her bag to the hotel, SHE WAS THE ONE THAT TOLD THEM they were at the wrong hotel because she was tracking the tag.
Also get a cable lock to keep the front compartments of your backpack secure. These small things are inexpensive and will give you complete peace of mind.
VPN – Virtual Private Network
We honestly couldn't imagine traveling without a VPN anymore. First, it keeps your data safe over public wifi in hotels and airports. You can access your bank accounts and sensitive data SAFELY from anywhere.
It also allows you to watch TV all over the world. For anyone who has ever watched international news all night while jet lagged, NordVPN is one of the most robust VPNs and will save you! The price for 2 years is worth it for one trip alone.
Turkey Safety Tips
Check the Travel Advisory of your home country.
Pay attention. Don't use your phone for directions, oblivious to your surroundings.
Use an anti theft bag or backpack and hold on to it carefully when you are surrounded by lots of people.
Use a tracking device and bag locks
Protect yourself and watch TV with a VPN
Don't go with someone offering to take you to a cool bar.
Buy travel insurance for Turkey
---
Practical Information for Turkey
Turkish Visa & Money
Getting a Turkish Visa was really easy. Just fill out the online application, make the payment and you will get your document emailed to you. At the airport, just show your passport and visa document to enter Turkey.
The currency in Turkey is Turkish Lira. We use Wise (formerly called TransferWise) to get money at ATMs.
You can transfer money into your account from your bank and get an ATM card that you can use in 175 countries internationally. They have the best exchange rate we have found.
---
Weather and the Best Time to Go to Turkey
When planning a visit to Turkey, you really have to consider the weather. Although most people think of the country as a warm place, winters can get cold.
The best time to discover Turkey is April, May, September and October. There are fewer visitors and the weather is mild, so you can explore its many attractions without worrying about the cold or the heat.
Summer is the busiest time and it can be very hot. Winter, in December and January sees average temperatures around 46°F and snow is possible.
Istanbul is hot and swarming with tourists in June-August. The shoulder season of April/May and September/October is pleasant weather with some rain. November – March has cooler temps, less tourists and lower prices.
Cappadocia – You can go year round, but best months are April, May, September and October. June – August is HOT and winter gets snow. Balloon flights can be cancelled for bad weather. Stay an extra day just in case.
Turkish Riviera – High season by the beaches is July and August. If you prefer a more relaxing vacation with great weather, go in May, June, or September. Some hotels shut down during the off season.
Final Thoughts About What to Wear in Turkey
And there you have it! A complete Turkey packing list for women and men, whether you're traveling to Istanbul, Cappadocia or any of the beautiful resorts dotting the Turkish coastline.
With this handy guide in hand, you can rest assured that you will be both comfortable and stylish on your next trip to Turkey. And if all else fails, just remember that Turks are some of the most hospitable people in the world— they'll probably forgive any fashion faux pas. So pack your bags and get ready for an amazing adventure – bon voyage!
Save This Turkey Packing List for Later? Pin it!