If you are looking for an unusual and unforgettable holiday experience, consider staying in one of the best cave hotels in Cappadocia, Turkey.
It is not just a fairy-tale kingdom above ground. The best hotels in Cappadocia have beauty hidden underneath, that you can experience overnight.
The best cave hotels in Turkey can be found in Cappadocia, the region in central Turkey known for its unique, otherworldly landscape and hot air balloon rides.
We've handpicked the best Cappadocia cave hotels that will take your trip to the next level. They have luxurious rooms, some have gorgeous pools and many have a view of the hundreds of hot air balloons that take off every morning.
This site uses affiliate links, meaning if you make a purchase through our links, we may earn a commission. You can read our full disclosure policy here.
Planning your trip to Cappadocia last minute? Here are the tours and hotels we recommend. Other helpful posts for this trip include our 7-Day Turkey itinerary, What to Wear in Turkey, the Best Istanbul Boutique Hotels. and the best things to do in Cappadocia on our YouTube channel.
TOP EXPERIENCES & TOURS IN CAPPADOCIA
CAPPADOCIA HOTELS WITH BEST VIEWS
PRACTICAL INFORMATION FOR CAPPADOCIA
Best Time to Visit Cappadocia
Spring and autumn are ideal times to visit Cappadocia for the best weather. However, Cappadocia is a year-round destination, so here is what you can expect.
March to May – It starts out a little chilly in March and can still have some snow. By May, everything is in bloom and the weather is ideal. The closer you get to summer, the fewer balloon cancellation days happen. This is also a great time to go if you want to do some hiking and explore the many outdoor activities that Cappadocia has to offer. We went in May.
July and August is the busiest and hottest time to visit Cappadocia. You can expect highs from 90-104 F (32-40 C) and comfortable evenings. The weather is conducive to balloon flights so weather cancellations are at the lowest. Hotel rates are higher with the increased tourism.
September to November – Cappadocia experiences some fall foliage but the real treat at this time of year is the more temperate weather and lessening of crowds. This is also a great time to visit Cappadocia's vineyards and taste the delicious wines that the region is known for.
November to February – If you don't mind colder temperatures, Cappadocia is beautiful in the winter. A hot air balloon trip over a snowy valley is gorgeous as long as you are prepared with warm clothes.
Weather for Cappadocia Hot Air Balloon Flights
Hot Air balloon flights are canceled more than 100 days a year due to high winds. The least cancellations happen from June through October and the most are from December through February.
There are plenty of other things to do in Cappadocia without hot air balloons, that you should hope for the best but you'll still have a memorable and wonderful experience either way.
Even if you are not planning to do a hot air balloon flight, it is still one of the most beautiful things to see in Cappadocia so plan to stay a few days to see it.
Make sure to add a jacket to Your Turkey Packing List. The flights take off early and it can get quite cold.
---
Cappadocia Cave Hotel Map
Here is an interactive map that you can use to see where each of these hotels are located.
---
12 Best Cave Hotels in Cappadocia With Hot Air Balloon Views
Exploring Turkey is one of the most bucket list adventures in Europe. Actually, Cappadocia is located on the Asian side of Turkey but since Istanbul is in Europe, I'm still counting it a European adventure!
In addition to hot air balloons over otherworldly landscapes, staying in a Cappadocia cave hotel will be one of the most unique hotel stays in your lifetime. So let's jump in with the best Cappadocia Cave hotels that have views to die for.
As the name states, The Charming Cave Hotel (9.6) is perhaps the coziest and one of the best hotels in Cappadocia. What stands out the most is its attentive staff, which will arrange any activities you've been dreaming to do
Walk to town from the convenient Goreme location, close to all the main attractions.
The hotel is built directly into the rocks, and rooms all have stone walls. Thanks to the traditional Turkish decor, the Charming Cave Hotel has an authentic atmosphere. With dim lighting, it is the perfect choice for couples on romantic getaways.
What guests like most: location, amazing staff, on-site restaurant set in a 'bubble' • Consideration: rooms can get hot in summer
---
Many travelers claim the Museum Hotel (9.2), set in a unique area of Uchisar, to have the best views. It is hard to disagree.
You will find a terrace that boasts picturesque valley and balloon views. You can see right from the heated outdoor pool, which is available regardless of the season.
In addition to great views, this Relais & Chateaux hotel has luxurious rooms furnished with authentic antiques that are in keeping with the Museum name. Some of the rooms actually have free wine taps.
Admittedly, this hotel is more expensive than others. But the splurge is worth it for what many believe to be the best cave hotel in Cappadocia.
What guests like most: fantastic ambiance, a beautiful swimming pool, great views • Considerations: more expensive
---
Carus Cappadocia (One of the Most Stylish Cappadocia Cave Hotels)
The Carus Cappadocia (9.3) is possibly the most glamorous cave hotel in the area. Located in Göreme, it has every amenity you could possibly want.
There is an indoor pool, sauna, incredible bar, air-conditioned luxurious rooms, and of course plenty of views.
You could stop your hotel search right here if you are just looking for the most chic and comfortable hotel in Cappadocia.
You can choose between a deluxe hotel room with lots of natural light or a cave room with beautiful ceilings. The beds are made with high-end linens and the rooms have flat-screen TVs.
What guests like most: The top-notch service, the cleanliness, and the decor • Consideration: Not all rooms have balconies
---
Local Cave House Hotel (Most Affordable Cappadocia Cave Hotel with an Awesome Pool)
With seven incredible fairy chimneys surrounding it, the Local Cave House Hotel (9.6) is a unique place to stay.
Built into the side of the hill and carved out by erosion over time, this hotel offers guests views of the pool or valley from every room.
Regardless of which room you pick, expect a spacious balcony, a seating area, and a comfortable bed. You can go to the higher balconies to see hot air balloons off in the distance.
The large outdoor swimming pool may be the most interesting in all of Cappadocia with the beautiful caves set above.
Every morning, the Local Cave House serves a typical Turkish buffet. Make sure to try the Turkish omelet, which is particularly delicious! If you are looking for a cozy, centrally-located, and affordable stay, this is the perfect pick.
What guests like most: excellent Turkish-style breakfast • Consideration: Rooms less updated than other cave hotels
---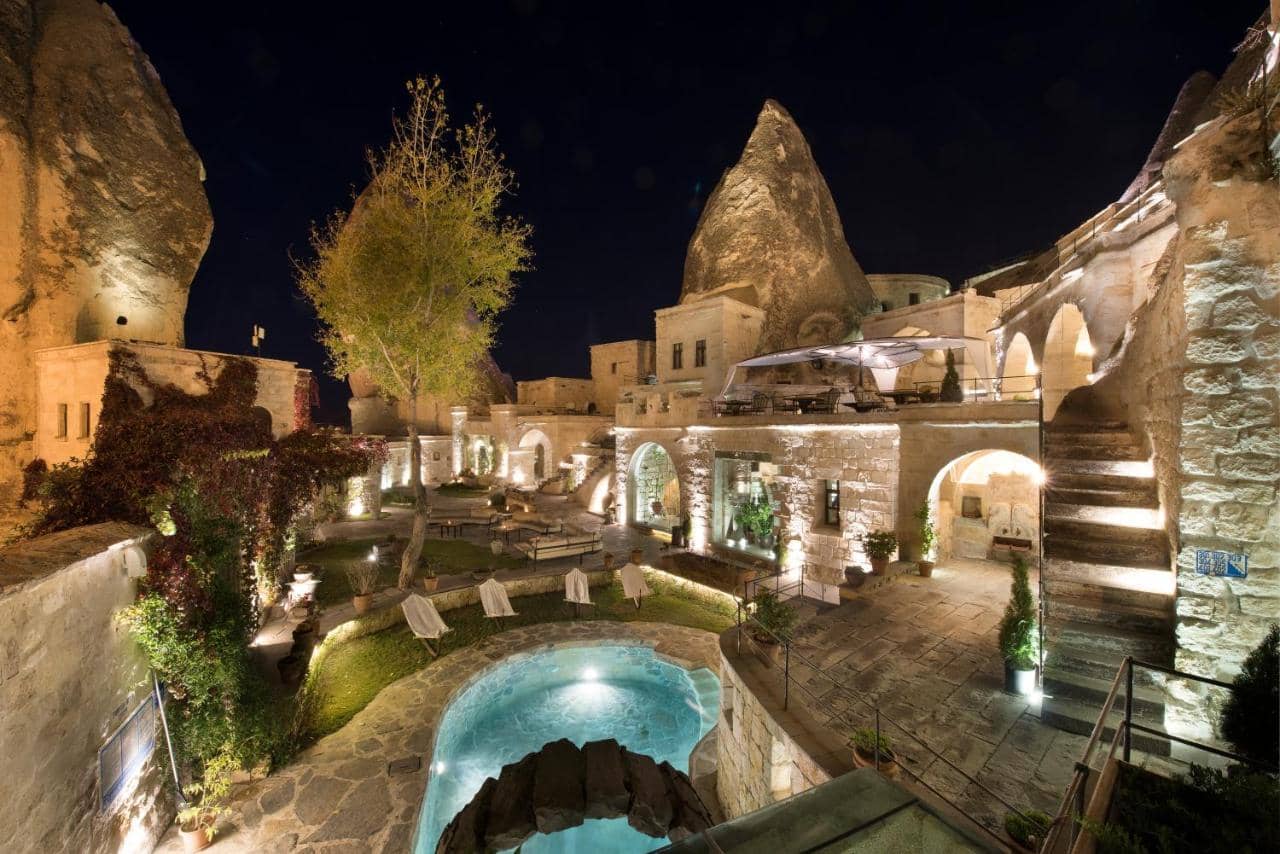 To get an authentic experience, book a stay at Anatolian Houses Cave Hotel (9.3), which is located in the actual Fairy Chimneys.
The whole concept of the accommodation is set around the Cappadocian rock-cut architecture. All around the property, you will find hundreds of historical artifacts like tiles and cases, which make the hotel's atmosphere so special.
Each of the suites at the Anatolian Houses includes an original work of art, and comfortable, up-to-date amenities, like flat-screen TVs and hydro-massage baths.
If you are a wine lover, you will be happy to hear that the hotel has a free wine tap in its garden.
The best part of this luxury hotel in Cappadocia is its moat-style outdoor and indoor pools, which look like ancient Roman baths.
Wind down at the incredible wellness area after a long day of exploring. It features wet and dry saunas, an indoor pool, and a marble Turkish hammam.
If you need assistance planning day activities like hot-air balloon tours and horseback riding, just ask the staff.
What guests like most: central location, delicious breakfast • Considerations: No air conditioning
---
As far as the cave hotels in Cappadocia go, this is one of the best. Nestled in Goreme, Lunar Cappadocia Hotel (9.4) has everything you need for a comfortable stay – a bar, a perfectly manicured garden, a terrace, a currency exchange, and, of course, top-notch rooms.
The hotel made of carved stone is currently one of the most popular stays in Cappadocia. A highlight of the accommodation is its terrace. Covered in large pillows, it is an excellent spot to enjoy views of the hot air balloons.
With a large open area and big rooms, you won't have to worry about enough space. Some even have their own kitchen, which includes a microwave, a fridge, and a toaster.
A delicious buffet breakfast is available for all hungry guests every morning. After that – it is possible to enjoy activities arranged by the Lunar Cappadocia Hotel like cycling, hiking, and skiing in winter.
The accommodation is set up on the hill, away from the hustle and bustle, but still very close to the main attractions.
What guests like most: spacious rooms, great view • Consideration: a bit farther than other hotels
---
To stay inside one of the iconic fairy chimneys, book a stay at the Cappadocia Cave Suites (8.9). Currently, the laws have changed. It is no longer possible to transform the chimneys into hotels, so this is definitely a unique accommodation.
Located in Goreme, the property has a warm and cozy atmosphere. The staff is friendly and will happily help you arrange sightseeing tours or hot air balloon rides.
Turkish Nights, whirling dervish shows, and horseback rides are also available at the hotel.
What guests like most: fantastic views, original location (inside fairy chimneys) • Consideration: limited breakfast options
---
This five-star Cappadocia cave hotel has become a travel favorite. Just a short walk away from Urgup's town center, Kayakapi Premium Caves (9.6) has some of the best Cappadocia views.
Since the hotel is located in restored historical caves, you get the ultimate experience. 
All rooms and suites feature air conditioning, floor heating, complimentary toiletries, and other amenities. Some of them even have a fireplace and a private terrace.
Visit the exceptional Kayakapi Spa set at the historical Davut Agha Mansion. Pamper yourself or enjoy its sauna, jacuzzi, and swimming pool.
What guests like most: spacious modern rooms, stunning property • Consideration: restaurant menu limited
---
Another Cappadocia Turkey cave hotel you shouldn't miss is the Mithra Cave Hotel (8.9). The accommodation offers magnificent views of the whole region of Goreme from its exceptional terrace.
Within the premises, you will find cave rooms in Ottoman and Greek style. They feature beautiful Anatolian decor, including carpets and curtains.
Each morning, a delicious breakfast is served for the guests on the terrace. So treat yourself to some great food while looking at the hot air balloons rising over the valley!
---
Set right next to the Uchisar Castle, the Turkish mansion is a unique stay that won't disappoint. With its recently renovated cave and stone rooms, you will get the most authentic experience.
From the adjacent castle, you get jaw-dropping views of Cappadocia and Argeus Mountain. While the views are not of the hot air balloons, it means you'll have more peace and quiet.
All the rooms and suites at Kale Konak Cappadocia (9.5) feature antique furniture and a romantic fireplace. After a day of exploring, guests may enjoy the on-site hammam and have a delicious dinner at the hotel's restaurant.
What guests like most: romantic atmosphere, excellent location, pets allowed • Consideration: not the most comfortable beds
---
Once you arrive at Artemis Cave Suites & Spa (9.4), you will feel like in an entirely different planet. Enjoy the hotel's wonderful view of the valley from one of its terraces.
Just a few minutes away, you will find some of the most popular viewpoints to watch the hot air balloons.
The accommodation also includes a traditional Turkish Bath, an excellent breakfast, and a spectacular garden. Barbecue facilities are also available on-site.
Visitors of the hotel note that the service is exceptional – something that is always important.
What guests like most: exceptional view, a wonderful terrace, friendly staff • Consideration: terrace can get crowded
---
Stone walls, rich fabrics, and an occasional touch of color – the Asuwari Suites Cappadocia (9.4) is one of the most luxurious hotels in the area.
Set in Urgup, the accommodation is close to all of the action, including the Nkolos Monastery, and offers awe-inspiring views of the famous fairy chimneys.
Unlike many other Cappadocia cave hotels, the rooms are very spacious, which is great when traveling with the whole family.
All rooms are equipped with a flat-screen TV, a seating area, and toiletries. Opt for a room with a private balcony to enjoy incredible views of the hot air balloons in Cappadocia.
A highlight of the Asuwari Suites Cappadocia is its elegant shared lounge. The hotel's breakfast is a massive spread of meats, cheeses, fruit, and eggs. Plus – a shared kitchen and currency exchange is available for guests.
What guests like most: Original decor, helpful staff • Considerations: Relatively small property
---
Final Thoughts About the Best Cappadocia Cave Hotels
If you want to experience Turkey's stunning rock formations and surreal landscapes, book your trip early so you can snag one of the best cave hotels in Cappadocia.
We've got you covered with budget-friendly options to the best Cappadocia luxury hotels with all the amenities. So pack your bags and plan this bucket list trip!
Save the Best Cave Hotels in Cappadocia for later? Pin it!