Looking for the best weekend getaways or weekend breaks in Spain? From the exciting cities of Madrid and Barcelona to the Costa del Sol and the best of Andalucia, there are so many incredible options for a Spain weekend getaway.
Here are the most beautiful cities in Spain to add to your Itinerary or for a Spain weekend getaway If so we've got you covered.
We reached out to our favorite travel bloggers to see the cities they recommend for the best city breaks in Spain. All of these cities are worthy of a sun-filled weekend getaway or to add as on overnight on your Spain itinerary.
This site uses affiliate links, meaning if you make a purchase through our links, we may earn a commission. There is no extra cost to you. You can read our full disclosure policy here.
22 Best Weekend Breaks in Spain
Seville
Seville is one of the most beautiful cities in Spain. The gorgeous capital of Andalusia is one of the best places for a weekend break in Spain because of the relaxed fun atmosphere and there are so many great things to see and do.
Réal Alcazar is a 14th century Moorish palace that is considered to be one of the best examples of Moorish architecture in Spain. Visitors can explore the lavish gardens, stroll through the surrounding park, and admire the views from the top of the towers.
Another gem is the gothic 15th century Seville Cathedral. Visitors can explore the vast interior, climb to the top of one of its towers, and see Christopher Columbus' tomb.
Plaza de España is a sight to be seen. Featuring an ornate fountain, walkways lined with tile mosaics, and a bridge that crosses a small pond, visitors can take a romantic boat ride or horse-drawn carriage ride through the square.
With all the ornate, historic architecture in Seville, the Metropol Parasol is a complete departure. Affectionately known as "the mushrooms" by locals, it is the world's largest wooden structure. Visitors can take an elevator to the top for breathtaking views of Seville.
We highly recommend a guided tour of Royal Alcazar, Cathedral, and Giralda Tower to get priority access and the ability to skip the line at these popular activities that are on every Spain Itinerary.
Where to Stay in Seville: Querencia de Sevilla or one of the Best Boutique Hotels in Seville Spain
Valencia
Valencia is stunning and boasts many great architectural styles. From peaceful narrow streets and gothic designs to cosmopolitan structures. There is always a delightful surprise just around the corner.
Valencia is mainly famous for being the Paella capital of Spain. But there's much more to this sun-soaked city than Paella and beaches (although Playa de la Malvarrosa is beautiful).
Valencia is the third-largest city in Spain and is situated in the middle of the Mediterranean Sea. It is also a popular tourist destination because of its superb weather, beaches, historic landmarks, and cultural activities.
Some of the best things to do are visit the old town, the gothic style Valenica Cathedral, and Mercado Central, where you definitely should try the Horchata.
Other highlights include Jardin Del Turia, a beautiful 9 km city park, and the City of Arts and Sciences, a complex with multiple buildings including the Oceanogràfic, the biggest aquarium in Europe with 11 million gallons of water.
You will need at least one afternoon, if not longer, to see all of the points of interest in Valencia. There is a terrific guided bike tour of the city highlights.
For food, you can't beat La Pepica for Paella by the beach and Bar and Kitchen, which is in a gorgeous courtyard for sangria and drinks!
Where to Stay in Valencia: YOURS boutique stay or one of the 12 Best Boutique Hotels in Valencia
Rachel and Nico | Average Lives
Mallorca
The island of Mallorca lies in the Mediterranean Sea and is the largest of Spain's Balearic Islands. Although Mallorca is best known for its beach resorts and bustling nightlife scene, it has so much more to offer.
From breathtaking mountains ideal for hiking to mysterious caves, hidden coves and picturesque villages, the island is full of fantastic places to explore.
One of the must-visit attractions of Mallorca is Deia, a village that looks like it belongs to a fairytale.
Nestled in the lush mountains on Mallorca's north coast, Deia is home to idyllic old houses, narrow streets and a variety of great restaurants. It is considered one of the most beautiful villages on the island.
Another place you shouldn't miss in Mallorca is Soller. This historical town is famous for its citrus orchards, charming modernist architecture and spectacular mountain views.
If you're short on time, a great way to see Deia, Soller and several other scenic places in northwestern Mallorca is to take this Mallorca day tour from Palma, the capital of the island.
When planning your Mallorca itinerary, make sure to set aside a few days for exploring the fabulous beaches of the island as well.
An excellent place for doing that is the village of Cala d'Or on the southern coast of Mallorca. Here you'll find numerous beautiful coves, locally known as 'calas', with clear turquoise water and soft sand.
Where to Stay in Mallorca: THB Bamboo Alcudia
Marjut | The Smooth Escape
Madrid
Madrid, Spain's magnificent capital city, is rich in culture and ready for visitors to explore all its nooks and crannies. This unique city has an endless amount of things to do for any interest and any budget.
A few of the top things to see include the Royal Palace, the Prado Museum, and just walking through the city. There are several lovely plazas, such as Plaza Mayor, Puerto del Sol, and Plaza de España, to walk around, enjoy the architecture, and people-watch while drinking a coffee.
If you visit Madrid in winter, you will see many of these squares decorated for the holidays and with small markets. Near Plaza Mayor sits the opulent Palacio Real de Madrid, Europe's largest royal palace. This palace museum houses priceless treasures, including famous paintings, old weapons and artifacts, and the royal crown jewels of Spain.
For art lovers, don't miss the world-class Museo del Prado, where one can admire works by Velazquez, Goya, Rubens, Bosch, and many other famous artists.
A fantastic neighborhood to visit is the Malasaña area with its charming streets and cafes. In the evening, visitors can experience the nightlife of the neighborhood and sample amazing Spanish wine and tapas at the local restaurants and bars.
To get a little more guidance into the realm of Spanish wine and cuisine join a tapas and wine food tour. A guide will take participants to several local tapas bars where they can try a wide variety of tapas and wines to get a broad taste of Spanish cuisine.
Where to Stay in Madrid: Only YOU Boutique Hotel Madrid or one of the best Madrid hotels with a rooftop pool.
Megan | Megan Starr
Granada
The last city in the Iberian Peninsula to be reconquered from the Moors by the Catholic Monarchs in 1492, Granada is a unique place to visit in Spain and an ideal addition to a road trip through Andalucia.
Nestled at the foot of the Sierra Nevada mountains, it is packed with centuries-old landmarks, enchanting historic neighborhoods, cultural spaces, and traditional tapas bars, which, all together, can make any traveler feel they've stepped back in time.
Granada's most infamous highlight is the Alhambra, a spectacular complex of Moorish-era and Christian-era palaces and gardens that was declared a UNESCO World Heritage Site.
Every nook and cranny of this place is full of charm and intricate architectural details, and the views of the city seen from here are incredibly scenic.
While it's possible to visit the complex independently, it's best to take a guided tour to learn more about this fascinating landmark.
Granada has a lot more to offer, so it's worth spending at least two days in the city. From wandering through the narrow cobbled streets of the Albaicín quarter to seeing a flamenco show in the caves of the unusual Sacromonte neighborhood to admiring the Cathedral of Granada and Royal Monastery of St. Jerome, every corner is full of surprises.
When the sun sets, it's also a delight to walk along Paseo de los Tristes to see the Alhambra illuminated.
Where to Stay in Granada: Casa Palacete 1822
Or | My Path in the World
San Sebastian
One of the best places for a city break in Spain is San Sebastian. Found along the picturesque north coast of Spain and in the autonomous Basque Country, San Sebastian is the ultimate food destination.
Being a top gastronomic destination in Spain, one of the best activities to do is simply eat. Northern Spain is famous for pintxos, or aperitifs, that are often served on a skewer, a piece of bread, or in sandwich form, and is a delicious finger food.
Enjoy this San Sebastian staple at night as you wander through the Old Town. A fun way to get a better understanding of the San Sebastian gastronomy is to join a San Sebastian Pintxos and Wine Tour.
San Sebastian and the surrounding fishing villages are also home to multiple top rated Michelin starred restaurants, so try to visit at least one. Be mindful that these amazing culinary experiences must be booked in advance.
In addition to being a bustling cultural hub, the city prides itself as a summer destination for the former Spanish Royal Family. One of the most famous European beaches, La Concha, is in the heart of the city.
With its ideal position at the foothills of the Pyrenees Mountains, San Sebastian has plenty of nearby hiking trails. The most famous being the Camino Norte pilgrimage route that passes through the heart of the city.
Stay at one of the best boutique hotels in San Sebastián on the beach to enjoy the Basque region's popular surf spots and enjoy the diverse beaches that line the lovely Bay of Biscay.
Where to Stay in San Sebastián: Hotel Boutique Villa Favorite
Megs | Packing up the Pieces
Barcelona
Barcelona is without a doubt one of the best places to visit in Spain. There are so many things to do in Barcelona you could spend a week here and not see everything, but with two days in Barcelona you'll be able to enjoy the highlights.
One of the best things to do in Barcelona is visit the Sagrada Familia, a magnificent cathedral designed by the Catalan architect Antoni Gaudí. Capture the best photos from Plaça de Gaudí, and buy tickets in advance to avoid the long lines.
Near the Sagrada Familia, you'll find the Hospital Sant Pau, a former modernist style hospital turned museum and UNESCO heritage site, that is the backdrop for an incredible light show in Barcelona in winter.
Park Guell is another Gaudí design, with its iconic mosaic terrace and beautiful views of Barcelona below.
La Rambla is the must-see, most famous street in Barcelona, but make sure to have an anti-theft bag or anti-theft backpack, as it's a favorite spot for pickpockets.
Football fans will want to visit the FC Barcelona Museum, to experience the immersive Barça's football experience.
If you prefer history over sport then simply wandering the streets of the Gothic Quarter and El Born is a lovely way to spend an afternoon.
In the evening, tapas is a great way to sample local cuisine – restaurants like La Vinateria del Call have a menu of Spanish and Catalan specialities, and will suggest a wine from their cellar to go with each course of your meal.
After dinner, El Paradiso was recently named as the best bar in the world, but if you don't fancy queueing try Collage or Mariposa Negra instead.
Save time for a day tour to Monserrat, one of the highlights of a Barcelona itinerary, where you can see an amazing monastery built into the mountains and also go on a hike.
Where to Stay in Barcelona: Aparthotel Arai 4* Superior or the Best Barcelona Hotels with Rooftop Pools
Claire Sturzaker | Why Visit Barcelona
Zaragosa
Situated in the north of the country, Zaragoza (also known as Saragossa) is one of Spain's largest cities, with a fascinating history, beautiful architecture and a compact, but charming old town.
Despite being easily accessible from both Barcelona and Madrid, Zaragoza is often missed by tourists – which is perhaps lucky for visitors as you can explore the city's attractions without crowds.
The city is perhaps best known for its remarkable cathedral, the Cathedral-Basilica of the Lady of the Pillar. Reportedly the earliest church dedicated to the Virgin Mary.
The cathedral marks the spot where St James prayed to her, asking for help in spreading Christianity in Spain. Almost 2,000 years later, the cathedral is a magnificent Baroque structure which dominates the skyline of the city.
Other attractions worth visiting include the stunning Aljafería Palace, a UNESCO site and a wonderful example of Moorish architecture, the Roman Forum and old city walls, and the Mudejar-style churches scattered around the city.
Spend a day strolling through the old town, people-watching in the squares and visiting a couple of the city's excellent museums. Zaragoza is also a wonderful place to sample typical Aragonese cuisine – head to Restaurante La Rinconada de Lorenzo to try the region's traditional food for yourself.
To truly experience the best of Zaragoza, a tour with a local guide is a great way to gain some insight into the city's history as well as tips on where to shop, eat and drink while you're there.
Where to Stay in Zaragosa: INNSIDE by Melia Zaragoza
Roxanne | Far Away Worlds
Cartagena
Cartagena is located in Murcia on the Mediterranean coast of Spain. It is bursting with history, art nouveau architecture, incredible food and to top it off, it has some of Spain's best weather.
One of the best things to do in Cartagena is to visit the Castillo. You can walk up the hill or take the Panoramic lift up to the top. From here you have incredible harbour views full of expensive yachts, see the Roman Theatre from above and take in panoramic views of the town.
The Castle was originally a Roman Temple to Asklepio and in Cartagena you will find several ancient sites from the Casa Fortuna with its stunning mosaic floors, a Byzantine wall and a Roman forum.
Along the harbour you can visit Arqua which is the National Centre for Marine Archaeology. Here you will see Phoenician vessels, Roman wrecks, and the treasure of the Nuestra Señora de las Mercedes, a frigate that was sunk with 14.5 tons of gold and silver coins.
The center of Cartagena is a pedestrian zone where you can see incredible pastel colored Art Nouveau buildings and enjoy many restaurants and cafes. A food and drink walking tour is a great way to experience the gastronomic side of the city.
If you are looking for a beach visit, the man-made Cala Cortina has protective netting, screening it off from the Mediterranean to protect swimmers from the jellyfish.
A boutique hotel that is a short walk from the port I highly recommend The NH Cartagena Plaza Héroes de Cavite as your base in Cartagena.
Where to Stay in Cartagena: Casa Poeta Pelayo
Faith | XYU and Beyond
Salamanca
Salamanca's old world charm makes it a must stop on any trip through Spain. It's been popular enough to be declared a UNESCO World Heritage Site and once you get here you will see why.
It's mainly known as a university town as the University of Salamanca is the oldest school in Spain but this beautiful city has so much to offer.
Stay at one of the best hotels in Salamanca and then set out on foot to explore all the historic gems. This town is chock full of incredible architecture.
The Plaza Mayor is the main tourist hub of the city filled with cafes but was originally built and used for bullfighting. From there, explore the gorgeous cathedrals and churches throughout Old Town.
A guided walking tour with a local is a great way to gain insight on the history of the beautifully constructed buildings, incredible displays of artwork and statues. Seeing these alone is well worth the visit.
Once the day is over stop at one of the relaxing cocktail bars like Café Niebla, Malavida, or Slainte. All are excellent places to relax and socialize after a long day.
If you're more interested in food, go to the central market for an array of hams, cheeses, tapas, and other treats.
Salamanca is a worthwhile city to visit for a weekend, especially being so close to Madrid. Don't pass up on this great opportunity to explore another city in the great country of Spain.
Where to Stay in Salamanca: Grand Hotel Don Gregorio
Nick | The World Overload
Menorca
The Balearic island of Menorca is most famous for its breathtaking beaches, and for good reason! There are more than 100 sandy coves on this UNESCO biosphere reserve and many of them are secluded slices of paradise.
You can do a half day boat tour to 6-8 of the prettiest beaches on the South Coast. But Menorca has a lot to offer away from its stunning coastline too.
Many of the best things to do in Menorca involve hiking earthy ancient trails, searching for birds and wildlife in the nature parks, and exploring the island's historical towns and villages.
Don't miss a visit to the iconic whitewashed village of Binibeca Vell, a walk through the enchanting gardens hidden within the old stone quarry at Lithica, and delve into the natural history on display at Museo Binissues.
The historic capital of the island, Ciutadella is the ideal spot for an afternoon wander through cobbled lanes and alongside the sparkling harbour.
Mahon, at the other end of the island, is where you can get your very own pair of Menorquinas made to measure.
Before the sun sets, be sure to get yourself a table at Cova d'en Xoroi for the best spot on the island, and listen to live music as you sip cocktails and watch the sun set into the sea.
Where to Stay in Menorca: Cristine Bedfor
Nadine | Le Long Weekend
Santiago de Compostela
The capital of northwest Spain's Galicia region, the city of Santiago de Compostela is on many people's European bucket list for the Camino de Santiago pilgrimage walk.
But Santiago has a rich, fascinating history and culture that makes it one of the best city breaks in Spain all on its own.
Santiago's UNESCO-Listed Old Town is one of the most beautiful urban areas in the world, and you should begin your explorations there.
It is home to a variety of architectural styles, including Romanesque, Gothic, and Baroque.
Explore a labyrinth of streets, plazas, and green spaces. There are numerous vantage points in the city where you can take in breathtaking panoramas because of the generally low building heights.
A must-visit is the most important Christian site in all of Spain, the Cathedral of Santiago de Compostela. The cathedral is a stunning example of early Romanesque architecture, and it dominates the Plaza del Obradoiro.
Explore the four levels of the cathedral's interior to gain insight into its development over the centuries.
To learn more about Galician culture, explore the nearby Convento de Santo Domingo de Bonaval which is home to the Museo do Pobo Galego (Museum of the Galician People).
Or check out Galician artworks at the Centro Gallego de Arte Contemporáneo.
For lunch or dinner, check out the former Franciscan convent, which is now a must-try restaurant. In addition to the delicious cuisine, the stunning design of the building itself guarantees a one-of-a-kind dining experience.
During a long weekend in Santiago, a day trip to experience the Galician coast will allow you to experience the villages of the Costa da Morte including Finisterre, Muros, and Muxia.
Where to Stay in Santiago de Compostela: The Tailor's Garden
Christine Rogador | The Backpacking Executive
Málaga
Málaga, located in the south of Spain, is known for being a summer destination. However, it is worth visiting Málaga any time of the year as every season has something to offer.
Many travelers only spend one day in Málaga, but truly, this underrated city offers so many great things to do.
One of the best things to do in Málaga is visit the Alcazaba, a Moorish fortress palace with beautiful courtyards, and walls to walk on and enjoy panoramic views of the city. It is a romantic place with a lot of history.
Another must-do activity in Málaga is visiting the cathedral, known as La Manquita among locals because it is missing a tower. Its Renaissance architecture is to admire, and you can go to its rooftop too.
Art lovers can't miss Picasso Museum Málaga. This museum is home to many impressive paintings by the famous painter, who was born in the city.
The nightlife in Málaga is very lively, and there are plenty of rooftop terraces which offer amazing cocktails. AC Palacio Málaga is by far the most popular rooftop in the city, but La Terraza de Valeria is another good option too.
On top of these fantastic activities, we highly recommend this Caminito del Rey Guided Tour. It's the most popular tour to take from Malaga, it relatively easy, you'll take impressive photos and we know you'll love it as much as we did.
Where to Stay in Malaga: Vincci Larios Diez or one of the Best Boutique Hotels in Málaga
Cristina | My Little World of Traveling
RELATED POST: HIKING THE CAMINITO DEL REY – THE BEST MALAGA DAY TRIP
Jerez de La Frontera
Jerez de La Frontera is one of the most underrated weekend breaks in Spain. The city is known as Andalucia's sherry capital due to its many high-quality distilleries like Tio Pepe and Gonzalez Byass.
It is no surprise that a sherry tour is one of the most popular things to do in Jerez de la Frontera, and this 2-hour private tasting tour is an excellent option. But this vibrant city is much more than sherry.
Jerez Cathedral is one of the most stunning in Spain. It was built in the 17th century in an impressive combination of Gothic, Neoclassical, and Baroque styles. To take in the beauty of it, why not grab a Tinto de Verano at one of the outdoor tables of the bar in front of it?
Another noteworthy attraction is the 12th century Alcazar of Jerez that originally homed 16.000 people within its 4-kilometer long walls. Today, you can visit the remains and explore the city from the Camera Obscura.
What makes Jerez de la Frontera so charming compared to other Andalusian cities is that it is not swamped with foreign tourists like its neighbors Seville and Cadiz. Jerez really gives you the feeling of being in authentic Andalucia, much like Seville did 20 years ago.
While most travelers stop by for a day trip, it is well worth spending 2-3 days to take in the splendor of this hidden gem.
Where to Stay in Jerez de La Frontera: Hotel Bodega Tio Pepe
Linn Haglund | Amused by Andalucia
Ibiza
One of the best places for a weekend break in Spain is Ibiza. This beautiful getaway is one of the Balearic Islands that is well known for its nightlife scene but there is so more to Ibiza than just partying,
Most of the high energy, party spots are centered around areas such as Pacha and Ushuaia, Whether you're spending the day at the beach, stepping into a bar or dancing the night away in a club, you're sure to have a fun time.
Explore Ibiza Town, a beautiful city with a historic city center called Dalt Vila, located on a hill next to the sea. Here, you can see beautiful historic architecture, great restaurants, and boutique shops.
Make sure to climb up to the Castle of Ibiza. This medieval castle is one of many buildings that are part of a walled fortress dating back to the 8th century. It's located at the highest point of Dalt Vila and boasts panoramic harbor and sea views.
Also, Es Vedra, a small rocky island that is very beautiful and perfect spot to watch the sunset. Another one of the best things to do is to go to the Ibiza Museum of Contemporary Art that has a great collection of local art.
A boat tour with snorkeling in Ibiza can be a great way to get out on the water to enjoy the sun and discover the island's nature and sights. You can explore the quieter side of the island like the gorgeous cove Cala Xarraca, on the North side of the island.
Where to Stay in Ibiza: OKU Ibiza
Dymphe | Dymabroad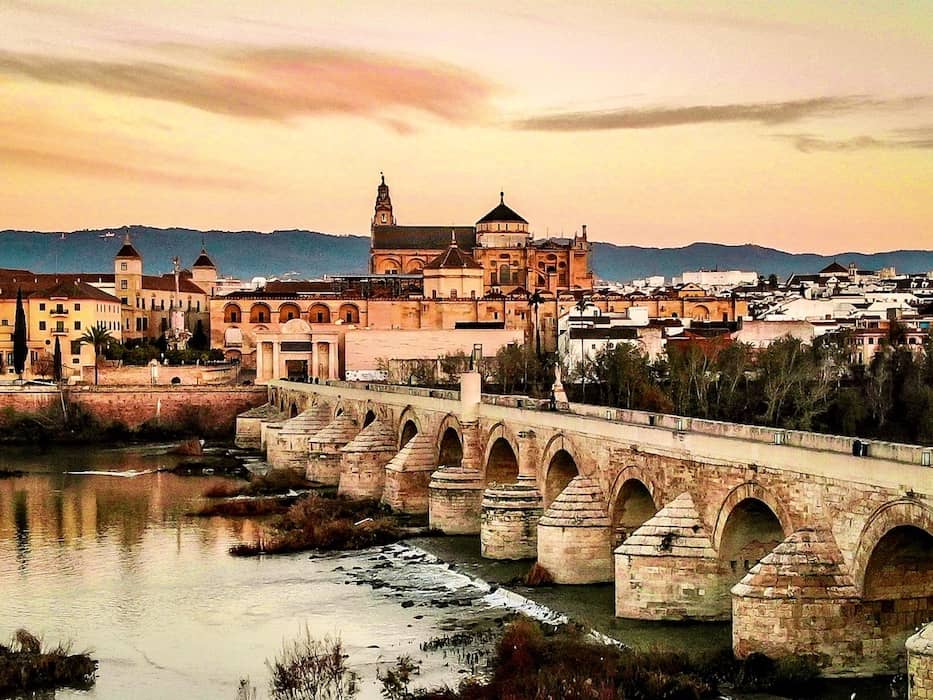 Córdoba
The photogenic city of Cordoba is located in Andalucia and to this day stills has a vibrant mix of Roman, Islamic, Jewish and Catholic architecture in the UNESCO-listed historical centre and listed landmarks.
Any visit to Cordoba should include these iconic landmarks: Mosque-Cathedral of Córdoba (Mezquita Cathedral de Cordoba), the Alcazar of the Christian Monarchs (Alcazar de Los Reyes Cristianos), the Roman Bridge and the Jewish Quarter.
The Alcazar is similar to those in Granada and Seville and features plenty of architecture in the Mudéjar style. It was originally built as a fortress in 1328.
When you visit, be sure to see the "Tower of the Inquisition" named after it's use as one of the headquarters of the inquisitors in 1482.
Other major historical dates include a visit by Christopher Columbus Alcazar whilst he was preparing to sail to the Americas and in 1810, it served as a garrison for Napoleon Bonaparte's army.
Spend the warm afternoons inside the gigantic Mosque-Cathedral. When you enter, you'll be welcomed by the cool shady expanse of the arcaded hall. It features 856 red and white coloured arches supporting the vast roof.
The materials to build the mosque were taken from a roman temple that once stood there. During the reign of the Arabs, it was knocked down and built as a mosque. Then after the Christian reign, converted into a cathedral.
Another worthy thing to do is to walk around the Jewish Quarter and the old Synagogue to see the pretty latticework. Also, cross the river over the iconic Roman Bridge and take a photo of the city looking over the city.
Skip the lines and see the jewels of this historic city on a half day guided walking tour of Cordoba.
Where to Stay in Cordoba: Hotel Boutique Suite Generis or the Best Hotels in Córdoba Spain.
Becki | Meet Me In Departures
Segovia
Located in the Castile and León region, Segovia is one of the must-visit places in Spain. It lies almost 100 km northwest of Madrid, the capital city of Spain.
There are plenty of cultural and historical things to do in Segovia to make you fall in love with this Spanish city. The Old city centre of Segovia is a UNESCO World Heritage site.
The city is steeped in more than two thousand years of history. One of the most famous attractions of Segovia is the historic Roman Aqueduct – an engineering marvel with two tiers of arches built around the mid first century.
This city is also home to a fairytale fortress, The Alcazar – believed to be one of the inspirations for Walt Disney's Cinderella Castle. Take a short stroll to Mirador de la Pradera de San Marcos for a breathtaking view of the Alcazar.
Segovia Cathedral, the last Gothic cathedral of Spain, lies in the historic centre. You can take a tour to visit the bell tower for a breathtaking over Segovia rooftops and the Spanish countryside.
One of the best ways to explore the city is a Segovia guided walking tour with the Cathedral & Alcazar entry included.
Not just thousands of years of rich history and grand architecture, this city has its claim to fame for culinary treats too. The famous Spanish dish, Cochinillo or Suckling Pig originated in Segovia. To sample some of the best traditional Segovian dishes, visit José Maria in the old town.
Where to Stay in Segovia: Áurea Convento Capuchinos by Eurostars Hotel Company
Moumita | Chasing the Long Road
Cadiz
Cadiz is one of the most beautiful cities in the South of Spain. Often overlooked by tourists, this city is maintaining its authenticity and great atmosphere. Even if Cadiz is one of the oldest cities in Europe, it has an extremely young vibe.
The main attraction in Cadiz is the Cathedral, often referred to as the Catedral de las Americas because it has been built with money coming from the trade with the newly discovered continent. It is a unique Cathedral because it faces the ocean and its crypts are below the sea level.
Another great thing is to experience some of the beaches around Cadiz. The city itself has plenty of urban beaches. In the province of Cadiz you will find some incredible wild beaches as well where you can learn how to surf or ride a horse on the sand, at sunset.
The fish market in Cadiz is the place to be at lunchtime. This is where locals gather to enjoy freshly grilled fish and seafood, over a cold pint of beer. If you want to experience more of the culinary scene of the city, you can go on a tapas tour with a local.
For the best sunsets, head over to the Paseo del Vendaval, where you will have the iconic photo perfect image of Cadiz.
Where to Stay in Cadiz: Boutique Hotel Casa Cánovas
Joanna | Andalucia in My Pocket
Ronda
There are more than two dozen Pueblos Blancos (White Villages) in Andalucía. With famously scenic locations, imposing hilltop castles and wonderfully atmospheric old towns, they are among the top highlights of any visit to Spain.
Beautiful Ronda, meanwhile, is the best of the bunch, boasting two of the most impressive attractions in all of Spain in Puente Nuevo (New Bridge) and El Tajo gorge, as well as a fascinating history as "the birthplace of bullfighting".
Made famous by Ernest Hemingway after he was stationed there as a reporter during the Spanish Civil War and grew obsessed with both the beauty and the bullfighting, Ronda has become one of the most popular destinations in southern Spain.
There is a surprising number of terrific hotels in Ronda (including some of the best in Andalucía), as well as numerous excellent restaurants, many of which have terraces overlooking the bridge (Taberna El Puente is a particular standout).
Most people spend much of their time in Ronda simply exploring and enjoying the endless amazing views of the gorge, bridge and classic Moorish architecture. However, there are also several excellent hiking trails in the hills around the city, some fascinating historic sites and several more interesting white villages nearby.
To make sure you hit all the best spots, consider taking a Ronda Walking Tour that includes a visit to the Plaza de Toros, the oldest bullring in Spain.
Where to Stay in Ronda: Catalonia Ronda
Dean and Laynni | Routinely Nomadic
Almeria
If someone is looking for a fun destination surrounded by sea, sun and serenity, Almeria should be at the top of their list.
One of the reasons why most people prefer Almeria is its tranquil atmosphere and clean waters. There are landscapes, several breathtaking beaches and many other things to do in Almeria.
Almeria is the home to the fabulous Cabo de Gata nature park where travelers can witness beautiful landscapes, great beaches and wildlife. Furthermore, the Las Salinas salt flats are among the worth visits where visitors will find pink flamingos and other wild species.
On the visit, visitors can take in the atmosphere of the Spanish city by hiking around the stunning Cabo de Gata National Park.
After that, a visit to the Tabernas desert is not-to-miss activity as this location has been the setting for many Hollywood movies like Lawrence of Arabia. Some of the film sets there allow visitors to be a cowboy or simply enjoy the atmosphere.
Visitors must not miss out on the authentic tapas in the old town of Almeira after a full day of exploration.
For a great tour, take the Tabernas Desert 4WD Adventure which takes visitors on a unique landscape discovery.
Where to Stay in Almeria: Cabogata Beach Hotel
Paulina | Paulina on the Road
Tenerife
The largest of the eight Canary Islands, Tenerife is a volcanic island that's famous for its beaches and year round warm weather – although it has lots more on offer for any keen traveler on a Spain weekend getaway!
While many tourists only visit Tenerife to check out its range of excellent hotels and laze on the beach, Tenerife in winter is perfect for fans of action and adventure too.
Take a catamaran boat out to the strait between Tenerife and La Gomera to look out for whales and dolphins, try surfing or paragliding or learn about the island's complex volcano system by exploring the lava tube of Cueva del Viento.
Mount Teide is without a doubt one of the best things to do in Tenerife! This is full-day Mount Teide tour including hiking in the intergalactic landscape, along with some stops to see local towns like Icod de los Vinos, which is where you'll find Tenerife's iconic Dragon Tree.
In the evening, visit the Scandal Dinner Show, or head to local restaurants (a favourite is Augustin y Rosa in Icod de los Vinos) to try traditional Canarian cuisine like their iconic potatoes with mojo sauce.
Although Tenerife is a large island, you can do day trips from most towns to various parts of the island. Most tourists stay in Playa de las Americas or Costa Adeje, but Puerto de la Cruz, a gorgeous town in the north of the island, is a popular favorite too.
Where to Stay in Tenerife: Royal Hideaway Corales Suites (9.4) – A full resort property with gorgeous sea view rooms and just steps from the beach.
Claire | Europe in Winter
León
León, a beautiful historical city in Castile and Leon province is one of the best cities to visit in Spain. The history of Leon dates back to the 1st century BC. It was founded by the Roman legion Legio IX Victrix which gave the name to the city.
In the Middle Ages, it was the capital of the Kingdom of Leon. The city's architecture represents four different styles: Romanesque, Gothic, Renaissance, and Art Nouveau.
The impressive Cathedral of León is a must-visit place in the city. Plaza Mayor is another not-to-miss attraction in the city. It's a great place to come for coffee or a drink. The square looks spectacular at nighttime.
The well-preserved 10th-century Basilica de San Isidro is one of the oldest buildings in Leon. The museum inside the basilica contains some very interesting examples of Mediaeval art and books.
Barrio Hudedo in the center of Leon is the best place to go out in the evening. Weekends are the best time to visit Leon when the city bars and restaurants fill up with thousands of people drinking wine and eating tapas creating a typical festive vibe.
Leon is an important stop on the Camino Frances, one of the most famous pilgrimage routes in Europe. Thousands of pilgrims visit the city every year on the way to Santiago de Compostela.
Leon Hotel Recommendation: Parador de Turismo de León (9.2) – Stay in the 16th century San Marcos Monastery that has been transformed into a beautiful accommodation with with all the modern conveniences.
Alya | Stingy Nomads
---
Final Thoughts on the Most Beautiful Cities in Spain
Spain is a hotspot European destination to visit with so many unique cities to choose from. This list of the Most Beautiful Cities in Spain was put together with input from other expert travelers to help guide you so you can have the best weekend breaks in Spain.
If you're planning a longer trip to Spain, you can add any of these cities to a Spain Itinerary or road trip in Spain. ¡Buen viaje!
Save the Best Weekend Breaks in Spain for Later? Pin it!