If you're looking for the best things to do in Bend Oregon, then this guide of top activities has a variety of different adventures that will keep the whole family busy and entertained all summer long!
With so many fun things to do in Bend in summer, there's no way you won't have an unforgettable experience in this unique mountain town.
Surrounded by the breathtaking Cascade Mountains and scenic high desert plateaus, these Bend, Oregon things to do offer the perfect combination of outdoor adventures and urban flair.
If you're looking for a vacation destination that caters to your active and adventurous spirit, then experiencing downtown Bend, Oregon and the area is a treat!
Let's dive into the best attractions in Bend, Oregon this summer.
This post contains affiliate links. If you book or buy something through one of these links, we may earn a commission at no extra cost to you. You can read our full disclosure here.
Planning your trip to Bend last minute? Here are the tours and hotels we recommend. You'll also find a post with the 13 Best Boutique Hotels in Bend.
TOP EXPERIENCES & TOURS IN BEND
BEST HOTELS IN BEND
PRACTICAL INFORMATION FOR BEND

Get Travel Insurance for Oregon with Safety Wing.
Check Discover Cars for great car rental prices in Oregon.
Find the best flight deals to Redmond or Portland on Skyscanner.
Best Time to Visit Bend Oregon
Bend, Oregon that attracts visitors year-round. From skiing and snowboarding during winter to hiking and water sports in summer, Bend has something in store for every season.
If you are wondering when is the best time to visit Bend, Oregon, here are the details by season.
Spring – March is a transition month in Bend with a chance of great snow or a snowy morning that's gone by noon. Temperatures range from 51°F (March) to 65°F (May). Enjoy spring hiking and snowshoeing. By the end of May, roads that were closed during winter will start opening. You can get good deals on hotels and Spring skiing.
Summer – Visiting during the summer months, especially between June and August, can be perfect for outdoor enthusiasts. With temperatures ranging from 70°F to 85°F (21-29°C), summer in Bend is perfect for floating the river or lounging in a soaking pool. While it gets pretty hot during the day, it cools off nicely at night, and the climate is dry.
Fall – For those who prefer fewer crowds and more affordable accommodation options, consider visiting Bend during the shoulder season of September-October. The weather is in the 60-70s during the day, there are fun autumn events and the fall foliage mid October is worth a trip all on it's own.
Winter – If you're a fan of winter sports, Bend offers excellent skiing options in Mount Bachelor. Planning your vacation between December and February ensures you'll experience snowy landscapes and create unforgettable memories on the slopes. Highs are in the 40s and lows are in the 20s.
Ultimately, the best time to visit Bend, Oregon, depends on your preferences and interests. If you want to pair hikes with swimming, visit in summer. If snow and snowboarding are your vibe, winter is an amazing time to visit!
---
Best Things to Do in Bend, Oregon
Start planning your trip with these best Bend, Oregon things to do. From outdoor adventures to soaking up the local culture, let's dive into what to do in Bend.
1. Tumalo Falls, the best thing to do in Bend
Just outside of downtown Bend, Oregon, you'll find the popular Tumalo Falls. This 97-foot waterfall is located in Deschutes National Forest and offers some amazing viewpoints and hiking in Bend.
The falls are best viewed from the lower viewpoint right across from the parking area. The upper viewpoint is only ½ mile round trip and provides a view from the top.
If you visit during fall, the falls are particularly beautiful after the rain and in the colorful foliage.
While you can see Tumalo Falls just minutes after parking, there are also multiple hiking trails in the area if you want more of a challenge. The Tumalo Falls Loop is 6.8 miles with 1,200 feet of elevation gain, offering creekside views and access to smaller waterfalls.
Tumalo Falls is a great place to spend a day outdoors during summer in Bend, and it's easy to see why it's one of the most popular waterfalls in Oregon.
Tips to keep in mind when visiting Tumalo Falls:
To visit the Deschutes National Forest, you'll need the pay the $5 National Forest fee per vehicle.
For parking in summer, there is a small lot right at the Tumalo Falls Trailhead that fills up quickly
In winter, the parking area is closed, so you can park right where the closure is (without blocking any roads or gates) or park at the Skyliner Sno-Park.
2. Rock Climbing at Smith Rock State Park
Smith Rock State Park is one of the most popular rock climbing destinations in not only Oregon but the whole country.
The park's landscape formed after two distinct volcanic events. The first resulted in a half-mile thick slab of ash, which solidified into what is today called the Smith Rock tuff. Then, wind and water erosion transformed the ruff to create the characteristic spires of the park.
The second eruption changed the shape of the Crooked River, pushing it up to the base. Eventually, it became a hot spot for hikers and climbers to Oregon!
While we are not climbers ourselves, we loved watching others during our visit. Plus, there are close to 2,000 climbing routes with a variety of cliffs and boulders that cater to climbers of all levels.
For example, take on the Rope de Dope Block for a beginner-friendly climb or the Morning Glory Wall for something a little more beginner to intermediate.
The prominent walls overlooking the Crooked River are home to many of the park's best routes, but for something quieter, there are plenty more on the back side or among the basalt columns in the Upper and Lower gorge.
The 350-ft Monkey Face is probably Smith Rock's most recognizable landmark (and a challenging climb). It's perfectly positioned on the back side of the park with spectacular views of the Cascade Mountains and a challenging climb.
You'll need to pay the $5 pass to enter and park at Smith Rock near Bend.
3. Hike the Misery Ridge Trail
But you don't have to be a climber in order to enjoy this best place to visit in Bend, Smith Rock State Park also offers some great hiking. There are multiple trails, many of which can be combined for longer hikes.
Misery Ridge to Summit Trail Loop is highly recommended for those that want a challenge. The 6 miles with almost 1,800 feet of elevation gain makes it tough, but once you're done, you feel so good for having accomplished it.
The thing that kept me going was stopping constantly to see the view get better and better from a higher vantage point while I caught my breath.
Once you get up over the top, the rest of the way down is easy and you'll see Monkey Face (shown above) with the entire valley stretching out in front of you.
The walk back feels longer than you would expect but you'll walk along a beautiful stream and most likely encounter some cute wildlife.
At the beginning and end of the hike, you'll be able to see tons of rock climbers that can be so numerous they look like ants all over the mountain.
Whether you're a beginner or an experienced climber or avid hiker, Smith Rock State Park is a great place to explore both hiking and rock climbing. It's easily one of the best attractions near Bend.
4. Kayaking and SUP at Sparks Lake
Looking for a great place to kayak or SUP near Bend? On the Cascade Lakes National Scenic Byway, Sparks Lake is the place to paddle to your heart's content with stunning views of South Sister, Mount Bachelor, and Broken Top mountains.
This gorgeous lake offers a seemingly endless number of fun outdoor activities in Bend.
Whether you want to relax on the shore, get out on the water or challenge yourself with an uphill climb through the stunning surrounding forests, there's something for everyone at Sparks Lake.
Bring an inflatable kayak or inflatable stand up paddle board for easy access to the lake. Just be aware that it can get pretty crowded, so try to go early or during the week if you can.
Locals love to get out on the water, and kayaking is one of the best things to do in Bend, Oregon!
Tips for visiting Sparks Lake:
Parking here can be tough on the weekends. There are a ton of spaces but they fill up early so it's best to plan to get there by 10 am.
There will be a $5 parking fee per day unless you have the annual recreation pass (which can be purchased from Forest Service offices or various vendors.)
If you want to do this on a group tour for more convenience (and lots of fun!), this half-day kayak tour takes you to one of the most beautiful parts of the park where you can kayak on clear water with legendary panoramic vistas.
5. Dillon Falls to Benham Falls Hike
Whether you're an avid hiker or just looking for a scenic outdoor adventure, the Dillion Falls to Benham Falls hike is one of the best things to do in Bend.
This family and dog-friendly trail stretches 6.8 miles out and back, offering plenty of opportunities to see stunning views of the forest and Deschutes River.
Once you reach Benham Falls, you'll be able to see the thundering class V rapids that shoot through the rocky canyon and maybe a daredevil willing to take it on!
There's a lookout where you can snap pics of the falls coming through the canyon but the best view (shown above) is found if you walk up the hill and around the backside.
Then, keep in mind that you'll be sharing the trail with mountain bikers, joggers, the occasional horse, and birders.
The best time to visit is in summer and fall because the unpaved roads get more difficult in inclement weather.
We got stuck in a 4WD SUV and had to wait hours for a tow service to come to remove our wheel and dig out a rock that had gotten stuck inside the rotor. It can get dangerous if you get stuck and it's really cold.
What to know before doing this hiking activity in Bend:
You will need the annual Northwest Forest Pass ($30) or the $5 Day Pass to park at the Dillion Falls or Benham Falls Trailheads. Purchasing isn't available on site, but you can get them from vendors or directly from one of the Forest Service offices.
6. Bend's Deschutes River Float from Riverbend Park
The Deschutes River is like the soul of Bend, as it's the connecting point for many of the things that make this charming mountain town what it is.
And floating down the Deschutes River is a Bend summer staple.
Start your adventure at Riverbend Park, where you can rent tubes and float through the scenic environment, passing parks and trails along the way.
There are several tour operators with kayak rentals available.
It will start off slow with town scenery at a leisurely pace. Before you know it, you'll wind up at Whitewater Park in Bend. It's the fun park of the river but also can be crowded.
It's the perfect family activity and in our case, we took our furry friends with us. If you watch our Bend video, you can see the funniest moment going through the rapids with our dog.
Choose your exit point from the river and then walk back to the starting point. We got out at Whitewater Park.
If you have 2 cars, you can park them on either side. A friend of ours leaves a bike at the exit point and bikes back to get the car while her hubby deflates their inflatable kayaks.
7. Bend Whitewater Park
Looking for fun things to do in Bend, Oregon suitable for the whole family? The Bend Whitewater Park offers thrilling experiences, such as kayaking, stand-up paddleboarding, and even surfing.
You can access this park separately or float down the Deschutes River and find yourself at this family-friendly attraction! It's open every day from 5 am to 10 pm.
There are three different channels. One suited for floating, one for surfing, and one for nature and wildlife (off-limits to humans).
Navigate the different channels, ride the waves, and enjoy the excitement of Bend's water sports. You'll even see the most adventurous out here in full gear surfing the waves at Whitewater Park in winter.
But hands down, this is one of the best things to do in Bend during summer.
8. Meadow Day Use Area for Rock Climbing
Another great destination for rock climbing enthusiasts, check out Meadow Day Use Area along the Deschutes River.
It's a local favorite offering a plethora of outdoor adventures. Here you can find access to the Deschutes River Trail along with places to rock climb, mountain bike, and swim.
And for the ultimate adventure, go cliff jumping at Meadow Camp. Access the spot by hiking 0.4 miles toward Bend on the Deschutes River Trail. This is also one of the best areas for climbing/bouldering, with beginner-friendly and advanced options.
Unless you have a pass, you'll need to pay $5 to park here. Luckily, there are plenty of parking spots at Meadow Day Use Area.
9. Hang Out in Drake Park at Mirror Pond
Bend is famous for its outdoor activities, but if you're looking for something a bit more peaceful, Drake Park, along the banks of Mirror Pond, offers an idyllic setting.
It's one of the most famous parks in Bend and one of the prettiest spots for fall foliage in the PNW.
On your way to the park, stop by Planker Sandwiches, my son's favorite. Then walk over to the grassy areas to find a great picnic spot with a view of the ducks.
Or catch an outdoor event at Drake Park or another of Bend's many outdoor venues. There are theatre events, free concerts put on by Munch & Music, and so much more going on here during the summer.
You can also enjoy a dog-friendly walk along Mirror Pond Trail before heading to an awesome event at the park.
10. Take a Drive on the Cascade Lakes Scenic Byway
This is how we got to Bend for the first time. We had been reading about Oregon Scenic Byways and realized we could hop on this one when we were driving up from Crater Lake.
Made up of 12 lakes and two reservoirs, Cascade Lakes is truly picturesque.
As you drive along the Cascade Lakes Scenic Byway, you'll find alpine lakes, views of impressive snow-capped peaks, and access to forested trails. Somehow each scene will feel more captivating than the last.
Feel free to make stops along the way for photo breaks and to breathe in the fresh mountain air. It's one of the best things to do around Bend, Oregon for a reason!
There's also a chance of seeing local wildlife like fish, bears, and other furry mammals.
11. Attend one of Bend's Many Festivals
Summer in Bend, Oregon is full of festivals, and it's an awesome time to visit!
Every July there is a popular arts and crafts festival to celebrate Bend's community culture called Bend Summer Festival. There's live music, artisan crafts and art for sale, and tons of kid-friendly games and activities.
Just outside of Bend in Sunriver, lovers of classical music can attend the Sunriver Music Festival. The festival spans two weeks and its mission is to help foster a love for classical music.
However, Munch & Music hosted at Drake Park is the city's most famous music festival. The name says it all, with food trucks, artisan beers, and good music!
12. Tour Some Breweries in Bend
Whether you're a beer aficionado or just someone who enjoys sampling new brews, doing a Bend Brewery Tour is always a treat.
At locations like Boss Rambler Beer Club, Deschutes Brewery, 10 Barrel Brewing Co., and Crux Fermentation Project, you'll find some of the most innovative and creative beers in the region.
And Cascade Lakes Brewing Company offers an authentic taste of classic local brewing, with traditional recipes and old-school techniques that are sure to take you back in time.
If you want to really sink your teeth into the beer scene in Bend, take on the Bend Ale Trail made up of 30 breweries. You can download the app or use the website to track your journey (or get a paper passport from the Bend Visitor Center).
So if you're looking for a delicious experience of craft beers, great food, and a fun vibe, there's no better place to get your drink on in Central Oregon!
Plus, with their convenient locations, breweries are some of the best things to do in Downtown Bend.
13. Shopping in Downtown Bend
For some retail therapy during your trip, head to Downtown Bend and the Old Mill District.
Nestled along the river, the Old Mill District is where you'll find big names like REI, Lululemon, and other major retailers.
We also enjoy the walking path beside the river in Old Mill District for a bit of scenery.
Wandering the historic streets of Downtown Bend, you'll find great locally-owned shops, art galleries, restaurants, and cafes. Patagonia is also located downtown!
Some of the best shopping in Downtown Bend is located on Wall Street. Check out Jack + Millie for high-quality mens & women's apparel; Jubilee for gifts, apparel, and accessories; and Lark for amazing home decor.
14. Lava River Cave in Sunriver
Lava River Cave is a stunning natural marvel that showcases the volcanic history of central Oregon. This particular cave, in Newberry Volcanic National Monument, was created by flowing lava nearly 2 million years ago and it's a mile long!
Despite its fiery origins, though, the cave itself is surprisingly cool and serene. With its smooth, winding passages and ancient rock walls, Lava River Cave feels more like an otherworldly cavern than a product of our planet's elemental forces.
It takes about two hours to explore the 2-mile out-and-back trail. Closed-toe shoes and two light sources like a headlamp AND a travel flashlight are a must. Pets are not allowed.
Explore the wonders of a mile-long lava tube at Lava River Cave in Sunriver. This unique geological feature offers a genuinely fascinating experience as you walk through the dark, cool cave – an excellent way to change up your outdoor activities.
If you're looking for unique things to do in Bend, definitely check out this iconic cave!
You can also stop by the Lava Lands Visitor Center for more information on exploring the cave's area.
15. Newberry National Volcanic Monument
The Newberry National Volcanic Monument stands as a testament to the region's fiery past and geological wonders.
The landmark spans over 50,000 acres with a diverse range of natural features, including ancient lava flows, cinder cones, and calderas..
One of its highlights is the Newberry Caldera, a massive volcanic depression boasting two serene lakes, Paulina and East Lake, which are beloved destinations for outdoor enthusiasts.
During your visit, you can explore lava tube caves formed millennia ago and hike along trails offering vistas of the rugged volcanic landscape.
For those seeking a unique adventure and other things to do around Bend Oregon, the Lava Cast Forest showcases the power of volcanic eruptions. Expect to see 7,000-year-old lava formations and molds of ancient trees.
You'll need a $5 day pass or the recreation pass to park at the volcanic monument park.
16. Visit Sisters Oregon, the Picturesque Town Near Bend
For a quaint, albeit touristy, small-town experience visit Sisters, Oregon. It's one of the best things to do near Bend, Oregon with its western-themed storefronts, art galleries, boutique shops, and restaurants.
The Central Oregon town itself is incredibly charming and the pristine views of surrounding snowcapped mountains (particularly Three Sisters and Mount Washington) definitely add to the allure.
We recommend exploring the town's picturesque streets first and foremost. You can also do the Black Butte Trail, a well-known peak in Central Oregon, or visit the unique Skylight Cave just north of Sisters.
Sisters is a favorite destination for a day trip from Bend or a quick stop on your Cascade Mountains adventure.
We stopped at Sister's Coffee Company for a quick breakfast before heading to the Blue Pool. If you're not the breakfast type, stop at The Open Door on your way back for lunch on the patio.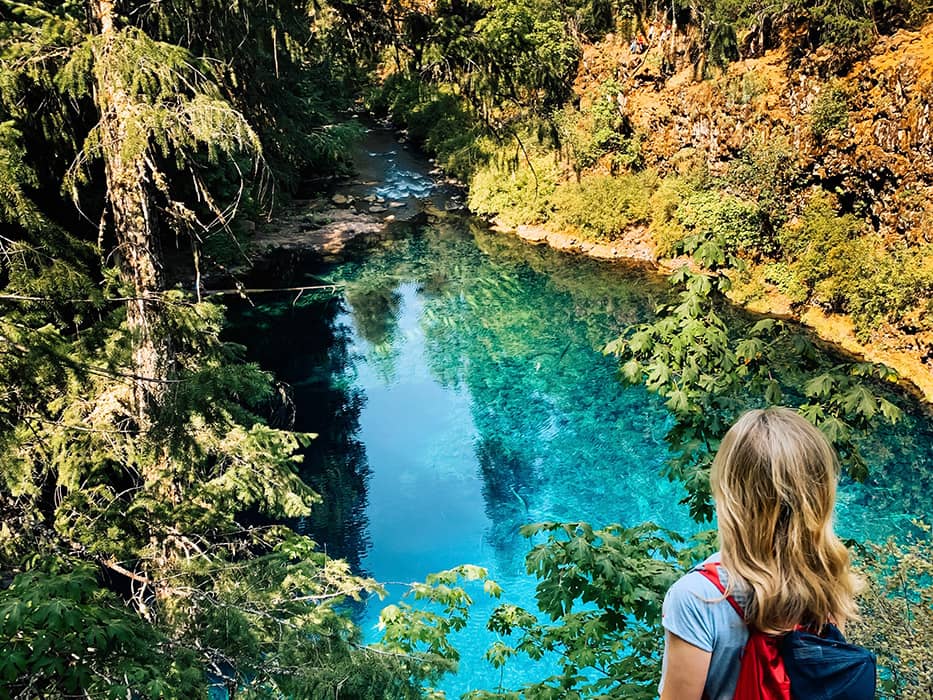 17. Hike to the Tamolitch Blue Pool
Bend is surrounded by the Cascade Mountains, offering numerous trails for hiking and mountain biking.
One standout hike in the Deschutes National Forest is the Blue Pool Trail. It's a 4.2-mile out and back trail along the McKenzie River that rewards you with a breathtaking view of a crystal-clear blue pool.
The Blue Pool, also called Tamolitch Falls, is one of the most picturesque bodies of water in the Bend area. You might be thinking that you want to hop in but the 37 degree water will be a shock.
We put together a guide to the Blue Pool Hike with helpful tips and mistakes to avoid – like passing the Blue Pool by accident, like we did!
Whether you visit on a sunny day in summer or on a cool afternoon in fall, it is definitely one of the best things to do around Bend, Oregon.
Along the way, enjoy the tranquility and beauty that Bend's incredible landscapes have to offer.
Where to Eat in Bend
Visiting Bend gives you access to some of the best dining experiences in Oregon! Here are a few of the best places to eat in Bend.
---
Where to Stay in Bend
After a day of exploring the best activities in Bend, coming back to an amazing accommodation is icing on the cake. We have a full post with the best boutique hotels in Bend, Oregon.
Oxford Hotel Bend: If you want large, luxurious suites in a sustainable and forward-thinking atmopshere, Oxford Hotel Bend has an excellent location downtown, with bike rentals and a fantastic farm-to-table restaurant.
Waypoint Hotel: For a chic modern hotel near brew pubs, Waypoint Hotel is one of our favorites. The hotel has unique, warm decor and provides great-value rooms in a central location.
LOGE Bend: Looking for the ultiamte outdoorsy experience on your trip to Bend? Book a room at LOGE Bend! It's in a great area near mountain biking trails, the river, and Drake Park. Plus, there's a hot tub, cozy hammocks, and outdoor pool.
---
What to Pack for a Bend Oregon Trip
Here are some helpful posts when you are packing for Bend.
---
How to Get to Bend Oregon
Getting to Bend, located in the middle of Oregon, completely depends on how you're traveling.
You can fly into nearby Redmond Airport (RDM), which is just a short 20-minute drive from downtown Bend. This airport offers a laid-back check-in process and short security lines, making your arrival hassle-free.
There's also the option of flying into Portland Airport, which might have cheaper flights, and then renting a car and driving to Bend.
If you plan to do an Oregon road trip, you can easily drive to Bend from Portland, Oregon. The scenic route takes around 3 to 3.5 hours, depending on traffic and weather conditions.
Just hop onto US-26 E and then merge onto OR-126 E. On clear days, you'll be able to see beauties like Mt. Jefferson, Mt, Hood, Black Butte, Broken Top, Mt. Bachelor, and Three Sisters from the road.
It's worth it to take some breaks and snap some photos during your drive from Portland to Bend.
Then, Pilot Butte State Scenic Viewpoint is Bend is the perfect place to catch a sunset after a scenic drive to Bend.
No matter which option you choose, getting to Bend will be the beginning of an unforgettable adventure. So pack your bags, grab your camera, and start exploring the beautiful landscape, activities, and attractions that await you in Bend, Oregon.
---
Frequently Asked Questions
What are the top weekend activities in Bend?
During weekends in Bend, you can enjoy various outdoor activities such as hiking, mountain biking, and fishing. Visit the popular Cascade Lakes for water sports or take a scenic drive along the Cascade Lakes Highway.
There are also loads of festivals going on in Bend, so check the calender before visiting.
And when you're not outdoors, go shopping or enjoy one of the many local craft breweries, parkside concerts, and so much more.
What are the highlights of downtown Bend?
Downtown Bend is a lively place to be! The area offers a variety of restaurants, shops, and galleries. There's also the historic Tower Theatre, which hosts live performances and community events.
You can stroll along the beautiful Deschutes River and enjoy the serene atmosphere or go on a guided historical walking tour to learn about Bend's history.
For a bit of history, the Deschutes Historical Museum gives you an immersive insight on the local history with various exhibits and ongoing events.
Where can I go shopping in Bend?
For shopping, you can visit the Old Mill District, which offers a variety of shops, boutiques, and restaurants.
Additionally, the Box Factory and downtown Bend have local shops and unique artisan products. Enjoy your time exploring and discovering new items in each location.
---
Final Thoughts About the Best Things to do in Bend Oregon
This west coast destination is a playground for the outdoorsy, beer aficionados, and anyone looking for picture-perfect scenery in Oregon.
Keep in mind if you want to visit a lot of parks and nature sites during your trip to Bend, you'll benefit from purchasing the Annual Northwest Forest Pass.
Nonetheless, these Bend, Oregon activities will let you get to know this lovely mountain town in the best way! Happy travels!